Well 2020, what a year you've been!
In one way, it's going to be very easy to summarise these 12 months because, let's be honest, not much has happened!
With lockdown and other restrictions on our movements having been present across most of Europe for most of this year, I think it's fair to say travelling has been a little difficult in 2020.
But in another way, it's also going to be a bit tricker to summarise these 12 months because, even without much travelling, this year has been quite the journey!
For one thing, I've actually been living in one place (yes that's one. single. place) for a large part of the whole year and, for another, I've bought a house!
So yes a big year in some ways… if not the ways I expected!
And I suppose that's something that rings true for a lot of us in 2020.
So here, with all the juicy details, is my year in review…
The Original Plan for 2020
2020 was always going to be a big year for Big World Small Pockets.
Having just picked up the British Travel Blog of the Year award at the end of 2019, the new year was set to bring about my most successful 12 months blogging to date – both financially and in terms of my epic travel plans!
Yes, if you can remember as far back as January – and I certainly don't blame you if you can't! – then you may recall I made a pretty big travel commitment at the start of 2020.
This year I pledged not to fly!
Yes, 12 months. Not one single flight.
For a travel blogger who makes their living out of adventuring and sharing the stories and advice with you all, committing to not flying was a pretty big undertaking.
However, with the climate crisis raging around us at a really worrying level, there's no question I felt strongly moved to adopt this pretty tough stance – a stance that might not be a choice, but a given, in years to come.
I also wanted to make my non-flying pledge to push myself as a blogger and to own some of the responsibility I feel I have to travel more consciously across a planet we too often take for granted.
After all, despite taking lots of action to lower my carbon footprint generally in my life, I'd boarded over 30 flights and visited over 22 countries in 2019 alone… not good!
My pledge for 2020 felt like a chance to readdress and rebalance this.
I also hoped that if I could show how possible it is travel a lot without flying, even when travelling is your job, then I might, in some small way, be able to inspire others to try some non-flying travel too.
I talked all about this and more in an article I wrote at the beginning of 2020 called why I plan to travel without flying in 2002 and top 5 tips to help you do the same.
And so, with my non-flying commitment having been validated by the organisation Flight Free UK, the stage was set for my epic overland journey – a 7 month adventure that would form the backbone of my major travels plans for this year.
Setting out from the UK in March, I planned to travel by ferry, bus and train down through France and Spain to North Africa, through Morocco, Algeria and Tunisia, before catching a boat to Sicily.
From there, I'd make my way up through Italy (hitting Rome for Easter) before continuing on into Austria and then across Eastern Europe to Moscow.
From Moscow, I'd take the TransSiberian train across the top of this country, then divert off south into Kazakhstan with plans to explore Central Asia in May.
By June I hoped to re-enter the Caucasus region (a place I've travelled before and absolutely loved) before leaving Georgia to head into Turkey.
The plan for the summer was then to make my way slowly back across Turkey and Europe, returning to the UK by October.
I didn't announce this at the time, but I really planned for this mammoth 7 month overland adventure to be my last fulltime, long-term travel plan for a while.
Having been permanently on the road for many years now, there's was no doubt I was getting tired of the constant moving and gruelling work schedule that had become my life.
I missed having a community and friends around me more and longed for a more balanced life, one in which work and play were more clearly defined and distinct from each other.
And so the plan after the huge overland adventure (which I know would have left me absolutely exhausted) was to return to London in the Autumn of 2020 and start putting down some roots.
To rent a place with friends and also to look for a place to buy.
I didn't want this to mean hanging up my travel shoes forever, but there was no doubt, even at the start of 2020, that I planned this 7 month overland voyage to be my last adventure as a fulltime nomad for some time.
By the end of the year, I wanted a base, a place to call home and, most of all, somewhere I could easily and always return to after shorter periods of travel in the years to come.
The Beginning of my Overland Adventure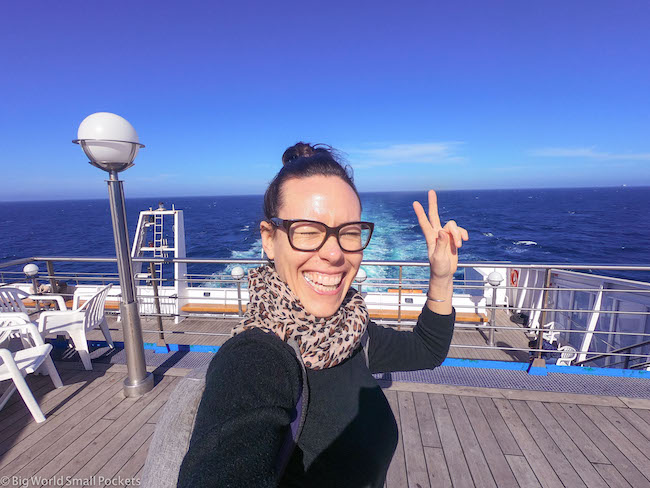 But enough about that, let's get back to the overland adventure which, in January, was still a hugely exciting prospect!
Having spent New Year doing my annual Vipassana meditation course, I returned to my spot in London to set about preparing for the 7 month journey that lay ahead.
Just planning the logistics and itinerary alone to cover this much overland time is a serious task, and that was without tee-ing up all the collaborations I had mapped out with major travel brands, as well as the visas I would need in advance.
As such, January and February disappeared in a cloud of frenzied organisation, with things finally coming together when both my Algerian and Russian visas were in place.
Learn about the process I took to get my visa for Russia in the UK here.
So suddenly March was upon me and I left the UK by ferry to head home to the Channel Island of Jersey to say goodbye to my family.
After a week with them, I was then off on the boat to France, before I headed to Paris, continuing onto Barcelona by train and then bus.
You can read more about this leg of the journey here.
With 12 hours in Barcelona to decompress (ok, actually I didn't decompress, I ran around the city and wrote this Barcelona itinerary article instead!) I then boarded a ferry in the evening that would take me, over a 24hour period, to the port of Tangier in Morocco.
I had researched all the ways you can catch the ferry from Spain to Morocco, but had decided that although the route from Barcelona was the longest option in terms of journey time, it was also the most straightforward and low-cost option for me.
Sadly it didn't prove straightforward and instead involved huge delays, as well as arriving in the middle of the night miles from where I thought and having to sleep in the house of a lovely Moroccan lady I met, but that's another story.
If you want to learn more, check out this YouTube video I made about the experience.
But regardless of all this, I did make it to Morocco and had 3 fabulous weeks ahead of me to explore this wonderful country.
Check out the Moroccan section of Big World Small Pockets, to see what I got up to in this epic travel destination.
The Emergency Escape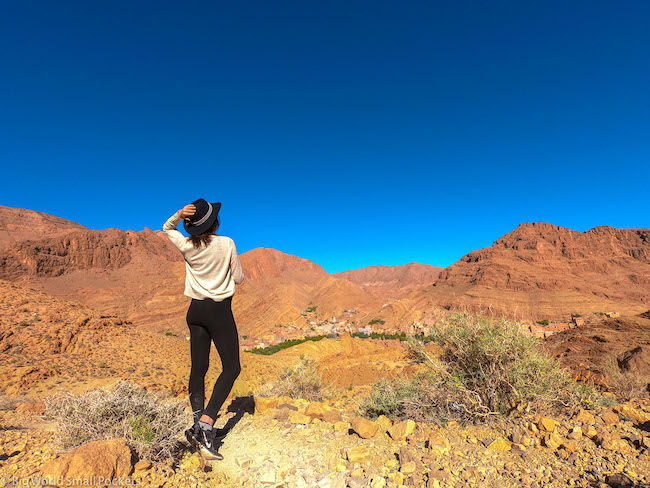 Little did I realise when I arrived in Morocco however, that the few weeks I had there would ultimately come to signal both the beginning and end of my epic overland plans!
Booooo!
News of coronavirus reaching and spreading scarily through Italy was beginning to make headlines when I disembarked from the boat in Morocco, but at that time it still felt far away.
Fast forward just 2 weeks however and the world was beginning to close down.
Luckily, by this point, I had made it all the way from the north of Morocco, via the Atlas Mountains and the Sahara desert, to the Atlantic coastline and was sitting on the beach when news that global borders were starting to shut reached me.
At first, it seemed unproblematic, I reasoned I could just stay in Morocco a bit longer, perhaps missing my other North African country itineraries and then simply recommence my overland journey in a month or so's time.
But hour by hour, this seemed increasingly unlikely as the world began to shut down and Morocco began to announce the closure of its own borders – first with France, Spain and Italy (meaning the chance of me getting out by boat were impossible) and then later with Germany and other mainland European countries – which meant even flying out was getting harder.
I remember being sat on the beach in Morocco, talking to my brother in London, and him suddenly telling me I should just come home.
When a fellow travel blogger then wrote me a message advising me to get out of Morocco and get home while I still could, I decided to swing into action.
At this point there were army vehicles on the street in Morocco, we had no idea how dangerous coronavirus was, how this crisis might unfold, how healthcare systems would cope, nor any idea how many people we'd lose.
The world was turning chaotic, people were being urged to get back to their country of residence, Italy's government was issuing stay at home orders and suddenly home, and the people I cared, about felt very far away.
Forced to break my non-flying pledge, I booked an emergency flight the next morning from Agadir, via Casablanca, to Gatwick. Even as I was trying to book, the price was escalating at a crazy speed and tickets were rapidly selling out before my eyes.
In the end, it turned out I got the last seat on the last flight that made it back to England before the Moroccan authorities shut their borders with the UK.
I'd never been so relieved to be going home in my life!
Lockdown Island Life
Of course arriving back in the UK, just 3 weeks after I left, felt a little strange.
How much the world had changed in such a short space of time!
I'd given up the spot I had in London when I embarked on my 7 month journey, which meant I was now both homeless and unable to travel – not a great position to be in!
Luckily, I have an amazing family and was so grateful to be able to head back to them and, consequently, spend those 3 crazy lockdown months on the tiny island of Jersey where I was born and brought up.
In the early stages on this lockdown – essentially late March and early April – I thought I might only be in Jersey for a month or so, but, as the pandemic played out and Jersey shut its border too, it was clear I was going to be there a lot longer!
It was also clear the full-time income I made from my travel blog had been decimated.
In a period of just 2 weeks in March, I lost 95% of my income – a loss which, although has lessened slightly, is still being keenly felt at the end of 2020.
This was not the year to be a travel blogger!
So I decided to hunker down and really get to work on what I could during the Jersey lockdown.
I did a lot of behind the scenes work to better the blog (things I simply don't have time for when travelling fulltime) and I really got to grips with video more and started my YouTube channel.
The plan being that these things would all serve me in good stead when travel did come back.
I also totally overhauled the social media and SEO consultancy company I had been running on the side of my blog for several years.
Remaking the website and social channels for this company, I began to increase my client base and build up this element of my business to help with the loss of income from travel.
And I'm delighted to say Social Puffin has now really taken flight and is one of the great successes I'm lucky to have had in 2020.
Staycation Summer
Overall, I spent 4 months in lockdown in Jersey in the Channel Islands.
Thankfully, it was Spring when I was there and, with case numbers much lower than elsewhere in Europe and the island's borders closed, the lockdown I experienced back in the first half of 2020 was a lost less strict than it was in other parts of the world.
By May, we were living semi-normal lives again and, thanks to the fact I still have many friends in Jersey, I was able to take full advantage of this beautiful island – hiking, kayaking, caving, climbing and sea swimming to my heart's content.
Learn more about Jersey and see some of the shots I took during this time in this article I wrote.
But come July, the world was opening up and, as I'd explored just about every inch of that 45 sq mile island, I was ready for a change of scene!
After all, 4 months was the longest I'd spent in one place since early 2017!
And so I decided to move back to London with the idea that, even if international travel was off the cards this year (I'd long let go of all the overland adventure itineraries, collaborations and logistics!), that at least I could see more of the UK.
And see more of the UK I did…. a lot of it!
With my base in London, I used the summer months to travel around my homeland like never before and was so utterly delighted to see a whole host of treasures I'd embarrassing failed to visit before in my life.
From Battle and Hastings to Salisbury and Stonehenge, from the Brecon Beacons to the North York Moors, I spent months bopping around the UK seeing as much of it as I could, when I could!
Highlights included:
Glastonbury & Somerset
Yorkshire Dales
Thankfully, despite all the challenges of 2020, this year did bless the UK with some of the best summer weather ever and I made full use of it… right to the end when I could be found lying on the beach on the Isle of Wight at the end of September!
Once an island girl always an island girl!
I also got to enjoy my second international trip of the year in the summer months of 2020 – 2 blissful weeks in the Alsace region of France (including Strasbourg) as well as the Black Forest region of Germany (including Freiburg & Heidelberg).
This cemented the only 4 weeks I managed to spend beyond the shores of Great Britain this year!
For a travel blogger who only usually spends 8 weeks in the UK a year, 2020 has proved quite the switch!
Winter Wave
But by October it was clear things were beginning to change.
Restrictions had again been bought into large parts of the UK as covid cases were, once again, beginning to rise.
For the month of October I returned to Jersey, wanting to see and spend a good amount of time with family and friends there while I still could!
During this time, the offer I had put down on a house during the early summer was passed and I become a homeowner – another cause for celebration in 2020!
Initially, the plan at the start of 2020 was to buy a place in London, but I guess 2020 is a year in which everything was turned on its head!
With futures, as well as housing markets, seemingly pretty uncertain, Jersey felt a safe bet and even though I don't want to live there permanently right now, it's a place I'll always be connected to.
With a lot of renovation work done on the new house, it was then time for me to return to London just in time for the real second wave to start and for increasing restrictions once again.
Which brings us to where we are now.
Having not really been able to leave London since November, to say it's been a quiet few months of travel this winter would be an understatement – a trip to St Paul's Cathedral and the Tower of London was about the best I managed!
And this is also the first full UK winter I've undertaken since 2012!
Yes it's been 8 years since I last spent the entire cold period in this cold country, so saying it's been a shock to my system would be something of an understatement too!
But, on the other hand, to say I'll be chuffed when I do make it through however, will certainly be true too!
Not only will I have survived an English winter, but I'll have survived one where we were not really allowed out of the house, allowed to see friends, allowed to meet new people, to socialise, to have fun.
This makes a season of long evenings and dark days in a city environment even tougher, but also makes me immensely grateful for the wonderful friends and family I have in my life – you know who you are and I love you.
It also makes me immensely grateful for the varied life experiences and skills solo travel has given me over the years.
While I usually find staying in one place difficult, solo travel has taught me how to be incredibly self-motivated, how to carve out my own routine and stick to it, how to live very simply and how to love my own company – all attributes very useful in a pandemic!
And so I am delighted to say that while not being able to move much has made 2020 very tough at times, it's also been an incredibly healthy and productive year, especially on the work front, and that there's lots of exciting things being prepped ready for 2021!
The Future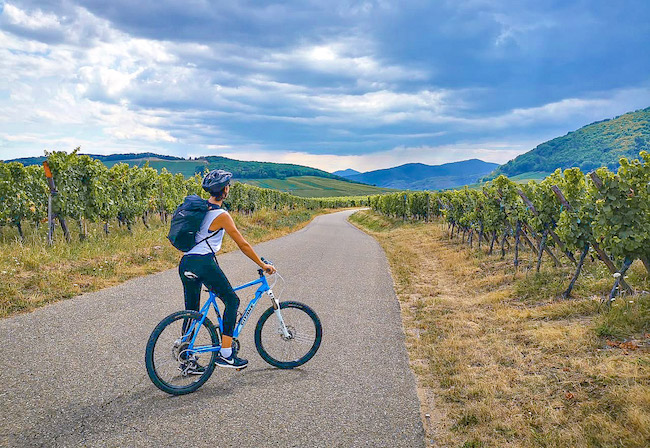 So what does the future for Big World Small Pockets and for me hold?
Well that's a good question and one I don't necessarily know the answer to at this stage I'm afraid!
A lot of it depends on how much, and when, the world opens up this year for travel… and how much will be possible without flying.
I'd really like to renew my non-flying pledge for 2021 but, after a year of being grounded and with overland border crossings in a covid era proving increasingly difficult, I'll have to see how this one evolves.
I may have to make a few exceptions for my business to survive but honestly, I'm prepared that this year may even turn out to be another staycation year!
If you'd told me back in January 2020 that I'd mostly have been travelling in the UK this year instead of enjoying an epic overland adventure, I probably would have been pretty disappointed.
But actually, I don't feel that way at all now – neither about this year, nor about the prospect of this potentially happening in 2021 too.
And that's because this year I really have discovered just how beautiful and wonderful a lot of the UK is – and I still have a lot of it to see!
And this actually makes me pretty excited!
I'm also pretty excited about staying in one place at the moment – another thing that's changed for the better in my life this year.
I said at the beginning of this article that I'd planned for 2020 to signal my last big, fulltime travel adventure and that, by the end of this year, I wanted to be able to put down some more roots and grow a deeper community.
Thanks to covid, this plan was actually fast-forwarded to the summer of 2020 and there's no question the quality of my life has improved exponentially as a result.
Solo travel for months on end can be a wild, exhilarating, wonderful adventure, but it can also be a lonely one and I'm so glad that I recognised my need to have more friends and family around me last year, so that I was able to put this into practise this year and reap the rewards.
As a good friend once told me, in your 20's travel is usually all about running towards new experiences and soaking them up like a sponge.
But in your 30's it can often morph, imperceptibly at first, into running away from experiences.
The once shiny, fresh road of adventure that transported you to foreign shores gets dustier the longer you go on – it's no longer new, but well-trodden, an old pattern, an old behaviour, a habit that traps rather than frees you.
If there's anything the pandemic has taught me, it's how much having great people around means and I'm so delighted to say I have that more now.
After all, when the world is closing down and real priorities take over, there's no question I just want to be near the people I care about and who care about me.
But don't freak out guys, this isn't me retiring, it's just me shifting things about!
The travelling will always go on (no worries there), but now it will orbit more around a permanent base, a community and a group of amazing people… and I'm excited to see how that all pans out, how it all takes shape.
After all, If I was the sort of person who knew what the world had in store for me, who wanted to know, who needed to know, I wouldn't have a life that incorporated such adventure, challenge and discovery!
A sense of the unknown is part of what spurs me on, what excites me and drives me, and life in a pandemic, largely in one country, is no different!
So, let the adventure of 2021 commence…