The wonderful historic city of Heidelberg, with its incredible university, is an absolutely wonderful place to explore in Germany.
Ideal for a summer weekend break or Christmas market experience, this forest-surrounded and quaint city in the west of the country is an absolute highlight and should not be missed if you are travelling in this part of Germany.
(Here's how to travel from Frankfurt to Heidelberg FYI)
But where should you stay when you do visit?
As you'll know if you read this blog regularly, I'm a big fan of Airbnb and chose this form of accommodation when I visited Heidelberg myself this summer.
Offering great value and a whole range of different accommodation depending on your needs, Airbnb is a superb option when it comes to staying in this city, so I'm aiming to make your travel life even simpler by bringing you the top 10 Airbnbs in Heidelberg.
Hopefully this list will reduce the amount of time you need to spend researching your accommodation, helping you find the best place to stay in less time and with less so hassle.
So here goes…
---
Related Posts
---
This page contains affiliate links meaning Big World Small Pockets may receive a small commission on any purchases at no extra cost to you.
---
#1 Best for Those on a Budget
An absolute win for budget travellers, I don't generally enjoy using Airbnb for rooms only (preferring to take whole apartments) but this would definitely prove an exception in my book.
With incredible ratings, a central location right near the train station, a superhost and a great vibe (think full of movies and books) this Airbnb in Heidelberg is an absolute steal.
The room is private and within an apartment in a very well-heeled district, plus it has a balcony.
Add-on vegan dinners are possible if you let the host know 2 hours in advance.
This place sleeps up to 2 people, but is affordable enough for single travellers also – an absolute bargain!
#2 Best for Families
With a baby-friendly rating and a bathtub, high chair and crib included if required, this place is definitely one of the best Airbnbs in Heidelberg for families.
A little out of the centre, the location next to the river makes it perfect for those with kids, and there's ample parking, as well as a private entrance to help you out too.
Sleeping 4 guests over 2 bedrooms and 1.5 bathrooms, this entire apartment also includes 2 south-facing terraces, a small balcony, a modern fitted kitchen, dining room, living room, gallery and washing machine room spread over 5 and a half-storeys.
A cosy feel, nice sofa and cable TV complete the picture with superhosts that speak German and English.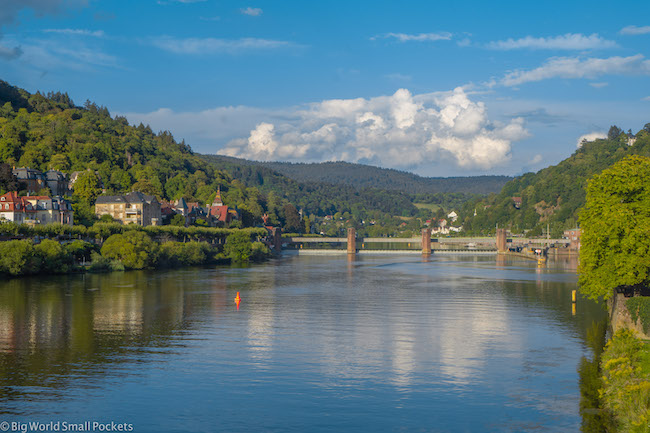 #3 Best for Couples
Perfect for a couple, this entire flat which lies in the historic centre of Heidelberg, is ideal for those enjoying a romantic getaway to this fairy tale city.
With rave reviews from previous travellers and top-rated superhosts, you can pretty much rest assured you're going to have a great stay if you choose this Heidelberg Airbnb.
I especially love the modern and compact design of the place, the fact it has a cute outdoor terrace and also feels light and airy.
A good kitchen, wifi and cable TV are all included, but it's the cleanliness of this space and the views that really seal the deal!
#4 Best for Groups
This newly renovated, lovely spacious apartment, which is located within a historic building, is the perfect Airbnb in Heidelberg if you are looking to visit this city with friends.
Right in the heritage centre, with outdoor space as well as a generous communal area, a fantastic kitchen and 2 good-sized bedrooms, this apartment can sleep up to 6 people and is incredibly affordable.
Owner Fabian is a superhost and gets rave reviews from previous guests thanks to his helpful nature and the apartment's good wifi, large screen TV, as well as its washer and dryer facilities.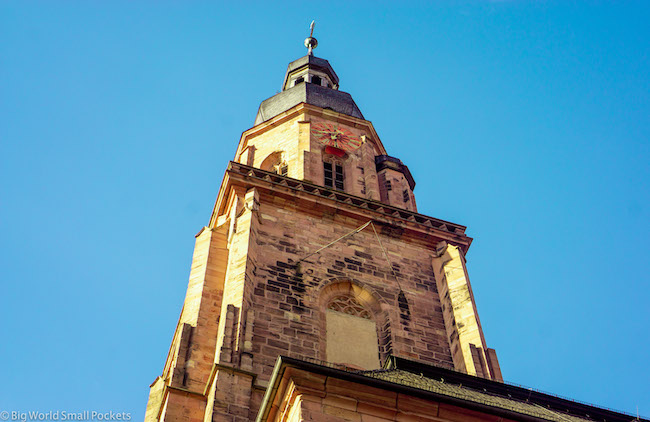 #5 Best for Central Location
This small studio apartment is slap bang in the middle of the historic centre, making it really hard to beat when it comes to the best located Airbnbs in Heidelberg.
Ideal for a solo travellers or a couple, everything in this compact and newly-renovated space is within easy walking distance and the apartment itself gets rave reviews.
The superhost owners are quick to respond and the price of this Airbnb is almost unbeatable, especially given its great location and the fact it has a small terrace too.
There's a new kitchen with a dishwasher, Nespresso machine, soda stream and washing machine here, and this studio also has a TV and excellent wifi – making it ideal for business stays.
#6 Best for Hikers
Described as a "green oasis on a mountain road", there's no question this Heidelberg Airbnb is ideal for those who love getting out in nature.
Just out of the city, but with plenty of parking and pets welcome, this one really is ideal for hikers who want to explore the forest surrounding this city.
Sleeping up to 4 guests across 2 bedrooms, there's also a kitchen, bathroom and 2 balconies in this beautifully furnished space.
An indoor fireplace completes the picture and there's wifi too of course!
It's modern, spacious, light, airy, clean, quiet… an all-round winner!
#7 Best for History Buffs
If you've come to Heidelberg for the castle then this, my friends, is the Airbnb for you!
With direct views of Heidelberg's most famous monument, this newly-renovated apartment is located right in the heritage city and can actually be found within a historic building that dates back to the 18th century.
Many heritage features remain, such as the wooden floorboards which are 100 years old, and everything you could possibly want to visit within Heidelberg's Old Quarter is at very close walking distance.
The kitchen is fully-equipped, the wifi is excellent and a washer-dryer is also available.
Sleeping up to 2 guests, this is a private apartment you'll have to yourself, which features a lovely balcony as well as those stellar castle views from the many windows.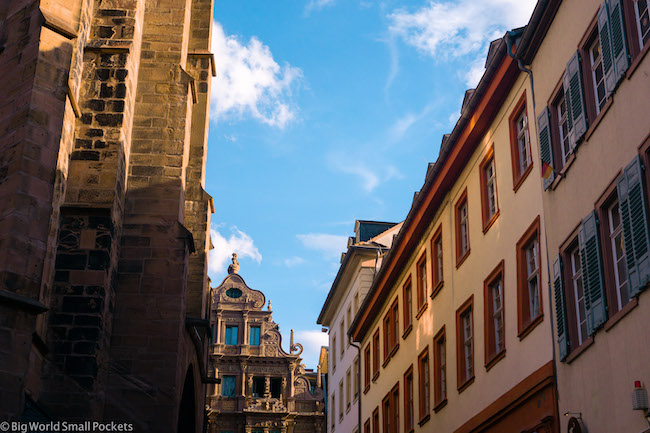 #8 Best for Luxury
A huge apartment, right in the centre of the city centre, this newly refurbished option is great for groups of friends travelling, with 3 bedrooms all offering king-sized beds.
The style of the apartment is minimal and clean, with incredible modern appliances in the kitchen, as well as top quality bedding and linen.
There's aircon, as well as a dedicated workspace, but perhaps best of all is the location of this huge apartment which is right the middle of the city centre.
Sleeping up to 8 people, this luxury Airbnb in Heidelberg is ideal for groups of couples or friends who want to be close to the city's best restaurants and bars.
If you stay here, you'll also have the option to cook up a storm in the large, well-equipped kitchen and enjoy it either at the dining room table or on one of the 2 great balconies.
The spiral staircase is a top feature!
#9 Best for Long Term Stays
With the whole duplex to yourself, an incredible location in central Heidelberg, an outdoor terrace, as well as plenty of indoor space that boasts a clean and modern style, this Heidelberg Airbnb could easily become your home for a while.
Yes perfect for long-term stays, this very comfortable space has everything you could need with a well-stocked kitchen, 2 bedrooms and 2.5 bathrooms.
Views of the castle, the Philosophers' Walk and the Old Bridge can all be enjoyed from this gem of a find and, despite the very central location, this place is wonderfully quiet too.
Built over 3 floors, with an epic spiral staircase connecting them, this is a very stylish and chic spot that you could easily enjoy over a long period of time.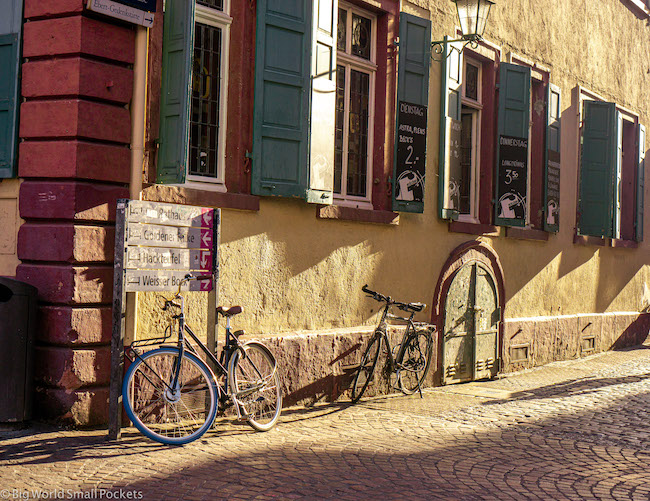 #10 Most Unique Heidelberg Airbnb
This unique and quirky space offers the best of Heidelberg's history coupled with its wonderful natural surrounds.
Set over 2 floors, the epic apartment has a wonderful balcony, complete with a Weber BBQ and sleeps up to 6 guests across 2 bedrooms.
Superhost, Volker, also provides parking in the garage below and the loft feel of this cute space makes it really unique.
A good kitchen, strong wifi and Cable TV complete the space, which feels super cosy and boasts some seriously amazing views!
PIN IT TOP PINTEREST!
And there is it travellers, my list of the top 10 Airbnbs in the wonderful German city of Heidelberg.
I hope you've found this list helpful for your trip to this beautiful destination and that you enjoy this wonderful part of Europe to the max!