With Wales being a part of the UK renowned for its walking, it's no coincidence that one of the top things to do in the country's Gower Peninsula is head out for a decent stroll!
With miles of coastline to explore along a number of both circular and linear trails, strapping on your walking shoes to take in the best of this dramatic landscape is absolutely something you have to enjoy when you're here.
And I'm delighted to say, thanks to the glorious weather (and it really was glorious) that was exactly what I managed to do during my trip here last summer.
So if you're heading to this part of Wales soon and want to learn about the best places to stride out, then check out my list of the tip 7 Gower walks you can't miss.
---
Related Posts
---
This page contains affiliate links meaning Big World Small Pockets may receive a small commission on any purchases at no extra cost to you.
---
#1 Langland Bay to Caswell Bay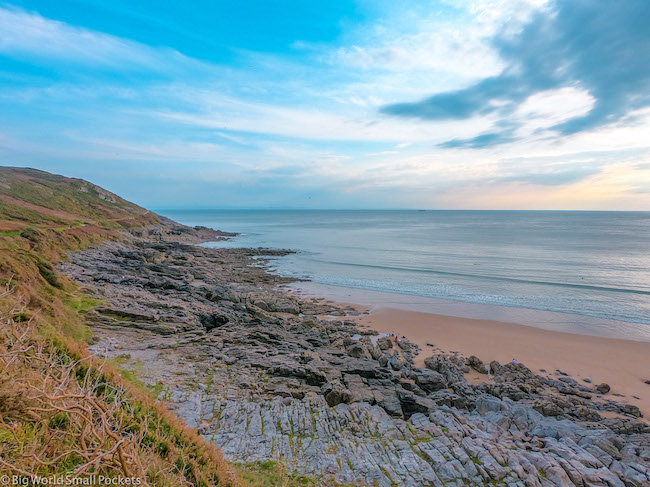 A great stroll for families and those who want a fairly flat and even trail, the path between Langland and Caswell Bay is part of the Welsh Coastal Path and skirts the dramatic sealine here between 2 of the best beaches in the Gower.
The trail is tarmacked, with only a few gentle inclines and steps, which also makes it nice and accessible.
You can make this walk either as a circular route – parking at Langland and then walking to Caswell and back, as we did – or you can make it one way and arrange to be picked up at the other end.
Cafes and good swimming opps at both Langland and Caswell Bay add to the appeal of this Gower walk, as does the magnificent wildlife you can spot on the way.
Cue of the gasps of pure delight when we saw multiple seals bobbing in the waves here!
Porpoises and basking sharks have also been spotted here – think I would be overcome with excitement if I saw either of these.
#2 Worms Head
The postcard image of the Gower, the magnificent rock formation known as the Worms Heads because, well that's what it looks like, is situated at the headland at the end of Rhossili Bay.
From here, you can walk along the causeway and onto the head, which seems to rear itself vertically out of the water.
Because of this, the one thing you need to be very conscious of when enjoying this water are the tides.
You can only, and I repeat, only make this crossing 2,5hours either side of low tide.
The huge tidal ranges in this part of the world mean it is very dangerous to make the crossing across the causeway (including swimming it) at any other time and many people have lost their lives.
Don't take unnecessary risks and consult the lifeguard station (which has the daily tide timetable and safe walking times) printed on a board outside its location at the top of the headland where you begin the walk.
Parking can be found at the nearby National Trust site and after the climb down from the beach (at the correct tidal time), the walk to Worm's is fairly straight forward, if not a little slippery.
#3 Rhossili Bay
The beautiful sweep of Rhossili Bay is absolutely one of the best Gower beaches and walking all the way along the sand of this dramatic stretch of coastline to reach the dunes at the other side is certainly one of the best Gower walks.
Again make sure to time your walk along the sand with low tide, so that you have plenty of time to reach the other side and the wonderful surfing location of Llangennith and the infamous Eddy's Café!
As you pass along the dramatic sandy stretch at low tide, you'll also pass the famous shipwrecked remnants of Helvetia – a former Norwegian shop that cruised the Atlantic trading timber between Canada and the UK.
If you want a really extended walk, you can then cross the dunes and scale the headland to get some stunning elevated views as you head back to the National Trust car park at Rhossili.
Otherwise, arrange for a pick up at Hill End camping in Llangennith – a lovely little village you shouldn't miss visiting anyway.
#4 Oxwich Point Walk
At its greatest length, this superb walks with takes in woodland, clifftop views and coastal path can be extended to a 7km circular route, which begins and ends at the Oxwich Bay Hotel.
Taking in the wonderful Oxwich castle, Oxwich Point, Slade Valley and St Illtyd's church, this is a lovely diverse stroll that provide a range of landscapes and sites of historical interest.
With some muddy sections, as well as steep steps, you want to make sure you're wearing adequate footwear for this one
#5 Three Cliffs Walk
Another of the top Gower walks, that takes in one of this area's most beautiful beaches, the Three Cliffs Bay, this stroll takes around 1,5 hours and gives you the full stunning views of this wonderful coastal landscape.
The most popular place to begin the walk is Gower Heritage Centre where parking costs around £2 and there are good public toilets you can use.
From here, you'll loosely follow the winding stream before the valley open up in front of you and Pennard Castle dominates the ridgeline.
To reach the beach at the bottom of the valley you can either use the stepping stones or wade across the river if it isn't too deep and then enjoy marvelling at the three linked peaks that give this beach its name.
You can walk under these limestone cliffs, via an archway to reach the delightful Pobbles Beach, which is cut off from Three Cliffs Bay during high tide.
But a word of warning: do not swim near or in Three Cliffs Bay at high tide due to strong rip currents which can be very dangerous.
#6 Pwull Du Circular
A moderate walk of around 4 miles, taking you about 2 hours, the Pwull Du Circular is especially famous for the beautiful flora you can see along the route, not least the yellow whitlow grass, which is endemic to this area.
Starting at the Southgate car park, which is a National Trust site with a café and public toilet, follow the trail past the FoxHole and High Tor mound to Hunts Farm before reaching Pwull Du Head.
From here, continue on down to the Pwull Du Point and Bay, stopping to take in the views on the way down, as well as the Iron Age Promontory Fort at High Pennard.
You can then return to Southgate via the road that leads up from the beach.
#7 Gower Coastal Path
And now we come to the final entry on this list of the top 7 Gower walks and you may be unsurprised to learn it's the piece d'resistance of them all.
Yes, this final walk actually combines most of the other walks I've listed together, as it's the Gower Coastal Path.
Yes, holy moley, hold your horses, you can actually walk the full length of the Gower Coastline from Swansea Bay to Gowerton taking in over 80km of epic coastal views.
This mammoth walk – probably one of the UK"s best can be done over 4 days at a leisurely pace or 3 days if you're in a rush!
Either way, it can't be missed as it allows you to take in the whole of the Gower its coastline, cliffs, hidden bays, wonderful campsites, great pubs and epic views!
Essentials for Walking in the Gower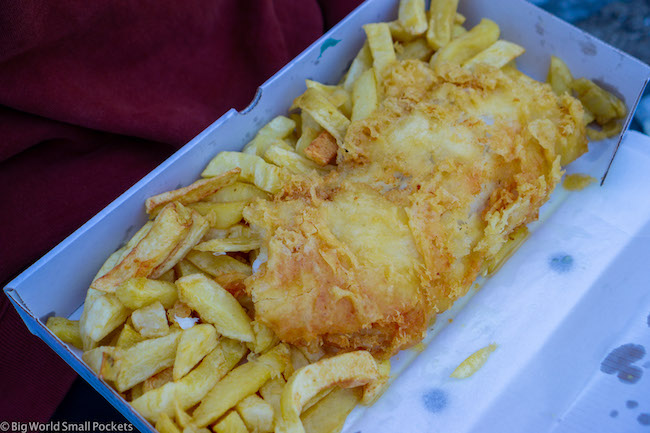 #1 Walking Shoes
Can't come to enjoy some Gower walks and not come equipped with walking shoes! I highly recommend these lightweight and comfortable ones from North Face, which are perfect for the job, as you don't really need hiking boots in this area.
#2 Waterproof, Windproof Jacket
Look, as paradisical as I've made the Gower sound (and it is), it also is Wales. And that green around isn't green for nothing. Nope, it's because it rains a lot. A lot of the year. So bring a good waterproof and windproof jacket no matter what time of year you're coming ok.
#3 Swimwear & Towel
Can't go to all these amazing Gower beaches you'll pass on these walks and not be tempted with a dip. As such, I thoroughly recommend taking swimwear with you. Plus a good travel towel too of course.
#4 Camera
Having an excellent camera to snap the Gower in all her glory and preserve the memories is an absolute given if you're travelling done this way. I love my Sony A6000, which never leaves my side. I also enjoyed having a GoPro when I was in the Gower to capture all the water action.
#5 Portable Power Bank
There's no denying, power can be an issue down in the Gower if you're camping. Even if you have a powered site, remembering to charge stuff up, leaving it out overnight, or during the day and constantly rotating electricals can be tiresome. My solution: Come armed with 2 fully charged Anker power banks, so you can fire up your phone, camera or other devices whenever you wherever you need. Even while you're down at the beach!
PIN IT TO PINTEREST!
So there you have it, my list of the top 7 Gower walks.
Have you hiked any of these before?
Which was your favourite?
Or have I missed it out?
Please join the conversation in the comments box below…