Planning to visit this iconic British city? Then here's the 15 best Glasgow attractions you can't miss!
Because did you know that Glasgow is Scotland's largest city?
Ashamed to say, but until I was researching this article, I always thought Edinburgh – the country's capital – was the largest city… shocking!
But it isn't and it makes sense why.
Buzzing with an authentic atmosphere, Glasgow feels like the working heart of Scotland – a core part of this country's identity, awash with great museums, galleries and icons.
I loved the 48 hours I spent in this city recently (the first time I visited since I was a student) and the fact I enjoyed some incredible summer weather there only added to the amazing time I had.
Exploring the city on foot and by bus meant I saw huge swaths of Glasgow, which is actually pretty spread out, so here's my list of the 15 best attractions in this city…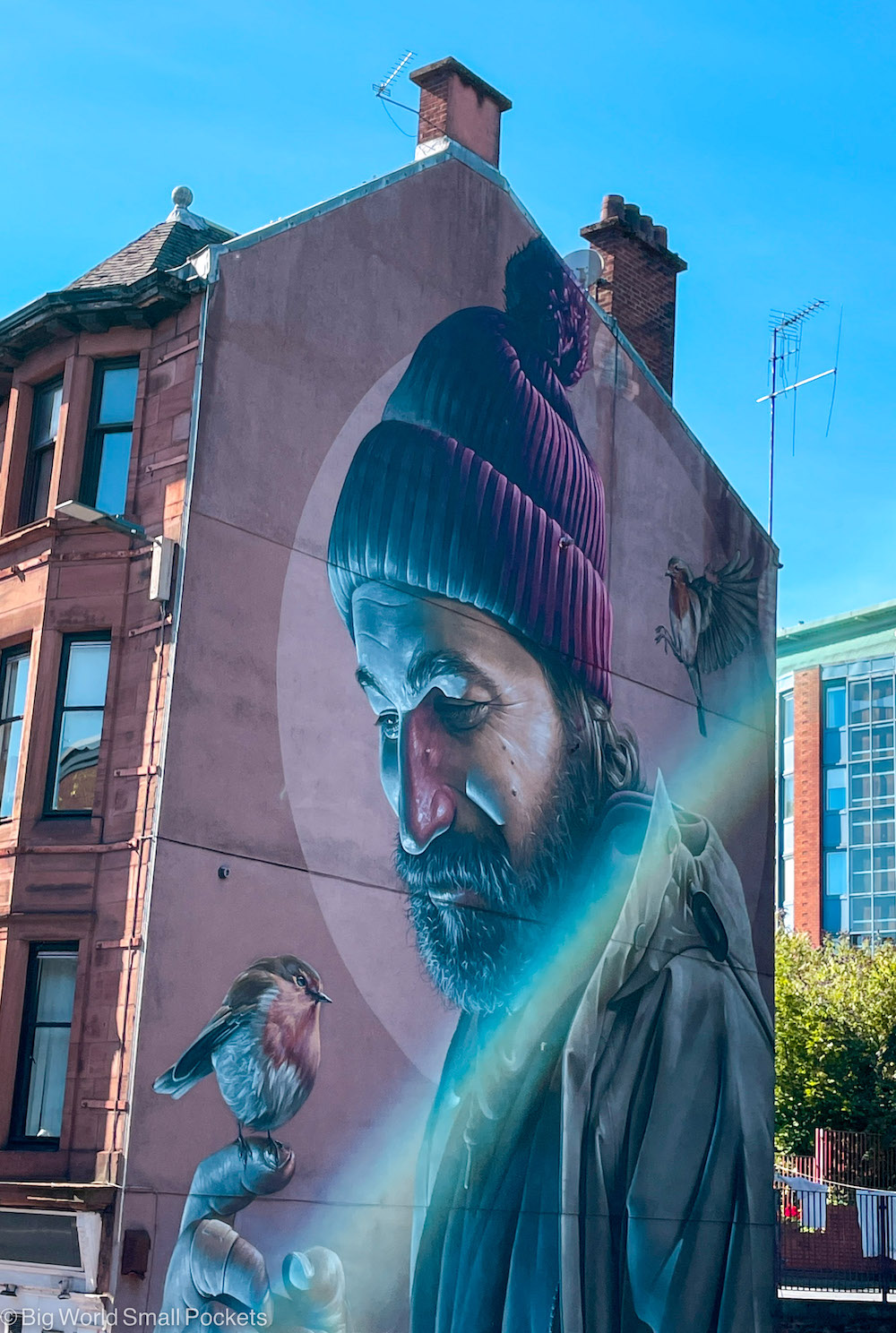 ---
Related Posts
---
This page contains affiliate links meaning Big World Small Pockets may receive a small commission on any purchases at no extra cost to you.
---
#1 St George's Square & Merchant City
Coming in at number one on this list of the best Glasgow attractions, it's the living centre of the city, St George's Square.
The principal civic square was built in 1801, and you can see a number of iconic monuments here, including those of Sir Walter Scott, Robert Burns and Sir Robert Peel.
You can also pick up the Hop On Hop Off bus tour here.
Beyond St George's Square lies Glasgow's Merchant City.
With great cafes and super shopping, this is the commercial hub of the city now, but was once a working area filled with warehouses and 18th century buildings.
Cultural venues including City Halls and the Old Fruit Market host music concerts, so check out their programmes and see whose playing during your visit.
And if you want to know more about these legendary music venues and the east end of Glasgow generally, check out this fantastic guided walking tour, delivered by local musicians and journalists.
#2 Glasgow Cathedral
The shining light in this Glasgow attraction list, if there's one icon in this city you can't miss, it has to be the city's amazing cathedral.
A huge Medieval structure, this is Scotland's largest religious building and was built between 1136 and 1484, which makes it pretty freaking old!
An ancient pilgrimage site even before the Cathedral was erected here, the external Gothic architecture you will see makes a real mark and the stained glass windows are well worth stepping inside for, especially as entrance to the Cathedral is free.
#3 Glasgow Necropolis
And behind the Cathedral lies the Glasgow Necropolis – another top attraction in this city.
Also free to enter, wandering up to this hilltop burial ground is a great excuse to stretch your legs and take in the views of the city from an elevated position.
The resting place of nearly every eminent Glaswegian who died between 1832 and 1867, there are almost 50,000 interred people here with some 3500 headstones marking the most prominent.
If you want some more information about the site and people resting here, then the Friends of Glasgow Necropolis offer informal volunteer-run walking tours of the Glasgow Necropolis.
#4 Tennent Caledonian Breweries
And now for something totally different when it comes to the best things to do in Glasgow – it's time to taste Scotland's national beer!
Founded in 1704, this brewer produces Scotland's popular Tennant lager and you can enjoy walking tours of this iconic site at the weekend, which is located at 161 Duke Street.
Enjoy a tasting session (of course!), a history of the Tennent's site, as well as a guided tour through the famous brewing process and then finish with an immersive experience at the Tennent's Story heritage centre, which is housed here.
The heritage centre is full of artefacts and traces the history of Scotland's oldest brewery which dates back to the 1500s. It's free to enter.
If you want to book a weekend tour of the brewery process and tasting sessions, you can buy your tickets here.
#5 Glasgow Green & People's Palace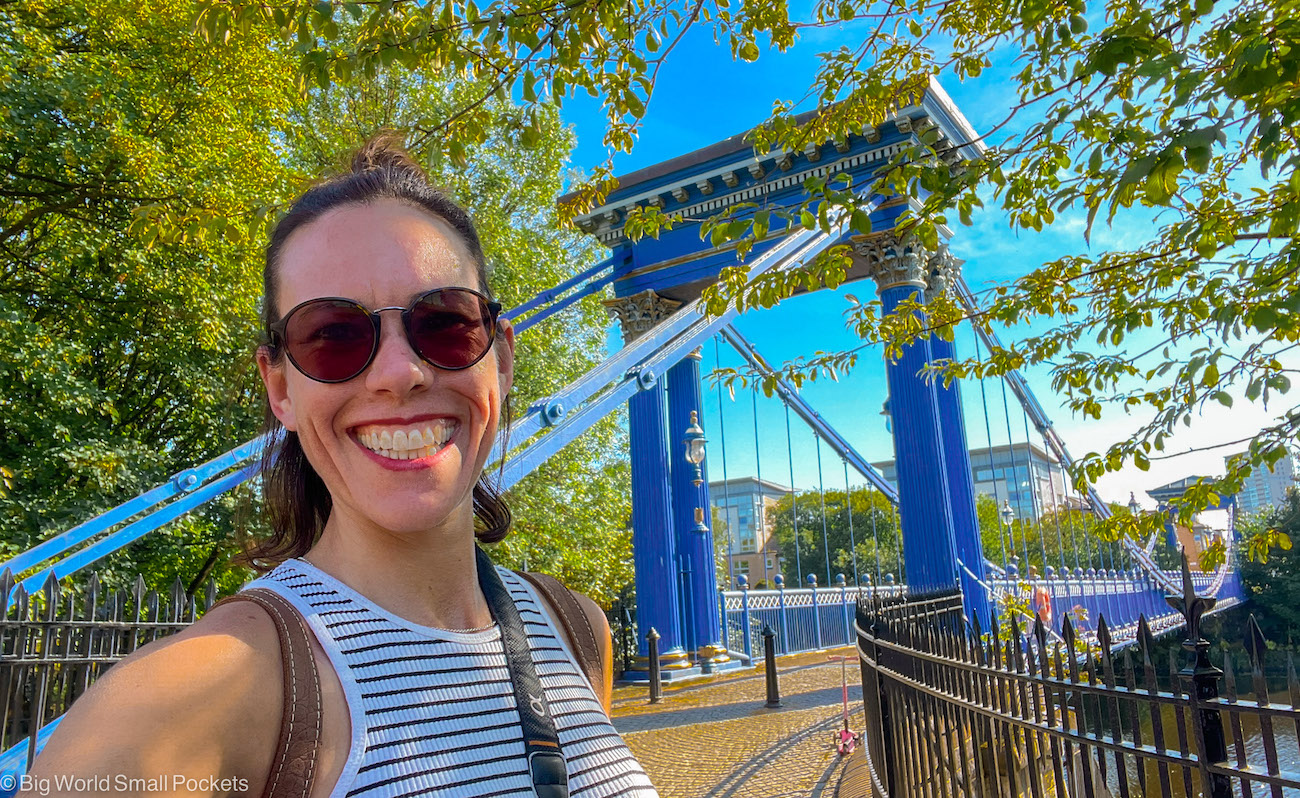 Now for something a bit more wholesome!
Yup it's time to get some fresh air with a fantastic stroll through Glasgow's oldest park.
At 136 acres, this wonderful public green space is easy to walk to from the city centre and features several prestigious monuments and fountains you can explore as you wander.
Don't miss the magnificent St Andrew's Suspension Bridge, the great Free Wheel North initiative and the famous People's Palace.
The latter is filled with an exhibition that showcases local life in Glasgow and is open 7 days a week.
The café here makes the perfect place to stop and warm up after your walk across the green.
#6 Celtic Park
And now to a different sort of park!
Celtic Park is of course home to Celtic Football Club and is located in the Parkhead area of Glasgow.
Seating up to 60,000 spectators, this is the largest stadium in Scotland and was opened in 1888.
This top-rated stadium tour is the perfect way to soak up the history and passion written into the fabric of this iconic football venue with visits to the dressing room, the tunnel and the dugout all included.
#7 Gallery of Modern Art & Equestrian Statue
And now we move on to some of this city's cultural icons and first up it's the Gallery of Modern Art – a must-visit Glasgow attraction.
Located in the city centre at 111 Queen Street, the GOMA (as it's fondly known) is free to enter 7 days a week between 10am and 5pm Monday to Saturday, and from 11am to 5pm on Sundays.
It contains four galleries, a library and there's a lovely shop and café to enjoy too.
Opened in 1996, the impressive Neo-Classical building is also famous for the statue located outside it.
The equestrian statue of Arthur Wellesley, the 1st Duke of Wellington, was sculpted in 1844 and is a Category A listed monument.
Since the 1980s, a traffic cone on the Duke's head has been commonplace thanks to local Glaswegian humour that undermines the imperial authority of the statue.
Although the council has tried to remove it many times, the cone remains and has become an integral part of the sculpture itself now.
#8 The Lighthouse
Another cultural attraction in Glasgow's city centre that you can't miss is The Lighthouse.
This fantastic art centre is home to Scotland's Centre for Design and Architecture and was opened in 1999.
The former offices of the Glasgow Herald newspaper, The Lighthouse features a range of galleries, exhibitions, guided tours, events and workshops.
This is a hub for the creative industries in Glasgow and the distinguishable building complete with its easily recognisable tower was designed by Charles Rennie Mackintosh and built to house an 8000-gallon water tank that was meant to protect the building and all its contents from the risk of fire.
The building is all part of the exhibition here and virtual tours can be enjoyed via The Lighthouse website here.
#9 Horseshoe Bar & Willow Tearooms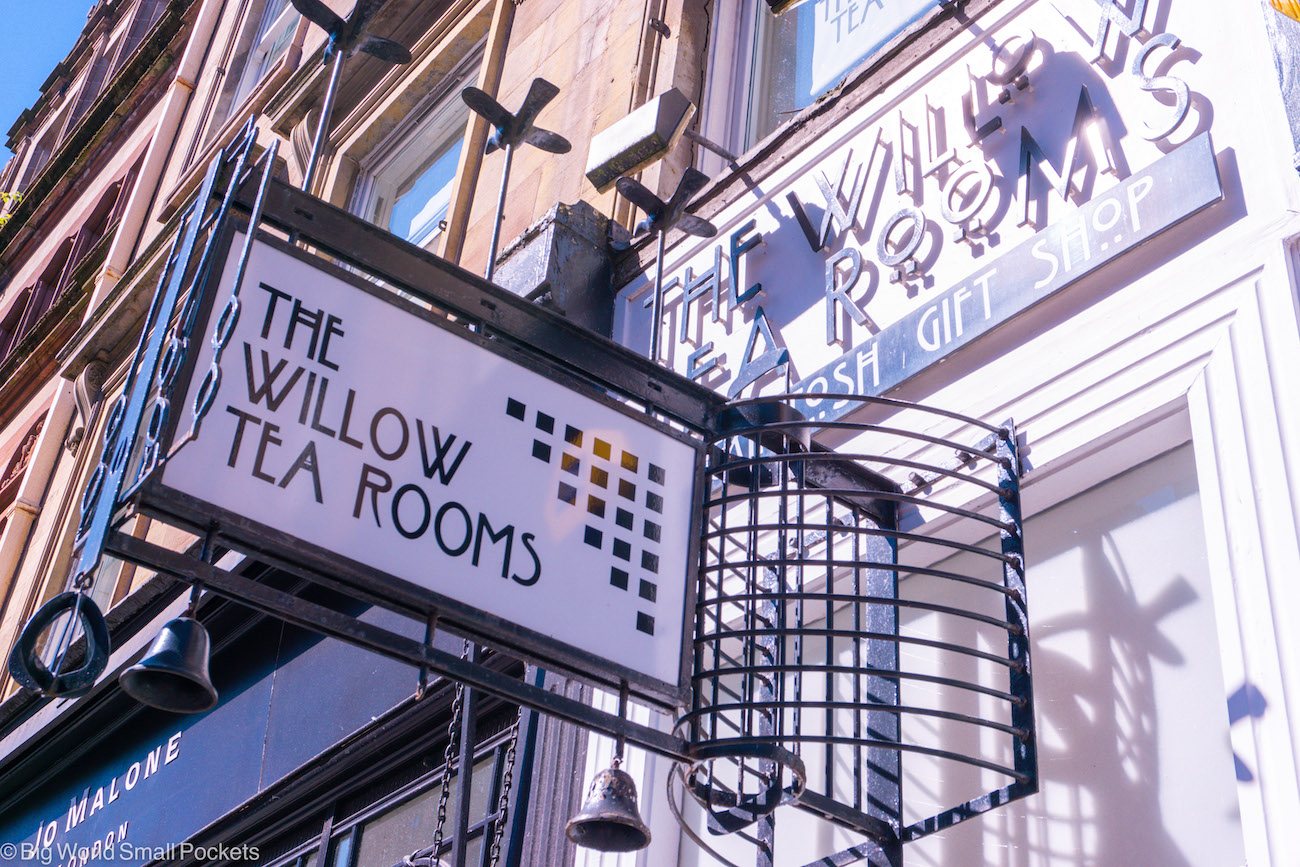 But after that sightseeing, it's probably time for some refreshments and what better place to head for than 2 of Glasgow's top drinking attractions?
For a low-key drink, head to the Willow Tearooms, which was also designed by Charles Rennie Mackintosh and first opened in 1903.
This makes it one of the oldest cafes in Glasgow and a definite city attraction, it can be found on Sauchiehall Street.
For something a little stronger, why not head to the Horseshoe Bar?
Rumoured to have the longest bar in Europe, this old Victorian boozer can be found on Drury Street.
There's been a pub of some description in this spot since 1846 and the building is listed.
Famous Scottish band Travis are said to have met and formed here.
#10 Botanic Gardens
Back to the green spaces now, the Glasgow botanic gardens is located north of the city centre.
Open from 7am to dusk, all year round, enjoy the wonderful landscaped gardens, glasshouses and tearooms here.
Admission is free and exploring this Glasgow attraction is the perfect activity for a few hours on a sunny day.
9000 plants species can be found here and the gardens sit alongside the River Klein.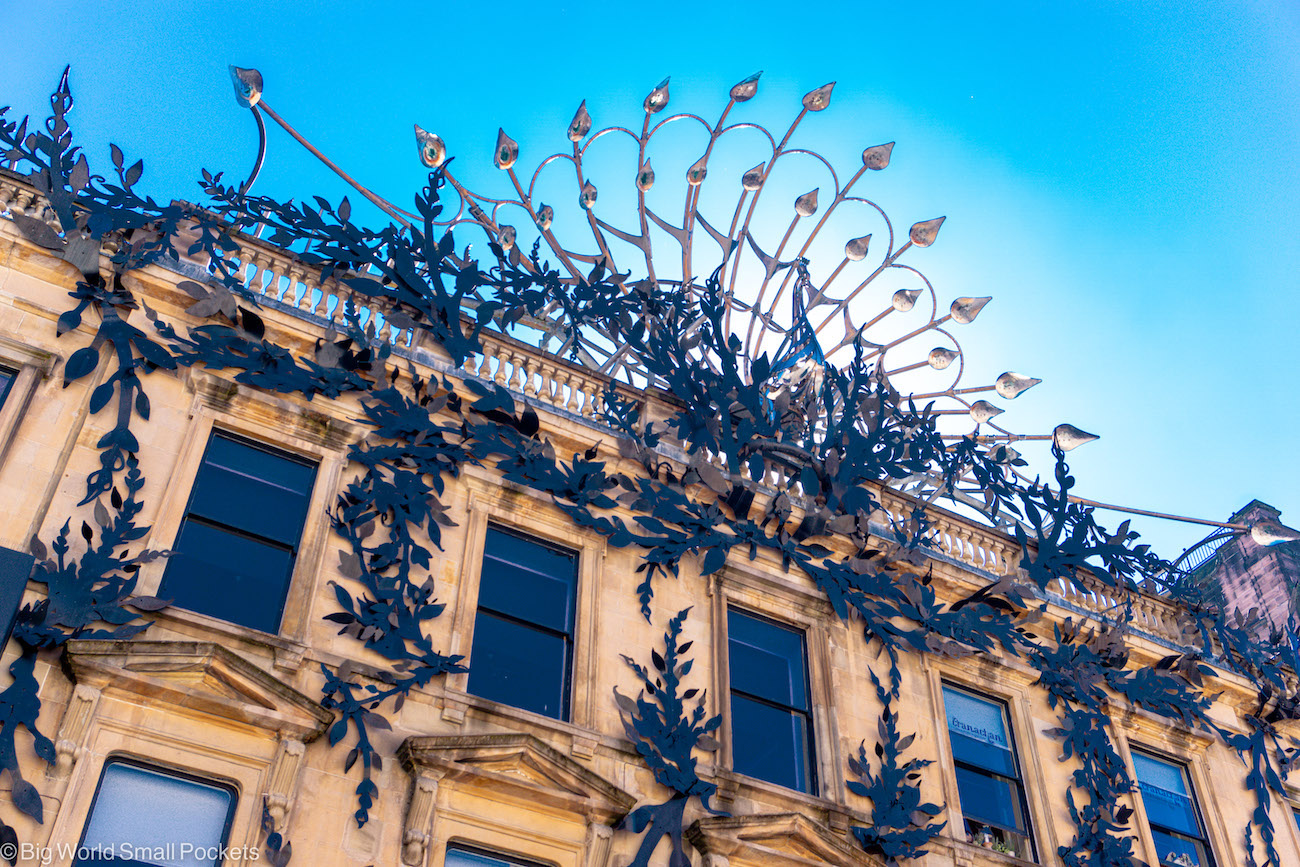 #11 Glengoyne Distillery
Back to the drinking now, but instead of beer or tea, it's time to sample some of Scotland's most famous spirit – whiskey – and take a tour of an iconic distillery here.
Located close to the city centre – about 40 minutes away – my top choice, if you're short on time, is to head to the Glengoyne Distillery, where you can enjoy learning about the whisky-making and a tutored tasting of 3 whiskies.
To top it all off, each whisky is paired with chocolate from an award-winning chocolatier!
This well-reviewed tour is a great affordable option and can be accessed via the #10 bus directly from Glasgow city centre.
There's also free parking on site if you have a car with you.
#12 Glasgow Science Centre
The modern silver, dome building of the Science Centre has become a top Glasgow attraction since it opened in 2001.
A great thing to do in this city for families, and situated along the south bank of the River Clyde, it's easy to spend a day exploring this site with so many different exhibitions and experiences on offer.
With the Science Mall, the Glasgow Tower and the IMAX cinema here, along with a Planetarium, Bodywork display and Space Zone, this is the perfect day out for all ages and one of Scotland's most popular attractions.
Tickets can be bought online in advance and cost £12.50 for adults, £10.50 per children and under 3's go free.
The Science Centre is open from 10am to 5pm daily.
#13 Riverside Museum
And very near the Science Centre is the fantastic Riverside Museum – another top Glasgow attraction and the perfect pairing if you're up for a day of discovery.
Housed in another amazing modern building along the River Clyde, this museum hosts a fantastic collection of historic vehicles along with state-of-the-art interactive technology displays and over 3000 artefacts on display.
Open 7 days a week, entrance to the Riverside Museum is free and you should allow 2-3 hours to explore here.
An award-winning transport museum, here you can walk down an old cobbled Glasgow street with shops dating back to 1890, as well as explore the amazing Tall Ship, which is berthed outside and filled with activities for small children.
#14 Glasgow University & Ashton Lane
And now from museums to architecture, you really can't visit Glasgow and not take in some of this city's stunning historic buildings.
Found in the West End of the city, the university actually boasts some of the city's most beautiful buildings, so strolling the streets that form the campus here is a must.
And one of the top places to head for has to be Ashton Lane.
A cobbled backstreet, regenerated in the 1970s, this quaint street is famed for its great bars, cafes, restaurants, licensed cinema and artwork!
Enjoying some time here is a great way to get away from the mainstream tourist crowds and soak up an atmospheric slice of Glasgow at its best and most charming.
#15 Kelvingrove Art Gallery & Museum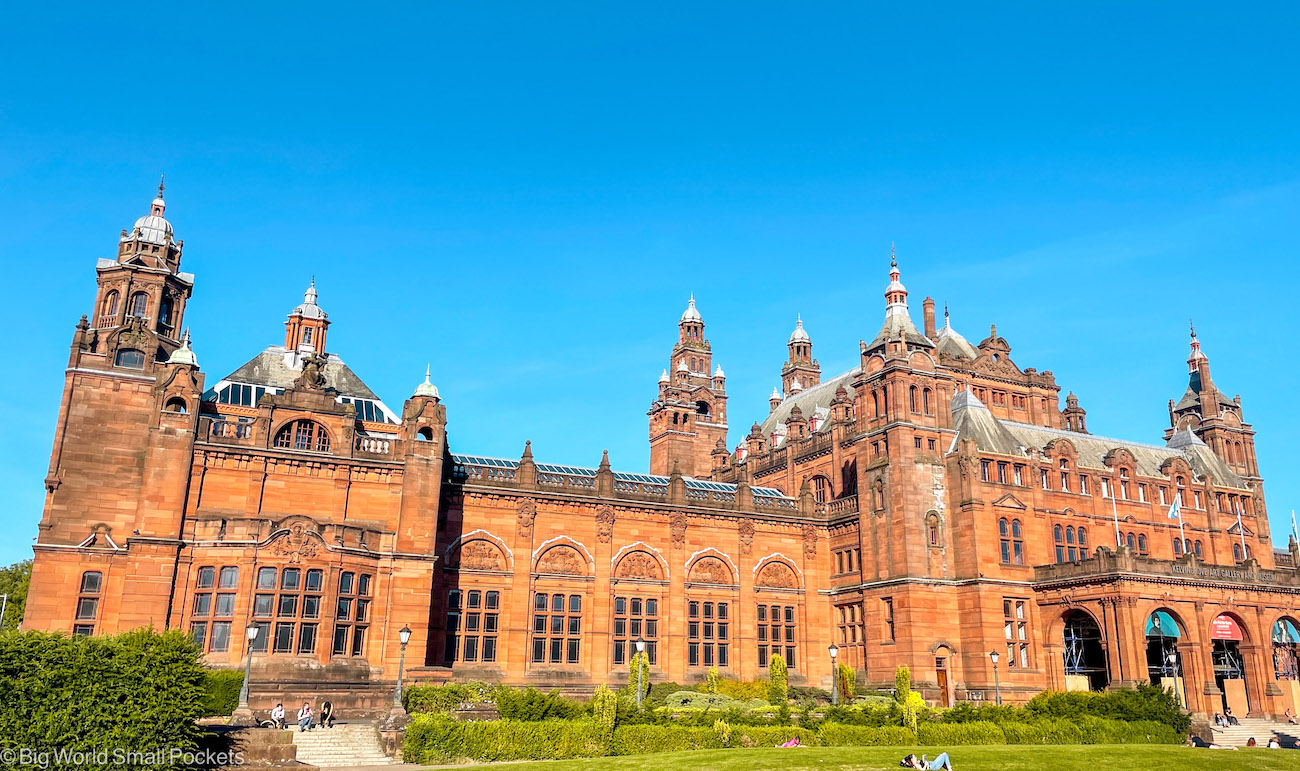 And last on this list of Glasgow attractions is the beautiful Kelvingrove Art Gallery and Museum.
The grand building of this museum is worth visiting in its own right, but inside you'll find a range of touring exhibitions celebrating print, photography and film, as well as 22 gallery spaces filled with 8000 anthropological and natural history display items. There's even an Dali original here!
Opened in 1901, the Kelvingrove is open 7 days a week and is free to enter.
Another great family day out, heading here is definitely a top Glasgow thing to do!
Best Glasgow Day Trip Attractions
And if you're looking for some top Glasgow day trips, once you've explored all there is within the city centre, check out these fantastic options…
Glasgow Mini Travel Guide
When to Visit?
The best time to visit this Scottish city in my opinion is during the summer months of June, July and August when the best weather comes to Glasgow.
Midges tend to be a problem in the countryside of this country, but you don't need to worry about these in the city.
Visiting during the festive season, when the wintery, atmospheric celebrations are in their full splendour is also a great time to visit Glasgow.
Where to Stay?
For a list of recommended places to stay in Glasgow, check out these great options.
How Long to Spend There?
I loved Glasgow and highly recommend a stay of at least 2 nights here.
Alternatively, you could spend 3-4 nights if you want to enjoy some fab day trips that include castle visits, whisky tastings and hiking excursions.
Here's my pick of the best Glasgow day trips.
Travel Insurance for Scotland
World Nomads offers simple and flexible travel insurance. Buy at home or while travelling and claim online from anywhere in the world.
Alternatively, if you're a long-term traveller, digital nomad or frequent remote worker seeking travel health cover, check out Safetywing's Nomad Insurance policies.
Travel Money in Scotland
When it comes to getting paying for things in Scotland, you want to ensure you're not being charged overseas transaction fees or getting poor exchange rates when using your card abroad, which is why I always take my Wise Card away with me wherever I travel.
The easy way to spend abroad with real exchange rates, no markups, no sneaky transaction fees and a free British pound account, you can use your Wise card just like a debit card in Scotland.. and it links easily with Google and Apple pay – sold!
Get yours here.
SAVE THIS ARTICLE TO PINTEREST!
And there you have it, my list of the top 15 Glasgow attractions you can't miss when visiting this fab Scottish city.
Pair with some of my recommended Glasgow day trips and you've got yourself another amazing trip to Scotland's largest city.
Have you visited Glasgow?
What do you enjoy there the most?
Tell me all in the comments box below…