If you're looking to see Scotland's largest city in an easy, quick and digestible way, then can I recommend a Hop On Hop Glasgow bus tour?
Ok ok, so before we go any further, we need to address what on earth has happened here!
From former wild, solo female hitchhiker, I'm now recommending bus tours to you in UK cities! What madness is this?
And it's a fair question!
But look, here's the deal…
Earlier this year I was in Glasgow for 1 afternoon, yes just one afternoon, before heading off into the Highlands to get some of my more "on brand" active travel fix.
And so I needed a straightforward and simple way to get to grips with this city.
Having visited only once before in my life (as a student so I don't remember a thing!), it's shameful that I really haven't ventured this far north in the UK for more than 2 decades, but that's living in London for you!
No excuse, but the truth.
Anyway, I digress, because the point is that while not my usual preferred option of transport or sightseeing, I have to say that the Hop On Hop Off Glasgow bus tour I enjoyed was absolutely brilliant.
Albeit a potential sign of my encroaching middle age (best not to dwell on this!), conversely, I like to think I thoroughly enjoyed my bus tour experience of Glasgow because it allowed me to see a lot of the city, it was super easy to use and I got to learn a lot.
So if this sounds like a pretty attractive option for your time in this Scottish city too, then read on to discover all you need to know about Hop On Hop Off Glasgow bus tours, including which companies to use, which tickets to buy, how to buy them, how much to pay and what your experience will be like…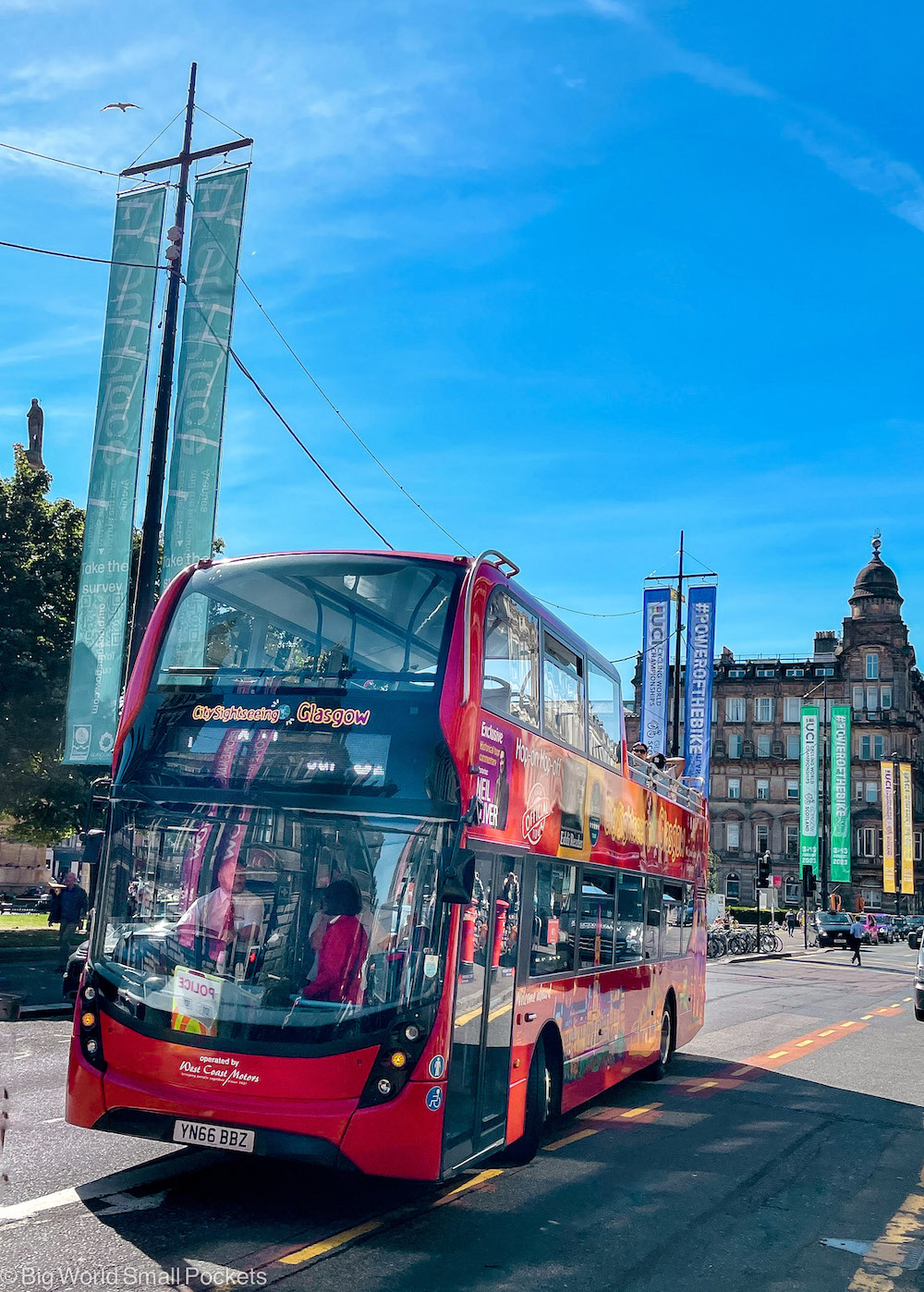 ---
Related Posts
---
This page contains affiliate links meaning Big World Small Pockets may receive a small commission on any purchases at no extra cost to you.
---
Which is the Best Hop On Hop Off Glasgow Bus Tour?
So let's start with the crucial information, namely which company should you use for your Hop On Hop Off bus tour?
And the answer is simple, the best company to go for is City Sightseeing Glasgow.
Not only is this because they are the company I used (and thought were brilliant), but also because they are actually the only company that operates a sightseeing bus tour in this city centre.
Decision made then!
City Sightseeing Glasgow are easily distinguishable thanks to their iconic double-decker, red buses, which are emblazoned with their bold branding and logo.
You don't have to spend long in Glasgow (or any major city in the world to be fair) until you see one pass you by and instantly recognise it!
Open top, these buses are especially ideal in the summer (which was when I visited Glasgow) as the elevated position on the top deck gives amazing views over the city and great photo opps above the crowds.
On cloudier and rainy days (and we all know Scotland gets plenty of those too!), the lower covered deck may provide a welcome relief.
You can book tickets for a City Sightseeing Glasgow bus tour here.
City Sightseeing Glasgow: The Basics
One of the best things about this Hop On Hop Off city bus tour is the fact it's super simple.
Just one route, known as the Red Route, operates in a circular loop around the city between 9:30am and 4:30pm, 7 days a week, all year round (except 25-27 December and 1-3 January).
It offers tours in 8 languages, care of free headsets that you can plug into your seat, and you'll receive a guided audio commentary of the sights as well as the city itself.
It also offers tours in English, with an onboard live guide on selected journeys – a great feature that really helped me learn more about the history and local life in Glasgow.
Live guides can be found on board on the bus between Easter and the end of October.
There's also a special commentary for kids.
Commentary is included free when you buy your tickets.
As with all Hop On Hop Off bus tours, this great option in Glasgow allows you to set your own itinerary – using the service to not only to get around the city and learn about it, but also to visit the key attractions.
You're free to get on and off the bus as many times as you like (within your valid ticket period) and take anything from just a couple hours, to a full day to see it all.
And it's great to know that Hop On Hop Off Glasgow bus tours have full accessibility for wheelchair users and a dedicated wheelchair space on the lower deck of each bus too.
Where Does this Glasgow Bus Tour Go?
The City Sightseeing Glasgow Hop On Hop Off bus tour (needs to find a shorter way of saying that!), boasts 21 stops across the city including…
George Square
Glasgow Cathedral
Merchant City
The Barras
Glasgow Green
St Enoch Centre
St Vincent Place
Radisson Hotel
Argyle Street
Hilton Garden Inn
SEC Centre
Clydeside Distillery
Riverside Museum
Woodlands Road
University of Glasgow
Byres Road
Kelvingrove Art Gallery & Museum
Kelvingrove Park
Charing Cross
Glasgow School of Art
Theatre Royal
The tour then ends at Buchanan Bus Station, which is very handy if you're planning to then catch a bus on to Edinburgh. Learn more here.
It's likely that you won't have the time or inclination to get off at all the stops, so here's my list of the top ones you shouldn't miss.
George Square
Glasgow Cathedral
Glasgow Green
Clydeside Distillery (if you have a tour booked – more on this later)
Riverside Museum
University of Glasgow
Kelvingrove Gallery
These 7 stops provide the best options across a huge range of cultural, historic and outdoor things to do in Glasgow, so if you're on a tighter timeframe (or perhaps with kids) make a beeline for these.
Learn more in my post about the 15 best Glasgow attractions, which covers all these stops and more!
If you don't choose to get off at any stops, but simply want to ride the route and take in the views, then a complete circuit on the Hop on Hop off Glasgow bus tour takes 90 minutes.
It's worth noting that entrance fees to any of the attractions you want to visit when you hop off the bus are not included in your ticket price.
Check out the mapped journey route of the Glasgow Hop On Hop Off bus here.
Tickets: How to Buy Them & Costs
Tickets for the Hop On Hop off Glasgow bus tours are available in 1 day or 2 day formats.
This gives you the option to spread your city sightseeing over a couple of days if you wish.
Tickets are valid for a day – so even if you start your tour at 3pm, your ticket will expire when the last bus departs at 4:30pm.
To extend your ticket to a 2 day pass costs just £1 more, so is probably worth it for the bus fare alone if you are in Glasgow for 48 hours.
The cost of a 1 day ticket on the Hop On Hop Off Glasgow bus tour are listed below…
Adult: £16
Child (age 5-15): £9
Infant (age 0-4): Free
Senior (age 60+): £15
Student (student card required): £15
Family (2 adults + 3 children): £35
Tickets can be bought online here.
Buying tickets will give you a mobile voucher you simply need to present to the driver each time you board.
You can also buy your tickets or on the bus itself – either from the driver when boarding (using cash or contactless), or at the St George's Square stop (using card or cash), where there are designated ticket sales representatives.
Buying your ticket this way, or through the driver, will give you a paper ticket that you'll need to keep on your person and present to the driver each time you hop on!
Free cancellation is available up to 24 hours before your ticket date and tickets are valid for 12 months once purchased.
Tickets only include the bus journey and commentary – entrance tickets to attractions are payable separately at each individual stop.
Where to Find the Bus?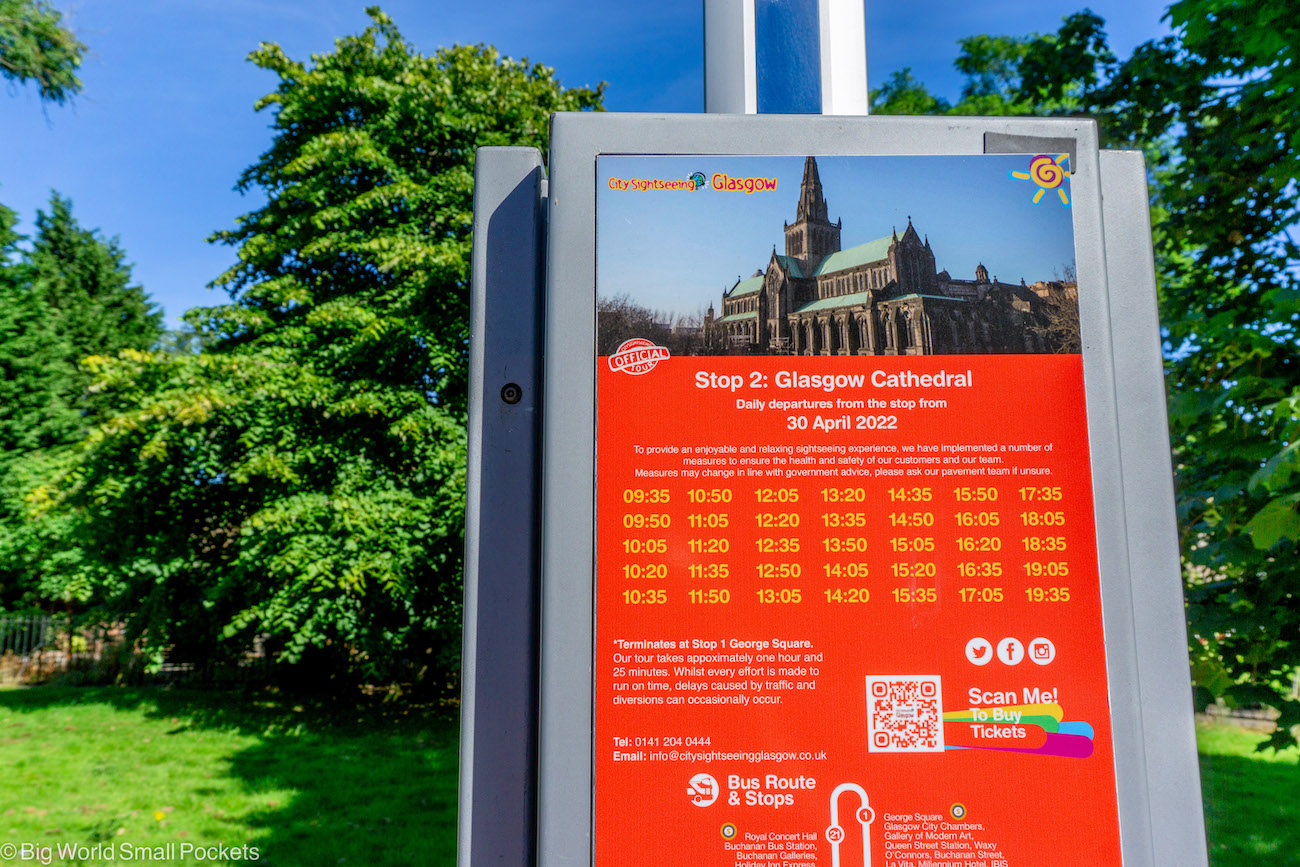 I suggest hopping on this Glasgow bus tour at the first stop if you can.
You'll find this right across from St George's Square – just down from Glasgow's Queen Street train station – at stop number 1.
It's not hard to spot the bus here and if there isn't one when you arrive, you won't need to wait long as the tours start every 30 minutes.
Bus stops are branded, so you'll see the red City Sightseeing Glasgow sign at any stop where it's possible to board or disembark at.
Hop On Hop Off Add Ons
You can also buy tickets that include add-ons to the bus route.
These range from walking tours and museum entries to distillery visits, meals and cruises.
All these options are linked to particular stops along the way.
If you want to buy tickets that include any add-ons, then I suggest planning and booking your Hop On Hop Off Glasgow bus tour a couple of days in advance, as you'll need to select specific times for these add-on attractions and check availability.
I would have loved to have included a distillery tour in my Glasgow bus trip, but sadly left it too late in the day to arrange this – bad, unprepared travel blogger!
To learn more and book tickets with add-ons, click here.
Mini Travel Guide to Glasgow
When to Visit?
The best time to visit this Scottish city in my opinion is during the summer months of June, July and August when the best weather comes to Glasgow.
Midges tend to be a problem in the countryside of Scotland during these months, but you don't need to worry about these in the city.
Visiting during the festive season, when the wintery, atmospheric celebrations are in full swing, is also a great time to visit Glasgow.
Where to Stay?
For a list of recommended places to stay in Glasgow, check out these top options.
How Long to Spend There?
I loved Glasgow and highly recommend a stay of at least 2 nights here.
Alternatively, you could spend 3-4 nights in the city if you want to enjoy some fab day trips that include castle visits, whisky tastings and hiking excursions.
Here's my pick of the best Glasgow day trips.
If you want to travel on to Fort William after Glasgow, possibly to hike Ben Nevis, get all the details about how to make this journey here.
Travel Insurance for Scotland
World Nomads offers simple and flexible travel insurance. Buy at home or while travelling and claim online from anywhere in the world.
Alternatively, if you're a long-term traveller, digital nomad or frequent remote worker seeking travel health cover, check out Safetywing's Nomad Insurance policies.
Travel Money in Scotland
When it comes to getting paying for things in Scotland, you want to ensure you're not being charged overseas transaction fees or getting poor exchange rates when using your card abroad, which is why I always take my Wise Card away with me wherever I travel.
The easy way to spend abroad with real exchange rates, no markups, no sneaky transaction fees and a free British pound account, you can use your Wise card just like a debit card in Scotland.. and it links easily with Google and Apple pay – sold!
Get yours here.
SAVE THIS TO PINTEREST!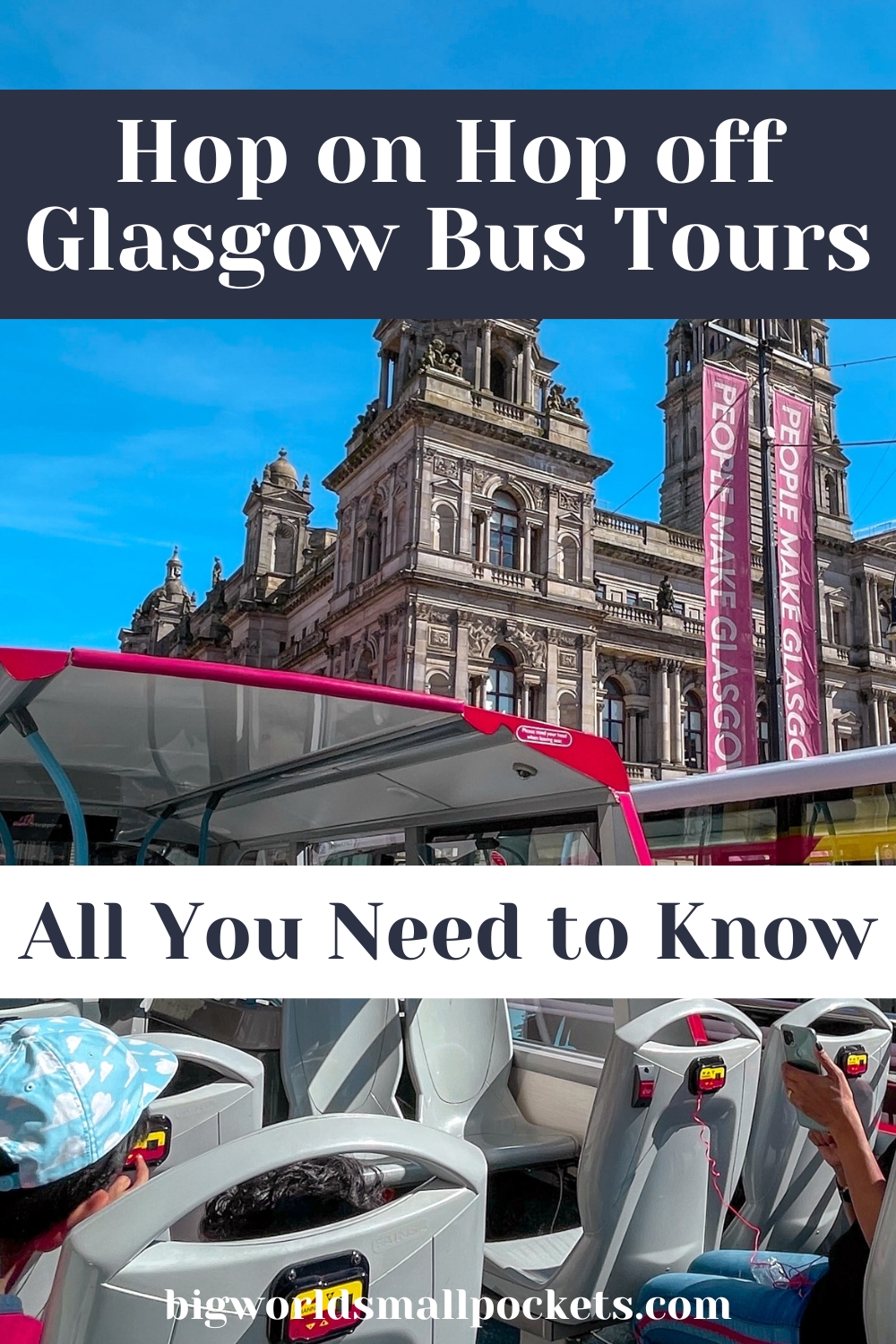 So that's my complete guide to enjoying a Hop On Hop Off Glasgow bus tour.
Hopefully you've found this information useful, but any other top tips you have to add that could help a fellow traveller out, please drop them into the comments box below…
Equally, if you still have questions about my time on this big red bus in Glasgow, drop those in the comments too and I'll get right back to you.