Travelling from Glasgow to Fort William is a key journey you'll need to make if you want to experience the beautiful West Highlands of Scotland, in particular, if you want to hike Ben Nevis – the UK's highest peak.
Fort William is one of the main towns in the West Highlands area and makes a great base for activities in this glorious area of natural beauty – be that walking, winter sports, whisky tastings, road trips, steam train journeys or castle sightseeing.
It's also easy to access the islands of Skye and Mull, not to mention the famous Loch Ness from Fort William too – all of which makes it a key destination on your Scottish adventure.
But how to get there?
Well, the first step is to get to Glasgow, as this is by far the easiest Scottish city to travel to Fort William from.
If you're looking at travelling from Edinburgh to Glasgow, then check out this article for more info about the journey.
My advice would then be to travel to Glasgow first (spending at least a day in this city because it's great!) before heading on to Fort William
In this article, I'm then going to cover all the info you need to know about getting to Fort William from Glasgow, be that by bus, train or car.
Let's get stuck in…
---
Related Posts
---
This page contains affiliate links meaning Big World Small Pockets may receive a small commission on any purchases at no extra cost to you.
---
First Step: How to Travel to Glasgow?
When it comes to getting from Glasgow to Fort William, I thought it might first be useful to briefly mention how you can get to Glasgow in the first place.
Scotland's largest city (even though it's not the capital), many people arrive into Glasgow via its international airport.
As always, I use Skyscanner to find the best flight deals as they include budget airlines in their searches.
Once you arrive at Glasgow airport, you can then head straight to the centre via taxi, Uber, car or a direct bus service.
You can also travel to Glasgow by train – which is the greener and nicer option if you're already within the UK.
I highly recommend using Trainline to book rail tickets to Glasgow from across the UK.
The main train station in Glasgow – Glasgow Central – is where most services around the country, including London, arrive into.
Glasgow Central is located on Gordon Street, right in the centre of the city, meaning you can likely walk to your accommodation easily from it.
I then recommend you spend at least a day in Glasgow, exploring all the city has to offer before travelling on to Fort William.
Here's how to make the journey to this main access town in the West Highlands…
#1 By Train
Best for Ease, Comfort & Views
So the first way to travel between Glasgow and Fort Willaim is by train.
Incidentally, this is also the best option in my opinion.
Used by locals and tourists alike, the train journey between these 2 destinations is cheap and straightforward.
I travelled to Fort William from Glasgow myself using the train and found the service clean, comfortable and easy.
All trains to Fort William from Glasgow depart from the city's second train station – Glasgow Queen Street – which is located on North Hanover Street, right by the city's George Square.
The train journey from Glasgow to Fort William is direct, but due to the distance (120km), the number of stops and the rural nature of the journey, the ride isn't that quick, taking just under 4 hours on average!
But you needn't worry, because the route you'll take is one of the most scenic in the UK!
Known as the West Highlands Line, you'll be absolutely amazed by the beauty of the landscapes visible from the window, so staring at the stunning Scottish countryside rolling past you is an amazing way to pass the time!
There's at least 3 services daily that make the rail journey between Glasgow and Fort William and tickets start from £19 when booked in advance online.
ScotRail operate the route and have direct services leaving Glasgow Queen Street at around 8am, 12pm and 6pm.
All these trains take roughly the same time and are direct, so choose the option that fits best with your travel plans.
As always, I use Trainline for booking my UK train tickets as they easily compare tons of journeys for you and make it simple to buy and pay for train services in multiple currencies (GBP, EUR and USD).
If you are returning to Glasgow from Fort William, then buying a return train ticket will also save you time and money, so I'd always opt for it.
All trains from Glasgow arrive into Fort William's only rail station, which is about a 5 minute walk from the town centre.
In addition to the Scotrail service, there is also the Caledonian Sleeper, which travels from London up to the Highlands.
Running a daily service, it leaves Glasgow just after 5:30am, getting you into Fort William just before 10am.
Given that it has a longer journey time and is more expensive than the ScotRail journeys however, I wouldn't recommend the Caledonian Sleeper for the Glasgow to Fort William stretch. I'd only consider this option if you're travelling from London and even then, only if you want a special experience, because cheap it is not!
#2 By Bus
Best for Price & Speed
You also have the option to travel from Glasgow to Fort William (or in the other direction) by bus.
The company that offers this route is called CityLink and they run 4 bus services a day between the 2 destinations.
Route 916 leaves Glasgow at 6:45am and arrives into Fort William at 9:46am
Route 915 departs Glasgow at 10:00am and arrives into Fort William at 1:15pm
The second daily 915 service departs Glasgow at 3pm and arrives into Fort William at 6:15pm
Route 914 leaves Glasgow at 6:05pm and arrives into Fort William at 9:13pm
All services take just over 3 hours and costs start from around £28 for a single ride.
It's possible to buy return tickets too, which works out a lot more cost-effective – as little as £30.
This makes a bus between Glasgow and Edinburgh a great option if you're booking last minute or are on a budget.
Buses from Glasgow to Fort William depart from Buchanan Bus Station and arrive into the main Fort William Bus Station, which is near to the train station.
Bus tickets can be booked directly through the Citylink website here.
You do miss out on the views when you travel by bus, but it is slightly quicker than the train and cheaper for a return journey too.
On most bus services, there's a toilet – although I suggest using the bathroom before you board to be honest!
Some of the newer coaches have USB charging sockets.
#3 By Car
Best for Flexibility & Exploration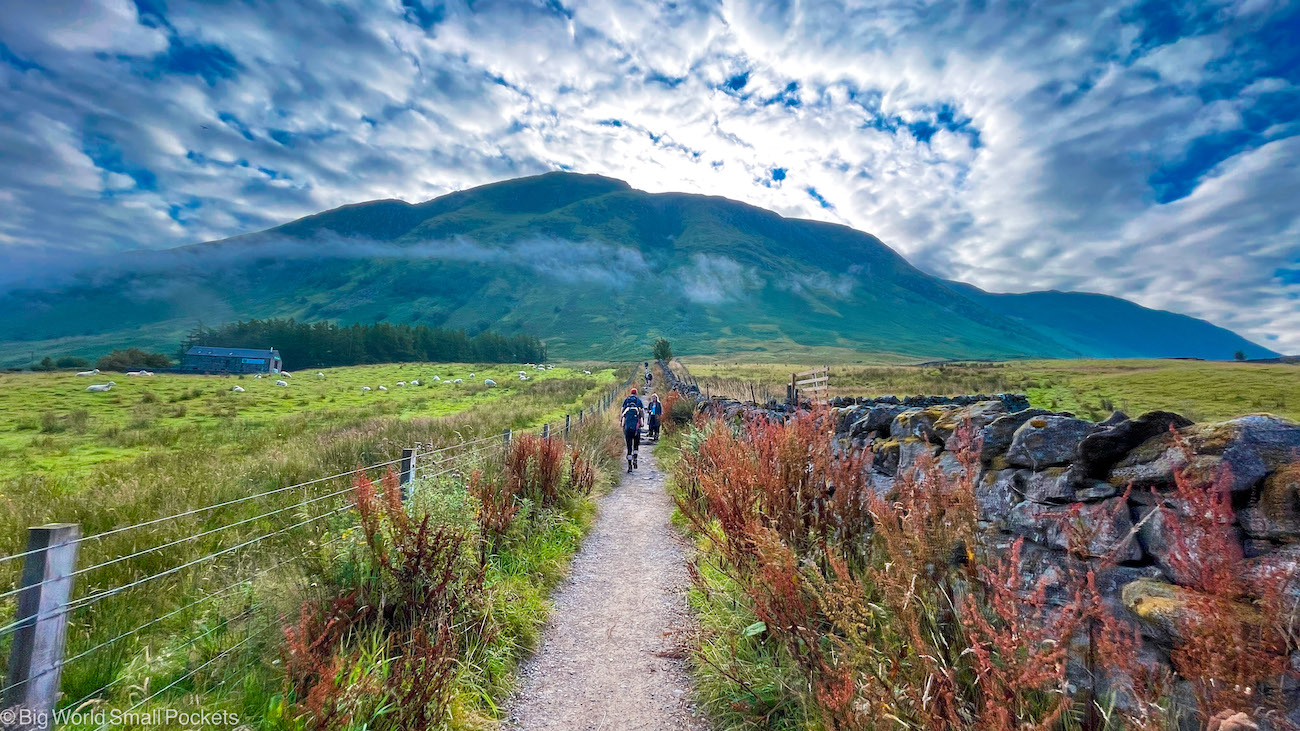 And the third way to travel between Glasgow and Fort William is by car.
You can usually rent a car either from Glasgow airport if you're flying in there, as well as the city centre.
I'd opt for the city centre if you're spending a few days in Glasgow first – this way you don't need to pay for a car during your time in the city (you probably won't need a vehicle whilst in the centre of Glasgow) and can avoid the hassle and costs of parking too.
Don't forget to add fuel costs to the expense of renting a vehicle when you're trying to work out costs!
Car hire can be quite affordable if there's a group of you travelling together. Grab a great deal on car rental from Glasgow here.
If you're driving from Glasgow to Fort William, then it's worth knowing it takes under 3 hours to travel between them by road. You simply need to follow the A82.
If you're planning to take your time to drive this route, then the key stops to make along the way are Loch Lomond, Trossachs National Park and Glencoe Valley.
Travel Guide to Glasgow and Fort William
When to Visit?
The best time to visit Glasgow and Fort William in my opinion is during the summer months of June, July and August when the best weather comes to Scotland.
Midges tend to be a problem in the countryside during these months, but you don't need to worry about these in Glasgow or Fort William – they are only a problem when you travel to more rural areas in my experience.
Visiting during the winter months of November through March, when you're likely to see snow, can be a beautiful time to visit Scotland (and fun if you've come for winter sports!), but do beware of the disruption this can cause to travel plans and planned activities.
If you're planning to hike Ben Nevis, I do not recommend doing so during winter – the conditions are dangerous at this time.
Where to Stay?
For a list of recommended places to stay in Glasgow, check out these great options.
For top accommodation picks in Fort William, check out this article.
How Long to Spend There?
I loved both Glasgow and the amazing nature around Fort William and highly recommend at least a minimum stay of 2 nights in each.
Alternatively, you could spend 3-4 nights in each destination if you want to enjoy some fab day trips that include castle visits, whisky tastings, beach visits and hiking excursions.
Check out these brilliant day trip options from Glasgow for more info.
Travel Insurance for Scotland
World Nomads offers simple and flexible travel insurance. Buy at home or while travelling and claim online from anywhere in the world.
Alternatively, if you're a long-term traveller, digital nomad or frequent remote worker seeking travel health cover, check out Safetywing's Nomad Insurance policies.
Travel Money in Scotland
When it comes to getting paying for things in Scotland, you want to ensure you're not being charged overseas transaction fees or getting poor exchange rates when using your card abroad, which is why I always take my Wise Card away with me wherever I travel.
The easy way to spend when you're travelling with real exchange rates, no markups, no sneaky transaction fees and a free British pound account, you can use your Wise card just like a debit card in Scotland.. and it links easily with Google and Apple pay – sold! Get yours here.
SAVE THIS TO PINTEREST!
So that's my full guide on how to travel from Glasgow to Fort William.
Hopefully you've found this information useful, but any other top tips you have to add that could help a fellow traveller out, please drop them into the comments box below…