If you're looking for a great coastal day or weekend trip from London, then it's hard to overlook the seaside town of Hastings in East Sussex.
Full of vintage beauties, traditional fishing ports, as well as an increasingly gentrified set of cafes, restaurants and shops, this large town is a fascinating mix of fashions, histories and cultures.
Plus there's the sea too – rather a lot of it actually! – and a lovely old pier to boot, plus some great walks in countryside around, as well as the historic town of Battle, where yes, you guessed it, the Battle of Hastings took place!
So if you're looking to get from London to Hastings for a bit of a seaside escape, here's the complete lowdown on how to do it via train, bus or car, including the pros and cons of each…
---
Related Posts
---
This page contains affiliate links meaning Big World Small Pockets may receive a small commission on any purchases at no extra cost to you.
---
How to Travel from London to Hastings by Train
The first option for getting from London to Hastings is by train.
This is the quickest and most direct option.
Heading straight out of London Bridge, Charing Cross, London Victoria or London St Pancreas, Hastings trains run regularly and take between 1 hour 30 minutes and 2 hours 10 minutes.
The trains from St Pancras are actually the quicker option because they use the highspeed rail line out to Ashford International in Kent (which is part of the Eurostar infrastructure), but you do need to change trains here if you go for this option.
Tickets are slightly more expensive on this route too, costing around £38.
Alternatively, the London Bridge or Charing Cross to Hastings services are slightly cheaper at around £31 and are direct, meaning you don't have to change trains.
These routes do take slightly longer at just over 2 hours, as there's many stops along the way, however one of these stops is the town of Battle, which is very good to know if you're wanting to visit this historic destination too.
The London Victoria service is somewhere between these 2 options in terms of price and time. Taking around 2 hours, and costing roughly £33, this is a direct service too, but it does stop frequently.
This service doesn't go via Battle, so might not be the best outbound service if you're heading to this historic town before Hastings. However, the route to Victoria can be a lovely return journey because you'll travel from Hastings all along the coast as far as Eastbourne before heading inland.
If you're enjoying a day trip to Hastings, this is a great way to round off as you get lovely coastal views, often with a sunset backdrop!
At this point, it's worth noting that the train station in Hastings is a little out of the centre and a fairly good walk to either the Old Town or the beach, so do allow enough time to get from the station to either of these destinations.
At the other end of the journey, it's easy to get to any of the London stations I mention using the city's Tube or Bus network.
Either you can pick the departure station nearest to where you are based, or easiest to get to, or make your selection based on the price of the service or the length of journey.
As always, I use Trainline to check schedules as well as book my trains in the UK, including for trains to Hastings from London (or visa-versa).
I particularly like the way Trainline uses split fares, which means you can be guaranteed to pay the least for tickets as they analyse a range of different fares (including 2 singles vs returns etc) to get you the best deal.
And that's a particularly good thing when it comes to the London to Hastings train, because these tickets can be pretty expensive, especially at weekends and during the summer when most people visit Hastings from London.
At all times, but especially at these peak times, I highly recommend booking your London to Hastings train in advance – think at least 7-10 days, but preferably more.
Advance bookings are going to give you the cheapest prices every time.
Train Pros: Direct, Quick, Regular, Choice of London Stations
Train Cons: Can be Expensive, Need to be Booked in Advance
Getting from London to Hastings by Coach
If price is a major consideration for you, then perhaps travelling from London to Hastings via coach might prove a better option.
National Express is a great coach company that runs services across the UK, including direct services from London to Hastings
If you have plenty of time, but small pockets, you'll likely be delighted to find single tickets for as little as £9!
With several departures per day, the quickest services take 2 hour 30 minutes and the longest ones around 3 hours.
This means bus travel is probably best suited to those heading to Hastings for a weekend – a 6 hour return journey is a bit much for a day trip!
All of these coaches leave from Victoria Coach Station – which is the National Express hub in London and is a short walk from London Victoria Rail Station.
Coaches arrive directly into Hastings too – in fact, there's 2 stops: Hastings Town Centre or Hastings Sedlescombe Road North.
Again, booking National Express tickets in advance, through Trainline, can help you secure the best rates, however this doesn't need to be done nearly as far in advance as the trains.
Booking your Hastings to London coach can be done as late as 3-5 days ahead of your departure day and you'll still have a good chance of getting some bargains!
Coach Pros: Direct, Cheap
Coach Cons: Longer Journey Time, Less Frequent Services
Travelling from London to Hastings by Car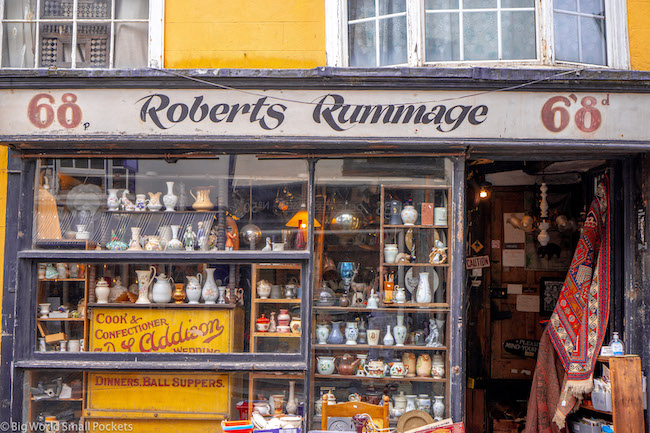 And finally we come to the 3rd option of travelling from Hastings to London (or visa versa), and this is to drive.
Of course, the advantages of driving including leaving when you want, as well as having a car when you arrive down in Hastings, which is ideal if you want to explore the area around the town too.
If you're sharing the ride with others, then you can also share the costs of fuel on this journey too.
But don't forget, there's often hidden costs associated with driving to Hastings – not least the fees of parking, which can be significant.
Even prices aside, just trying to find a parking space here is a whole thing, especially in the busy summer months, when the place can be rammed!
Learn more about parking in Hastings, including car park locations and prices, here.
It's also possible that driving to Hastings will take you longer than the train, especially if the traffic is bad or you've got to get across the city from north London.
And it certainly won't prove as relaxing as a train journey!
Without stops, you're looking at around 2 hours to make the drive from London to Hastings, but if you want to see some stuff along the way, the Kent city of Royal Tunbridge Wells makes for a great place to break and explore.
Learn more in this article I wrote about the 13 best places to visit in Kent.
I don't generally recommend driving to Hastings – it's not generally cheaper or quicker than bus or train and it definitely involves a lot more hassle such as traffic and parking.
That said, it will give you flexibility if you are exploring more areas in East Sussex, or if you're travelling with a lot of luggage or young children.
If you do want to rent a vehicle, then I highly recommend Discover Cars in the UK, who are very reputable and have some great deals.
Learn more of my top budget tips when it comes to renting a car in the UK here.
Driving Pros: Independence, No Need to Organise in Advance, Flexibility
Driving Cons: Traffic, Parking, Stress
Top Hastings Travel Tips
Best Hastings Attractions?
And this leads me nicely on to discussing briefly what you should do in Hastings when you get down there.
Don't forget you can learn more about these options, and many more, in my article about the best 21 things to do in Hastings.
Stroll the Historic Pier
Enjoy the Beach
Take a Dip in the Sea
Visit the Old Town
Explore The Stade
Discover St Leonards
Head to Hastings Contemporary
Eat Some Locally Caught Fish
Ride on the Minature Railway
Enjoy a Drink at Local Pub
Shop at the Independent Stores
Take in the Views from East Hill
When to Visit Hastings?
I'd definitely recommend visiting Hastings in the summer when the best weather will allow you to enjoy the beach, stroll the gorgeous Old Town and enjoy an ice cream on the Pier.
Just remember weekends, especially during the school summer holidays, can get very busy here and are probably best avoided unless you enjoy sharing the beach with throngs of others!
How Long to Visit Hastings For?
Hastings can easily be enjoyed as part of a great day trip from London.
If you set off early enough, you can also squeeze in a visit to Battle on the way!
The long summer evenings give you plenty of time to get back to the capital with a belly full of fish and chips and plenty of sand between your toes!
Otherwise, if you want to enjoy Hastings for a bit longer, and perhaps explore some of the stunning East Sussex countryside around, this great town makes the perfect base for a weekend trip that is both easy and affordable.
Where to Stay in Hastings?
And if you're looking at staying overnight in Hastings, then here's my top suggestions…
As always, VRBO has some great rental property options for groups and families.
Check out this gorgeous historic cottage for 5 with a great location and beautiful furnishings or this spacious seafront apartment for 2 that has direct ocean views from the balcony.
Travelodge Hastings also offers great value accommodation within strolling distance of the beach and the Old Town.
This is well-suited to overnight stays, when you just want somewhere to lay your head and aren't too worried about the feel of the place.
If you want something with a more independent spirit, then check out this cute, local guesthouse, which gets great reviews thanks to its brilliant location and excellent service. It's one of the best-priced in Hastings too.
Travel Insurance
World Nomads offers simple and flexible travel insurance. Buy at home or while travelling and claim online from anywhere in the world.
Alternatively, if you're a long-term traveller, digital nomad or frequent remote worker seeking travel health cover, check out Safetywing's Nomad Insurance policies.
Travel Money in the UK
The easy way to spend abroad with real exchange rates, no markups and no sneaky transaction fees, you can use your Wise card just like a debit card here… and it links easily with Google and Apple pay – sold! Grab yours here.
PIN IT TO PINTEREST!
And that's my guide on how to travel from London to Hastings, giving you all the pros and cons of the 3 options – train, coach and car.
I hope my list of the best things to do in Hastings, as well as some top-rated and well-priced options, have also proved helpful.
Have you visited Hastings yet?
How did you travel there?
Do help other travellers out by sharing your experiences in the comments below…