Not known for its tourist trail, Zimbabwe is however an amazing destination to explore in southern Africa.
From ancient Medieval ruins to stunning national parks and even dam cruises, it's a land that offers many surprises for those who venture into her midst.
I visited Zimbabwe as part of my Africa overland trip with Absolute Africa and absolutely loved my time there, which is why I'm currently offering all my readers an exclusive discount on Absolute Africa tours, meaning you can now travel even more in this amazing continent for less!
Simply send Absolute Africa an email to [email protected], quoting the discount code BWSP, and start planning your incredible trip to Zimbabwe with them today!
And to give you a bit more of taster of what you can expect, here are the 6 best things to do in Zimbabwe…
---
Related Posts
---
This page contains affiliate links meaning Big World Small Pockets may receive a small commission on any purchases at no extra cost to you.
---
Grab Your Copy of How to Travel Africa for Less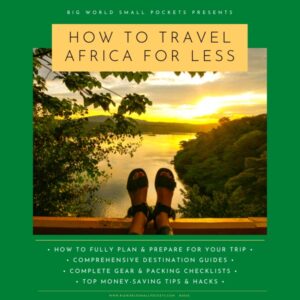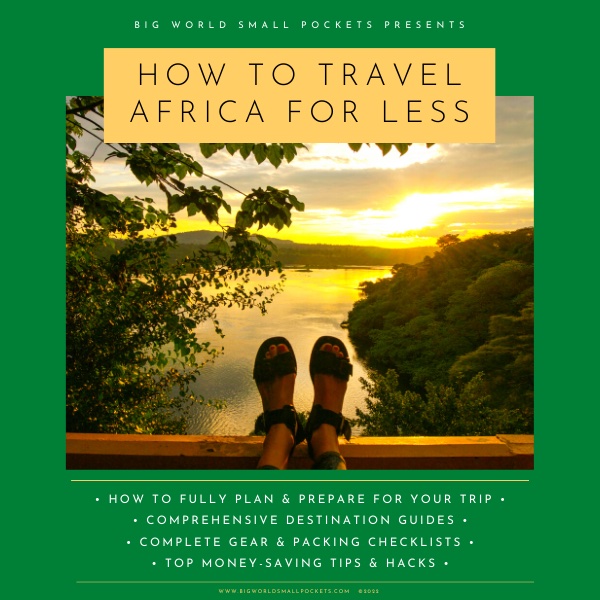 My ultimate guide to travelling Africa on a budget is now available, meaning you can finally get ALL my top tips for adventuring around all, or parts, of this amazing continent in one handy eBook, including…
Full Planning & Preparation Guides
Detailed Destination Info
Complete Packing & Gear Lists
Top Money-Saving Tips & Hacks
#1 Get Your Adventure Fix at Victoria Falls
One of the 7 natural wonders of the world, who doesn't want to tick Victoria Falls off their bucket list?
While I certainly did and was delighted to do just that on my visit to Zimbabwe.
Straddling the border between Zimbabwe and Zambia, Victoria Falls is not that far from Botswana either – making it the perfect spot for a stopover on any Southern Africa trip.
I stayed at Shoestring Backpackers while I was there. With a pool, bar, café, communal kitchen and free wifi, it's a basic backpackers, but has a great vibe and offers everything from camping to dorm beds and private room accommodation.
Otherwise, for something a little more private, check out Dzimbahwe Guest Lodge, which has a mix of double twin, triple and family rooms and is highly rated.
While at Vic Falls, you should definitely indulge in some of the activities on offer in this adventure capital of Southern Africa, which can be booked directly through the backpackers.
From bungee jumping to white water rafting and even peering over the edge of the falls from Devils Pools, there's plenty of fun to choose from if you have the budget.
Learn more about the best things to do in Victoria Falls.
Otherwise, if you're looking for a cheap alternative, spending an afternoon walking along the Zimbabwean side of the falls and snapping this spectacular and dramatic flow of water is well worth it for $30 USD. Just don't forget a waterproof jacket if you're heading there in the rainy season!
When it comes to eating, there's some great choices for food, coffee and drinks in Victoria Falls town too and my favourite – Three Monkeys – has some delicious things on its menu. Word of warning: the portions are huge!
#2 Houseboat on Kariba Dam
Known for a long time as Zimbabwe's playground, Kariba Dam is a super place to chill out with a bunch of friends.
Located about 5 hours from Harare, getting a group of mates together and renting a houseboat from Kariba Town is an awesome way to experience the Dam – one of the largest artificial lakes in the world – and definitely one of the best things to do in Zimbabwe.
As you sail along expect to see loads of game, including the Big 5 and some amazing sunsets.
There's also fishing to do, as well as visiting some of the islands here, so definitely allow yourself at least 2 days to get the best from this destination.
Also be prepared for the heat here. Packing sun cream and at least 30% DEET insect repellent are a must!
#3 Spot Rhinos in Matopos National Park
A UNESCO World Heritage Site, Matopos National Park is famous for the numerous boulders that rest on top of each other across the landscape. Much like Devils Marbles in Australia, there are some striking geological formations here that seem to defy gravity!
Located near the city of Buolwayo, Matopos National Park is broadly split between 2 sections – the recreational area, which showcases the rock art caves, including traditional works by San people and the game area, which is where you'll spot your rhinos and your leopards.
Because if there's one thing Matopos is famous for its rhinos!
These can actually be seen as part of a walking safari and African Wanderer will certainly help you arrange this, just ask for Ian!
You'll want at least 2 days to explore Matopos National Park, especially as the nearest camping is 40km from the entrance.
#4 Discover the Great Zimbabwe Ruins

Fuelled by the Swahili gold trade and once the important capital of Rozwi culture, the Great Zimbabwean Ruins were part of a large operating civilisation settlement from the 11th to the 15th century.
As such, these are some of the largest and most ancient structures in sub-Saharan Africa and an important UNESCO World Heritage Site.
Allow yourself at least 4 hours to explore this Medieval city, which is actually very close to Mozambique and certainly one of the best things to do in Zimbabwe.
I was amazed I hadn't heard of these ruins before I reached Zimbabwe, but that's just an example of the treats that can be found here.
#5 Game Drive in Hwange National Park
Zimbabwe's largest park and one of the 10th largest in Africa, no trip to Zimbabwe would be complete without a game drive in Hwange National Park, definitely one of the best things to do in Zimbabwe.
A short distance from Victoria Falls, I recommend 2 nights in this great national park so that you can enjoy both morning and evening game drives.
During just one of these we saw hippos, elephants, baboons, wildebeest, impala, zebra, kudos, janet cats, African kangaroos, bush babies and giraffe.
The Painted Dog Conservation Centre set just before the park is also well worth a visit.
Staying at Hwange Main Camp would be my choice here… just keep your eyes peeled for the hyenas!
#6 Enjoy a Walking Safari at Mana Pools National Park
Another UNESCO World Heritage Site, Mana Pools is famous for its raw and wild nature.
Rich in animals, this park is unfenced so animals roam freely including elephants and lions!
And this includes into your campsite!
You can also walk freely walk in Mana Pools National Park, but having a ranger / guide accompany you is probably a good idea for obvious safety reasons!
Mana Pool National Park is also a great place to cruise on the Zambezi River and snap some game from here too. With hippopotamus, crocodiles, elephants and a wide variety of aquatic birds all found here it makes for an unforgettable experience.
Mini Travel Guide to Zimbabwe
How Long to Spend There?
I'd suggest at least 7 days in Zimbabwe to ensure you have the chance to visit all the top things to do I mention in this article.
Top 5 Packing Items for Zimbabwe
#1 Good Camera – Don't even think about coming to Zimbabwe without a good travel camera to capture the best of this country. The Sony A6000 mirrorless ticks my box every time!
#2 Walking Shoes / Boots – These are highly recommended for safaris, especially early morning or evening game drives when the temperatures can really drop. Keen Targhee's II always get my vote!
#3 Birkenstocks – And talking of footwear, a good pair of sandals are king in Zimbabwe. I love my Arizona Birkenstocks which were perfect for keeping my feet cool and supported at the same time. Literally wore them every day in this country!
#4 Waterproof Windproof Jacket – I visited Zimbabwe in the dry season, but was amazed how cold it got at night, especially when camping. Having my North Face lightweight, windproof jacket saved me!
#5 World Adapters – Make sure you come prepared with a suitable Skross adapter.
Travel Insurance for Zimbabwe
World Nomads offers simple and flexible travel insurance. Buy at home or while travelling and claim online from anywhere in the world.
Alternatively, if you're a long-term traveller, digital nomad or frequent remote worker seeking travel health cover, check out Safetywing's Nomad Insurance policies.
Top Zimbabwe Tours
If you're interested in an unforgettable, well-priced tour in Botswana with guides you can trust, then email me at [email protected] and I'll send you my top recommendations – simple!
Alternatively, I'm currently offering my readers an exclusive discount on all Absolute Africa tours (who I visited Chobe with), meaning you can now travel even more in this amazing continent for even less!
Simply send this top African overland tour company an email to [email protected], quoting the discount code BWSP, and start planning your incredible trip with them today!
Otherwise, why not check out these other well-rated options.
PIN IT TO PINTEREST!
So there you have it, the 6 best things to do in Zimbabwe… as decided by me!
If you have any other favourites not on this list, please get in touch and let me know about them.
I'd love to learn more about this beautiful country…