High in the Andes, nestled between the dominating countries of Peru and Colombia, the little gem of Ecuador manages to hold a charm all of its own.
Blessed with an incredible geographical diversity that includes jungle, mountain and coastal landscapes, many say Ecuador has it all.
And they're not far wrong!
For me, one of my favourite things about Ecuador was the brilliant range of hiking the country affords. In a landscape as dramatic as it is diverse, simply setting off on your own 2 feet for the day can allow you to experience and enjoy a great deal of the stunning scenery this country offers.
Even as a solo female traveller I'm happy to say I felt very safe hiking throughout Ecuador and never had any trouble.
That's not to say accidents and issues don't happen, but if you stick to the clear rules of asking people about safety before setting off and of letting people know your plans before you go, you should be fine.
I'd encourage everyone to experience a bit of Ecuador by foot and so, to get you started, here are my top 5 recommended hikes in Ecuador.
---
Related Posts
---
This page contains affiliate links meaning Big World Small Pockets may receive a small commission on any purchases at no extra cost to you.
---
#1 Lake Cuicocha, Otavalo
Starting in the north of the country, the town of Otavalo is most famous for its huge weekly market that attracts a heap of shop-happy tourists every Saturday.
Staying a few extra days after the market however, can give you a key opportunity to discover some of the gorgeous surrounding countryside this Andean area boasts.
Lake Cuicocha is a stunning crater lake about 1hr away from Otavalo by bus via the town of Quiroga.
It offers a great day hike that follows a clearly marked path around the edge of the lake and will take you about 4 hours.
The views of the glistening lake and the 2 guinea pig-shaped islands (apparently!) in the centre of it are stunning.
Plus you'll surely get to see some beautiful birds, butterflies and flowers along the way too.
There are some minor climbs and descents on the trail, and you are at altitude here (over 3000m), so make sure you bring adequate water, snacks and maybe a rain jacket too as the weather can quickly turn!
There is also a great little visitor centre at the start of the hike and plenty of lookouts as you go along for photos.
My advice? Start the walk early – you want to make sure you're well underway before the sun gets too hot.
I learnt about this hike from the wonderful owners in LomaWasi in Otavalo, who also gave me a great hand-drawn map of the trail and lots of info about transport there and back.
I'd certainly recommend staying at LomaWasi in Otavalo and starting the hike from there, not least because the place has a lovely roof terrace, kitchen and some very reasonably priced en-suite rooms!
#2 Casa De Arbol, Baños
The town of Baños, on the outskirts of the Ecuadorian jungle, is a great little town most famous for its incredible hot springs, which are super to jump into after a hard day's hiking in the surrounding area.
Set within a lush valley, the town of Baños offers a great number of lovely walks many of which can be accessed directly the town itself.
I recommend the Case de Arbol hike, which is a 4-5hr walk up to a famous tree house that overlooks the valley.
It's a steep climb up, no point denying that, but is certainly worth it for the views at the top, particularly if you've picked a clear enough day on which to see the Tunguragua volcano.
You can take a trail directly from Baños or follow the road.
I suggest the trail, on which you'll also pass the statue of the Virgin Mary that overlooks the town, before reaching the treehouse and its famous swing.
Entrance is $1 and for this price you can hop on the swing, push yourself off and enjoy the sense of flying over the valley while snapping an amazing picture – lots of fun!
I absolutely loved the town of Baños and certainly recommend staying here for a few days to enjoy some great walking, beautiful waterfalls and a spot of relaxation in the superb hot springs.
I stayed at Los Pinos Banos Backpackers when I was there because they had a neat little garden perfect for camping and were well-located on a quiet street just a few blocks from the centre of town.
#3 Volcan Cotopaxi
One of Ecuador's most famous landmarks and apparently the world's highest active volcano, it's amazing to think you can actually climb to the top of Cotopaxi, but you can!
Situated in a National Park, a few hours drive from the capital Quito, you'll need a guide to get to the 5000m summit of this incredible snow-capped giant.
Yet it's worth it to see the stunning Andean colours, crisp air and brightness of the sun at this level!
All the photos I have from there involve me in numerous layers of clothing squinting into the sun – not the most attractive look, especially when I started to experience altitude sickness!
It's definitely one of my most embarrassing travel moments!
Nevertheless, I thoroughly recommend heading out to tackle this beast! Just check the weather before you book your trip – you want to make sure you get some good, cloudless views from the top.
Either you can stay in Quito and head out to Cotopaxi for a day trip or, take my advice, and stay in a wonderful little hostel in the surrounding countryside.
The beautiful Secret Garden Cotopaxi
is a little mountain lodge boasting incredible views of Cotopaxi from its hilltop hot tub!
It's an experience not to be missed as you unwind and warm-up following your long climb.
This hostel's sister accommodation, The Secret Garden in Quito, can organise transport for you and once there, all meals are provided.
Just make sure you take all the cash you might need as there is no ATM / card machine available.
#4 Mandango Loop, Vilcabamba
Famed as the town of longevity Vilcabamba, in the south of Ecuador, is quickly becoming an ex-pat hub.
Nevertheless, the mild climate, clean air and quaint nature of this friendly, little town isn't being diminished.
One of the most popular hikes from Vilcabamba, and possibly one of the hardest too, is the trek to Cerro Mandango.
I would advise undertaking this with a guide, as the climb is arduous and steep and the path narrow, sometimes with large drop-offs on either side.
If windy the trail can be treacherous and is not recommended for inexperienced hikers or those scared of heights.
However, if you do brave the conditions, you'll be rewarded with absolutely incredible views!
The trail starts behind the bus station in town and is signed with a $1.50 entrance fee – the town's tourist office can help with directions.
It's a loop and you can walk back down along the ridge to Vilcabamba after the summit in around 4 hours.
People have got lost on this trail however, so do make sure you keep the town in view at all times and take a compass with you too.
A map and a detailed trail description are available at the Hosteria Izhacayluma, who can also recommend a guide.
Hosteria Izhacayluma is also a beautiful place to stay just on the outskirts of Vilcabamba. Relax here for a few days and enjoy free yoga classes, shaman ceremonies and the rejuvenating atmosphere of the place.
A touch of luxury at backpacker rates!
#5 Quilotoa Loop, Latacunga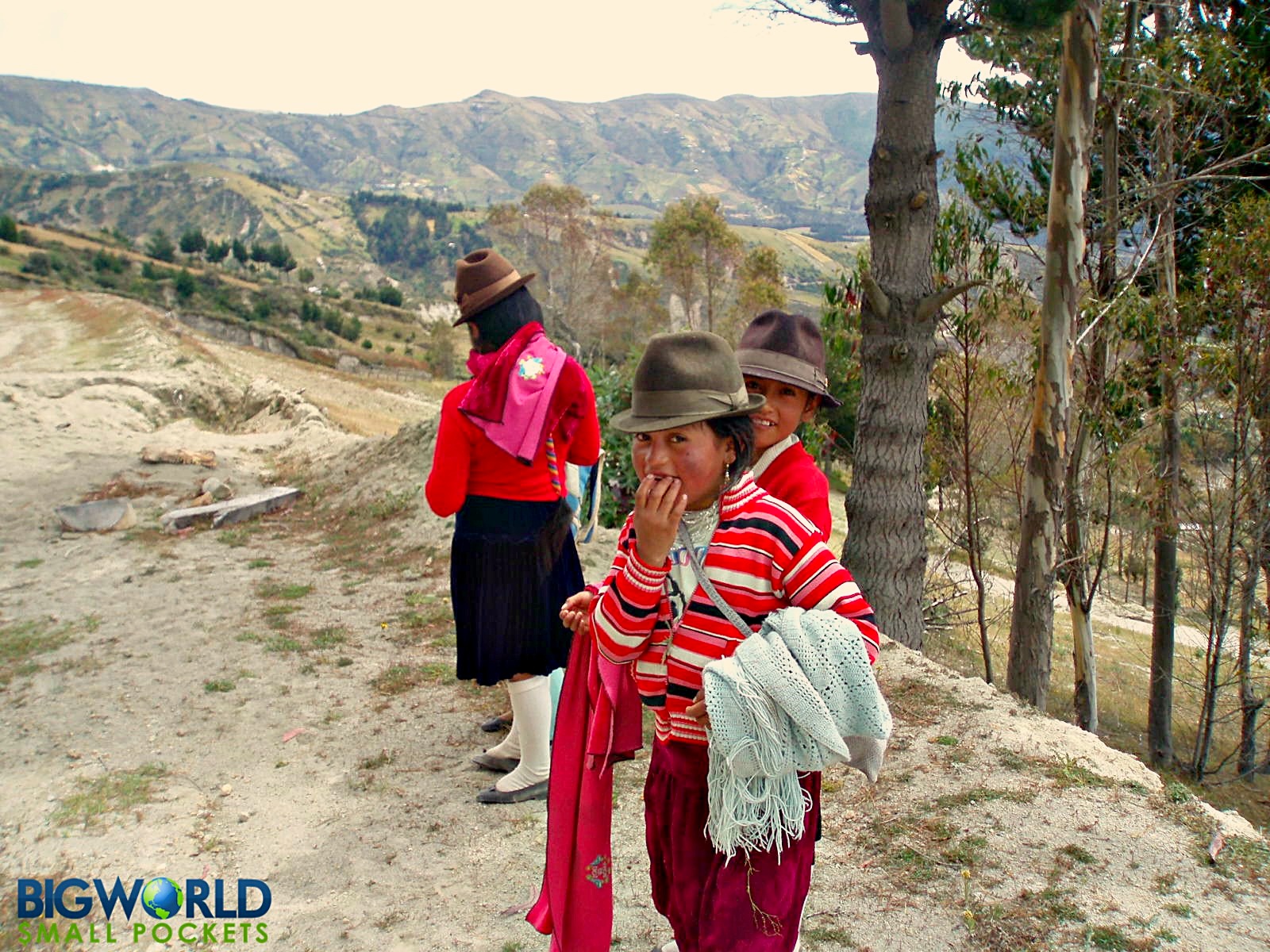 The Quilotoa Loop is a multi-day trek that takes you through the glorious countryside and villages of rural, central Ecuador.
It's a bit rough and ready, it's pretty quaint and quiet, and it's a fair bit of walking, but it will give you a real sense of the life of many Ecuadorians.
You can read more about my experience in my post about hiking the loop as a solo female traveller.
The trek normally takes around 3 days and you spend the 2 nights on the trail staying at small guesthouses in local villages you pass through on the way.
Food and water are also available in these towns, but you'll need to carry all other belongings you want to take on the route.
I loved this trek because I really felt it allowed me to get off the beaten track in Ecuador and get a good glimpse of the everyday life of indigenous, farming communities in this region.
It is mentioned in many guidebooks, but I hardly met any other tourists walking the route when I was there, so loved the peace and quiet of hiking by myself.
The route is easy enough to follow and not too steep, but you'll still be rewarded with stunning views of Andean valleys, crater lakes and mountain ridges – not too shabby!
You can walk the loop in either direction, starting either from the towns of Isinlivi or Quilotoa. Both are easily and cheaply via bus from Latacunga, a town in Ecuador's Cotopaxi province.
In Latacunga, I recommend staying at Hostal Tiana, who have plenty of information about the Quilotoa Loop, including maps and the ability to book your accommodation on the trail.
They also have a handy bag storage facility which is great for storing any larger packs you don't want to trek the 3 days with.
LIKE IT? PIN IT!
So those are my 5 recommended hikes in Ecuador.
Have you walked any of them?
What were your thoughts?
Any other suggestions for great hikes in Ecuador?