Despite being one of the smaller countries in the great continent of South America, Ecuador is undoubtedly one of my favourites.
This is probably due to its geographical diversity – from the gorgeous Galapagos Islands to wonderful hiking, Ecuador offers beaches, rivers, lakes and jungle experiences, as well as a strong indigenous culture and some incredible markets!
What more could you ask for?
All together, I spent 3 months in Ecuador and was lucky enough to travel the length and breadth of this fabulous country, getting a good taste of all its different landscapes, activities and attractions.
And I am delighted to say many of them are affordable too.
Perfect for those travelling on a shoestring, Ecuador is definitely a cheap travel destination, especially if you use Bookaway to book your transport around the country.
So if you're looking for some inspiration, here are the top 5 things to do in Ecuador on a budget.
---
Related Posts
---
This page contains affiliate links meaning Big World Small Pockets may receive a small commission on any purchases at no extra cost to you.
---
#1 Shop at Otavalo Market
Heading into Ecuador from Colombia, the town of Otavalo in the north of the country was my first stop.
Touted as one of the largest market in South America, this weekly spectacle is, unsurprisingly, awash with tourists, yet does retain a good level of authenticity and local participation.
Usually I shy away from heavily touristic events, but the Otavalo market is definitely one of the best things to do in Ecuador on a budget and shouldn't be missed!
With everything from fruit and veg, clothes, souvenirs, animals, groceries, furniture and artwork, the market is a sprawling bazaar that you can easily spend a day wandering around and exploring.
A great place to buy some local handicrafts and gifts for home, make sure you don't miss some of the less touristy elements it also offers, such as the indoor food market and animal section.
The later takes place early in the morning (from around 6am) on the outskirts of the market and sees Ecuadorians from all around bring their pigs, goats, cows, sheep and chickens for sale.
It's a fantastic farmyard cacophony to witness, as well as being a great cultural eye-opener!
Smaller arms of the markets are open every day, but the main event happens on a Saturday, so I definitely recommend visiting at this time.
There is plenty of budget accommodation
to be found in the town of Otavalo, and you can easily hop on a local bus here from Quito in 2 hours.
I stayed at LomaWasi which has a great, friendly owner, plenty of communal spaces and a wonderful guest kitchen – highly recommended!
#2 Climb Cotopaxi
55km south of the capital, the great towering giant of Cotopaxi can be seen from Quito on a clear day.
Despite its snow-capped appearance, Cotopaxi is actually supposed to be the world highest active volcano and amazingly you are able to climb it!
At over 5000m tall however, this is no easy feat, and guides are a requirement, not least because the peak is now part of a preserved national park.
Although the climb itself from the car park at over 4000m is not the most interesting of walks, the experience does wonderfully capture the stunning colours of the Andes, the crispness of the air and the brightness of the sun at this level!
All the photos I have from there involve me in numerous layers of clothing squinting into the sun – not the most attractive look, especially when I started to experience altitude sickness!
Nevertheless I thoroughly recommend heading out to tackle this beast!
It's probably good to check the weather before you book a trip out to Cotopaxi, as even if you don't plan on climbing it, you'll want to make sure you get some good views.
I recommend staying at The Secret Garden Cotopaxi
, which is a little mountain lodge boasting incredible views of the volcano from its hilltop hot tub!
It's an experience not to be missed as you unwind and warm up following your long climb; it certainly makes visiting this area one of the best things to do in Ecuador on a budget!
Out in the middle of the countryside, transport to the lodge can be arranged through the partner hostel – The Secret Garden in Quito.
#3 Hike the Quilotoa Loop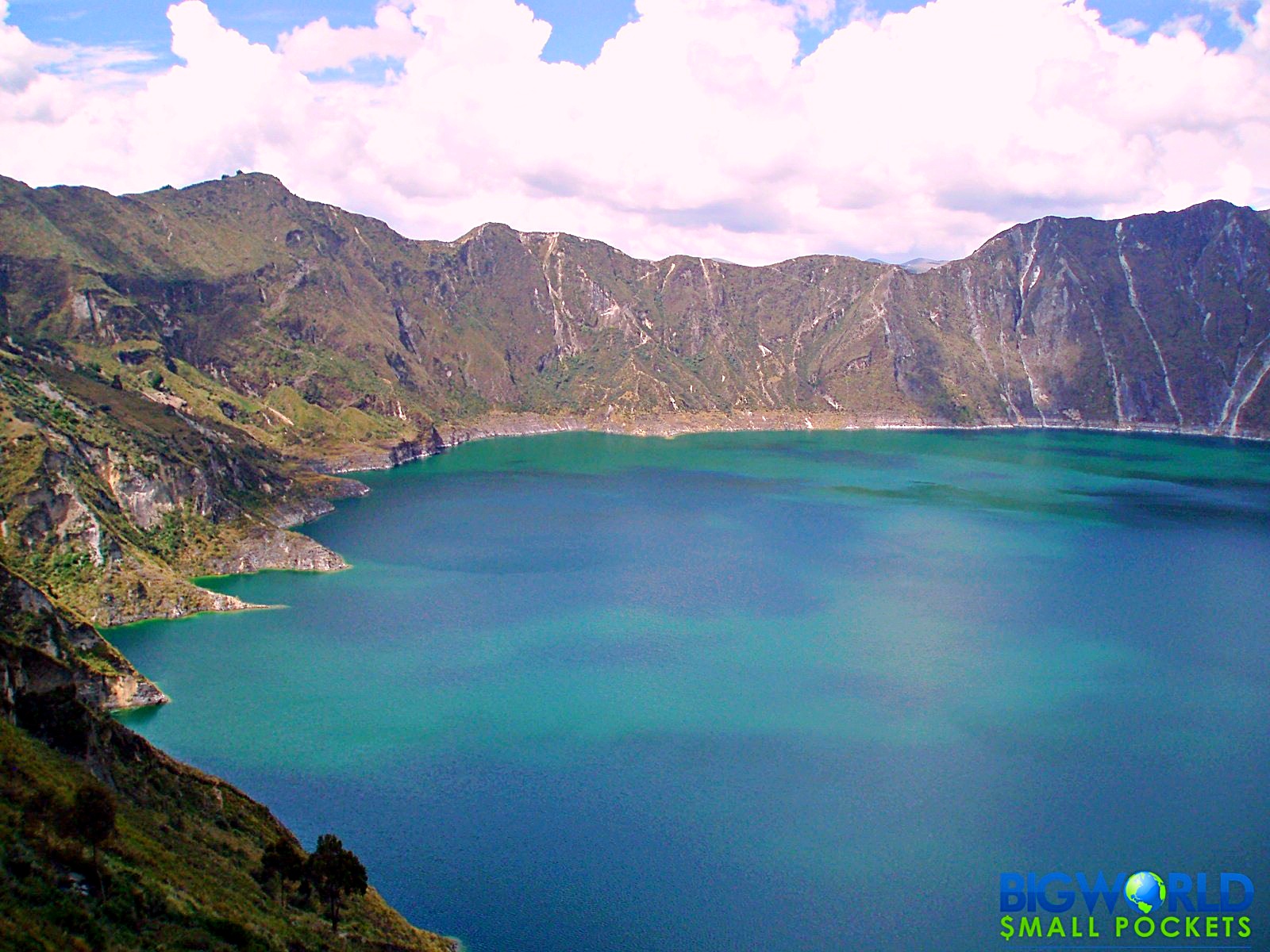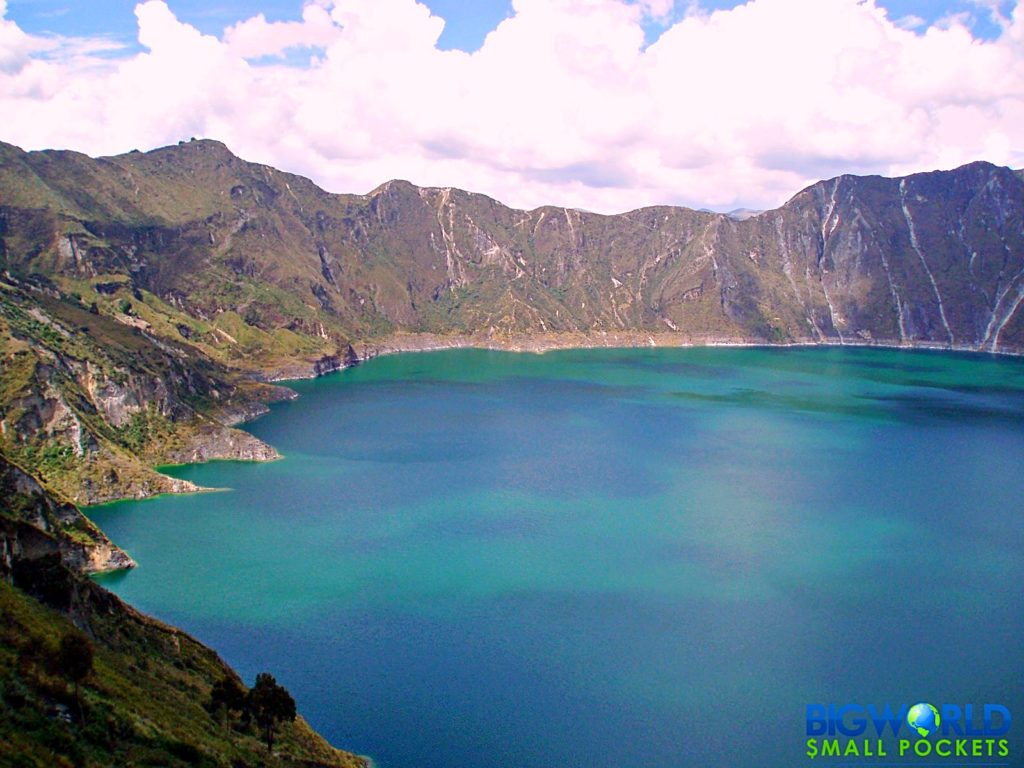 This self-guided walk showcases the wonderfully rural life of Andean Ecuador, giving you a direct and authentic glimpse into the remote, traditional villages and lives that populate this area.
The three-day Quilotoa Loop walk can be undertaken in either direction on foot, or it is possible to catch local transport between the various villages on the circuit if you wish.
Depending on which direction you take, you will either start or finish the walk at the incredible crater lake of Quilotoa, the colours of which are stunning.
I completed the walk by myself as solo female traveller and felt very safe and comfortable throughout it all.
Bearing in mind I saw almost no one else during the whole trek, besides a few local kids and some piglets, I thoroughly enjoyed the peace and quiet, as well as the wonderful photographic opportunities it offered.
There is more life in the villages however, so reaching them in time for an evening meal, before you bed down for the night, is sure to bring you into contact with other tourists if you wish.
If you get a chance, I'd definitely recommend hiking the Quilotoa Loop as one of the top things to do in Ecuador on a budget.
If you are planning to undertake this adventure, then my advice would be to pack light, as you'll need to carry all your belongings. That said, don't forget to bring some warm clothes to wear in the evenings as well a raincoat.
Latacunga is the nearest town to the loop and probably where you will begin and end your journey, as bus transport is easily available from here to the start / end of the hike.
In Latacunga, the very useful Hostal Tiana can provide you with all information you need to undertake the hike, including maps and advice.
The hostel will also allow you to store any luggage you don't want to trek with, as well as book your accommodation in the villages on the loop in advance, which is very helpful.
It's a cute little hostel too, near the centre of town and reasonably priced.
If you're looking to find fellow travellers to trek the loop with, I'd recommend staying at Hostal Tiana and asking around.
#4 Increase Your Life Expectancy in Vilcabamba!
Right down in the south of Ecuador, just past the city of Loja, is the town of Vilcabamba.
Famed for the long life expectancy of its inhabitants, the spring-like climate, cool mountain air and wealth of fresh produce available here have all been credited with helping the graceful aging of its population.
News caught on and while the town has now become something of a mecca for US retirees, the cleanliness of the place, its picturesque setting in the mountains and its health-orientated focus hasn't waned.
Vilcabamba is still a small, friendly, country town and not yet overrun by tourists, which is appealing. Staying here a few days is definitely one of the best things to do in Ecuador on a budget.
I enjoyed the plethora of yoga classes available there, as well as the meditation classes, the health food shop/cafe and great bakery!
Many people pass through Vilcabamba on their way down to / up from Peru and you will be sure to meet some great people.
I ended up staying a week in Vilcabamba as I really enjoyed its relaxed, close-knit vibe, healthy outlook and the number of short walks available nearby.
There are some good budget accommodation
options available, both in the centre of town as well as a little further out. I also encountered many people WWoofing or volunteering in the surrounding hills at eco / permaculture farms.
#5 Relax in the Warm Waters of Baños
Over on the east side of the Ecuador, in the mountains at the edge of the Amazon, is the town of Baños.
So called because a plethora of thermal, hot springs can be found across the town, the mineral-rich water that rises from them is heated by a volcano.
Definitely one of the greatest things to do in Ecuador on a budget, exploring the town of Baños, and its surrounds, will occupy you for more than a few days.
Set within in a valley, I ended up staying in the town almost a week as there are plenty of outdoor activities to enjoy, like hiking and biking in the nearby hills.
Then at night, you are able to soak in the most wonderfully mineral-rich, hot thermal pools as you gaze up at the stars.
There's a heap of different baths to choose from, ranging in price and luxury, but the cheapest only cost a few dollars and are a great cultural experience as the local populations also enjoy them after a hard days work.
Baños can easily be reached by bus from Quito, although you may have change rides in the town of Ambato.
It's definitely on the tourist trail, but that doesn't detract from the great experience of the supposedly healing pools.
I stayed at Los Pinos Banos Backpackers because it offered a place to pitch my tent, but the hostel rooms also looked excellent.
PIN IT TO PINTEREST!
So those are my recommendations for top 5 things to do in Ecuador on a budget.
Have you travelled to this fantastic country?
What were your highlights?