As the largest in Australia, Kakadu National Park is the big daddy when it comes to exploring this vast land's natural wilderness.
Situated in the Northern Territory, a few hours' drive from Darwin, the park is a steamy tropical mix of wetlands and floodplains, escarpments and gorges.
It's also an important UNESCO site, one of only 32 around the globe listed for both its cultural and natural world heritage.
With its landscapes and natural biodiversity charting crucial elements of the earth's geological history, as well as its rock art and archaeological footprints mapping out the story of one of the world's oldest human civilisations, Kakadu National Park is world heritage on a grand scale.
Amazingly however, before I came to Australia, I had never actually heard of Kakadu National Park.
This is pretty shocking for someone who loves nature, the great outdoors, anthropology and history, but it's true!
I am now happy to hold my hand up to this embarrassing truth however, because it pales into insignificance against the gratefulness I feel at having now seen, smelt, slept in and swam at this great natural wonder.
---
Related Posts
---
This page contains affiliate links meaning Big World Small Pockets may receive a small commission on any purchases at no extra cost to you.
---
How I Got to Kakadu National Park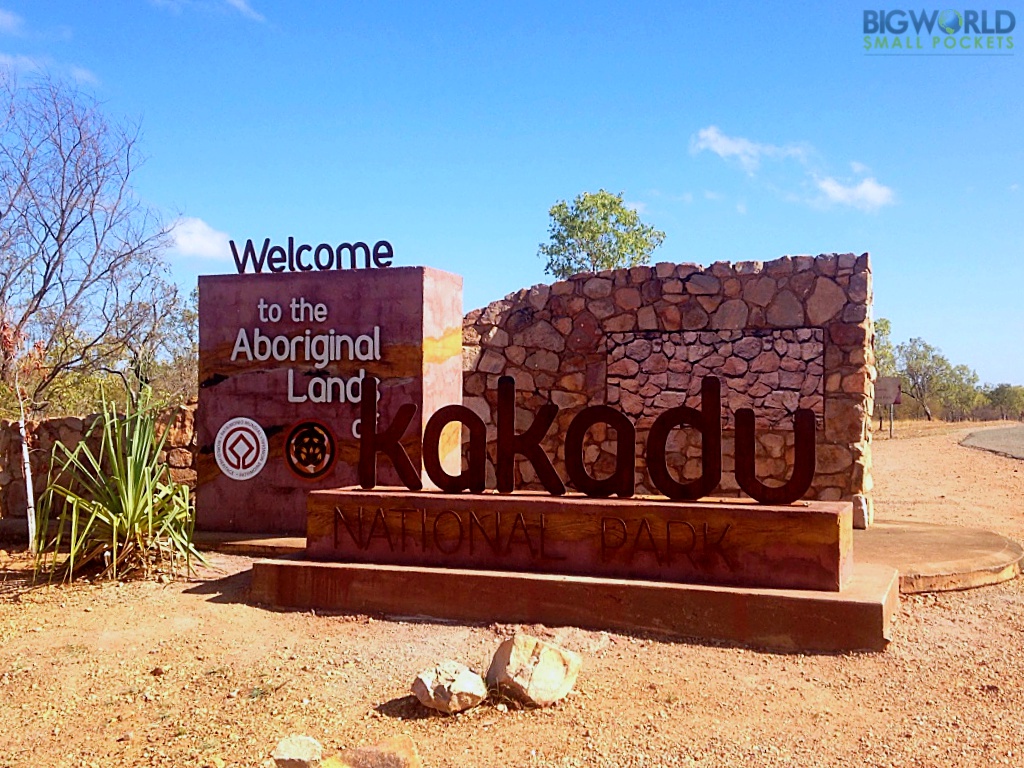 My time to visit Kakadu National Park came when I was in Darwin, after journeying on a massive road trip through Central Australia.
By this point, I had come to hear about the infamous Kakadu National Park and knew it had to be on my hit list.
Ever the budget-conscious traveller however, I didn't fancy an organised tour.
Instead, I immediately started investigating the possibility of a shared trip with others via the ever trusty gumtree.
This is definitely the cheaper way to see Kakadu National Park, because outside of your ticket price, food and shared fuel costs, nature charges you little else to enjoy her!
Like my adventure on Fraser Island, I was lucky enough to find 3 people who had a 4wd vehicle and were also heading into Kakadu for a few days of wild camping – again the cheapest option here.
(Note: this is why gumtree is one of my top tips for people backpacking in Australia!)
I quickly emailed the group and the next day was stood on the street in Darwin with a bag, a tent and plenty of food, fired up for a great adventure.
4 days, 1 breakdown and a whole lot dirtier, we emerged the other side, exhausted, but so pleased we'd had the opportunity to get up close and personal with the great Kakadu National Park.
So, looking back, here's my list of the top 5 free attractions we explored in Kakadu National Park.
#1 Watch Sunset at Ubirr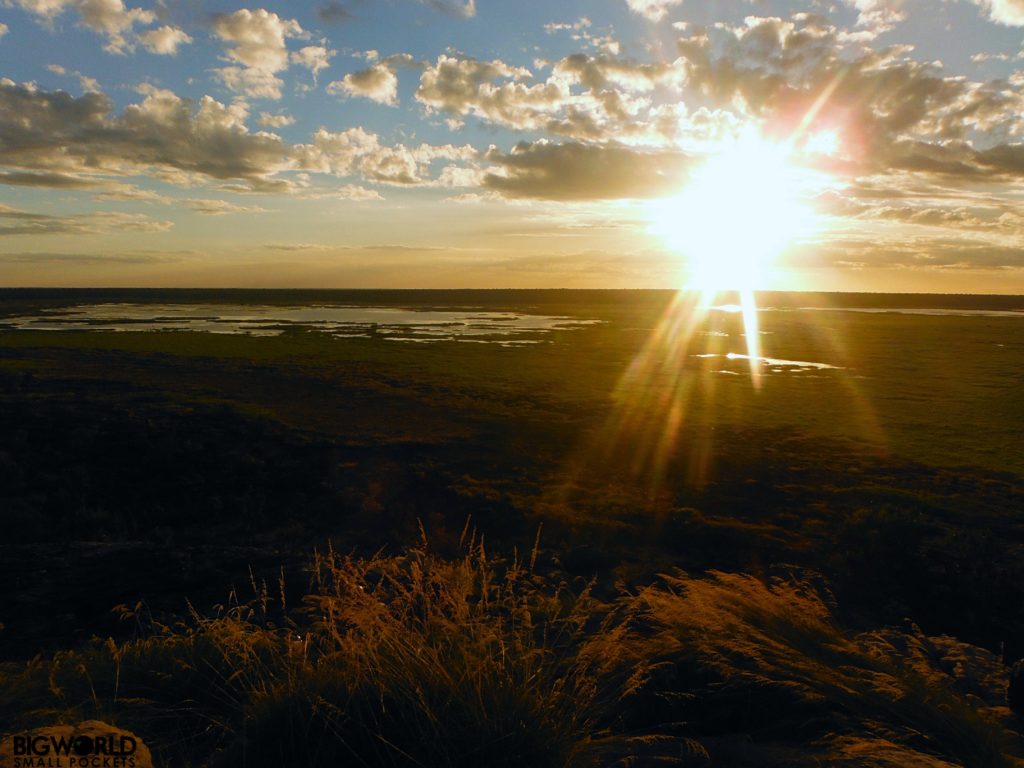 This is where we went on our first night in Kakadu National Park and my oh my, what an introduction to the place!
The landscape spread before you, as you climb up the rocks to watch the sunset, is as diverse as it is far-reaching.
And, as the colours of it change with the setting sun, I have to admit I couldn't help but shed a tear at the simply incredible view.
Photos won't do it justice, but this is undoubtedly one of my absolute free things to do in Kakadu National Park.
In fact, it ranks as one of the best sunsets in Australia I saw!
#2 Swim at Gunlom Falls
Depending what time of year you go to Kakadu (largely divisible by either the dry or wet season), different areas of the park will be available to you.
Visiting right at the start of the dry season – May – we were lucky that all the crocodiles had been cleared out of the water holes.
This meant we were able to take a dip in the breathtaking waters of Gunlom Falls.
If you have the chance to do the same, then I recommend getting to the top pool.
Here you can cool down from the tropical sun whilst admiring the sensational view stretching out before you … it feels like you are perched at the edge of the world!
#3 Visit the Bowali Visitor Centre
A thoughtful, intelligent and sophisticated visitor centre, checking out Bowali is definitely on my list of the top things to do in Kakadu National Park.
Perhaps what is does most brilliantly, is set the things you are physically seeing in the park within a contextual framework.
This gives visitors a much greater insight, and therefore greater understanding, of what they are witnessing in Kakadu.
Not only does this help you appreciate this important world heritage site more, but the centre also gives you a greater insight into the hugely momentous culture of the aboriginal people, including their profoundly symbiotic relationship with nature and their highly sophisticated survival techniques within this harsh environment.
The Bowali Visitor Centre is located within Kakadu's main town of Jabiru, which is also a good stopover if you need to stick up on any supplies including fuel and water.
#4 Birdwatch at Mamukala Wetlands
The floodplains and wetlands of Kakadu are one of this park's greatest features.
Indeed the importance of its preserved areas cannot be underestimated, with many of them acting as homes for thousands of migratory bird.
Shaded huts at Mamukala, make bird watching across this landscape an easy and accessible activity.
There are also 3 walks in this area that allow you to get a bit closer to the action and take in the uniqueness of the incredible landscape.
#5 Discover Ancient Rock Art at Nourlangie
A spell-binding example of the longevity and ingenuity of Australia's Indigenous people can be found at Kakadu National Park.
Indeed the rock art found here is some of the oldest in the world, dated at around 20,000 years old.
Wonder at drawings of wildlife and people, as well as the aboriginals first encounter with white people, all of it only metres away and etched for thousands of years into the rock before you.
The chance to see something created by a human that long ago blew my mind, charting, as it does, a story that you cannot help but feel some connection to.
5 ESSENTIAL PACKING ITEMS FOR AUSTRALIA
#1 Good Camera – You will be pretty much snapping non-stop in Australia and will need a good camera to do this gorgeous country justice. I highly recommend the Sony A6000, which I use for all my travels and love, not least because it's light, compact and robust!
#2 Good Walking Shoes – There will be a lot of walking in Australia – from cities to national park! Make sure your feet are comfortable therefore with a pair of New Balance Trainers. Perfect for stylish strollling, I love mine
#3 Good Guidebook – I'm still a massive fan of the Lonely Planet Guidebooks and do think their Australia edition is well put together
#4 Good Water Bottle – Travelling in hot old Australia can be thirsty work, so make sure you have a metal water bottle that you can refill as you go, because tap water is drinkable… and free!
#5 Good Sun Hat – And there's no denying you'll need a good sun hat for protection in Australia too. In my opinion, you can't go past this Hello Sunshine one, which is both gorgeous and ideal for keeping the rays off your face.
Other Top Free Attractions in Kakadu National Park
There are also some great longer walks to explore in Kakadu National Park.
We didn't attempt them due to the weather being too hot.
Do be prepared therefore if you want to hike, you will need an early morning start, as well as some serious water supplies!
There are also some other incredible waterfalls to visit in Kakadu, like the much-raved about Jim Jim Falls.
Unfortunately, because it was only the start of the dry season when we visited, these were not accessible, despite our 4WD vehicle.
Just another reason to return!
Do beware that you also need time to visit everything in Kakadu, as the vastness of this National Park cannot be overestimated.
As such, I really recommend doing a bit of planning before your visit, including mapping out a route to drive and where you intend to sleep.
This will help ensure you get to see and do all you want during your time in the park.
Staying in Kakadu National Park
There are plenty of wonderful designated campsites within Kakadu National Park, most with basic facilities.
They are free with your park ticket, but you'll need to bring some insect repellant!
If you don't want to camp within Kakadu like we did, then there are several lodges you can book, which will allow you to explore the park with a bit of luxury at the end of the day.
Cooinda Lodge, in particular, comes highly recommended.
I would strongly suggest booking any of these lodges in advance, particularly during the May – September peak season.

Kakadu National Park Tickets
You will need to buy tickets to enter Kakadu National Park.
They cost $25 AUD per person and are valid for 14 days.
Tickets can be purchased once you are in the park, but are also available in advance from nearby designated outlets or online.
As you know, once you've paid for the ticket, there is then a wealth of things to see, do, walk, swim and explore, which will cost you nothing.
With 14 days from the day of purchase until your ticket expires, you'll plenty of time to explore Kakadu National Park at your leisure, making it a very cost-effective destination.
Please also remember that Kakadu National Park is a wild and remote place. Follow the signs and respect it as sacred land.
PIN IT FOR LATER!