Well, just over 6 months after when I first logged into wordpress, I've been given a Sisterhood of the World Bloggers Award by the very generous Lindsay of Sabbatical Around the World.
As a blogger to blogger award, this is particularly special because it's such a great celebration of the female voice, of getting it out there and making it heard!
As a fellow female travel blogger, Lindsay is surely aware of the motivational boost and gratitude that receiving an award like this generates. Lindsay, you made my week, thank you so much!
Now, as part of acceptance of the award, I have to answer 10 questions Lindsay set me.
This is a great way for us female bloggers to learn more about each other and for readers to get to know the person behind the blog a little more too.
I also have to nominate 10 other female bloggers and ask them a list of 10 questions.
Every newly awarded Sisterhood of the World Blogger follows the same pattern – thank your nominator, answer her 10 questions, choose 10 new female bloggers to nominate and propose 10 new questions to ask them. In this way, the love continues and grows.
---
This page contains affiliate links meaning Big World Small Pockets may receive a small commission on any purchases at no extra cost to you.
---
Thanks so much for this award Lindsay, it really is a beautiful thing to know someone is reading my work and even more so enjoying it!
Here are my answers to your 10 great questions…
#1 If you Had to Settle Down (gasp!) Somewhere That You've Already Been, Where Would it be and Why?
I lived in Little Corn Island, off the coast of Nicaragua, for a year in 2011-12 and that was pretty idyllic.
I thought I might want to stay there longer, but being only 1 sqkm big, I did start to go a bit stir-crazy there after 12 months!
As such, I've come to realise that I do need a little more stimulation.
I've lived in big cities too however and am not sure that they suit me totally either, so I guess somewhere in the middle would be a good option.
I'm going to therefore pick Australia because it's still a beautiful island, but one big enough not to get bored in too easily!
Australia also has a great mix of wild remoteness as well as some super, happening cites. It's also mostly warm, which is high on my list of priorities!
#2 What is the Minimum Amount of Money you Need per Month to Travel at your Own Personal Comfort Level?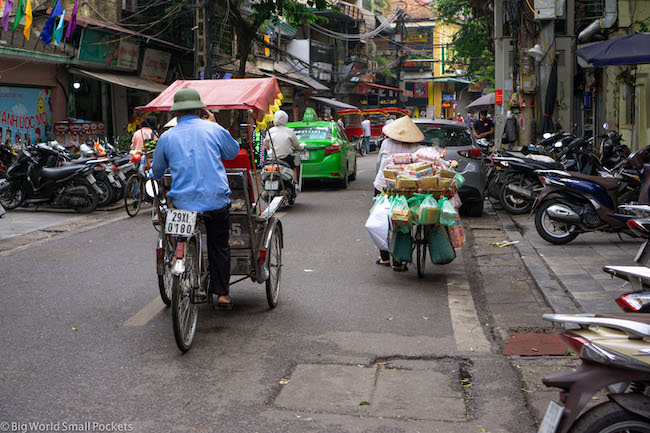 I'm a pretty frugal and sparse traveller and not at all a girly girl, so I can really live without most "comforts".
Infact, I get a strange pleasure from "roughing it" in some ways, a genuine sense of gritty, realness that I enjoy! As such, the minimum amount of money I need is pretty low, it's also calculated in pounds!
If I'm not volunteering – wwoofing, helpexing etc. – and therefore are spending on accommodation / food etc, I normally can live on a budget of around £500 a month.
This is generally my maximum, especially in less expensive parts of the world. If I'm couchsurfing or participating in some sort of work exchange, this amount is less!
#3 How do you Stay Safe when Travelling?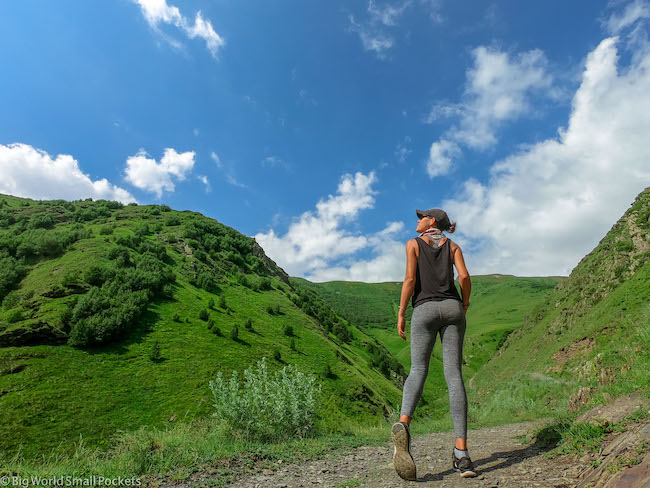 I follow the usual rule of not looking like a total tourist in places i.e. wandering around with maps and a pack looking lost, but also rely heavily on my instinct.
Sometimes you have to do things when travelling that people say are dangerous like walking alone at night, getting lifts from strangers etc. When these things are unavoidable, it's so important to listen to your sixth, survival sense.
I have found time and time again, that it's the best gauge for whether something is a good idea or not. Safety-wise, it's worked for me so far!
#4 How do you Meet New Friends on the Road, and what Types of Adventures have you Gotten into with New Travel Friends?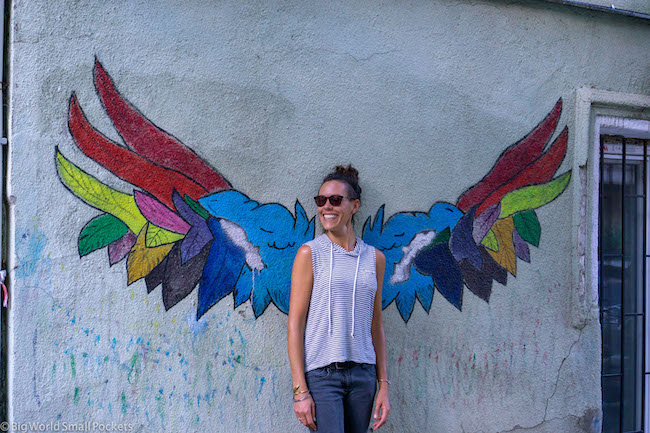 I normally try and travel slow so that I really get to know places and cultures.
This means I often volunteer or work when I'm away and I've generally met a lot of good travelling friends through projects like this.
One of the most beautiful things of the digital age is the way it does allow you to stay in contact with people across the globe.
Here in Australia, I've had at least 3 friends I met in Central America come and stay with me, all arranged through the power of Facebook!
It's great to catch up with travelling friends, years later in a different space, and to know that even if you don't speak every week, the time you shared in special and beautiful places still bonds you.
#5 How much of your Travel Time is Planned out, and How Much Room do you Leave for Spontaneity? What are your Favorite Travel Planning Resources?
Almost all my travels are spontaneous.
I generally just book a flight (I find Skyscanner
best) and the first night's accommodation (Hostelworld
is a great resource for this) and then I'm off.
Normally, I also have an idea of the rough places I might want to visit in the first country I land in (probably gleaned from a Lonely Planet Guidebook
), but after then it's pretty much all down to the people I meet and the things I hear.
I find so much of our western lives are mapped out by routine and planning, which can be stifling.
Travel is my escape from this, a time and space where I give preference to serendipity, chance and fate; I like this, it makes me feel alive.
Saying that, friends will tell you I do always have a plan up my sleeve!
However, they are mostly geared around further adventures and can be vague at best!
#6 If you Could Go Back in Time and Give your New-Traveller Self one Piece of Advice, What Would it Be?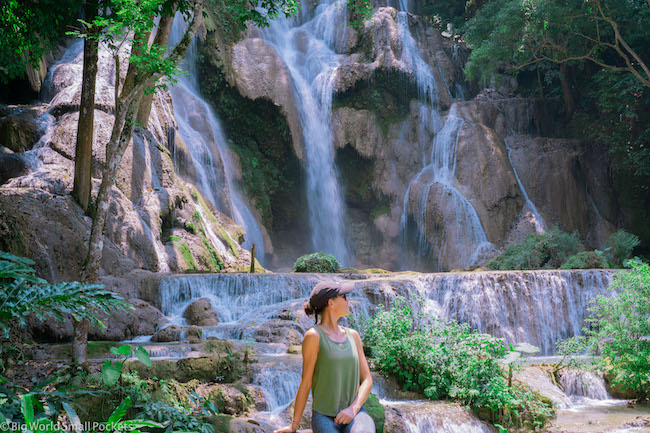 Great question! I think the answer would have to be, 'only book a one-way ticket!'
Until more recently, I've always bought return tickets, but on almost every single trip I have either changed or cancelled the return-leg!
I always thought booking a return, and then changing it if I wanted to, would be more cost-effective than buying single tickets, but now I know differently!
You're much better putting the cost of changing a ticket towards a new flight, when, where and how you want it!
The sense of liberation you get from being free as a bird, without time constraints, is also worth its weight in gold!
#7 When You're on the Road, What do you Miss Most from Home? How do you Deal with This?
I've got to be honest, I don't know if I miss that much when I'm on the road – as I mentioned, I get a weird sort of thrill out of seeing how little I can live with.
That said, you can't beat a long, relaxing soak in a bath with candles and bubbles!
That rarely happens when I'm away.
Oh and Chia Seeds. I miss them when my supply has run out!
I guess the way I deal with this is by remembering how privileged I am to actually have these things in the first place and how lucky I am to be seeing other places of the world where they're not available.
#8 What is the Most Unusual Must-Have Item on your Packing List?
Chia seeds?! I'm a vegan and a bit of a healthy eating freak, so I definitely make sure I have a good stock of superfoods and supplements when I go away.
A complete B vitamin is great for keeping you healthy while away, as well as keeping mosquitos at bay.
I also generally carry Spirulina Tablets and coconut oil.
I guess that's pretty unusual.
#9 Why Did you Decide to Become a Travel Blogger? Has it Lived up to your Hopes?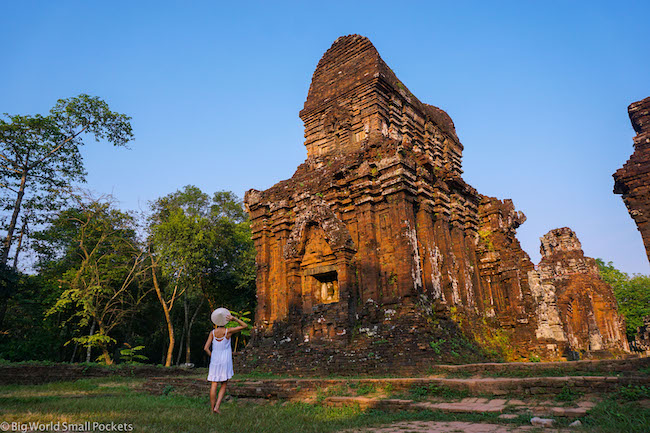 I only started blogging about 6 months ago, but I love it!
Many friends had suggested it to me over the years, but I was finally persuaded by a friend who has great technical knowledge and help me set up the blog in the first instance.
Definitely could not have done any of this without him, so thanks Darren!
I love the creative element involved in blogging – with a background in the arts sector, I do miss the process of creating and sharing work when I travel and the blog definitely plugs that need.
I also like the way it has forced me to learn about a lot of things I had no idea about in a short amount of time.
That sort of challenge fires me up. I think my boyfriend would probably say blogging now consumes most of my life, but it does get addictive!
I don't know that I had many hopes or ideas about blogging, but it definitely takes up more time than I thought!
#10 What have you Noticed about the Community of Women Travellers? What are Some Strengths? What do you Wish was Different?
I've generally found the community of women travellers I've met on my adventures to be incredibly supportive and engaging.
There are many amazing women out there doing incredible things and, time and time again, I've been inspired by the strength of many women I've met on the road, their resilience and their humanity.
From cycling great distances like Alaska to Argentina, to setting up community projects or starting inspiring businesses, the community of women travellers I've encountered have astounded me with their creativity and belief.
The only difference I wish is that more women were able, confident or empowered enough to travel if they want to.
So those are the answers to Lindsay's questions, now here are my chosen female bloggers to pass the award baton onto…
My Ten Nominations Are:
Leah of The Mochilera Diaries
Gloria of Nomadic Chica
Monica of Globe Trottica
Emily of Emily Luxton Travels
Katie of The World On My Necklace
Nora of The Professional Hobo
Kami of Kami & The Rest of the World
Prue and Becky of Straight on Detour
Emily of Along Dusty Roads
Gemma of Two Scots Abroad
And My 10 Questions for Them Are…
When did you first realise you wanted to travel?
Do you think this desire was something innate or something taught / learnt ?
What made you start blogging?
What's your number 1 tip to new female travel bloggers?
Do you think travelling can make a difference? Why?
What's the best food or meal you've had while abroad?
Which city in the world would you most like to visit and why?
What has been your worst moment as a female traveller?
Travelling romances, do they ever last?!
Which other female travel blogger most inspires you?
When you've posted your answers ladies, I'd love to read them, so please include a link in the comments box at the bottom of the page, or tag me on social media.
Once again, huge thanks to Lindsay of Sabbatical Around the World for my nomination for the Sisterhood of the World Bloggers Award 🙂