From the moment I got off the long wooden boat and walked up the mini jetty onto the sandy soil, I fell in love with Little Corn Island, Nicaragua.
I simply knew this was a special place for me.
Looking and feeling like something out of a Caribbean travel brochure, palm trees laden with coconuts swaying in the breeze and crystal blue waves lapping the clean white sand, I felt like I had just landed in some sort of tropical dream.
I'm not given to superlatives – and definitely not the exotic clichéd ones – but the truth is I was blown away by the paradise of Little Corn Island (LCI) from the first moment I stepped ashore.
Maybe it was something to do with being so pleased the 2-day+ journey I had endured to get here was over, but deep down in my toes, I knew immediately that I was going to be here longer than the week I had planned.
---
Related Posts
---
This page contains affiliate links meaning Big World Small Pockets may receive a small commission on any purchases at no extra cost to you.
---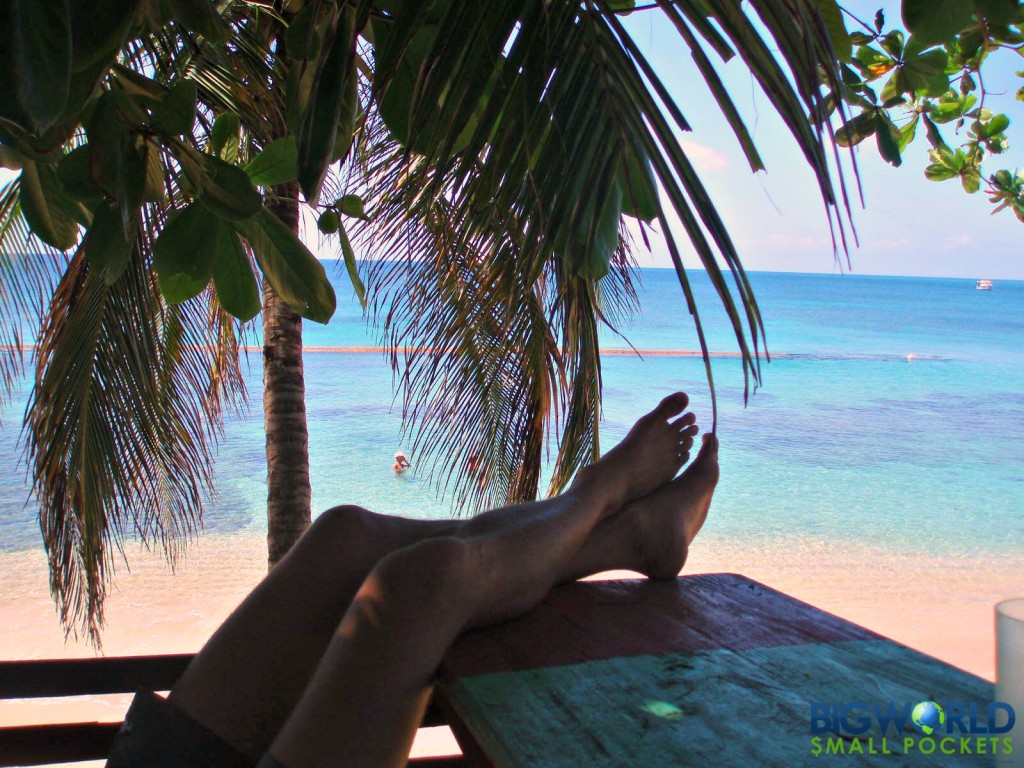 In fact, by the second day, I knew I would probably be here more than 2 weeks.
This was confirmed by the British Boy and Greek Girl I was currently traveling with at the time.
We'd all met Wwoofing on Isla de Omotepe, Nicaragua and decided to hope over to the Caribbean coast of the country to quickly check out the Corn Islands on our way down to Costa Rica and beyond.
Getting from Isla De Omotepe to the capital of Nicaragua, Managua is a feat in itself via 2 buses, a boat and a taxi that journey takes the good part of a day.
From the capital, we then changed terminal and hoped on another bus that whizzed us from the Pacific west of the country across to the more remote Caribbean side.
Our destination was the town of El Rama, from where we had learnt you could pick up a boat that journeyed down the river to the coastal town of Bluefields and then sailed across the Atlantic to the isolated Las Islas del Maíz, as they are known in Spanish.
Translated as the Islands of Corn, or the Corn Islands, this tiny archipelago made up of two islands is generally referred to by its English name.
The reason for this being that, despite politically belonging to Spanish-speaking and Latin-living Nicaragua, the inhabitants of these islands identify – culturally, ethnically and linguistically – much more with their more distant Caribbean neighbours.
A local creole based on English forms the population's everyday dialogue, Jamaican colourings adorn buildings and the sound of reggae fills the air.
Local diets are constructed around the freshly grown mangoes, bananas and coconuts, supplemented by the world-class lobster many of the local men fish everyday from the sea.
The vibe of the whole place is very relaxed and punctuated by a 'no worries' attitude the heat only exacerbates.
But arriving that morning in March, a little green in the gills and a little uninformed about the place, I had no idea what I would find.
Reaching Big Corn (needless to say the larger of the Islands) after the 18-hour boat ride from El Rama, I was delighted at the thought of finally ditching my sea legs.
I soon learnt, however, that I actually had to catch yet another boat, known as a panga (essentially a long wooden, open air boat with a motor attached), in order to reach my intended destination of LCI…. And the next one wasn't until late afternoon in 6 hours time!
Despite what you might be thinking, 6 hours is a) hardly anytime to a seasoned Latin American backpacker waiting for a ride and b) even less of a big deal when set against ;the multi-day journey I had already endured!
I think part of me was even pleased to have a few hours to stop swaying before getting on another boat, and so the 3 of us managed to pass the time sat in the shade of the pier, shoes off, bags down, chatting away.
When I did finally make it onto LCI therefore, you can perhaps understand my initial reaction a little better!
Clambering out of the boat with a handful of other tourists, as well as local people and a mound of bags, boxes and baggage, my travel friends and I were quickly touted for some accommodation and, ever clear in our demands, specified it must have a kitchen.
And so we were led to the brilliantly cheap, beautifully clean, incredibly welcoming and wonderful hostel that is 3 Brothers
Little did I know, at that stage, this would end up being my home for 6 months and its owners, Lucilla and Randy, my adopted Nicaraguan parents!
But that's a story for later on.
At this point, it's only the first day and after all that travel, the 3 of us were severely beat – it was straight to the cold shower to cool off and then straight into bed for us.
We awoke the next morning with the sun glaring in the window and the sweat already running off us.
So up we got and hurried out to explore this new wonderland.
The clue is in the name, but Little Corn Island, is small, really small.
At just 1 sq km, it sits like a tiny pearl in the ocean.
Road-free, bank-free, car-free, shop-free, it is indeed a rare and precious gem, the ultimate getaway paradise.
Having to walk everywhere, and at the same time having nowhere to really walk to, time drips slowly past in here in a way that brilliantly and irreverently illuminates much of the hilarity in our scheduled western to-do list lifestyles.
On LCI, by way of the necessity of 'lacking' the island imposes, and the lacking of 'necessity' it grants, you are forced to wonderfully engage in some 'real' stuff: interesting conversations, lazy beach walks, long ocean swims, hours of readings, endless games of bananagrams!
Timetables are non-existent and so is their need. The local answer to "How are you?" is "Right Here".

Still on traveller time, however, by the end of the first morning I think the three of us had pretty much covered the whole Island!
From the Eastern side where we were staying and where the 'town' with its few cafes, bars and mini-stores are situated, round to the long beach that runs the length of the western side we'd seen it all.
And what we saw, we liked!
The picture-perfect white sand beaches, the lush green tropical foliage, the azure blue sea and the stingray we'd spotted in just knee-deep water.
For this is what brings most of the few, but increasing, numbers of tourists to LCI.
Really only visited by backpackers and divers, LCI is a haven for scuba-fans and beach lovers with balmy sea temperatures and perfect weather conditions almost year-round.
Divers can spot dolphins, turtles, and several types of shark through awesome visibility, and experience some of the best night diving available.
For those not experienced, there is also the ability to get qualified while you are on the island through a number of professionally run dive schools who offer PADI courses.
Beach lovers can sit back under a palm tree with a good book from the local library and a super coffee from Tranquilo Cafe while watching the world go by. And that, my friends, is the simple joy of it all.
A simple joy indeed and one that is made even simpler by the price ticket.
For while this is essentially a Caribbean island, LCI is remote, hard to get to and dogged by the economic problems of its mainland ruler.
The second poorest country in the northern hemisphere, after Haiti, Nicaragua has been beset by civil unrest and political corruption for decades, stumbling blocks from which its economy has simply not recovered yet.
Many, many of its inhabitants eek out a meagre existence and life here is cheap.
The Corn Islands, always famous for their fabulous lobster which is now exported round the world, have always had a micro-industry that has allowed them to fair slightly better than the rest of the country.
Nevertheless, the infrastructure and development on the islands is limited to say the least and this keeps costs down.
If you're willing to live simply, then LCI offers you a Caribbean paradise for a fraction of the usual cost.
And this, I think, is exactly what began to draw me into this incredible destination; in short, it's why I fell in love with Little Corn Island.
Simple living is what I longed for and with decent coffee (compared to the rest of Latin America), a roof over my head, a cold beer, snorkel adventures, sunshine and all the time in the world, I was in heaven!
I didn't care that the choice of food was limited or that the island source of electrical power didn't run after sunrise.
I didn't care that the internet connection was poor or that I couldn't access an ATM – the incredible, unspoilt beauty of the Island overpowered me.
It swallowed me up and didn't spit me out.
My extended 2 week itinerary was now being revised to a month!
Especially as I grew to know the island community more and more.
2 weeks doesn't seem like a lot of time to get to know a whole island, but believe me, when its 1 sq km and nobody has much to do, it's plenty of time!
Seeing people 3, 4, 5 times a day as you cross on the footpath or go to get lunch is the norm and as I took diving lessons and went out at night, I easily began to call many people there friends.
Within weeks my travel companions and I were all lucky enough to be working on the island, fortunate enough to find jobs bartending, painting hostels, spinning fire and producing handmade jewellery.
And the best thing about the community and these jobs? – they involved local islanders.

Unlike so many tourist destinations, where ex-pat communities and locals live 2 vastly different lives, one hardly recognising the other, let alone interacting much, in LCI, that is simply not the case.
The local people are very welcoming and (for the cynics around who think this may be just a ruse for financial handouts) genuinely enjoy have tourists come to their home.
There is no trace of the resentment so often found when 'gringos' are around and everyone on LCI attends the same bars, the same beaches, the same bakeries.
This maybe helped by the fact that English is the common tongue between locals and most tourists, and communication is therefore easier, but whatever the reason, it stands true.
All the businesses, even those owned by foreigners, employ many locals and I was lucky enough to work alongside a few Nicaraguan women, to hear their stories and share in their daily lives – a cross-cultural exchange on the most authenticate level.
The people who owned the hostel where I stayed also became good friends of mine. I'd go into their house to see them some afternoons and listen to stories about the Island's and their own past.
Then, when I had to go to work, Lucilla would send me off with a little package of food she'd cooked or an item of clothing she wanted me to have.
Eventually she began calling me 'hija', which means daughter in Spanish.

And so life on LCI continued for me, working, diving, reading, being happy!
I took on a volunteer project at the local school, helping to teach English reading and writing, and worked on a local recycling scheme.
I also sorted out the library in the café and helped re-design the bar's cocktail menu.
I went out snorkelling, attended yoga classes with a friend who had just set up a new business and read books I'd wanted to for ages.
One day, when I was with some newcomers to the island, I bumped into some locals I knew.
After a few moments conversation, I realised, from the puzzled expression on the tourists' faces, that I had grown to understand the local creole!
Slowly my other two traveling companions decided to move on from LCI, dreams of South America calling them, but I stayed on likkle island, as it's known, a feeling of being at home deep inside me.
I had built up a circle of close friends around me, so when one said she was returning to the US for a bit and would I like to rent her place I agreed without a moment's hesitation.
I'd been there 6 months.
Instead of getting on a plane back to the UK, as I was meant to do, I ripped up my ticket moved into an island house and got a dog instead!

I can't remember all the different ways that year in LCI changed me, because to yourself, you are always just who you are at that time.
Looking back however, comparing how I was before and after being there, I know my time in LCI made deep impressions on who I was and how I lived my life.
For one, that tiny island gave me the huge opportunity to experience life 'on the road,' a life somewhere else where I wasn't just a tourist.
LCI opened a window for me and gave me the courage to jump through it, showing me what I really wanted.
That's really why I fell in love with Little Corn Island.
Indeed, I remember waking up one day, months after I missed my flight, and realising I was living my dream existence – working a great, fun job on Caribbean island, running a volunteer project, practicing yoga and swimming in the sea everyday! It was a great feeling.
When people asked me "what I was doing with my life", spending a year of it on LCI, I just laughed!
Being there for that year, with the simplicity of it all, experiencing the lack of 'necessity' and the necessity of 'lack', gave me the time to realise what I really wanted in life.
It gave me the space to realise that in actual fact I just wanted to travel, to experience the world from as many different places as possible.
So that is what I'm doing and have been doing ever since.
Thank goodness I stayed longer than a week!