I'll let you in on a little secret, Australia's Nature's Way is one of this country's most epic, cinematic and stunning road trips there is … and that's saying something!
From the towering gorges of Nitmiluk National Park, to the waterfalls of Litchfield National Park and the giant splendour of Kakadu, this great drive around the Northern Territory's Top End is hard to surpass.
And, unlike many of Australia's drive holidays, the real benefit of the Nature's Way is that you can easily explore the whole thing in a comfortable 10 days.
No need for driving hundreds of km every day here; no this wonderfully compact route will have you ticking the big sights off your bucket list in no time at all.
Having just made this journey ourselves as part of our great budget 4wd trip around Australia, I'm also very familiar with how you can drive the Nature's Way without spending a fortune, a key factor for many of us when it comes to seeing this awesome part of the world!
So here, complete with our best money-saving tips, is the ultimate 10 day itinerary for exploring the Northern Territory's Top End on a shoestring.
---
Related Posts
---
This post was sponsored by Tourism Northern Territory.
This page contains affiliate links meaning Big World Small Pockets may receive a small commission on any purchases at no extra cost to you.
---
Day 1 – Darwin
Start your journey off in the capital of the north, Darwin.
This buzzing tropical metropolis is no sleepy Outback town! Instead, it boasts a ton of things to do and is the perfect place to begin your adventure on Australia's Nature's Way.
We loved our time in Darwin, but the climate can take some getting used to!
On your first day therefore. it's probably just best to take things easy and get acclimatised to the heat and humidity.
Darwin Waterfront: If you are looking to cool down with a swim, then I highly recommend the Darwin Waterfront – it's FREE to enter and boasts an awesome pool and park area.
It's also easy to walk to. Not only will this allow you to familiarise yourself with the layout of Darwin, but it will also save you money on the crazy parking costs that are unavoidable in the city centre.
I think we went to the Darwin Waterfront almost every day we were in the city, so it's definitely one of my favourite places there!
Great for just reading and relaxing, it is well worth checking out and is open 24/7!
NT Parliament House: If you've got the time to gain some cultural insight into the history of Darwin, then the magnificent Parliament House is also worth exploring.
Free 90-minute guided tours are available on either a Saturday or Wednesday (it depends what time of the year you're visiting) are a great budget way to discover the heritage of the city.
Budget Tip: Try to find accommodation somewhere in the centre of Darwin if you can. This will allow you to walk to most places, saving you lots of hassle and parking fees. We highly recommend the City Garden Apartments for their great location, awesome facilities and great rates.
GETTING TO DARWIN
If you're not driving the Nature's Way as part of a longer adventure in the Northern Territory, then you'll need to get up to the Top End first.
Budget flights from across Australia to Darwin can easily be picked up for a steal care of Tiger Airways or Jetstar, otherwise, the airport's international wing also boasts arrivals from further afield.
Once in Darwin, rent a camper van or better a 4wd drive vehicle with a rooftop tent, this will allow you to see the best of the wild and remote top end of Australia.
Budget Tip: If you're happy to sacrifice a bit of comfort, then booking a night flight into / out of Darwin will definitely save you some money. As a 24-hour airport, Darwin boasts flights all night long and often the cheaper ones tend, unsurprisingly, to have a post-midnight departure.
Day 2 & 3 – Litchfield National Park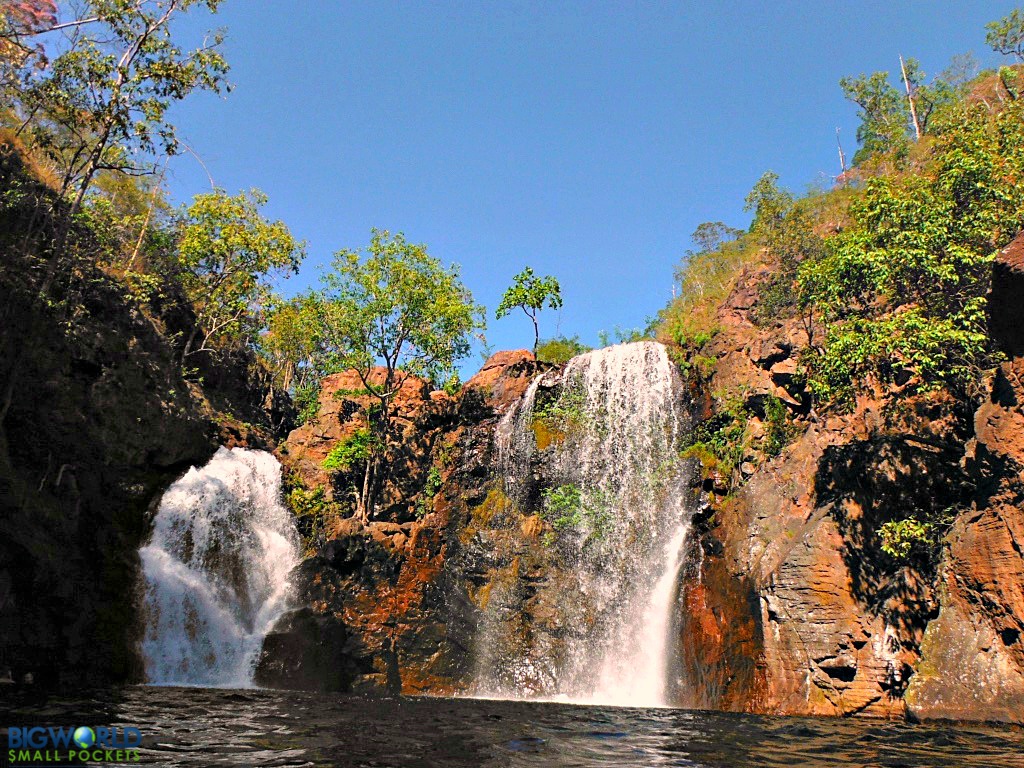 Time to get out of Darwin and stuck into Australia's Nature's Way!
One of the most spectacular places to explore in this part of the Northern Territory is Litchfield National Park, an awesome preserved natural area full of waterfalls, walks and some superb swimming spots.
We loved our time in Litchfield (despite the fact that it rained almost the whole time!) and really recommend 2 nights in this national park if you want to get the full experience.
Getting There: Only a 2 hour drive south from Darwin along the Stuart Highway, getting to the park is easy.
Either turn off at the town of Batchelor and continue west to the park's entrance or, if you like us you prefer the more adventurous 4wd option, then why not get to Litchfield from the north via the unsealed road that passes through the lovely picnic and swimming spot of Berry Springs.
Things to Do: However you decide to get to Litchfield there are a few things here that you can't miss:
Florence Falls, Wangi Falls and Tolmer Falls are all big drawcards, as are the Magnetic Termite Mounds and Buley Rockhole. And all are free, Free, FREE!
There also some awesome 4wd tracks to explore if you have the vehicle for it, including those to the Lost City and Surprise Creek Falls … I did say you'd need a few days to explore this place!
Camping: Many attractions in Litchfield National Park also boast their own campsite, so it's easy to pull up for the night and enjoy an evening out under the stars.
As national park campgrounds, they are all super cheap (priced at either $3.30 AUD or $6.60 AUD per person depending on the level of facilities) so you can easily avoid the more expensive commercial campgrounds scattered around the park.
We love the Northern Territory national park campgrounds and used them right across the Top End, so they do come highly recommended.
Our favourite in Litchfield was Wangi Falls, which had showers, as well a great campfire area and even a nearby Wi Fi hotspot! Also the gorgeous swimming hole at the bottom of the falls was only a short walk away and the perfect place to cool down after the hike to the top.
Budget Tip: Fill up on fuel and food in Darwin before heading to Litchfield. The city is by far the cheapest place to stock up and doing so will save you a lot of money in the long run.
Day 4 – Nitmiluk National Park
Probably the most striking feature on Australia's Nature's Way is that of Katherine Gorge.
Situated in Nitmiluk National Park, this epic natural feature is actually 13 separate gorges carved out of the landscape over millions of years.
You can stock up on supplies in the town of Katherine before driving the 29km out to the national park along a sealed road.
Once you get there, a great caravan park right next to the gorge entrance is the cheapest place to stay. It also boasts a lovely swimming pool, which is the perfect way to refresh after your drive.
Otherwise the air-conditioned visitor centre, has a great FREE exhibition about the gorge which is well-worth exploring on a hot afternoon.
If you're feeling like treating yourself, kayak, boat tours and even scenic helicopter flights of the gorge are all available in Nitmiluk National Park. Otherwise wait until the morning and enjoy many of the free hikes, like we did!
Hiking: It's best to start off early when hiking up along the Nature's Way, so my tip is to set the alarm and get up with birds!
Doing this meant we managed to hike as far along as the Butterfly Gorge in Nitmiluk National Park, which was great for a swim.
On the way there we also got to take in the epic views of Baruwei Lookout, Pat's Lookout and Jeddas Rock, snapping some great pics along the way.
Setting off early also meant we were then back at camp, ready to pack up before the midday heat … perfect!
Our walk in Nitmiluk National Park was definitely one of the most stunning we did along Australia's Nature's Way and comes highly recommended – not least because it will have you enjoying the incredible scenery without spending a cent!
Budget Tip: Pack trainers, a cap and some hiking clothes for your road trip along the Northern Territory's Nature's Way. This will allow you to get out and enjoy the wilderness here without paying a fortune for a boat or helicopter tour.
Day 5 – Mataranka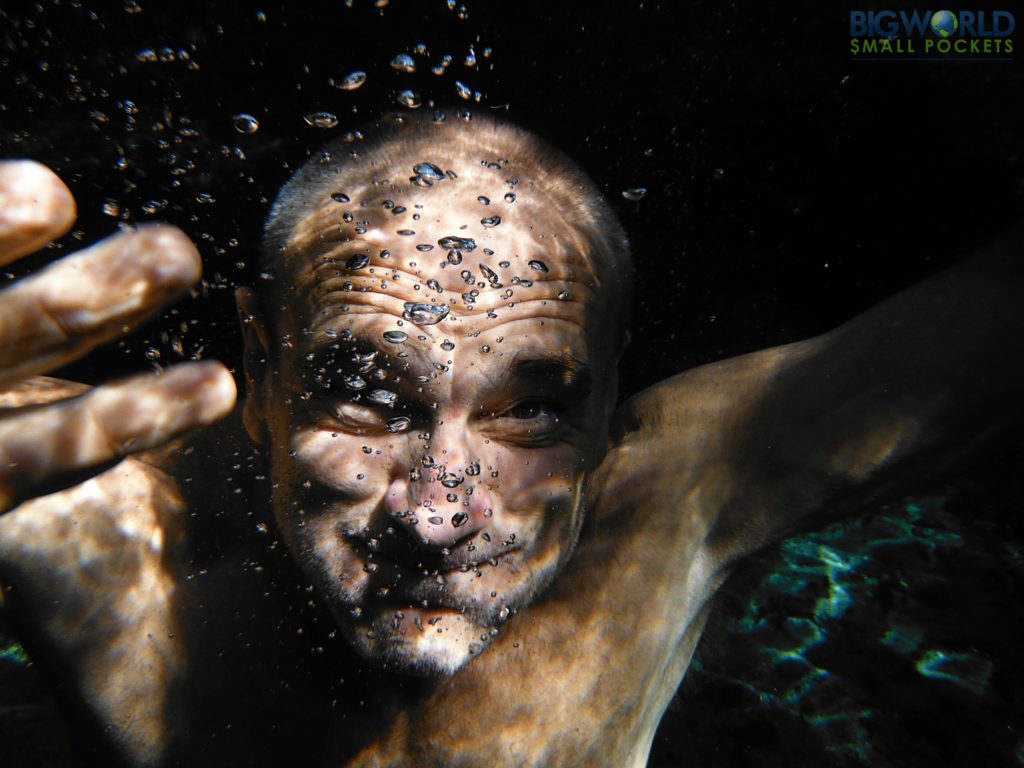 Although it's a little further south and therefore perhaps a little out of the way, Mataranka is well worth making the time for in your Nature's Way itinerary.
That's primarily because it has the MOST fantastic hot springs I've come across in the whole of Australia!
Yes, the gorgeous springs here are a balmy 34 degrees and are delightfully located within a natural rainforest setting (rather than in an artificial swimming pool complex). Amazingly, they are FREE to enter.
There's actually 2 hot spring areas near Mataranka – Bitter Springs and Mataranka Thermal Pool – both of which are located within Elsey National Park. Slightly confusingly however, they are situated separately, one on either side of the town.
Bitter Springs: My favourite were Bitter Springs, which was actually more like a hot lazy river!
Tons of people had grabbed their pool noodles and were loving the experience as they drifted gently downstream in the current of the beautifully warm water.
Although noodle-less, we still loved drifting along here, relaxing in the sunshine and marvelling at the clean water.
After your time in the hot springs, I also recommend checking out Mataranka Station. The genuine replica of a homestead actually used on the set of the film 'We of the Never Never', this place gives you a fantastic insight into the remote and harsh reality of Outback life before the arrival of many modern conveniences.
After all that you're probably ready to relax, so bedding down at one of the nearby caravan parks is going to be your cheapest option here.
Budget Tip: Definitely download the Wikicamps app before your road trip along Nature's Way. This $7 investment is worth its weight in gold when it comes to finding nearby campsites. Complete with other camper comments / reviews, as well as lists of facilities, it's super handy when it comes to finding the best campground for you.
Day 6 – Edith Falls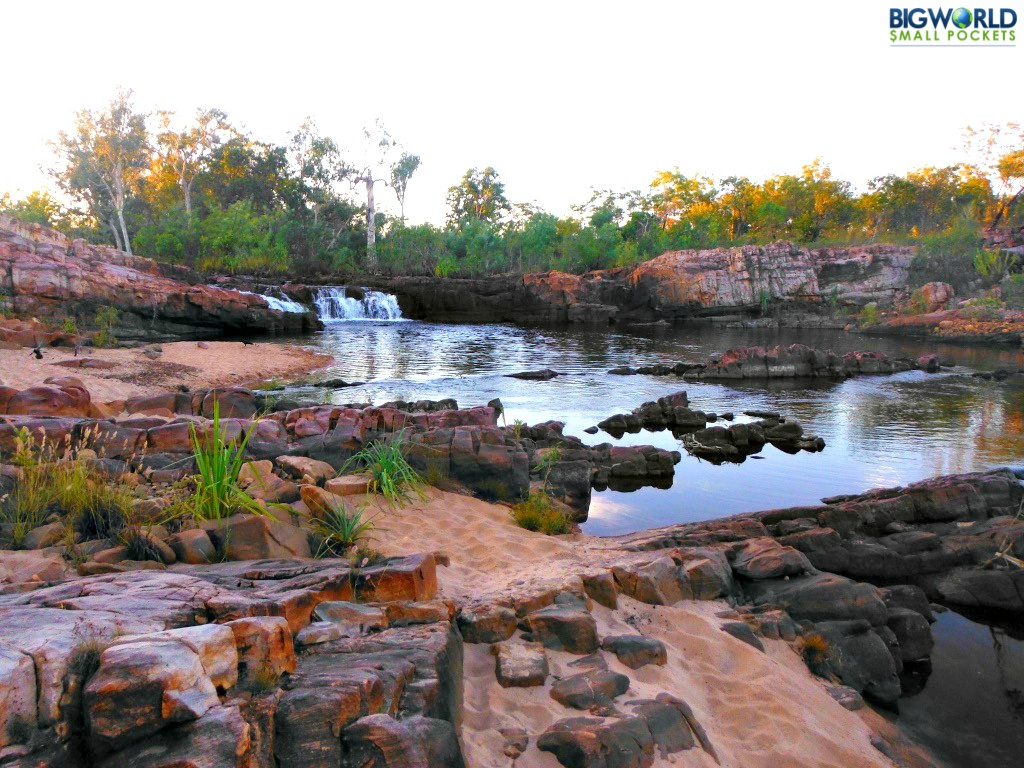 Another day along Australia's Nature's Way, another awesome swimming hole!
It really is all about staying cool up here and the abundance of epic spots for a dip is one of the best things about the Northern Territory's Top End.
And my pick of the bunch? It has to be Edith Falls.
Heading up north, Edith Falls is located the other side of Katherine from Mataranka, but again is fully accessible by a sealed road.
Top Pools: Don't just get to Edith Falls and take the easy option however. Instead, make sure you allow the time to hike to the Top Pools (about 2 hours).
These stunning plunge pools are framed by some lovely waterfalls and make for a swimming hole paradise. So why not spend the afternoon sunning, swimming and relaxing with the sort of classic Outback backdrop dreams are made of!
Budget Tip: There's a lovely campground at Edith Falls you can definitely take advantage of. However if you want to make your trip super cheap, then some free camping might also be the way to go!

We made use of a lot of free camps during our time on the Nature's Way as there are many adequate spots spread out along the Stuart Highway. Use Wikicamps to find them and enjoy a night's sleep for nothing!
Day 7 & 8 – Kakadu National Park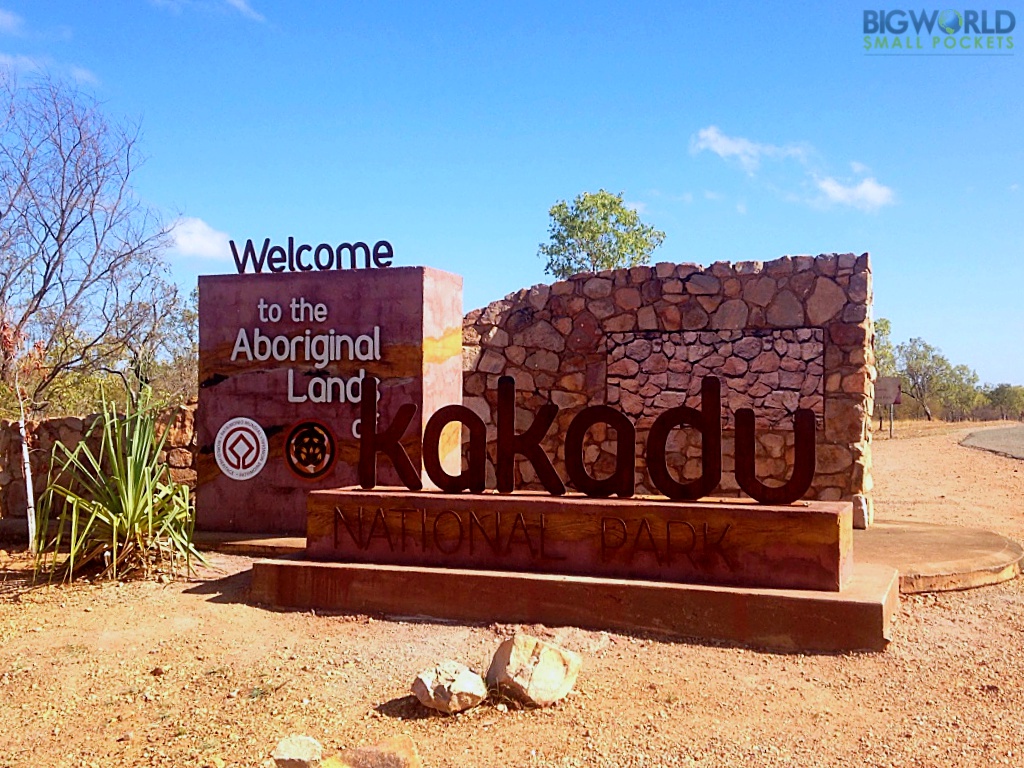 It's always good to save the best until last right? That's why I recommend checking out Kakadu National Park at the end of your Nature's Way road trip.
Kakadu is the big daddy of them all – a show-stopping natural wonderland which is both a UNESCO World Heritage Site and the largest national park in Australia.
With these sort of credentials, you'll need at least 2 days just to scratch the surface of Kakadu, as there really is such a huge variety of landscapes, attractions, wildlife and beauty to absorb.
Things to Do: I've written before about the best free things to do in Kakadu National Park, so check out the list for some budget inspiration.

Or else I can highly recommend a Yellow Water Cruise if you're looking to treat yourself and spot a croc or 2!
If you're coming from Edith Falls, then I'd probably recommend spending your first day in the southern end of the Kakadu exploring the walks and waterfalls of the Gunlom and Maguk areas.
For your second day, you might then want to move further north, bird-spotting at some of the billabongs and marvelling at rock art around Nourlangie, before finishing up with a sunset view to die for at Ubirr.
Camping: When it comes to budget accommodation, there's tons of different camping available in Kakadu – from free national park sites, to managed Kakadu campgrounds and also private caravan parks like Cooinda Lodge.
All are fairly reasonable and it just depends of the level of facilities you're after, as to what will suit you best.
Budget Tip: There's also loads of free ranger talks and activities to enjoy every day in Kakadu – just pick up a brochure with your Park Pass to find out what's on when.
5 ESSENTIAL PACKING ITEMS FOR AUSTRALIA
#1 Good Camera – You will be pretty much snapping non-stop in Australia and will need a good camera to do this gorgeous country justice. I highly recommend the Sony A6000, which I use for all my travels and love, not least because it's light, compact and robust!
#2 Good Walking Shoes – There will be a lot of walking in Australia – from cities to national parks! Make sure your feet are comfortable therefore with a pair of New Balance Trainers. Perfect for stylish strolling, I love mine.
#3 Good Guidebook – I'm still a massive fan of the Lonely Planet Guidebooks and do think their Australia edition is well put together.
#4 Good Water Bottle – Travelling in hot old Australia can be thirsty work, so make sure you have a metal water bottle that you can refill as you go, because tap water is drinkable… and free!
#5 Good Sun Hat – And there's no denying you'll need a good sun hat for protection in Australia too. In my opinion, you can't go past this Hello Sunshine one, which is both gorgeous and ideal for keeping the rays off your face.
Day 9 & 10 – Darwin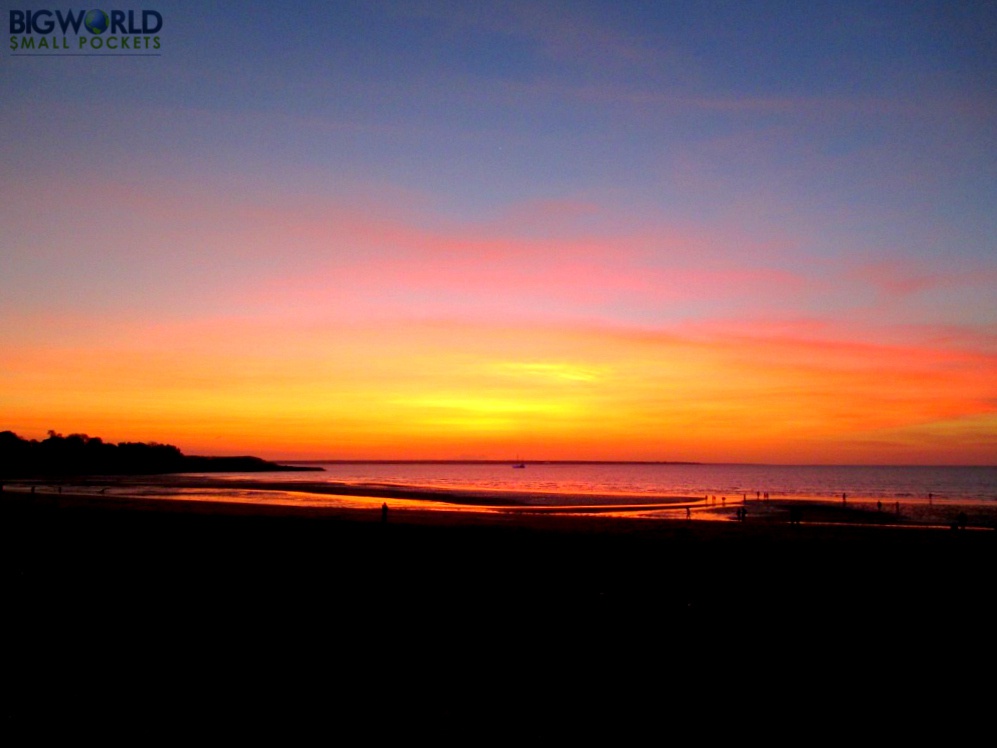 With your time in the Northern Territory's Top End coming to a close, it's time to head back to Darwin to enjoy your last days in the state capital!
From exploring the city's fabulous Museum and Gallery (FREE to enter and well worth it for a good hour or 2) to hitting the mall for a cafe lunch, there's more than enough to amuse you for a day or 2 in this great city.
Other budget options include hiring a bike from Darwin's easy to use SpinWay and then heading to East Point Reserve for a swim and a picnic, or perhaps exploring the historic bunkers if that's more your thing.
Markets: Equally, no trip to Darwin would be complete without checking out the markets, so try to get to at least one!
From the Saturday morning Parap markets to the Sunday and Thursday night ones at Mindil Beach, markets are the throbbing heart of community life in Darwin and are also an awesome spot to grab a cheap, delicious meal and enjoy the atmosphere.
Sunsets at Mindil beach are hard to beat too.
Deckchair Cinema: There's more than enough to keep you entertained in Darwin when it comes to nightlife, however for something wonderfully different, it's hard to pass up the Deckchair cinema – an outdoor movie theatre situated right on the water.
If you pay for anything during your time in the city, then make sure it's a ticket here. It'll be the best way to finish your trip, I guarantee.
Budget Tip: Look out for free screenings at the Deckchair Cinema which are a great way to experience this awesome Darwin attraction for nothing.
LIKE IT? PIN IT!
So there you have it folks, my ultimate budget itinerary for driving Australia's awesome Nature's Way.
Have you explored the Northern Territory's Nature's Way?
What did you enjoy the most?
Do you have any other great budget secrets to let us in on?