If you hadn't guessed already, I'm a big fan of Western Australia and the state capital is no different.
Picturesquely set on the Swan River, framed by the Indian Ocean and the forest hills, this city occupies a beautiful spot that typifies much of what is so fantastic about Australia.
And here to celebrate it all is my list of the 10 best free things to do in Perth, so get stuck in!
---
Related Posts
---
This page contains affiliate links meaning Big World Small Pockets may receive a small commission on any purchases at no extra cost to you.
---
#1 Check Out Elizabeth Quay
Coming in at number 1 is Perth's new pride and joy – its stunning waterfront area known as Elizabeth Quay.
There's some really nice open green spaces here and of course the iconic bridge, which gives some of the best views of the city.
Around all this, there's also some great cafes and the whole place has a real buzz.
I also like the lovelock collection growing near the Bell Tower too!
5 ESSENTIAL PACKING ITEMS FOR AUSTRALIA
#1 Good Camera – You will be pretty much snapping non-stop in Australia and will need a good camera to do this gorgeous country justice. I highly recommend the Sony A6000, which I use for all my travels and love, not least because it's light, compact and robust!
#2 Good Walking Shoes – There will be a lot of walking in Australia – from cities to national park! Make sure your feet are comfortable therefore with a pair of New Balance Trainers. Perfect for stylish strolling, I love mine
#3 Good Guidebook – I'm still a massive fan of the Lonely Planet Guidebooks and do think their Australia edition is well put together
#4 Good Water Bottle – Travelling in hot old Australia can be thirsty work, so make sure you have a metal water bottle that you can refill as you go, because tap water is drinkable… and free!
#5 Good Sun Hat – And there's no denying you'll need a good sun hat for protection in Australia too. In my opinion, you can't go past this Hello Sunshine one, which is both gorgeous and ideal for keeping the rays off your face.
#2 Take the CAT Bus Tour
Yes brilliantly there are 4 free bus lines which operate on Perth City Centre and hopping onboard any of them is like getting a free tour of the city.
They stop at all the major attractions and riding round between them, staring out of the window, is a great way to get a feel for, and get your bearings in, this rather compact city.
Choose from the green, blue, red and yellow lines, details of which are available on street, from the Tourist Information Centre or here.
Most run 7 days a week and hopping on at least one of them is definitely a top free thing to do in Perth.
#3 Chill at Kings Park
Of course no list of the best free things to do in Perth would be complete without Kings Park.
This sprawling green reserve lies just out of the City Centre, but is easily accessible via one of the free CAT buses (see #2).
Boasting some lovely walking trails, as well as stunning views of the Swan River below, visiting Kings Park is an absolute must, especially during spring, when the Kings Park festival bursts the place into flower.
#4 Visit the Art Gallery of WA
Located in the area of Northbridge, very near to the train station, the Art Gallery of WA sets the tone for this increasingly artistic hub in the city, which actually hosts the annual Fringe Festival too each summer.
With some permanent, as well as rolling exhibitions, paying this gallery a visit is definitely one of the best free things to do in Perth.
There was a great exhibition on the history of sneakers when I visited and I loved the building too, which inside, looks like an art piece itself.
THE BEST BACKPACKERS IN PERTH
#5 Wander the Perth Institute of Contemporary Art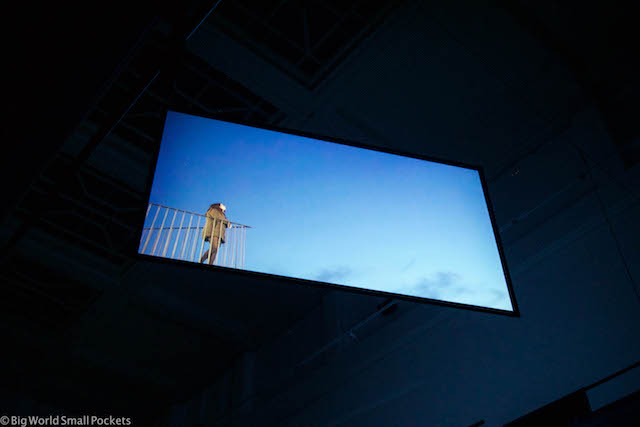 And right nearby to the Art Gallery of WA is the Perth Institute of Contemporary Art.
While small, it was very busy when I went, demonstrating the growing force of this cultural precinct within Perth.
There's also some lovely cafes nearby here, as well as green spaces and a wetland with free wifi, where you can relax in the sun for nothing too!
#6 Snap the Cottesloe Beach Sunset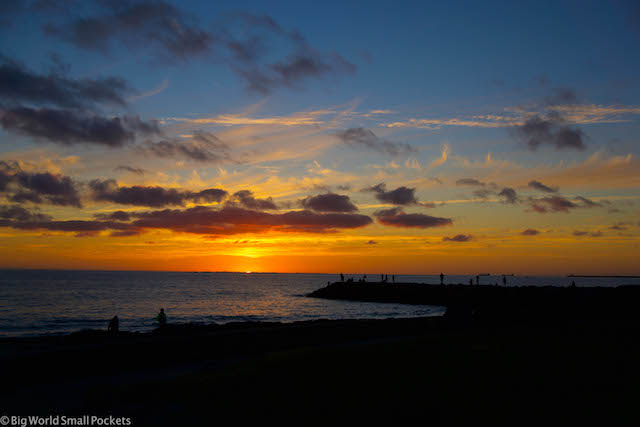 One of the city's most iconic, beautiful and glamourous beachside locations, Cottesloe is an absolute must when it comes to the best free things to see in Perth.
And there's no better time to see it than during the final hours of the day when the sun begins to dip behind the horizon and the colours of the Indian Ocean come to life.
Join the locals on the sloping grassy banks here and toast the end of another glorious WA day!
#7 Climb Reabold Hill
Just north of Cottesloe, the suburb of City Beach offers another great sunset watching spot.
Heading to the beach itself and join the crowds for sundowners or make your way up to Reabold Hill, set a little behind the coastline.
The highest natural point along here, this is a brilliant place to grab some top snaps – you'll soon understand why those WA sunsets are so hard to beat!
#8 Surf at Scarborough
As all the brochures say, Scarborough is one of Perth's premier beachfront destinations … and so it is!
Currently undergoing a facelift, the foreshore in this part of town will soon be refreshed as a super doper foreshore, making this part of the Perth coastline even more attractive!
Known for its great surf, this really is the spot to grab your board and jump in if you're looking to catch as few waves.
The other spot for the waves is Trigg Beach, just a little further north, so definitely give that place a try too.
#9 Enjoy the Sunset Coast Self-Drive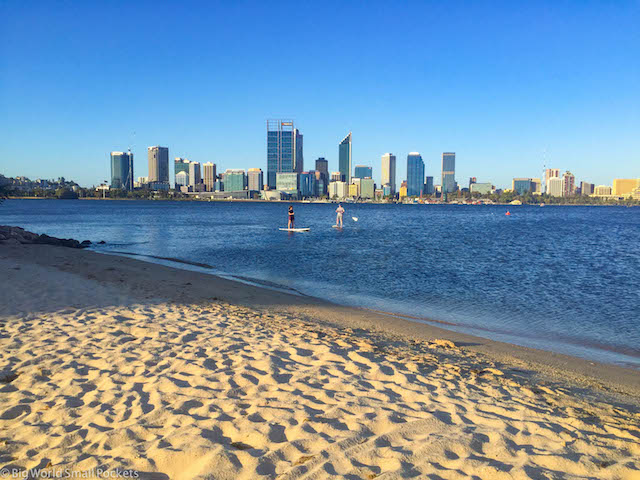 It may seem like there's a lot of sunset stuff going on in this list, but hey, it's WA and I only aim to bring the best to you guys so…
The Sunset Coast Self-Drive, strings together suburbs between Cottesloe in the South and the Mindarie Marina in the North and was an awesome introduction for us when we first arrived into Perth.
Sometimes it feels like you are driving through another world with the views so good and the houses so large, but that's the reality of Perth for ya!
Another great place to drive or walk along is the South Perth foreshore, where the view from the river-beach straight over to the city, is superb!
#10 Take in the Crawley Edge Boatshed
This is definitely the number one Instagram spot in Perth and so it should be, because this little blue boatshed, perched at the end of the wooden jetty looks almost too cute and quaint to be true!
Right on the banks of the Swan River and built around the 1930's, join the throngs and grab your pic here too!
PIN IT TO PINTEREST!
Do you have a favourite free thing to do in Perth?
Is it on the list?
If not, let me know and I can keep it growing 🙂