Time is such a bizarre thing isn't it!
It literally feels like I've just entered Western Australia, yet as I sit down to write this post, I'm shocked to discover it's actually almost a year since I stepped across the border from the Northern Territory as part of 4wd budget road trip around Australia!
A year!
Yet even crazier than this, is that fact that I've now been Perth based for almost ¾ of that time. Yes, it's 9 months since I started calling Perth (well, Fremantle) home!
And although in that time work has been crazy busy, and I've travelled overseas as well, I've still found the time to explore the beautiful area around Perth too … and aren't I glad!
From quaint country towns to spellbinding national parks, there's a whole heap of great stuff around Perth just waiting to be discovered!
So don't be put off by the fact that Perth is known as the most remote city in the world – there really is a whole world out here just waiting to be explored … and here's my pick of the bunch.
Oh, and to make any of these trips, I highly recommend you check out Get Your Guide's well-priced offerings when it comes to top Perth excursions!
Grab Your Copy of How to Road Trip Australia on a Budget
My ultimate guide to road tripping Australia on a shoestring is now available, meaning you can finally get ALL my top tips for driving around all, or parts, of this amazing country in one handy eBook, including…
Full Planning & Preparation Guides
Day by Day Itineraries & Routes
Complete Packing & Gear Lists
Top Money-Saving Tips & Hacks
---
Related Posts
---
#1 Serpentine National Park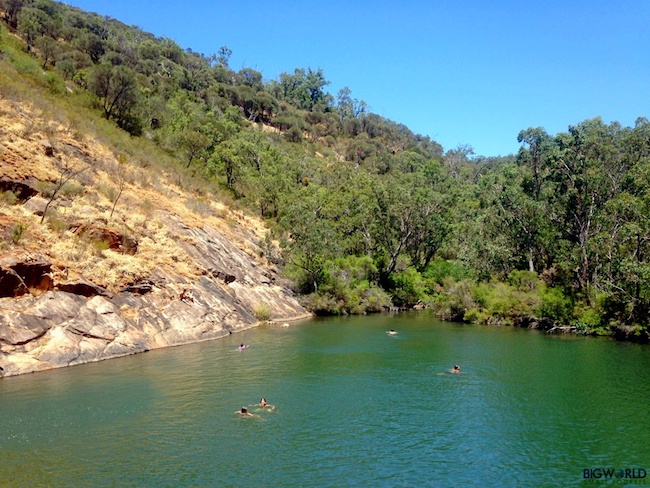 A firm hit with the locals, Serpentine National Park is about an hour's drive south of the city, but that doesn't stop it being packed on a summer weekend!
Yes the secret is well and truly out when it comes to this great swimming spot, but don't let the crowds put you off and instead head here on a weekday.
With some great hiking opps and stunning country to see around, this national park is most renowned however for its awesome swimming holes.
Jumping into the refreshing water and swimming right up under the cascades really is hard to beat here on a glorious Perth summer's day.
#2 The Pinnacles
Part of Nambung National Park, this otherworldly, and quite frankly bizarre landscape, really has to be seen to be believed.
A few hours drive north of the city, many combine a day trip to The Pinnacles with exploring the beautiful seaside town of Cervantes and Jurien Bay – where there is overnight accommodation if you feel like extending the holiday.
Best visited during the months of August – October, when the days are mild and the wildflowers begin to bloom, I do recommend trying to time your visit to The Pinnacles with the setting of the sun.
The colours of this desert landscape and its sandy monoliths, which seem to stretch almost to the ocean, are truly spectacular at this time of day.
And if you want to venture on north from here, then check out my list of the 10 best places to visit along Perth's Turquoise Coast.
#3 Fremantle
If urban day trips are more your thing than nature escapes, then a trip to the city of Fremantle from Perth is a must.
Located south of the Swan River, it's an easy half an hour train ride from Perth direct to Fremantle, from where you can easily explore the vintage shops, trendy galleries, quirky cafes and great street art of this alternative little enclave on foot.
Situated right on the Indian Ocean, this historic port city also boasts some delightfully old buildings, along with iconic shipping cranes that wonderfully capture the essence of industry and independence found in this trendy spot.
Just one thing is for sure – bring your camera … and your wallet!
#4 Rottnest Island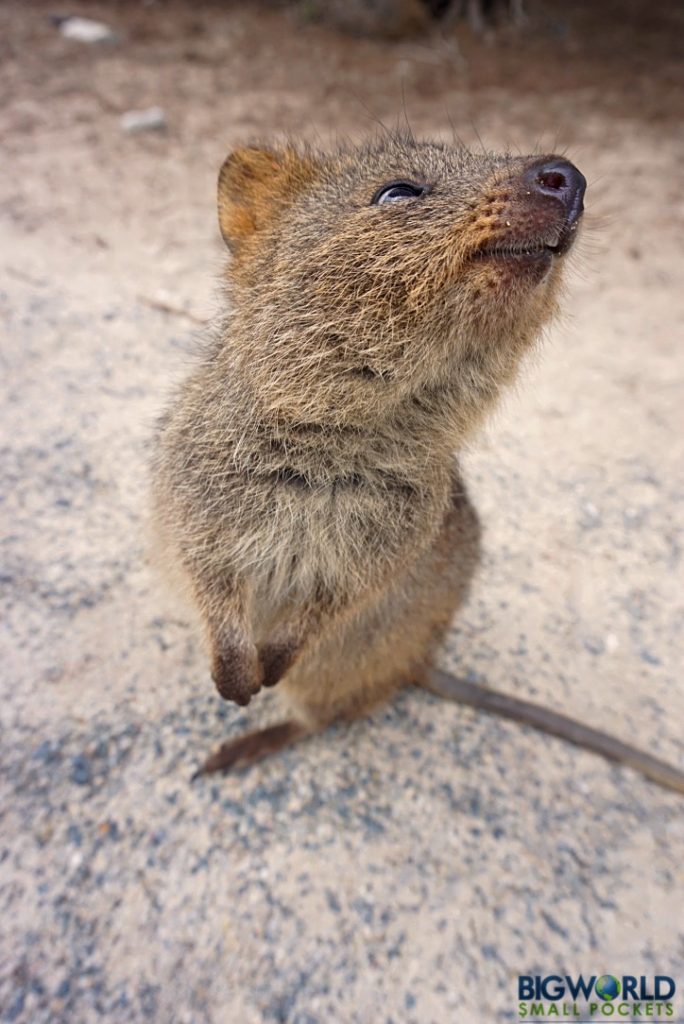 And right from Fremantle, you can catch the express ferry to the beautiful island of Rottnest – simply grab your ferry tickets and Rottnest admission passes online beforehand.
Most famous for its cute resident Quokkas – known to be the happiest animals on earth! – Rottnest Island is the perfect peaceful getaway destination.
Largely without motorised vehicles (much like the Channel Island of Sark) the best way to explore Rottnest is definitely via bicycle.
Exploring the hidden coves, lighthouses and stunning views of this small island makes for the perfect Perth day trip and certainly shouldn't be missed.
Fast Ferries to Rottnest also depart from Hilary's Boat Harbour north of Perth if this is more convenient for you and both ferry companies offer packages inclusive of bike hire and snorkelling gear if required.
FYI, getting a Quokka selfie is a must!
#5 Yanchep National Park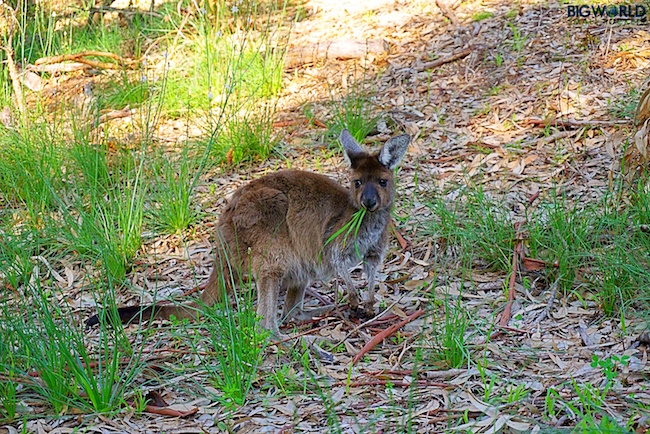 If seeing a quokka on Rottnest has got you excited about Australian wildlife, then heading to Yanchep National Park is another great Perth day trip when it comes to spotting some native creatures.
With an abundant population of kangaroos, heading to Yanchep will almost guarantee you a sighting of these iconic animals.
Not only that, but Yanchep also has some resident koalas – although sadly they weren't feeling too sociable when we were there!
With some lovely walking trails, Yanchep is one of Western Australia's oldest and most established national parks and heading here from Perth is a must.
#6 New Norcia
For something totally different when it comes to Perth day trips, why not take a drive to the inland town of New Norcia.
132km north of Perth, this community was established by Benedictine Monks and is Australia's only Monastic Town.
Even if the Catholic Church isn't your thing, then it's hard to deny the uniqueness of New Norcia, which is well worth checking out just for the magnificent buildings and gorgeous scenery.
With a fascinating museum and art gallery too, there's more than enough to do in this town to occupy you for a day.
Learn more at the destination's website here.
#7 Lake Clifton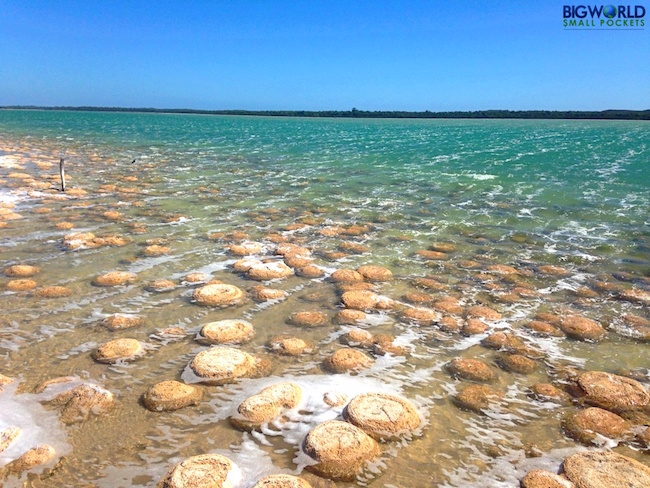 Set within the Peel Region south of Perth, you can easily tie in a trip to Lake Clifton with exploring the nearby towns of Mandurah and Bunbury too.
The reason I've chosen Lake Clifton as the centrepiece here however, is because it's home to some of the world's oldest living organisms.
Yes thrombolites are tiny micro-organisms believed to resemble the earliest forms of life on Earth and are very similar to the stromatolites in Shark Bay, Western Australia.
One of only a few places on earth they can be seen, a lovely boardwalk will take you up and above these creatures, which weirdly look like smooth rocks, despite the fact that they are alive!
#8 Perth Hills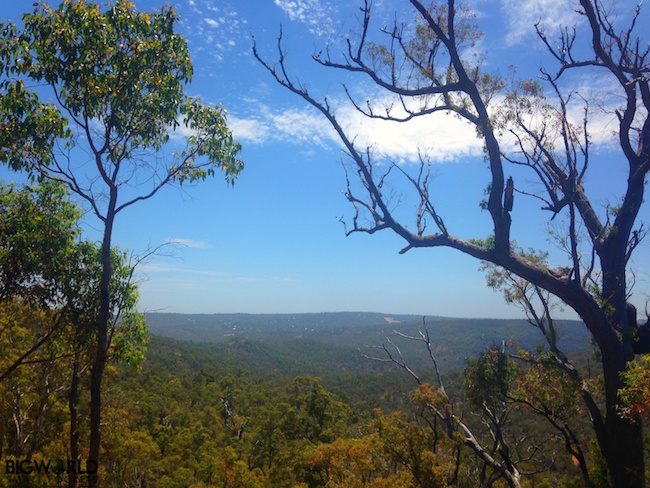 Another beautiful natural area that makes the perfect day trip from Perth are the hills that lie behind the city.
With some great walking tracks, national parks and viewpoints, the Perth Hills cover quite a wide area, so choosing a specific part of this region and making a beeline for it, is probably the best way to enjoy things up here.
The lovely town of Kalamunda is a good place to start with its weekly market and community atmosphere.
Otherwise, the Mundaring Weir has some great photo opps and a lovely pub.
#9 The Beach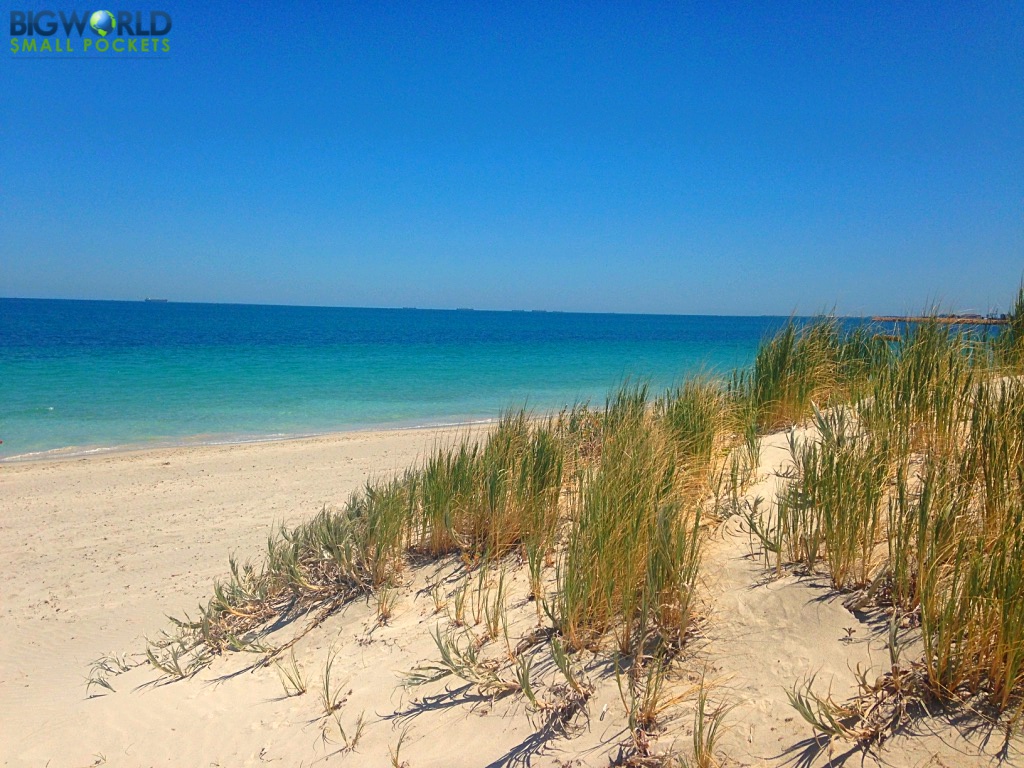 If all of this sounds like a bit too much driving and exercising and you'd rather just flop at the beach for the day, then Perth has that sorted too!
Set right on the Indian Ocean, the white sand and turquoise waters here are famous and in the summer at least, there's few better day trips from Perth to make.
Cottesloe beach, a short drive from the city, is a perennial favourite, otherwise, City Beach and Scarborough are popular too, especially for surfers.
A little further south Woodmans Point is a great spot with a beautiful reserve behind it – perfect for picnics and great fishing opportunities if that's your thing.
#10 Swan Valley
And finally, the last entry on my list of the 10 best day trips from Perth you can't miss, is the Swan Valley.
This famous wine region is now also becoming known for its boutique food production, including cheese and chocolate, making a trip here a real treat!
With loads of cellar door tastings and some gorgeous countryside to enjoy too, even just a leisurely drive here is worthwhile.
If you do head out to the Swan Valley, then make sure you stop in the town of Guildford too, which has some great heritage walking trails to undertake.
This very-English looking town made me feel right at home with its great pub, local eateries and friendly atmosphere!
There's also Whiteman Park nearby too, which shouldn't be missed with its range of arty shops and small museums.
Getting Your Australia Visa
Don't forget, if you're travelling to Perth from outside Australia, then you may well need a visa to enter this country.
Even for Brits, like me, an ETA (Electronic Travel Authorization) needs to be applied for online in advance of your arrival.
As part of your trip preparation, I highly advise checking what Australia visa you might need to get for your travels and ensuring you begin the process in good time.
Best Travel Insurance for Australia
I would never think of travelling to Australia without proper coverage and always recommend travel insurance from World Nomads which I've used during my time in this country and throughout the world.
Alternatively, if you're a long-term nomad like me, then why not check out Safetywing.
They offer comprehensive travel medical insurance, which is ideal for digital nomads as it works on a low cost, rolling subscription basis.
5 Essential Packing Items for Australia
#1 Good Camera – You will be pretty much snapping non-stop in Australia and will need a good camera to do this gorgeous country justice. I highly recommend the Sony A6000, which I use for all my travels and love, not least because it's light, compact and robust!
#2 Good Walking Shoes – There will be a lot of walking in Australia – from cities to national park! Make sure your feet are comfortable therefore with a pair of New Balance Trainers. Perfect for stylish strollling, I love mine
#3 Good Guidebook – I'm still a massive fan of the Lonely Planet Guidebooks and do think their Australia edition is well put together
#4 Good Water Bottle – Travelling in hot old Australia can be thirsty work, so make sure you have a metal water bottle that you can refill as you go, because tap water is drinkable… and free!
#5 Good Sun Hat – And there's no denying you'll need a good sun hat for protection in Australia too. In my opinion, you can't go past this Hello Sunshine one, which is both gorgeous and ideal for keeping the rays off your face.
PIN IT TO PINTEREST!
So that's my list of the 10 best day trips from Perth you can't miss.
Have you explored the surrounds of this great city much?
If so, what was your favourite spot?
I'd love to hear in the comments box below…