Can you believe it, this week,we've hit the 6 month mark on our life on the road in Australia.
It seems quite surreal and time has gone so fast, but we've managed to clock up some 12000+ km, spent way too much money, seen some amazing sites and stayed in some beautiful campsites.
Here's to the next 6!
Distance Travelled:
1501km (our 2nd biggest distance in a week)
Spot of the Week:
Emma Gorge, WA
Free Camp of the Week:
Mary Pool Rest Area, WA
Tip of the Week:
You know those little plastic clips off bread packets, which are used to keep the content fresh? Well, our tip is to keep a few of them on you!
If you are a thong wearer, these little beauties can come in very handy as repair mechanisms when your plugger decides it has had enough!
Disaster of the Week:
The road into Purnululu National Park was pretty interesting! It made the infamously bad Gibb Rive Road look like a walk in the park!
The Budget ($ AUD):
Fuel – $286.43
Groceries – $257.25
Camping Fees – $46
Hardware/ Car – $41.04
Emma Gorge Entry – $10
Total – $634.72
Pretty damn good (ish) for once!
Day 1 – Maluks Rest Area via Emma Gorge and Kununurra, WA
If you are passing through Kununurra, but not tackling the infamous Gibb River Road, then you seriously still need to consider making a short detour so you can visit Emma Gorge.
By short I mean about a 200km round trip, but believe me, you will not be disappointed!
This swimming hole at the bottom of a waterfall is absolute heaven and well worth the walk in. At the time of the year we visited (October) a lot of swimming holes in the Kimberley were starting to close as they dried up, but not Emma Gorge.
There might only be a bit more than a trickle coming over the top of the gorge here, but the waterhole at the bottom is very large and seriously refreshing.
Floating on your back, gazing up at the cliffs above you, is a view that you will not forget.
After Emma Gorge we went back to Kununurra to fuel up, before heading to a super free camp on the Great Northern Highway – Maluks Rest Area.
Day 2 – Purnululu National Park, WA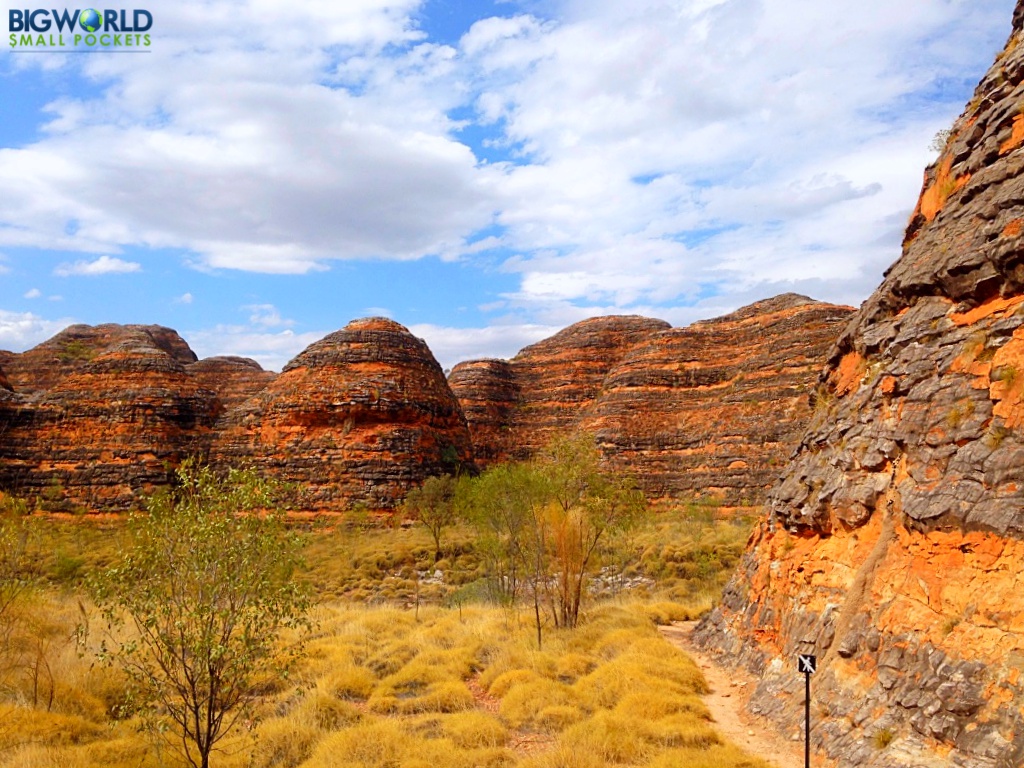 Famous for its beehive-striped domes (known as the Bungle Bungles), Purnululu National Park is stunning, even if the drive in is not!
The hike through the domes here, as well as into Cathedral Gorge, was breathtaking, and the place certainly warrants the UNESCO status it has. Both the gorge and the domes are like nothing else either of us have ever seen before, and to be able to walk through them and catch the light at different angles was amazing.
The only downside to our visit to Purnululu was the drive in and out. We have traversed some rough roads on this trip, but the 50km slog into the Purnululu National Park was worse than the sections of Gibb River Road we tackled.
We had wanted to explore both the northern and southern ends of Purnululu National Park, but to be totally honest the road put us off!
In the end, we just settled on exploring the southern section of the reservation – where the notorious domes are – and were pleased with our choice and the Walardi campground where we stayed that night.
Day 3 – Mary Pool Rest Area, WA
At last a cooler day!
After suffering endless weeks of 38+degrees, today was under 35 and it felt amazing!
Once again Wikicamps provided us with a ripper of a FREE campsite, so we left Purnululu and set off along the Great Northern Highway again.
A lovely large area with loads of shady spots and some grass(!), was what greeted us at Mary Pool Rest Area … and we were delighted! This was definitely one of the better free camps we have stayed in and we even got a visit from some of the local cows the following morning!
Day 4 – Leopold Downs Free Camp, WA
With the temperatures as high as they have been, every town we've recently passed through has been experiencing some serious water restrictions. As such, our own water supply was getting low.
While enjoying a lunch stopover in the town of Fitzroy Crossing, we enquired at the Info Centre there about where we could get some water. Luckily they had a tap that the public could use. Hoorah!
There was a catch however, a $20 deposit for the tap handle and a fee for the water. We would have paid just about anything for water at this point, so we thought $6 for 60l was a bargain!
Back on the road, it was time to find a camp spot for the night.
Sometimes the free camps can be a little difficult to locate, as was the case on this day. However, the offline mapping on Wikicamps is brilliant and helped us discover the spot we were looking for easily.
We drove down a dirt road for what seemed ages, looking at possible sites until we came across one that was clearly well used and spacious. On a dirt road off the highway, it was quiet and had some awesome views!
Day 5 – Tunnel Creek / Windjana Gorge National Park, WA
A walk amongst the crocs!
It's not every day that you have to cross a waterway that is quite well populated with crocs, but to see all of Tunnel Creek National Park, that's exactly what you have to do.
Now before you completely flip out, we are talking about freshwater crocs here, who are pretty placid unless provoked, so don't worry we are not doing something crazy like entering water filled with aggressive saltwater crocs – that would be plain stupid.
A small National Park, but a definite stopover you have to make in The Kimberley region, the walk through Tunnel Creek is a unique and exhilarating experience. This is one of the oldest cave systems in Australia, and with some fascinating history and a large number of bats, this is a must-do if you are in the area.
Kids especially, would love walking through the water in this cave, but I have to say, so did we!
After this, we went on to the nearby national park campground at Windjana Gorge to spend the night.
Day 6 – Windjana Gorge / Bells Gorge, WA
Windjana Gorge National Park campground was pretty much the same as that in Purnululu, except that it had a shower!!!
I know we have a shower on the side of the car, but it is so nice to have a real shower every now and again when you are in the dusty bush. It's especially nice when it has been a week since your last one. (oops!)
As for the gorge itself, it was another epic adventure!
As usual, we tackle many of the walks as early as we can in the morning to avoid the heat. Another advantage at this time of day is the colours, which are incredible and help produce some great snaps.
Following the creek through the bottom of the gorge, you get the chance to see a lot of freshwater crocs sunning themselves in the morning sun at Windjana – it really is quite a spectacle.
After breakfast, we packed up and hit the road again, this time destined to get back onto the Gibb River Road.
Bells Gorge was the largest swimming hole we have come across in WA so far and definitely worth the detour we took to get there. After a bit of a bumpy ride and a good 20 minute walk, we were treated with another oasis in the bush.
Even so late in the dry season, there was still a decent amount of water flowing over the falls to the glorious swimming hole below. This seemed to make the swim even more refreshing, even if we did have to share the water with a couple of large monitor lizards!
Day 7 – Derby, WA
Luckily after such a big week of driving, today was a comfortable cruise of under 200 km. I could tell the boy was starting to feel the strain of big days, so I was relieved today was a bit easier on him.
We spent a few hours exploring Derby, which is quite a nice little town on the Kimberley coast. The visitor centre here, as in most places, was a welcome relief from driving and the heat! And we picked up our usual stack of free maps and brochures!
We checked out the Derby wharf area and the interesting Prison Boab Tree, before making our way back out to another free camp on the Great Northern Highway.
One more sleep before Broome and the excitement was building! We have both wanted to visit Broome for a long time and now it's just down the road – hoorah!
Stay tuned to find out what we thought of this famous pearling town …