Diving, snorkelling, kayaking or sailing the Ningaloo Reef should be very near the top of any traveller's Australian bucket list.
With a UNESCO World Heritage Marine Park that starts at the shoreline, as well as the chance to see humpback whales, whale sharks, turtles and hundreds of tropical fish, exploring this underwater marvel is definitely something you won't forget in a hurry.
And while it might be a bit of a drive to reach the Ningaloo area of Western Australia, which lies about 1260km north of Perth, once you get here, you can easily find everything you need to have the holiday of a lifetime.
---
Related Posts
---
My stay in Exmouth was kindly sponsored by Potshot Hotel Resort, but, as always, all views are my own.
This page contains affiliate links meaning Big World Small Pockets may receive a small commission on any purchases at no extra cost to you.
---
Basing Yourself at Exmouth
At the heart of the action lies the fishing town of Exmouth, a skinny settlement stretched out along the ocean and sandwiched between the reef and the range.
With the most dive companies, boat tours, snorkel excursions and wildlife-spotting opportunities, Exmouth is the perfect place to base yourself when it comes to seeing the best of the Ningaloo Reef.
Indeed, coming over the hill into town to see the most turquoise of oceans spread before us, Exmouth instantly gave us that holiday feeling we were more than ready for!
The town was a welcome delight after we'd been remote camping inland for some time and arriving into it, we felt we'd found the perfect place to enjoy our Ningaloo holiday.
Staying at Potshot Hotel Resort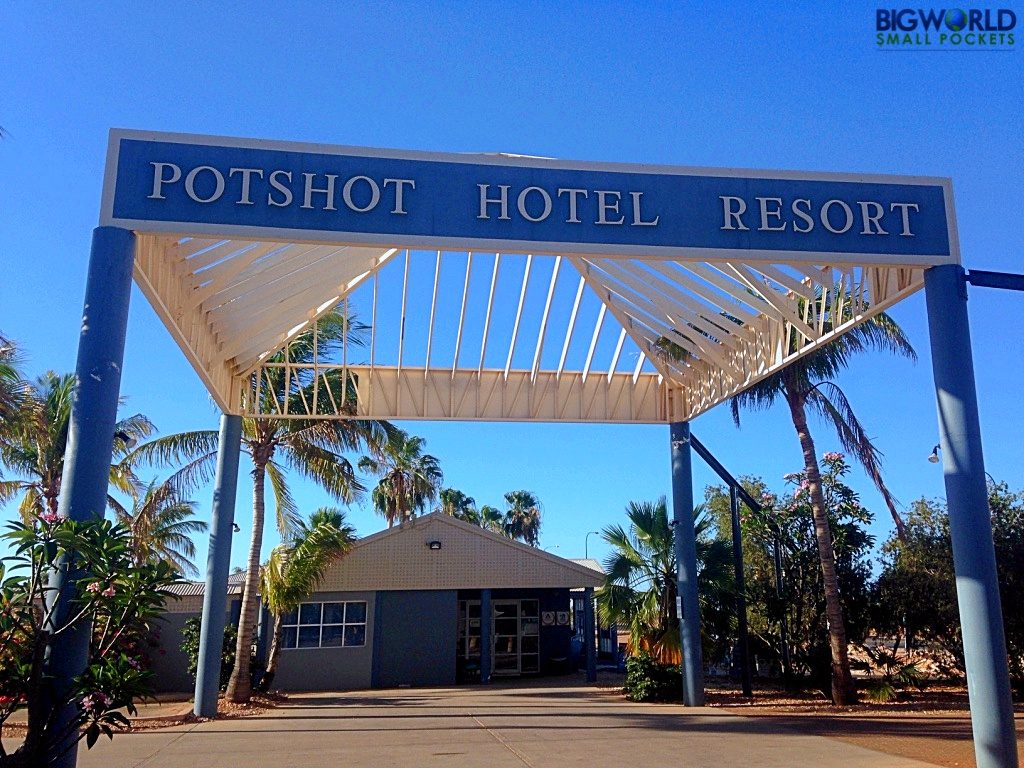 But there was more excitement to our sense of holiday than just the views in Exmouth.
That's because, for the first time in months, we were going to abandon the tent we've been sleeping in as part of our budget 4wd around Australia and enjoy the luxury of an apartment and a real bed instead.
Woo hoo!
Yes, very kindly, the wonderful people at Potshot Hotel Resort had invited us to stay in one of their fantastic two bedroom apartments … and we weren't going to pass that opportunity up in a hurry.
So not only did Exmouth give us an amazing opportunity to discover the Ningaloo Reef, it also gave us the complete holiday experience.
Because that's what staying at Potshot Hotel Resort felt like, a real holiday – one where we could kick off shoes, get the red dust out of our hair and truly relax.
For that alone, I couldn't recommend this place enough to anyone wanting to visit the Ningaloo area of Western Australia … but wait there's more!
In the Heart of the Action
Although small, the town of Exmouth boasts a huge number of tour operators and whether it's kayaking, snorkelling, diving, boating, fishing or wildlife spotting, there's someone there willing to help you explore the Ningaloo Reef the way you want.
The town also has several gas stations, 2 supermarkets, a post office, library and an array of other amenities, not to mention a gorgeous beach where you can swim, BBQ, picnic and sunbake to your heart's content.
One of the best things about staying at Potshot Hotel Resort is that it sits right in the heart of this action.
This meant that once there, we didn't have to drive or load into the car to do anything more – everything was right at our doorstep.
The town centre with its shops, restaurants, cafes and parks lies only a few minutes away and the beach is within easy walking distance.
The visitor information centre, with its signature giant prawn (!) is again only a short stroll away and there is a dive shop perfectly located right at the back of the resort!
With all the other tour and excursion providers also located nearby, Potshot Hotel Resort is perfectly situated.
In fact, it's so central, that most of the tour operators will actually come and pick you up from the reception area at the start of your excursion.
This is exactly what happened when I went out for the day with Dive Ningaloo, making the Potshot Hotel Resort the easiest and simplest location for your Ningaloo Reef adventure.
5 ESSENTIAL PACKING ITEMS FOR AUSTRALIA
#1 Good Camera – You will be pretty much snapping non-stop in Australia and will need a good camera to do this gorgeous country justice. I highly recommend the Sony A6000, which I use for all my travels and love, not least because it's light, compact and robust!
#2 Good Walking Shoes – There will be a lot of walking in Australia – from cities to national parks! Make sure your feet are comfortable therefore with a pair of New Balance Trainers. Perfect for stylish strolling, I love mine.
#3 Good Guidebook – I'm still a massive fan of the Lonely Planet Guidebooks and do think their Australia edition is well put together.
#4 Good Water Bottle – Travelling in hot old Australia can be thirsty work, so make sure you have a metal water bottle that you can refill as you go, because tap water is drinkable… and free!
#5 Good Sun Hat – And there's no denying you'll need a good sun hat for protection in Australia too. In my opinion, you can't go past this Hello Sunshine one, which is both gorgeous and ideal for keeping the rays off your face.
Perfect for Relaxation
But if you don't feel like wandering too far, or doing too much while you enjoy the year-round summer climate of Exmouth, then you don't have to!
That's because the Potshot Hotel Resort boasts no less than 3 pools, 3 bars, a licensed bistro, BBQ facilities and wifi connection – meaning if you just want to relax here and go nowhere, you can easily do that too!
In particular, the fabulous daybeds around our favourite pool in the resort were especially hard to pull ourselves away from and we found relaxing in them, under a cloudless blue sky, was the ultimate way to unwind while we were here.
Wonderful Two Bedroom Apartments
But the holiday feeling Potshot Hotel Resort gave us, didn't stop there.
We also got to enjoy a BBQ one evening on our private, ground floor courtyard in front of a great Western Australian sunset to top it all off!
The BBQ was part of our wonderful two bedroom apartment, which also included a lovely living / dining area, compact kitchenette, newly fitted bathroom, aircon and 2 amply-sized bedrooms.
Perfect for a family or a group of friends, the attractive modern furniture, well-equipped cooking space, gas BBQ, washer, dryer and flatscreen TV (the cricket was on so the boy was pleased!) were wonderful additions.
On top of those, a few extra touches really added to the place including lovely soft towels, free beach towels, free bathroom products and a selection of tea and coffees.
With windows on every side, the apartment felt light and airy and the grounds outside were beautifully green and well kept.
The only downside I have to point out was the shower.
Despite the very promising, large-looking shower head, the pressure was abysmal and unfortunately, neither of us managed to work out the temperature gauge which seemed to dart from boiling hot to freezing cold with alarming alacrity!
Nevertheless, in a part of a country as dry and water-scarce as Exmouth, I understand this is a very first-world complaint!
Great Range of Accommodation
If you still want to stay at the Potshot Hotel Resort due to its great location and wonderful amenities, but you're travelling on a super tight budget, or by yourself perhaps, then fear not!
That's because one of the best-selling points about this great place to stay in Exmouth is the array of different accommodation it provides.
From one bedroom apartments and studio accommodation, right through to 3 bedroom deluxe apartments, sleeping up to 6 people, Potshot Hotel Resort offers something suitable for everyone looking to enjoy a Ningaloo Reef holiday in Exmouth.
At the other end, Potshot Hotel Resort is also home to Excape Backpackers, with rooms ranging from 6-bed dorms, right up to single, double and even family rooms, perfect for those wishing to explore this bucket list Western Australia destination on a budget.
With discounts available to those staying 2 or more nights, there's certainly a deal to be had here; even more so in you are a YHA member, because Excape Backpackers at the Potshot Hotel Resort is affiliated with Youth Hostelling International.
All backpacker rooms here offer ensuite accommodation and aircon.
Many also have tea and coffee facilities, as well as small fridges – that's in addition to the communal kitchen and BBQ areas – making this the place perfect for those travelling on a shoestring.
So if you're looking to dive or snorkel the world heritage-listed Ningaloo Reef in Western Australia, can I recommend staying at Potshot Hotel Resort.
From strict budget travellers, through to families, couples and even groups of friends, this centrally-located and well-equipped accommodation choice is the perfect place from which to get the best out of your year-round summer holiday.
PIN IT TO PINTEREST!