Who would have thought it! The community of Cooktown, situated in the remote Cape York peninsula of Queensland, is really a bustling place!
Driving this far north in Australia, we would never have guessed that a fairly sizeable, well-stocked, pleasant and busy civilisation could have existed out here.
But there you have it, Australia is full of surprises and Cooktown was one for me!
Located in an area renowned for its remote camping, national parks and excellent 4wd opportunities, Cooktown acts as the major service station for this part of the country.
That said, being over 2000km from the state capital of Brisbane and nearer to Papua New Guinea than Sydney, you don't think of Cooktown as a place with lots to do!
But don't be fooled like I was!
Cooktown is a great little place to stop for at least a few days and I only wished I had allowed more time to stay here as part of my great budget 4wd around Australia – Week 7.
In fact, I voted it one of the most amazing destinations to visit North Queensland!
So here, to give you some idea about the range of stuff to do in this Cape York capital, are the 10 best things to do in Cooktown, Australia.
Oh, and if you're looking to get a great deal on a campervan to drive to Cooktown, you can now compare Britz, Maui, Backpacker & Kea options easily here!
---
Related Posts
---
This page contains affiliate links meaning Big World Small Pockets may receive a small commission on any purchases at no extra cost to you.
---
Grab Your Copy of How to Road Trip Australia on a Budget
My ultimate guide to road tripping Australia on a shoestring is now available, meaning you can finally get ALL my top tips for driving around all, or parts, of this amazing country in one handy eBook, including…
Full Planning & Preparation Guides
Day by Day Itineraries & Routes
Complete Packing & Gear Lists
Top Money-Saving Tips & Hacks
#10 Sink a Beer at the Historic Lion's Den Hotel
Situated in the suburb of Helenvale, about half an hour south of Cooktown as you head towards the Bloomfield Track, is the historic Lion's Den Hotel.
Enjoying a drink here is definitely one of the best things to do in Cooktown.
First opened in 1875, this place is steeped in history – much of it written across the walls!
Yes, in the usual style adopted by many outback watering holes, the Lion's Den allows its customers to scrawl, draw and stick almost anything they want to the sides, roof and doors of the building.
This stems from an early tradition when miners began leaving their pay packets here and keeping track of their bar tabs on the walls!
There's also a great little museum room at the Lion's Den, with some fascinating tales from the local communities, as well as a powered camping area if you want to have a few drinks and stay the night.
#9 Stroll the Botanic Gardens
The beautiful Botanic Gardens in Cooktown are one of Australia's oldest and the perfect place to spend an afternoon.
Established in 1878, it's free to enter and there's tons to learn about and see as you explore the beautiful grounds and exotic specimens.
Afterwards, why not enjoy a coffee at the great cafe here and then stop in at Nature's Powerhouse.
This exhibition space hosts a small, but significant amount of work by local artists and is well worth a look.
#8 Explore the History-Filled Esplanade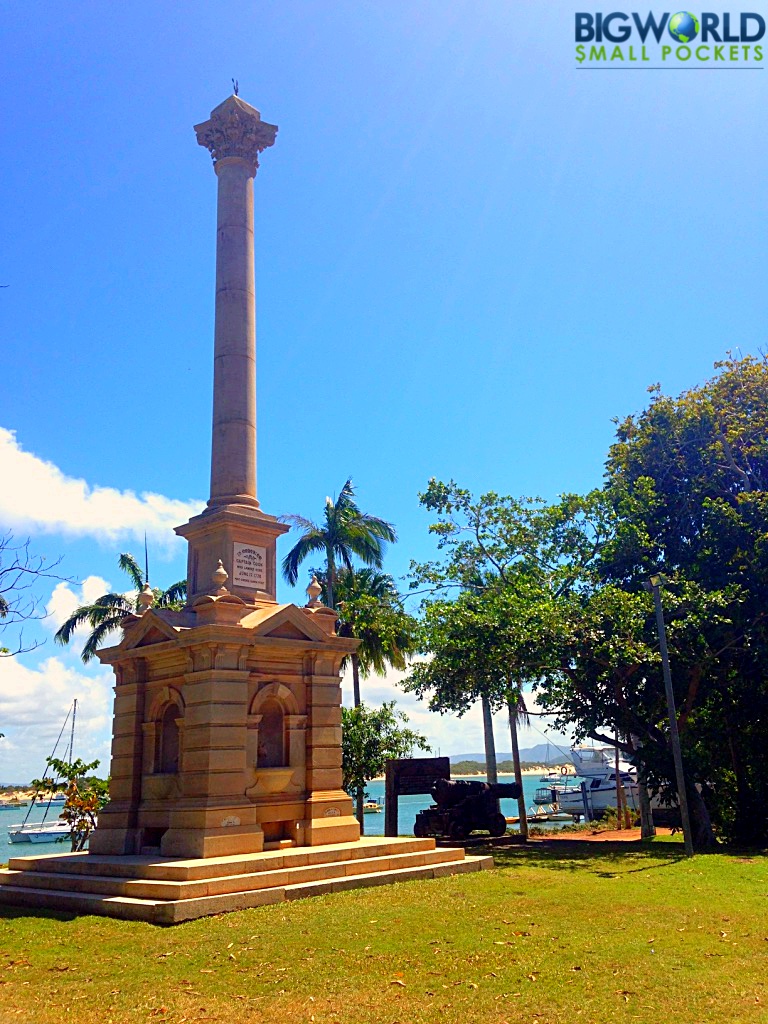 With tons of historic buildings located throughout Cooktown, this place is ideal for a self-guided walking tour.
If you want to concentrate your efforts however, then one of the best things to do in Cooktown is head to the Esplanade.
Here you'll find a ton of historical artefacts, all set to the backdrop of some beautiful gardens and the Endeavour River.
Highlights include the Cook Monument, the Milbi Wall and the Queen's Steps, which were constructed especially for the Royal visit in 1970.
#7 Visit the Cherry Tree Bay
In my opinion, Cooktown's most beautiful beach, Cherry Tree Bay can be accessed by a gorgeous trail that winds through the Botanic Gardens.
This means it's also fairly quiet and, flagged by rainforest and some stunning rock formations, it's the perfect setting for a picnic.
I'd just stay out of the tempting-looking ocean if I were you – deadly crocodiles and stingers are ever-present in these waters.
I guess even paradise has its drawbacks!
#6 Take in the View from Grassy Hill
The best lookout in town, taking a walk (or a drive!) up to Grassy Hill is undoubtedly one of the best things to do in Cooktown.
The magnificent views up and down the coastline you'll get from up here, as well as across the top of the town, give you a unique perspective on this remote outpost, which is every bit as fascinating from above, as it is on the ground.
Make sure you take in the view from the nearby lighthouse as well, and don't miss out on learning about the history of this navigational fort and the people who both operated and serviced it.
#5 Wonder at the Black Mountain
The intriguing (and kinda bewildering) sight of Black Mountain as it looms towards you on the drive into Cooktown has to be seen to be believed.
Essentially, this dramatic feature looks like a massive pile of coal, which despite the wind and rain, simply won't come tumbling down.
How all the rocks individually balance there really beggars belief!
Understandably a mythical place for the traditional owners of this land, the mountain is estimated to be around 260 million years old and straddles both sides of the road.
Interpretative signs and a viewing platform explain more about this fascinating feature on the landscape and definitely make a stop there one the best things to do in Cooktown.
#4 Retreat to Elim Beach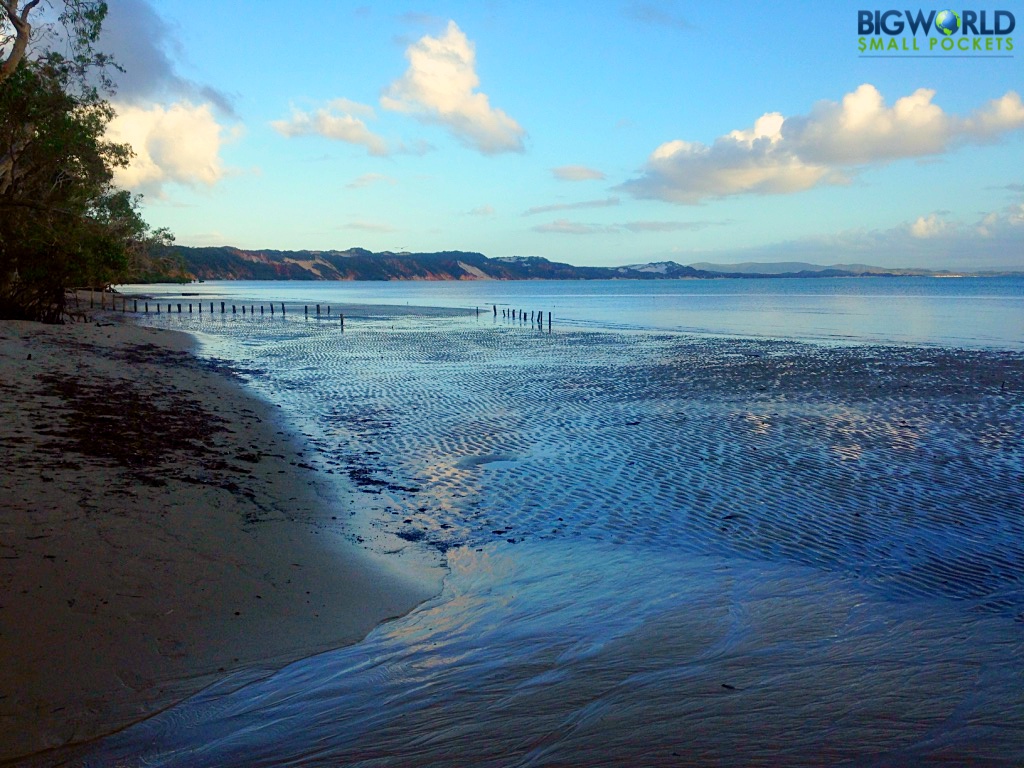 There are plenty of caravan parks within Cooktown itself, but if you want my tip, then head north out of town to camp at the fantastic Elim Beach Campsite – one of the highlights from my first 6 months on the road in Oz.
Tucked away on the coastline, within the Aboriginal Community of Hopevale, this local elder-owned land is paradise found!
Set along a picturesque beach of mangrove trees and reef, you can enjoy stunning views all along from Cape Bedford in the south to the fantastic coloured sands in the north, which are a definite rival for those at Rainbow Beach further south in Queensland imo!
Despite regular croc sightings, Eddie the Elder will still let you slide your boat in for a fish here, otherwise set up camp in the rustic bush surroundings and enjoy some serious solitude and peace.
A definite highlight of week 8 of my great budget road trip around Australia – I loved this place!
#3 Climb Mount Cook
The peak of Mount Cook dominates the skyline in these parts and, unbelievably, can be summited by those feeling super keen.
Certainly one of the best things to do in Cooktown, the hike up this 431m peak is best started early in the day to maximise the cooler temperatures.
Leaving from the end of Hannam Street, the magnificent walk will take you through different ecological zones before reaching the top for a great lookout.
It's quite a steep climb for around 2km so a good level of fitness is required for this one.
If you're feeling less energetic however, don't worry, there are still plenty of other walks in and around Cooktown, which will also lead you to awesome points of interest including the local cemetery and Finch Bay.
#2 Gasp with Delight at Archer Point
Located at the end of a dirt track, as you make your way to Cooktown from the south, is the stunning lookout area of Archer Point.
It's a thirty minute round detour to get here, but is well worth it to enjoy that end of the world feeling as the wind and the waves of the great ocean beyond roll in.
Snap some great pictures and enjoy the remoteness – you're in the Cape now!
Although it's 20km from the centre of town, this is definitely worth a stop.
#1 Visit the James Cook Museum
Unbelievably one of the best historical exhibitions I think I've ever visited, heading to the James Cook Museum aka the Cooktown Museum is an absolute must when it comes to the best things to do in this town.
Entrance is $25 AUD for adults ($20 AUD with a senior's card) and $10 AUD for kids, but this is a total bargain once you see all the stuff on display.
Set within the old convent school building, everything about the place is fantastic it's crammed full of information about the landing of James Cook and beautifully displayed.
There's also a pleasing amount of space dedicated to the aboriginal voice and story too.
If you're not up for paying the $20 AUD, then it's still worth strolling into the James Cook Museum foyer to take a look at the anchor from The Endeavour – Cook's famous vessel which ran aground near the reef here.
The original artefact, along with an original cannon from the ship, are now both proudly on display for all to see.
They really are quite impressive!
Top Cooktown Travel Tips
When to Visit Cooktown?
The best time to visit Cooktown is definitely during the dry months here which run from May to September.
Where to Stay in Cooktown?
There's a number of good budget accommodation options all within an easy distance of town. This is great as it allows you to easily explore all the awesome things to do in Cooktown without the use of your car.
There's some good caravan parks too and my recommendation is the Cooktown Motel / Pam's Place Hostel.
With dorms and private rooms available, it is perfectly located and has free wifi and a communal kitchen.
Best Services in Cooktown
Eating in is the obvious budget option to take here and thankfully Cooktown has a fantastically well-stocked IGA.
There's also some great free BBQs along the Esplanade to try out too!
A couple of gas stations means it's no problem to fill up your vehicle here and I recommend re-stocking your water supply while you're at it.
5 Essential Packing Items for Cape York
#1 Good Camera – You will be pretty much snapping non-stop up here and will need a good camera to do this gorgeous region justice. I highly recommend the Sony A6000, which I use for all my travels and love, not least because it's light, compact and robust!
#2 Good Walking Shoes – There will be a lot of walking in Cooktown, so make sure your feet are comfortable therefore with a pair of New Balance Trainers. Perfect for stylish strollling, I love mine
#3 Good Guidebook – I'm still a massive fan of the Lonely Planet Guidebooks and do think their Australia edition is well put together
#4 Good Water Bottle – Travelling in hot old Australia can be thirsty work, so make sure you have a metal water bottle that you can refill as you go, because tap water is drinkable and free in Cooktown!
#5 Good Sun Hat – And there's no denying you'll need a good sun hat for protection up in Cape York. In my opinion, you can't go past this Hello Sunshine one, which is both gorgeous and ideal for keeping the rays off your face.
PIN IT TO PINTEREST!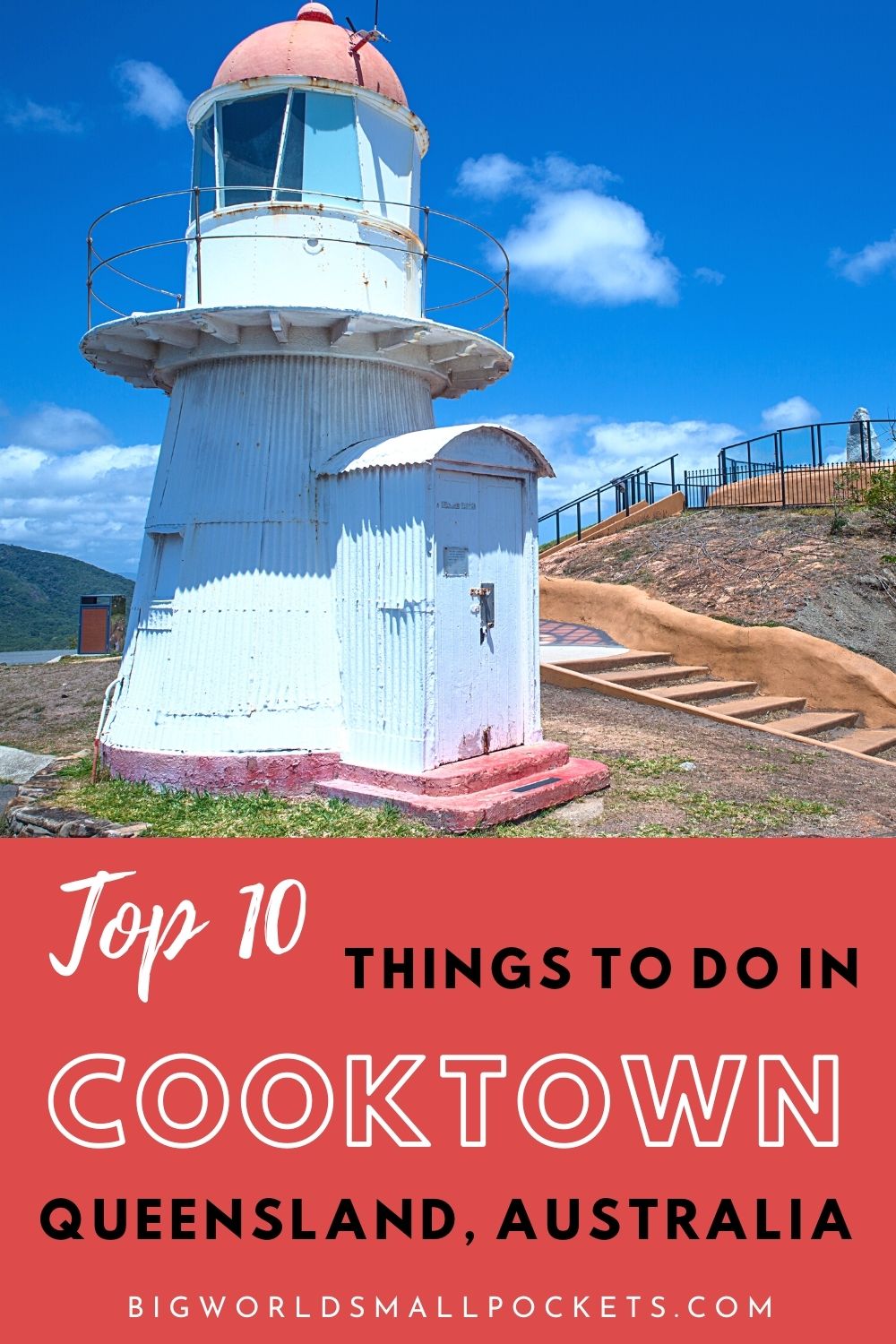 So there you have it folks, the 10 best things to do in Cooktown, Australia, which are all affordable and brilliant!
I told you there was a lot more going on in this remote outpost than you thought!
Have you visited Cooktown or Cape York?
Let me know what you enjoyed most in the comments below…