---
Related Posts
---
This page contains affiliate links meaning Big World Small Pockets may receive a small commission on any purchases at no extra cost to you.
---
"Now remember you're going to see nothing but red dust from here on," the boy said to me as we headed north from Adelaide, up the Stuart Highway in our Land Rover Defender.
"It's dry up here, real dry, and the bare red earth will stretch for miles and miles from now on."
Arriving into a green and leafy world of Coober Pedy the next morning therefore came as a bit of a surprise!
We'd spent the night at a popular free roadside camp known as Lake Hart, just north of Port Augusta, and so arrived fresh-faced into Coober, and the start of the real Outback, only to find they'd just received the biggest rainfall in years.
Perhaps "leafy" is a bit of an exaggerated description, but certainly there were tufts of grass and plants springing here, there and everywhere out the desert floor, and the poor boy, supposedly an "experienced Outbacker" was forced to swallow his words!
Being my first time in the Red Centre, I knew little of what to expect from the bizarrely named and fabled destinations we had planned as part of our budget Central Australia road trip.
All I knew of Coober Pedy, for example, was its fame as the global opal capital of the world and an underground town.
Yes, that right, an underground town.
As such, I imagined a whole little village operating under the earth, with shops, cafes and houses being joined by little underground tunnels and cars driving along a network of underground streets.
Perhaps I was being a little unrealistic however, as this is not what people mean when they say the world of Coober Pedy is based underground.
The majority of the town – roads, fuel stations, supermarkets etc. – operate above ground level, it's just houses and other smaller service that are basically constructed within dugouts, either into the side of hills or underground.
So there is an underground bookshop, museum, art gallery!
There are also a number of accommodation options underground too.
Rita's was our choice, just on the outskirts of town, as it offered some well priced $10 underground camping and a basic kitchen.
If you don't have a tent however, or want to be closer to the centre of town, there is also some great budget accommodation available at Radeka Downunder Underground Backpackers
.
Radeka offer free pick ups from the Greyhound Bus Station too.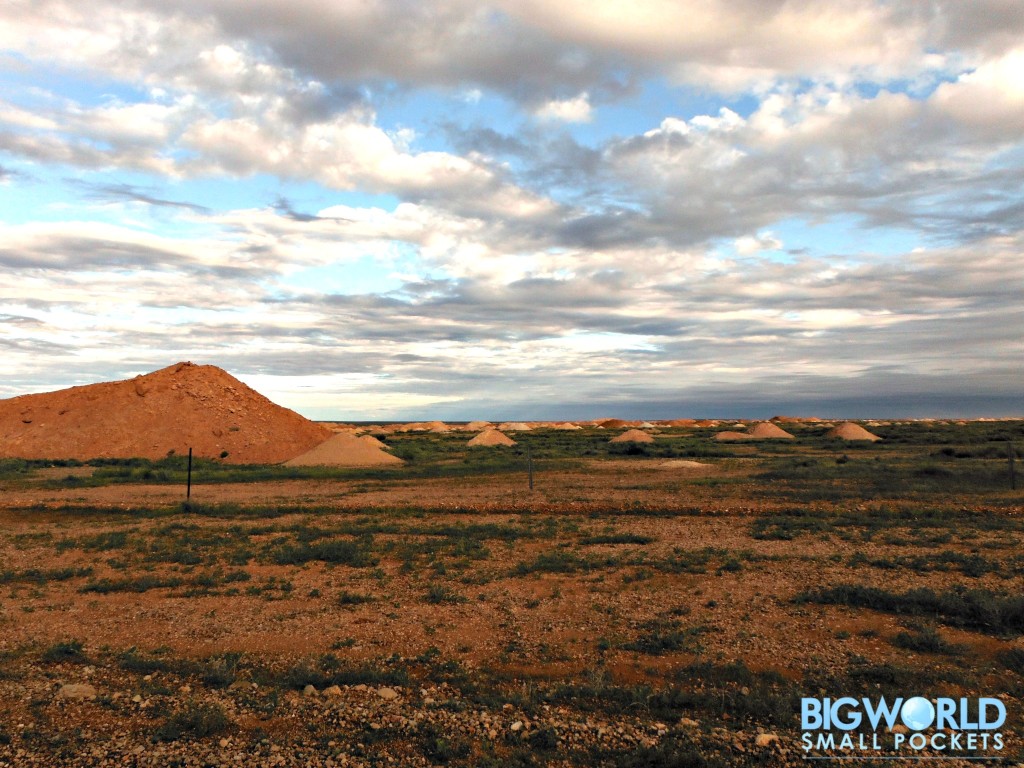 Sorry if I've shattered any fantastical imaginings that you too may have been holding about a whole town operating underground, but do not let this deter you from the belief that Coober Pedy is indeed the strangest and most otherworldly of towns.
It certainly is!
For a start, it's basically a tiny town in the desert, miles away from anywhere in any direction.
It's a place where people notoriously go "to hide" (which they can literally do in an underground home) and once you get there you fully understand why.
Not many people would want to go looking for anyone in a place so hot in the summer you fear your skin might boil off (we're talking 47°) and so cold in the winter that things freeze off.
(It makes sense to live underground in these conditions you know!)
Plus there are like 2 gazillion flies which harass you from dawn till dusk, landing on every part of your body and continuously buzzing round you in an endless game you quickly tire of, but they never do.
My number 1 tip if you're going to Coober Pedy?
Buy a fly head net – you will thank me for your sanity!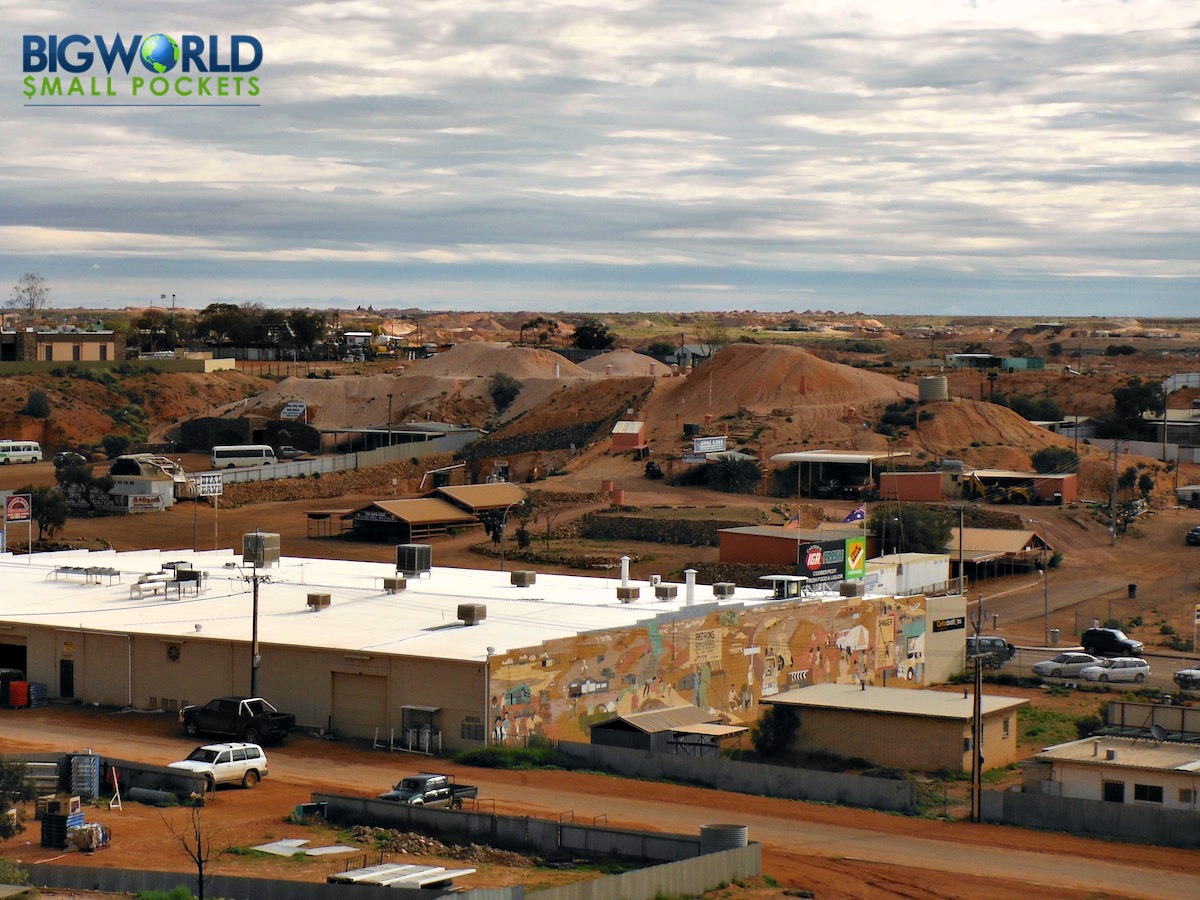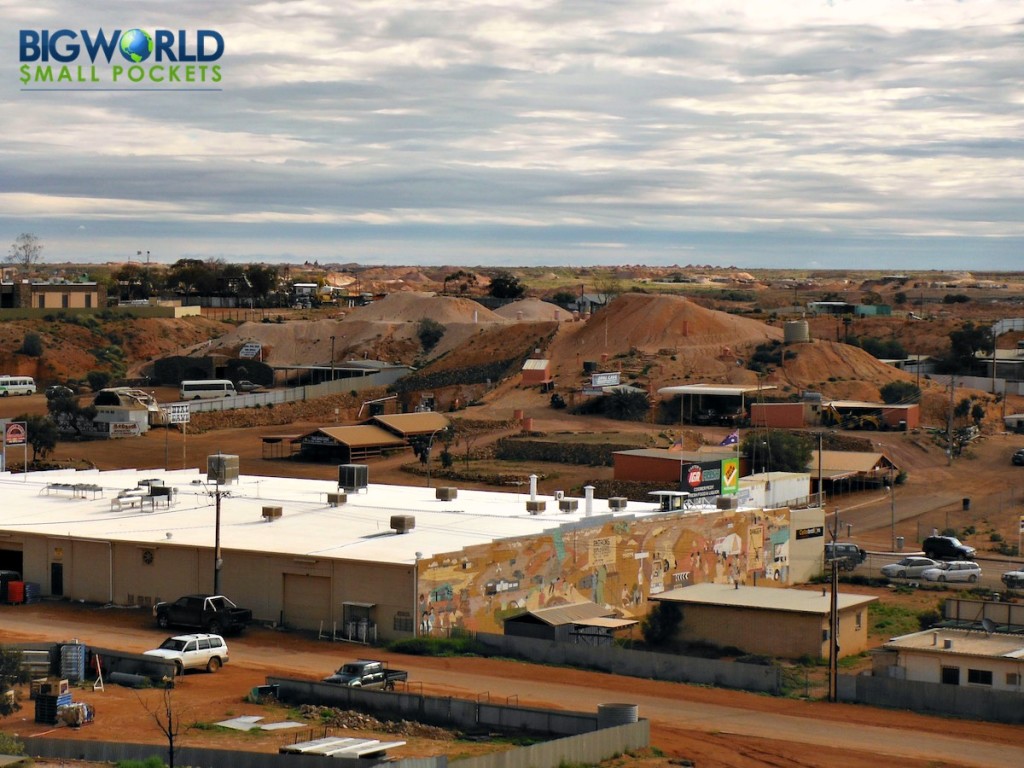 If I'm painting a rather dire picture of the world of Coober Pedy then I apologise, for alongside, or perhaps because of, all these bizarre characteristics, it really is a fantastic place you have to experience.
Being there made me think about what sort of civilisations we may construct if we live on the moon – miles from anywhere with crazy climates and ecosystems that survive on little water.
To get a real sense of the town's bizarre look, then I recommend climbing up to the Big Winch Lookout on the hill in the centre of town.
This is Coober's most prominent viewing spot and from there you get incredible sights of the higgledy-piggeldy layout of the place, as well as the far-reaching desert beyond.
The landscape is simply stunning (I never realised how many different types of colours there can be in a desert) with purples, golds, reds and greens all entwining in an endless series of sand waves and cliffs that extend to the horizon on all sides.
5 ESSENTIAL PACKING ITEMS FOR AUSTRALIA
#1 Good Camera – You will be pretty much snapping non-stop in Australia and will need a good camera to do this gorgeous country justice. I highly recommend the Sony A6000, which I use for all my travels and love, not least because it's light, compact and robust!
#2 Good Walking Shoes – There will be a lot of walking in Australia – from cities to national parks! Make sure your feet are comfortable therefore with a pair of New Balance Trainers. Perfect for stylish strolling, I love mine.
#3 Good Guidebook – I'm still a massive fan of the Lonely Planet Guidebooks and do think their Australia edition is well put together.
#4 Good Water Bottle – Travelling in hot old Australia can be thirsty work, so make sure you have a metal water bottle that you can refill as you go, because tap water is drinkable… and free!
#5 Good Sun Hat – And there's no denying you'll need a good sun hat for protection in Australia too. In my opinion you can't go past this Hello Sunshine one, which is both gorgeous and ideal for keeping the rays off your face.
The Big Winch Lookout certainly makes a good sunset viewing spot, but so too does 'The Breakaways', which is the most spectacular of spots to watch the sunset.
Only about a 20-minute drive from town, if you ever make it to Coober, you have to visit it.
We drove there, but you can certainly do a tour too if you need.
On the way out to 'The Breakaways' you will get a real sense of Coober's mining business as you pass slag heap after slag heap of disused ground – dug up earth that is then simply abandoned in towering pinnacles that line the road and extend off into the distance as far as you can see.
It's the weirdest of sights and one that exemplified my sense that whatever blows into this town tends to just gets left where it lands.
Sort of like a disused building sight, but one which houses people.
This is the town time forgot and nothing moves much here, not even the wind.
In our high-speed world of connectivity and consumerism, it's delightfully refreshing to come across places like Coober Pedy; places that are off the grid, in most senses.
There's something about the eternal freedom follower in me that cant help but be drawn to these bizarre worlds, these remote worlds.
I simply can't help but love them and their madness!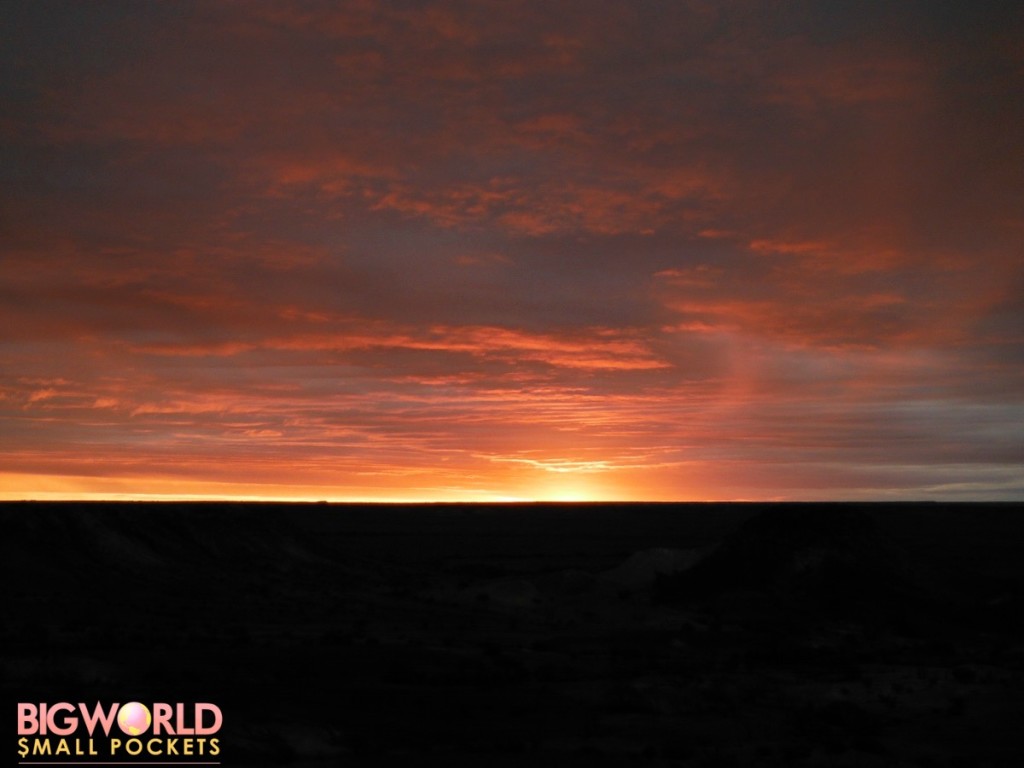 PIN IT TO PINTEREST!