Perhaps an unlikely combination, this dream itinerary to Laos and Brunei will show you exactly why these 2 countries make the perfect combination for your travels in Southeast Asia.
Wonderfully exemplifying the diversity in the region, both of these destinations are among the least travelled nations in this part of the world, but provide incredible culturally authentic experiences, as well as stunning natural landscapes.
The tiny kingdom of Brunei is an Islamic state, with an extremely high standard of living.
It's the only sovereign nation on the island of Borneo and is, apart from its access to the South China Sea, completely surrounded by the country of Malaysia.
Laos on the other hand, is a landlocked country with a strong Buddhist tradition that is extremely prevalent even today.
One of the least wealthy nations in the region, Laos is often missed off the classic backpacker routes here, but is a shining gem and a feast for those looking to get in touch with a very real style of travel in Southeast Asia.
And for both of these destinations, I wouldn't consider travelling without an excellent luggage piece from Victorinox.
With carry-on, as well as checked suitcases, not to mention duffel bags and backpacks all within their range, they've got the perfect luggage solution for your Southeast Asia travels.
And with your luggage sorted, I'm here to show you exactly why you should not discount these 2 countries when you travel to Southeast Asia with this dream itinerary to Laos and Brunei…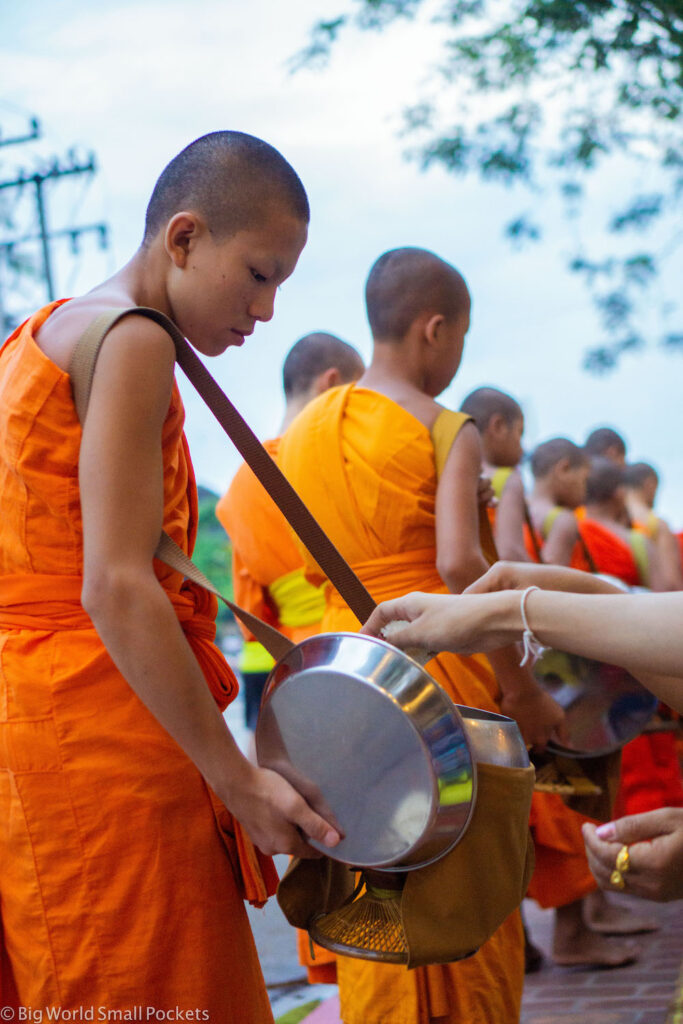 ---
Related Posts
---
This post was sponsored by Victorinox and Visit Southeast Asia but, as always, all my views are my own.
This page contains affiliate links meaning Big World Small Pockets may receive a small commission on any purchases at no extra cost to you.
---
Laos Itinerary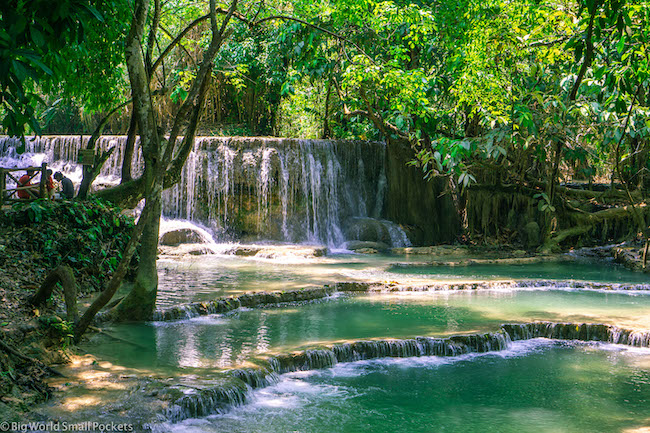 I'm going to kick off this itinerary with Laos, as it's the slightly more popular of the 2 countries I'm covering in this article.
As most travellers have around a week to experience this beautiful land, also known as the land of a million elephants (although I sadly didn't see any!), I'm going to base this itinerary around 7 days of epic adventure.
The destinations I'll cover include Luang Prabang, Vang Vieng and the capital Vientiane, which will you a great overall insight into this country, as well as a huge range of top cultural, culinary, historical and adventure opportunities.
Safety in Laos is good, and I travelled there as a solo female without any problems. Most people here are deeply religious and I found Laotians to be friendly, polite and quiet.
As always, common sense prevails however, so ensure you don't go out after dark alone and keep your valuables secure.
World Nomads offer simple and flexible travel insurance. Buy at home or while travelling and claim online from anywhere in the world
Alternatively, if you're a long-term traveller, digital nomad or frequent remote worker seeking travel health cover, check out Safetywing for their top Nomad Insurance policies.
Laos is also one of the cheapest countries to travel in Southeast Asia and this itinerary is a dream for budget travellers in particular!
Luang Prabang: 4 days
Luang Prabang is the flagship destination in Laos and should not be missed.
It's a UNESCO-listed treasure, filled with Buddhist temples, that you can explore for hours.
Extremely chilled, calm and quiet, Luang Prabang actually feels much more like a small country town than a city!
With a midnight curfew in place and a strong Buddhist lineage here, it's the perfect place to unwind and relax into your Laos itinerary.
Top things to do in Luang Prabang include discovering the plethora of temples, most of which are free to visit, with the exception of the main one at the end of town called Wat Xiengthong, which costs just a few dollars to enter.
Remember to dress respectfully if you're visiting any temples, with knees and shoulders covered. Elsewhere in Luang Prabang it's fine to walk around with shorts etc.
Don't miss getting up early at least once to see the monks receiving alms on Luang Prabang's main street and then deepen your understanding of Buddhism here with a tour that allows foreigners intimate access to a temple, followed by an hour of guided meditation led by former novice monks.
Day trips around Luang Prabang to Kuang Si Waterfalls and Pak Ou caves should not be missed either, and including them is one of the reasons I've given 4 days to Luang Prabang on this itinerary.
But don't forget to chill out here too!
Yoga classes at the wonderful Utopia Café, set right on the river should not be missed, nor should grabbing a Laotian massage – a bit like Thai massage with no oil, but hard pressure point action. The excellent Burasari Spa is a good place to indulge.
And finally, finish up your time in Luang Prabang at Phu Si to watch the sunset from this elevated position, before hitting up the amazing night market in town to sample delicious, traditional Laotian food.
Vang Vieng: 2 days
Vang Vieng is the adventure capital of Laos and is a great way to experience a different side of this country after the cultural heavyweight of Luang Prabang.
Filled with Karst limestone rock formations, this is the spot to head for amazing hikes up to incredible lookouts (Pha Ngern viewpoint and the Nam Xay viewpoint are 2 of the best), as well as take to the Nam Song River for kayaking or tubing fun!
You can even hire motorbikes to explore nearby lagoons, caves, waterfalls and rice paddies, where you can capture amazing sunset snaps.
The Blue Lagoon and Jang Cave are 2 of the top attractions around Vang Vieng and, as with most activities here, it's best to visit in the morning to avoid the crowds and the heat of the day.
Finish up your time in this Laotian destination with a stunning hot air balloon ride over the amazing scenery – unforgettable!
Vientiane: 1 day
The capital of the country, Vientiane is a great place to end your Laos itinerary.
A small city, which again feels more like a town, there are, however, more than enough things to do to occupy your time here.
The Grand Presidential Palace is a must see, along with the COPE visitor centre, which is a powerful and important space that remembers and honours the many Laotians injured or killed by the actions of the American-Vietnam War.
With any time left in the capital, you can explore the city's many temples or the slightly out-of-town Buddha Park, which boasts some 200 statues of the Enlightened One… if you haven't seen enough already!
Best Time to Visit Laos
Like much of mainland Southeast Asia, the best time to visit Laos is during the months of November through February.
This is when the least rain falls, temperatures are at their coolest and humidity is at its lowest too.
If you haven't travelled in Southeast Asia before, then it's worth pointing out that things here can get incredibly hot and steamy!
As such, visiting during the cooler, drier months is definitely the best idea.
It's also easiest to access the whole country at this time (no roads will be washed out!)
How to Get to Laos
If you're flying into Laos from either the Southeast Asia region or further afield, it's likely you'll arrive into the country's main airport – Wattay International Airport – which is located just 3km from the country's capital, Vientiane.
It's now also possible to catch a train from Bangkok direct to Vientiane
Alternatively, you may also arrive by air into the international airport just outside Luang Prabang.
This city can also be reached via a boat and bus journey combination along the Mekong River from Chiang Rai in northern Thailand (learn more here), or from Hanoi in northern Vietnam by bus.
If you're looking for a budget option, with lots of adventure, then either of these 2 land travel options would be my suggestion for getting to Laos.
Starting your Laos itinerary in Luang Prabang means you won't have to double back on yourself, as you can simply exit the country from the capital Vientiane either to Brunei or another destination!
How to Get Around Laos
The best way to get around Laos is via bus or minivan, or via the new train connection which opened in 2021 between Vientiane and Luang Prabang.
These are all cost-effective and the easiest way to move between cities.
It's worth bearing in mind however that most journeys in this country take at least 2 hours, so make sure you are comfortable!
I always use 12Go to book my travel in Southeast Asia, so that I can plan my itinerary in advance and get the best out of my time in a country.
Brunei Itinerary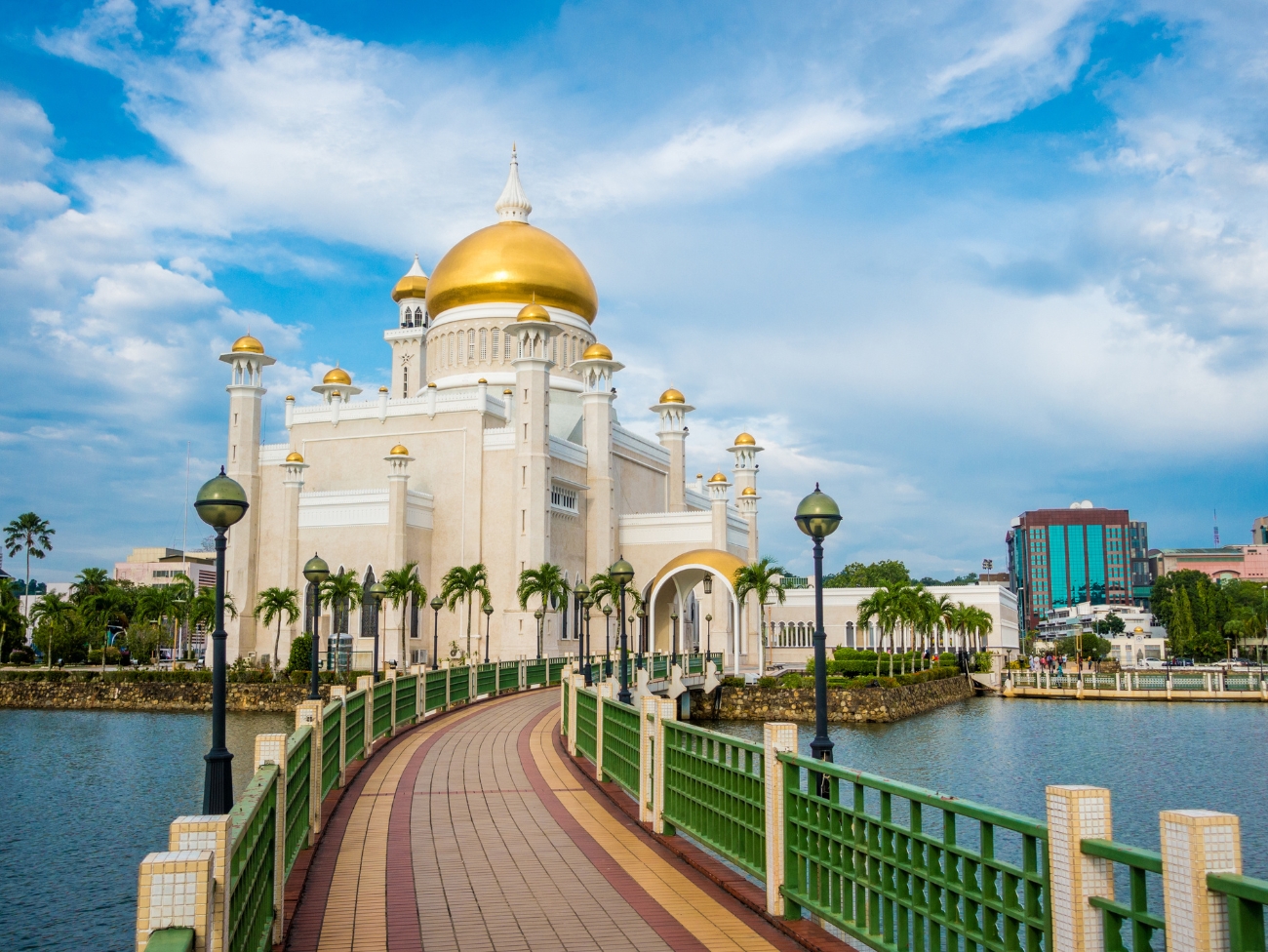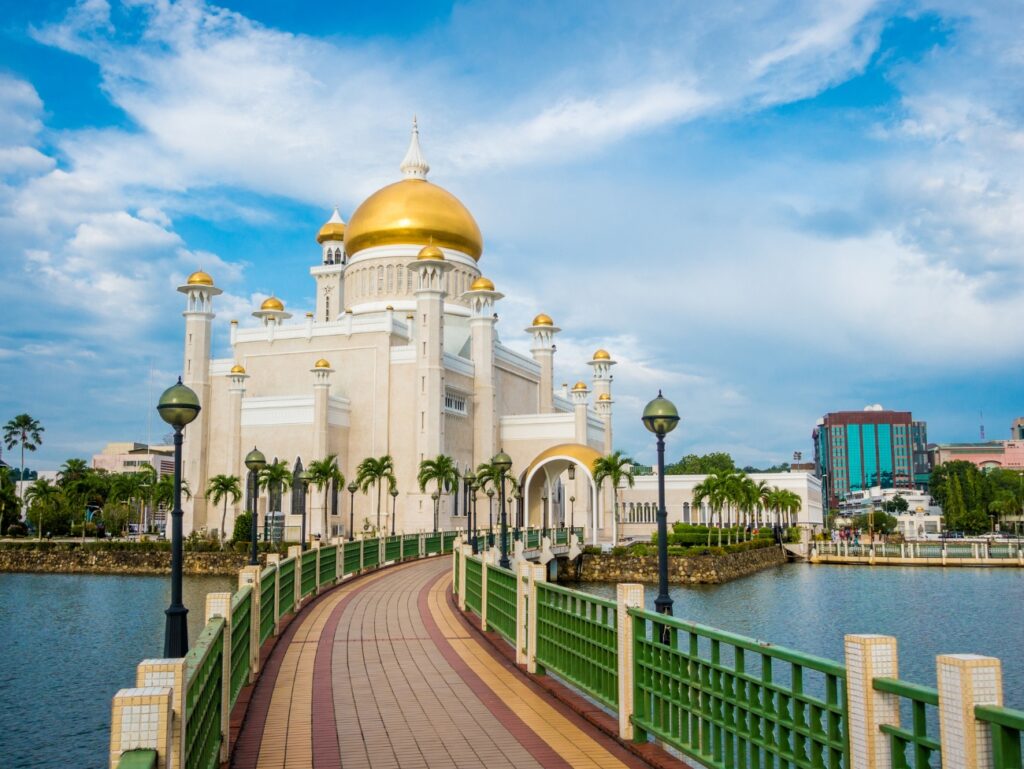 Next up, we turn our attention to Brunei, the second Southeast Asia itinerary I'm going to cover, which offers the perfect contrast to Laos.
It's generally thought that there isn't a lot to do for tourists in this tiny nation, but how wrong those people are!
As such, I've allowed around 5 days to experience this country, which is home to just under half a million people.
While Brunei offers unique experiences and attractions, it's worth taking into consideration the costs of travel here and planning an itinerary that allows you to make the most out of your budget!
The destinations I'll cover in Brunei include the capital Bandar Seri Begawan and the amazing Ulu Temburong National Park.
If you have longer to enjoy Brunei, further suggestions of places to visit are given at the end of this itinerary.
Rest assured, Brunei is a safe country and women can travel here solo without any problems.
In line with the nation's Islamic traditions, it is advisable to dress modestly by ensuring that your legs, arms, and chest are covered.
By respecting these cultural norms, you can definitely have a more enriching experience during your visit.
Bandar Seri Begawar: 2 days
This relaxed capital will give you a great flavour of just how much there is to do and experience in Brunei!
2 days is probably enough time here to acclimatise to the tropical weather and see the key sights.
First up is the Jame' Asr Hassanil Bolkiah Mosque, which is absolutely huge and was completed in 1994, as well as the Omar 'Ali Saifuddien Mosque, which was completed in 1958.
Must-visits to understand the deeply religious nature of Brunei, remember to dress appropriately when you visit any Mosque here and also to arrive outside of prayer times or any special celebrations when the Mosques are closed to tourists.
After these spots, I suggest heading to see the inspiring collection of state treasures in the Royal Regalia Museum in Brunei, which you can visit with an audio guide tour ($5 for adults and $2 for 7-11 year olds), before heading to the river area for lunch and then travelling on to Kampong Ayer.
Known as the Venice of the East, Kampong Ayer is a famous floating community on the river, connected by wooden walkways and bridges. It's pretty remarkable!
Take a boat across to the village and then pick up one of the tour brochures available at the Kampong Ayer Cultural and Tourism Gallery – these can be used for a self-guided tour around the village to see how local people live. Don't miss seeing their school, homes and Mosque.
And finally in Bandar Seri Begawan, you need to head out on a cruise amidst the mangroves to spot the Proboscis monkeys.
Doing this at sunset is a great option – you'll get better photos, see more monkeys and escape the heat of the day.
With any more time in the capital, why not hit up some of the museums?
My top picks are the Historical Museum and the Malay Technology Museum, which costs just $3 for adults to enter and $1 for children.
Finish your time in Bandar Seri Begawan at the Gadong Night Market – the perfect place to grab some local, cheap food and soak up the atmosphere.
Ulu Temburong National Park: 3 days
From the capital of Brunei, you can then travel to the stunning Ulu Temburong National Park, which is definitely a jewel in this country's crown.
Having a tour guide with you is the best option to really get the most out of this experience.
With your guide, you can catch the speedboat to Bangar in the Temburong district from Bandar Seri Begawan, before piling into a vehicle to drive the final stretch to the reserve.
Alternatively, you can also take a Dart or taxi across the longest bridge in Southeast Asia – the Sultan Haji Omar Ali Saifuddien Bridge.
Ulu Temburong National Park is home to centuries-old evergreens which are some of the oldest in the world. Flora and fauna here are abundant and make for an amazing eco experience.
Indeed, there are many eco-friendly resorts and stays available in Ulu Temburong that provide cultural and local culinary experiences, making this the ideal place to disconnect from technology and get in tune with nature.
Night walks allow you to spot amazing wildlife including snakes, bats and spiders (maybe not one for the faint-hearted!), as well as baboons and hornbills.
The tree-top canopy walk, which rises 60m above the rainforest floor, is another must-do here.
Breathtaking views can be enjoyed once you reach the top of the canopy walk and will give you the best seat in the house to experience the incredible wildlife.
Indeed, the canopy walk is the prime place to witness the birds of Brunei soar through the skies. Just make sure you bring appropriate footwear (and binoculars!) if you plan to visit it.
There's also waterfalls to enjoy in this stunning national park, as well as river cruises, so plenty to occupy you for at least a few days!
More Time for Your Brunei Itinerary?
If you have longer than 5 days in Brunei, then first of all, lucky you!
And second of all, why not consider heading to some of these other top spots?
Tasek Merimbun Heritage Park – Brunei's largest lake
Labi Hills Forest Reserve – a good nature-based day trip from the capital
Tutong Beach – enjoy a sense of solitude in a lovely resort here
Best Time to Visit Brunei
January to May is the best time to visit Brunei, as temperatures, rainfall and humidity are at their lowest.
These months are also outside the peak travel months in this country, as most people visit between June and September.
As such, travelling between January and May is also likely to get you slightly cheaper prices on hotels and tours.
August to December is another top time to visit Brunei as it's fruit season.
This is a good time period to try a wide variety of local, delicious produce.
How to Get to Brunei
Brunei International Airport (BIA) is the main access point to the country.
The national carrier is Royal Brunei Airlines and budget airline, Air Asia, also run flights here.
The airport is located near the capital of Bandar Seri Begawan in the Brunei-Muara District.
As always, I use Skyscanner to find the best flight prices.
If you're keen to travel overland, then you can get from Kota Kinabalu in Malaysia to Brunei by bus in around 8 hours, or via a ferry and bus combination that takes the same amount of time, but offers a bit of a more comfortable experience.
How to Get Around Brunei
The best way to get around Brunei is via ride-share.
Uber doesn't exist here, but there is an equivalent called Dart.
I highly suggest you download this app and use it to get around.
PIN THIS ARTICLE TO PINTERST!
And there you have it, my dream itinerary to Laos and Brunei.
I hope I've encouraged you to travel to these lesser-visited countries in Southeast Asia and shown you that getting away from crowds really can provide you with an amazing travel experience.
Have you visited either Laos or Brunei?
Which did you prefer?
Please join the conversation in the comments box below…