The beautiful Canary Island of Tenerife has long been a European holiday favourite, with most travellers heading to the sunnier, drier south of the island to enjoy an easy resort break.
But did you know there's so much more to do in South Tenerife than just lie on a sunbed and a sip a cocktail?
From active adventures to quaint fishing towns and even wonderful wildlife spots, plus of course lovely beaches and great restaurants and bars, South Tenerife offers independent travellers a lot of action, so if you're keen to learn how to enjoy this part of the island to the max, this is the article for you!
Here's my list of the 11 best things to do in South Tenerife…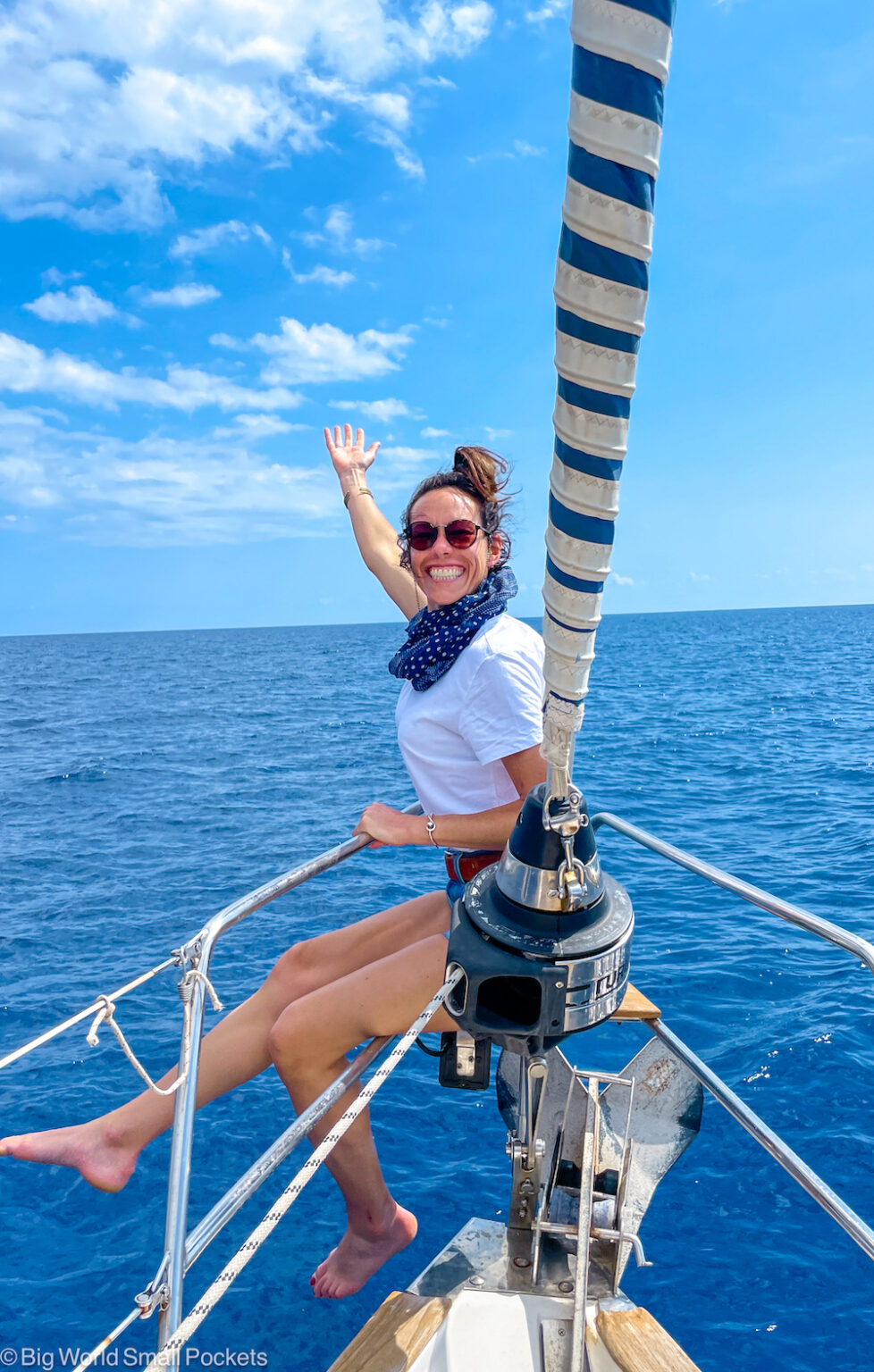 ---
Related Posts
---
My trip to Tenerife was sponsored by Visit Tenerife but, as always, all views are my own.
This page contains affiliate links meaning Big World Small Pockets may receive a small commission on any purchases at no extra cost to you.
---
#1 Kayak Alongside Giant Cliffs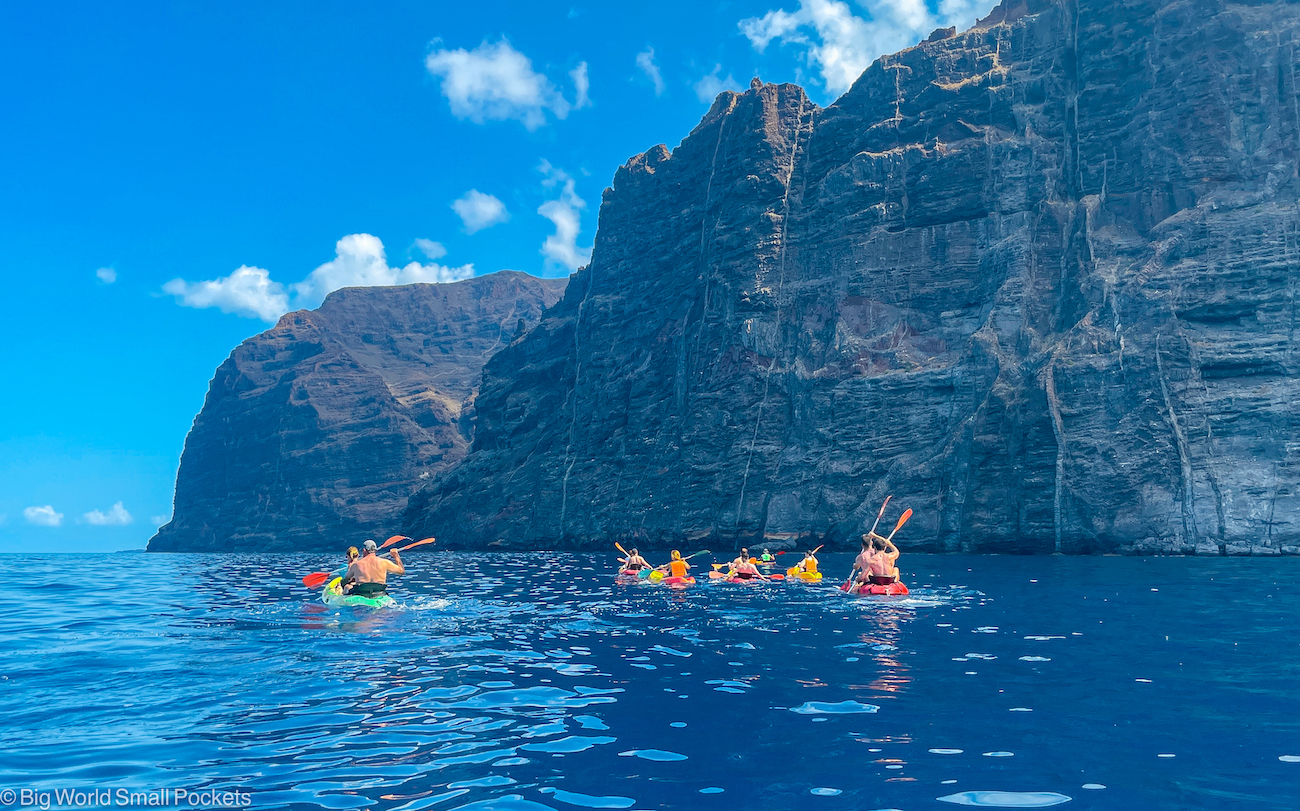 In at number 1 on this list of the top things to do in South Tenerife, it's kayak past Los Gigantes – the giant coastal cliffs that soar up to 800m above sea level!
A must for water lovers especially, this fantastic half day tour takes you alongside the towering sea cliffs near Playa de los Guios, not only so you can enjoy the scenery, but also learn about the area's fascinating geological history, sea birds and marine life.
The wonderful Ivan from Tena Activo is a great choice when it comes to selecting a guide as he knows these waters like the back of his hand and speaks perfect English.
Normally lasting 2 hours – Ivan provides double kayaks, as well as a support boat, for those who want to take things easier!
Tours include a sea swim, a free drink and plenty of laughter!
You can also hike in this area too – ask Ivan for more details.
#2 Savour Fresh Seafood at La Masia Del Mar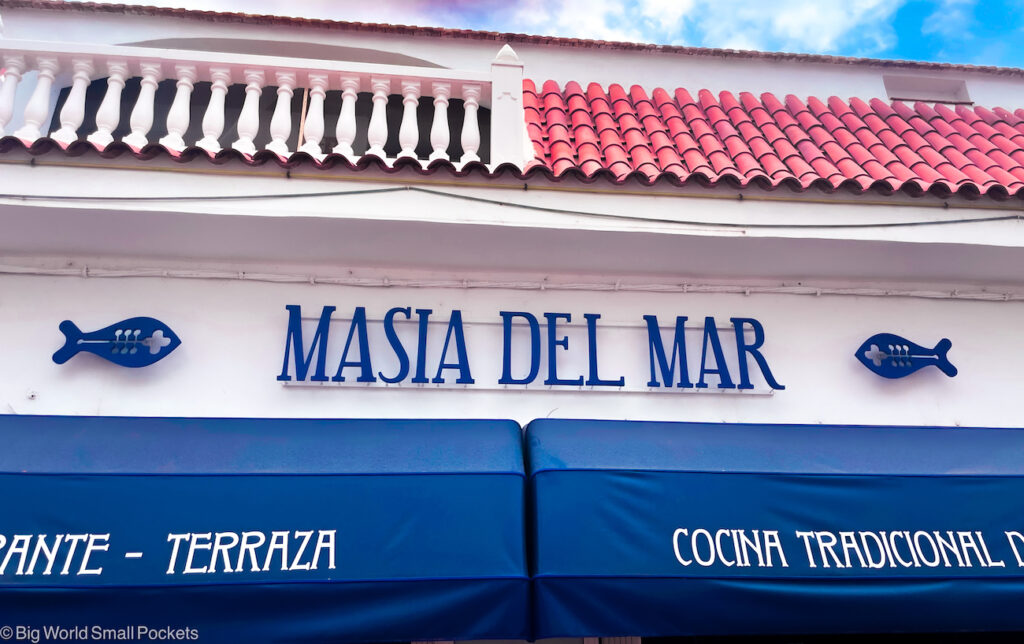 And after all the kayaking, it's quite likely you'll be looking for a fantastic place to enjoy lunch… and the wonderful La Masia del Mar is the perfect answer!
Just a short drive from Playa de los Guios, it's situated in La Caleta – a quaint fishing village that offers the chance to enjoy peaceful sea swimming off the rocks and some lovely views.
Grab a seafront table on the outdoor terrace at Masia Del Mar to get the best views and enjoy the amazing seafood served here to the soundtrack of lapping waves – La Caleta is famous for this!
Vegetarians are easily catered for too and there's some delicious Tenerife wines available you can wash it all down with!
#3 Enjoy Rooftop Cocktails and Infinity Dips at GF Victoria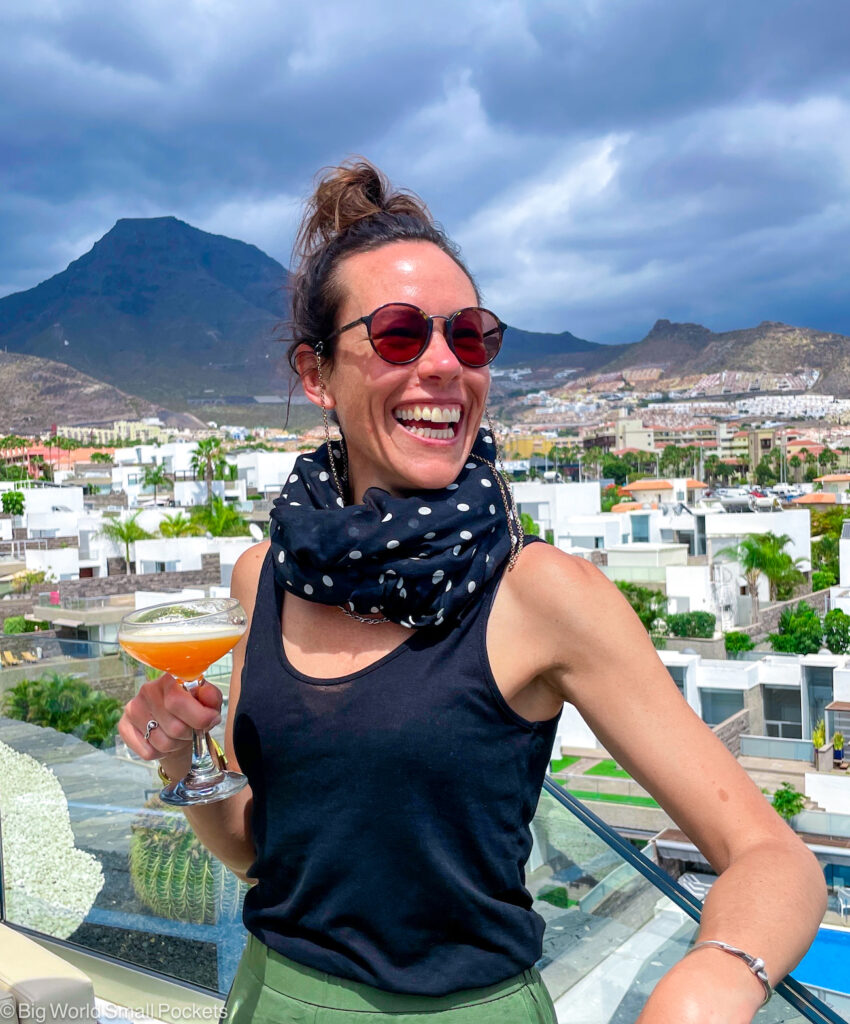 And if it is a nice glass of wine (or perhaps a delicious cocktail) that you're interested in, you can't visit the South of Tenerife and not stop at the incredible GF Victoria.
For those on a large budget, or looking for a serious splurge, a stay at this amazing 5* property would be the ultimate way to enjoy South Tenerife in style.
The suite rooms are insanely huge, and there's a whopping choice of 5 swimming pools, a spa, tennis courts, a waterpark, gardens, evening entertainment and a mini golf course, not to mention impeccable service… what more could you possibly want?!
Situated in the bouji area of Costa Adeje, this is definitely the classiest part of southern Tenerife and is well worth the splurge if you can justify it!
For those with slightly smaller pockets, heading to the GF Victoria anyway to enjoy the rooftop bar, with its incredible volcano views and infinity pool is another must-do in this part of Tenerife!
#4 Splash Around at Siam Park
Regularly chosen as one of the best waterparks in the world, Siam Park in South Tenerife is a must for those travelling as a family especially.
Thai-themed (as the name suggests), this giant Costa Adeje attraction was opened by Princess Maha Chakri Sirindhorn of Thailand and offers visitors a huge range of activities to enjoy – from water slides and palm-fringed pools to adrenaline rides.
With so much on offer, Siam Park is definitely a whole day activity that the kids (big or small!) will enjoy.
#5 Whale Watching on a Cruise from Puerto Colon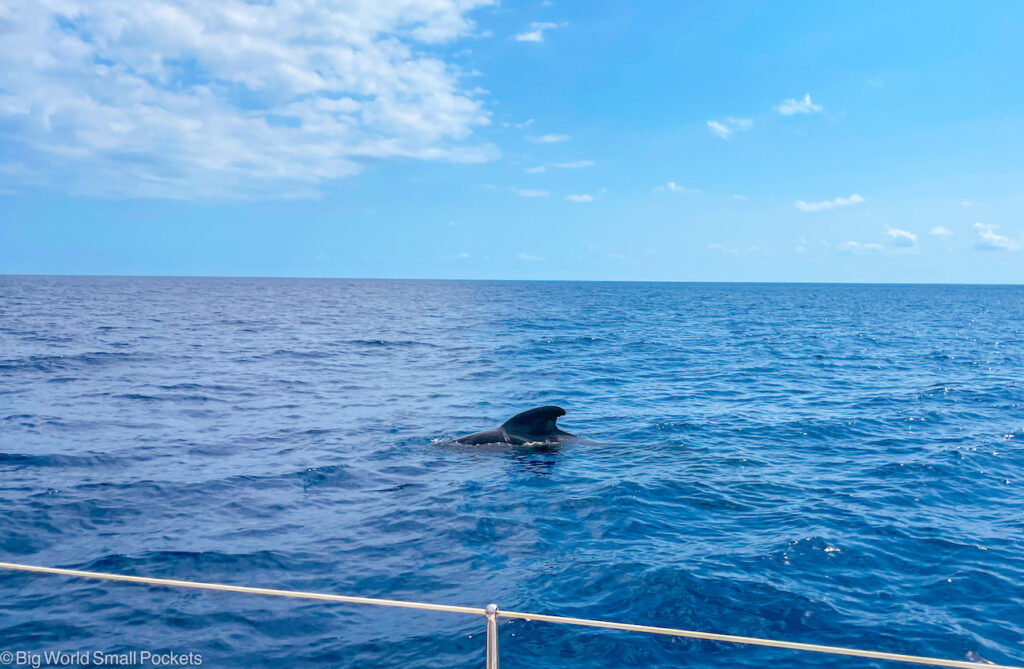 And another great family activity to enjoy in South Tenerife is whale watching and dolphin spotting.
After all, who doesn't like relaxing on an amazing boat in the sunshine while you get to see an array of fantastic animals in the waters around you?
With Big Smile Charters, who operate out of Puerto Colon, there's a 75% chance of seeing dolphins and a 90% chance of seeing pilot whales, not to mention the opportunity to spot turtles too… which we did!
Operated by David & Sergio, these friendly guys are super knowledgeable about the waters and marine life around their island home, and provide all sorts of interesting info about the whales and dolphins, as well as answer any questions you might have.
With a 4km deep sea ravine just off the coast of Puerto Colon (between Tenerife and the neighbouring island of La Gomera), this spot is prime territory for pilot whales and Big Smile Charters are experts at finding them.
They are also experts in knowing when to leave the animals alone, as they follow strict guidelines to ensure top ethical practices on their wildlife tours.
Big Smiles' comfortable catamaran, which offers the chance to relax in the shade or sun, allows you to soak up the beautiful scenery of South Tenerife, making hopping onboard a must-do while you are here.
#6 Watersports at El Medano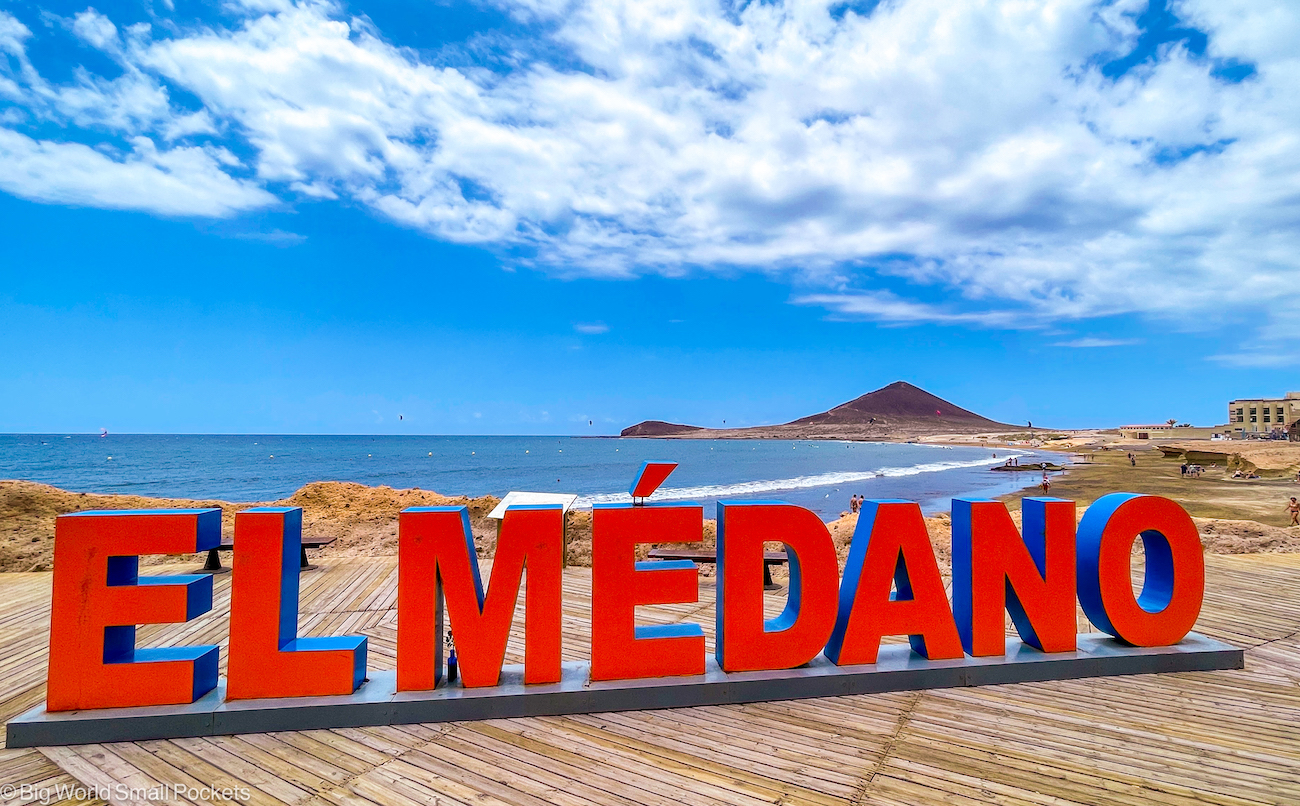 And from one water activity to another, definitely one of the best things to do in South Tenerife in my opinion is to get involved in at least some of the amazing watersports on offer here.
From surfing to SUP-ing, windsurfing to kitesurfing, and even a brand new activity called eFoiling, the hardest thing to do is decide which one you're going to enjoy first!
The fishing village of El Medano is the perfect place to try your hand at any of these water sports and providers, Duotone Pro Center Tenerife, are an excellent company to choose.
With professional instructors and a fun, laidback approach, DCP Tenerife provide an experience that is not only safe, but also very enjoyable.
With showers, lockers and free coffee facilities onsite too, DCP Tenerife offer tons of water sports activities, which means you also have the freedom to choose when you get there!
After a morning of activities, lunch at nearby El Ancla Medano then makes the perfect spot to relax for the afternoon.
Their amazing tasting menu blew me away, not least because they offered me a full veggie version… and the alfresco tables with a view over the sand sealed the deal!
Staff were excellent, the restaurant design was totally in keeping with the lowkey beachside vibes, and the flavours were out of this world!
#7 Hit the Beach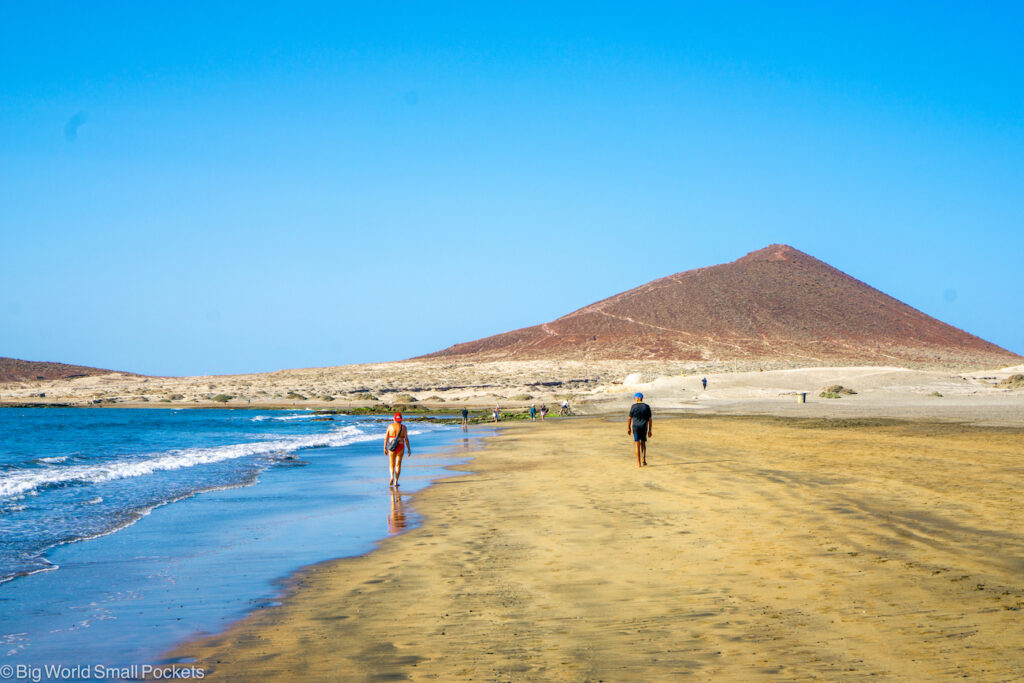 And if it's more relaxation you're looking for, then you really can't miss hitting the beach as one of the top things to do in South Tenerife.
Like all beaches in Spain, beaches in Tenerife are public (even if they have hotels attached), and there's 2 types of beaches on the island – manmade, yellow sand ones and the authentic black sand ones.
Top picks across the south of the island include…
Playa Las Vistas
Playa de Adama
Playa Paraiso
Playa La Pinta
Playa Torviscas
Playa El Camison
Playa La Jaquita
Otherwise, if you want to join the classic crowds, there's always Playa de las Americas or Playa Los Cristianos too – although personally, I'd avoid them like the plague!
The only reason you might want to venture into these uber-touristic areas is to either enjoy the souvenir market in Los Cristianos or the Light and Music Fountain in Playa de las Americas – both are good options for kids who may have had enough of the beach!
Los Cristianos' souvenir market runs every Tuesday and Sunday and offers the usual fare of fake branded merchandise and souvenirs. Pickpockets operate here, so do be careful.
Lasting for 15 minutes, the Light and Music Fountain in Playa de las Americas is not huge, but is worth stopping to see if you're in the area. It can be found along Avenida Las Americas.
#8 Climb Mount Teido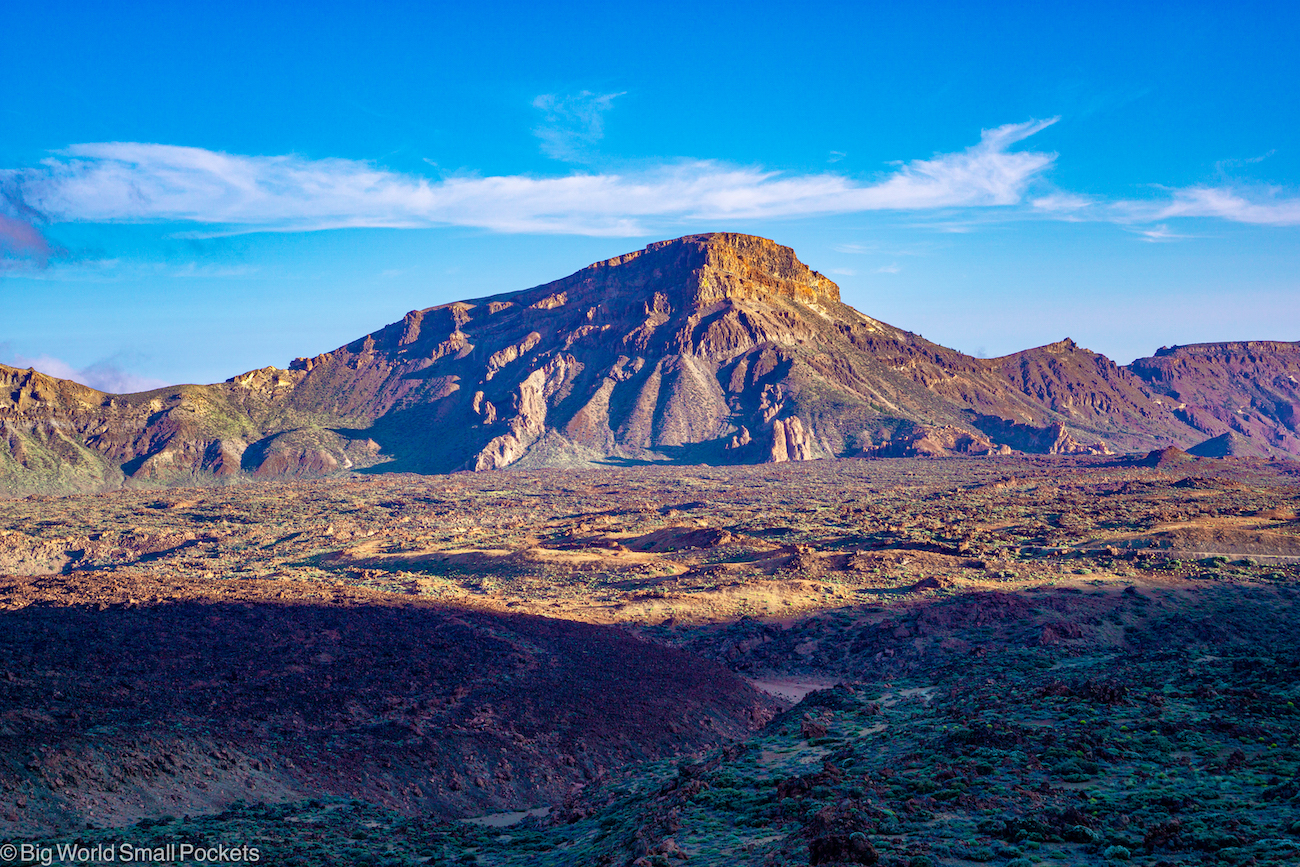 Technically not part of South Tenerife, although very easily accessible from there, Mount Teide is located in the centre of Tenerife and is a huge volcano, that forms part of a UNESCO-listed national park of the same name.
The tallest mountain not only in Tenerife but across the whole of Spain, this tectonic giant looms some 3715m above the sea that loosely surrounds it.
Looking like something out of a lunar landscape, the barren volcanic nature of this national park is incredibly striking – even more so given the miraculous presence of numerous plant species that defy all the odds to survive here.
It's possible to drive to and through the park, taking in many of the elevated viewpoints across the scenery and Mount Teide, so if this is your preferred option, I highly recommend coming at sunset, when the colours will be at their best.
Otherwise, if you'd like to scale Mount Teide itself then you have numerous options, including catching the cable car to the summit during the day (it only operates between 9am and 5pm), or hiking to the summit at night to enjoy some epic star gazing and then the sun rising in the morning.
Whatever option you go for, just remember to pack plenty of warm and windproof layers, as it gets seriously chilly up here, even during the day.
You'll also need good sun protection and to be aware of the effects of altitude sickness, which can occur over 3000m – learn more here.
If you're looking for a guide to accompany you in Teide National Park, which I strongly advise, then Ancor at Mayam Travel is my top pick!
He's local, incredibly experienced and has a whole treasure trove of information and anecdotes up his sleeve!
If you plan to go to Teide for sunset and then return to South Tenerife, I recommend stopping at the gorgeous Hotel Villalba & Spa on your way back – it's ideal for a pampering treatment and a delicious lunch or dinner.
#9 Hike Barranca del Infierno
What better way to enjoy a relaxing time in South Tenerife, than by embarking on another physical activity first?
And it's in this vein that I've included yet another hiking activity on this list… although be prepared, this one is tough!
Barranca del Inferno (which translates as Hell's Gorge in English!) is a wonderful trek that takes you through a ravine to the highest waterfall in Tenerife via some amazing rock formations and caves.
One of the island's top trails, this great activity combines exercise with sightseeing and takes about 3 hours all in.
Places on the trail are limited however, with a cap of 300 people per day, so make sure you grab your permit and reserve your spot in advance online here.
Access to the trail is available from 8:30am to 2:30pm only and the route is located in the Costa Adeje area of South Tenerife.
#10 Masca Valley Hike
Or, if you're looking for something a little more tame, then there are some other great walks in South Tenerife for you to enjoy too.
And my top pick is the Masca Valley Hike.
This is still quite challenging, but is shorter and only 6 miles return.
Located within Teno National Park, this hike offers an amazing array of flora and fauna, as well as unique views of stacked houses that perch precariously on the mountainside.
The isolated village of Masca, with its cobbled streets and overflowing charm, sits at the heart of this trail within the national park, and offers the chance to enjoy some lovely terrace drinks overlooking the clifftops – delightful!
Alternatively, the Montana Chayofita is an easy walking option.
Only taking you around 15 minutes to reach the top, here you can enjoy stunning views, especially at sunset.
#11 Dinner at Besame Mucho
And last but not least, we come to the end of the day, and one of the best things you have to do in South Tenerife is go out for an amazing dinner.
And my pick of the bunch has to be the beautiful Besame Mucho.
Translating as kiss me a lot in English, this small, stunning restaurant, is perched right above the beach and offers a wonderful dining experience to a sunset backdrop.
Don't be put off by the fact it's located in Playa de Las Americas – this is a trendy and classy place that offers amazing seafood paellas, great wine and some super service.
In fact, Besame Mucho is where I recommend you spend your last night on this 7 day Tenerife itinerary.
Mini Travel Guide to South Tenerife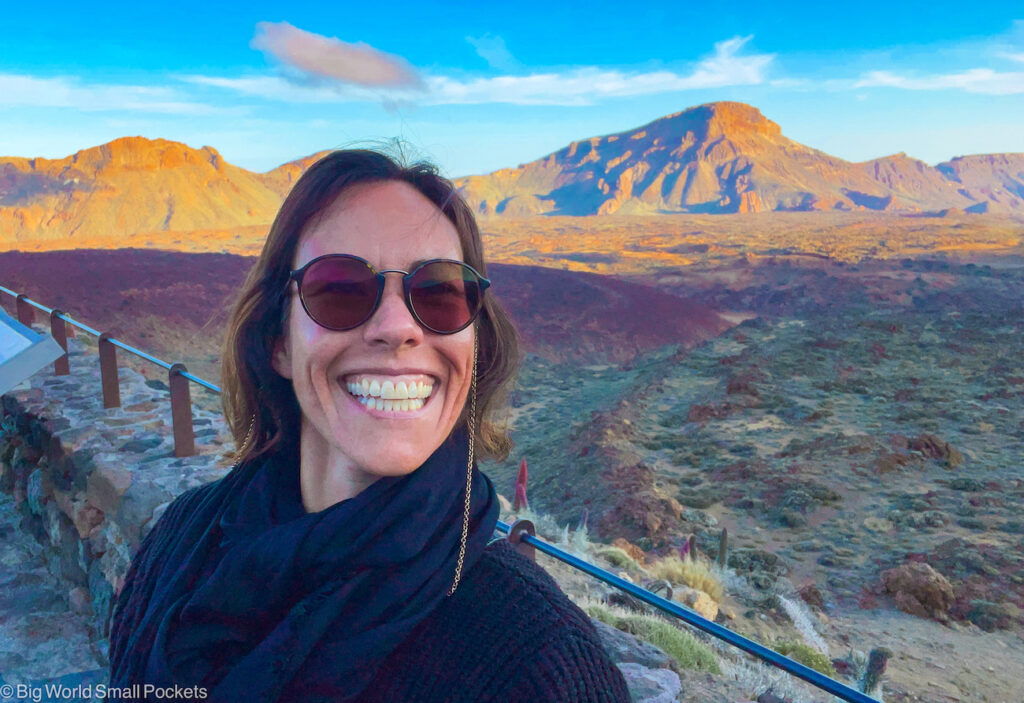 Best Time to Visit?
The great thing about South Tenerife is that it's a year-round destination.
Situated off the coast of West Africa, yet part of Spain and Europe, South Tenerife provides plentiful sunshine hours and good temperatures 12 months of the year, making it an excellent winter sun destination.
Summers can be stinking hot here however, so the best time to visit is really October through May.
How to Get There?
Tenerife Sur is the main airport on the island and, as the name suggests, is located in the south of the island – very handy for getting to all the top things I mention in this article!
As always, I use Skyscanner to get the best flight prices, as they include budget airlines in their searches.
How to Get Around?
It's easy to get around South Tenerife using public buses. Check out the timetables here.
You can also use taxis of course, or rent a car. Check out these hire car deals in Tenerife.
Where to Stay?
I highly recommend the GF Victoria for a top hotel stay in South Tenerife – read my review of this amazing place here.
Alternatively, if you're looking for an apartment, guesthouse, hostel or more affordable hotel, check out these top picks.
Travel Insurance for Tenerife
World Nomads offers simple and flexible travel insurance. Buy at home or while travelling and claim online from anywhere in the world.
Alternatively, if you're a long-term traveller, digital nomad or frequent remote worker seeking travel health cover, check out Safetywing's Nomad Insurance policies.
5 Key Packing Items
Learn more in this complete Tenerife packing guide I wrote.
Travel Money for Tenerife
When it comes to paying for things in Tenerife, you want to ensure you're not being charged overseas transaction fees or getting poor exchange rates when using your card abroad, which is why I always take my Wise card away with me wherever I travel.
The easy way to spend abroad with real exchange rates, no markups, no sneaky transaction fees and a free Euros account, you can use your Wise card just like a debit card and it links easily with Google and Apple pay. Grab yours here.
PIN IT TO PINTEREST!
And that's my list of the top 11 things to do in South Tenerife.
Which one are you most looking forward to?
Have any questions about visiting this wonderful part of the Canary Islands?
Just drop them into the comments box below and I'll get back to you…