Heading to see the amazing tulip season in the Netherlands is one of the bucket list greats in this country as far as I'm concerned!
Particularly amazing in and around Amsterdam, the rows and rows of coloured blooms that you'll see here, all in visually striking straight lines, are an incredible horticultural feat.
Not to mention a traveller favourite too!
The ultimate sign of spring, the tulip season is, however, pretty short-lived, a kind of blink-and-you'll-miss-it affair.
After all, while you may see tulips in the shops across many months of the year, it's for only a 6 week period each year that you can see these Dutch icons growing in all their natural glory in fields across the country.
So if you're keen to know when the tulip season in the Netherlands is in full flow, as well as the best time to see this marvellous spectacle, how many days to allow and where to go for the best tulip action, read on…
---
Related Posts
---
This page contains affiliate links meaning Big World Small Pockets may receive a small commission on any purchases at no extra cost to you.
---
Tulip Season in the Netherlands
The tulip season in the Netherlands runs from mid March to mid May, but the peak season, and best time to visit, is April.
This is when most of the tulips are in full bloom and you'll get the best snaps and most impressive views if you come during this month.
Essentially the optimal tulip season, April also provides better weather than in March, as spring is usually well on its way by then and the chance of sunny, bright days in the Netherlands is good.
In addition, April also tends to offer good prices for your trip to the Netherlands, especially compared to the peak season in the summer.
As long as you avoid easter, which usually falls during the month of April, you can be assured of reasonable rates across hotels, transport and tours.
Travelling mid week in April to see the tulips season is another good tip when it comes to keeping prices as low as possible, not to mention avoiding the biggest crowds, which tend to descend here (especially around Amsterdam) during the weekends.
Amsterdam Tulip Season
And talking of Amsterdam, it goes without saying that the Dutch capital is the most popular place travellers come to enjoy the tulip season.
Easy to get to, Amsterdam offers good travel connections via air, rail and road, and there's several great areas around the city where you can see the tulips.
Like the rest of the country, the Amsterdam tulip season runs from mid March to mid May, with the peak (and best) time to visit being in April.
The city also plays host to the Tulip Festival, which offers a whole heap of floral-fuelled events.
Check out when the tulip festival falls this year and what events are taking place here.
Where to See the Tulips?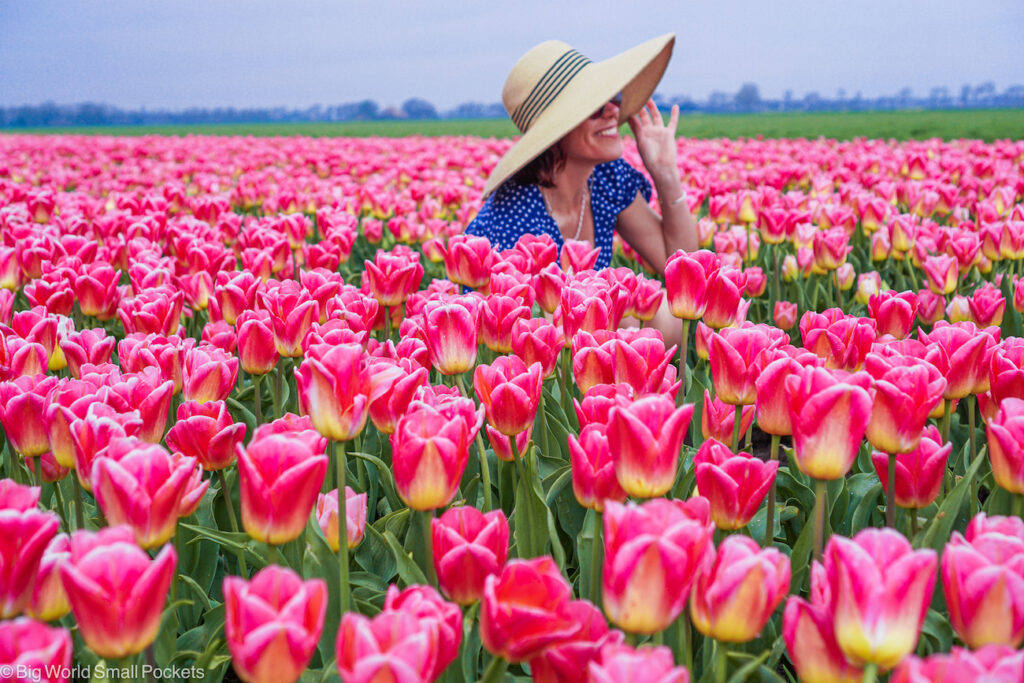 Lisse & Keukenhof
Around Amsterdam, the most popular area to see the tulips is a region called Lisse.
Situated to the southeast of the capital, it takes just under an hour to get to Lisse from central Amsterdam and once here, you'll have a choice of farms to visit, including Tulip Experience Holland, Fam Flower Farm and De Tulperij.
Book your farm visits using the links above, or else check out these top-rated tours that will take you to the best Lisse spots.
Lisse is also home to the famous Keukenhof Garden – the premier (and certainly the most popular) place to enjoy the Netherlands' tulip season.
Here, more than 7 million flower bulbs are planted each year by hand, and the gardens boasts over 800 different tulip types – pretty impressive!
As most tulips in the Netherlands are actually grown for their bulbs, the flowers are usually de-headed (i.e. the bloom is cut off) after 3 weeks, so that more of the plant's energy can be put into the bulb.
As a designated horticultural space however, rather than a farm, the Keukenhof Garden is an exemption, because the prime reason behind the tulips here is for people to enjoy, snap, stroll and take them all in.
The Keukenhof is only open between the months of March and May – I'm other words, it only comes to life during the tulip season.
The good thing is however, that because the tulips here are not deheaded, you'll have a bit longer to enjoy them, which means visiting this huge floral garden in May will still normally grant you a good tulip dose!
Tickets for the Keukenhof costs just around 20€ and can be bought here.
Many top tours run to this garden, or you can also use public transport to get there direct from Schipol Airport (bus #361), or from Amsterdam Centraal – combined shuttle and entrance tickets booked in advance here are the best option here!
Learn more about visiting the Keukenhof Garden via their website.
Beemster
But outside Lisse, there are several other areas where you can enjoy Amsterdam's tulip season and the advantage here is that you'll have to battle far fewer crowds.
After all, if there's one thing you should not expect the tulip season in the Netherlands to be, it's quiet!
If you want to experience this fantastic, floral phenomenon without huge numbers of other tourists, then I strongly recommend visiting the area of Beemster, which lies to the north of Amsterdam.
Just an hour from the capital aswell, and boasting some lovely windmill views, cheese farms and tulips too, there's no question this spot is full of local vibes and notably less full of tourists!
For more information about Beemster, including how to get there, how to get around, where to see the tulips and where to stay, check out this article I wrote about travel in this region.
Volendam, Bollenstreek, Noordwijk and Goerr-Overflakkee
Tulip gardens and farm visits can also be found in these other areas, all of which are around 30 minutes from Amsterdam Centraal.
How Many Days + Tulip Itinerary?
If you want to get your full tulip fix in the Netherlands, then you should allow a stay of at least 2 nights.
The first day will be a travel and arrival day, while the second will be about enjoying the floral displays to the max.
I personally think one day is enough time to enjoy the tulip season in the Netherlands, and get a full sense of the scale and beauty of this floral feat.
After a full day, it's likely you'll have all the photos and memories you need and, as with most things, it's easy to get tulip-ed out!
If you're visiting Amsterdam during the tulip season, then you may want to allow more than a couple of nights if you want to explore the capital too.
I suggest at least 2-3 days to visit Amsterdam itself (check out this great 3 day itinerary I wrote), 1 full day for the tulips and then any extra time to visit some of the top other areas around the city, such as the Amsterdam coast.
Lilac Season
But it's not just tulips you can see during the amazing spring months in the Netherlands.
This is also lilac season – another beautiful flower grown on the outskirts of Amsterdam.
If you're a floral fanatic and your day at the tulips hasn't quite been enough, then I highly recommend heading to Aalsmeer, which is very close to Lisse, to learn more about the fascinating production of these pricey, purple beauties.
This post covers all the information you need to know about travelling in Aalsmeer, including how to get there, how to visit the lilacs, as well as where to eat and stay.
Don't also forget to arrive at Aalsmeer early (or stay the night before), in order to experience the huge flower auction that takes place here daily – Monday through Friday, from 7am until 10am (except Thursday, when it closes at 9am.)
Mini Guide to the Dutch Tulip Season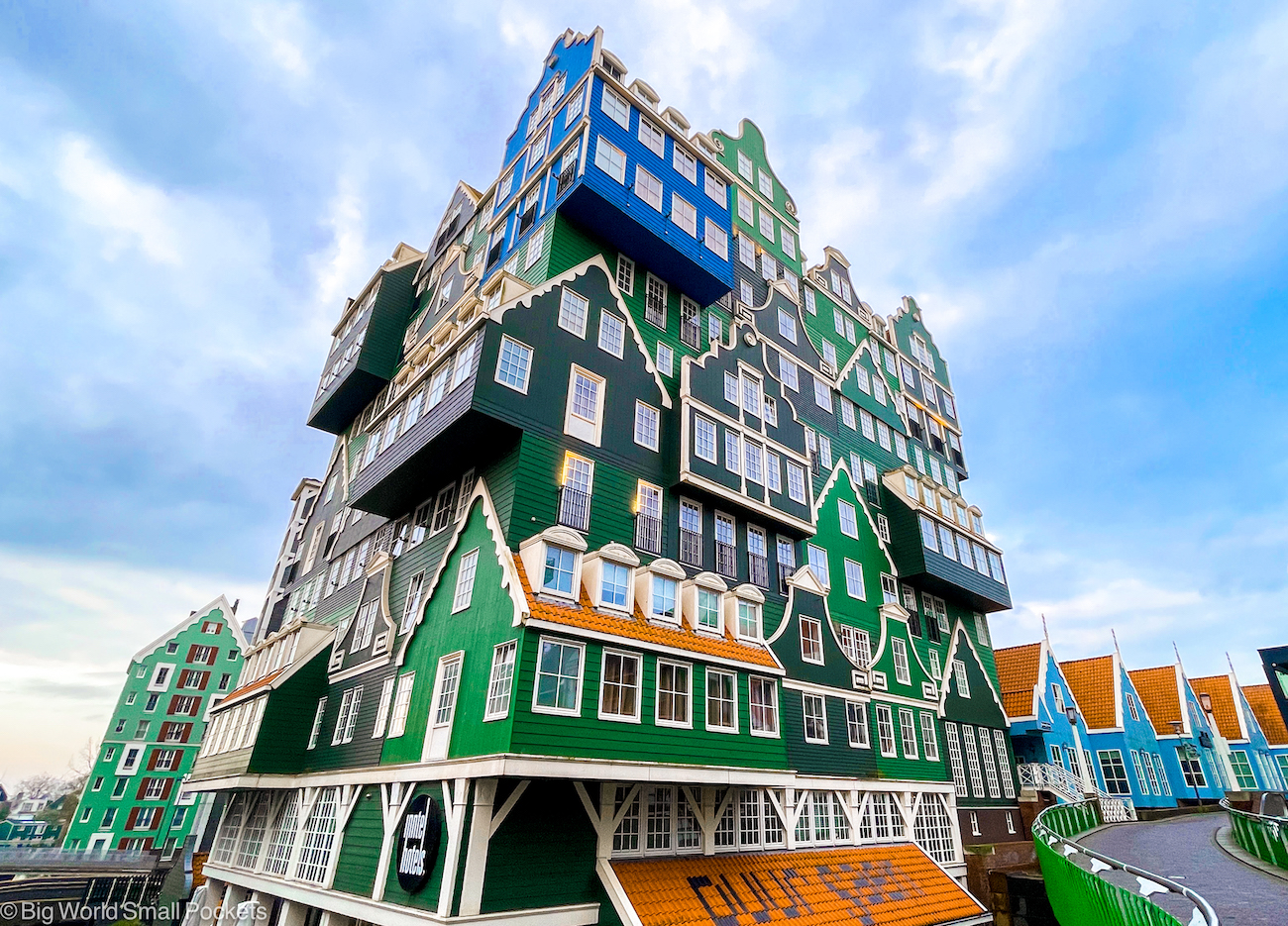 The easiest place to head for if you want to enjoy the tulip season in the Netherlands, is Amsterdam.
This city has the best transport connections and the most easily accessible tulip experiences too.
It's also home to the Tulip Festival!
As such, this mini travel guide will base itself around Amsterdam and offer all the practical details you need to enjoy the floral phenomena from here.
How to Get There?
If you want to enjoy Lisse, Beemster and Aalsmeer, then the best option is to travel to Amsterdam first.
From London, I highly recommend travelling by Eurostar, which goes directly from St Pancras International to Amsterdam Centraal.
The heart of one city to another in just under 4 hours!
If you're travelling from elsewhere in the UK to Amsterdam, or from further afield, then KLM Airlines – the national Dutch carrier – are your best choice for flying.
They offer hundreds of flights daily into Amsterdam's Schipol airport from around the world – including London City Airport – meaning KLM really are the simplest way to get to the Netherlands.
Where to Stay in Amsterdam?
Check out this list of top recommended places to stay in the centre of Amsterdam.
Otherwise, if you're looking for a quieter option, then I highly recommend the nearby area of Amsterdam Noord (just across the canal) or Zaandam (under 10 minutes train ride from Amsterdam Centraal).
5 Packing Essentials for Amsterdam's Flower Season
Spending Money in the Netherlands
The easy way to spend abroad with real exchange rates, no markups, no sneaky transaction fees and a free Euros account, you can use your Wise card just like a debit card in the Netherlands… and it links easily with Google and Apple pay – sold! Get yours here.
Travel Insurance for the Netherlands
World Nomads offers simple and flexible travel insurance. Buy at home or while travelling and claim online from anywhere in the world.
Alternatively, if you're a long-term traveller, digital nomad or frequent remote worker seeking travel health cover, check out Safetywing's Nomad Insurance policies.
SAVE THIS ARTICLE TO PINTEREST!
And there you have it, my guide to ensuring you have the best time enjoying the tulip season in the Netherlands, including when and where to see this stunning, seasonal spectacle.
If you still have any questions about how to plan your trip to the tulips however, then don't hesitate to ask.
Simply drop your questions into the comments box below and I'll get back to you!