Tired of the insane accommodation prices and the hectic crowds in central Amsterdam?
Then isn't it time you stayed somewhere different the next time you visit this city?
If the answer is yes and you're keen to get ahead of the cool curve, then can I recommend the flourishing nearby city of Zaandam!
Just 2 short train stops from Amsterdam Centraal, this canalside city, found in the Zaan region, boasts big on the quirky local vibes, great places to eat, super galleries to explore, beautiful architecture, historic trails and even a whole host of windmills nearby thrown in for good measure!
I mean, the famous French impressionst painter, Claude Monet, was a huge fan and ended up spending 4 months living and painting here, so inspired was he by the character-filled buildings, in particular The Blue House.
So if you want to really enjoy another city close to Amsterdam that's easy to get to and heavy on the cultural offerings, Zandam comes highly recommended.
Here's my full travel guide to this wonderful alternative to the Dutch capital…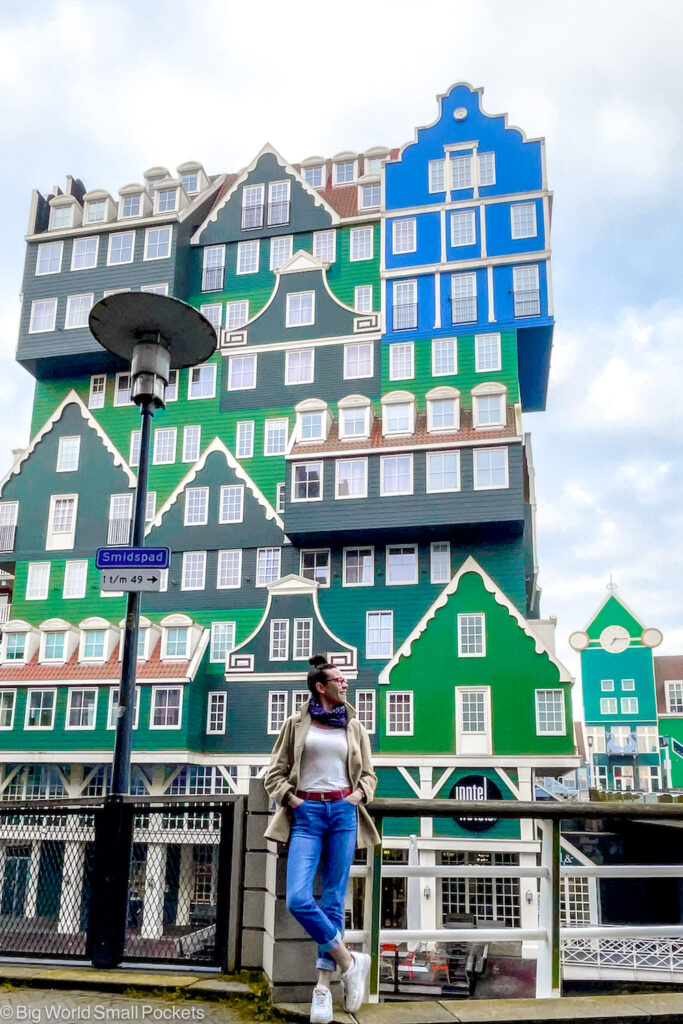 ---
Related Posts
---
My trip to Zaandam was sponsored by Amsterdam&Partners but, as always, all views are my own.
This page contains affiliate links meaning Big World Small Pockets may receive a small commission on any purchases at no extra cost to you.
---
Brief History of Zaandam & the Zaan Region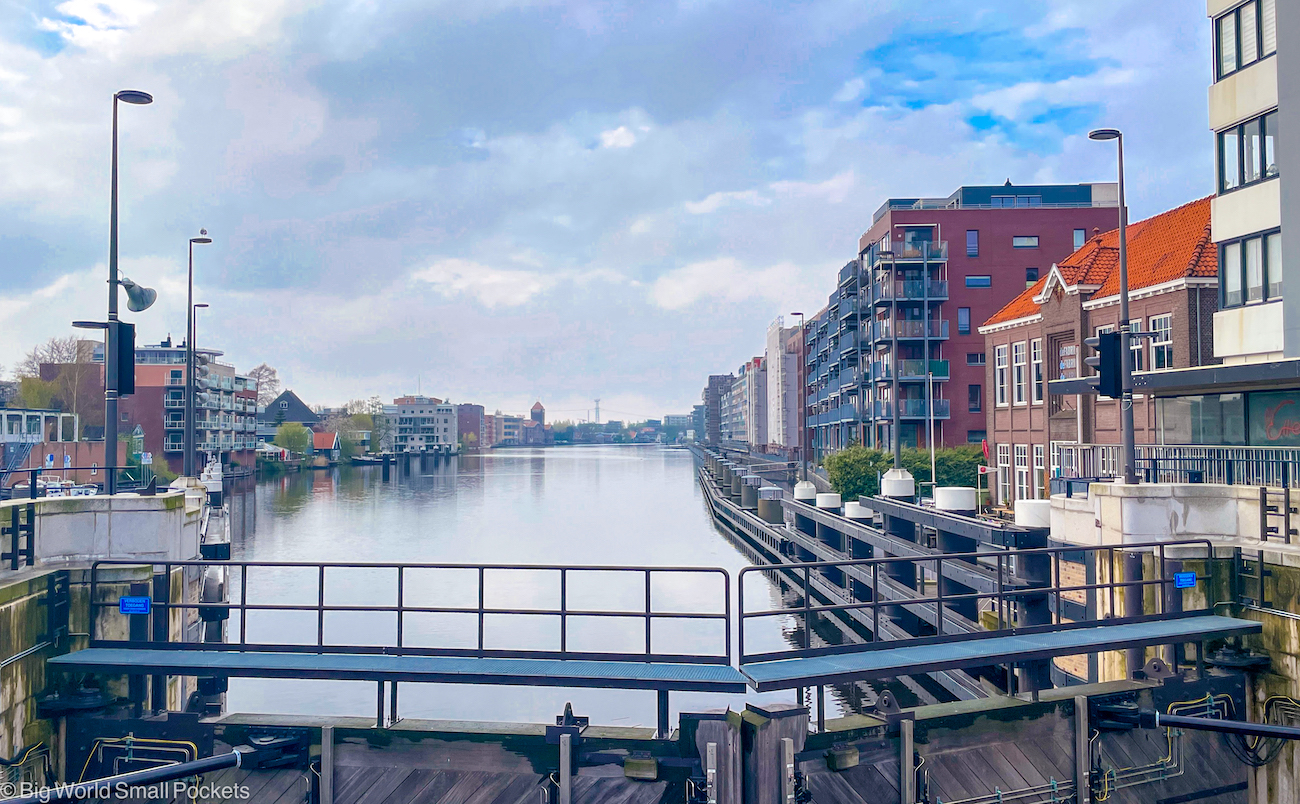 The perfect blend between nature and urban, the old and the new, the Zaan region, where Zandaam is located, is known for its rich cultural heritage and peaceful green landscapes and waterways.
Back in the 17th century, thanks to its river access, this region became a vital transport route for Amsterdam's industrial activities.
In the 19th century, this developed further as an extensive network of waterways was created and hundreds of windmills sprung up to pump water out of the polders and use this energy to power sawmills, oil mills and paper mills.
Later, the windmills were also used in the food production industry – grinding spices, nuts and cocoa shipped in from the Dutch colonies.
As such, the Zaan region became known as the larder of the Netherlands, famous for its landscape of canals, windmills and wooden houses.
Once a former industrial heartland, this area in the wider Amsterdam metropolitan area has now undergone extensive regeneration that has brought its strong heritage back to life.
In particular, Zaandam, the major city in the area, is now a beautiful place to stroll, cycle, eat, shop and relax.
It throbs with a creative and community vibrancy – not a million miles in feeling from where I live in Hackney, London.
It's just the sort of diverse place I love to visit, where historic working-class streets mingle with artists and alternative types amidst quirky cafes, pop-up installations and bicycles bustling by.
How to Get to Zaandam?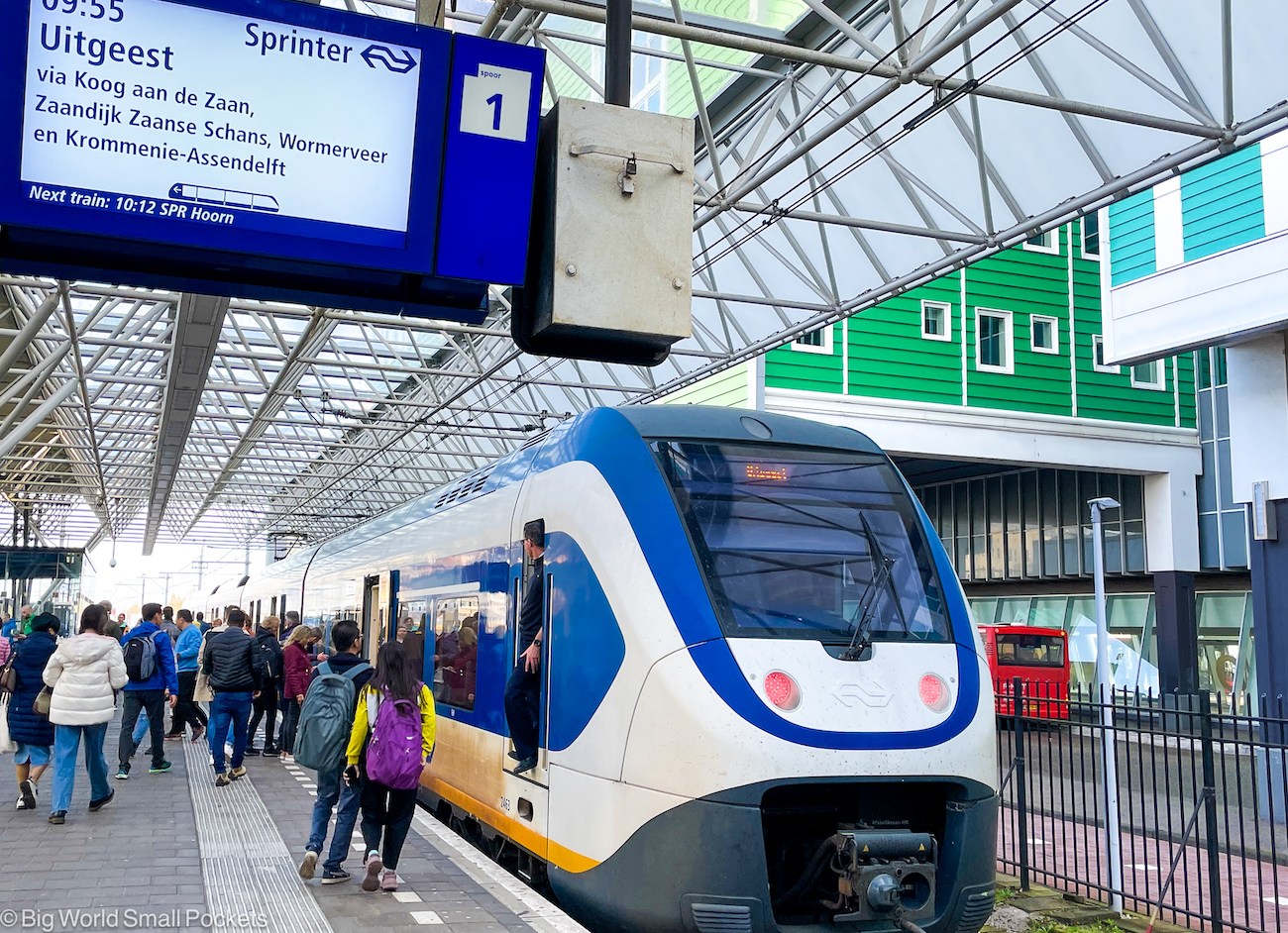 The best way to get to Zaandam is to first get to Amsterdam Centraal, from here you can use any number of trains that head north.
Fast SPR Sprinter options, as well as regular trains, run several times an hour, so you'll never have to wait long!
The journey from Amsterdam Centraal to Zaandam can take as little as 12 minutes, as there's only 1 stop on some services, and the ride costs just 3€.
You can check train times and departure platforms via the handy NS Dutch train travel site, which has a great journey planner feature here.
I suggest picking up a 1-3 Day Amsterdam & Region Travel Ticket, so that you can simply tap in and off without having to buy separate tickets each time you journey in this region.
When it comes to getting to Amsterdam Centraal in the first instance, you have a number of options.
From London, I highly recommend travelling by Eurostar, which goes directly from St Pancras International to Amsterdam Centraal. The heart of one city to another in just under 4 hours!
If you're already in Europe then check out your train and bus options from numerous cities to Amsterdam here.
These posts I wrote may also help you…
If you're travelling from elsewhere in the UK to Amsterdam, or from further afield, then KLM Airlines – the national Dutch carrier – are your best choice for flying.
They offer hundreds of flights daily into Amsterdam's Schipol airport from around the world – including London City Airport. Get the best flight prices here.
From Schipol airport, you can then actually travel directly to Zaandam in under 20 minutes on a direct SPR Sprinter train that doesn't require you to change at all – super handy if you've got a bit of luggage!
Tickets cost around 5€, or you can use your 1-3 Day Amsterdam & Region Travel Ticket.
Where to Stay in Zaandam?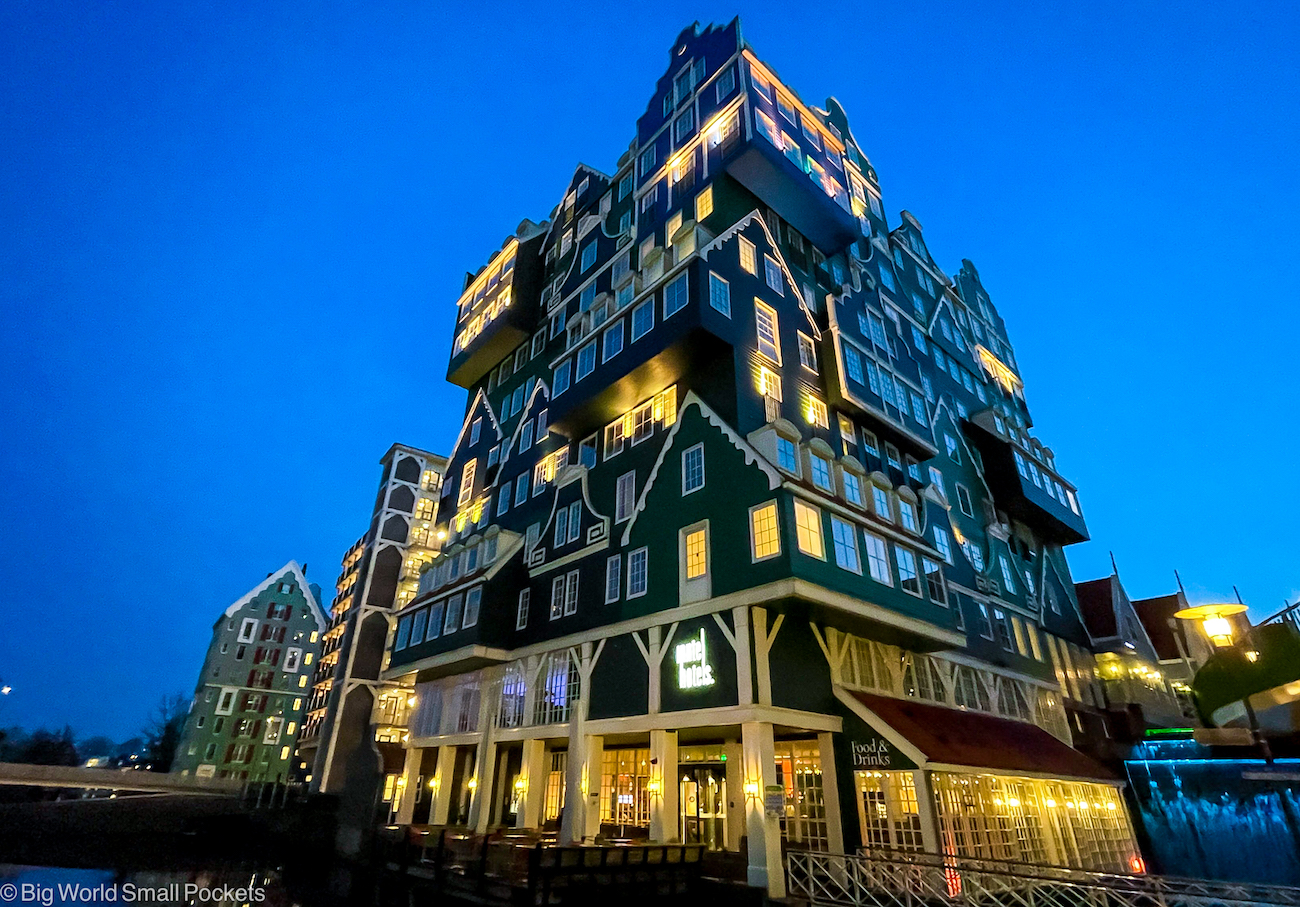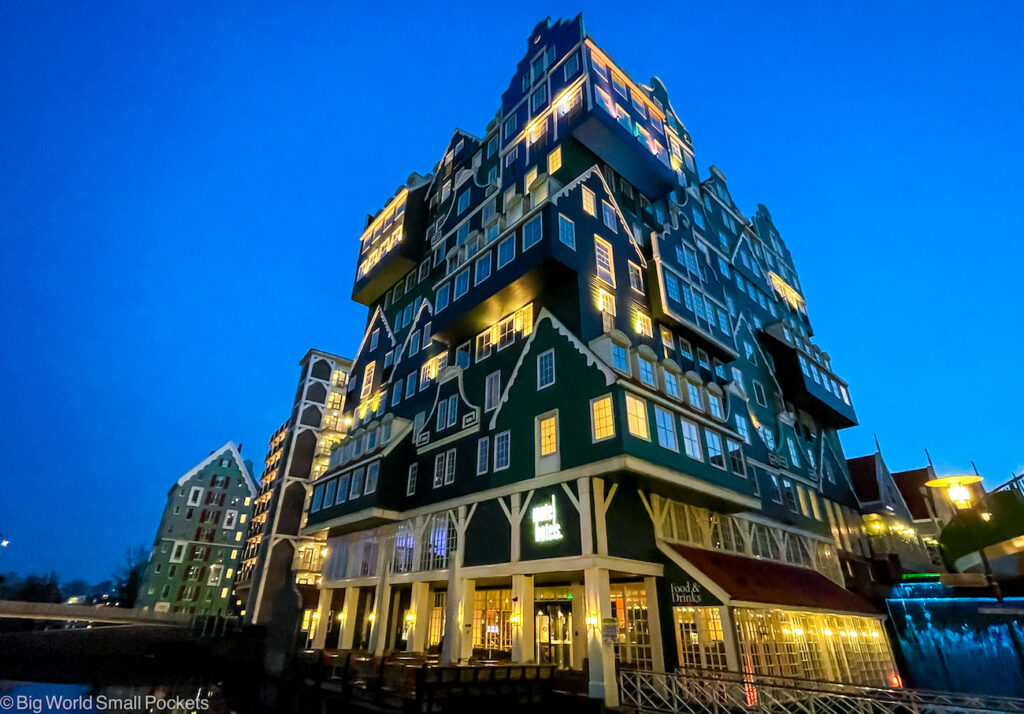 No question in my mind that the best place to stay in Zaandam is the Inntel Hotel.
Situated just a 2 minute walk from the train station, this iconic hotel has really put Zaandam on the map, so staying here is pretty much a must!
The instantly recognisable architecture and canalside location make it a popular hit and if you want to grab some great snaps to remember your Dutch trip, then it's hard to do better than the Inntel Amsterdam Zaandam.
With an exterior design based on the typical Zaan cottages, uniquely stacked on top of each other, inside, the huge rooms, great staff and excellent facilities also make this a top stay.
Ideal if you want somewhere to relax after a busy day of sightseeing the onsite spa, sauna and pool are fantastic, or opt for a workout winddown in the gym, followed by a relaxing bath in your huge in-room tub!
After enjoying the buffet breakfast, you simply need to step outside and you'll find yourself in the heart of the Zaandam action, with the main street and all the attractions I'm going to talk about being super easy to reach.
Book your stay at the Inntel Amsterdam Zaandam Hotel here.
Top Things to Do in Zaandam
#1 The Playroom
This great gallery space is run by a pair of talented artists who passionately showcase fresh, contemporary artists' work in their emerging space in the heart of Zaandam.
With revolving exhibitions and regular events, this is a welcoming and inclusive spot that feels part of the diverse community in Zaandam.
Housed in an original butcher's building, which was constructed in 1894, this place is very much part of a progressive and exciting regen ambience in Zaandam.
Open Friday to Sunday, you can learn more about visiting The Playroom here.
#2 Heritage Walk
And the ideal way to get to The Playroom if you're staying at the Inntel Amsterdam Zaandam is to follow one of the fantastic heritage walks that have been mapped and marked to showcase the best of this area.
Grab your trail map from the ZaanStore (Stadhuisplein 96, Zaandam) and set about exploring the fascinating history of Zaandam using your own 2 feet.
My recommendation is to follow walking route number 8 (Industrial Heritage Trail) to take you to The Playroom, but if you've got more energy and want to discover further, then walking route number 10 (the Zaan Port Area Trail) is also a great option.
Visiting Zaanse Schans from Zaandam
Technically a great thing to do from Zaandam, I'm nevertheless covering Zaanse Schans in a separate section here, because it probably deserves it!
Loads of tourists travel from central Amsterdam to see the beautiful windmills in this pretty-as-a-picture town.
But, if you stay in Zaandam, you'll be much closer than the Amsterdam city centre dwellers – just 5 minutes away by train – and this will definitely help you get there as early as possible and avoid the crowds!
I recommend a half day for visiting Zaanse Schans.
Getting to Zaanse Schans
To get to Zaanse Schans, simply head to Zaandam train station and use your 1-3 Day Amsterdam & Region Travel Ticket to tap in and head off as you head to Zaandijk Zaanse Schans station, which is just 2 stations and 7-8 minutes away.
There's a few trains per hour, but do check the journey times here.
Once you arrive, it's then about a 10-15 minute walk from the station to the main windmills area.
In the summer months, you can also sail down the River Zaan from Zaandam to Zaanse Schans – a fantastic way to appreciate the important waterways that characterise this area.
Lagedijk Street
Clearly marked by helpful signs, on the way to the windmills you'll pass through the centre of this historic town and my recommendation is not to miss grabbing a coffee and an organic bakery treat from the wonderful Het Zaanse Bakkertje – especially if you missed breakfast to get here early!
Otherwise, if you're coming in the afternoon, the restaurant and bar Wolfsend next door, may be your preferred option!
While you've popped down this street to either of these lovely eateries, don't miss the chance to explore a little further.
If you picked up a Zaan region walking map from the ZaanStore (located right by the Zaandam train station), route number 6 (Gortershoek and Domineestuin), covers this area and will take you to some beautiful, historic homes, former merchant houses, a sculpture park and the lovely Honig Breethuis Museum.
Known as the Pearl of the Zaan region, this is a well-heeled and stunningly restored area you should not miss!
Zaanse Schans Windmills
After your heritage street stroll, head back to the main street, cross the Julianabrug Zaandijk bridge and get ready to see those iconic windmills that most people have come to enjoy.
People stop to snap them from the bridge, but trust me, you'll want to wait, because you're going to get much closer than that!
And the place to get much closer is along the quaint, cobbled Kalverringdijk street.
Like a model village, this is actually a real street where people live and run local businesses from, but it's certainly well-trodden by tourists now too!
Head to the end to see the windmills in a beautiful sweeping curve along the canal and grab your snaps before strolling around this quaint area to take in all the mega Dutch feels.
Honestly, these are the best windmills spot I've visited across the Netherlands, so highly recommend it!
After all, who doesn't want to see these beautiful water-powered icons!
You can also see restored wooden cottages, barns and workshops here, like something straight from the 18th and 19th century, and enjoy visiting a traditional sawmill, weaving workshops and even chocolate making classes.
Where to Eat in Zaandam?
And after your day out sightseeing, it's time to head back to Zaandam and grab a bite to eat.
Here's my top lunch and dinner options in the city…
#1 JP 1886 Café
Situated right opposite The Playroom, in the iconic, renovated Verkade biscuit factory, this great café boasts a huge indoor seating area, as well as a lovely outside, canal side spot for sunny days.
With a large international menu, I love the small and big plates concept and the great selection of wines – ideal for enjoying outside in the sun!
Staff were super helpful too and the décor is just what I love – the delightful urban regen style!
Take a look at the menu here.
#2 Cafe Fabriek
A hot local spot where I headed for dinner, this relaxed place is at the end of the main street in Zaandam, again just along the canal.
Affordable and vibey, the place was throbbing with locals when I turned up and there was not an English menu in sight – always a good sign!
Couples canoodled in corners, girls gossiped over a coffee, while a group of male friends played chess and drunk beer in the centre of this top neighbourhood spot.
Genuine and totally down-to-earth, I really loved the vibe of this cute bar come café and the veggie burger I ate, and yummy beer I washed it down with, certainly hit the spot!
Learn more about this place here.
Mini Travel Guide to Zaandam
When to Visit?
There's no question in my mind that the best time to enjoy Zaandam is during the months from April through October, when the warmer weather and amazing colours bring this city to life.
How Long to Stay?
If you're looking to enjoy Zaandam, Zaanse Schans and the centre of Amsterdam, then I'd suggest a 3-5 night stay.
I'd honestly recommend basing yourself in Zaandam the whole time, as you can get away from the heaviest crowds but still reach, see and explore everything in the centre of Amsterdam you want.
5 Packing Essentials for Zaandam & Zaanse Schans
Spending Money in Zaandam
When it comes to paying for things in Zaandam, you want to ensure you're not being charged overseas transaction fees or getting poor exchange rates when using your card abroad, which is why I always take my Wise Card away with me wherever I travel.
The easy way to spend abroad with real exchange rates, no markups, no sneaky transaction fees and a free Euros account, you can use your Wise card just like a debit card in the Netherlands… and it links easily with Google and Apple pay – sold! Get yours here.
Travel Insurance for Zaandam
World Nomads offers simple and flexible travel insurance. Buy at home or while travelling and claim online from anywhere in the world.
Alternatively, if you're a long-term traveller, digital nomad or frequent remote worker seeking travel health cover, check out Safetywing's Nomad Insurance policies.
PIN IT TO PINTEREST!
So that's my guide to the wonderful city of Zaandam in the greater Amsterdam metropolitan area.
The only place I'll be basing myself whenever I visit this part of the Netherlands in the future, I love the very authentic and arty vibes here and highly recommend checking into the Inntel Amsterdam Zaandam to get the best of them!
Have I convinced you yet?!
I hope so!
Any questions you have about visiting Zaandam, please drop them into the comments box below and I'll get back to you…