My favourite country in Southeast Asia, if you haven't heard me say it before, then I'm saying it to you now, Vietnam is a delight!
Rich in authentic and unique culture, delicious food and most world-class sights than you can shake a stick at, this Southeast Asian beauty is absolutely, 100 percent, totally and utterly worth it.
I'd return in a heartbeat as my short visit there (in which I ran through the country from south to north) just didn't cut it!
But it certainly did give me a good flavour and as I hopped and skipped between the different parts and treasures of Vietnam, I also meticulously jotted down what I spent when I was there.
And that's why I'm able to bring you this super honest and detailed post about exactly what it really costs to travel in Vietnam – the ultimate budget breakdown of exactly how much I spent when I was there and what on.
Hopefully it will give you a great insight into how much a trip there might cost you too, so that you can start planning an adventure there as soon as possible.
Let's get stuck in…
---
Related Posts
---
This budget is based on the trip I made to Vietnam, with all prices and currency conversions correct at that time.
This page contains affiliate links meaning Big World Small Pockets may receive a small commission on any purchases at no extra cost to you.
---
Intro to this Vietnam Travel Budget
This budget is based exactly on my travels in this backpacker classic of a country in April 2019… so you can trust it's entirely authentic.
In fact, I can even tell you the dates I was in Vietnam to prove it!
My first day in the country was spent in Ho Chi Minh City on Friday 5th April and my last day was in Hanoi on Thursday 18th April!
And now that you trust me (!), let's be clear about something – this budget involves travelling in Vietnam as a solo shoestring traveller i.e. eating in cheap, local spots and staying at cheap local hostels.
It involves using local public transport and keeps entrances fee, tours and guides services to an absolute minimum.
And that's because I'm a budget travel blogger, so I'm looking to do things as cost-effectively as possible, while still having a good time and the odd treat!
And have a good time in Vietnam I certainly did, which is why I'm so happy that my 2 week budget here came in lower than that of any other Southeast Asian country I visited at a similar time.
Cheaper than Cambodia, Thailand, Laos and Malaysia, Vietnam was my favourite and also the most affordable – absolutely brilliant!
Yes my total budget came in at under £35 per day, which is equivalent to around $40 USD or 40€.
My journey to map these costings actually followed my 2 week Vietnam itinerary exactly, so you can replicate it and put it to the test!
You can also see a bullet-pointed full breakdown and my total costs at the end of this post, so read on to the end for that.
Things Not Included in this Vietnam Budget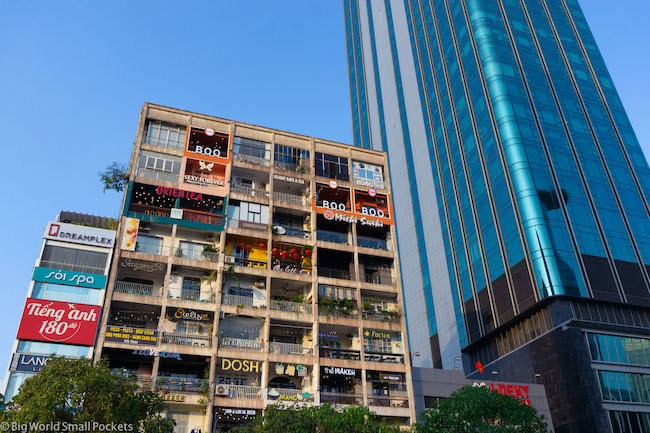 However, it's worth pointing out that there are some elements I didn't include in the budget, most of which were the expenses incurred before I reached Vietnam.
For example, this budget doesn't include the cost of any visas (which for Vietnam you probably will need FYI), nor the cost of international flights, (I always use Skyscanner to find the best deals) so don't forget to factor these in as well.
The budget also doesn't include any gear I bought before the trip, nor does it include travel insurance.
World Nomads offers simple and flexible travel insurance. Buy at home or while travelling and claim online from anywhere in the world.
Alternatively, if you're a long-term traveller, digital nomad or frequent remote worker seeking travel health cover, check out Safetywing's Nomad Insurance policies.
And with that preamble out the way, let's get on with bringing you my guide on how much travel in Vietnam really costs…
#1 Accommodation Costs in Vietnam
Vietnam is probably far more economically developed than you may imagine and certainly, in most of the tourist areas, a good range of very clean and comfortable accommodation is available, even on a budget.
In the major tourist centres of Ho Chi Minh City, Hanoi, Hoi An and Cat Ba Island etc, there are plenty of backpacker hostels that are perfect for shoestring travellers, but even beyond these main traveller trail destinations, there's many budget-friendly local guesthouses that are equally as good.
Airbnb and VRBO are also big in Vietnam and both these sites offer great value accommodation especially for those travelling in a couple, as a group or with family. Rental properties featured by Airbnb and VRBO are especially common in coastal areas such as Da'Nang and Phu Quoc.
Almost all hostels, guesthouses and rental properties are independently owned and easy to book, safe, secure and of good quality.
They tend to be very clean and with a choice of either dorms or private rooms and excellent wifi connection. Most have some form of outdoor space, as well as much needed aircon.
Being Southeast Asia however, almost all lack guest kitchens but do include breakfast in the room price.
Of course, there's also a good choice of more expensive and luxury accommodation across Vietnam too, especially in the cities.
In general, during my time in Vietnam, I stuck to sleeping in hostels – either in private rooms, or occasionally, in dorm beds too.
On average a dorm bed costs between $6-12 USD – the more popular the location for tourists, the more expensive the hostel.
I was also travelling in Vietnam during the tail-end of their high season, so if you're visiting during a major holiday, festival or high season it will mean these costs rise.
If you want to enjoy a private room in a hostel, like I often did, then prices start from around $10 USD in local guesthouses and in popular spots, such as Hoi An, I paid as much as $22 USD per night.
Obviously, if you're travelling in a pair this is more affordable than if you're flying solo like I was!
Here are the budget accommodation places I stayed at and highly recommend in Vietnam for a cheap but good night's sleep:
In Vietnam, where I enjoyed a mix of dorm and private rooms, accommodation accounted for just under 30% of my total spend in the country.
… And yes I use a very geeky, but helpful app called Travel Spend to track this stuff! And no, this is not sponsored!
To work out your overall accommodation costs for Vietnam, you simply want to multiply the average budget accommodation figure of $10 USD by the number of nights you plan to spend in the country and then you've got your rough accommodation budget mapped out!
I think 30% of overall travel spend on accommodation is pretty good, but does show you just how much you can scale back your budget by keeping things cheap and simple on accommodation.
Roughing it for a night or 2 in a dorm room can really help keep that budget low!
#2 Costs of Getting Around Vietnam
The thing we have to remember about transport when we're talking about a Vietnam travel budget is how huge this country is!
Yes long and skinny, most travellers traverse the country from north to south (or visa-versa), travelling great distances between cities and destinations via either bus, train or plane.
I can't stress enough how important it is to factor travel times and schedules into any itinerary you are planning for this country, because they'll likely be a lot more extensive than you imagine!
Buses
The cheapest option for longer distance travel in Vietnam is definitely buses, which run frequently, especially between major urban centres.
Using night buses, as I did, is also a great way to keep accommodation costs down, although they can leave you feeling a little wrecked on arrival!
The best way to avoid this problem is to do everything to ensure you get as good a night's sleep as possible on a night bus and taking a good travel pillow, like this one, and a nice eye mask, like this one, will be key to you getting some sleep!
I also find my Sholdit travel wrap very handy in buses, as I can slip all my important documents into the hidden security pocket and rest with peace of mind that they are close to me and safe.
This is especially handy on Vietnamese night buses, which are double-tiered i.e. they have 2 layers of horizontal semi-sleeper seats on top of each other.
These are comfy (because you're almost lying flat), but do not give a lot of room for luggage, especially if you're of the taller European variety, comme moi… you have been warned!
The good news for your Vietnam travel budget however is that buses in this country are extremely cheap, even night buses.
To give some examples, a bus I took from Hue to Phong Nha cost me $8 USD (taking around 6 hours) and an overnight bus journey I made from Phong Nha to Hanoi cost me just $9 USD.
So yes, cheap!
Buses can be booked online in advance in Vietnam – in fact, I highly recommend this and always use the excellent website 12Go to compare services / prices and book securely.
Trains
There are also some good train services in Vietnam, which can be wonderfully affordable and are both quicker and smoother than buses.
There aren't a huge number of destinations serviced by rail in this country however, so not all journeys will be possible by train – do check the routes against your itinerary plans in advance.
Rideshare
To get between the main bus or train stations in Vietnam and your accommodation I always use Grab – an amazing and cheap rideshare app that is really common across Southeast Asia.
Grab is also great for getting around Vietnamese cities, or to nearby smaller destinations i.e. from Hoi to the nearby An Bang beach.
You can order both Grab taxis (which are cars) or even better, cheaper and more fun are Grab motorbikes!
Check out Grab Vietnam here or learn more about why I think ridesharing apps are great for travellers here.
Flights
Domestic flights can also be used to travel between pretty much all cities in Vietnam and are certainly the best way to cover a lot of ground if your itinerary is tight.
Often an 8 hour bus ride can be negated by a 1 hour flight!
Taking a flight will bump up your budget however, with the cheapest options usually coming care of budget airlines VietJet Air or Jetstar Pacific.
Domestic flights will also bump up your carbon footprint, but if you do want to check out rates, I advise using Skyscanner who list budget airlines within their flight options, so normally get you the best fares.
Transport costs made up the second-largest portion of my budget in Vietnam, accounting for around 23% of my total spend.
This was significantly greater due to the one domestic flight I took from Ho Chi Minh to Da'Nang.
Motorbike
Finally, another popular way to get around Vietnam is to rent a motorbike and drive yourself.
Bikes can be rented for this purpose from just about anywhere, but it's worth bearing in mind you'll need a lot longer than 2 weeks if you want to ride the whole country from north to south or visa-versa.
Hanoi and Ho Chi Minh City will offer the best rates on motorbike hire and often have sister companies in the opposing city that make the pick up / drop off system easy.
Prices however will vary greatly depending on the sort of bike you choose, how many people you are travelling with, how long the rental is for and how good your haggling abilities are!
#3 Tour & Activity Costs in Vietnam
The fourth-largest percentage of my Vietnam travel budget went to tours and activities.
I do find it's always tours and activities that can be the make or break of your budget and, when it came to my travels in Vietnam, the situation was no different.
So if you're trying to keep costs low in this country, I'd certainly recommend minimising the number of organised activities and day trips you take, because you really could go to town!
Honestly, it's so easy to travel in this country without a tour, I'd really only recommend one for some of the top Vietnam excursions.
In my opinion, these include:
Taking guides or trips to these areas is a great way to experience the diversity of Vietnam and dig deeper into the culture, landscape and history of this nation.
If that interests you too, then I do recommend spending some money on day trips and tours.
Honestly, they are likely to offer some fantastic and unforgettable experiences.
I certainly consider the money I spent on activities in Vietnam a great investment.
Overall this came to around 15% of my budget, which is higher than normal for a country, but I'm certainly more than pleased I splashed out.
The major factor in this cost was the caving day in Phong Nha with Oxalis, which was a big single amount, but which gave me one of the most memorable days of the whole trip, so I was made up!
If you like going to town on activities and tours when travelling, then you certainly can in Vietnam and, without budget restrictions, there's literally hundreds of great cooking classes, motorbike adventures, history tours, boat cruise trips and sightseeing days to choose from.
#4 Entrance Fees & Guides
In Vietnam, most entrance or guide fees are either very cheap and are included in any day trip activities you take, which means it's likely that this section of your budget will be very low… great news, if you've accidentally gone over-budget on other areas!
For me, these charges amounted to next to nothing, less than $30 USD total, and were generally made up of museum entrance fees in the cities and for some temple visits.
#5 Eating & Drinking Costs in Vietnam
Well hello to this category, because there's no question one of the reasons I like travelling in Vietnam so much was because of the food!
Now I know it's controversial, but I'm just not a huge fan of Southeast Asia food in general… sorry!
Don't get me wrong, I like a curry or Pad Thai just as much as the next person, but every day?
It's a no from me.
Just too much oil and not enough fresh veg I'm afraid!
This was a point hampered by the fact I'm vegetarian, which makes the copious amounts of fish oil in much of the region's cuisine a problem as well.
But in Vietnam – woah was I happy!
Yes in Vietnam I really was living my best foodie life, with so many fresh, delicious, healthy and unfried veggie-friendly treats on offer I couldn't believe it!
What this meant was that I was able to eat on the street and in local cafes a lot more in Vietnam than I was in say, Cambodia, where you'll know if you've read this Cambodia travel budget post, that my expenses skyrocketed due to the fact I was eating in expat cafes a lot just to try and stay healthy!
But in Vietnam, it was the reverse and from delicious Egg Banh Mi and amazing black coffee in the morning to the scrummy rice paper rolls and vegetarian cafes you'll find outside many Buddhist temples in this country, I was in foodie heaven!
Being able to eat street food and at local cafes in this way, kept my food budget really low in Vietnam, which meant, all in all, food, groceries and coffee came in at just under 21% of my total budget.
This was less than I spent on transport in this country, and far less than the almost 40% of my budget eating and drinking amounted to in neighbouring Cambodia!
I didn't drink any alcohol in Vietnam, but I did go hard on the coffee, so that definitely would be something I could have cut back on if I wanted!
There's also bottles of drinking water to factor into your Vietnam travel costs.
Although, if you take a Lifestraw Go Water Filter Bottle as I did, this will reduce this cost to zero, thanks to this handy piece of technology that allows you to drink tap water safely no matter where in the world you are.
#6 Miscellaneous Expenses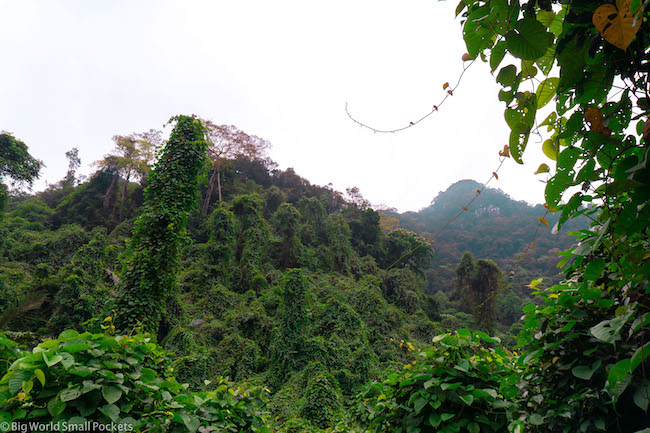 And finally, when it comes to your Vietnam travel costs, you've got to factor in all those other incidental expenses like laundry (once a week should do it) and possibly a SIM and data package too.
Luckily, both these things are very cheap and readily available!
On average, a laundry load in Vietnam cost me around $4 USD, and getting a tourist SIM with loads of data, was possible for around $6 USD.
And don't forget a bit of extra money for souvenir buying or discount mall shopping – this is Southeast Asia after all!
So…. How Much Does it Cost to Travel in Vietnam?
And with all that in mind, I'm delighted to say my travel budget in Vietnam was the lowest of any Southeast Asia countries I travelled at a similar time, including Thailand, Cambodia, Laos and Malaysia.
Day trips and activities definitely bumped up the costs in this country, but were worth it in my opinion.
The one domestic flight I bought also sent my transport budget soaring.
Luckily my saviour was the food, which was incredibly cheap, as were the reasonable bus and Grab rides I took to largely get around in the cities.
Also avoiding a Halong Bay trip and heading to Cat Ba Island instead saved me a fortune. Learn why and how here.
If I'd slept in more dorms rooms instead of private hostel rooms, I could definitely have reduced my travel budget even further – likely to under £30 a day… that's under $35 USD or 35€!
As it was, the budget for my 2 week Vietnam itinerary looked like…
Total Accommodation in Private Hostel Rooms & Dorms x 14 nights = $205 USD
Total Transport Spend = $140 USD inc. domestic flight, Grab rides, & buses
Total Tours and Activities = $90 USD
Total Entrance Fees & Guides = $25 USD
Total Food and Drink = $120 USD
Other Expenses = $45 USD
The rough amount you can therefore expect to spend in Vietnam over a fortnight is around $625 USD.
This is roughly $45 USD per day, which is in the region of £35 GBP per day or 40€.
Please remember this is based on a budget traveller and will vary wildly depending how many activities you do, whether you stay in dorms or private rooms and how much you eat, drink and shop!
But nevertheless, I hope the info has been useful 🙂
SAVE THIS TO PINTEREST!
So there, as promised, was the full breakdown of my Vietnam travel budget and exactly how I spent it.
Did my budget breakdown surprise you too?
Was it more or less expensive than you imagined?
Let me know your thoughts in the comments below…