Looks like you might be thinking of travelling to Cambodia?
But wondering how much it costs?
Well you're in the right place!
I travelled Cambodia on a budget but, despite everyone's claims, like much of Southeast Asia, I just didn't find Cambodia as cheap as I'd hoped!
Yup, sorry to burst anyone's bubble, but the reality is that Cambodia just isn't as easy to travel on a shoestring as you thought.
Untilllll (cue. drum roll) this post, where I'm going to share with you exactly how much I spent travelling this country, as well as all my top tips about how to keep your budget low here while still seeing the sights and having the best time!
So read on to learn more about my Cambodia travel budget as I breakdown exactly how much a trip here cost me and how you can save big during your adventure…
---
Related Posts
---
This budget is based on the trip I made to Cambodia in early 2019, with all prices and currency conversions correct at this time.
This page contains affiliate links meaning Big World Small Pockets may receive a small commission on any purchases at no extra cost to you.
---
Introducing my Cambodia Travel Budget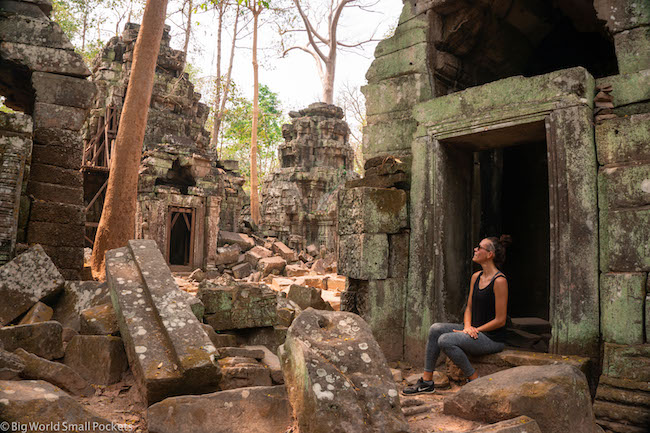 This budget is based exactly on my travels in this backpacker classic of a country in April 2019 – so you can trust it's entirely authentic.
But, let's be clear about something – this budget involves travelling in Cambodia as a solo shoestring traveller i.e. staying at cheap local hostels.
It involves using local public transport and keeps entrances fee, tours and guides services to a minimum.
This is because, as a budget travel blogger, I'm looking to do things as cost-effectively as possible, while still having a good time and the odd treat!
That said, Cambodia was not as cheap as I expected and it's likely not to be as cheap as you've been led to believe either.
To explain a bit more, I'm going to breakdown exactly why by talking through what I spent and where you can save the cash based on my experience.
In order to do this, I'm going to outline different travel categories, including accommodation, transport, food, tours etc, with price guides to each and top saving tips.
The pricings are based on my trip and actually follow my 2 week Cambodia itinerary, so you can replicate it exactly!
And I make this even easier at the end of the post by concluding with overall costs of what my 2 week trip to Cambodia set me back, so you can gauge what you need to save to enjoy a fortnight travelling here too.
This budget won't include the cost of any visas (although for Cambodia you probably won't need one), nor the cost of international flights, (I always use Skyscanner to find the best deals) so don't forget to factor those in as well.
The budget also doesn't include any gear you might need to buy for your trip or taking out travel insurance, which I highly recommend you do.
For my Cambodia trip, I used travel insurance from World Nomads, who are my go-to company for cover and peace of mind when I'm adventuring around the world.
I've used these guys across Southeast Asia and around the world and have always been impressed with their thorough policies, easy claims process and excellent customer service.
Plus you can take out cover with them even if you've already left home – perfect for long term travellers everywhere!
And with that preamble out the way, let's get on with bringing you my guide about how much travel in Cambodia really costs…
#1 Accommodation
One of the least-economically developed countries in the region, Cambodia's range of accommodation is perhaps not as extensive as it is in neighbouring nations.
Of course, there's a great number of hostels here, as well as some top-level hotels in the cities of Siem Reap and Phnom Penh, but outside of that, it's mostly budget, local guesthouses.
Airbnb is not big and neither are boutique accommodation options – especially in the countryside areas where tourists are fewer and options can be limited.
The main exception here is along the coast.
Sihanoukville has many hotels, but they are geared around casinos and clubs – avoid!
The Koh Rong islands have some good accommodation choices and Kampot is known for its eco-lodges, but outside of that, it's mostly going to be a choice of a few hostels in each town.
Which is no bad thing!
Hostels in Cambodia tend to be of a high standard, very clean and with a choice of either dorms or private rooms.
Most have outdoor spaces, aircon and some even have a pool.
Good, fast wifi is standard.
Being in Southeast Asia however, almost all lack guest kitchens but include breakfast in the room price – which is great news if your pockets are small too!
However, if you're hoping for a $3 USD bed for the night in Cambodia, then you might be out of luck.
After my research, those days are pretty much gone.
Hostels were much more expensive than I anticipated, with even a dorm bed coming in around $6-9 USD.
If you want to enjoy a private room in a hostel, like I often did, then prices start from around $16 USD and in popular spots, such as Siem Reap, can be as much as $28 USD.
Obviously, if you're travelling in a pair this is more affordable, then if you're flying solo like I was.
To work out your overall accommodation costs therefore, you simply multiply one of the figures above by the number of nights you plan to spend in Malaysia and you've got your rough accommodation budget mapped out!
In Cambodia (enjoying a mix of dorm and private rooms) accommodation accounted for about 25% of my total spend in the country.
… And yes I use a very geeky, but helpful app called Travel Spend to track this stuff… and no this isn't sponsored!
I think 25% of overall travel spend on accommodation is pretty good, but does show you just how much you can scale back your budget, but keeping things cheap and simple on accommodation.
Hostels are always best and I totally recommend the following in Cambodia for a cheap but good night's sleep:
Siem Reap – Onederz
Phnom Penh – Feliz Hostel
Kampot – Ganesha Eco Lodge
Battambang – Pomme
Koh Rong Sanloem – Hornbill Guesthouse
Places like Pomme in Battambang are especially good because they have single rooms, which makes travelling solo (especially if you still want a bit of private space) very affordable.
Looking out for cheaper single rooms in Cambodian hostels is one of my top tips for keeping your budget down if you don't want to do dorms!
#2 Transport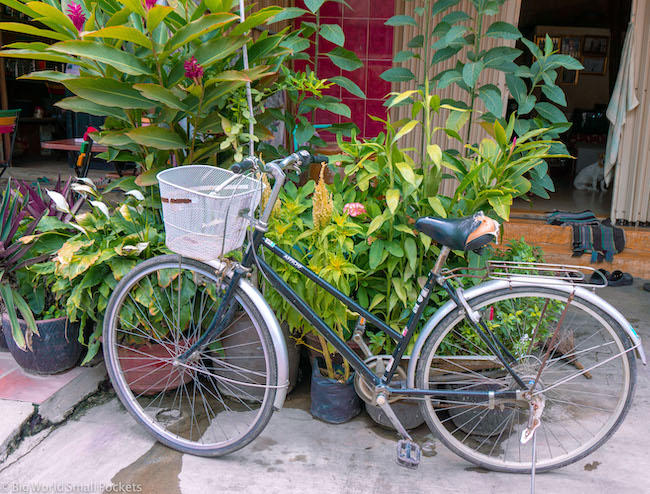 The thing we have to remember about transport when we're talking about a Cambodia travel budget, is how rural much of this country is!
It's also a confusing shape, with a lot of the destinations that tourists visit not in an obvious trail or direction.
Quite often in Cambodia, you have to head back to either Siem Reap or Phnom Penh, before journeying onto your next stop.
As such, planning your itinerary in Cambodia in advance can be a great way to avoid unnecessary journeys and keep your travel costs down.
The cheapest option for longer distance travel in Cambodia (indeed the only real option) are buses.
In general these are clean, safe and very comfortable – just make sure you take a good travel pillow, like this one, and a nice eye mask, like this one, so you can get some sleep!
I also find my Sholdit travel wrap very handy in buses, as I can slip all my important documents into the security pocket and rest with peace of mind that they are safe.
Between smaller destination in this country, you may find local minivans are used rather than buses.
Either way, the good news for your Cambodia travel budget is that all transport in this country is extremely cheap.
As some examples, a bus I took from Battambang to Phnom Penh cost me just $10 USD (take around 4-5 hours) and another luxury one I took from Phnom Penh to Sihanoukville (all day journey) cost me just $13 USD.
So yes, cheap!
Buses can be booked online in advance in Cambodia – in fact, I highly recommend this and always use the excellent website 12Go to compare services and prices.
To get between bus stations and your accommodation (or any sort distance in Southeast Asia) I always use Grab – an amazing and cheap rideshare app that is really common across the region.
Check out Grab here or learn more about why I think ridesharing apps are great for travellers here.
Domestic flights can also be used to travel between the major cities of Siem Reap and Phnom Penh.
Taking a flight will definitely bump up your budget, but in case you're still interested the cheapest options usually come care of budget airline Air Asia.
Domestic flights will also bump up your carbon footprint and aren't really necessary in my opinion, but if you do want to check out rates, I advise using Skyscanner who list budget airlines within their flight options, so normally get you the best fares.
As I didn't use flights and walked around a lot in cities, transport accounted for just 15% of my total budget in Cambodia.
#3 Tours & Activities
As always, it's the number of tours and activities that can be the make or break of your budget when it comes to travel, and Cambodia is no different.
So, my top budget tip, if you want to keep the costs of travelling in this country down, is limit the amount of tour and activities you do.
Honestly, it's so easy to travel in this country without a guide, that I'd really only recommend one for the big attractions like Angkor Wat.
At places like the S21 Prison and Genocide Museum in Phnom Penh, where it's good to know more about what happened here, there's a very affordable audio guide, so other guides aren't necessary.
And if you want to go on a boat trip or snorkelling excursion when you're enjoying the Cambodian islands, just renting your own snorkel gear and heading out, or using the local water taxi to get a sail around the islands, really is the best way to keep your budget down and still enjoy the experience.
As I said, Angor Wat is the only place I really recommend taking a guide for at least one day and here's 3 guided day trips among this amazing temple complex that come highly recommended (and are super affordable):
Across Cambodia, the amount I spent on tours and guides was very low, but I know some travellers do like a few more activities built into their itineraries, so here's my pick of the best budget ones:
#4 Entrance Fees & Guides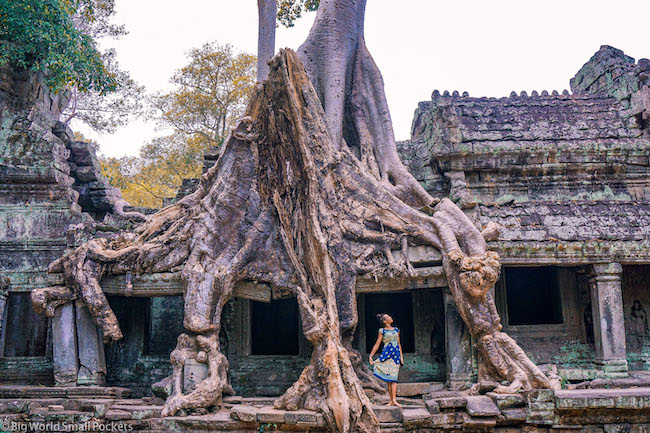 Entrance fees and guides accounted for a little more of my budget in Cambodia than usual, mostly because the entrance ticket for Angkor Wat is so high.
Without this, the costs would have likely been very low, because there are so many free attractions, temples and food markets to enjoy that paying for entrance fees in Cambodia just isn't really necessary.
The exceptions I made were for:
Angkor Wat – 3 Day Pass $62 USD
Killing Fields and S21 Prison Genocide Museum – $15 USD combined
#5 Food & Drink
For those not in the know, I've got good news!
Cambodia food costs very little, especially if you eat at the many street markets during your travels here.
However, I've also got some bad news, which is that I really wasn't a fan of much of the Cambodian food.
Now I know this is controversial, but honestly, I generally found the quality quite poor and the lack of fresh vegetables and oily, fried food really got to me.
As such, and because I'm a vegetarian and there's a lot of fish sauce used in Cambodian cuisine, I ended up spending a lot of money eating in cafes more geared to ex-pats.
Trust me, this is not something I normally do, but I honestly felt so unhealthy in Cambodia that it wasn't really a choice in my opinion, especially as very few hostels have cooking or food prep facilities.
As a result, my food budget rocketed in Cambodia, which is strange for me.
I also know this definitely isn't the norm for most travellers here either.
But hey this budget is all about being real, so…
As such food accounted for the largest section of my expenditure (which literally never happens normally!)
Indeed it was a whopping 40% – including grocery store items, coffee and meals out.
It blows me away even now!
But there it is.
Likely, if you're not as fussed about eating healthy or not eating fish sauce as me, and happy to eat at the food markets, your Cambodian food budget will be waaaaayyyy lower.
Alcohol is cheap in this country, so unless you drink a silly amount, this shouldn't affect your budget too much either.
Then there's bottles of drinking water to factor into your Cambodia travel costs too.
Although if you take a Lifestraw Go Water Filter Bottle as I did – this will reduce this cost to zero, thanks to the handy technology that allows you to drink the tap water safely no matter where in the world you are – winner!
#6 Other Expenses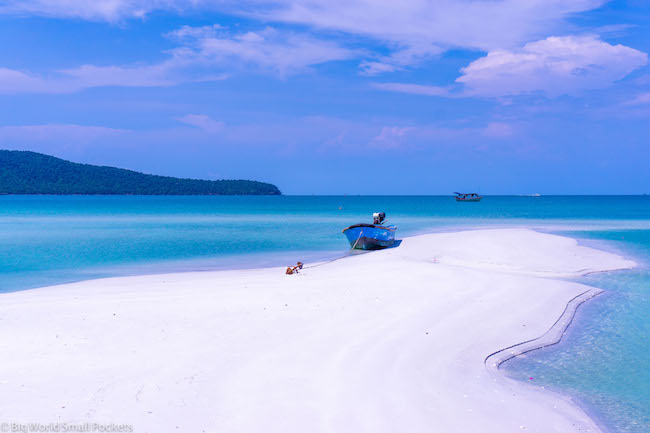 And finally, when it comes to Cambodia travel costs, you've got to factor in all those other incidental expenses like laundry (once a week should do it) and possibly a SIM and data package too.
Luckily, both these things are very cheap and readily available!
An average laundry load cost me around $4 USD and getting a tourist SIM with loads of data is possible for around $6 USD.
And don't forget a bit of extra money for souvenir buying or discount mall shopping!
This is Southeast Asia after all!
How Much Does it Cost to Travel in Cambodia?
And with all that in mind, you might be surprised to learn (as I was) that travel in Cambodia didn't come in as cheap as I expected.
Tickets and tours at Angkor Wat definitely bumped up the price, but mostly it was the food that massively swung it for me, because I ate out in healthy western cafes so much (sorry, but that's the truth!)
More than what I spent in Thailand, Laos or Malaysia, my daily budget in Cambodia was over $50 USD per day, in fact it was over $60 USD! Ouch!
However, it could have been a lot cheaper.
Especially If I'd slept in dorms rooms instead of private hostel rooms, I could probably have reduced this to $50-55 USD a day and eating only at street markets, would likely have brought this down to under $45-40 USD per day – perhaps ever lower!
So, if you want to travel in Cambodia on a shoestring, this is my advice for you.
To explain more, I wanted to give an example budget based on my suggest 2 week Cambodia itinerary, which I think allows you to see some of the best parts of this huge country in a limited time frame.
Here's what an example budget might look like…
Total Accommodation in Private Hostel Room x 14 nights = $250 USD
Total Transport Spend = $110 USD inc. tuk-tuk rides, boats & long-distance bus rides
Total Tours and Activities = $30 USD
Total Entrance Fees & Guides = $110 USD
Total Food and Drink = $310 USD
Other Expenses = $60 USD
The rough amount you can therefore expect to spend in Cambodia over a fortnight is around $870 USD.
This is roughly $62USD per day, which is in the region of £50 GBP per day or €55.
Please remember this is based on a budget traveller and will vary wildly depending on how many activities you do, whether you stay in dorms or private rooms and where you eat and drink!
You could cut this further by limiting your time at Angkor Wat to just one day and not doing any souvenir shopping … although whether you'll want to is another matter!
PIN IT TO PINTEREST!
And there it is folks, the full breakdown of my Cambodia travel budget and why it cost to travel in this country than I thought.
Did my budget breakdown surprise you too?
How much do you think you'd spend here.
Let me know your thoughts in the comments below…