I dare someone to visit Prague for the first time and not be blown away by how pretty this city is.
Yes you may find the crowds a little overwhelming, the food a little heavy, or the prices a little higher than the rest of Czechia, but you will not be disappointed by the charm and beauty of this ancient Medieval destination.
UNESCO-listed (and I think we can all agree, justifiably-so), Prague is an absolute must on any European itinerary.
Located in Central Europe, not only is it utterly gorgeous, but it's also easy to get to, with connections from Germany, Austria, Poland, Hungary and Slovakia overland, as well as wider Europe via air.
Straddled over the Vltava River, which runs right through the heart of the city, Prague is a place to be strolled and savoured and here, to give you a flavour of exactly this, are the 21 best things to do in Prague…
---
Related Posts
---
This page contains affiliate links meaning Big World Small Pockets may receive a small commission on any purchases at no extra cost to you.
---
#1 Head Up to Castle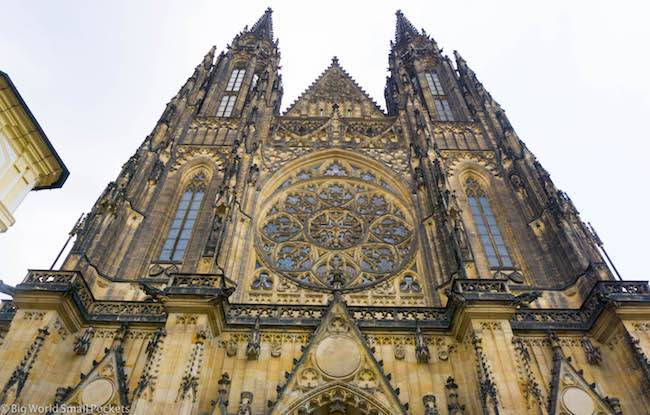 Coming in at number one on this list, it's head up to Prague's amazing castle, otherwise known as Pražský Hrad.
One of the flagship attractions in the city, if you decide to only pay for a couple of sights during your time in this city, make the castle one of them.
Built in the 9th century, the historic site is actually a sprawling complex of several palaces along with religious buildings, and is UNESCO-listed in its own right beyond the centre of Prague.
Accessible on foot, you can also catch a tram or metro up to the castle and then alight at one of several stops, the best of which is 'Pražský Hrad' – which you'll find on tram route #22.
Once at the castle entrance, you can then step inside for free, but if you want to enter any of the palaces, a ticket is necessary.
Pick up your skip-the-line tickets here – they also grant you entry to the Charles Bridge Museum and are really good value when you consider just how much there is to see in the castle complex too.
#2 Cross Charles Bridge
And talking of the Charles Bridge Museum, we're brought nicely onto number 2 on this list, which is the actual Bridge itself.
Probably the most iconic structure in Prague, this huge engineering feet spans the River Vltava and is adorned with 30 Baroque sculptures of saints.
The key connection between the Castle and Prague's Old Town, this bridge used to be a key trading point between the west and east of Europe and remains a pivotal point in the city today.
As one of the key tourist spots, don't expect it to be crowd-free (get up and go for photos at 7am if you want this!), but strolling along this famous bridge is a Prague bucket list must.
To get the best photos (outside of the early morning), head to the bridge at golden hour, when you'll get some lovely colours reflected on the water below.
Dating back to 1357, it's fair to say this medieval bridge has seen a few in its time!
#3 Watch the Astronomical Clock
I thought I'd keep the big hitters rolling on this list, which means that in at number 3 it's another Prague icon and must-see attraction and that is the ancient astronomical clock.
Another free thing to do in Prague (like cross the Charles Bridge), the Astronomical Clock is located just 5 minutes' walk from the bridge.
Towering up at 33m high it's really hard to miss this one, but if, somehow, you aren't able to locate it, then I suggest following the crowds, especially on the hour, every hour, when the clock has a 45 second show.
Dating back to 1206, this is thought to be one of the oldest working clocks in the world and given the fact that it also displays the zodiac, solar and lunar orbits, is water-powered and still tells the time accurately, is pretty mind-blowing!
The clock can be found in the Old Town Square, so check that out too while you're there – the last time I visited, there was a fantastic live music event happening for free, so it's well worth wandering by to see if anything is going on.
#4 See the Christmas Market at Wenceslas Square
Formerly a horse market, Wenceslas Square in Prague is now named after the patron saint of Bohemia and has long been a political focus in the city – Czech independence was declared here after World War I and numerous demonstrations against Nazi Germany and Soviet occupation were also held here.
Nowadays however, the square is much more of a tourist hub.
A key place to stroll as you make your way from the UNESCO Old Town to Prague's New Town, Wenceslas Square is undoubtedly at its best during the festive season, when one of the city's largest Christmas markets takes place here.
Entry is free and the market usually runs from 10am to 10pm daily from late November through January.
#5 Marvel at the National Museum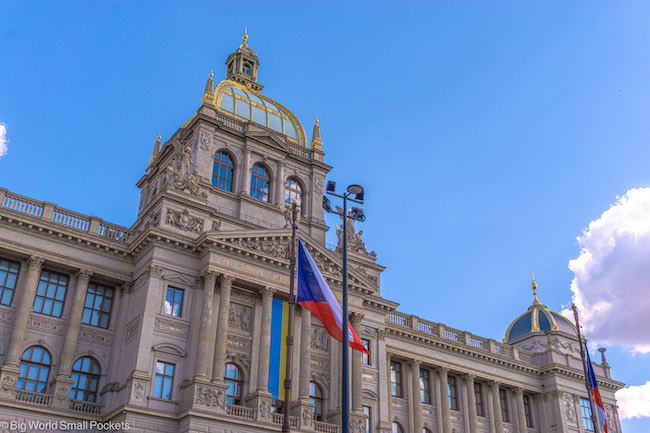 And just above Wenceslas Square – and yet another reason to pass through it – is this city's flagship museum.
If you only visit one museum in Prague, let it be the National Museum.
Actually spanning 2 different buildings, the museum is divided into modern and ancient history – with the modern story of the nation being housed in the new building and the ancient history (a lot of it with a heavy natural history twist) being housed in the older building.
But honestly, while the exhibits here are good, it's the architecture, design and décor of the old building that really sets this place apart for me.
Once you get your tickets – which you can buy at the door or online here – head inside and prepare to be amazed by the grand staircases and vaulted ceilings all around you.
As much a piece of the museum as the contents, this building is what truly makes Prague's National Museum a must-do thing in this city.
Learn more in this article I wrote all about this top Prague attraction.
#6 SUP on the Vltava River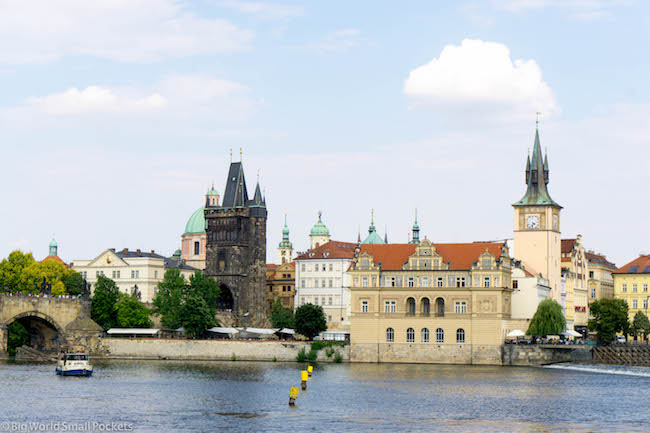 But now we move onto something a little more active on this Prague bucket list, and definitely something I'd like to do next time I visit, and that is SUP along the river in the city.
Taking you through the heart of Prague, this guided tour is probably the ultimate way to sightsee without the crowds!
An ideal summer activity – almost certainly way toooo cold in the winter! – these stand up paddle board tours last 2 hours and your guide will also fill you in on a lot of the quirks of Czech culture and the history of many Prague sights whilst you're paddling alone.
#7 Sample the Best Brewery Tour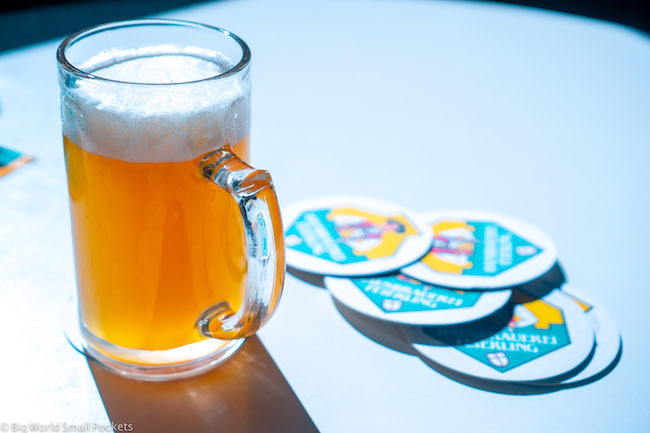 But if you are visiting Prague during the winter (newsflash: this city is pretty freaking beautiful whatever time of year you visit, just bring a lot of layers during the colder months), then a great way to take in some of Prague's best bits is probably via a brewery tour!
Did you know the Czechs drink the most beer per capita in the world?
Well my motto tends to be if you can't beat them, join them!
So enter this fantastic Monastic brewery tour.
The best thing about this tour is that it will get you away from the crowds and allow you to visit century-old breweries that only the locals know about.
You'll also get to enjoy it all care of a segway, which if you haven't ridden before will be a lot of fun… especially after a few beers!
Safety first though kids, wear your helmets please!
Taking 3 hours, your guide on this trip will also take you around some of Prague's top sights, or at least you'll whizz past them on your Segway!
#8 Discover the Manifesto Market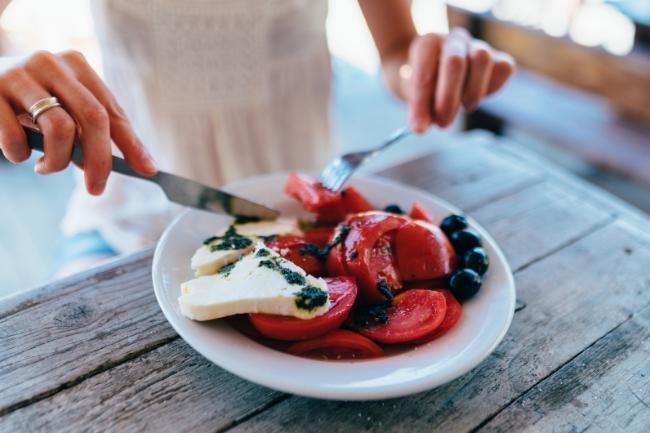 And now that we've covered the drinks, it's time to cover the food!
Personally, I'm not a huge fan of Czech food – although feel free to go wild on potatoes, pork, dumplings and cabbage if you wish.
This means I'm more than often on the hunt for international food in Prague (sorry not sorry) and, in my search, found a really fun little food market, that combines the best of both worlds – international food with a local vibe.
Enter the Manifesto Market.
Just a pop-up market when I first discovered it, this great foodie spot has now developed into a really fun eating and hanging venue that offers loads of different food choices and a great Czech atmosphere that should keep everyone happy!
#9 Take in the View from Letna Park
And also on the west side of the river, albeit quite far to the north, Letna Park is one of the largest green reserves in Prague and offers quiet wooded areas, as well as wide, open spaces.
Elevated above the city, this park also offers the perfect vantage point over beautiful Prague, including a great view of its many bridges for those of you who are really keen to get some super shots.
There's also a handy beer garden here (if you've been anywhere in Germany you're probs a fan like I am too) and, when it's sunny, there's few better places to enjoy Prague from in my opinion.
#10 Scale Petrin Tower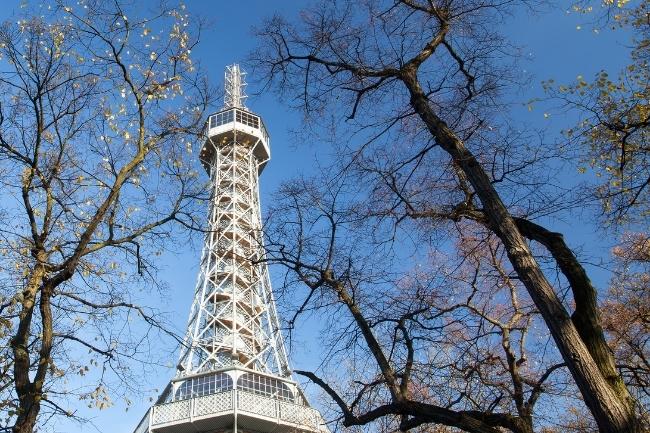 But if you're really keen on getting some top views, then why not saunter on (after your beer) to another of Prague's top parks, which actually isn't too far away!
Ok, so it's not far in terms of distance, but it is a bit of a climb, so do be prepared for the hill!
Make it however, and you'll be rewarded with standout views along with 5 gardens, a mirror maze and an observatory – so it's a good one for families too, although you may prefer to take the funicular here!
But if you really want to take things to the next level – literally – then you can't miss the Eiffel Tower lookalike.
Yes Prague's very own version, scaling the bizarre Petrin Tower is definitely a top thing to do in Prague!
Love it or hate it as an architectural piece, you can't deny it's high, so if you've got this far already, why not head up those stairs to take in the epic lookout point and then reward yourself with a beer at the bottom!
#11 Count as Many Churches as you Can
And what you will see from the top of the Petrin Tower is… a heck of a lot of churches!
Yes known as the city of hundred spires, this Prague accolade gives you a bit of hint into just how many cathedrals there are in this city.
Heading into them all would be ridiculous, if not a little boring, but counting them as you walk past the outside and then diving into a couple is certainly a great thing to do in this city!
A lot of the top picks are clustered around the Old Town Square, including St. Vitus Cathedral, Church of Our Lady before Týn and St Nicholas Church.
Most are free or only a couple of euros to enter, so take your pick and get exploring.
#12 Join a Small Group Guided Tour
And a key way to learn more about the history of Prague (and trust me, you'll enjoy it a lot more when you know what you're looking at!) is to take a guided tour of the city.
There's a ton of free ones in Prague, as you'd expect from a city of this touristic magnitude, but with crowds that big, I actually find them more hassle than they're worth.
Instead, I'd rather spend a few extra euros more than I would on a tip and join a small group walking tour – like this excellent example – that takes in the communist history of the city and runs for 2 hours, or this half day city highlights option.
Otherwise, e-scooter tours are also a big hit in Prague and this top-rated and fun one has a special focus on the castle and the views you can enjoy from this elevated fortification.
Another thing I like is that the above tour allows you to choose from several start times throughout the day – perfect if you've arrived into Prague late or enjoyed one too many Czech beers the night before!
#13 Snap the John Lennon Wall
And a really fun part of the above tour is that you can see and sign Prague's famous John Lennon Wall.
Once a notable point of dissension during Communist times, this famous graffiti spot, which can be found on Velkoprevorske Nam in the city's Old Town, has an inevitably political feel to it.
Now rather more touristy, than edgy, it's still worth visiting in my opinion, not least because I really liked wandering about this part of the city complete with its waterside mills, churches and bell towers.
The Waldstein Gardens are also not far away and a lovely spot to chill in Prague if you want a bit of time out from all the sightseeing.
#14 Chill on an Island!
And another great place to take some time out is on one of Prague's islets that sit in the middle of the Vltava River.
Strelecky Ostrov would be my pick of the bunch (not least because it's really easy to walk there care of a handy footbridge), and also because it offers some lovely views of the city.
Escape the crowds by heading to the northern part, where you can chill in the sun amidst a green park and hear the buzz of the city in the background.
#15 Enjoy Prague at Night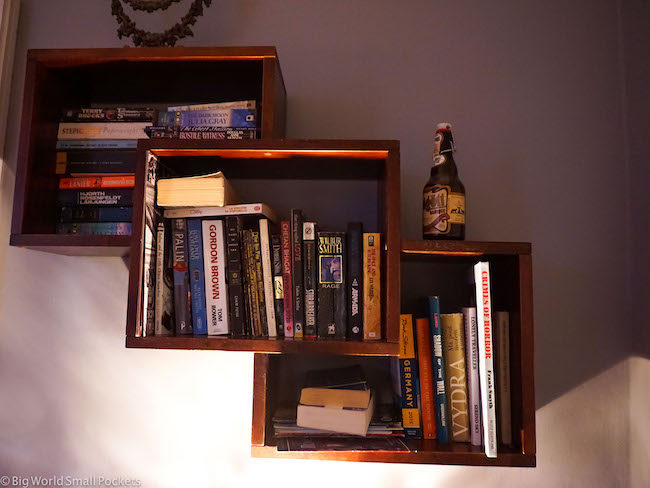 And talk about the buzz of the city, yes in Prague there's no question that a top thing to enjoy here is the city's nightlife.
I remember first stepping foot in Prague at 18 years old, specifically for the clubbing I might add (c'mon this was the early noughties!) and being blown away by the huge 5 storey clubs that were open all hours – quite the change from little old Jersey I can tell you!
Safe to say I'm older and more about the early bedtimes these days, but Prague has kept up her pace and still puts on a good show!
So if you want to enjoy more than a few beers (and the great thing about Prague is that you can afford to!) and play spot the stag-do, then this is the city to do it in!
#16 Relax at a Beer Spa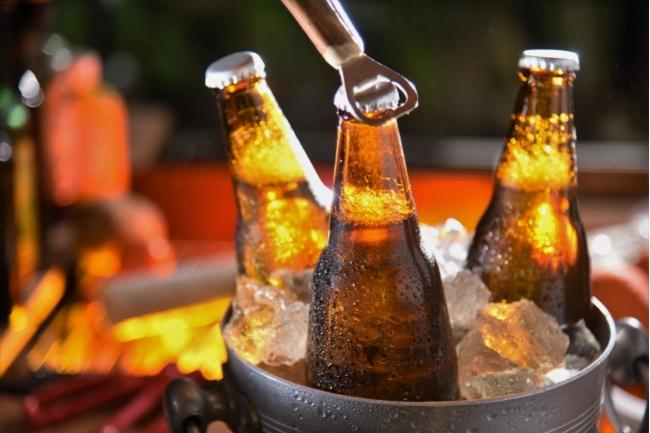 Describing itself as the largest and most luxurious beer wellness experience in Prague, it's hard not to buy into the idea.
Lying aside the oxymoron-related hesitation I have around 'beer' and 'wellness' being used sequentially in a sentence, this does, at least, seem like a very fun and relaxing thing to do.
And it seems that Beer Spa Beerland is the place to head to for this unique Czech treat.
Despite the somewhat dubious name, this place does get great reviews, so allay your appellation anxiety if you can and dive in… not literally though, I don't recommend an ear full of beer!
Alternatively, book the slightly better-named Beer Spa Bernard online in advance here.
Tickets include a full private spa treatment, such as massage, unlimited beer consumption and a beer bath – what a combo!
#17 Check out the Kafka Museum
Shame on me, but before my first trip to Prague, I honestly didn't know Kafka was Czech.
I mean I probably did know (I studied Theatre & Literature at uni), but it had slipped my mind.
When I think of great artists from the Czech Republic, I always think of Milan Kundera (side note, if you haven't read The Unbearable Lightness of Being, do so immediately!), but safe to say, Mr Kafka was indeed Czech and so heading to the capital of this country is an absolutely great opportunity to learn more about his life and work.
And what better place to start than at the Franz Kafka Museum?
Opened in 2005 and located in Herget Brickworks building, this fantastic gallery is a super spot to take in the artist's relationship to the city where he was bought up.
Entrance costs CZK 240.
There are also a couple of sculptures throughout Prague dedicated to him, including the impressive rotating head, which is well worth seeking out.
#18 See the Jewish Cemetery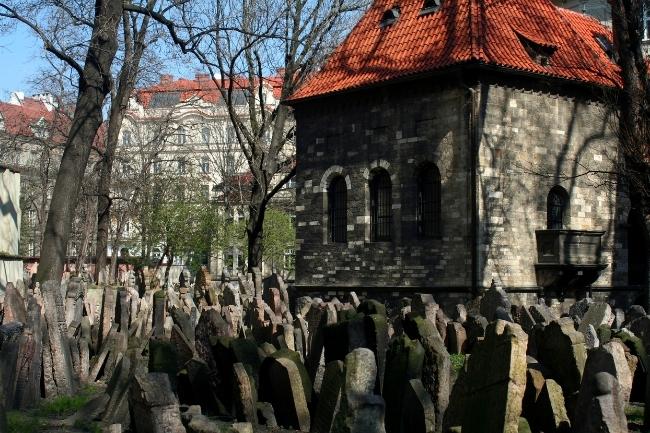 Kafka was from a Jewish family and spent most of his life living in the Jewish quarter of Prague.
And today, the Old Jewish cemetery is a significant reminder of the community that lived here.
Dating back to the 15th century, burials took place here until 1787 and the site contains some 12,000 headstones.
It is one of the oldest surviving Jewish burial grounds in the world and entrance tickets can be bought at the gate.
If you'd like to learn more about the Jewish community in Prague, then this well-rated walking tour also includes entrance to several synagogues, as well as the cemetery, and an expert guide too.
#19 Visit the Bone Church
And so now we come to the best things to do around Prague – the perfect complimentary activities to a day or 2 wandering this city.
After all, no matter how beautiful Prague is, you're bound to get a little spire fatigue sooner or later!
Enter the day trip, which is my favourite way to combine a good city break with a slice of something a little bit different too.
And let's be honest, it doesn't get more, err different, than a bone church!
Otherwise known as Sedlec Ossuary, this is actually one of the most popular tourist attractions in the Czech Republic!
What began as a burial site in 1278 has turned into a Baroque spectacle, that was featured in several well-known films and is now a UNESCO-listed treasure estimated to contain the skeletons of between 40,000 and 70,000 thousand people!
Reach it via train from Prague to Kutna Hora hl.n. and then a local bus, or check out this top-rated guided tour that will take you there directly and includes lunch.
#20 Hike in Bohemian Switzerland National Park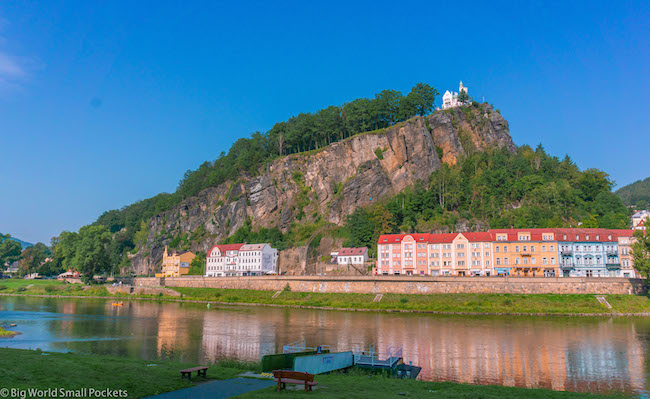 And now for another amazing day trip from the capital and, in my opinion, one of the top things to do from Prague, if not to do in the whole Czech Republic.
Located in the northwest of the country, right by the German border, Bohemian Switzerland National Park is a hikers, cyclists and kayakers dream, with a ton of trails, free entry and easy access.
The largest natural sandstone arch in Europe – Pravčická brána – is also here, set amidst a landscape which has inspired fairy tales, myths and legends for centuries.
Most easily reached from the town of Děčín, which is 2 hours away by train from Prague, if you only have a day, then a guided tour which includes transport might be the easiest option.
Check out this top pick which includes hotel pick up / drop off in Prague, plus lunch in its offering.
#21 Tick Český Krumlov Off your List
And finally, the last thing on this list of top things to do in Prague is yet another day trip because, come on, when one of Czechia's most prized and famous palaces is just a couple of hours away, it would be rude not to go right?
Enter Český Krumlov, which is located south of Prague, and can again easily be reached in just a few hours from the capital either by train or organised tour.
Situated in a lovely countryside area, this Instagram favourite might not be off the beaten track, but it will certainly get you out of the capital and seeing a bit more of what the Czech Republic has to offer.
It's also small and compact place, which makes it a nice chilled spot to visit, and its UNESCO-listed Old Town is super pretty!
Plus it's home to one of this country's major castles – which is absolutely huge!
Don't miss it… to be fair you really couldn't if you tried!
Mini Prague Travel Guide
How to Travel to Prague?
If you're coming from further afield, it's likely you'll fly into Prague's international airport.
Serviced by many budget airlines, I always use Skyscanner to get the best prices.
Otherwise, if you're coming from nearby parts of central or eastern Europe, then it's easy to travel to Prague either via bus or train.
Check out Omio, where you can easily compare hundreds of journeys, view timetables, travel times and buy tickets in English, or read this guide I wrote about how to travel from Amsterdam to Prague by train.
Alternatively, you can also take an organised tour to Prague that includes transport, as well as a heap of guided activities in Czech's beautiful capital.
Check out these fantastic options for more info.
Where to Stay in Prague?
Hostel: Located in the Dejvice area of Prague is the amazing Dakura Hostel – an absolute gem of a find in this city.
Set in a historic building built in 1922, which was once a public bathhouse, this "vintage" hostel oozes character and charm, with its Art Deco interior design and beautiful period features.
Spacious, immaculately clean and with a gorgeous garden area that is perfect for relaxing in, I loved the quiet and chilled vibe of the hostel, the friendly staff and the fantastic transport options it had – both tram and metro stops are just a 3 minute walk from the front door.
Get the best price for your Stay at Dakura Vintage Hostel here.
Hotel: For something a little more comfortable, spacious and private, I highly recommend Miss Sophie's Downtown Hotel.
A boutique hotel that I stayed in during my last visit to the city, this quirky gem is brilliantly located very near to Prague train station and within a 10 minute walk of the historic centre.
With large rooms, comfortable facilities and great staff, it's a wonderful find for those looking for a modern and independent hotel at a good price.
Book your stay at Miss Sophie's here.
5 Key Packing Items for Prague
#1 Good Camera – You will be pretty much snapping non-stop in Prague and will need a good camera to do this gorgeous destination justice. I highly recommend the Sony A6000, which I use for all my travels and love, not least because it's light, compact and robust!
#2 Good Walking Shoes – There will be a lot of walking in Prague, it's as simple as that! Make sure your feet are comfortable therefore with a pair of New Balance Trainers. Perfect for stylish city strolling, I love mine!
#3 Good Guidebook – I'm still a massive fan of the Lonely Planet Guidebooks and do think their Prague edition is well put together and able to save you a lot of money if you want to learn about the history of this city, but not pay for a guide!
#4 Good Water Bottle – All the city sightseeing is thirsty work, so make sure you have a metal water bottle that you can refill as you go, because Prague tap water is drinkable… and free!
#5 Good Day Pack – And to carry your water bottle, camera and guidebook, you're going to need a decent backpack that will help you balance the weight as you walk the city streets. In my opinion, you can't go past the Bobby Anti Theft Backpack, which is also perfect for helping you avoid pickpockets too.
To learn more about packing for a trip to the Czech Republic, check out this article I wrote, which gives you a complete checklist.
Saving Money in Prague
When it comes to getting paying for things in the Czech Republic, you want to ensure you're not being charged overseas transaction fees or getting poor exchange rates when using your card abroad, which is why I always take my Wise Card away with me wherever I travel.
The easy way to spend abroad with real exchange rates, no markups and no sneaky transaction fees, you can use your Wise card just like a debit card in Czechia… and it links easily with Google and Apple pay – sold! Get yours here.
Travel Insurance for Czechia
World Nomads offers simple and flexible travel insurance. Buy at home or while travelling and claim online from anywhere in the world.
Alternatively, if you're a long-term traveller, digital nomad or frequent remote worker seeking travel health cover, check out Safetywing's Nomad Insurance policies.
Where to Travel After Prague?
Along with Prague, I've also explored the east of the county, especially the North Moravia area around the city of Ostrava.
Learn more about this underrated city in this post I wrote.
Otherwise, the city of Brno, in the south near the Austrian border, is also gorgeous.
Learn more about it in this article I wrote, as well as how to get there here.
SAVE THIS TO PINTEREST!
And so there you have it, my list of the top 21 things to do in Prague + my mini travel guide to seeing this city.
I'm hoping you've found this post useful and now feel super inspired for your visit to this UNESCO gem!
Happy travels 🙂