If you're visiting the Czech Republic then it's likely you'll be hitting up the country's mighty capital of Prague – a must-see destination in Europe.
Known as the city of a hundred Spires, this UNESCO-listed Medieval gem is worth at least a couple of days of your travel itinerary as you stroll its cobbled streets, marvel at its ancient Astronomical Clock and discover its hilltop Castle.
But where to go after Prague?
Well if you're done with the crowds (did I mention that Prague is well and truly on the traveller map now!), but still looking for more historical treasures, then why not head to Czechia's second city, the southern Gem of Brno?
Just a couple of hours away from the capital by car, bus or train, Brno provides the perfect antidote to Prague thanks to its lack of tourist crowds and very authentic, local vibes.
Also close to Vienna, Brno makes the perfect pitstop between these 2 European mega destinations, so read on to discover all the ways to travel between these cities no matter whether you're pushed on time, short on budget or don't have the freedom of your own wheels.
Covering train, bus and self-drive options, this full guide has you covered when it comes to travelling from Prague and Brno, so make sure you don't miss out on all these fantastic destinations have to offer!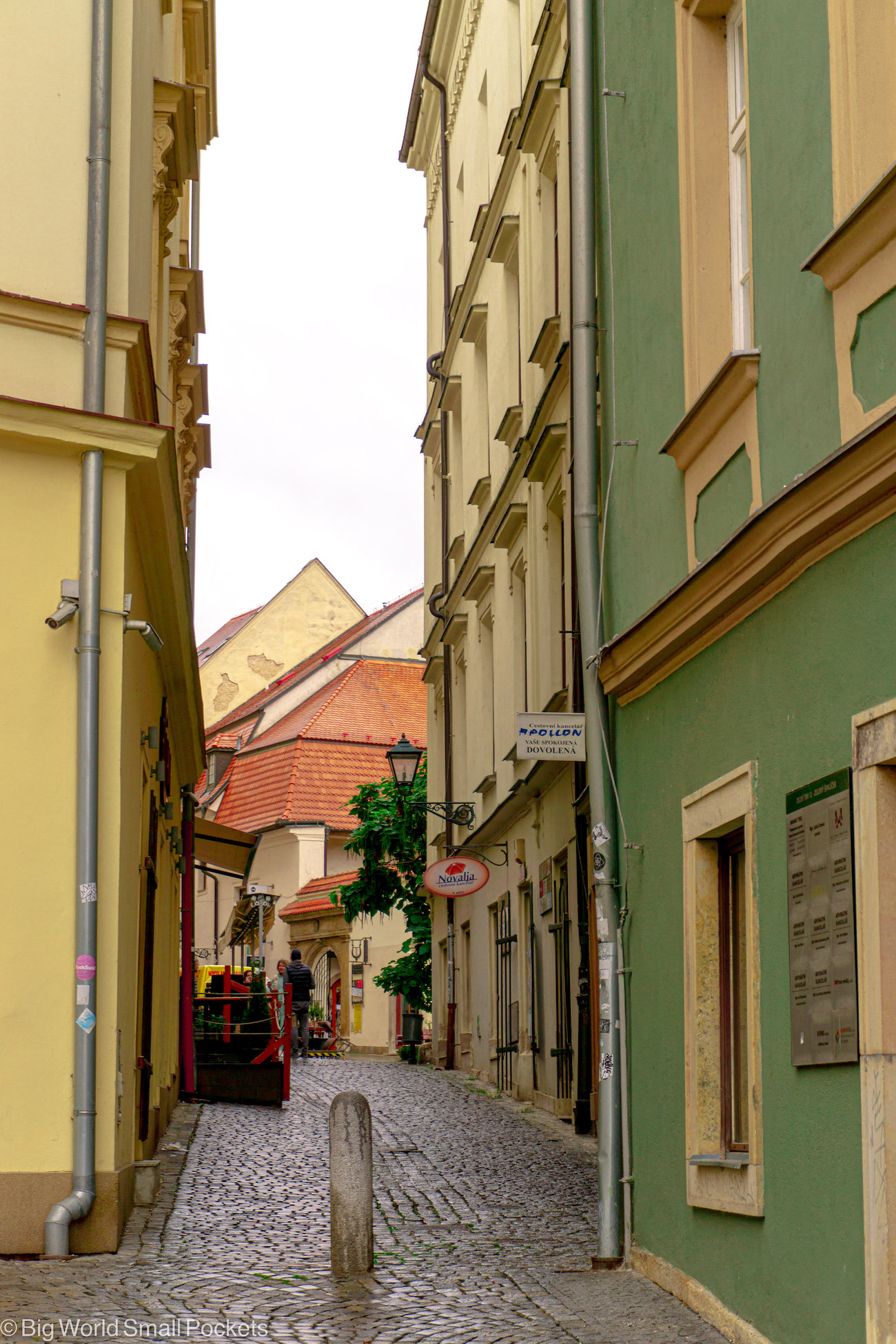 ---
Related Posts
---
This page contains affiliate links meaning Big World Small Pockets may receive a small commission on any purchases at no extra cost to you.
---
How to Travel to Prague First…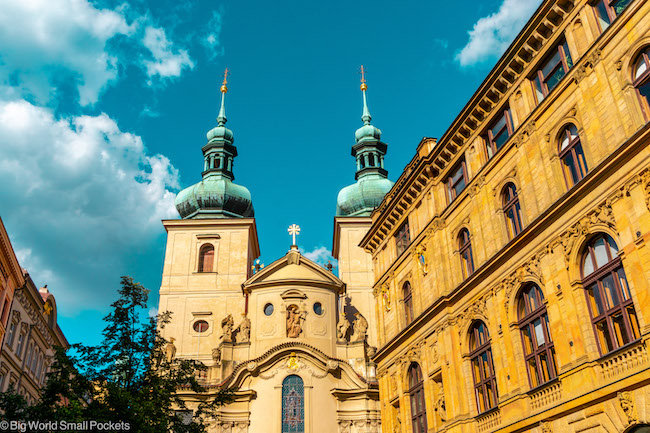 When it comes to getting from Prague to Brno, I thought it might first be useful to briefly mention how you get to Prague in the first place.
The capital of the Czech Republic (a country now renaming itself Czechia FYI), most people arrive into Prague (or Praha as it's known locally) via the international airport, which is the major transport hub in this country.
As always, I use Skyscanner to find the best flight deals as they include budget airlines in their search (and yes I flew with Ryanair to Prague from London Stanstead for my sins!)
Once you arrive at Prague airport, you can then head straight to the centre via taxi, Uber, airport shuttle or Express Bus to check out this fab capital.
The international airport in Prague (PRG) lies 17km from the city centre, and at under €4 on the Express Bus, there's no prizes for guessing which option I went for!
I then recommend you spend at least 2 days exploring all amazing things Prague has to offer.
Learn more in this article I wrote about the perfect way to spend 48 hours in the capital.
Once in Prague, you'll then be delighted to know that both the main train and bus station are very near to the city centre – meaning you'll likely be able to walk there from your accommodation – luggage and all!
And this is ideal for getting to Brno, especially as both buses and trains ply this route.
Here's how to make the journey…
#1 By Train
Good for Speed, Comfort & Price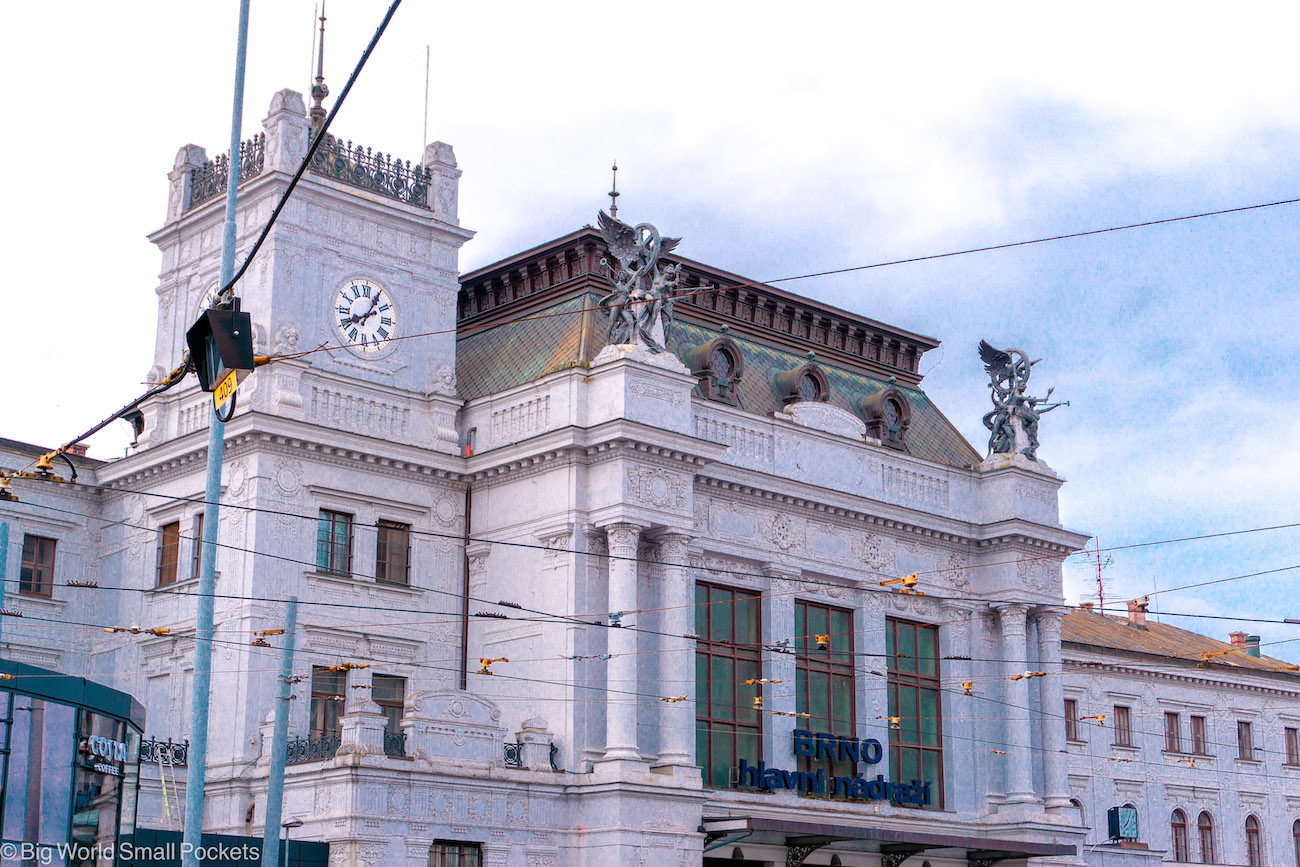 So the first way to travel between Prague to Brno is by train.
Incidentally, this is also the best option in my opinion.
Used by locals and tourists alike, the train journey between these 2 cities is cheap and straightforward.
I travelled to Brno myself using the train and found the service clean, comfortable and easy. Lots of luggage space was a bonus!
The train from the capital to Brno departs from the city's main station – Prague hl.n – which is located in the new part of the city at Wilsonova 300/8, 120 00 Vinohrady.
Prague hl.n stands for Praha hlavní nádraží, by the way, which essentially means Central Station in Czech!
This train journey is direct and takes around 3 hours. Tickets can be bought for as little as 14€ when booked in advance online.
As always, I use Trainline for the job as they easily compare tons of journeys for you in English (phew!) and make it simple to book and pay in USD, EUR or GBP.
This will also save you the hassle of having to go to the station in Prague to buy the ticket and possibly wrestling with someone whose English isn't that great.
There's an average of 28 trains a day between Prague and Brno (I know, loads!) many of which are direct and are operated either by Regiojet or ČD – the national Czech railway company.
With the first train leaving Prague hl.n at 4:12am and the last at 11:45pm, no matter what time you want to leave the capital, there's sure to be a service that suits you.
A little too far for a day trip, if you do need to travel back to Prague after Brno, perhaps to catch your departing flights, then buying a return train ticket will also save you time and money, so I'd always opt for it.
There's only one train station in Brno, which makes things easy too, and from the station, it's just a 5-10 minute walk to the historic Old Town.
The station address in Brno is Nádražní street 418/1.
#2 By Bus
Good for Price, Speed & Ease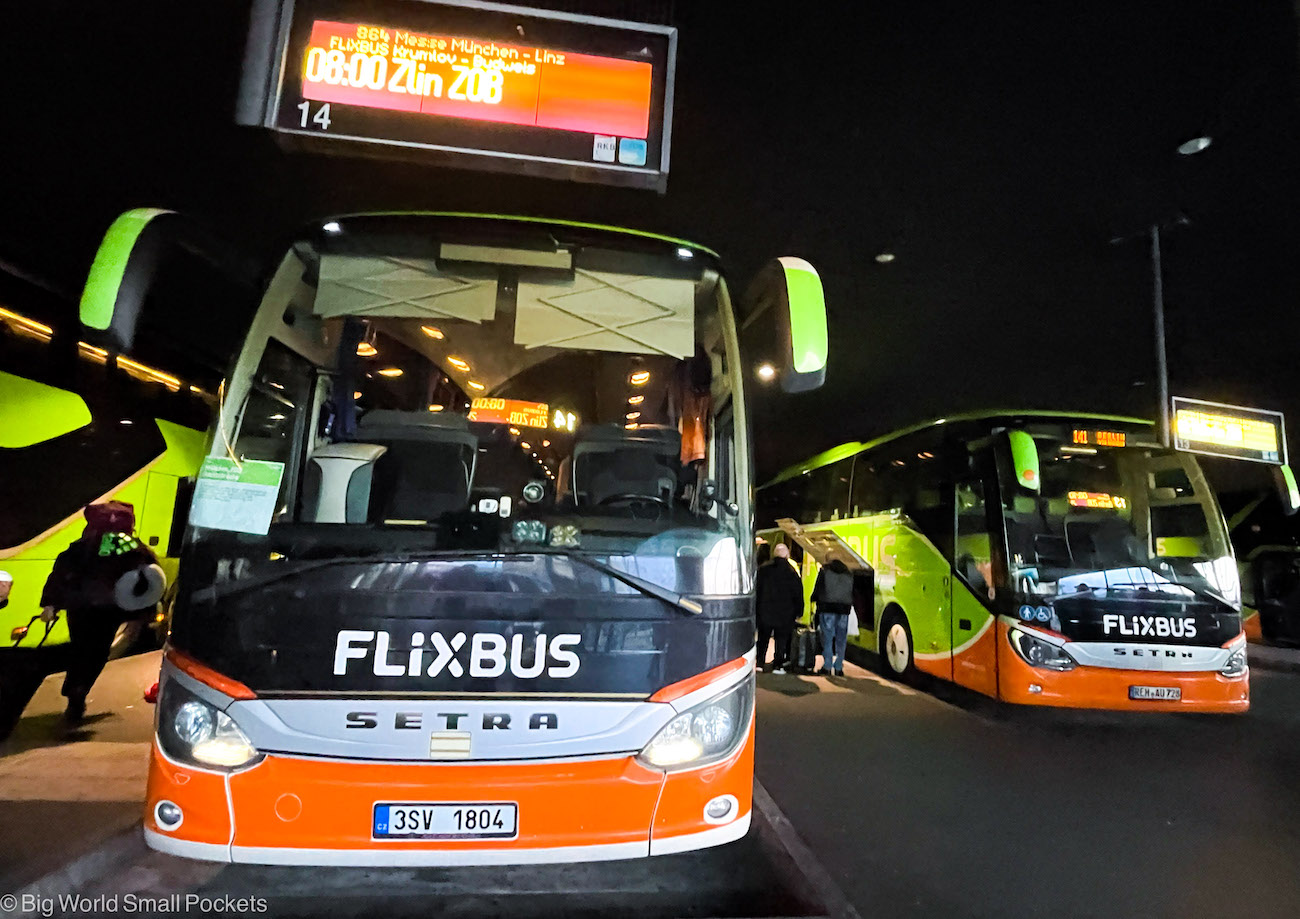 You also have the option to travel from Prague to Brno (or in the other direction) by bus.
There's 2 companies that offer this route – Flixbus and RegioJet – so you can choose from either service depending which departure time suits you more.
Compare them both and book your bus tickets using Trainline.
Flixbus is usually slightly cheaper and offers more trips per day, so they may well be your best option.
Adding to this is the fact that Flixbus offers a direct service, with some of their journeys only taking 2 hours 20 minutes – which makes them quicker than the train!
Prices start as low as 8€ and there's wifi onboard as well as charging points and a toilet – although I suggest using the bathroom before you board to be honest!
Regiojet's buses are also direct, but usually cost a little more (only a few euros mind) and have a slightly higher level of comfort as a result.
If you really want to get the cheapest bus fare (and shave off a couple of euros in booking fees), then I suggest booking through Flixbus direct here.
.
#3 By Rental Car
Good for Flexibility & Greater Exploration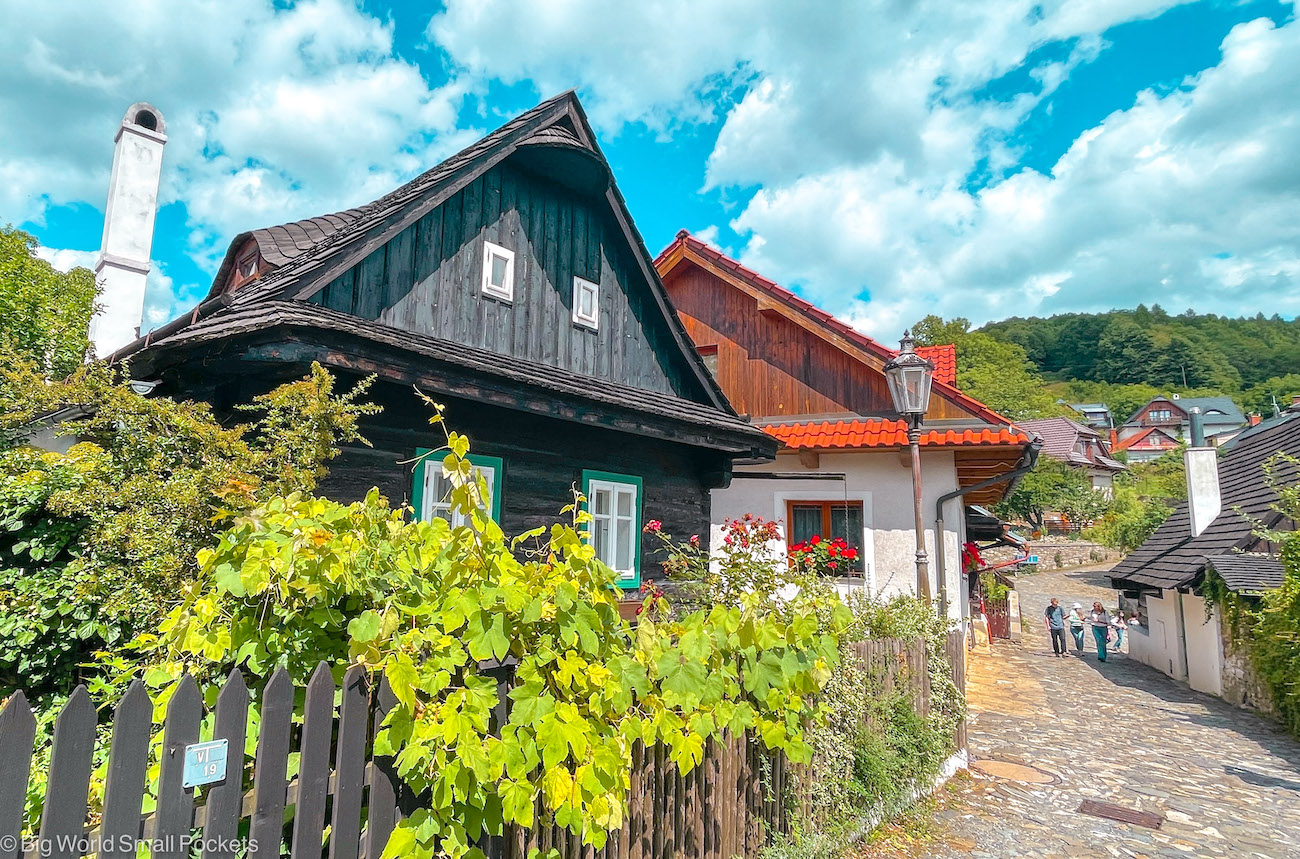 And the third way to travel between Prague and Brno is by renting a car.
You can usually rent a car either from Prague airport (if you're flying there) as well as the city centre.
I'd opt for the city centre if you're spending a few days in Prague first. That way you don't need to pay for a car during the time you're in the capital (you won't need a vehicle in Prague) and can avoid the hassle and costs of city parking too.
Car hire can be expensive, but becomes more affordable if there's a group of you. Grab a great deal here.
If you're driving from Prague to Brno, then it's great to know it takes just over 2 hours to cover the 205km distance between these cities, You simply need to follow the D1/ E65 all the way.
Don't forget to add fuel costs to the expense of renting a vehicle, as well as parking costs. You'll definitely need to pay for parking in Brno if your accommodation doesn't offer it, so this is well worth asking about!
If you are driving this route, then why not make a detour to Český Šternberk Castle on the way?
This Gothic & Baroque castle dates back to the 13th century and has some pretty amazing interiors that showcase the wealth of what was once the mighty Bohemian kingdom.
Travel Guide to Prague and Brno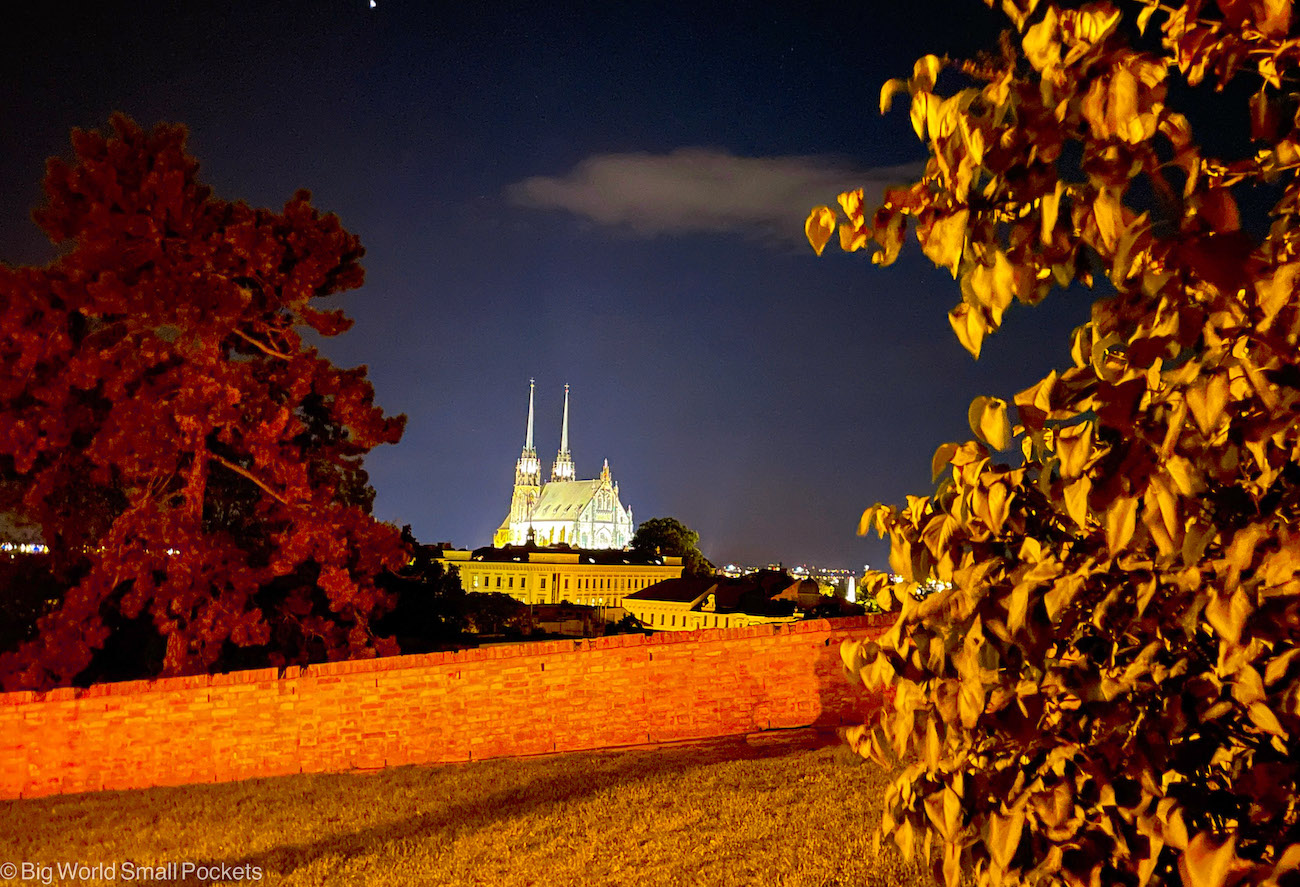 When to Visit?
The best time to visit both Prague and Brno in my opinion is during the spring months of May and June or the autumn month of September.
You'll avoid the crowds this way, but still get good weather.
Visiting during the festive season, when the Christmas Markets are in full splendour, is also a great time to visit these 2 cities.
Where to Stay?
For a list of recommended places to stay in Prague, check out these great options.
For top Brno accommodation picks, click here.
How Long to Spend There?
I loved both Prague and Brno and highly recommend at least a stay of 2 nights in each.
Alternatively, you could spend 3-4 nights in each city if you want to enjoy some fab day trips that include castle visits, cycle trips, wine tasting and brewery tours.
Check out these top day trip picks from Prague.
Travel Insurance for the Czech Republic
World Nomads offers simple and flexible travel insurance. Buy at home or while travelling and claim online from anywhere in the world.
Alternatively, if you're a long-term traveller, digital nomad or frequent remote worker seeking travel health cover, check out Safetywing's Nomad Insurance policies.
Travel Money in Czechia
When it comes to getting paying for things in the Czech Republic, you want to ensure you're not being charged overseas transaction fees or getting poor exchange rates when using your card abroad, which is why I always take my Wise Card away with me wherever I travel.
The easy way to spend abroad with real exchange rates, no markups, no sneaky transaction fees and a free Czech Koruna (CZK) account, you can use your Wise card just like a debit card in the Czech Republic… and it links easily with Google and Apple pay – sold! Get yours here.
Where to Travel After Brno?
If you're looking to explore more of the Czech Republic after Brno, then I highly recommend the country's third city of Ostrava, which lies in the east of the Czech Republic, close to the Polish border.
Learn more about the top things to do in this city here.
Alternatively, from Brno, it's just an hour and a half by train to the grand Viennese capital of Vienna.
Learn more about this what to do in this amazing city here.
SAVE THIS TO PINTEREST!
So that's my guide about how to travel from Prague to Brno.
Hopefully you've found this information useful, but any other top tips you have to add that could help a fellow traveller out, please drop them into the comments box below…