Situated slightly to the east of Palermo, for those completing a circuit in west Sicily, Cefalù often gets left off the menu.
And this is also true for those sticking to east Sicily, because Cefalù is still miles away!
And this, in my experience leads to one of 2 things happening.
Either Cefalù gets missed entirely off people's Sicily lists, or they base themselves there and rarely leave!
Those who don't go, don't know, so are never able to share info about this Sicilian spot, and those that do go (and tend not to leave) keep the Cefalù secret close to their chest for obvious reasons!
Well, sorry to be the cat among the pigeons here people (does anyone know the Italian version of this English disruptor metaphor?), but I neither missed Cefalù, nor based myself there.
Instead, I visited for a full day from Palmero and, as such, feel I'm perfectly placed to bring you a balanced guide to this lovely Sicilian town.
So here goes – the complete guide to visiting Cefalù, in particular, her beautiful beach and charming old town.
They are, after all, the main places you're going to want to head to (Cefalù did make my list of the 10 best beaches in Sicily after all!), so let's get stuck in…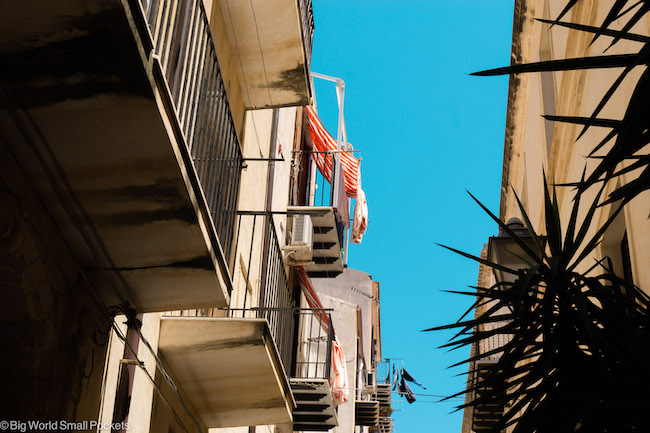 ---
Related Posts
---
This page contains affiliate links meaning Big World Small Pockets may receive a small commission on any purchases at no extra cost to you.
---
Why Visit Cefalù Beach?
So first up, we come to the obvious but unavoidable question everyone wants to know – namely why should they visit Cefalù?
And the honest answer is because this lovely town offers a slice of Sicily in a well-balanced, perfectly seasoned destination dish.
From a non-rocky beach with glorious sweeping views, to a stunning old town complete with great foodie spots, there's no doubt Cefalù weighs in heavily as a brilliant all-rounder.
I did, after all, name it one of the top places to stay in Sicily!
Far outstripping Catania and Taormina in my opinion, Cefalù is quieter and more unassuming, is lower on the international tourist crowds and generally feels more authentic – there's an unforced charm here that sweeps many off their feet.
But why, if Cefalù is so perfect, do you detect a hint of reticence in my voice, I hear you murmur?
Well first up, big points for being so astute and secondly, don't get carried away here.
I like Cefalù, I really did, but for me it didn't grab me enough to want to stay here for several days.
Visit on a day trip? Yes please!
But stay over and spend 2-3 days here? Just a little much for me.
And why's that?
Well quite simply, the answer is Palermo.
Were this incredible city not just 45 mins away by train and were it not so absolutely vivid and vibrant, then I certainly would have been swayed by Cefalù more.
But as with all things, our opinions on travel destinations are formed in context, not in a vacuum, and such was my infatuation with Palermo, that I was I found it hard to move on to any new love with quite as much fervour as I would otherwise.
So if you want my advice, absolutely visit Cefalù and enjoy all she has to offer, but just make sure you don't miss out on Palermo in the process!
When to Visit?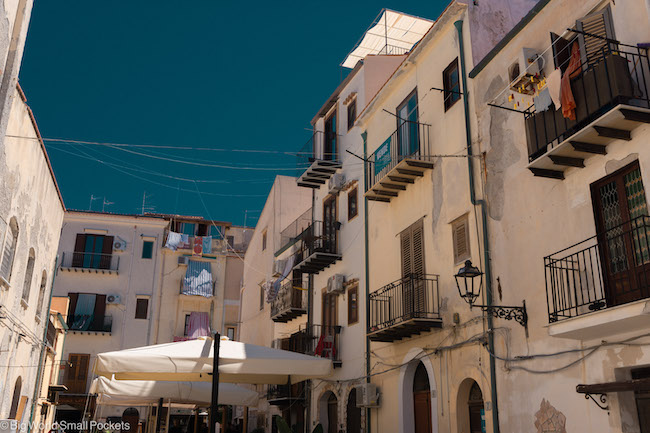 And with that slightly downbeat, but nevertheless honest introduction out of the way, I'm here to tell you that the best time to visit Cefalù, as with the whole of Sicily in general, is during the late spring months of May and June, or the early autumn months of September and October.
These times combine a dry and warm weather climate – still good for swimming at the Cefalù beach – with plenty of local festivals.
Visiting during these months also ensures you miss the peak crowds and insane humidity of July and August, when the island really gets too hot for sightseeing… or even the beach!
How to Get to Cefalù?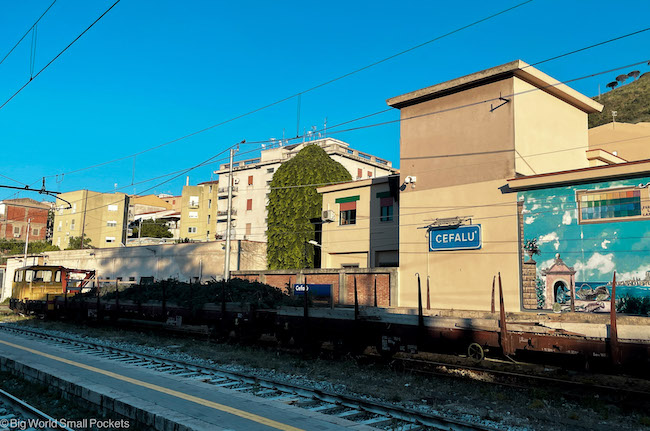 If you're looking to head to Cefalù from the capital of Sicily – Palermo – like most travellers, then I've actually written a whole post about the best way to make this journey, so hop across to it here to learn more.
If you're travelling to Cefalù from elsewhere on the island – perhaps Messina, Taormina or Catania in the east – then driving the 2-4 hours across to this city is probably the best option.
Trains and buses are also available, but it's worth knowing in advance that public transport connections (while good in both east and west of the island respectively) are not great between the 2 halves of the island.
Check out timetables for trains (which are the best of the worst options!) here.
Worth noting that with any public transport, you'll arrive into Cefalù's new town, which is about a 15 minute walk to the historic city and beach, where you'll want to spend most of your time.
If you're driving into Cefalù, then be warned parking here is a nightmare! Forget going anywhere near the Old Town and just try to find a spot wherever you can in the New town is my advice!
And remember to check the payment and regs of wherever you've miraculously managed to find a spot too!
Parking is just another reason I don't recommend basing yourself in Cefalù – going out every day and then having to spend half the evening trying to find a park is not my idea of a good idea!
How Long to Stay?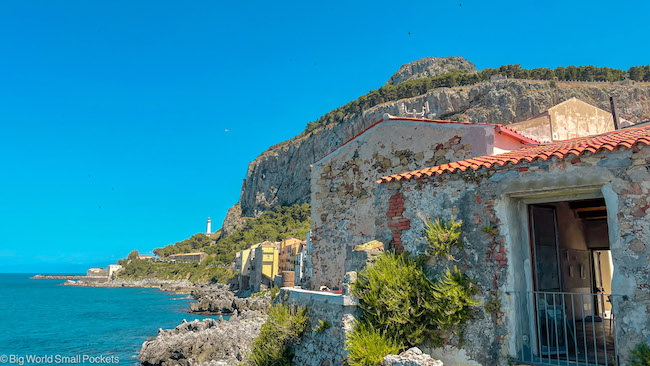 If you managed to get through the needlessly lengthy and first section of this post, you'll realise that I think the perfect amount of time to visit Cefalù and its beach for is a day.
That's not to say I didn't love this town and its coastline – I certainly did – but when time is precious on your holiday, you don't want to spend more time in a place at the risk of missing out on others.
And Sicily has sooo much to offer it's unreal, so don't miss out on any of it!
Of course, you could use Cefalù as your base to explore more of Sicily but, because of its location east of Palermo and the fact that public transport direct from the town isn't that great unless you're going to Palermo, I wouldn't recommend it.
Things to Do in Cefalù Old Town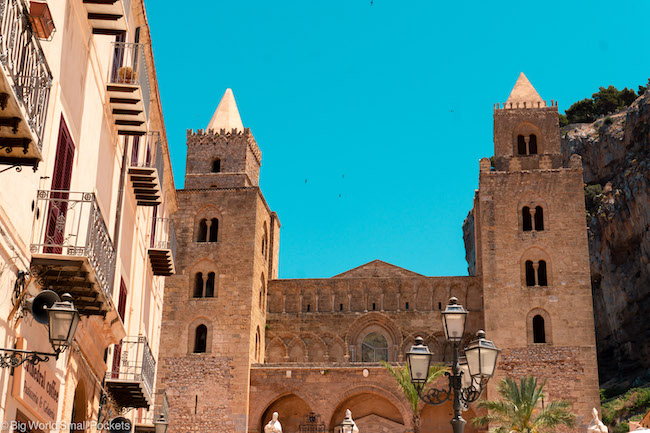 And now we come to the fun part – the best things to do in Cefalù.
I've written this list with day trippers in mind because if you take a long day out in Cefalù from Palermo, which you easily can with such regular train connections, then you really can cram a lot in.
Begin your day at the wonderful gates of Cefalù's Old Town. An ancient walled city, the golden sandstone colours only add to the amazing snaps you can get of this place.
As you enter the historic part of Cefalù, my advice is to head straight to the main section before the crowds and to enjoy the early morning light in the Piazza del Duomo.
Pull up a chair at a café with a view of the Cathedral, order an espresso and a cornetto, and do this Italian thing properly! Café Agorà, right in front of the Cathedral, is the obvious choice.
Next I recommend visiting the Cathedral itself – again it's best to get here before the crowds do and to also avoid sightseeing in the heat of the day.
Usually open from roughly 8am until 6pm, with a hefty lunch break in the middle of the day of course, this impressive UNESCO-listed structure was constructed between 1131 and 1240.
During the day, there's 3 different "itineraries" to choose from – each one essentially represents a different type of ticket and gives you access to a certain area of the Cathedral.
The itinerary type must be selected, along with the date and time, when purchasing your entrance at the official Cathedral site here.
After the Cathedral, take a wander through Cefalù's Old Town and its historic streets to soak in the atmosphere as fruit sellers go from house to house and people sweep outside their storefronts.
Grab a gelato from just about anywhere (don't miss the gelato brioche if you haven't sampled it in Sicily already) and make your way to the Medieval washhouse, via the Mandralisca Museum if you have time.
The Medieval washhouses won't take long to visit – you literally descend some steps and you'll see the stone basins and fountain – but they are a wonderful remember of how old this city is and the atmosphere as you descend the steps to the cool, slightly dark washroom below, is unforgettable.
Next, it's time to make your way up to La Rocca di Cefalù to enjoy stunning views over the town and coast from this elevated spot.
The trail starts at the end of Via Pitre and, once at the top, you'll also be rewarded with the ruins of an old Norman castle that once stood here.
Snap away to your heart's content – the views over Cefalù's beach and coastline here are gorg – before you descend just in time for lunch.
Treat yourself to a delicious meal in the Old Town with a view of the sea.. well, when you've come this far it would be rude not to!
Ristorante L'Antica Corte hit the spot for me.
Afterwards, you can stroll to the nearby Bastione di Capo Marchiafava to take in yet more views!
Cefalù Beach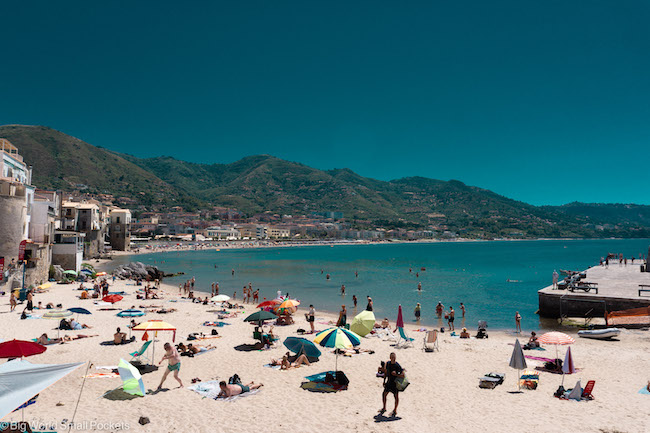 And then, after all that sightseeing, you've got the perfect excuse for a siesta, because what better way to spend the rest of your time in Cefalù than at its gorgeous beach?
There's a few things I loved about this beach and first up it's the obvious point that, unlike most coastal spots on Sicily, Cefalù's beach is not rocky.
I'm not sure it can entirely be described as sandy, but it's definitely not rocky – a win for that siesta if you're hips are as bony as mine!
Next up, are the amazing views from Cefalù Beach.
Honestly, I'm not sure I've seen a sweeping view quite like it and I really do think it's one of Sicily's best – remember to snap before your siesta!
Next, it's the fab Old Harbour here.
Now I don't know about you, but personally, I love a harbour bay. I find they really give the feel of a beach being embedded in the life of a place, rather than just a pristine show pony looking immaculate on the flanks!
And what I really loved about Cefalù beach is that it's definitely used by locals in every way.
Fishing boats bob in the bay, kids jump off the pier, sellers stroll with their wares and curtains flap from the balconies above.
Everywhere this beach oozes soul and that's what I loved about it.
Also, it was busy and bustling yes, but not hectic and overcrowded AND you didn't have to pay for a deckchair or parasol (I'm looking at you San Vito lo Capo!)
Yes just head down with your old towel, your aqua shoes and your stripy umbrella, like every other Italian, and get stuck in!
And finally, Cefalù beach – at least the part I went to, which is right in front of Old Town and known as Spiaggia Vecchio Molo – has the cutest beach bar café, which was literally built into the rock face.
Don't miss this tiny bar (is it the smallest in the world? maybe), which is owned by a lovely local guy and sells deliciously cold Messina Cristalli di Sale – Sicily's finest pure malt unfiltered lager with a dash of sea salt from the salt pools of Trapani. You'd be mad not to try it!
Chiosco Marina Bay is the bar's name, but you just walk to the end of this beach and up some small stone steps into the rocky doorway and you'll find it!
How to Get Around Cefalù?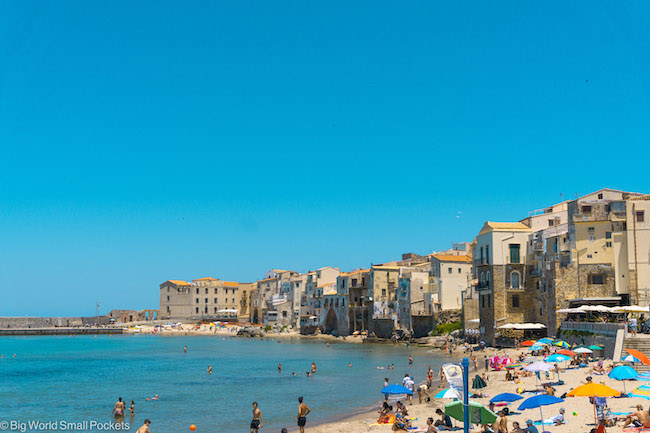 You can walk everywhere in Cefalù and I wouldn't advise even thinking about doing anything else!
Where to Stay in Cefalù?
If you do want to stay in Cefalù for longer than a day (and who can blame you now that I've sung the praises of its beach so highly!), here's my top picks, which are all located in the Old Town.
You'll pay a little more for this location than the New Town, but it's def worth it!
Affordable: Dolce Vita Bed and Breakfast
Mid Range: House Maranto
Decent: BM Suites
Top Views: Duomo Apartments Cefalù
Splurge: Palazzo Maria
Top Cefalù Food Tours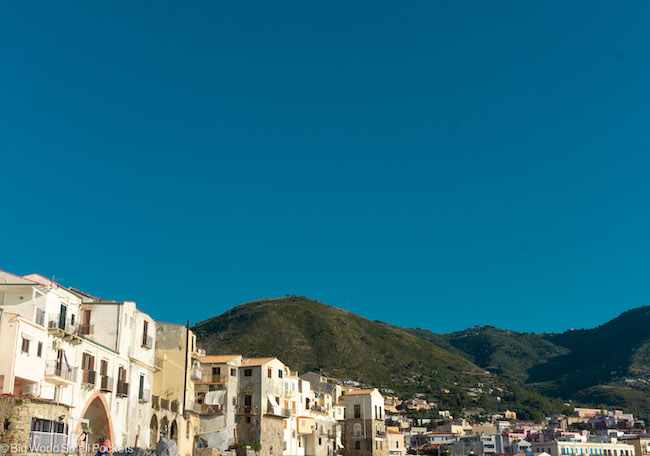 And if you are planning on staying longer in Cefalù, then you might also want to consider some of these top tours and activities which run from the town. They are recommended especially for the foodies among you!
Travel Insurance for Sicily
World Nomads offers simple and flexible travel insurance. Buy at home or while travelling and claim online from anywhere in the world.
Alternatively, if you're a long-term traveller, digital nomad or frequent remote worker seeking travel health cover, check out Safetywing's Nomad Insurance policies.
Travel Money in Sicily
When it comes to paying for things in Sicily, you want to ensure you're not being charged overseas transaction fees or getting poor exchange rates when using ATMS or paying by card, which is why I always take my Wise card away with me wherever I travel.
The easy way to spend abroad with real exchange rates, no markups and no sneaky transaction fees, you can use your Wise card just like a debit card here… and it links easily with Google and Apple pay – sold! Grab yours here.
SAVE THIS TO PINTEREST!
And there you have it, my complete guide to visiting Cefalù and its beach.
Have I missed anything out?
If you have any more tips to add (I would especially love to hear from any locals!), then please drop them into the comments below…