If you're visiting the west of Sicily than Cefalù is a must-see destination!
Boasting a cute beach that diverts nicely from the usual rocky offering on this island, the gorgeous spot is also home to a historic old town, awash with quaint streets, great restaurants and a mighty old Cathedral.
Well, come on, this is Italy after all!
And add to this list the fact that Cefalù isn't far from the capital of Sicliy, Palermo as well as its airport, and you've got yourself a winner of a spot – either for a day trip, an overnight stay or a lovely holiday base.
But how to get to this charming coastal town from said capital and airport?
Read on to discover all the ways to make this journey, no matter whether you're pushed on time, short on budget or have the freedom of your own wheels.
Yes, covering train, bus, taxi and self-drive options, this full guide has you covered when it comes to travelling from Palermo to Cefalù, to make sure you don't miss either destination out!
---
Related Posts
---
This page contains affiliate links meaning Big World Small Pockets may receive a small commission on any purchases at no extra cost to you.
---
How to Get to Palmero First?
When it comes to getting from Palermo to Cefalù, I thought it might first be useful to briefly mention how you get to Palermo in the first place.
The capital of Sicily, most people arrive into Palmero via the international airport, which is the major transport hub for those enjoying a trip to this glorious Italian island.
As always, I use Skyscanner to find the best flight deals as they include budget airlines in their search (and yes I flew with Ryanair to Palermo from London Stanstead for my sins!)
Once you arrive at Palermo airport, you can then either head straight to Cefalù, which I'll detail shortly in this article, or you can first head into the city centre of Palermo to check out this fab capital.
The airport lies 35km from the city centre, but there's several easy ways to get into town, including taxi and rental car, as well as shared collective taxis, which costs just 8€ – no prizes for guessing which option I went for!
Learn more about all these options, as well as why I loved Palermo so much (and highly recommend you spend at least 2 days there), in this article which talks all about the 13 best things to do in the capital.
Alternatively, if you're travelling in Sicily already, perhaps visiting Trapani or Catania, then both buses and trains can be taken to reach Palermo.
Check out Omio to compare journeys and buy tickets online for both these modes of transport.
From the centre of Palermo, it's then less than 70km to Cefalù, which is why you can easily either take a day trip there from Palermo, spend a night or 2 in both locations, or simply bypass the city and head straight to Cefalù from the airport.
The choice, as they say, is yours.
Here's how to make this journey…
#1 By Train
Good for Day Trippers, Solo & Budget Travellers
So the first way to travel between Palmero and Cefalù is by train.
This is the cheapest option for moving between the 2 cities, and is used by many locals and tourists alike.
The train journey is cheap and straightforward, which is a blessing because, in the absence of a bus route, this is your only public transport option.
I travelled to Cefalù myself using the train and found the service clean, comfortable and easy. Aircon was a bonus!
The train from the capital to Cefalù departs from the city's main train station – Palermo Centrale – which is located in the heart of the city centre at Piazza Giulio Cesare.
The journey is direct and takes between 40 and 60 minutes. Tickets cost 6.20€ and can be bought in advance online here at Trainline.
This will save you the hassle of having to go to the station in Palermo to buy the ticket and possibly wrestling with someone whose English may be as bad as your Italian!
There's an average departure every hour with the first train leaving Palermo Centrale at 5:07am and the last one at 9:35pm.
If you plan to take a day trip, then the frequency and ease of trains between Palermo and Cefalù makes it a great transport option.
Head there in the late morning and return in the evening if you feel like making a full day of it – I certainly did!
The last train back to Palermo Centrale leaves Cefalù at 10:14pm.
There's only one station in Cefalù, which makes things easy too, and from the station it's about a 15 minute walk down through the New Town and along the seafront promenade, from where you can enter the walled historic Old Town.
Buying a return ticket if you do plan to day trip to Cefalù from Palermo will save you the hassle of again going to the ticket office, so I'd always opt for it.
#2 By Taxi or Airport Transfer
Good if You're Coming Straight from Palermo Airport
The second option when it comes to travelling from Palmero to Cefalù is by taxi.
This is the most expensive option, and should be arranged in advance, but it will, of course, be private and comfortable.
Taxi or private transfer are great options if you're arriving into Palmero airport and want to get straight to Cefalù – taxis hang around outside the arrivals terminal and are therefore super easy to catch.
Getting a taxi is also a quick option – you'll be taken straight to Cefalù without making any stops – ideal if you have accommodation booked there and either don't want to deal with heavy luggage, or are arriving too late to navigate getting to the city of Palermo and then the train.
In general, taxi drivers picking up tourists at the airport will usually speak a good level of English, but do ensure they are from a reputable company (airport rank taxis should be) and be aware that, usually, you'll need cash to pay the driver – there's ATMs at Palermo airport if you need to get some cash out.
Always agree a journey price in advance of the trip, or ensure the meter is on and they understand exactly where you want to go.
From Palermo airport to Cefalù 130€ is a fair price.
Sadly Uber and other rideshare companies are not currently operating in Sicily, so you can't rely on them I'm afraid.
If you want to book a taxi service from Palmero airport in advance, I highly recommend WelcomePickUps, who offer a secure, premium service.
The other option is to get a taxi from Palermo airport to Palermo Centrale, and from there get a train to Cefalù.
This will save you the hassle of getting into the city centre, but won't cost you nearly as much as a taxi the whole way.
#3 By Rental Car
Good if You're Heading off to Explore More of Sicily After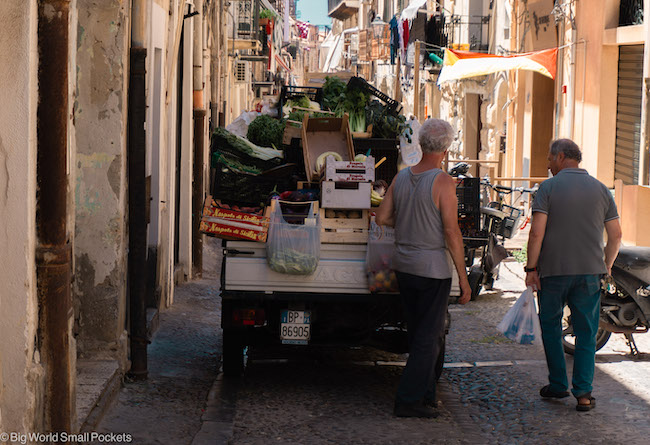 And the third way to travel between Palmero and Cefalù is by car.
This is another easy option thanks to the fact you can usually rent a car from the airport when you fly in.
Mercifully, the Sicilians tend to be more chilled out than drivers in other parts of Italy (I'm looking at you Naples!) and so renting a car is perhaps less of a stressful experience here than you may fear.
Car hire also tends to be quite affordable, especially if there's a group of you, so grab a great deal here.
If you're driving from Palermo to Cefalù, then it's great to know the journey only takes an hour and you simply need to follow the E90 all the way.
If you're coming from Palermo Airport, the journey is slightly longer (about 15 mins longer depending on traffic), but it's still straight along the E90 – easy!
Don't forget to add fuel costs to the expense of renting a vehicle, as well as parking costs.
You'll definitely need to pay for parking in Cefalù if your accommodation doesn't offer it so this is well worth asking about!
#4 Tours of West Sicily
Good for Those Who Want Things Organised For Them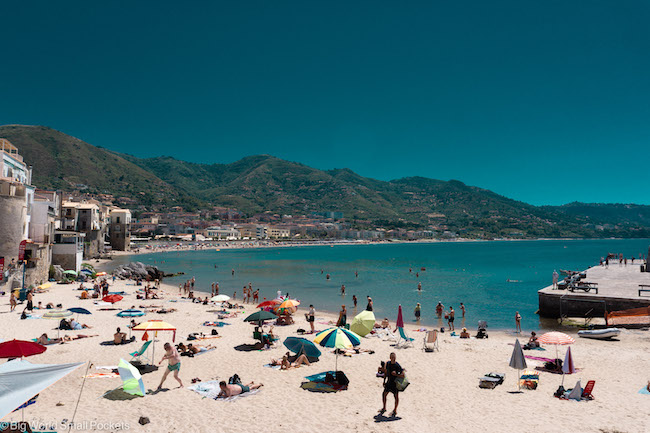 Finally, you also have the option to travel from Palermo to Cefalù as part of a tour.
Either this could be as part of an overall tour of Sicily – check out these great options if you're looking for a fully guided tour of the island – or you can also take day trips from Palermo to Cefalù, here's 2 top picks:
Whether you take a full tour of Sicily, or a guided day trip to Cefalù, it will mean you won't have to organise anything, which definitely has its advantages!
Travel Guide to Palermo and Cefalù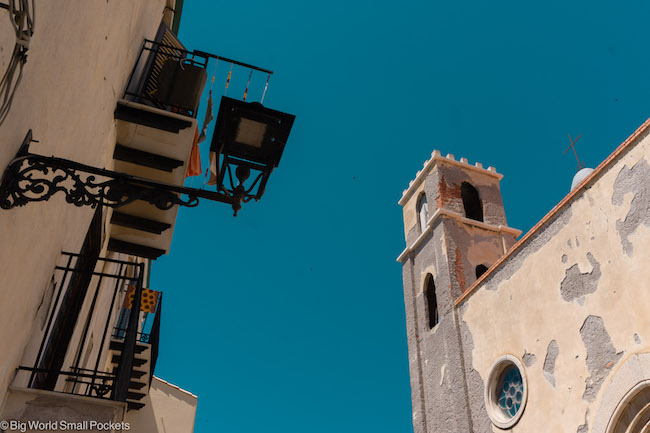 When to Visit?
The best time to Palermo and Cefalù is during the spring months of May and June or the autumn months of September and October.
Check out the full article I wrote about when to visit Sicily here.
Where to Stay?
For a list of recommended places to stay in Cefalù, check out these great options.
For top Palmero accommodation picks, click here.
How Long to Spend There?
I loved both Palmero and Cefalù and highly recommend at least a stay of 2 nights in each.
Alternatively, you could spend 3-4 nights in Palermo and just day trip to Cefalù, which is what I did.
This does save you the hassle of packing up and moving accommodation, which I appreciated!
Travel Insurance
World Nomads offers simple and flexible travel insurance. Buy at home or while travelling and claim online from anywhere in the world.
Alternatively, if you're a long-term traveller, digital nomad or frequent remote worker seeking travel health cover, check out Safetywing's Nomad Insurance policies.
How to Access your Travel Money?
When it comes to getting paying for things in Sicily, you want to ensure you're not being charged overseas transaction fees or getting poor exchange rates when using your card abroad, which is why I always take my Wise Card away with me wherever I travel.
The easy way to spend abroad with real exchange rates, no markups, no sneaky transaction fees and a free Euros account, you can use your Wise card just like a debit card in Italy… and it links easily with Google and Apple pay – sold! Get yours here.
SAVE THIS TO PINTEREST!
So that's my guide about how to travel from Palermo to Cefalù.
Hopefully you've found this information useful, but any other top tips you have to add that could help a fellow traveller out, please drop them into the comments box below…