The quiet and entirely unassuming city of Bratislava is one of the most underrated metropolis in Central Europe.
Sandwiched between Budapest and Vienna (check out this amazing bus / boat trip if you want to cruise down the river to Bratislava from the Austrian capital), the main city in the tiny nation of Slovakia really is a surprise treat; and, if you're on a bit of a Euro city tour, it provides a bit of welcome relief from the hectic city madness too.
Feeling more like a provincial town, than the centre of a nation, Bratislava is wonderfully relaxed and full of open spaces – a city where the greatest noise comes from the trams rattling over the cobbled streets.
So if you're looking for the definition of an anti-capital, look no further than brilliant, beautiful Bratislava.
---
Related Posts
---
This page contains affiliate links meaning Big World Small Pockets may receive a small commission on any purchases at no extra cost to you.
My stay in Bratislava was kindly sponsored by Dream Hostel but, as always, all views are my own!
---
#1 Check out the Free Galley Spaces
There's a heap of tiny galleries dotted around Bratislava and while you, unfortunately, do have to pay to enter most, there are a couple of free and excellent ones you should definitely put on your list of cheap things to do in Bratislava.
2 of the best I checked out where the HIT Gallery and Medium – located almost next door to each other, they had some small, but lovely exhibitions when I was there.
#2 Find all the Street Sculptures
And sticking with the art theme, you'll soon realise that Bratislava is as famous for its quirkiness as much as anything else!
Probably why I liked this city so much!
Anyway, one of the main reasons why it gets this title is because of the sculptures that dot the streets in interesting locations.
Most of them relate to some part of the city's history and they are very popular selfie spots among tourists too!
#3 Snap the Old Town
So while we're speaking about the sculptures of the Old Town, it's worth saying that the beautiful old town on Bratislava is more than worth a few snaps on your memory card.
The main tourist hub of this city, the quaint streets, multiple churches, picturesque archways and charming atmosphere of this old town are truly delightful.
Exploring early in the morning or later in the evening when the many day trip groups from Vienna aren't around is a great idea, and highlights include the Old City Walls, St Martin's Cathedral, Michael's Gate, the Trinitarian Church and Old Market Hall.
I also loved the sense of stepping back in time many of the quiet streets of Bratislava provided, as nuns in habits darted across the cobbles.
If you have 2 days in Bratislava, I recommend spending your first day in the Old Town area and then, on your second day, heading out of town to enjoy some of the area's other best attractions.
#4 Take a Free City Tour
But if you don't have the luxury of a couple of days to really get into the pace of Bratislava (read: unwind) then don't fret, because this city is so small, it's also quite easy to see in a day.
And a great way to become quickly acquainted with it is to jump onto a free city tour.
Running on a tip basis only, this is definitely a brilliantly cheap thing to do in Bratislava.
In fact, there's a few different tours to choose from and some are even ghost night tours!
Otherwise, Bratislava Tourism have a free app you can easily use as your personal, offline guide to the city. Learn more here.
#5 Hang in Parks, Squares and Fountains
One of the main things I loved about Bratislava – probably because I visited in the summer when it was about 2 million degrees! – were the number of parks, squares and public gardens in the city.
And checking out at least a few of them is definitely one of the best cheap things to do here.
My favs included the manicured Presidential Gardens, the huge City Park and the Gardens by the Slovak National Theatre, which even has a great fountain / mini pool that locals and tourists alike dip their toes in to cool down.
#6 Caffeinate Heavily
Rejoice, rejoice, Bratislava is café heaven!
In fact, I wonder if there may be more cafes here per street than Istanbul… and that's quite a claim!
And what's more… the coffee is good and the avocado on toast is delicious!
#7 Scale to the Castle
No list of the best things to do in Bratislava would be complete without mentioning the iconic castle that looms over this city in a fairytale kind of a way.
But because this is a list for us budget travellers, I'm not going to suggest here that you pay to go into the castle!
Instead, take the free stroll up, make use of the exercise, marvel at the views from the top and then enjoy a pleasant siesta in the grassy gardens in the shadow of this ancient structure – delightful!
#8 Stroll the Riverside
And from the castle grounds, you can also view another of Bratislava's quintessential quirky features – its famous UFO bridge.
Just look across the water and you'll spot it!
If you've got a few spare Euros, you can even climb it.
Otherwise, why not head down to the castle and stroll along the bridge.
Walking here is a delightful way to take in the views of the city and definitely one of the best things to do in Bratislava on a budget.
Why not see if you can discover the mini-city beach nearby while you're at it? Great place for sunset drinks FYI!
#9 Marvel at the Views from Slavin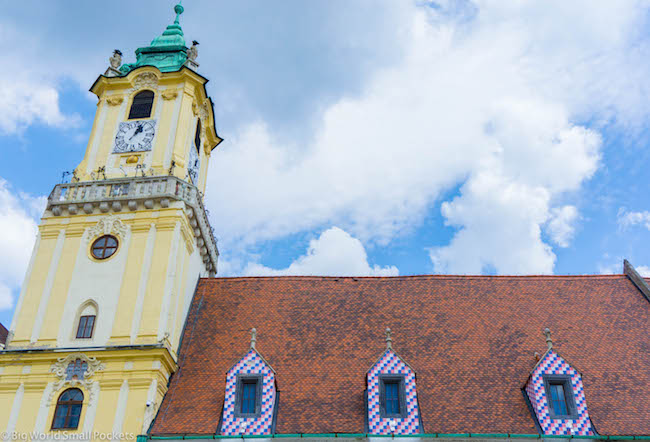 Another great vantage point and one of the best free things to do in Bratislava is to scale to Slavin, the huge war memorial that stands proudly on a hill above the city.
It's a hike up here, but worth it for the lookout and the sunset snaps!
#10 Get Out of the Old Town
Of course, the Old Town is nice, but it's also super touristy and getting outside of it to discover some of the "real" Bratislava is a must if you have enough time.
Even wandering the streets just outside the historic centre will bring you in touch with everyday life here, as students bustle to class and older people savour their coffee on the street.
With a lively university population, as well as a growing tech industry and tourism quota, Bratislava is upbeat, progressive and positive… I like it!
Plus the Blue Church and the Slovak Radio Tower, both located outside of the Old Town, are well worth checking out!
Best Affordable Bratislava Accommodation
And if you do want to head to Slavin easily for sunset, then the best budget place to stay in Bratislava is Dream Hostel.
In fact, this hostel is brilliant full stop, with some of the friendliest staff I've ever met, a gorgeous little bar area and some beautiful aircon dorms and private rooms!
Plus its location is top-notch!
If you want something with self-catering facilities, then this city centre apartment offers great facilities and gets great reviews.
The Best Bratislava Day Trips
Devin Castle
Danubiana Art Gallery
Kamzik for the views
Hiking in Pajstu
The Best Cafes in Bratislava
Hipsters, foodies and coffee lovers unite, there's tons of fun cafes in Bratislava and here's my pick of the bunch:
Lab Café
FoodStock
Urban House
Fach
How to Get To Bratislava
Getting across from most parts of central or Eastern Europe to Bratislava is easy via bus or train.
I actually travelled there overnight from Budapest and found the journey easy and safe.
As always, I book all my train and coach travel across Europe using Trainline – I like the way they compare multiple journeys and use split-fare technology to get you the best prices.
Alternatively, you can also fly into Bratislava and I recommend checking Skyscanner for the best prices.
5 Packing Esssentials for Bratislava
#1 Good Camera – You will be pretty much snapping non-stop in Bratislava and will need a good camera to do this gorgeous destination justice. I highly recommend the Sony A6000, which I use for all my travels and love, not least because it's light, compact and robust!
#2 Good Walking Shoes – There will be a fair amount of walking in Bratislava, so make sure your feet are comfortable with a pair of New Balance Trainers. Perfect for stylish city strolling, I love mine!
#3 Good Guidebook – I'm still a massive fan of the Lonely Planet Guidebooks and do think their Czech and Slovak Republics edition is well put together and able to save you a lot of money if you want to learn about the history of this city, but not pay for a guide!
#4 Good Water Bottle – All the city sightseeing is thirsty work, so make sure you have a metal water bottle that you can refill as you go, because Bratislava tap water is drinkable… and free!
#5 Good Backpack – And to carry your water bottle, camera and guidebook, you're going to need a decent backpack that will help you balance the weight as you walk the city streets. In my opinion, you can't go past the Bobby Anti Theft Backpack, which is also perfect for helping you avoid pickpockets too.
Best Travel Insurance for Slovakia
I wouldn't dream of travelling to a country like Bulgaria without proper coverage and always recommend travel insurance from World Nomads which I've used during my time in the country and across the world.
World Nomads are actually one of the few companies that will insure you for a huge range of outdoor activities as standard – essential for a country like this.
Alternatively, if you're looking for travel insurance with Covid-19 cover, then look no further than Safetywing's great Nomad Insurance policies. These guys will cover you at some seriously great prices, including if you have to quarantine!
PIN IT TO PINTEREST!
And there they are, my 10 brilliantly cheap things to do in Bratislava.
Have you visited this characterful city?
Did you love it too?
What was your favourite thing to do there?