There's no denying Bucharest, the capital of Romania, is a strange city!
Visiting it as part of my grand eastern European tour, I was accustomed to visiting capital cities with glaring attractions, landmark sites and streets upon streets of action.
Getting to Bucharest – a city with no discernible centre, aside from a rather drab and unconvincing Old Town – was, therefore, something of a surprise!
But despite arriving on an overnight bus from Bulgaria, having had little sleep and having little to no idea of my chance of success, I set about trying to find the soul of Bucharest and on the way encountered some amazingly fun things to do in this city!
So if you're heading to Romania soon, please don't write Bucharest off – honestly, just a small amount of time to get lost in her bookshops, markets and cafes will reveal the heart of a warm, working and very real city that isn't very obvious at first!
Oh, and did I mention it's CRAZY cheap?!
I know!
It's time to read on and learn more…
---
Related Posts
---
This page contains affiliate links meaning Big World Small Pockets may receive a small commission on any purchases at no extra cost to you.
---
#1 Get Buzzed at the Coffee Shops
So in my quest to find the heart of Bucharest, I discovered that every inch of the soul of this city lay outside the Old Town – a fact I quickly realised after just 2 minutes strolling in this wall-to-wall-cheap-bar-tacky restaurant-tourist-trap-of-a-place.
Sorry, am I being a bit blunt?!
Anyway, the point is to avoid the Old Town of Bucharest like the plague and instead spend your time exploring the surrounding suburbs of this city, where progressive young and interesting locals can easily be found and engaged!
Of particular note are this city's cafes and there's no doubt that one of the most fun things to do in Bucharest is get seriously buzzed in as many coffee shops as possible!
And there's a whack to choose from.
Yes outside of the Old Town, Bucharest is laden with fun, funky and delicious cafes, filled with fun, trendy Romanians and barely another tourist in sight – delightful!
Top of my list were the famous Origo Espresso Bar, Artichoke Café, M60, Steam and T-Zero.
Did I mention I'd tried a few?!
#2 Stroll the Cișmigiu Gardens
The lungs of this city, and one of the biggest parks around, there's no question that heading to the Cișmigiu Gardens is one of the best things to do in Bucharest, especially if you're on a budget… because it's FREE!
Yes, this central city park is loved by locals and tourists alike and, in the hot summer, it's the perfect place to escape the relentless humidity and relax in Bucharest.
Pedalos can be rented to cruise the river, otherwise strolling the park's bridges, people, watching and reading a book on a bench are the must-do activities!
Tough gig right?!
Herăstrău Park and Bucharest's Botanical Gardens are 2 other great options if you're looking for green space in this city.
#3 Soak up the Craft Beer Culture
If you're a fan of the ruin pubs in Budapest, then you're in for a treat in Bucharest, where these great independent drinking holes are still genuinely filled with locals wanting a well-priced and delicious beer in interesting surroundings!
Top of my list had to be Fabrica, which is something of an icon in this city. Nomad SkyBar and Check Control Club are also popular spots to look out for.
Without question heading out for at least one night of fun is definitely one of the top things to do in Bucharest.
And for those on a budget, don't despair, Bucharest is so crazy cheap you won't even have to worry about how many you have had.
At least not when it comes to your wallet anyway!
#4 See the Unirii Square Fountain Show
And while we're on the subject of things to do in Bucharest during the evening, then you can't miss the Unirii Square Fountain Show!
Taking place from May to October, if you've seen a fountain show before, you'll get the idea, but essentially it's a rather heart-warming display of music, light and water that brings lots of local families and tourists out!
Free to see and lasting about 45 minutes, the 44 individual fountains here spring into life between 8pm and 9:30pm depending on the month you head there, so ask at your accommodation for the current start time.
#5 Meander the Independent Bookshops
I've never met a country so in love with bookshops as Romania, and I'm attributing this to one of the main reasons I enjoyed this country so much – along with the fact it's amazingly cheap… did I mention that?!
To put it frankly, a love of independent bookstores is a big tick in my book and this city has them by the dozen, meaning meandering to at least a few of them (and trying not to buy too many new titles) is absolutely one of the best things to do in Bucharest.
I can't mention bookshops in this city without talking about Cărtureşti Carusle, situated in the heart of the Old Town, but even higher on your list should be the delightful Cărtureşti Verona and sensational Anthony Frost – ideal if you're looking for some English books.
#6 Check Out the Churches & Synagogue
With an eclectic history and a diversity of religious buildings to back it up, it's definitely worth taking the time to explore a few of the amazing churches, plus the Grand Synagogue, in Bucharest.
Situated slightly southeast of the Old Town, it's easy to stroll to the Grand Synagogue and glance inside to peek at the amazing interior.
Although now closed for active services, there is a great museum here depicting the Jewish experience in Romania, both before and during WWII.
When it comes to Churches in the city, checking out the amazing frescoes of the Kretzulescu Church (located near Revolution Square) and the beautiful Orthodox building of the Old Princely Court Church, which is thought to be the oldest church in the city (dating back to the Medieval period), are great options.
Given the dominance of the Orthodox Church in Romania, it's fascinating to learn more about this different branch of Christianity by visiting some of its religious monuments.
#7 Gawp at the Palace of Parliaments
It's literally insane how big this building is!
And that's because it's the second-largest administrative building in the world… after the Pentagon!
Featuring the work of a rumoured 70o architects, the building measures 84m high and is valued at 4 billion Euros!
Yes in little, old Bucharest sits this monstrosity, which somehow seems to encapsulate everything awful about the former dictator, Ceaușescu, that the poor Romanian people suffered at the hands of for far too long.
Allegedly unfinished, yet still boasting an insane 3000 rooms, the palace now houses the lower and upper houses of the Romanian parliament.
You have to pay to get an inside tour of this crazy place, yet can gawp at its sickening size and opulence from the outside for free!
If you are keen for a tour, and a peek inside, then this top-rated communist tour of Bucharest includes the Palace of the Parliament and is a great way to learn how the Soviet era defined this city and the country.
#8 Eat, Eat and Eat Some More!
Perhaps not the most elegant national cuisine, what traditional Romanian food lacks in pizzazz however, Bucharest more than makes up for with its great range of international eateries and funky, young cafes.
Brunch is big here as the hipster movement swells (I'm for it), so join the local cool crowd and head out for a lazy breakfast at one of the many amazing independent spots on offer.
Top of my list have to be…
Energiea – delicious green smoothies and hummus
Mercato – a street food urban market
Diani 4 – which has a gorgeous garden setting and feels rather like dining in someone's house!
#9 Take a Historical Food Tour
If you do want to sample some local food however, and experience this country's culture by tasting your way through its historical influences, then this awesome Sites & Bites Tour could be just the answer.
Combining a pleasant walk through the city centre's main historical landmarks, with plenty of heritage-inspired snack-stops along the way, this is an awesome food tour that will have you tasting plenty and learning a lot too!
Meeting up in Revolution Square, the heart of the spontaneous social uprise that started more than 30 years ago and culminated in the fall of communism, you'll then slowly walk down to the Old Town, discovering the city's colourful history along the way.
An incredible 3 course meal will end this 3 hour tour with lots of laughter, photo sharing and eating more than you probably should!
#10 Explore the Myriad of Memorials & Squares
With more than its fair share of bleak, depressing and awful history, the capital of Romania also has more than its fair share of statues, monuments, squares and memorials to commemorate this liturgy of horrors.
There's also a hell of a lot of random statues thrown in too which, as a tourist, will have you bewildered and reaching for Google at almost every corner, until you get bored, give up and just accept the fact you have no freaking clue who these people are and why they have a stone monument constructed in their honour!
However, of those that are worth Googling and seeing, the Rebirth Memorial in Piața Revolutei, the Romanian Athenaeum in Piața Romană and the Triumphal Arch (a mini version of Paris' icon!) all deserve a special mention on this list of the best spots to visit in Bucharest.
#11 Get off the Beaten Track at the Markets & Mahallas
Another great way to discover Bucharest is through its bohemian markets and mahallas!
A guided tour is a great way to get under the skin of this side of the city and this brilliant option perfectly blends history and flavour by taking you on an amazing journey through the early 20th century neighbourhoods of the capital, including the Jewish and Armenian quarters.
The incredible contrast between run-down houses and opulently restored ones is an image you will often find around the historical areas of Bucharest and is just one of the reasons the city is so fascinating.
Visiting the Obor Market – the biggest and liveliest in the city – is another top thing to do in Bucharest… imagine the Boqueria Market in Barcelona, but better!
Included in this great guided tour too, Obor is where you can try local delicacies including mici and palinca before walking through the craftsmen hall, the meat & fish halls and the moonshine department, sampling and savouring as you go!
#12 Experience a Dacia Communist Driving Tour
If, however, you're looking for a more landmark-centred tour of Bucharest, then listen up!
Rather than heading out on a crowded bus or a limited-reach bike tour like most tourists, why not see this city from the window of a vintage bombshell instead?!
And yes, I am talking about the iconic communist-associated vehicle that is the Dacia 1310!
With the possibility to head out by yourself, or with a private driver, this amazing sightseeing tour in a fully restored model from the 70's really offers the best way to take in the city.
The tour covers almost 30km of Romania's capital, passing the grand boulevards as well as all the major landmarks, and rolling through Bucharest in this 35 year old beauty means there's no doubt you'll quickly become an attraction in this city too!
#13 Day Trip to Transylvania
Much as I loved Bucharest, there's no question that if you only have a few days to travel, enjoying a day trip from the city can be a great way to make best useof the time you do have.
Enter this great day trip to Transylvania.
While I do recommend taking the time to properly savour this region if you can, if you are short on days in Romania then a guided day trip to this famous mountain area, filled with iconic castles, could be for you.
One (albeit long) day, you'll get to experience the highlights of this historically rich region, with the first stop being the Peleș Palace in Sinaia.
While still technically the property of the Royal Family, this palace has now been open to the public for quite some time now and is a great example of what the Romanian Monarchy was like before the Republic.
Next, you'll head on to the quintessentially Saxon city of Brașov (learn more about the top things to do in this city here), before finishing at the legendary Dracula's home!
Even if you don't know the legend, this castle is quite spectacular on its own in terms of architecture and, set on top of a huge rock with a backdrop of the highest mountains in Romania, you can't argue that the setting is gorgeous!
#14 Savour an Amazing Transfăgărășan Road Trip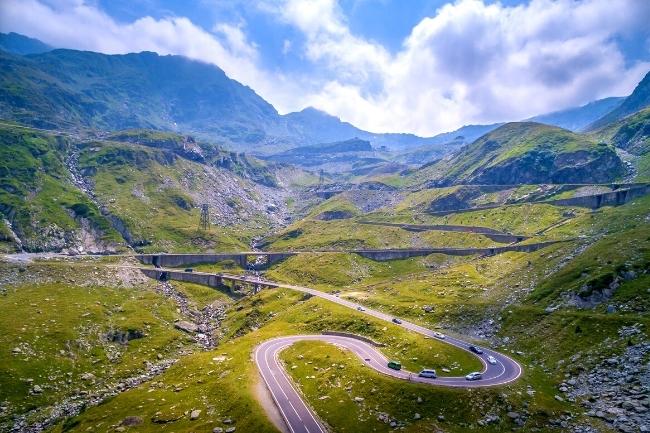 It is no small feat for the top driving experience chasers at Top Gear to name this THE best driving road in the world, but that's exactly what they did.
As such, heading out here is definitely one of the top things to do from Bucharest.
The Transfăgărășan was an ego project of former communist dictator Ceaușescu (yes the same guy who built the Palace of the Parliament… noticing a trend much?!) because he wanted a crossing through the most savage mountains in Romania, the Făgăraș Massif.
The result was an ever-winding road with a view that will make it difficult to keep your eyes on the wheel and a driving experience that will make you feel like on a rollercoaster!
But the adrenaline is balanced by visits to the traditional Curtea de Argeș Monastery (once the capital city of Romania) and a jaw-dropping view of the Vidraru Dam on your way back, so don't miss it!
#15 Skip to Bulgaria!
And now we come to the final great thing to do in Bucharest, which ironically, involves another country!
Ok, a bit weird I know, but honestly if you're in this part of the world and short on time, then you'll really want to grab all the opportunities you can to see as much as you, and this awesome day trip to Bulgaria from Bucharest is just the chestnut!
For starters, the road itself is an experience, as the border between the two countries traces the mighty Danube.
Just 45 minute drive from Bucharest and you'll be in a new country!
Once on the other side, in Bulgaria, you quickly enter the mountains and start passing beautiful sights such as the traditional village of Arbanasi, the Basarbovo Monastery and Veliko Tarnovo – the former empire capital and one of my top picks for places to visit in Bulgaria.
Convenient pick-up and drop-off at your hotel in Bucharest help make this and about 12 hours, but great day trip an easy and stress-free option.
Mini Travel Guide to Bucharest
When to Visit Bucharest?
I'd certainly advise visiting Bucharest during the summer months when the warm weather will be the best for sightseeing and alfresco eating.
Thankfully, as the city isn't hugely popular with foreign tourists, there are never really too many crowds to worry about!
How Long to Spend There?
I think 2-3 days is the perfect amount of time to take in this capital, including some of the more local suburbs.
The best way to get around the city is using your own 2 feet in my opinion – it's both safe and easy and often quicker!
2-3 days will give you plenty of time to wander around at your own pace.
There is a tram, bus and metro network in the capital you can use too, but it's often overcrowded, slow and infrequent.
That said, if you do want to use these public transport options, then it pays to know tickets for the metro can be purchased at all stations, while for buses and trams you need to buy an Activ or Multiplu card from little RATB kiosks found next to most major stops.
Failing that, it pays to know Uber also operates in Bucharest
How to Get to Bucharest?
If you're coming from a long distance away, then you'll probably be arriving into Romania through Bucharest's international airport.
As always, I use Skyscanner to get the best rates on flights into and across Europe.
Alternatively, if you're arriving into Romania from a nearby country, as I was, then travelling by train or bus to the capital is very easy and cost-effective.
I highly recommend using Trainline to book rail and coach travel across Europe, as they bring all services together in one handy place and give you all the information you need in English, as well as the opportunity to pay for tickets and passes in multiple currencies – hoorah!
Booking with Trainline is secure and simple using their app… you can even track your trip using their handy journey planner feature too!
Where to Stay in Bucharest?
Personally, I really rate the Le Blanc ApartHotel in Bucharest, as it offers incredible value in a great location.
Guests regularly praise the excellent staff here, as well as the clean and spacious apartments, which offer balconies with river views, seating areas with cable flat-screen TVs and fully equipped kitchenettes with fridges and ovens.
The perfect mix between hotel and rental apartment, it really is hard to go wrong with this modern property and its free private wifi and parking.
Otherwise, for backpackers, First Hotel Bucharest is the one to go for thanks to its great facilities, ideal location and fun, friendly atmosphere. Check out this review of the place to learn more.
Travel Insurance for Romania
World Nomads offers simple and flexible travel insurance. Buy at home or while travelling and claim online from anywhere in the world.
Alternatively, if you're a long-term traveller, digital nomad or frequent remote worker seeking travel health cover, check out Safetywing's Nomad Insurance policies.
Top 5 Packing Items for Bucharest
#1 Good Camera
You will be pretty much snapping non-stop during your Romania itinerary and will need a good camera to do this gorgeous country justice.
I highly recommend the Sony A6000, which I use for all my travels and love, not least because it's light, compact and robust!
#2 Good Walking Shoes
There will be a lot of walking in Bucharest, so make sure your feet are comfortable therefore with a pair of New Balance Trainers.
Perfect for stylish city strolling, I love mine!
#3 Good Guidebook
I'm still a massive fan of the Lonely Planet Guidebooks and do think their Bulgaria and Romania edition is well put together and able to save you a lot of money if you want to learn about the history of this countries, but not pay for a guide!
#4 Good Water Bottle
All that city sightseeing is thirsty work, so make sure you have a metal water bottle that you can refill as you go, because Bucharest tap water is drinkable… and free!
#5 Good Backpack
And to carry your water bottle, camera and guidebook, you're going to need a decent backpack that will help you balance the weight as you walk the city streets.
In my opinion, you can't go past the Bobby Anti Theft Backpack, which is also perfect for helping you avoid pickpockets too.
SAVE THIS TO PINTEREST!
Despite not being the leading light of European capitals, I do hope my list of these great things to do in Bucharest has shown you that this city does actually have a huge amount of charm, character and soul if you're willing to stray a little off the beaten track!
Have you been to the Romanian capital?
Did you love it or hate it?
Do let me know in the comments below…