Perhaps one of the weirdest European capitals, I've got to say that despite this (or perhaps because of it!) I was rather drawn to bizarre Bucharest.
The biggest city in Romania – a country that sits between Bulgaria, Serbia, Moldova, Ukraine and Hungary, but is utterly unlike any of them – it's perhaps no surprise that its capital, Bucharest, is a little bit quirky too.
For this is a city without a discernible centre, with an Old Town that isn't really that old and where the best places to go as tourists are into the local surrounding suburbs to discover riotous ruined pubs and cool cafes.
So if getting off the beaten track during your European itinerary sounds like a good idea to you, why not consider Romania's capital?
It's certainly cheap and for those on a budget, here my list of the best 5 Bucharest hostels to stay in…
---
Related Posts
---
This page contains affiliate links meaning Big World Small Pockets may receive a small commission on any purchases at no extra cost to you.
---
#1 Podstel Bucharest
Run by the lovely Daniel and friends, Podstel Bucharest remains one of the firm favourite Bucharest hostels.
Built by travellers for travellers, there's a great community vibe here, and the gorgeous garden, filled with hammocks, is the perfect summer chillout spot.
It's located in a great part of the city too – only 15 minutes to the Old Town from the front door, 5 minutes to Unirii Square and a 15 minute walk to the Palace of Parliament.
But with yoga, music and workshops galore going on here, there's a good chance you might not want to leave, not least because of the cosy onsite teahouse / café perfect for digital nomads.
The 24hr reception, guest kitchen and great local advice on hand, all make Podstel Bucharest the type of place you might never break away from!
#2 Omega House
Omega House describes itself as the first Co-Working & Living place in Romania, which certainly made my ears prick up!
That and the fact that these guys are seriously into their coffee!
With more hang out / chill out / workspaces / quiet hubs / common areas / terraces than you can shake a stick at, these guys really have thought about it all when it comes to knowing what travellers (especially of the digital nomad kind) want.
From dorms to private rooms, these guys have got something for everyone and their top location definitely makes Omega House one of the best Bucharest Hostels!
5 ESSENTIAL PACKING ITEMS FOR BUCHAREST
#1 Good Camera – You will be pretty much snapping non-stop during your Bucharest itinerary and will need a good camera to do this crazy city justice. I highly recommend the Sony A6000, which I use for all my travels and love, not least because its light, compact and robust!
#2 Good Walking Shoes – There will be a lot of walking in Bucharest, so make sure your feet are comfortable therefore with a pair of New Balance Trainers. Perfect for stylish city strolling, I love mine!
#3 Good Guidebook – I'm still a massive fan of the Lonely Planet Guidebooks and do think their Bulgaria and Romania edition is well put together and able to save you a lot of money if you want to learn about the history of this city, but not pay for a guide!
#4 Good Water Bottle – All the city sightseeing is thirsty work, so make sure you have a metal water bottle that you can refill as you go, because Bucharest tap water is drinkable… and free!
#5 Good Backpack – And to carry your water bottle, camera and guidebook, you're going to need a decent backpack that will help you balance the weight as you walk the city streets. In my opinion you can't go past the Bobby Anti Theft Backpack, which is also perfect for helping you avoid pickpockets too.
#3 First Hostel Bucharest
The guys at First Hostel Bucharest are all about offering the best dorms in the city, so if you're travelling on a shoestring, this could be the place for you.
Each dorm bed has its own nightstand, plug, USB charger and reading light, and it's reassuring to know that all the building materials used have been certified non-toxic too!!
First Hostel Bucharest also offers a plethora of freebies to the budget traveller including free bikes, tea and coffee, adapters, Wi-Fi, local & national calls, linen, towels and city maps.
Breakfast is included and the location is hard to beat.
No question then, this is definitely one of the top Bucharest hostels for those on a shoestring.
#4 Midland Hostel
An old favourite, Midland Hostel remains one of the best Bucharest hostels without question.
They pride themselves on offering a more authentic backpacker experience, where simplicity involves a warm welcome and a huge array of top local tips about the city.
This is definitely a social place with a laidback atmosphere, so you're sure to meet others here if you're looking to enjoy a good night out in Bucharest.
Multi-lingual staff help everyone mingle in Midland Hostel and security is top notch with someone on reception duty no matter what time you fall through the door!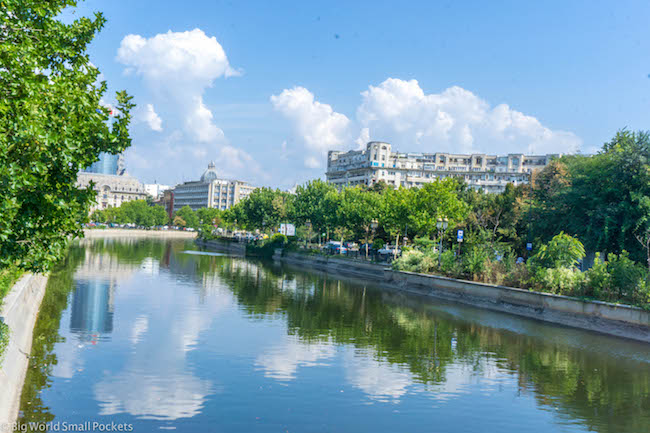 #5 The Cozyness Hostel
And finally, last but not least on my list of the best Bucharest hostels is The Cozyness Hostel.
A small backpackers with some very friendly cats and a lovely garden area, this place is super central – just off the Main Square.
There's a guest kitchen and cosy common area with the choice of either 6 bed or 4 bed dorms.
But best of all are the staff, some of the friendliest around, you'll arrive at The Cozyness Hostel as a stranger, but you'll leave as a friend for sure!
PIN IT TO PINTEREST!
So that's my list of the 5 best Bucharest hostels.
Have you visited this quirky, crazy city?
Where did you stay and how did you rate it?
Please share your experience with other travellers in the comments box below…