Snuggled over in the east of Europe, Romania often feels like the land time forgot in this part of the world.
Out of the countries I've wandered across in this continent, Romania consistently stood out as a destination belonging, at least in part, to a different age.
Even as recent as 2018, it felt hard at times to believe I was in the EU, as horse-drawn carriages trudged by, grubby old communist trains creaked along on ancient tracks and mountain roads twisted and turned their way to rural villages that seemed to have changed little in centuries.
But amongst all of these things, or perhaps because of them, Romania oozes an irresistible charm that totally captured me.
From the Carpathian Mountains (that perhaps provide some explanation as to why this country feels so cut off in many ways) to the ancient forests, castles and cobbled streets that make up the many towns, Romania is a land like no other.
So if you're looking to dive into exploring this wonderful country – and so you should – here's the 20 best places to visit in Romania…
---
Related Posts:
---
This page contains affiliate links meaning Big World Small Pockets may receive a small commission on any purchases at no extra cost to you.
---
#1 Bucharest
Stay: LeBlancApartHotel
So the quirky capital of Romania may not entirely fit the idealised, quintessential nature of my introduction, but there's no doubt this weird capital is absolutely one of the places you have to visit in Romania.
Unlike most other European cities, the Old Town here is actually fairly new (!) and instead of being filled with beautiful old buildings, seems to have been usurped by a glut of cheap and tacky bars, restaurants and clubs.
Therefore unlike almost any other European capital, especially in the east, my advice is to avoid Bucharest's "Old Town" full stop and instead head out to the suburbs and surrounding areas straight away.
Here you'll find delightful coffee shops, gorgeous parks, cute churches, statues galore and, perhaps best of all, an amazing array of independent and inspiring bookshops.
Discovering the local charm is what time in Bucharest is all about, and while tourist foot traffic here is still pretty low, I'd highly suggest hitting up this capital as one of the best places to visit in Romania asap!
Learn more in my post about the top 10 things to do in Bucharest or check out this top-rated city tour if you want a guide during your time in the capital.
#2 Sighisoara
Stay: Burg Hostel
Sighisoara is absolutely one of the "can't miss" places to visit in Romania!
Pretty as punch, stepping into this town is not only like stepping back in time, but somehow like stepping into a fairytale too.
Located high up in Transylvania, this cobbled street cutie is about as picturesque as things get here, with the sort of citadel views and bell tower beauty one can only dream of.
Climb to the top of either of these local icons and enjoy amazing views over the red-roofed village below, the meandering river and the green hills all around.
Then descend to take a million snaps among the historic streets, whose characteristic Medieval buildings and oldy-worldy street lamps make this one of the prettiest places in the whole of Europe, let alone Romania.
#3 Timisoara
Stay: Downtown Hostel
Coming in at number 3 on this list of the best places in Romania is perhaps an unusual one… but it's all the more loveable for it.
Situated in the far west of Romania, close to the Serbian border, Timisoara was really just a stopover I scheduled in on my way to Belgrade in Serbia.
But I'm so glad I did, because I quickly fell in love with this city's wide-open streets, gorgeous squares and boulevard feel.
Being there in the middle of the day meant it was absolutely roasting and the streets were nearly deserted, but as soon as dusk fell, it felt like everyone single person in the city (plus their dog) hit the streets – and the delightful atmosphere of friends meeting to share a drink or families getting together in the park created a spellbinding atmosphere.
Essentially devoid of other tourists (although this is likely to change after the city was named Europe City of Culture in 2022), Timisoara boasts an amazingly local vibe while the great street art and cute churches delightfully skyrocketed it up my list of top places to visit in Romania.
#4 Brasov
Stay: Centrum House Hostel
And at number 4, the city of Brasov on the edge of Transylvania is perhaps Romania's most popular tourist town, close as it is to Bucharest.
That said, it has a charming atmosphere and a lively main street which is delightfully full of great restaurants and tasteful drinking spots.
The Hollywood Brasov sign adds a touch of glamour to the hill above the town, with a cable car ride up there completing the picture.
Yet down in the city itself, and just minutes from the main square, small local greengrocers, bakers and shopkeepers go about their quiet daily business in a way that seems to have changed little in a very long time.
Crumbling buildings only add to the charm of yet another stunning Transylvanian town.
Learn more with my list of the top 17 things to do in Brasov.
#5 Sibiu
Stay: PanGeea Hostel
And sticking with the Transylvania vibe, no trip to Romania would be complete without visiting Sibiu, another flagship tourist town that boasts all the amenities of such a place without losing any of its character in the meantime.
Pitched somewhere in size between Brasov and Sighisoara, Sibiu is a good middle ground and is well connected along the Bucharest – Timisoara bus and train line.
As such, most public transport networks and connections are good from here (unlike a lot of Romania!) and there's plenty of gorgeous hiking, church-going and view-snapping across this top destination to be done as well.
#6 & #7 Bran and Peles
Stay: Pension Sinaia – Casa Ta
In at number 6 and 7 on my list of the top places to visit in Romania, it's the twin destinations of Peles and Bran.
Located just outside the town of Brasov, these towns both offer a pretty major attraction each… and that is their fabulous castles.
Bran boasts Romania's most famous castle, meant to have been the basis of Bram Stoker's novel; while there's no doubt Peles Castle is one of the prettiest in the whole of the country.
If you came to Romania to see Transylvania and you came to Transylvania to see castles, then these 2 will not disappoint!
Possible to visit as day trips from Brasov, why not escape the day trip crowds and stay in one, or both, of these smaller towns or nearby Sinaia?
#8 Transfăgărășan Road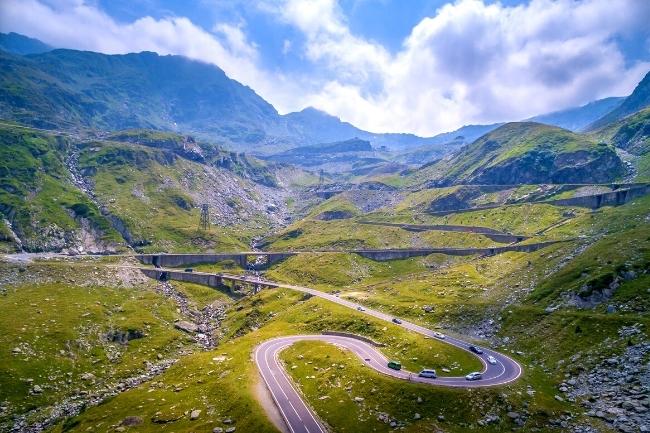 The boys at Top Gear called the Transfăgărășan the Best Driving Road in the World so if you're around Transylvania you cannot pass on the chance to drive it and experience this incredible Romanian location.
At the end of the road, you'll then find yourself in the middle of one of the most spectacular and difficult mountains in Romania – the Făgăraș Massif.
Home to the country's tallest peak and most dangerous ridges and passes, there's plenty of great trails here to be enjoyed.
For an easy option, park your car at Lake Bâlea and then stroll around the water's edge – it will give you a good taste of the scenery on offer!
#9 Saxon Villages of Transylvania
The must-have experience on any trip to Transylvania is the cluster of Saxon villages that have recently been transformed into a hub for cultural, culinary and sports activities.
The villages of Viscri, Criț, Meșendorf, Cloașterf and Bunești are all connected by walking paths that take you up and down the hills, through ever-changing forests in one of Romania's most beautiful locations.
The villages themselves are a weird mix of completely restored houses that now serve as 4 and 5 star accommodation options and less slightly more dilapidated (but nevertheless charming!) houses that wear their 200-300 year history on their facades.
Definitely one of the top places to visit in Romania off the main tourist trail, I really recommend staying for dinner, or even for the night here, if you have the time.
#10 Racoș Geological Park
Just a couple of km from the main road connecting Brașov to Sighișoara, is the entrance to Racoș Geological Park.
One of the smallest reserves in the country, this protected area is nevertheless full of things to see and do… all of which can be covered in a good day.
Top picks for sights to see in the Racoș Geological Park include…
#1 The Racoș Volcano
This is the last known active volcano in Romania (note. it's still been dead for thousands of years!) You can descend into it and experience a landscape that feels like a mix between Mars and the Grand Canyon – truly breathtaking!
#2 The Emerald Lake
Locals say this lake was formed when the workers in the old quarry hit groundwater and the place instantly filled up. The result is a beautiful green lake with a backdrop of basalt rock that is really mesmerising to see.
#3 The Basalt Columns
These giant pillars are 12-15m high and hexagon-shaped. Though to be millions of years old, their bizarre shapes are a key attraction in this geological park.
#11 Danube Delta
Next up on this list of the top place to visit in Romania, we move to the coastal region of this country and the amazing Danube Delta.
And there's an added reason why this spot should be on your bucket list asap.
As a natural wonder, the Delta, like so many other places around the world, is becoming more and more fragile due to climate change; so the faster you get there, the more you'll see.
And when it comes to seeing the delta, I highly recommend you get a boat and a local guide, as the entire area is a maze of canals, lakes and swamps that you're beyond to either get lost in or not see the best of without a professional person on hand.
Check out this top-rated guided tour, which will lead you through all the best bird-watching spots and along the famous Letea Forest where the last wild horses of Europe roam free.
On the way, you'll meet swans, rabbits, minx and pelicans all before stopping for lunch, which I recommend you do at the cute village of Mila23 incidentally!
#12 The Sphinx and Old Ladies
Reachable via a short train ride from Bucharest, the Old Ladies and the Sphinx are two fascinating stone formations that the water, wind and years have carved into figures resembling their given names.
You can visit them from the quiet mountain town of Busteni and, from there, you can use the cable car or the trails to get up onto the Bucegi Mountain Plateau.
Crowded during summer months (you have been warned!), I recommend also exploring the plateau here – as well as the popular stone formations – where you'll be treated to panoramic views.
If you're lucky enough to visit in June, the plateau turns pink as the rhododendron blooms, making for an even more beautiful sight.
#13 Corvin Castle
Corvin's Castle, also known as Hunyady Castle, was built in 1446, but remains one of the biggest still standing in all of Europe.
Located in the west of the country, the castle was built in a Gothic style, and is a pretty imposing structure with tall towers, bastions, inner courtyards, coloured roofs, and balconies decorated with stone carvings.
It has seen a complex restoration process in the past decade, following a heavy fire and years of neglect and is apparently now of Romania's seven wonders – who knew?!
Looking like something straight out of a fairytale, it is now completely open to the public and can be enjoyed as part of a top day trip from Cluj, where a guide will take you through the 3 main hills here and explain the significance of this huge Medieval castle.
If you're lucky you might get to visit when one of the town's special ballroom concerts are being held – the acoustics are impressive!
#14 Dacian Fortresses in the Orăștie Mountains
A complex of 6 fortresses built between 1BC and 1 AD to help arm the local Dacian people against the frequent attacks of the ever-expanding Roman empire, this is absolutely one of the best places to visit in Romania.
The ancient Dacian defence walls here are now UNESCO World Heritage Site and clustered together in the same area in Orăștie Mountains.
You will need a car to reach them (as they are tucked away in the Gradistea Muncelului – Cioclovina Natural Park) and it's worth knowing that the biggest and best preserved is Sarmizegetusa Fortress.
If you only have time for one fortress – perhaps because you're visiting en route to Brasov – make it this one!
#15 Artist Restaurant, Bucharest
And it's back to Bucharest we go with this next place to visit in Romania because, quite simply, if you are a lover of food then this is a mandatory stop for you!
Widely regarded as the most likely Romanian restaurant to get a Michelin star – eating here is your chance best chance to get that level of culinary wonder for a fraction of the price you would normally pay anywhere else in Europe.
Chef Paul mixes molecular cuisine techniques with traditional Romanian tastes and recipes to create wonders in both textures and taste.
Molecular cuisine tasting menu at 50-60€ is definitely worth the visit.
Located within Bucharest, the setting of the restaurant – located in a turn-of-the-century villa – also adds a huge amount to the experience.
#16 Underground Funfair at Salina Turda
An entire salt mine renovated and repurposed to be safe to visit for travellers from all over the world, there's no question Salina Turda is a top place to visit in Romania.
Historical evidence of mining activities in the area date back to 50BC – 106AD – in fact, the first historical mention of Salina Turda can be found as long ago as 1075.
Closed in 1932 due to bankruptcy it was left neglected until 1992, when it was cleaned and reopened to the public, when you could walk the tunnels and see the medieval mining equipment and heavy machinery still in found in this eerie kinda spot.
Years later, in 2010, after an EU grant, the place was again transformed… this time transformed into a giant underground funfair!
A pretty mad spot, you can now enjoy a ride on a huge Ferris wheel here, a round of mini golf, or a boat trip on the underground lake!
Day trips from Cluj are probably the best way to get here.
#17 Merry Cemetery in Maramureș
The Merry Cemetery in the village of Săpânța in Maramureș, is famous for its unusual take on the tradition and rituals of rites of passage.
People are drawn here by the happy tombstones that feature colourful patterns and clever rhymes describing the lives of the people buried there.
Now an open air museum and a national tourist attraction, featuring over 800 such happy farewells into the afterlife!, this village's break from tradition is said to have originated from the connection to ancient pagan rituals that still live on today.
Providing a unique cultural insight into Romanian culture, this spot is very close to the Ukrainian border, so do check security before going there.
#18 Rock Sculpture of Decebalus and the Iron Gates
A 55m tall sculpture carved right into the mountain, these giant formations make for quite the sight!
Overseeing the Danube as it burrows through the Carpathians near the Serbian border, this is the tallest rock sculpture in Europe and the 2nd tallest in the world!
Impressive by any definition, the Danube Broilers and the spectacular Iron Gates add even more gravitas to this already gorgeous landscape.
Best viewed from the highest point you can find, the sculpture lies near the town of Orșova and depicts the face of Decebalus, the last king of the Dacia kingdom, who fought against the Roman emperors to maintain rule over what is now present-day Romania.
Only finished in 2004, it took 10 years to create – quite the labour of love!
#19 Churches of Moldavia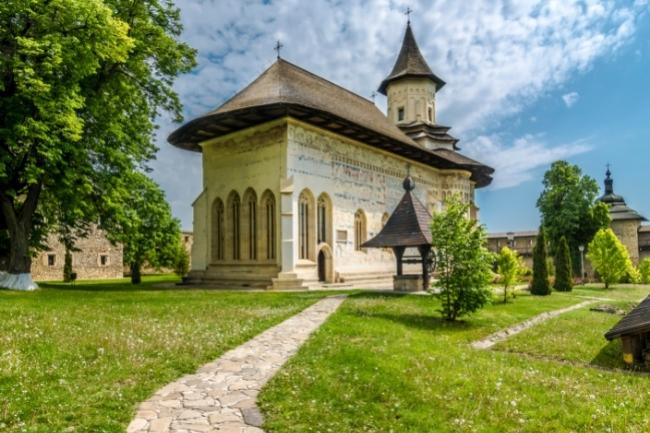 Also named the Sistine Chapel of the East, the Voroneț Monastery is the most famous of seven churches of Moldavia and is a designated UNESCO heritage site.
Built somewhere between the end of the 15th and beginning of the 16th century, it's renowned for its gorgeous painted walls and lies in the northeast of the country.
The paintings are all intricate patterns of scenes from the Bible, created by hand over many years by the monks in the monasteries.
Worth checking out, the level of detail is pretty astounding!

#20 Corbu Beach
A beautiful wild spot on the Black Sea Coast of Romania, this top spot is loved by campers, kitesurfers, backpackers and free spirits alike.
If you have a couple of days and want to rest and sunbathe and take a break from it all, this place is perfect!
Just a short 30 minute drive away from the main port city of Constanta (or 3 hours from Bucharest), here you'll find a pristine beach, a couple of tents in the breeze and one open air bar and nothing else.
No concrete, no music, no hotels, no crowds, no sunbeds – just seagulls and the sea.
Enjoy the simple pleasures of a simple life and take a walk on the bohemian side here!
Mini Travel Guide to Romania
When to Visit Romania?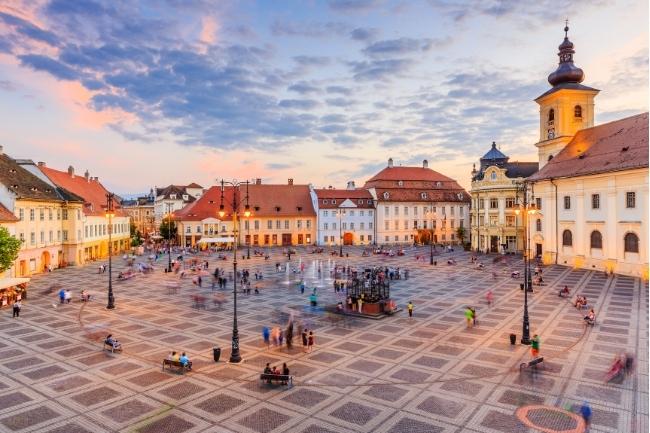 No question in my mind that you should definitely visit Romania during the summer season.
This will allow you to get the most from the country's lovely natural landscapes because, let's face it, Europe is exponentially more beautiful when the sun shines!
The other option for visiting Romania is during the winter months – a good idea if you want to enjoy some skiing.
Just beware that the seasons in this country are quite extreme, so summer days in August can reach well into the high thirties and winters can often be below freezing – pack accordingly!
How to Travel to Romania?
Getting across from most parts of central or eastern Europe to Romania is easy via bus or train.
I actually travelled there overnight from Bulgaria and found the journey easy and safe.
As always, I book all my train and coach travel across Europe using Trainline – I like the way they compare multiple journeys and use split-fare technology to get you the best prices.
Alternatively, you can also fly to one of Romania's international airports – the largest of which is in the capital Bucharest.
As always, I use Skyscanner to get the best prices.
Top 4 Packing Items for Romania
#1 Good Camera – You will be pretty much snapping non-stop during your Romania itinerary and will need a good camera to do this gorgeous country justice. I highly recommend the Sony A6000, which I use for all my travels and love, not least because it's light, compact and robust!
#2 Good Walking Shoes – There will be a lot of walking in Transylvania especially, so make sure your feet are comfortable therefore with a pair of New Balance Trainers. Perfect for stylish city strolling, I love mine!
#3 Good Water Bottle – All that city sightseeing is thirsty work, so make sure you have a metal water bottle that you can refill, because Romanian tap water is drinkable… and free!
#4 Good Backpack – And to carry your water bottle, camera and guidebook, you're going to need a decent backpack that will help you balance the weight as you walk the city streets. In my opinion, you can't go past the Bobby Anti Theft Backpack, which is also perfect for helping you avoid pickpockets too.
You can also find a full Romania packing list in this post.
Travel Insurance for Romania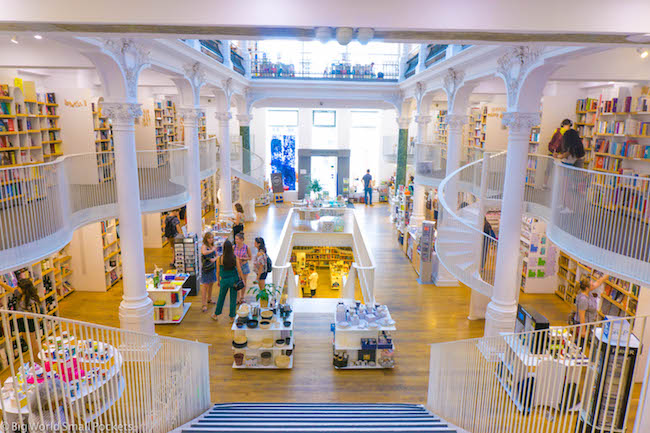 World Nomads offers simple and flexible travel insurance. Buy at home or while travelling and claim online from anywhere in the world.
Alternatively, if you're a long-term traveller, digital nomad or frequent remote worker seeking travel health cover, check out Safetywing's Nomad Insurance policies.
Recommended Tours in Romania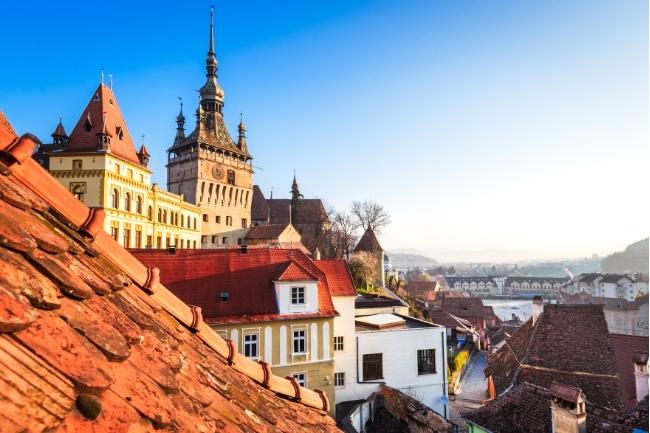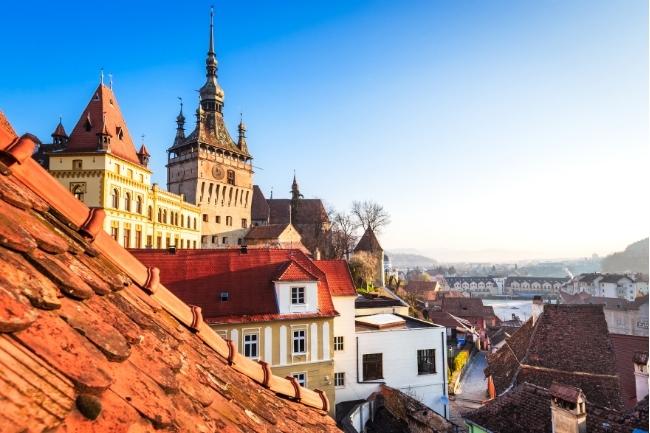 Why not consider these great Romanian tours if you're looking to experience the best of this country…
SAVE THIS TO PINTEREST!
So there you have it, my list of the 20 places in Romania you have to visit.
Have you been to Romania?
Which was your favourite destination in the country?
I'd love to hear your thoughts in the comment box below…