Snuggled over in the east of Europe, Romania often feels like the land time forgot.
Out of the countries I've wandered in this part of the world, Romania consistently stood out as a destination belonging, at least in part, to a different age.
Even travelling here in 2018, it felt hard at times to believe I was in the EU, as horse-drawn carriages trudged by, grubby old communist trains creaked along on ancient tracks and mountain roads twisted and turned their way to rural villages that seemed to have changed little in centuries.
But amongst all of these things, or perhaps because of them, Romania oozes an irresistible charm that totally captured me.
From the Carpathian Mountains (that perhaps provide some explanation as to why this country feels so cut off in many ways) to the ancient forests, castles and cobbled streets that make up the many towns, Romania is a land like no other.
Here's 6 places to visit in Romania you have to see before it's too late.
---
Related Posts:
---
This page contains affiliate links meaning Big World Small Pockets may receive a small commission on any purchases at no extra cost to you.
---
#1 Bucharest
Ok, so the quirky capital of Romania may not entirely fit the idealised, quintessential nature of my introduction, but there's no doubt this weird capital is absolutely one of the places you have to visit in Romania before you die.
Unlike most other European cities, the Old Town here is actually fairly new and instead of being filled with beautiful old buildings, has instead been usurped by a glut of cheap and tacky bars, restaurants and clubs.
Therefore unlike almost any other European capital, especially in the east, my advice is to avoid Bucharest's "Old Town" full stop and instead head out to the suburbs and surrounding areas straight away.
Here you'll find delightful coffee shops, gorgeous parks, cute churches, statues galore and, perhaps best of all, an amazing array of independent and inspiring bookshops.
Discovering the local charm is what time in Bucharest is all about, and while tourist foot traffic here is still pretty low, I'd highly suggest hitting up this capital as one of the best places to visit in Romania asap!
LEARN MORE: 10 Things to Do in Bucharest on a Budget!
#2 Sighisoara
Sighisoara is absolutely one of the "can't miss" places to visit in Romania!
Pretty as punch, stepping into this town is not only like stepping back in time, but somehow like stepping into a fairytale too.
Located high up in Transylvania, this cobbled street cutie is about as picturesque as things get here, with the sort of citadel views and bell tower beauty one can only dream of.
Climb to the top of either of these local icons and enjoy amazing views over the red-roofed village below, the meandering river and the green hills all around.
Then descend to take a million snaps among the historic streets, whose characteristic Medieval buildings and oldy-worldy street lamps make this one of the prettiest places in the whole of Europe, let alone Romania.
#3 Timisoara
Coming in at number 3 on this list of the places in Romania you have to see before it's too late is perhaps an unusual one… but it's all the more loveable for it.
Situated in the far west of Romania, close to the Serbian border, Timisoara was really just a stopover I scheduled in on my way to Belgrade in Serbia.
But I'm so glad I did, because I quickly fell in love with this city's wide-open streets, gorgeous squares and boulevard feel.
Being there in the middle of the day meant it was absolutely roasting and the streets were nearly deserted, but as soon as dusk fell, it felt like everyone single person in the city (plus their dog) hit the streets – and the delightful atmosphere of friends meeting to share a drink or families getting together in the park created a spellbinding atmosphere.
Essentially devoid of other tourists, Timisoara boasted an amazingly local vibe while the great street art and cute churches delightfully skyrocketed it up my list of top places to visit in Romania.
#4 Brasov
And at number 4, the city of Brasov on the edge of Transylvania is perhaps Romania's most popular tourist town, close as it is to Bucharest.
That said, it has a charming atmosphere and a lively main street which is delightfully full of great restaurants and tasteful drinking spots.
The Hollywood Brasov sign adds a touch of glamour to the hill above the town, with a cable car ride up there completing the picture.
Yet down in the city itself, and just minutes from the main square, small local greengrocers, bakers and shopkeepers go about their quiet daily business in a way that seems to have changed little in a very long time.
Crumbling buildings only add to that charm of another stunning Transylvanian town.
#5 Sibiu
And sticking with the Transylvania vibe, no trip to Romania would be complete without visiting Sibiu, another flagship tourist town that boasts all the amenities of such a place without losing any of the character in the meantime.
Pitched somewhere in size between Brasov and Sighisoara, Sibiu is a good middle ground and is well connected along the Bucharest – Timisoara bus and train line.
As such, most public transport networks and connections are good from here (unlike a lot of Romania!) and there's plenty of gorgeous hiking, church-going and view snapping across this top destination to be done as well.
#6 Bran and Peles
And finally, number 6 on my list of the 6 places in Romania you have to see before you die goes to the twin destinations of Peles and Bran.
Located just outside the town of Brasov, these towns both offer 1 main attraction and that is their fabulous castles.
Possible to visit as day trips from Brasov, why not escape the day trip crowds and stay in one, or both, of these smaller towns or nearby Sinaia.
Bran boasts Romania's most famous castle, meant to have been the basis of Bram Stoker's novel; while there's no doubt Peles Castle is one of the prettiest in the whole of the country.
If you came to Romania to see Transylvania and you came to Transylvania to see castles, then these 2 will not disappoint!
When to Visit Romania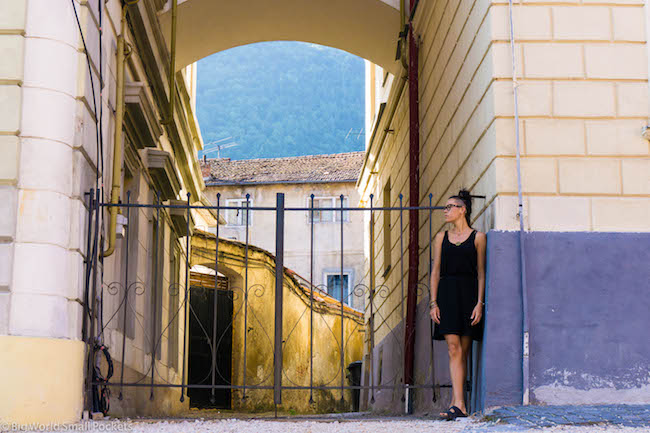 No question in my mind that you should definitely visit Romania during the summer season.
This will allow you to get the most from the country's lovely natural landscapes because, let's face it, Europe is exponentially more beautiful when the sun shines!
The other option for visiting Romania is during the winter months – a good idea if you want to enjoy some skiing.
Just beware that the seasons in this country are quite extreme, so summer days in August can reach well into the high thirties and winters can often be below freezing – pack accordingly!
How to Get There
Getting across from most parts of central or Eastern Europe to Romania is easy via bus or train.
I actually travelled there overnight from Bulgaria and found the journey easy and safe.
As always, I book all my train and coach travel across Europe using Trainline – I like the way they compare multiple journeys and use split-fare technology to get you the best prices.
Alternatively, you can also fly into Romania's capital Bucharest.
Check Skyscanner for the best prices.
Top 5 Packing Items for Romania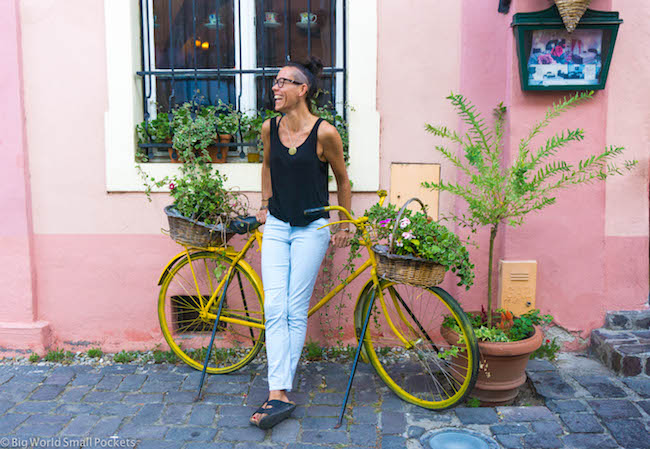 #1 Good Camera – You will be pretty much snapping non-stop during your Romania itinerary and will need a good camera to do this gorgeous country justice. I highly recommend the Sony A6000, which I use for all my travels and love, not least because it's light, compact and robust!
#2 Good Walking Shoes – There will be a lot of walking in Transylvania especially, so make sure your feet are comfortable therefore with a pair of New Balance Trainers. Perfect for stylish city strolling, I love mine!
#3 Good Guidebook – I'm still a massive fan of the Lonely Planet Guidebooks and do think their Bulgaria and Romania edition is well put together and able to save you a lot of money if you want to learn about the history of this city, but not pay for a guide!
#4 Good Water Bottle – All that city sightseeing is thirsty work, so make sure you have a metal water bottle that you can refill, because Romanian tap water is drinkable… and free!
#5 Good Backpack – And to carry your water bottle, camera and guidebook, you're going to need a decent backpack that will help you balance the weight as you walk the city streets. In my opinion, you can't go past the Bobby Anti Theft Backpack, which is also perfect for helping you avoid pickpockets too.
Best Travel Insurance for Romania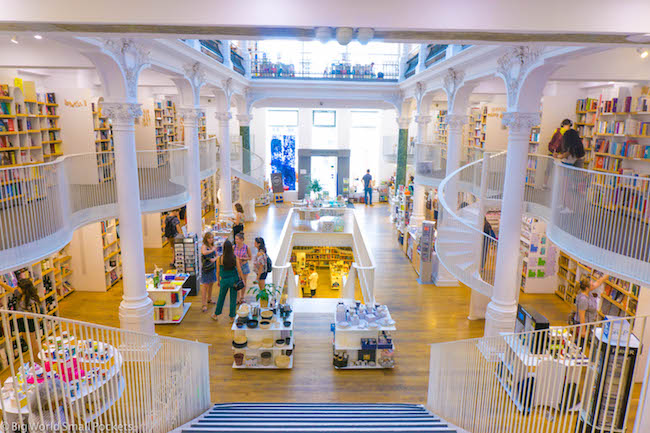 I wouldn't dream of travelling to a country like Romania without proper coverage and always recommend travel insurance from World Nomads which I've used during my time in the country and across the world.
World Nomads are actually one of the few companies that will insure you for a huge range of outdoor activities as standard – essential for a country like this.
Alternatively, if you're looking for travel insurance with Covid-19 cover, then look no further than Safetywing's great Nomad Insurance policies.
These guys will cover you at some seriously great prices, including if you have to quarantine!
More Time in Romania?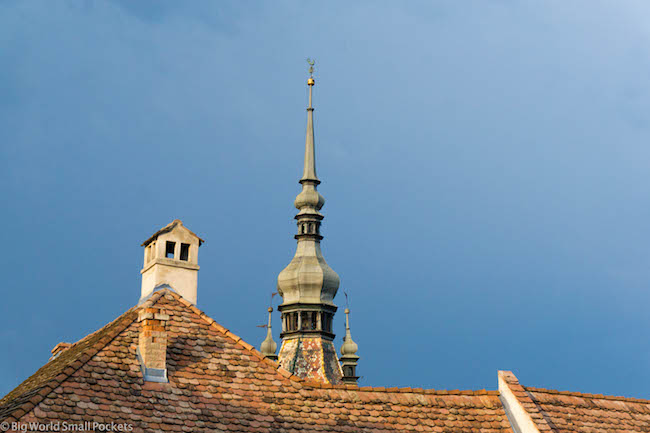 Why not consider trips to these great destinations…
PIN IT TO PINTEREST!
So there you have it, my list of the 6 places in Romania you have to see before you die.
A rather ominous title you may think, but really it's all about grabbing life by the horns and seeing as much of this beautiful world as we can before it's finally all lost to soulless souvenir shops!
Have you been to Romania?
Which was your favourite destination in the country?
I'd love to hear your thoughts in the comment box below…