If you enjoy wild paths and untamed landscapes, then Romania is the hiking destination you need to put on your list right now!
And there's no better spot to visit in this country for a good stomp than the Carpathian Mountains.
Actually spread over 7 European countries, Romania is home to over half of this amazing range, which offers hundreds of trails, breathtaking views, mountain lakes, waterfalls and spectacular caves galore.
Low to medium in height compared to the Alps (very few areas here measure over 2000m), this makes the Carpathians not only easy to navigate and hiker-friendly, but also means they contain some amazing wildlife populations too.
In particular, this part of Romania has the largest population of brown bears and wolves in Europe, but don't worry, you won't be meeting any of them on your trails, I just wanted to use this as an example to show you just how vast and wild the forests are here!
Another unique feature you can enjoy when hiking in Romania, besides the animal population, is the human population.
Yes, the Carpathians are chock full of quaint villages that appear locked in time.
Far away from the big cities, and in a country that still has a large social imbalance, there are communities in Romania that still live and work the land as they have done for centuries. It's an incredible window into the past and an experience you'll be hard-pressed to find anywhere else in Europe.
And to guide you through the top options for seeing the best of Romania's walking trails, its unique cultural offerings and its delightful mountain landscapes, here's a list I've compiled of the 15 best places I recommend when hiking in Romania.
Let's get stuck in…
---
Related Posts
---
This page contains affiliate links meaning Big World Small Pockets may receive a small commission on any purchases at no extra cost to you.
---
When to Hike in Romania?
Before we launch into the top 15 spots for hiking in Romania, I thought it might be wise to first address the question of when should you go walking here.
And the answer to this is either the spring months of April and June or the Autumn month of September.
Hiking in Romania in the summer will have you encountering super high temperatures that would make walking any great distance pretty uncomfortable (think over 30 degrees centigrade) and, conversely, the winter months bring significant amounts of snow to the Romanian mountains, so you really do need to pick that sweet spot inbetween!
With global warming messing everything around, it can be increasingly hard to forecast the weather, but in general, by April, much of the snow in the mountains should have melted.
And it's not likely to return until October or November, which means September is also a safe bet!
How to Get to Romania?
As you'll see below, I'm going to break the best Romanian hiking spots down into different destinations, but wanted to quickly add some info here about getting to Romania in general.
If you're arriving into this country from further afield, then it pays to know there are well-serviced international airports in both the capital – Bucharest – and in Sibiu – which is in the Carpathian Mountains directly.
Both of these airports are serviced by budget airlines and, as always, I use Skyscanner to grab the best deals.
If you're coming from closer by – perhaps Bulgaria, Serbia or Slovakia – then it's also very easy to get a train or bus to Bucharest in Romania.
Check out Omio, who make it easy to compare journeys across rail and coach, as well as book tickets in English – hoorah!
Finally, you can also drive to Romania. This will give you a great deal of flexibility once you are in the country and the ability to really explore the best hiking areas.
I love Discover Cars, who operate in a huge range of countries. Check out their deals for hire cars in Bucharest here.
And with the basic info now out of the way, it's time to launch into the 15 best spots for Romanian hiking…
Hiking in Romania from Bucharest
I'm starting this list of the top spots for hiking in Romania with 3 winners that are very near to the country's capital, Bucharest.
With easy access, these spots are ideal options for those who have a shorter amount of time to travel the country as they won't involve you straying too far north!
#1 Prahova Valley
If you are looking for an active day in an otherwise city-orientated holiday, then this is the most convenient option from the capital.
Just a 1.5 hour train ride from the city of Bucharest and you'll find yourself in the beautiful mountain town of Sinaia.
Famed as a winter resort, a summer bike park and a gateway into the lower Bucegi Mountain Range, this place has great infrastructure, with lots of tourist services – hardly surprising given it's the closest access point to the mountains from the country's capital.
That said, there's still many beautiful and quieter trails to discover here that start right in town and exploring them will certainly keep you busy from half a day to days on end!
#2 The Sphinx and the Old Ladies
If you're getting the train to Prahova Valley, but want to explore somewhere a little deeper into the mountains, then why not stay on the train for an extra stop and alight at the Busteni station instead.
From here, you can use the cable car or the trails to get all the way up to Bucegi Mountain Plateau.
The Old Ladies and the Sphinx are two stone formations here that water and wind erosion have carved into figures resembling their appellations – although you may have to use your imagination to see them!
This place can get crowded during summer, so I recommend taking the mandatory insta snap and then just wandering further along the plateau.
From here there are 360 degree panoramic views that will take your breath away and, if you're lucky enough to be there in June, the mountain turns pink as the rhododendrons bloom.
Now that's a Romanian hiking sight you can't miss!
#3 Măcin Mountains
Ok, so I know I mentioned Romania hiking was really all about the Carpathians, but allow me one exception here!
Because, despite the Macin Mountains not being part of this huge range, they are home to the oldest mountain in Romania and an incredible national park that definitely deserves a mention on this list of the best Romanian hiking spots.
Now one could split hairs here and suggest that, with a highest peak of only 467m, these summits barely qualify as mountains; but really, whose counting when the low altitude here makes it possible for an incredibly diverse amount of fauna and flora to bloom.
Indeed half of Romania's bird species can be found in the Macin Mountains and during autumn more than a whopping 10,000 birds pass through this area on their way south.
And that's not to mention the fascinating lizards and slow turtles who also call this place home too.
A veritable wildlife park if you will! You will!
Hiking Romania from Brașov
Next up we come to 5 epic Romanian hiking spots that can be accessed from the town of Brașov.
Surrounded by the Southern Carpathians, this gorgeous mountain town, located in Transylvania, is an awesome Romanian destination to check out for its lovely town centre and great ambience… and the fact it offers some of the county's best hiking routes only adds to the appeal!
Learn more with my list of the top 17 things to do in Brasov.
#4 Mălăieși Cabin
This is a very popular trail in both summer and winter.
The chalet is nestled in one of the most beautiful valleys in the Bucegi Massif and is pretty accessible, care of a casual 4 hour hike!, from where you'll drop off your car just outside Râșnov.
After a quick pit stop for tea or a cold beer at the cabin, you then have the whole day to explore the valley.
More often than not, the mountain goats are also keen to explore it with you!
#5 Ciucaș Mountains
Simple to get to from the Bratocea Pass, right on the border of Prahova and Brașov counties, like many of these hikes you will, however, need to have a car to enjoy this one, as there is no public transport in the area.
After parking (you'll see plenty of cars right on the side of the road, just join them!), there are several options to hike up the mountain, offering a mix of open plateaus, steep rock formations and single-track trails through the woods.
As you get closer to the top ridge you have about 30-45 minutes of walking where the path cuts right through fields of blueberry bushes.
Best to stop for a snack if you can!
#6 Vulture Lake
Legend says this is the place where the high altitude raptor comes in spring to teach its hatchlings how to fly!
But don't worry, in reality, there's no swarm of vultures and it's nothing like the Hitchcock movie!
Instead, what you can expect here is a lovely trail that starts right next to the beautiful Siriu Lake and takes you up to Vulture Lake, situated at 1420m, through shaded woods and open terrain.
Once at the lake, you'll find a great cabin and, in the summer months, more than a few tents camped around it too.
Honestly, it is worth spending the night here if you can – sunrise over this view is something else!
#7 Lower Bucegi / Bran-Moeciu
While number 1 and 2 on this list of the best spots for hiking in Romania approach the Bucegi Mountains from the south, these trails come in from the north, once you've already crossed through the mountains.
While on the south side you have some much more developed mountain infrastructure – think resorts, cable cars and chair lifts – on the north side you have your legs to carry you up and nothing else.
Delightful for those who love getting off the beaten track!
But the real reason I'm mentioning the lower Bucegi twice when it comes to my top Romanian hiking spots is because, while the south side has comfort and accessibility, the north side has Dracula's Castle and Moeciu Village.
Need I say more!
Obviously, Dracula's Castle is world renowned so I won't get into details here (except to say I do think it's slightly overrated… controversial!), but Moeciu Village is absolutely a must-see on any travel list.
Yes this small village, which can be found as you head further into the mountains past the Castle, is a classic example of those I mentioned at the beginning of this post.
Giving a unique window into times gone by, here you'll find villagers still using scythes to cut grass on the hills and wooden ploughs to farm the land.
#8 Piatra Craiului National Park
A must-see when it comes to hiking in Romania, to get to Piatra Craiului National Park, you'll need to take the train or drive your rental car to Zărnești and from there make your way through the spectacular Zărnești Gorge and onto the charming mountain trail that leads all the way to Curmătura Cabin.
The trails is rocky at times, but generally easy to hike even with kids, provided they have proper walking shoes of course!
Once at the cabin, you'll find an open door and daily home-cooked food which makes use of the garden ingredients.
If they're not out of food by the time you get here, throw that sandwich away and treat yourself to a proper mountain meal – you won't regret it!
Coming back down the mountain you then have several options.
I recommend taking the single trail that starts right at the back of the cabin as, halfway down, there is a beautiful meadow where sheep graze freely all summer – makes for a great photo spot!
Hiking Romania from Sibiu
There's just one hiking spot I recommend around Sibiu – ok, well actually, there's loads, but I've got to keep this list to 15, so what you can do!
But don't be fooled, I've picked a good one here and rest assured this is absolutely one of the most spectacular Romanian hikes there is!
#9 Bâlea Lake/ Transfăgărășan
The boys on Top Gear called the Transfăgărășan the best driving road in the world, so if you're around Transylvania you cannot pass on the chance to enjoy it too!
Afterwards, you'll find yourself at Bâlea Lake and in the middle of one of the most spectacular and difficult mountains in Romania – the Făgăraș Massif!
Home to the country's tallest peak and most dangerous ridges and passes, this Romanian hike is not one for beginners. However experienced hikers will have the most amazing time here.
All trails for the Făgăraș Massif start from Bâlea Lake and you can do anything from 1 to 5 day trips here, all depending on your time and energy.
Hiking Romania from Cluj
Cluj (otherwise known as Cluj-Napoca) is a city in northwestern Romania and is the unofficial capital of the Transylvania region.
A huge student town, this spot is home to universities, an accompanying vibrant nightlife, lots of historic landmarks and some great hiking spots too!
#10 Apuseni National Park
This National Park is known for being Speleology heaven (that's the study of caves if you're not in the know!) and boasts over 400 caves to explore.
Peaks here might not be as high as in other areas of the Carpathians, but with the added twist of the cavernous grottos, the amazing rock formations and some seriously lovely waterfalls along the way, this place more than makes up for the lower altitude!
Turzii Gorge, Vârtop Pass and Pietrele Mărunte Peak are my top hiking recommendations here and include easy to moderate trails that are a walking feast from beginning to end!
Like I said, there's no shortage of caves and underground tunnels and it would seriously take you weeks to see them all.
As I imagine you don't have weeks, here's the three not to miss:
Scărișoara Glacier Cave
Bear Cave
Vârtop Ice Cave
#11 Tarnița Lake
This top Romanina hiking spot is a great and quick escape from the busy city of Cluj.
The lake itself offers plenty of fun options to pass the time from kayak and SUP-ing to sunbathing, which does make it a hot local favourite.
The hills around the lake however, offer two trails (easy and moderate) that take you up and around the lake shores, though shaded and blooming groves, all the way to the peaks in the backdrop
And the views up there are stunning FYI!
Hiking Romania from Sighișoara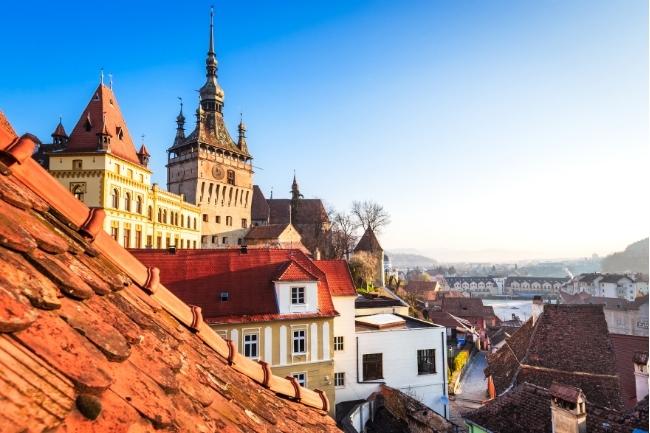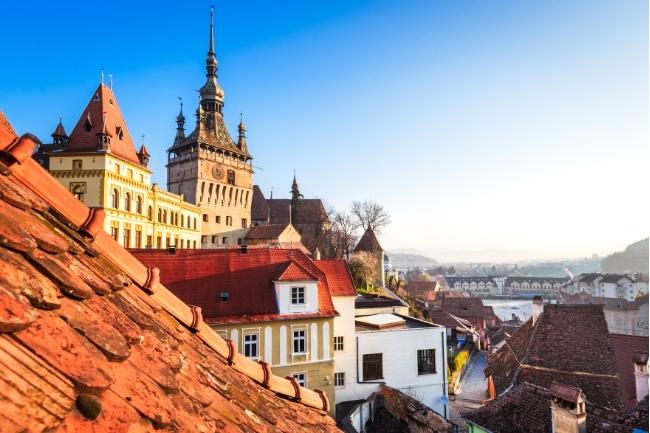 A UNESCO-listed site, this cute town is only home to about 28,000 people and certainly has a village feel to it.
High up in the mountains, it can be a trek to get here by train as I did! (it's easier to drive here along the road from Brasov/ Cluj), but it's more than worth it if you really want to enjoy some of Romania's best hiking.
#12 Saxon Villages
More of a walk than a hike, the Saxon Villages nevertheless get an honorary spot on this list because they are unique to this area and what they lack in elevation, they more than make up for in experience.
The villages of Viscri, Criț, Meșendorf, Cloașterf and Bunești are all connected by walking paths that take you up and down the hills, through ever-changing forest landscapes.
The villages themselves are a weird mix of completely restored houses (that now serve as 4 and 5 star accommodation options) and less fortunate houses that wear their 200-300 year history clearly on their facades.
It's a disparate combination to see, but hey, this is Romania.
Hiking Romania from Timișoara / Reșița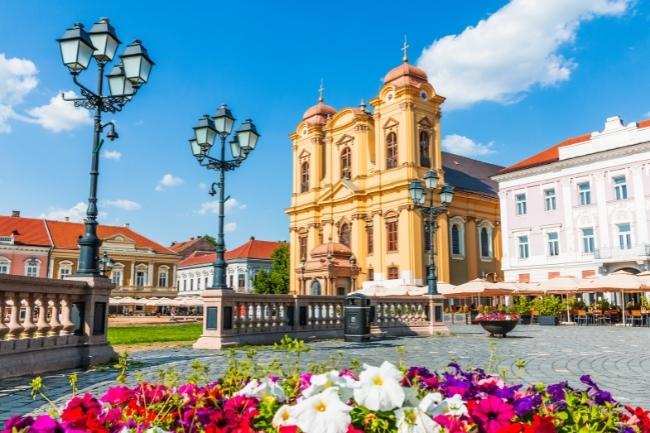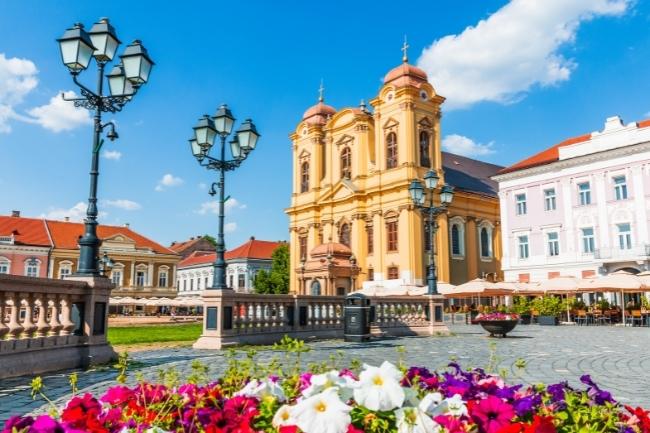 And finally, we come to the east of Romania.
If you're heading onto or from Serbia, it's likely you'll stop in the lovely city of Timișoara, which was named the European City of Culture in 2022.
And it's worth spending a couple of days here to explore the trails…
#13 Semenic-Carașului Gorge National Park
You wouldn't think the Carpathians have a bubble of Mediterranean climate that is home to tens of species of orchids… but they do!
Semenic National Park is a bit out of the way and you won't find the usual crowds here, which makes it very appealing!
Within it, Carașului Gorge is almost 20km long with about 10km open to the public and goes 200m deep in some points – definitely worth the trip!
In August, the small villages of Gărâna and Brebu Mic here are home to a beautiful open-air jazz festival, so if you are travelling this way in summer, try to time your visit with this.
#14 Nera-Beușnița National Reserve
Further south, close to the Serbian border and just shy of the Danube River, there is another almost Mediterranean-like microclimate with easy trails with lakes, caves and waterfalls at every turn.
Sound like a piece of you?
Yeah me too!
Trails in this national reserve are largely in the shade, keeping the area a cool 3-4 degrees lower than its surroundings, and there is an abundance of flora species here as a result.
Bigăr Waterfall, Nera Gorge and Bey's Lake are just a few of the stops you can't miss and all are best accessed from the village of Sasca Montană.
A former mining spot, this village now has a weird and wonderful mix of abandoned buildings and is also worth some exploration time in its own right.
#15 The Iron Gates
As imposing as their name suggests, this is the popular name given to the 134km long stretch of Danube that marks the Romanian-Serbian border and is home to a spectacular gorge.
And the most popular area along the gorge is the Danube Boilers.
This is where the rock formation narrows and the water flow becomes more rapid and tumultuous.
Here there are some easy hiking trails that take you up to Ciucaru Mare and Ciucaru Mic Peaks, so you can properly admire the incredible phenomena from above.
Things to Bear in Mind when Hiking in Romania
How to Get Around Romania
The easiest way to get around Romania is by car or by train.
Use bilete.cfrcalatori.ro to buy your train tickets in advance – you can book up to 6 hours prior to departure.
Train tickets can also be bought at the stations or even on the train with a surcharge.
If you want to rent a car, which is probably the best option for really seeing the best hiking spots in this country, check out Discover Cars for some great deals.
How to Pay in Romania
On hikes or in remote villages always make sure you have Romanian currency cash on hand – payment by card is very rarely available in mountainous or cabin areas here.
As always, the best way to withdraw money from an ATM when abroad is via a Wise Card.
Avoid the high transaction fees and bad exchange rates by getting yours here.
Throughout the rest of Romania (including large and small cities), you will almost certainly be able to pay by card – again use your Wise card!
I never travel without mine!
Packing for Romanian Hiking
Never forget your wind/rain jacket when hiking in this country, no matter the month!
In the Bucegi plateau, for example, you can easily go through sun, rain, hail and sun again in the space of just a couple of hours!
I also recommend a good power pack to ensure your phone stays charged and a decent day pack to carry water, snacks and your camera!
Learn more in my complete packing list for Romania.
Trail Markings
When in doubt about the markings of a trail in Romania, keep the following in mind…
Vertical stripe markings refer to a trail that crosses the mountain or follows the ridge.
Cross markings refer to a trail that intersects with the main vertical stripe trail.
Circle and triangle markings are for trails that come down from ridges into the valleys.
Square markings show you are in a natural reserve.
SAVE THIS TO PINTEREST!
So there you have it, my list of the top 15 spots if you want to get hiking in Romania.
Probably one of the best countries in this region for walking, this country is also incredibly cheap, so budget travellers, strap on your hiking boots and get out there!
And tell m, have you hiked in ROmania?
What was your favourite trail or area?
Tell me all in the comments box below…