Let me spell it out quite clearly from the beginning – I was absolutely amazed by Belgrade in Serbia.
Honestly, I had quite limited expectations about this city (and Serbia in general) almost entirely because I'd failed to do any research and was therefore appalling ignorant about the whole place.
But while there's no excuse for this, there are some benefits, namely that having no to low expectations of a place can result in a massive and delightful surprise when you get there!
And so it was with Belgrade, the riverside vibrant capital of Serbia, which is literally awash with photogenic streets, cafes from another era, gorgeous views, next-level nightlife and the best city public park I've ever been to.
Plus it's CRAZY cheap.
This makes it a backpacker heaven, so for those on a budget, here's my list of 10 brilliant things to do in Belgrade…
---
Related Posts
---
This page contains affiliate links meaning Big World Small Pockets may receive a small commission on any purchases at no extra cost to you.
My stay in Belgrade was kindly sponsored by ArkaBarka Hostel but, as always, all views are my own.
---
#1 Take in the Views from Kalemegdan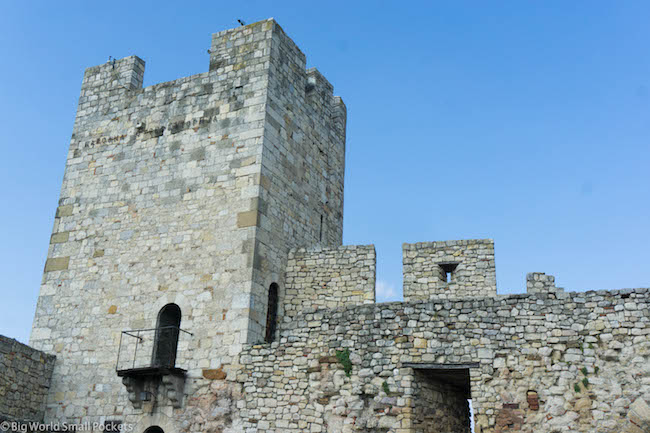 Probably the most touristy part in untouristy Belgrade, and therefore still not very touristy at all, I was delighted to head to this city's historic fortress and find, not an entrance fee to a worthless and stuffy museum, but a FREE hilltop park, surrounded by ruins, gorgeous views and lots of locals chilling and walking their dogs!
While there are several exhibitions here you can pay to see, this is exactly the sort of fortress I'm all about personally – one that combines history with living use and a nice place for some Instagram snaps!
As such, heading to the location of 115 battles (apparently) that has been destroyed 40 times (seriously) and where the Celts, Roman, Turks and Austro-Hungarians have all left their marks, is definitely one of the best things to do in Belgrade for backpackers.
#2 Things to Do in Belgrade – Espresso it Up in Character-Filled Cafes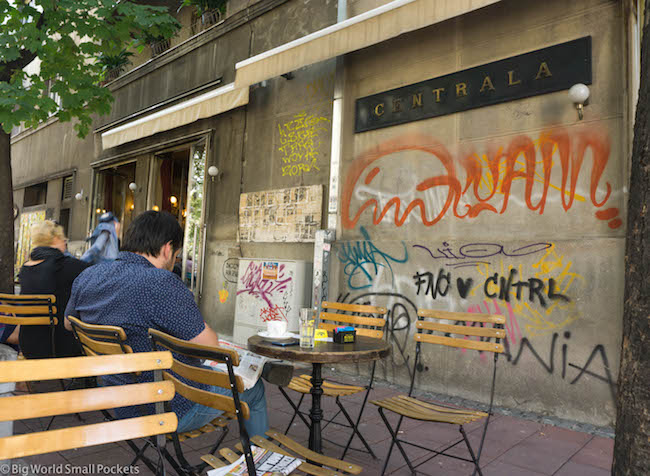 While I love a hipster café as much as the next millennial with a flat white and avocado addiction, one thing I did find delightfully refreshing about Belgrade was the lack of identikit cafes that all offer good seating and exposed lightbulbs but little soul.
Instead, what you find as you wander the streets of the Serbian capital are an amazing range of coffee shops that look like they've changed little since the times of communism in this part of the world.
Atmospheric Centrala had to be my favourite, where a double espresso is the order of the day.
And while you can get fresh juice here, you can forget non-dairy milks and cortados!
In fact, you can forget these in Serbia all together, making this country all the more charming for it!
And if you're not a smoker, then can I suggest taking a table outside at every Serbian café – there's not even a whiff of a legislated smoking ban here!
#3 People Watch in Many Parks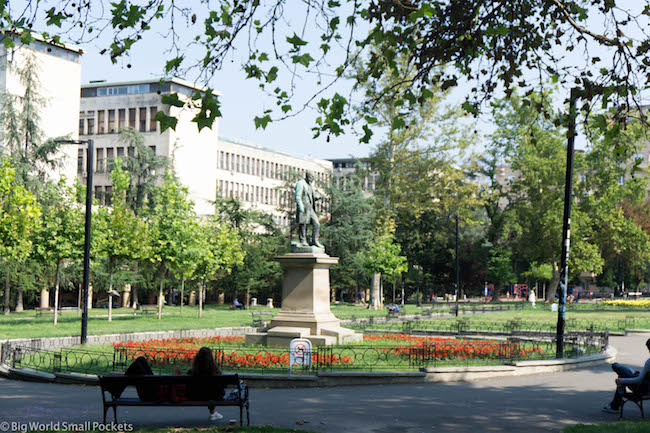 Belgrade is an amazingly green city and hanging out in one of the well-tended parks and gardens during your time in the city is certainly one of the best things to do in Belgrade for backpackers.
And, of course it's free!
It's also very relaxing and offers great people-watching opportunities, summer or winter, when locals descend out of their apartments to grab some fresh air and catch up with friends.
I loved the Student Park, situated on the edge of the Dorćol part of the city, which had a lively atmosphere and even some free English info boards about the trees and plants in the garden – oh lovely!
#4 Things to Do in Belgrade – Do Some Bonkers Bar Hopping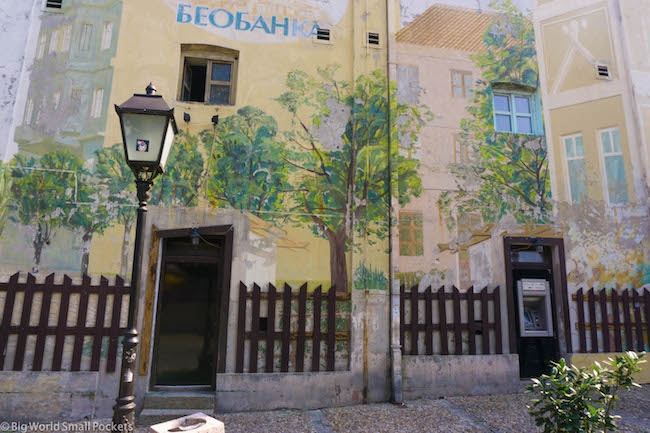 Everyone knows, or at least you do now, that Belgrade is famous for its chaotic and energetic nightlife with clubs open until dawn every night of the week.
The city has a young, vibrant and progressive youth culture that fuels this, and for those of us travelling from Western Europe, the US, Australia or New Zealand, the cost of a fun night out in Serbia can seem ludicrously cheap!
All of this makes bar-hopping one of the best things to do in Belgrade for backpackers and you're sure to come away with a ton of Serbian friends after just a few drinks.
Sunset views are hard to beat from Boho Bar, which is located in Kalemegdan and was recommended to me by a lovely local over IG!
Otherwise, a lot of the action centres on pedestrianised Skadarska, but personally I found this street a tourist-ridden turn off and suggest heading to the surrounding streets and suburbs instead for a more local and genuine feel, in particular, the famous Drugstore club can't be missed!
Savamala is another top area, but more about that in #10!
And if you're interested in discovering some of Belgrade's best local watering holes, then why not take a highly recommended Belgrade beer tour and learn a bit of Serbian history while you're at it.
#5 Discover Hidden Barge Bars
Or, better than heading to the surrounding streets even – why not head to the river?
And no, I'm not talking about all the commercial bars that line the waterfront in Novi Belgrade, nor the nightclub barges known as splavovi that cram along the banks of the Sava River either.
Instead, I'm talking about some of the local, down to earth secrets, frequented only by a certain arty and alternative set.
Yes below Kalemegdan and across the river from here are some secret boat cafes and bars, where kicking off your shoes, grabbing a cheap beer and a delicious homecooked lunch amidst a ramshackle décor will give you a real flavour of a very different sort of Belgrade bar.
Yaram / Jaram was my fav 😉
#6 Things to Do in Belgrade – Stay in a Floating Hostel
And sticking with the alternative theme, another of the absolute must do things in Belgrade for backpackers is stay in a floating hostel.
Yes, just along the river, and with Kalemegdan clearly in sight, is an incredible barge hostel, that is certainly one of the most unique and fun places I've stayed in any city ever!
Arkabarka Hostel is a gorgeous backpackers that boasts beautiful private and dorm rooms, all with unique hand-painted walls, days beds and delightful views.
Its quiet setting makes it super peaceful and its communal area, where free breakfast is served, gives the most delightful river views.
Sun yourself or catch a breeze from the wooden deck in summer or snuggle up in the free sauna during winter, either way the top location, free bike hire and excellent wifi in this hostel make it a top pick for your Belgrade accommodation.
And it's easy to get to, just hop on the number 84 or 15 bus from the central local bus station – Zeleni Venac.
Grab the Best Rates at Arkabarka HERE!
#7 Relax at the Amazing Ada
Let me be really clear here, Ada Ciganlija is perhaps the most amazing city park I've been in… ever!
Essentially a whole island seemingly designated to improving the quality of life of Belgrade citizens, this gorgeous spot boasts walking tracks, cycling tracks, tennis courts, sport pitches, playgrounds, gardens, bars, cafes, watersport opps galore, not to mention a riverside beach and clean swimming in the Danube.
It is nothing short of pure delight, especially in the summer, when locals flock here for a good time in this landlocked country.
And I highly suggest you do the same – it is without question one of the best things to do in Belgrade for backpackers and is utterly free.
Grab the number 52 or 53 bus here from the central local bus station – Zeleni Venac.
#8 Things to Do in Belgrade – Dine Out & Delight in Zemun
Incredibly well-connected by public transport, Belgrade is both easy and cheap to get around – another reason it's a delight for backpackers.
And on this note, getting out of the centre to some of the surrounding suburbs is definitely one of the best things to do in Belgrade.
And it's hard to top the lovely, riverside area of Zemun – situated about 3km out from Novi Belgrade and easily accessible by bus if you're staying at ArkaBarka Hostel.
Zemun feels very relaxed and coming to explore the views from the hilltop church, wander the cobbled streets and enjoy a dinner alongside the water here makes for a lovely excursion from gritty Belgrade.
#9 Take a Free Walking Tour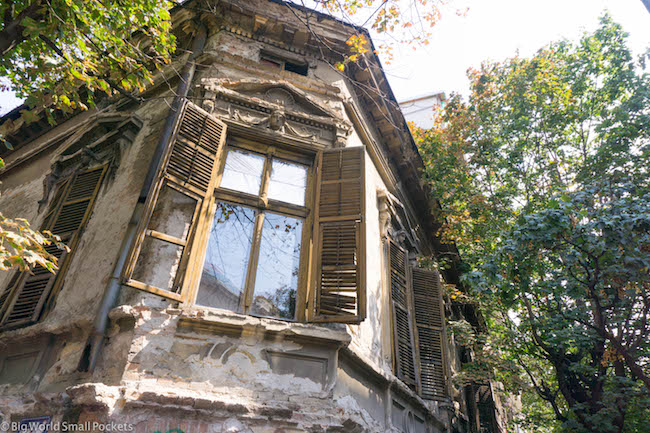 I was never a fan of the "free" walking tours until I came to Eastern Europe and realised how great they are when it comes to quickly and interestingly learning a lot about the history of the city you're in.
I especially loved the one in Bulgaria's capital Sofia, but the one I did in Belgrade came a close second with the great informative guide and fantastic intro to the city it gave.
The Belgrade Free Walking Tour Company actually runs 3 free tours and their flagship one – The Free Downtown Tour – departs every day at 11am and 4pm.
#10 Cycle Savamala
And last but not least, the final entry on my list of the best things to do in Belgrade for backpackers is to cycle this city, in particular Savamala, which is a newly regenerated district full of bars, cafes, restaurants and clubs that line the Sava river.
With designated cycle tracks, it's a great place to cruise along, people watch, and is delightfully flat.
After that, head across the Brankov Bridge (Brankov Most) and continue your cycle through the huge Park Prijateljstva, where you'll be joined by locals rollerblading, running, dog walking and skateboarding!
You can, of course, grab your bikes for free if you stay at ArkaBarka Hostel and this makes a fab way to enjoy Belgrade on a budget.
PIN IT TO PINTEREST!
So there you have it, my list of 10 brilliant things to do in Belgrade for backpackers.
Honestly, it's hard to beat this city for fun and price, making it a mecca for budget travellers everywhere!
When are going?