The beautiful city of Novi Sad, situated in the north of Serbia is probably most famous for the Exit music festival that happens here every July.
Visit at any other time of the year and you'll find a laidback, very local city that oozes friendly charm, unpretentious sophistication, culture, history and some gorgeous surrounds.
When I visited Novi Sad in Serbia as part of my summer Eastern Europe adventure I was delighted to find few other tourists around.
Yet from an ancient fortress and Old Town, to beautiful Danube views, a riverside beach, lively café culture and even a national park on the doorstep, it was a delightful stop, which provided a welcome relief from treading the busy backpacker route of Prague, Berlin and Budapest.
So, if you're looking for somewhere a little different, yet still bubbling with a vibrancy and a diverse range of things to do, look no further than Serbia's Novi Sad.
Here's my ultimate backpacker guide to it all…
---
Related Posts
---
This page contains affiliate links meaning Big World Small Pockets may receive a small commission on any purchases at no extra cost to you.
My stay in Novi Sad was kindly sponsored by Varad Inn Hostel but, as always, all views are my own.
---
Why Visit Novi Sad?
Destined to be the European Youth City in 2019, as well as the European Capital of Culture in 2021, Novi Sad is on the rise!
Long esteemed as a happening, student city, with a vibrant culture and tradition of activism, Novi Sad is a local-feeling, youthful place that makes the perfect addition to a Belgrade excursion, or an ideal city break in its own right.
If you're visiting in July, EXIT festival held annually at this time, is the perfect excuse to go and party Serbian style (oh how the Serbs love to party!), but at other times of the year Novi Sad is a wonderful addition to a longer Eastern Europe excursion.
Allowing just a few extra days here on your way south from Budapest, west from Sarajevo, north from Belgrade or east from Romania or Bulgaria is a great idea and a chance to get away from simply visiting the capital cities and ticking those boxes!
Did I mention it's also crazy cheap?!
Get here before the world catches on!
When to Visit Novi Sad?
Being a complete winter-phobe, there's no question I'd suggest visiting Novi Sad in the summer, when film festivals, music festivals, street performance festivals, dance festivals and general merriment is in full swing.
That said, making this a winter break, if you bring a thick coat and some even thicker socks, would make a snowy splendour of a time – especially with the city's picturesque setting on the banks of the Danube.
How Long to Stay?
Novi Sad is a small city, but offers tons to do.
Allow a full day to explore the Fortress here, the Old Town and the modern centre with its many shops, cafes, restaurants and churches.
Strolling along the Danube, checking out one of the many parks and hitting the Strand Beach are also must-dos.
With another day or 2 up your sleeve, there's plenty of day trips you can make from Novi Sad, including to the surrounding national parks, vineyards and monasteries. Scroll to the bottom of this post to learn more.
Otherwise, you can also visit Novi Sad as part of a great day trip from Belgrade.
Getting to Novi Sad
In the north of Serbia, about an hour from Belgrade, backpackers can make their way to Novi Sad from a variety of directions. Here's the most common:
Belgrade to Novi Sad
The nearest airport to Novi Sad is Belgrade, find a cheap flight here and then hop on a local bus straight from the airport to Novi Sad – it will take less than 1.5 hours.
If you're arriving into the centre of Belgrade from another European city, then hopping on a bus is again your best bet. Leaving from the Main Station in Belgrade every 20 minutes or so, the bus to Novi Sad costs around 7 Euros and takes 1.5 hours.
If you're travelling from Bosnia, Croatia, Romania or Bulgaria, you're likely to arrive via international bus into Belgrade, so stay at the station and head straight out to Novi Sad.
Budapest to Novi Sad
Bus and trains from Budapest stop in Novi Sad, making it the perfect city to break up the journey from Hungary south to elsewhere in Europe.
Getting Around
Both bus and trains arrive into stations that are located next to each other in Novi Sad, just north of the city centre.
Hop on bus 61, 62, 64 from these stations to get to the City Centre or across the bridge to the Fortress and Old Town.
Otherwise, once downtown, it's safe and easy to walk everywhere in Novi Sad.
Walking along the promenade adjacent to the Danube is particularly pleasant, with cyclists, runners and rollerbladers all making use of this car-free track.
Taxis are extremely reasonable in Novi Sad too and, quite amazingly in my experience, never rip you off.
Short trips around the city won't cost you more than a dollar or 2 in a taxi, but do make sure the meter is in use!
Best Hostel in Novi Sad
As far as I'm concerned there's only place you should stay in Novi Sad and that's the fabulous Varad Inn Hostel.
Recommended by Lonely Planet's Eastern Europe guidebook, as well as me!, this family-run guesthouse, set in a heritage building, is perfectly located below Novi Sad's Fortress in the gorgeous Old Town.
With dorms, privates, ensuites, a small guest kitchen and cute courtyard, this is a wonderfully chilled spot, with some of the friendliest staff ever!
Staying 3 nights, I had a hard job to pull myself away from the lightening wifi speed, relaxed feel and the new Serbian friends I made here!
Things to Do in Novi Sad
Where to start?
So the first thing to do in Novi Sad is a hike up to the Fortress – FREE – and snap the amazing Danube and countryside views from the top.
Next stroll through the Old Town and across the bridge to the City Centre.
Here you can wander the shops, cafes, churches, parks and squares to your heart's content.
You should also return in the evening when all the streets here come to life with alfresco diners and drinkers bringing a great atmosphere to this pedestrianised area.
Zmaj Jovina is the main eatery / bar strip in the city centre, so head here and the surrounding streets if you're after a good time.
For something more relaxing, walking along the Danube to the Strand – Novi Sad's answer to a beach, which is loads of fun and costs just 50 Dinar entrance – about $0.50 USD.
With grass and sand to lie on, take a towel, a good book and enjoy catching some rays here on a summer's day – it's Novi Sad perfection!
Eating & Drinking
No trip to Novi Sad would be complete with getting stuck into some Serbian beer, wine and rakija (local lethal spirit made from fruits like plum, apple and quince!)
Local foods worth trying include Burek and Kajmak.
Here's my following recommendation for eating and drinking in Novi Sad:
Breakfast: Kombinat
Coffee: Pogon
Craft Beer: Mazut
Lunch: Protein
Live Music: Corto
Dinner: Toster Bar
Day Trips from Novi Sad
There's also a couple of day trips you can easily and cheaply take from Novi Sad, which make extending your time here well worth it.
Sremski Karlovci
If you're staying at Varad Inn, this is a super easy day trip because all you need do is take the 61 or 62 bus from basically outside the hostel door!
In 15 minutes you'll be in the quiet town of Sremski Karlovci.
Situated in the banks of the Danube, this place is famous as a local wine growing region, so cellars and wine shops abound with plenty of tastings on offer.
Get stuck in!
The panoramic view across the city and Royal Gardens also deserve a special mention.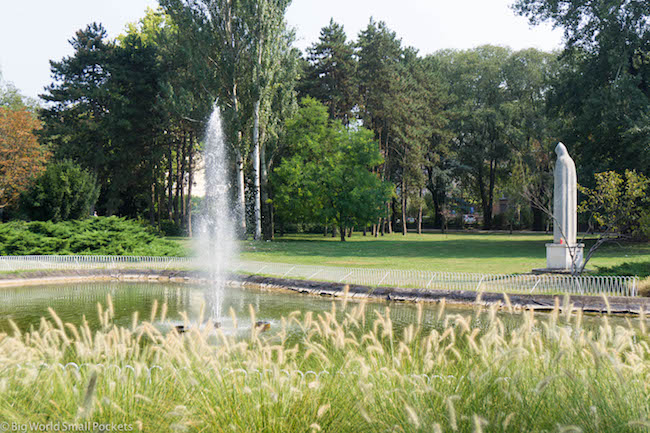 Iriški Venac
Situated in the heart of Fruška Gora, this is a great day trip if you want to take in the beauty of this national park without having to plan a multi-day hike or hire a guide.
Enjoy the views as you feast over a delicious Serbian lunch and then head out by local bus to explore the ancient monasteries, such as the Novo Hopovo Monastery, that dot the landscape here.
PIN IT TO PINTEREST!
So there you have it, my ultimate backpacker guide to Novi Sad, Serbia.
Have you visited this gorgeous city?
What was your favourite thing to do there?