Getting straight to the point – Romania is incredibly cheap.
In fact, I think it's maybe one of the cheapest countries to travel in Europe and therefore ideal for those of us on rather a tight budget!
But with some great cities, stunning mountains and even a protected wetland area, Romania isn't just great for backpackers because of the prices.
Nope, there's a whole heap of amazing stuff to see and places to visit in this large and diverse country.
So if you're looking for inspiration for your next shoestring travel expedition, check out my list of the 10 best things to do in Romania for backpackers… it might just give you an idea or 2!
---
Related Posts
---
This page contains affiliate links meaning Big World Small Pockets may receive a small commission on any purchases at no extra cost to you.
---
#1 Hit up the Bookshops Bucharest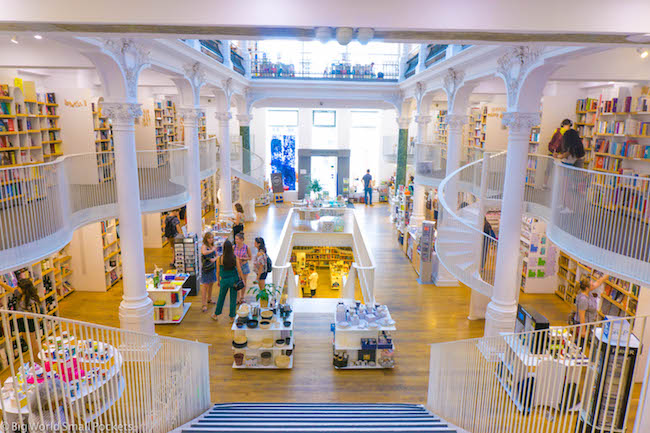 Look if you want my advice, I'd avoid the touristic Old Town in Bucharest like the plague.
Full of cheap, tacky restaurants and bars, it's not even that old and was honestly my least favourite part of the city.
Instead, I'd head to any of the surrounding suburbs to get a flavour of what local life is really like in Romania's capital and to soak up the great atmosphere at some of the many excellent cafes.
Another thing you can't miss, something that somehow defined this city for me, is one of the amazing independent bookstores that thankfully don't seem to be part of a dying breed like they are in many parts of the world.
There's many to choose from, but to get some specific recommendations, do check out my post about the most fun things to do in Bucharest on a budget.
When it comes to accommodation in Bucharest, then I strongly recommend grabbing an Airbnb for a couple of nights.
Far better value than a private room in any of the hostels, I got a great deal on a mini apartment in a great central location and couldn't recommend it enough.
#2 Join the Crowds at a Castle
Ok ok, so they are full of tourists, annoyingly so in the summer, but honestly who can come to Romania and not take in a castle or 2?!
As such, checking out at least one of these mystery-steeped constructions is definitely one of the best things to do in Romania.
Most popular is Bran Castle – situated just outside the city of Brasov.
It's gorgeous, set on a hill in some lovely parkland, but honestly, the crowds and the queues completely put me off.
I would rather have headed to Peles Castle, which is not only nearer Brasov, but rumoured to be more beautiful and to have fewer crowds too.
You do have to take a guided tour within Peles Castle, which is the only downside, but otherwise, this looks like the winner!
If you want to visit Peles Castle, then don't feel you have to stay in Brasov either; the lovely town of Sinia has some budget accommodation options and is much closer.
#3 Party in Cluj
The major student city in Romania, there's no question they know how to have a good time here… and in Romania, that's really saying something!
Party as hard as you like in this town and you'll still be struggling to spend all your money.
Yup that's the beauty of having a good time in this country and why having at least one wild night out is definitely one of the best things to do in Romania for backpackers.
Cluj also has an intersting salt mine you can visit just outside of the city. Check out this great GetYourGuide day tour that heads there and includes skip-the-line tickets.
#4 People Watch in Timisoara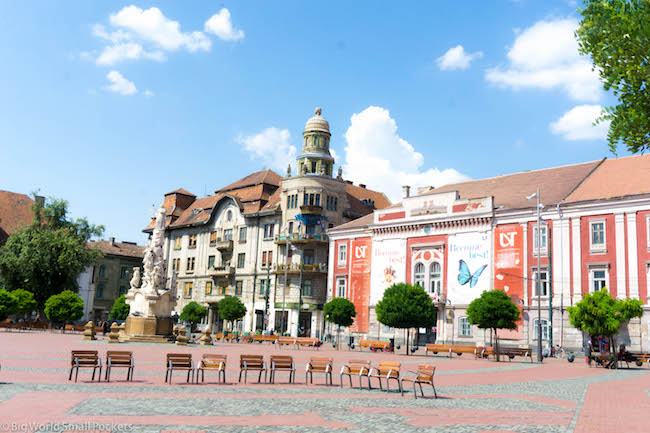 Timisoara was a complete surprise to me and all the more delightful for it.
Planned as just a stopover on my way to Serbia, I was nevertheless delighted to stumble upon a gorgeous wide-street city with more parks and squares and church bells chiming than I could imagine!
This great city also had some top cafes like Bio Fresh and Mokum Café, as well as plenty of quirky statues and a very authentic vibe.
If you do end up in Timisoara, then I can highly recommend Downtown Hostel. Centrally located, it's the perfect place to stop for a night or 2.
5 ESSENTIAL PACKING ITEMS FOR ROMANIA
#1 Good Camera – You will be pretty much snapping non-stop during your time in Romania and will need a good camera to do this gorgeous country justice. I highly recommend the Sony A6000, which I use for all my travels and love, not least because it's light, compact and robust!
#2 Good Walking Shoes – There will be a lot of walking in Romania, it's as simple as that! Make sure your feet are comfortable therefore with a pair of New Balance Trainers. Perfect for stylish city strolling as much as monastery mounting, I love mine!
#3 Good Guidebook – I'm still a massive fan of the Lonely Planet Guidebooks and do think their Romania & Bulgaria Edition is well put together and able to save you a lot of money if you want to learn about the history of this country, but not continually pay for a guide!
#4 Good Water Bottle – All that sightseeing is thirsty work, so make sure you have a metal water bottle that you can refill as you go, because Romanian tap water is drinkable… and free!
#5 Good Backpack – And to carry your water bottle, camera and guidebook, you're going to need a decent backpack that will help you balance the weight as you walk and sightsee. In my opinion, you can't go past the Bobby Anti Theft Backpack, which is also perfect for helping you avoid pickpockets too.
#5 Scale the Clock Tower in Sighisoara
A visit to the charming Transylvanian town of Sighisoara is absolutely one of the things in Romania you can't miss when backpacking here, not least because it's cobble-street Medieval charm feels like something out of a storybook!
Climb up the hill to get to the historic centre, dump your bags at the brilliantly located Burg Hostel, and then spend an afternoon strolling the streets here and snapping to your heart's content.
With gorgeous views across the New Town below, the river and the rolling hillsides around, you also can't miss wandering up to the Citadel (free) and climbing the steps to the top of the Clock Tower to grab perhaps the best view in Transylvania there is.
#6 Take a Scenic Train Ride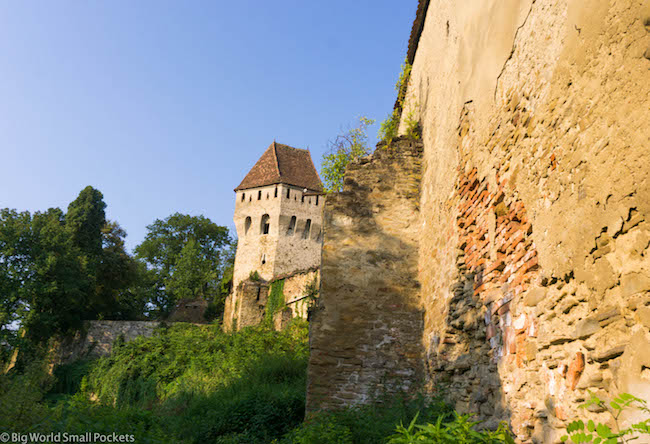 Honestly, there's few greater pleasures and fewer better things to spend your money on than a train ride in Romania – especially if it's through, across or into Transylvania.
Trains in this country are insanely cheap – if you see the state of many of them you'll realise why! – and this makes hopping onboard one and spending hours staring at the stunning scenery whizzing past, absolutely one of the best things to do in Romania for those of us on a budget!
Top rides include the 2.5-4.5 hr journey (depending which train you get) from Bucharest to Brasov and the 2 hour train from Brasov to Sighisoara.
Entertainment and stunning views for a fraction of what it normally costs!
#7 Hike to the Brasov Sign
And once you've got the train there from Bucharest, there's absolutely no reason you shouldn't drop down your bags and pass a night or 2 in the delightful Transylvanian city of Brasov.
Famous for its close location to some of the country's best castles (see #2!), Brasov is also well worth a visit in its own right, as you enjoy the squares, cafes (my favourite was The Bean), religious buildings and ambience of this historic town.
Certainly one of the best things to do in Romania for backpackers, Brasov has some great hostels like Kismet Dao, and no time here is worth its while without a hike up Mount Tampa to the weird but wonderful Hollywood-esque sign.
#8 Check out the Charm of Sibiu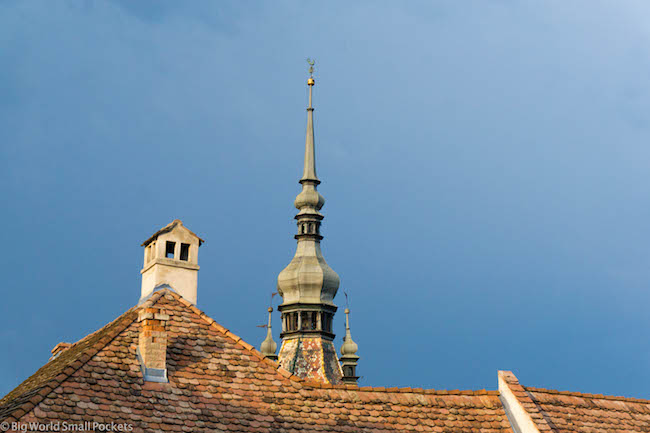 The list goes on and on, but honestly, you can't make it to Romania and then to Transylvania and not spend a night or 2 in Sibiu either.
More gorgeous cobbled streets await you, as do ornate churches and quaint museums.
But it's something about the people of this town and the relaxed ambience that will ultimately draw you in and make you reluctant to leave.
#9 Sample Some Local Wine
Do not, I repeat do not, think that trying some local wine isn't one of the best things to do in Romania.
Honestly, if you're anything like me, you'll be hugely surprised and impressed by the quality on offer and, of course, the price ain't bad either!
Maybe I will have that second bottle glass.
And if it's beer you're after instead, then my pick of the local Romanian brews has to be Ciuc.
#10 Discover the Danube Delta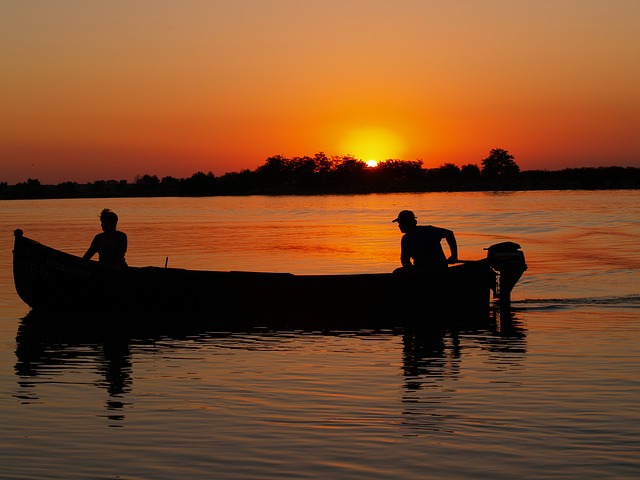 And last but not least on my list of the best things to do in Romania for backpackers is to get off the beaten track and head to the Danube Delta.
Spanning a huge distance across the country's coastline, this protected wetland is a haven for wildlife, birds in particular, and taking a boat ride to explore this wonderful watery world is the best way to soak it all in, as well as do something a bit different.
PIN IT TO PINTEREST!
So there you have it budget travellers, my list of the 10 best things to do in Romania for backpackers.
Have you visited this great country?
Did you love how cheap it was too?
What was your favourite thing to do there?
Let me know all in the comments below…