When many people think about visiting the Middle East – especially solo female travellers – their minds tends to fill with all sorts of concerns.
Is it safe?
What can I wear?
Will I get harassed?
Indeed, I too had many of these fears before I set out to travel this part of the world, by myself, on a budget.
Concerns about safety and how easy travel would be as a solo female in this part of the world were certainly high on the list.
But, as I'm pretty much always delighted to discover, these were completely unfounded!
In my opinion I felt very safe in the Middle East, found deciding what to wear very easy and almost never felt uncomfortable.
And top of the list when it came to unfounded travel fears, was discovering the lovely, little country of Lebanon.
Hands down the best destination I visited in the Middle East, I've actually travelled to Lebanon 4 times now and still love it!
So if you're a single lady voyager thinking of wandering over this way, and that doesn't give you enough confidence, then check out this post for the full lowdown on solo female travel in Lebanon, I'm certain it will have you booking your ticket in a flash!
---
Related Posts
---
This page contains affiliate links meaning Big World Small Pockets may receive a small commission on any purchases at no extra cost to you.
---
General Safety in Lebanon
This major thing I noticed when I was planning my first trip to Lebanon was how little information there was online about safety, particularly from others travellers who had been there recently and experienced the country for themselves.
Having to rely solely on the word of the few travellers I'd met personally who had been to this country, therefore, I decided it was time to bite the bullet and visit myself, because literally everyone I met had LOVED Lebanon.
And I'm shamelessly now joining that pack of lovers too, because after 2 months in Lebanon, there's no question this country ranks as one of my global favourites.
Because as I found out, Lebanon as a travel destination is hugely undiscovered, hugely underrated and widely misconceived.
And a lot of those misconceptions revolve around safety.
Yes Lebanon had an awful civil war, but that ended in 1990 and having only had a 34 day war since then in 2006, it's fair to say things are pretty stable these days.
In fact, I'd go further than that and say Lebanon is actually flourishing, but more about that later.
Travellers are also understandably concerned about safety in Lebanon due to its proximity to Syria and its fractious relationship with neighbour Israel.
But in all my travels around this country, I've never had any problem related to either of these issues.
Military checkpoints are in operation across the country and there is a high military presence almost everywhere you go.
Due to this, I'd advise carrying a copy of your passport with you at all times in Lebanon, but rarely (in least in my experience as a white, western, solo female traveller) did I ever get stopped and asked to show it.
Nevertheless, better to be prepared!
Update: Nation-wide protests have been taking place in Lebanon since Oct 19. These are aimed at the government / official parties and have involved teargas, water cannons and some violence. In my personal opinion however, tourists have very little to worry about beyond roadblocks and transport disruption as long as they avoid demonstration areas.
A good starting point when it comes to assessing the safety in Lebanon is the website of the British foreign office, which provides a detailed breakdown of the country by region, indicating varying levels of concern and is regularly updated.
I recommend checking out the latest British Foreign Office info here, before you plan your trip.
To be honest, I failed to check this before I visited Lebanon and only discovered afterwards that I'd actually been in many of the areas deemed unsafe.
Granted this was with locals – I'm not sure I would have scurried off there on my own – but never once, even in those supposedly "unsafe" areas, did I feel at all in danger.
I'm not saying this to brag in any way, or dismiss the danger, but merely to give you some comparative idea of just how safe the areas actually deemed safe by the British government are.
Different Parts of Lebanon
Aside from my personal experience of safety in Lebanon, what the British Foreign Office overview does however, is illuminate the many different areas of Lebanon there are and how wildly different they can be.
This is certainly true.
After all the time I spent in this country, I can honestly say I don't think I've been anywhere else in the world that jams so much diversity into such a small area.
From the Hezbollah-controlled areas (Hezbollah are a Shi'a Islamist political party and militant group, now a legitimate part of Lebanese politics, but still defined as a terrorist organisation by the US and the EU in case you weren't aware) to the liberal, hipster bars and clubs in Beirut, this a country which straddles great religious, economic, cultural and linguistic divides.
As such, there's no denying that different modes of dress and behaviour are required in different parts of the country – an especially important point for us solo female travellers to note.
The more conservative cities of Sidon, Tripoli and Tyre, for example, require more conservative dress when compared to the capital city of Beirut.
That said, even within Beirut there's many distinct pockets – the suburbs around the airport for example are certainly more conservative (and potentially more dangerous says the British Foreign Office) than the cosmopolitan areas of Hamra, Gemmayzeh or Mar Mikhael.
All in all, my advice if you want to travel to Lebanon as a solo female is generally to research where you'll be going to advance and to plan accordingly – this is likely to make you feel a bit more comfortable if nothing else.
READ MORE: The Perfect 1 Week Itinerary for Lebanon
Hospitality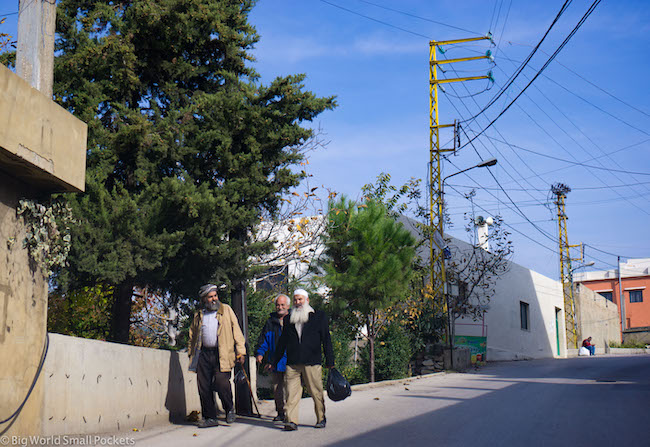 Because let's not forget the folk of the Middle East – especially Lebanon – are some of the friendliest people in the world.
If you're travelling in this country for any period of time, especially if you're a solo female, you're going to have no trouble making friends, trust me!
Asking anyone about the current situation in different areas of the country will give you the best guide as to whether somewhere is safe or not – local opinion is a key way to gain very up to date info on the ground – and will also help you assess how conservative or not a particular spot may be.
It's also quite likely you might even be invited to visit some places with Lebanese people who are always keen to show off their country.
Staying in a hostel in Beirut is a great way to meet people, and I always suggest the Gemmayzeh or Mar Mikael areas as the best place to base yourselves – there's lots going on here and they are quite liberal suburbs where you're bound to meet Lebanese people used to interacting with foreigners – either tourists or expats.
Otherwise, there's regular Couchsurfing meetups every Tuesday in this area and the Beirut Pub Crawl, organised by my friend Jo, also operates here and is a great way to meet people too, especially if you're a solo female traveller.
You can check out Pub Crawl Beirut's website here and their Instagram page here.
All in all, I found Lebanese people across the country, incredibly kind, welcoming and hospitable.
Open, friendly and delighted to have you in their homeland, this is certainly one country I wouldn't suggest you'll feel lonely in at all as a solo traveller.
LEARN MORE: Solo Female Travel in the Middle East – What to Expect!
Language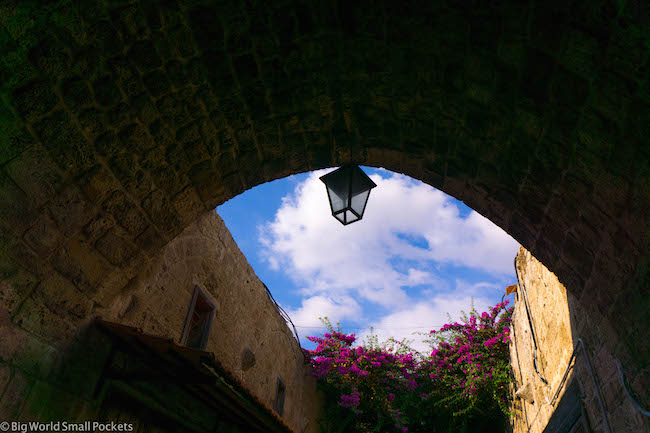 Given the chequered history of the country and the layers of different civilisations, empires and power structures Lebanon has been subject to, there's no surprise this is an incredibly multi-cultural nation.
Reflecting this is the multi-lingual nature of its people, with much of its population being fluent in at least 3 languages – generally Arabic, French and English.
Honestly, if you can speak any of these, you should have no problem conversing in Lebanon, especially in the more liberal areas of Beirut I've already named.
For these are the places where the professional, educated and urban elite tend to hang out in the capital (plus the Downtown and Hamra districts) and you'll definitely meet a subset of Lebanese people here who are more likely to be able to speak multiple foreign languages.
Where to Stay in Lebanon as a Solo Female Traveller?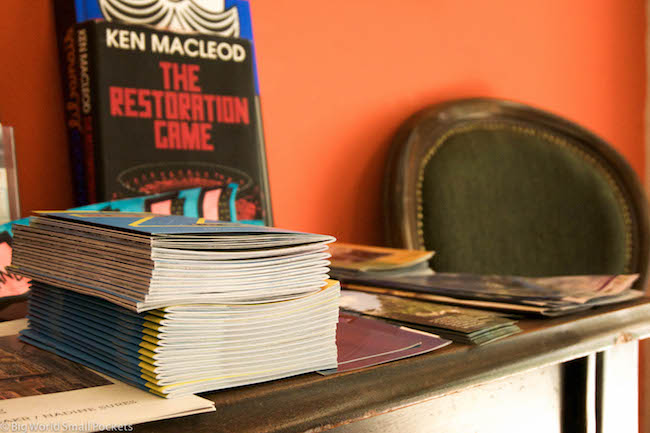 For this reason, I generally advise visitors to base themselves in Beirut during their travels in Lebanon.
It's such a small country that day tripping from the capital is super easy and with Lebanon still being quite an off the beaten track destination, you may feel safer and more comfortable basing yourself in the capital and wandering off from there to enjoy the surrounding areas and cities.
As I previously mentioned, Beirut is where the more western and European influences can be felt in Lebanon (of course there's other places too, but let's stick with Beirut for now) and, as such, many solo female travellers find it easier to meet people and find fun here.
Gemmayzeh and Mar Mikael are the 2 areas of Beirut I'd advise staying in – there's loads of nightlife here, as well as amenities and good transport connections.
It's also very safe and buzzes with a real sense of life and youthful vibrancy.
Furthermore, the architecture is gorgeous and you can't walk more than a few streets without coming upon a cool gallery, bar, café or cultural space.
When it comes to budget accommodation options, I always recommend Hostel Beirut for its good location, roof terrace, guest kitchen and good dorm prices in Mar Mikhael.
Otherwise, Hamra Urban Gardens has some delightful private rooms and is near the Corniche if you fancy a seaside stroll or near La Rouche if you fancy some epic sunset pics.
Staying outside of Beirut is completely possible, but it's worth bearing in mind that there is much less tourist infrastructure here, you're less likely to meet other travellers and Arabic may be the only mode of communication open to you.
Depending how intrepid you like to travel this may, or may not, be what you're after.
READ MORE: Top 10 Free Things to Do in Beirut
Going Out at Night / Drinking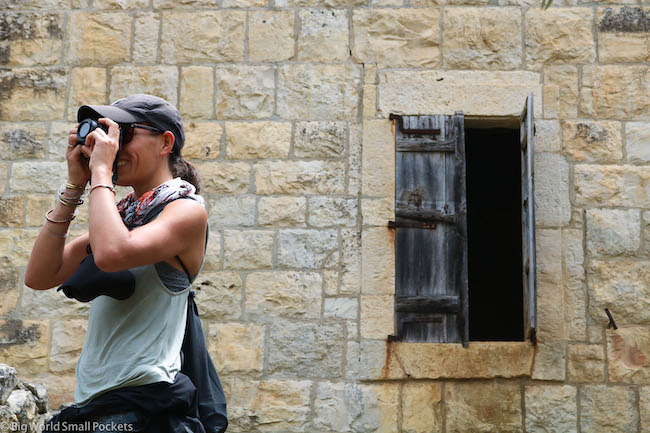 In general, I found solo female travel in Lebanon very safe at night and, even in many areas of Beirut, felt completely comfortable walking by myself after dark.
This may have something to do with it being a very religious country, but despite the sometimes unstable political situation, Lebanon actually has quite low crime rates and I never felt any threat as a solo female when it came to more personal forms of crime.
To mention them again, Mar Mikhael and Gemmayzeh are the more party zones of the city and certainly going out drinking here is basically the order of the evening, any evening infact, any day of the week!
Drinking by solo female travellers is far from frowned on in Lebanon and while it may not be a common occurrence in other more conservative parts of the country, it isn't seen as a problem anywhere in my experience – especially if you're obviously foreign.
It's just more likely that in many of Lebanon's other towns and cities there just isn't much going on after dark, so stick to Beirut if you want to party.
LEARN MORE: 23 Amazing Things to Do in the Middle East
What to Wear as a Solo Female Traveller in Lebanon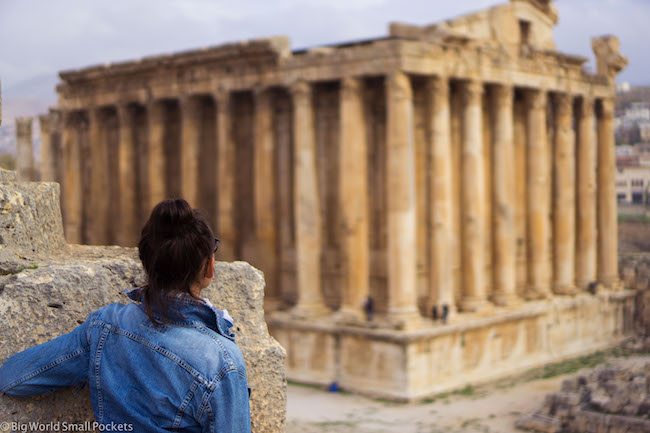 This leads me on nicely to talking about what to wear when you're planning to solo female travel in Lebanon.
I know for many female travellers in the Middle East, this area can bring up a lot of questions.
But while Lebanon does have a majority Muslim population, it's far from adopting Sharia law and there's certainly no requirement for you to wear a headscarf (outside of when you're visiting a Mosque) anywhere in the country.
That said, this is the land of diversity and if you're heading to the more conservative cities of Tripoli, Sour, Sidon and to more rural areas in the Beqaa Valley for example or to Baalbeck, you may just want to stick to slightly more conservative dress and by this I mean long trousers / skirts and long sleeves.
It's also worth noting that if you're heading out of Beirut, especially north or east, that the mountains here mean things will be a lot cooler anyway.
As such, having longer sleeves and legged clothes is probably what you want to opt for anyway, especially if you're hiking or camping out in this gorgeous scenery.
In downtown Beirut and the surrounds however, western dress and short / tight clothing is completely fine.
In the warm summer months, it gets crazy humid in the capital, so small skirts etc and sleeveless tops are definitely fine.
Ditto tight clothing like leggings.
Honestly, once you see how many local people in Beirut dress, especially in the more liberal suburbs, you'll feel just like you're going out in Europe, so a dress and heels would not be out of place on a night out either.
In winter Lebanon gets much cooler – think Mediterranean climate and so a jacket and jumper / sweater is definitely advised.
Even nights of the Spring and Autumn shoulder seasons can be fresh down in Beirut, so packing layers is key for solo female travellers in Lebanon.
Communications & Services
As a blogger, there's no way I can be without the internet for long (sad reality I'm afraid peeps) so I'm delighted to say that despite what I had read online in advance, I found the internet in Beirut at least – where I predominantly stayed – to be completely fine.
Fibre technology hasn't reached Beirut yet, but the ADSL2 connection worked perfectly for me in cafes, hostels and bars across the capital.
Ditto the 3G connection, which I got care of my Lebanese SIM card.
There's 2 telecommunication companies in Lebanon – Touch and Alfa – but both are owned by the government, so it can't really count as competition!
Perhaps that goes some way to explaining the crazy price of data in Lebanon, because sadly the one thing this country isn't, for travellers, is cheap.
If you're only in Lebanon for a short amount of time, I'd recommend getting a short term SIM with Touch who offer a 10 day active SIM card for $3 USD that has 3G of data.
After this, you're talking around $20 USD for a couple of GB that will only last you a month – yup, more expensive than most European countries!
A lot of the expense in this area is due the issues Lebanon has with its service supplies – both water and electricity regularly stop (like on a daily basis). In fact, Beirut has scheduled power outages for 3 hours every day, essentially because the grid cannot cope with demand and more rural areas have outages for 12 hours daily.
Kinda crazy, but hey this is solo female travel in Lebanon!
If you're staying in any hostel or hotel however, you need not really worry about this, because they almost all have back-up generators that kick in as soon as the national outages begin.
That said, there's no harm in bringing a headlamp with you when you travel to Lebanon, just in case.
Most hotels and hostels will also provide laundry services and can help you out with any other basic services you need.
At this point, it may be worth saying that Lebanon generally uses a 2 currency system – they have the Lebanese pound (which runs into a hideous amounts of zero that was hell for my maths skills) and the USD.
Both currencies can be withdrawn at ATM machines and are basically used interchangeably.
Update: Since late 2019, the formerly stable exchange rate between the USD and LLE has been fluctuating greatly and banks in Lebanon have now restricted withdrawals both at ATM machines and through other means. You'd be wise to check the situation concerning exchange rates and accessing funds before travelling to Lebanon.
Insurance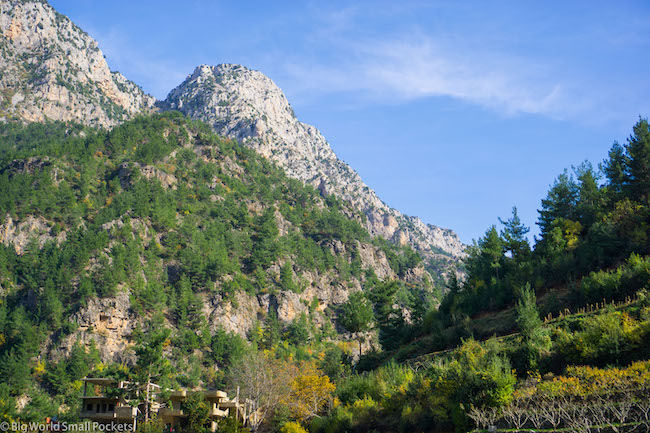 World Nomads offers simple and flexible travel insurance. Buy at home or while travelling and claim online from anywhere in the world.
Alternatively, if you're a long-term traveller, digital nomad or frequent remote worker seeking travel health cover, check out Safetywing's Nomad Insurance policies.
Dangers and Annoyances
For it comes to solo female travel in Lebanon one of the biggest dangers and annoyances I know from travelling the world alone is being hassled and / or harassed.
And rightly or wrongly, the Middle East and North Africa seems to get a pretty bad wrap in this department.
However I'm pleased to say I never encountered any hassle or harassment as a solo female traveller in Lebanon.
Honestly, everyone I met was very friendly and accommodating and I certainly wouldn't have any personal safety concerns in this country if you use your common sense.
Even on public transport, people were courteous. Probably being ripped off on a bus, or more likely a taxi, is the biggest danger you'll encounter.
The second biggest danger is traffic and the crazy driving – because honestly I've never seen anything like it! And that's saying something!
Traffic is definitely a massive annoyance in Beirut – you'll probably end up walking a lot because it's quicker, but that said, this city isn't well-designed for pedestrians either!
Cars don't stop at red lights, zebra crossings are always ignored, motorbikes weave in and out of traffic, there's basically no lane system and often people drive on the wrong side of the road – I kid you not!
Therefore always look both ways before you cross the road anywhere in Lebanon and don't be afraid to put your hand out and just cross anywhere either – this is how they roll here and traffic will stop for you.
It just feels a bit weird walking out into oncoming cars of course, but if you've travelled in places like Cairo before, you'll get what I mean!
Pollution in Beirut – both air and noise – is also a big issue… you have been warned!
Public Transport
Because of the heavy traffic and the crazy driving, I would literally never suggest hiring a car for solo female travel in Lebanon and, as such, public transport is the way to go.
In Beirut, "services" (essentially shared taxis ply the streets) otherwise Uber or spin-off version Careem, are in force here too.
A British female expat was killed by an Uber driver in Lebanon last year, but I never had any personal problem and actually find the tracking services offered by this app, as opposed to just getting in a random taxi, reassuring. But of course, you make your own choices ladies.
If you want to visit cities outside of Beirut such as Byblos, Batroun, Tripoli, Sidon, Baalbeck and Tyre, then buses can be a good option.
Those travelling south leave from the Cola Intersection in Beirut.
Those travelling north can be hailed from outside the yellow gates of the Electricite Du Liban building, which is on the main highway leading out of the capital.
They shouldn't cost you more than a few dollars – pay when you get out.
There's a few different sorts of buses including Connexion buses, which serve Tripoli and destinations enroute and are large coaches that drive well.
There's minibuses which are middle of the range, and finally there's the beaten-up minivans.
They are quick and cheap, but you'll need to hang on for dear life and have nerves of steel. My advice would be not to sit in the front seat!
Tours vs Taxis
Failing public transport – if you either don't want to use it or are venturing off the main drag – then you've got 2 main options for solo female travel in Lebanon, either a tour or a taxi.
Uber can be great in this domain because for the right price you can get a driver for the whole day. Just make sure you negotiate first and try to get a group together if you can.
Uber rides to Jeita Grotto, St Charbel Monastery, Our Lady of Noorieh and Harissa are particularly popular because they aren't too far from Beirut.
Alternatively, organised tours can take you to many destinations far away and the benefit here, of course, is that you'll get to visit multiple destinations in one day.
For example, the Cedars in the north of Lebanon are often combined with a trip to Qadisha Valley, Bcharre and Kozhaya.
Byblos and Batroun are often combined with Jeita Grotto and Harissa.
Baalbeck is often combined with Aanjar and the Beqaa Valley wineries.
While tours, like most things in Lebanon, can be expensive than you'd hoped – think $120+ per day – they are organised, safe and a good way to meet others. There's also no question you'll see and learn a lot.
Hiking is also increasingly popular in Lebanon and many companies organise trekking tours, especially at the weekend to spots like the Shouf reserve.
For solo female travel in Lebanon, tour companies I recommend include Explore Lebanon, Trekking Lebanon and Mohammad El-Draihi care of Kazdoura Team.
If you're looking for some splurge, luxury relax time ladies, then look no further than Lebanon's LipHe Wellness Retreat – it's a dream!
4 Essential Items for Lebanon
#1 Lebanon Bradt Guide – An excellent resource when it comes to finding out the history of what you're seeing in this country without the need for a guide, the Lebanon Bradt Guide is a must.
#2 Head Lamp – Great for taking into Roman Ruins, Jeita Grotto or just dealing with the powercuts you may experience. I love my Black Diamond Storm, which served me super well in Lebanon.
#3 Sun Hat – Trips to the beach, the mountains, the monasteries and the ruins will mean many hours in the hot sun of Lebanon. Do yourself a favour and bring a wide-brimmed hat to protect you. I love this Hello Sunshine design.
#4 Long Thin Trousers – While Lebanon isn't a super conservative country overall, you're unlikely to feel comfortable in some areas walking around in anything too short. As such a pair of long, thin cotton or linen trousers provide the perfect attire for this Mediterranean country.
#5 A Sense of Adventure!
PIN IT TO PINTEREST!
So there you have it, my full low down on solo female travel in Lebanon.
Have I convinced you to visit this country yet?
Hope so!