11 countries in 2 months is exactly the sort of moves you can pull in Eastern Europe with so many small countries packed in alongside each other.
And those are just the sort of moves I did pull, when I spent the best part of the summer enjoying this glorious part of the world.
Hopping from country to country, city to city, I was also determined (as ever!) to see this part of the world on a budget and backpacker hostels in Eastern Europe were my accommodation of choice!
And I thought that the info I collected on the way might be able to help you out too – after all, there's nothing worse than staying in a bad hostel!
So here they are, my pick of the bunch, the 16 best hostels in Eastern Europe.
Ordered by city, you should be able to find one for the destination you're heading to next, so get ready to see more of this lovely part of the world for less…
---
Related Posts
---
This page contains affiliate links meaning Big World Small Pockets may receive a small commission on any purchases at no extra cost to you.
My stays in some of the following hostels were sponsored, which is clearly noted beside each entry, but, as always, all views are my own.
---
#1 Belgrade, Serbia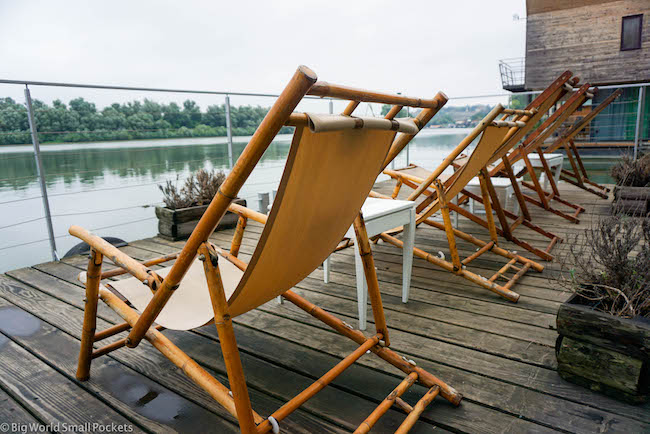 One of the absolute must-do things in Belgrade for backpackers is stay in a floating hostel.
Just along the river, and with the old fort of Kalemegdan clearly in sight, is an incredible barge backpackers, which is certainly one of the most unique and fun hostels in Eastern Europe!
Arkabarka Hostel is a gorgeous backpackers that boasts beautiful private and dorm rooms, all with unique hand-painted walls, days beds and delightful views.
Its quiet setting makes it super peaceful and its communal area, where free breakfast is served, gives the most delightful river views.
Sun yourself or catch a breeze from the wooden deck in summer or snuggle up in the free sauna during winter; either way, the top location, free bike hire and excellent wifi in this hostel make it a top pick for your Belgrade accommodation.
And it's easy to get to as well, just hop on the number 84 or 15 bus from the central local bus station – Zeleni Venac.
Learn more about how to enjoy your time in Belgrade in this post I wrote about the 13 best things to do there.
#2 Berlin, Germany
Now I know that Germany is not part of Eastern Europe, but many travellers loop Berlin into their itineraries in this region because of its proximity to cities such as Prague.
And it's for that reason, that I've included it in this list.
So yes, if you're visiting Berlin too, then it pays to know that Circus Inn is a backpacker favourite, and there's no surprises for guessing why.
Yes this top hostel has it all!
From free wifi to free walking tours, its own café and even an onsite microbrewery, there's tons of nightly fun to be had here as well, plus a huge range of organised events during the day too.
With bike rental and a top location, Circus Inn is the place to stay in Berlin on a budget.
For more ideas about other great things to do in Berlin cheaply, check out this article I wrote about the unmissable things to do in Berlin on a budget.
#3 Bratislava, Slovakia
And the best budget place to stay in Bratislava is, without a doubt, StaySafe Hostel.
Brilliant full stop, with some of the friendliest staff I've ever met, a gorgeous little bar area and some beautiful aircon dorms and private rooms, this hostel has a top location to boot.
I recommend spending only 2 days in Bratislava, as it is really tiny, so if you're looking to have the best 48hrs in the capital check out this guide to the city I wrote.
#4 Budapest, Hungary
When it comes to the best accommodation for budget travellers in Budapest, look no further than the awesome Das Nest hostel.
Totally unique, highly independent and with a determined alternative streak, this place feels more like a big house where you'll meet interesting travellers and artists who find it hard to tear themselves away from the gorgeous, air-conned, open communal area… at least I know I did!
Centrally located in Pest, with private rooms and dorms available, this is definitely one of the best hostels in Eastern Europe.
And if you want some more top travel tips for Budapest, why not check out my perfect 3 day itinerary to this city?
#5 Bucharest, Romania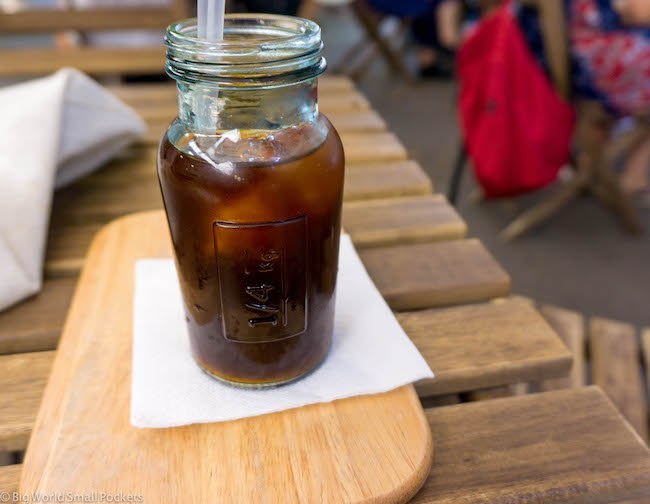 Mil Pasos remains one of the firm favourites on the Bucharest hostel scene.
With wonderful hosts, this backpackers is located in a great part of the city – only 10 minutes to the Old Town, 5 minutes from Unirii Square and a 15 minute walk to the Palace of Parliament.
Clean, safe and with a great attention to detail, the beds are comfy and the showers are super hot!
With free parking, 24hr security, guest kitchen and great local advice on hand, there's a good chance you might not want to leave Mil Pasos, not least because of the fab people you'll almost certainly meet here.
And if you're looking for things to enjoy in Bucharest with your new friends, my list of the top 15 things to do in this city is the perfect accompaniment!
#6 Dubrovnik, Croatia
I stayed in Hostel Angelina, which is perfectly located in the Old Town of Dubrovnik.
This means you can easily run down the stairs to the Main Square in just a few minutes – ideal if you want to get some pics early in the morning before the crowds descend!
A dorm room here isn't cheap – setting you back around 50€ in peak season – but this is pretty standard for Dubrovnik dorms in the summer (yes these are some CRAZZZY prices) and this place does have a guest kitchen and nice terrace which makes it a good option for saving money on drinks and food.
Learn more about how to visit Dubrovnik for less in this guide I wrote.
#7 Kyiv, Ukraine
Ok, so not advisable to travel currently, obviously, I visited Kyiv when it was safe to do so and absolutely fell in love with this city. I'm really hoping we'll all be able to get back there soon.
And without a doubt, the best hostel in Kyiv can be found at Hostel Factory.
As the name suggests, this place is a quirky, lowkey joint – but the staff here are so friendly and accommodating that it totally makes a great choice!
My private room was also very comfortable and the price was exceptional, plus the guest kitchen and lounge space were a welcome find!
We all hope the violence and destruction in Ukraine comes to an end soon and the people of this country get to live peacefully and freely.
When they do, and travel is safe again, check out my list of 13 amazing things to do in Kyiv, which showcases why this city is so fantastic.
#8 Kotor, Montenegro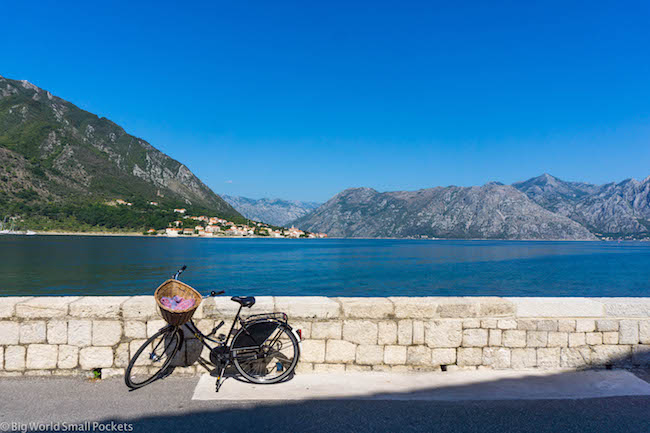 With a great location very nearby to the Kotor bus station and boasting marina views, Pupa Hostel is a firm fav on the Kotor budget travel scene.
Dorms are large and clean, and each bed has a curtain, reading light and charging station.
There's a kitchen too, super-fast wifi and some very friendly, helpful staff!
Kotor is such a gem of a spot in Montenegro, that you really should not miss it. Learn more in my complete travel guide to Kotor.
#9 Krakow, Poland
If you want to be just minutes from the Old Town (and the action) in Krakow, then there's few better locations than that of the Greg & Tom Hostel.
Right off the Main Square, making it just a few minutes walk away if you do want to grab those early morning snaps, this friendly, independent backpackers boasts nightly free dinners, 2 fully equipped kitchens, free walking tours… and there's no bunks!
I recommend staying 3 nights in Krakow, which will give you plenty of time to enjoy this historic city and some of the fascinating day trips around.
Check out my ideal 3 day Krakow itinerary for the full lowdown.
#10 Mostar, Bosnia Hercegovina
When it comes to top places to stay in Mostar on a budget, I highly recommend Musala – a cute house, turned budget accommodation spot, only a few minutes walk from the city centre.
Delightfully close to the bus station, the owner here, Sasa, is a Mostar local and full of helpful information and stories that he's more than willing to share.
His passion for his city is tangible and you'll soon be learning more about the history and culture here than you ever expected.
With a great location and a low-key vibe, this chilled spot is definitely my pick of the Mostar bunch.
Find out why I loved this city so much in this post I wrote.
#11 Novi Sad, Serbia
As far as I'm concerned there's only one place you should stay in Novi Sad and that's the fabulous Varad Inn Hostel.
Recommended by Lonely Planet's Eastern Europe guidebook (as well as me!), this family-run guesthouse, set in a heritage building, is perfectly located below Novi Sad's Fortress in the gorgeous Old Town.
With dorms, privates, ensuites, a small guest kitchen and cute courtyard, this is a wonderfully chilled spot, with some of the friendliest staff ever.
Staying 3 nights, I had a hard job pulling myself away from the lightening wifi speed, relaxed feel and the new Serbian friends I made here!
Learn more in my complete travel guide to Novi Sad
#12 Plovdiv, Bulgaria
Set right in the heart of Plovdiv's Old Town, just a few minutes stroll from all the main attractions in this gorgeous city, is the excellent Hostel Old Plovdiv.
Set in a beautiful heritage building, this is more like a boutique Bed and Breakfast than a hostel, with a gorgeous little courtyard out the back and some beautiful period features in all the rooms.
Beds are comfy and rooms have aircon (a real blessing in the summer) – there's even a sprig of lavender on your pillow!
Honestly, this is one of the best budget accommodation options I've found in the whole of Eastern Europe and an absolute steal.
Discover more about Plovdiv and why you should visit this beautiful Bulgarian destination here.
#13 Prague, Czech Republic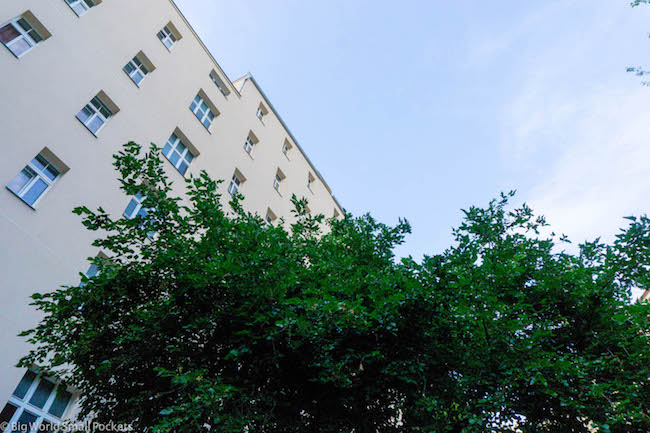 Located in the Dejvice area of Prague is the amazing Dakura Hostel – an absolute gem of a find in the Czech capital.
Set in a historic building built in 1922, which was once a public bathhouse, this "vintage" hostel oozes character and charm, with its Art Deco interior design and beautiful period features.
Spacious, immaculately clean and with a gorgeous garden area that is perfect for relaxing in, I loved the quiet and chilled vibe of the hostel, the friendly staff and the fantastic transport options it had to all the main attractions – both tram and metro stops are just a 3 minute walk from the front door.
No visit to Eastern Europe is complete without at least a couple of days in Prague, so discover my top 21 things to do in the Czech capital and start feeling inspired for your visit!
#14 Sarajevo, Bosnia Hercegovina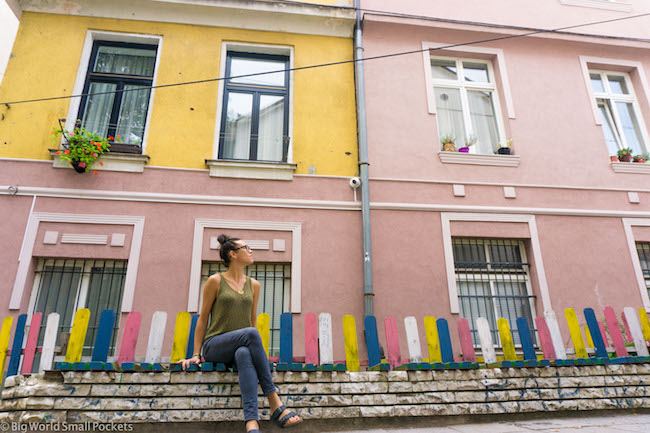 When it comes to the best hostel in Sarajevo, look no further than the Infinity Boutique Hostel.
Situated in a great spot not far from city's main Cathedral and Square, this clean and modern hostel has super friendly staff and a great guest kitchen.
Free towels, welcome beers and a safe, social hostel atmosphere make it a winner.
Plus, it's in Sarajevo, which is a truly incredible city to visit!
Learn more about why here.
#15 Sofia, Bulgaria
The award for the best hostel in Bulgaria's capital has to go to Hostel Mostel – a superb backpackers located very near the centre of Sofia with great staff and a super friendly atmosphere.
Prices include free breakfast, free dinner, free beer, free wifi and free unlimited tea / coffee – now you can't say fairer than that!
I also loved how spacious the dorms were and how each bed included its own privacy curtain, as well as lockable charging box (ideal for valuable electronics).
Definitely one of the best hostels in Eastern Europe, discover the best things to do in Sofia in this article I wrote.
#16 Timisoara, Romania
Timisoara in Romania was a complete surprise to me and all the more delightful for it.
Planned as just a stopover on my way to Serbia, I was nevertheless amazed to stumble upon a gorgeous, wide-street city with more parks, squares and church bells chiming than I could imagine!
This great city also had some top cafes like Bio Fresh and Mokum Café, as well as plenty of quirky statues and a very authentic vibe.
If you do end up in Timisoara, then I can highly recommend Downtown Hostel. Centrally located, it's the perfect place to stay for a night or 2.
Eastern Europe Mini Travel Guide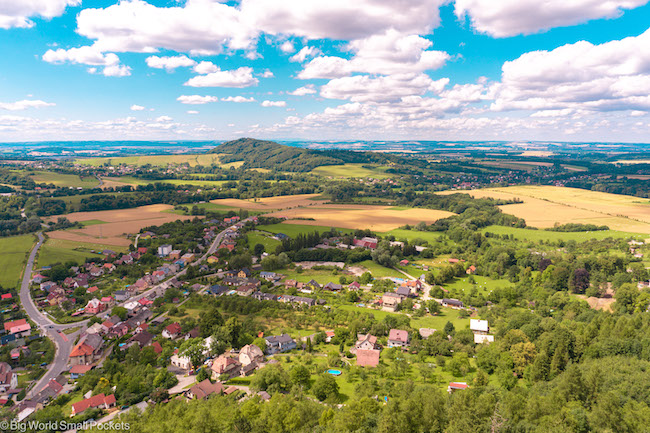 When to Visit Eastern Europe?
No question in my mind that you should definitely visit Eastern Europe during either the summer or festive seasons.
In summer you will get the most from the region's lovely coastal as well as mountainous parts because, let's face it, nature is exponentially more beautiful when the sun shines!
In the winter, you'll get Christmas markets galore (especially in Prague and Krakow), as well as the opportunity to ski in Romania and Bulgaria.
Just beware that the seasons in this region are quite extreme, so summer days in August can reach well into the high thirties and winters can often be below freezing – pack accordingly!
How to Get There & Around?
Getting to most parts of Eastern Europe is easy by plane, especially if you're arriving into a major city like Prague, Krakow, Bucharest or Dubrovnik.
Check Skyscanner for the best prices.
Otherwise, bus and trains are also plentiful. I travelled overland in this region a lot as a solo female and always found it safe and easy.
I booked all my train and coach travel across Eastern Europe using Trainline and FlixBus – I like the way they compare multiple journeys and allow me to book in advance in English!
In general, you'll find trains are more prolific in the north of Eastern Europe (in countries such as Poland, the Czech Republic and Hungary), while in the Balkans, almost all overland travel is operated exclusively by bus.
4 Key Packing Items for Eastern Europe
#1 Mirrorless Camera – You will be pretty much snapping non-stop during your time in Eastern Europe and will need a good camera to do this gorgeous region justice. I highly recommend the Sony A6000, which I use for all my travels and love, not least because it's light, compact and robust!
#2 Walking Shoes – There will be a lot of walking in Eastern Europe, it's as simple as that! Make sure your feet are comfortable therefore with a pair of New Balance Trainers. Perfect for stylish city strolling as much as monastery mounting, I love mine!
#3 Filter Water Bottle – All that sightseeing is thirsty work, so make sure you have a filter water bottle that allows you to drink the tap water safely wherever you are in the world.
#4 Day pack – And to carry your water bottle, camera and snacks, you're going to need a decent backpack that will help you balance the weight as you walk and sightsee. In my opinion, you can't go past the Bobby Anti Theft Backpack, which is also perfect for helping you avoid pickpockets too.
Learn more in this complete packing list for Eastern Europe.
Travel Insurance for Eastern Europe
World Nomads offers simple and flexible travel insurance. Buy at home or while travelling and claim online from anywhere in the world.
Alternatively, if you're a long-term traveller, digital nomad or frequent remote worker seeking travel health cover, check out Safetywing's Nomad Insurance policies.
How to Save when you Spend in Eastern Europe!
When it comes to paying for things in Eastern Europe, you want to ensure you're not being charged overseas transaction fees or getting poor exchange rates, which is why I always take my Wise Card with me wherever I travel.
The easy way to spend abroad with real exchange rates, no markups and no sneaky transaction fees, you can use your Wise card just like a debit card… and it links easily with Google and Apple pay – sold!
Get yours here.
SAVE THIS TO PINTEREST!
And there you have it, my list of the 16 best hostels in Eastern Europe.
Which country or city in this region are you headed to next?
Let me know your plans in the comments box below…