Word up people… if you haven't heard of Plovdiv in Bulgaria, you will soon!
Destined to be the European Capital of Culture in 2019, this awesome historic town is the country's second largest metropolis, but with its chilled vibe, quaint streets, funky cafes, cool bars, and cobbled charm, it feels a million miles from a busy, bustling city!
Yup, pretty as punch, top-level trendy and beautifully off the beaten track (oh, and it's also the second oldest town in Europe too), Plovdiv is the perfect weekend getaway and here's why…
---
Related Posts
---
My stay in Plovdiv was sponsored by Hostel Old Plovdiv, but as always, all views are my own.
This page contains affiliate links meaning Big World Small Pockets may receive a small commission on any purchases at no extra cost to you.
---
Why Visit Plovdiv
Probably because it's in Bulgaria, quite near to the Greek border, Plovdiv is still a pretty well-guarded secret.
A hidden, little gem if you will.
But not for long.
And that's why you need to get there now people – while the prices are still low, the crowds still small and the place as charming and authentic as ever.
Because I fear that's soon to change.
Yes, after Plovdiv was chosen as the European City of Culture 2019 things are shifting, as more and more people learn about this gorgeous, ancient and unique destination.
Because from historic ruins, a charming old town, amazing day trips, a hipster district and some gorgeous scenery, Plovdiv is certainly one of my fav spots in Bulgaria and one of the most underrated places in Eastern Europe in my opinion!
How to Get to Plovdiv, Bulgaria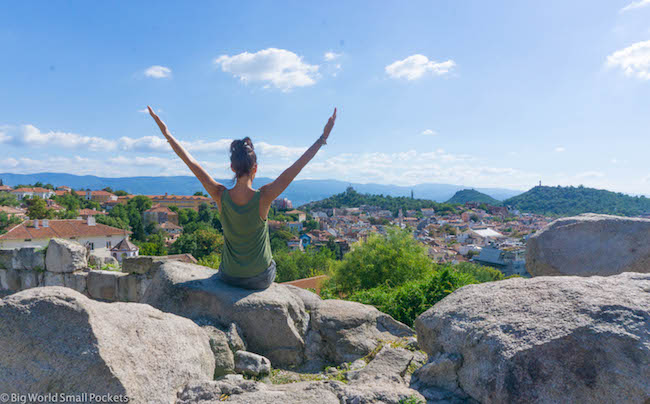 If, like me, you're touring Bulgaria, then you'll be delighted to know you can easily reach Plovdiv from the capital of Bulgaria, Sofia, which is likely to be your point of entry into the country.
Buses from Sofia run regularly to Plovdiv and take 2.5 hours. They leave from the Central Bus Station in the capital and I paid 14 Bulgarian Leva (BGN) for a comfy seat with aircon.
Otherwise, if you're on a shorter trip, it's amazing to know that Plovdiv has an airport and direct flights can be sourced cheaply from around Europe.
Check Skyscanner for the best prices.
Accessibility, therefore, is one reason why Plovdiv makes for the perfect weekend getaway for those that are euro-based.
It's also a small and friendly city, easy to explore in a few days, but chock-full of amazing stuff to do to keep you occupied.
Sounding better and better?!
Read on…
When to Visit Plovdiv
No question in my mind that you should definitely visit Bulgaria during the summer season.
This will allow you to get the most from the country's lovely coastal, as well as mountainous setting because, let's face it, Europe is exponentially more beautiful when the sun shines!
The other option for visiting Bulgaria is during the winter months – a good idea if you want to enjoy some skiing.
Just beware that the seasons in this country are quite extreme, so summer days in August can reach well into the high thirties and winters can often be below freezing – pack accordingly!
Top Things to Do Plovdiv
So why exactly is Plovdiv so gorgeous and unique?
Well first up, it's the sheer diversity of things to do here that's astounding for such a small place.
From wandering the historic streets of the Old Town to drinking delicious coffee in the arty Kapana district and even hiking in the surrounding countryside, Plovdiv is traveller heaven!
Other highlights include the city's fascinating religious buildings, green parks and public spaces, statues and street art.
There's also a great free walking tour run every day by the excellent company 365, which is perfect for budget travellers on a short timeframe giving a super glimpse, as it does, into all the main attractions and heritage of this city.
And finally, the city of 7 hills, Plovdiv provides some incredible lookout opportunities with top sunrise and sunset cityscape-views that are hard to beat.
As such, Plovdiv is a photographer's dream!
And that doesn't even bring into account the lovely day trips you can enjoy from here either.
Pick of the bunch include heading out to see Bachkovo Monastery and Asen's Fort in the beautiful Bulgarian countryside, which you can enjoy as part of a great and affordable day tour.
Plovdiv's Old Town
The Old Town is the place to base yourself in Plovdiv and explore the gorgeous cobbled streets, archways and buildings.
In fact, this town is supposed to be the oldest living town in Europe (which means it's been continuously inhabited for thousands and thousands of years) and the second oldest in the world – quite a claim!
Yet when you see the Medieval streets here, along with the insane amount of Roman, Byzantine and Ottoman ruins, it suddenly becomes very easy to believe!
Wandering the Old Town need only take you half a day (again perfect for that weekend time schedule) with highlights including the Balabanov House, the Hisar Kapia and the Ancient Roman Theatre – which boasts an evening sound and light show if you're feeling super snazzy!
And you can't miss the sunset from the Ancient Fortress lookout point either. Get there and get ready to start snapping!
The Kapana District
But it's really the funky Kapana district, where Plovdiv gets interesting.
For while there's tons of cute, small European cities that have old towns to die for, it's the arty, young, trendy district next door to Plovdiv's old town that truly sets it apart and increases the charm factor tenfold.
Translated as The Trap, Kapana, is a small area of cobbled twisty side streets jampacked with fun bars, galleries, independent cafes and quirky stores.
It's a delight to wander around and explore, not to mention photograph and enjoy!
Amazing to think that it survived the Communist regime of Bulgaria (who wanted to bulldoze it to the ground) and is still here today purely thanks to the determination of the local people.
And then, more recently, it was the determination of a forward-thinking local government who essentially transformed this part of Plovidv from a glorified car park into an exciting cultural hub by granting all local, arty businesses free rent in the area for a year.
Unsurprisingly then, there's tons of great street art in Kapana too, as well as regular street performances, jazz nights, poetry slams and delightful al-fresco drinking and eating (in the summer at least!)
After all, who can come to Bulgaria and not sample some of the delicious local vino?
Top spots in Kapana include Green Library for their amazing green smoothies and the Monkey House for some of the best coffee I've had in this continent!
TRUE!
The New Town
And then, around both these districts, is the clean, bright, modern and appealing New Town of Plovdiv, which has a distinct sense of vibrancy and optimism to it.
From the statue of local celebrity Miloj (make sure you learn the story behind this iconic monuemnt) to one of the oldest mosques in the Balkans, from a beautiful municipality building to some great-watching of Aylyak in action (learn from a Plovdiv local what this is!), there's tons to fit into your weekend here too – not least the beautiful Tsar Simeon's Gardens and Danov Hill with its distinctive Clock Tower too.
Where to Stay in Plovdiv on a Budget
And right in the heart of the Old Town, just a few minutes walk from all the aforementioned attractions is the excellent Hostel Old Plovdiv.
Set in a beautiful heritage building, this is more like a boutique Bed and Breakfast than a hostel, with a gorgeous little courtyard out the back and some beautiful period features in all the rooms.
Beds are comfy and rooms have aircon – there's even a sprig of lavender on your pillow!
Honestly, this is one of the best budget accommodation options I've found in the whole of Eastern Europe and an absolute steal.
Get the best rates on Hostel Old Plovdiv here!
Top 5 Packing Items for Plovdiv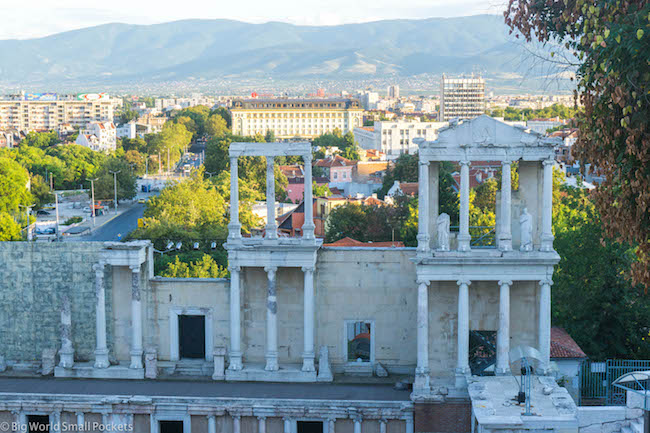 #1 Good Camera – You will be pretty much snapping non-stop during your time in Bulgaria and will need a good camera to do this gorgeous country justice.
I highly recommend the Sony A6000, which I use for all my travels and love, not least because it's light, compact and robust!
#2 Good Walking Shoes – There will be a lot of walking in Bulgaria, it's as simple as that! Make sure your feet are comfortable therefore with a pair of New Balance Trainers.
Perfect for stylish city strolling as much as monastery mounting, I love mine!
#3 Good Guidebook – I'm still a massive fan of the Lonely Planet Guidebooks and do think their Romania & Bulgaria Edition is well put together and able to save you a lot of money if you want to learn about the history of this country, but not continually pay for a guide!
#4 Good Water Bottle – All that sightseeing is thirsty work, so make sure you have a metal water bottle that you can refill as you go, because Bulgarian tap water is drinkable… and free!
#5 Good Backpack – And to carry your water bottle, camera and guidebook, you're going to need a decent backpack that will help you balance the weight as you walk and sightsee.
In my opinion, you can't go past the Bobby Anti Theft Backpack, which is also perfect for helping you avoid pickpockets too.
Best Travel Insurance for Bulgaria
I wouldn't dream of travelling to a country like Bulgaria without proper coverage and always recommend travel insurance from World Nomads which I've used during my time in the country and across the world.
World Nomads are actually one of the few companies that will insure you for a huge range of outdoor activities as standard – essential for a country like this.
Alternatively, if you're looking for travel insurance with Covid-19 cover, then look no further than Safetywing's great Nomad Insurance policies.
These guys will cover you at some seriously great prices, including if you have to quarantine!
PIN IT TO PINTEREST!
So whatever you do, don't miss your chance to visit the great Bulgarian city of Plovdiv soon.
A wonderfully different sort of weekend break, it won't disappoint culture vultures, caffeine addicts, history buffs, vino lovers or budget travellers!
(Bonus points if you fall into more than one of these categories!)
Just remember that you heard it first from Big World Small Pockets 😉