Ever heard of Lviv?
Nope, nor had I before I started my trip to Ukraine and began learning more and more about this gorgeous gem of a city located in the west of the country.
A UNESCO World Heritage-listed town, Lviv, with its great culinary offerings, artistic flavour and coffee obsession sounded right up my street and with the ability to hop onboard a romantic night train from Kyiv to get there, I knew it was going to make the perfect accompaniment to my time in Ukraine's capital.
And Ukraine being Ukraine, I also had an inkling that Lviv was going to be wonderfully affordable (budget traveller dream!) and delightfully unfrequented by other international tourists (any traveller dream) too.
But little did I know just how much I was going to love this crazy, quirky, character-filled, charming city.
And when I say love, I mean really LOVE!
So check out these 25 unforgettable things to do in Lviv to learn why… and get prepared to start booking your trip there too!
---
Related Posts
---
This page contains affiliate links meaning Big World Small Pockets may receive a small commission on any purchases at no extra cost to you.
My time in this city was sponsored by Lviv Tourism but, as always, all views are my own.
---
#1 Mine Coffee
Coming in at number 1 of the top things to do in Lviv is… caffeinate.
Yes this city is famous for its coffee and is actually believed to be the birthplace of the roasting and brewing of the stuff back when the Austro-Hungarian Empire was in full force.
So much like Vienna, Lviv is filled with coffeehouses and frequenting at least a few of them is a must in this city and definitely a top entry on my list of the best cheap things to do in Eastern Europe.
You can see also see a statue of the guy – Yuriy Kulchitsky – who introduced coffee to the Austro-Hungarians care of his connections with the Ottomans and who started the first-ever coffeeshop in his hometown of Lviv.
But perhaps best of all, you can visit an underground cellar to "mine coffee" at Lviv Coffee Manufacture. Yes apparently when this coffeeshop was built, a wall in the cellar was knocked through and tons and tons of coffee beans poured out.
Now you can visit this cellar, which sits just off the main square and even have a flambé cappuccino (!), then watch the roasting and grinding processes upstairs, as well as the buy the stuff too of course.
#2 Wander Into Young Designer Stores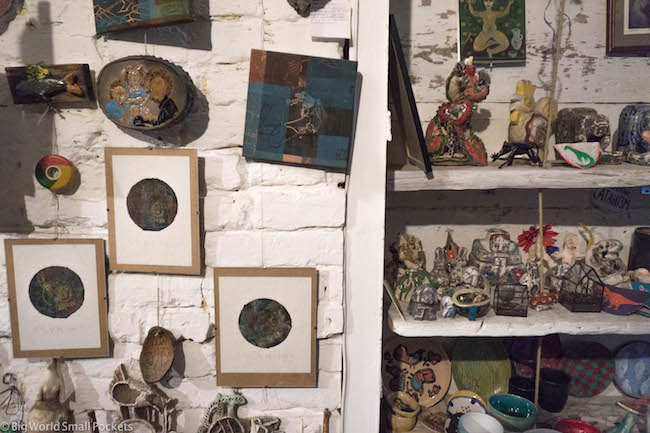 Next on my list of things to do in Lviv is to check out some of the local designers in this arty and creative city.
Lviv is quirky and cultural, there's no doubt about it, and it's great to see young artists here being supported with their work on sale in several unique independent designer stores.
Open Store and Rhizome Store were 2 my of favourites and heading to either of these will definitely get you in touch with Lviv's individual spirit.
#3 Drink Beer with the Monks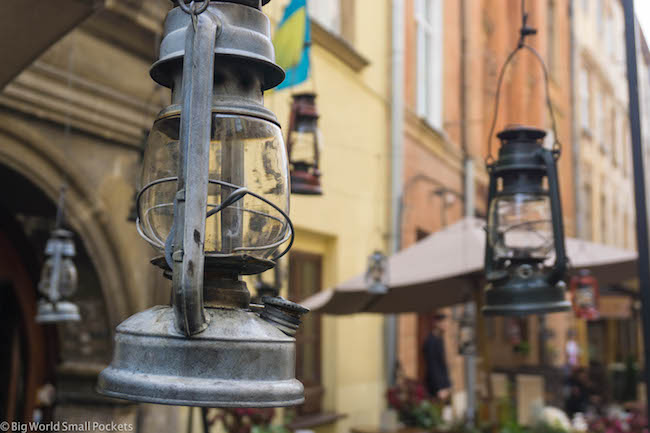 And if it's not coffee, it's beer and wine and vodka!
Yes Lviv is the land of drinking and they do it all rather well!
One of the quirkiest places to enjoy some craft liquor in the city is Trapezna Idey.
Originally part of the Old Benedictine Monastery, Trapezna Idey is now a restaurant and bar found underneath a gallery in the cellar of the former Abbey.
Did I or did I not tell you this city was quirky!
Head here for some great local Ukrainian food – including veggie options – as well as to try the local Trappist beer, wine and spirits!
#4 Check out the Country's Largest Postcard Collection
And if it's not Monasteries, it's postcards!
Yup another quirky place to eat and drink in Lviv is the Post Office, or Poshta, café which contains one of the country's largest collections of postcards.
Sit in or out at this central, vintage-style spot to try delicious craft beer, coffee or cake.
#5 Find the Yard of Lost Toys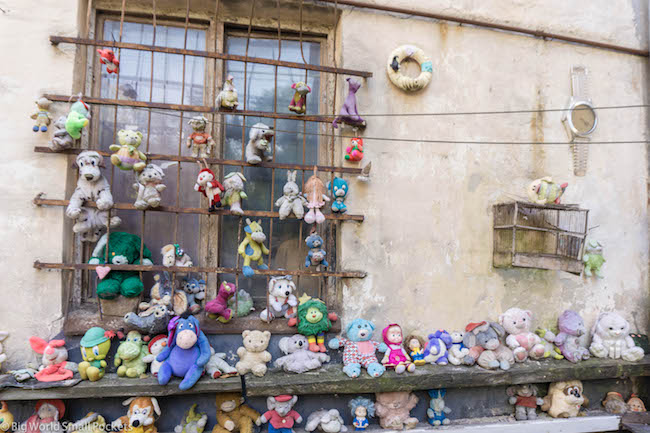 Yup in Lviv there is a yard of lost toys… as in cuddly toys.
Situated beneath some local apartments, apparently the space was started informally by a Lviv guy who started collecting the toys he found on the street and putting them here!
Now the collection is growing as others have joined in the action, and the space has now been turned into a sort of playground!
Seeing is believing, so heading to the yard of lost toys is definitely one of the top things to do in Lviv that proves how quirky this city is!
#6 Stumble Upon the Soviet Furniture Square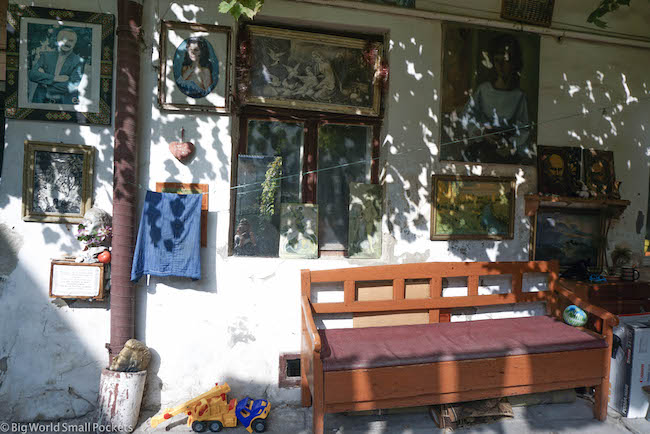 And if the Yard of Lost Toys wasn't weird enough for you, then how about stumbling upon a small square of old Soviet Furniture, which is part art exhibition, part scrap heap, part lost and found area!
Again, I discovered this amazing space, which actually sits within a local apartment enclave, thanks to Peter at Lviv Buddy and found it to be a great hidden gem, which really encapsulated the individual spirit and very anti-Soviet stance of this city!
#7 Eat in a Bunker
And after all that walking, it's time to relax again and get back to the eating and drinking side of Lviv.
One of the most unique experiences you can have in Lviv when it comes to this, is heading to the secret bunker restaurant located behind a closed wooden door in an alleyway off Rynok Square (the main square in the city).
Known as KryJivka, access is granted via a knock on the wooden sealed door and a secret password: Slava Ukraini (which means Glory to Ukraine), before necking a shot of vodka and being led down the stairs to experience a nationalist resistance army-style camp
The food isn't the best here, but the atmosphere is great, so my advice would be to head here for a drink and save your appetite for one of Lviv's other amazing eateries!
#8 Buy some Putin Toilet Paper
Yes, it would seem the Lvivians are not a fan of the Russian President.
You can buy toilet paper with his face on in abundance here!
There's also a beer brewed here called Putin Huilo – an 8% award-winning belter, whose name translates as Putin is an a**hole.
Enough said!
#9 Sample Local Craft Beer
So if you're looking to get more fun on the beer front, then Lviv can certainly deliver!
One of the best things to do in Lviv is to check out the local craft beers and those that poke fun at Angela Merkel, Vladimir Putin and Obama are brilliant… as well as delicious.
The best place to try them is the Beer Theatre in Lviv, which is owned by the company that brews them; it has regular live music and attracts an young crowd.
Otherwise, Pyv Bar is another great local spot I loved with its studenty atmosphere.
#10 Join Locals at the Drunken Cherry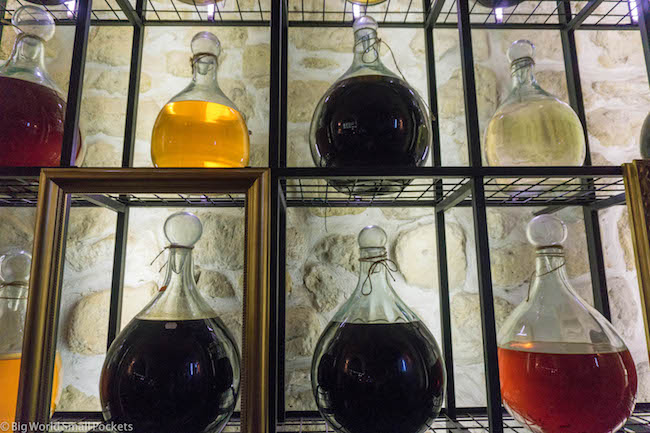 And if you're after beer less and cherry liqueur more, then there's only 1 place to head in Lviv.
Any branch of the famous Drunken Cherry is bound to do the job!
Just look for the crowds on the street and you'll have found one!
Alternatively, for something a bit more refined, the vodka selection at Baczewski Restaurant is hard to beat.
#11 Feel Leopold Von Sacher-Masoch's Balls!
Ok, so this is definitely one of strangest things to do in Lviv, but reaching into the pocket of the sculpture of Leopold von Sacher-Masoch is going to prove to you just how little of a f**k this city gives!
#12 Take a Chicken Heart Snack
And if feeling Leopold von Sacher-Masoch's balls wasn't enough for you, then maybe enjoying a chicken heart snack will be!
The best ones in the city can be found at Hal'ba.
A really local place – this is true Ukraine at true Ukraine prices!
#13 Purr in the Cat Café
Another great place to discover in Lviv is the Cat Café.
With wonderful food and a super quirky environment, heading here for a feed is definitely one of the best things to do in Lviv.
#14 Peruse the Book Market
One of the most authentic places I loved wandering in Lviv was the local flea market.
Located just off the main square this place is full of locals snapping a bargain and boasts tons of quirky memorabilia and amazing old books.
#15 Savor the Dobrobut Food Market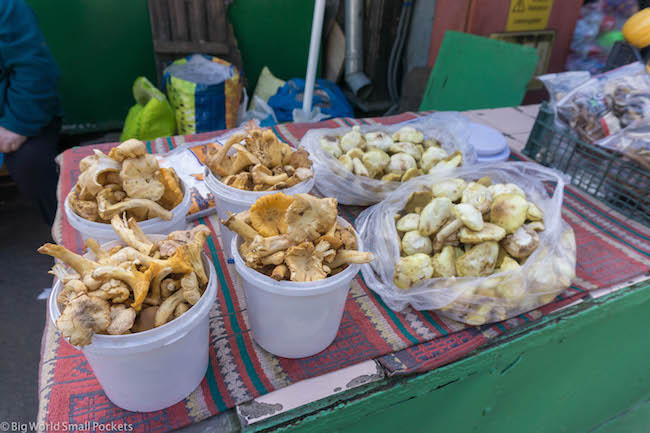 And if markets are your thing, then the local food market at Dobrobut is a must.
From coffee to cheeses, cold cuts to fruits and vegetables, this is the place to get amongst a local vibe and savour some unique Lviv local spirit!
#16 Pig out at the Lviv Handmade Chocolate Shop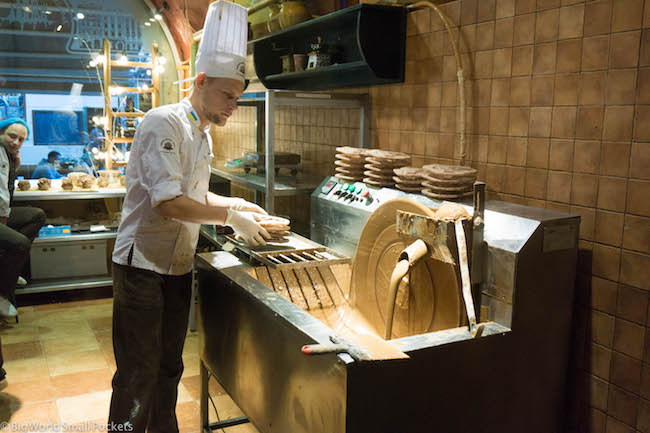 And then, for dessert, you should absolutely head to the Lviv Handmade Chocolate shop.
Eat the chocolate, drink the chocolate, buy the chocolate and then head to the roof terrace for the amazing view!
#17 Eat Cake, Cake and More Cake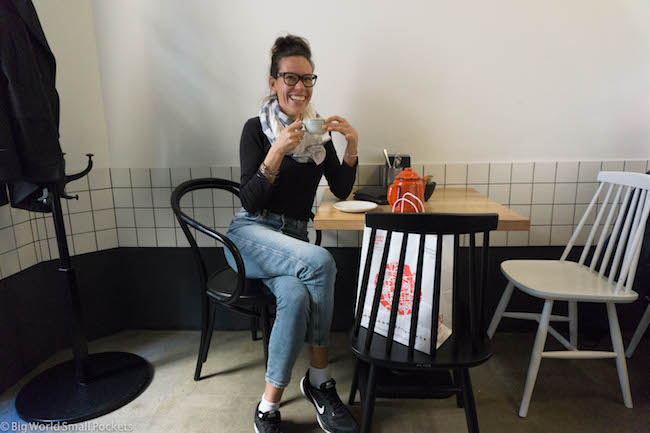 If you have a sweet tooth (and the chocolate wasn't enough), then you'll be pleased to know Lviv also caters to cake fans.
Handmade cakes are a speciality here and the wonderfully authentic Fraerka café has some exquisite specimens a sweet tooth simply can't pass up!
Cups and Plates is another awesome cafe I loved in Lviv. With a more modern feel, it's a great spot for digital nomads or hungry people!
#18 People Watch on the Square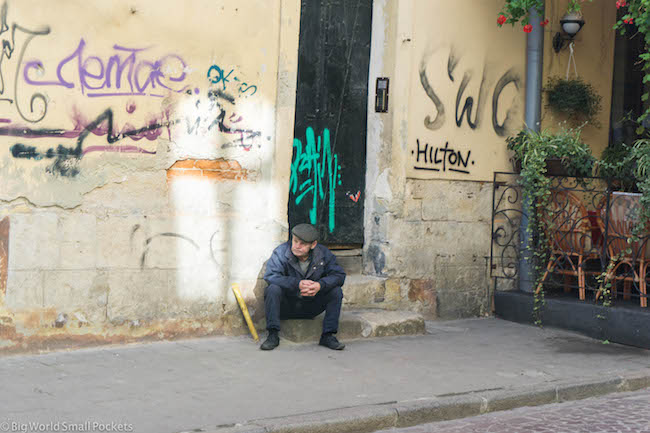 It may not sound super quirky, but people watching is definitely one of the best things to do in Lviv, and if you try it, you'll soon see why!
One of the best places to indulge in this activity is from Atlas Café.
Located right on the main square (Rynok Square) in the UNESCO Old Town of Lviv, this is a wonderful place from which to sit back, relax and watch the world go by amidst charming, historic surrounds.
#19 Go Inside the Armenian Church
And one of the main reasons people watching in Lviv is so great, is because this city is so mixed.
Exemplifying this perfectly is the Armenian district of the city, where great galleries and hidden shops are now begging to be discovered.
But if you really want to get into the spirit of a more traditional Armenian feel, then head to the Armenian Church in Lviv and go inside to see the amazing and totally unique frescoes.
#20 Pay Your Respects at the Jewish Memorial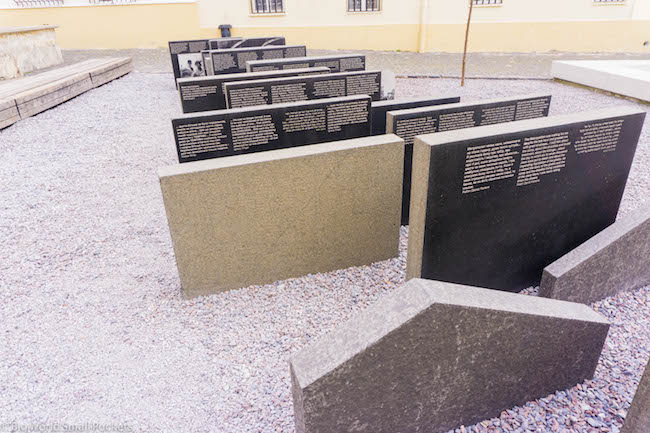 And sticking with the religious theme, you absolutely have to visit the Jewish district in Lviv.
In fact, there are 2 old Jewish districts within this city's boundaries, but the central one now boasts a beautiful memorial that is testimony to the heart-breaking destruction of this community in Lviv and across Ukraine.
#21 Scale Castle Hill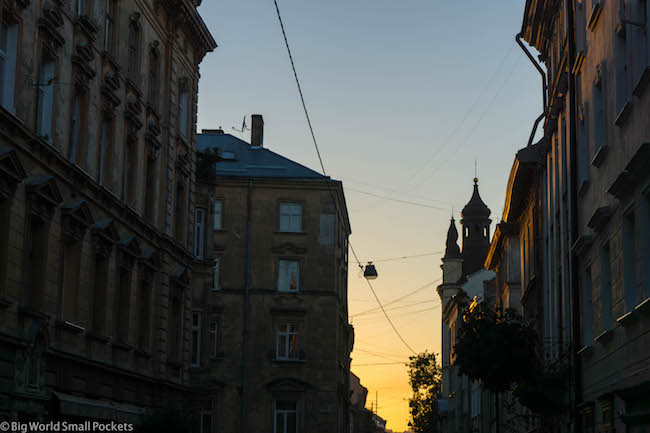 When sunset reigns there's only 1 thing to do in Lviv and that is head to Castle Hill.
Elevated above the city, there is no longer an actual castle here, but the views and the colours at sunset that can be seen from the top are more than worth the effort!
#22 Discover the Bar with the Car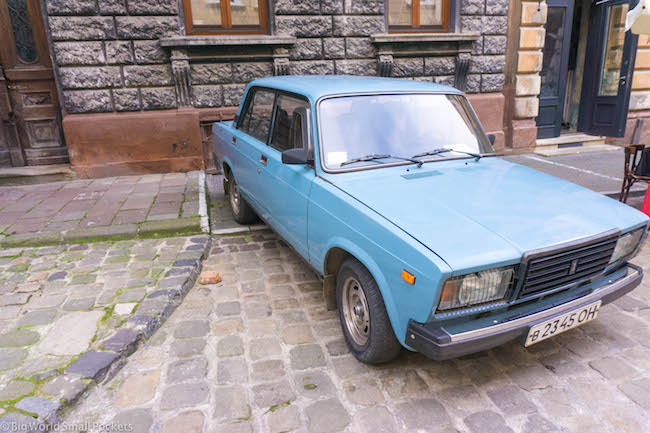 Yes Lviv has a bar with an old East German car on the roof.
Find it, go there, buy a drink and snap the amazing views to your heart's content!
#23 Find Some Interesting at "Something Interesting"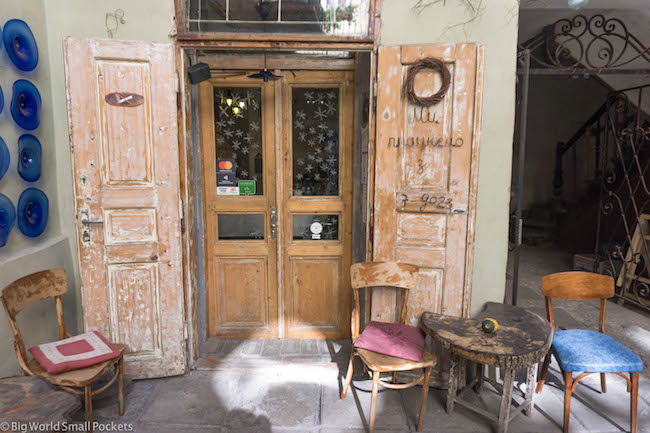 Another one of the best things to do in Lviv when it comes to drinking is to stumble upon the café / gallery / space called Something Interesting.
Located just off Rynok Square (the main square in the city) this is a great place to pick up some tasteful souvenirs and caffeinate yourself in a peaceful and unique atmosphere!
Want to explore more beyond Lviv and Kyiv?

Check out this awesome post about 18 other places to visit in Ukraine when it comes to getting off the beaten track in one of Eastern Europe's best and biggest countries.
#24 Climb the Tower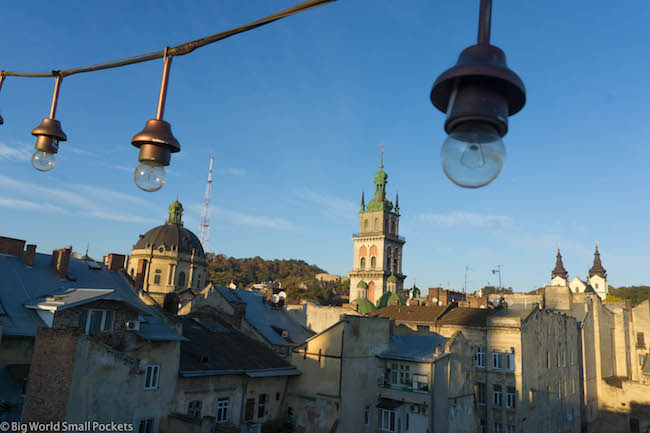 There's few places that are better for taking in the amazing views across the Lviv skyline than the City Hall Tower.
Free with the Lviv City Card, this is definitely one of the best things to do in this city, which shows just how quirky it is from above!
#25 Stroll a Cemetery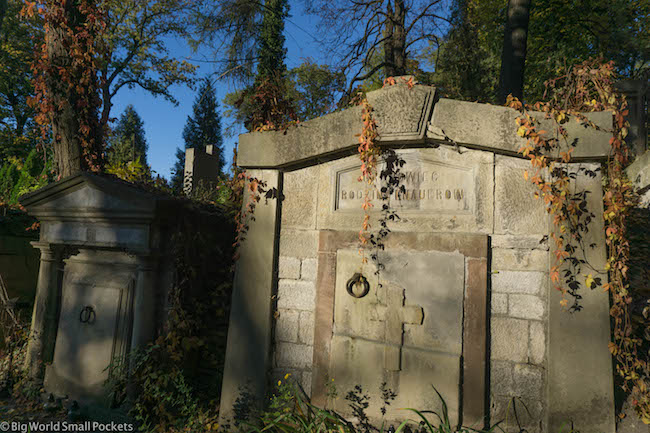 And last but not least on my this list of the unforgettable things to do in Lviv is to head out of town to the Lychakiv Cemetery.
It may sound like a weird one, but this cemetery boasts many famous European artists among its residents and is a delightful place to soak in some "out of city" peaceful vibes!
Lviv Mini Travel Guide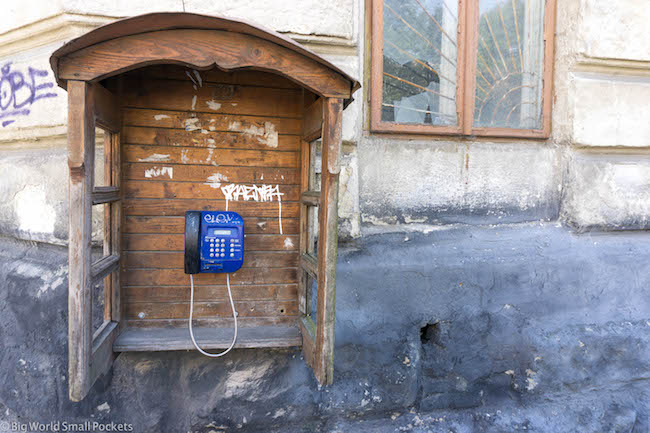 How to Travel to Lviv?
Lviv is easily accessible from Krakow, Budapest, Vienna and Bratislava.
Queues at the border can be infuriating, but taking the incredibly well-priced train is a top way to minimize the disturbance of the EU / non-EU border bureaucracy.
Check out Ukrainian Railways for more info.
Alternatively, check out Trainline.
Offering great prices on rail and bus travel across Europe, their website includes a handy journey planner as well as live departure updates.
These guys are my one-stop shop when it comes to organising all my Europe adventures for less.
Perfect 2 Day Lviv Itinerary
Day 1:
Take a walking tour in the morning, followed by lunch and people watching at Atlas Café.
In the afternoon, head to the Lviv Handmade Chocolate Shop (don't miss the view from the rooftop) before going to mine some coffee at Lviv Coffee Manufacture.
Finish with dinner at Trapezna Idey and then head to one of Lviv's great jazz bars.
Stay the night at Jam Hotel Hnatyuka.
Day 2:
Start early by heading to the famous Lychakiv Cemetery for a stroll, then head back to town to check out the central flea market and Dobrobut food market.
Enjoy lunch at Plates and Cups café, before checking out some of Lviv's best galleries and climbing the City Hall Tower.
Then scale Castle Hill for sunset before enjoying a craft beer at Pyv Bar and dinner at Baczewski Restaurant. Finish with a drink at the House of Legends.
Looking for a Great Lviv Tour?
Then I can highly recommend a tour with Lviv Buddy.
I actually found the yard of Lost Toys care of an excellent walking tour I enjoyed in this city with Lviv Buddy.
Owner Peter took me on an amazingly extensive tour during my first morning in Lviv and it was the perfect introduction to this layered and fascinating destination.
Hugely passionate, very knowledgeable and extremely friendly, I highly suggest taking a tour with Peter if you want to see the hidden and local gems of Lviv.
The Lviv City Card
A great way to save money when you travel to Lviv is to check out the Lviv City Card.
If you're a history, architecture or museum buff, this is the card for you!
With queue-jumping facilities and free public transport, it's a no-brainer if you want to cram a lot into your time here in this city.
Best Budget Accommodation in Lviv
Without a doubt, then best budget accommodation in Lviv can be found at the Jam Hotel Hnatyuka.
This place is brilliantly located, super reasonable and I loved the funky décor.
The staff were so accommodating at this great spot and the rooms so comfortable for the price, it would be rude not to let you know about this top spot for budget travellers!
4 Key Packing Items for Lviv
#1 Good Camera – You will be pretty much snapping non-stop during your time in Lviv and will need a good camera to do this gorgeous city justice. I highly recommend the Sony A6000, which I use for all my travels and love, not least, because it's light, compact and robust!
#2 Good Walking Shoes – There will be a lot of walking in Lviv, it's as simple as that! Make sure your feet are comfortable therefore with a pair of New Balance Trainers. Perfect for stylish city strolling, I love mine!
#3 Good Guidebook – I'm still a massive fan of the Lonely Planet Guidebooks and do think their Ukraine edition is well put together. Able to save you a lot of money if you want to learn about the history of this part of the world, but not continually pay for a guide, getting the eBook is a great way to keep your luggage weight down too!
#4 Good Backpack – And to carry your camera and guidebook, you're going to need a decent backpack that will help you balance the weight as you walk and sightsee. In my opinion, you can't go past the Bobby Anti Theft Backpack, which is also perfect for helping you avoid pickpockets.
Travel Insurance for Lviv
World Nomads offers simple and flexible travel insurance. Buy at home or while travelling and claim online from anywhere in the world.
Alternatively, if you're a long-term traveller, digital nomad or frequent remote worker seeking travel health cover, check out Safetywing's Nomad Insurance policies.
PIN IT TO PINTEREST!
So there you have it, my list of the 25 unforgettable things to do in Lviv that prove just how quirky this city is!
Have you visited Lviv?
What did you think?
I'd love to hear in the comments box below…