I honestly couldn't believe how wonderfully cheap Eastern Europe was when I toured the region.
And every time I've been back since, I've still been amazed by the incredible value visiting this part of the world offers – especially compared to Western Europe.
It really is a beauty of a budget travel destination and I don't know if there's too many other places in the world where your money could go further on some seriously great adventuring.
That said, there's always some ways that you can do things cheaper than others and, having spent several months adventuring in this region, I'd like to think I've picked up a few tricks about how to do it for less!
So here they are, my top 21 hacks when it comes to saving money on your travels in Eastern Europe…
---
Related Posts
---
This page contains affiliate links meaning Big World Small Pockets may receive a small commission on any purchases at no extra cost to you.
---
#1 Opt for the Train or Bus
Honestly, when it comes to travelling cheaply in Eastern Europe, it really is all about buses and trains.
Much cheaper and far less hassle than flying, overland transport is really affordable in this part of the world and should not be overlooked.
Generally the best way to get around in the north of Eastern Europe (the Czech Republic, Poland, Slovakia and Hungary) plus Romania, is by train and I always use Trainline to help me find the best prices and journey times.
Thankfully this great app translates all the info I need into English and allows me to pay in either GBP, USD, or EUR too, which makes life really simple.
Across in the south of Eastern Europe (Croatia, Serbia, Bosnia, Montenegro, Albania and Bulgaria), it's all about catching the bus.
There aren't many train lines in this part of the region, which is why buses are the go-to… and thankfully they're even cheaper than the trains!
The best companies I recommend for booking buses online and in advance (so you don't have to go to the station or try and book tickets in a foreign language) include:
#1 FlixBus – great app and great prices, these guys cover a huge amount of the region and offer some of the best rates going
#2 Bookaway – my go-to in the Balkans area where Flixbus can be less prevalent
If you do still want to rent a car (more affordable if you're travelling as a family or a group), check out Discover Cars for some great deals.
#2 Consider Night Buses or Trains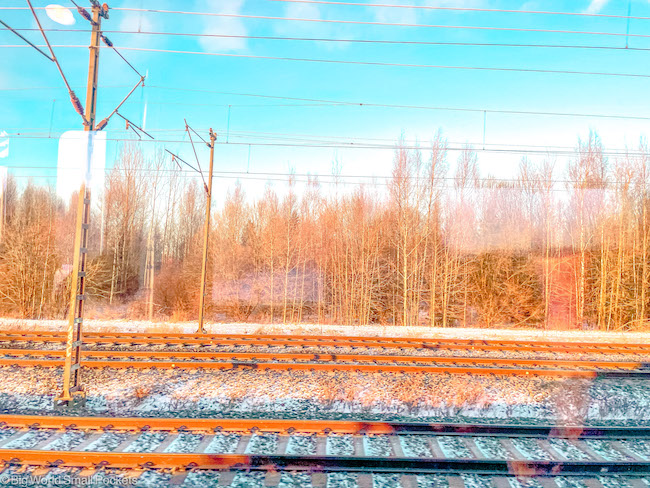 And following on from this train and bus point, we come to a real money-saver if you're up for it, and that is night buses and trains.
Yup on some of the more long-distance journeys in Eastern Europe you can travel overnight, which has the big advantage of saving you a day on your itinerary (essentially you won't waste a day of your trip getting between destinations).
Night buses and trains also have the mega bonus of saving you the price of a night's accommodation too!
Yup, sleep on the bus or the train and you don't have to pay for a hotel bed!
Needless to say, overnight buses are a real budget option here, but I've endured them myself on more than one occasion so know they are completely doable.
Flixbus tend to offer good security and a decent journey time.
Just bring a travel pillow, a thin blanket and some good snacks and water to see you through!
When it comes to overnight trains, the cheapest option you can go for on many routes is a seat, which will recline, but not by much.
The next step-up, for a slightly higher price, is usually a couchette – which is essentially a bunk bed, usually in a shared cabin with 3 others.
Then, on some trains, you can take the top option of a private cabin – usually a 2 bed affair, which you can share if you're travelling with a friend / partner, or you can opt to buy both beds if you're travelling solo and want some real privacy.
Needless to say, private cabins are pretty expensive, but a couchette is normally a good option on overnight trains for balancing a decent night's sleep with a reasonable price tag.
#3 Use RideShare Apps
The next tip when it comes to saving money in Eastern Europe is also about transport and getting around, but this time I'm talking about small distances.
In particular within cities, where rideshare apps like Uber and Bolt are great alternatives to regular taxi services in Eastern Europe.
Not only are they usually cheaper, but the rate is fixed and you don't have to navigate any difficult languages either!
Best of all, as long as you enter the address correctly in the app, you can be assured of arriving at your destination – and you can track where you're going to stay safe too.
Learn more about using rideshare apps when you travel in this post I wrote.
The other form of ridesharing is more long-distance and often referred to as lift-sharing.
This is when, instead of using a bus or a train, you jump in a car with someone who is driving to the same place you want to get to.
The main lift-sharing app is BlaBlaCar and is widely used across Eastern Europe.
Just remember to be sensible and ensure you stay safe when using a service like this.
#4 Price Compare Hostels
And now we move on to some accommodation tips when it comes to travelling Eastern Europe on a budget and my first piece of advice is not to neglect the trusty hostel!
Offering increasingly boutique facilities – including private rooms, capsule beds, onsite cafes and coworking spaces – the hostel landscape has certainly changed in Eastern Europe, although thankfully the good value they offer has not!
You don't have to be young for hostel stays either!
Now people of all ages are getting in on the hostel action and I always recommend checking out Hostelworld if you plan to do the same.
A great comparison tool, this fantastic website and app allows you to compare the different prices, facilities and reviews of hostels anywhere in Eastern Europe and the great map feature allows you to see how far from the centre, or train station, the hostel is too.
Because my advice is to stay as central as you can.
Yes it might cost a few euros extra, but you'll likely save that by not having to use public transport as much.
Plus the time you'll save by not having to schlep into the centre each time you want to sightsee, eat or catch a train or bus will quickly add up.
My top picks for central hostels in Eastern Europe capitals include:
#5 Check for Free Breakfasts or Kitchens
And while we're on the subject of hostels, another key feature to look out for when selecting yours is the opportunity for a free breakfast.
It might not sound like a lot, but the reduced costs of not paying for at least one meal a day can add up and also save you a lot of hassle if you've got a busy travel day ahead.
The free breakfast feature also goes for guesthouses and hotels you might be staying in during your travels in Eastern Europe – usually it's included for only a couple of euros more, which is a great deal when you think about it.
Failing a free breakfast, then having a kitchenette in your accommodation is another great money-saver.
Hostels often have them, as do many apartments stays, and being able to cook something simple for yourself if you're staying in the same place for at least a few days is a great money-saving option.
#6 Don't Neglect Apartment Rentals
And while on the subject of apartment stays, it's probably worth mentioning that these can provide extremely good value in Eastern Europe too.
They don't offer the communal atmosphere of hostels of course, but they do usually offer a good level of space, privacy and facilities, which can certainly have its advantages – see the aforementioned kitchen!
Renting an apartment can also be a great way to experience life in a local part of town and to receive local advice about the best places to eat, drink and hang out.
It's also a great way to give back to local people, who often own the apartment, and doesn't have to be arranged solely through Airbnb either.
Lots of accommodation sites, such as Agoda and Booking.com, now offer apartment rentals in their searches too.
Check out this list of the 12 cheapest EU countries to live in, if you're keen to stay longer.
Unsurprisingly, most are in eastern Europe!
#7 Take a Travel Towel
And if you are staying in a hostel or an apartment in Eastern Europe, then I'd always advise taking a travel towel with you.
It's not a given they'll be provided and you def want to avoid paying towel rental fees at every place you stay if you're trying to save money in Eastern Europe.
My advice? Take your own with you!
My favourite travel towel is by Latrek.
Small, thin, compact, soft, quick-drying and anti-microbial (which prevents them from smelling) – I love mine and used it across Eastern Europe with pleasure!
Read my review of my Latrek travel towel here.
#8 Pack a Filter Water Bottle
And it's not just travel towels I recommend you bring when you travel Eastern Europe, a filter water bottle is also a great money-saving item you should pack too.
A clever device that allows you to safely drink the tap water anywhere in the world – even if it's not considered potable – these game-changing pieces of technology are a great travel item that reduce your need to buy bottled water and help reduce plastic waste at the same time.
Even though the tap water in some countries in Eastern Europe – such as the Czech Republic – is drinkable, this isn't a given everywhere and if you're travelling widely across the region, including down to the Balkans (where it's not a given), then a filter water bottle will come in really handy and save you a lot of money.
Check out my favourite brand Water To Go, who produce brilliant eco-friendly bottles you can trust.
#9 Travel Insurance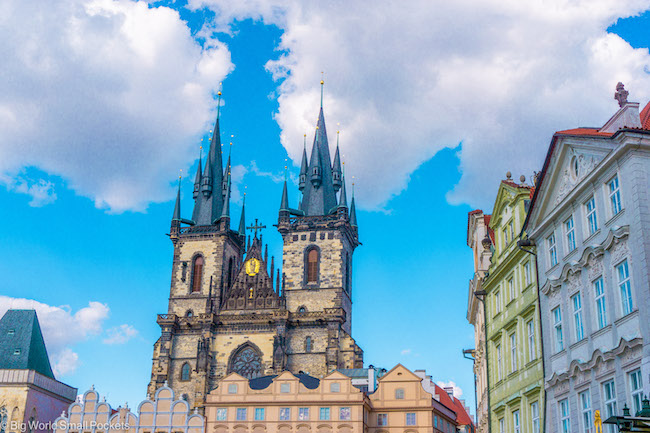 World Nomads offers simple and flexible travel insurance. Buy at home or while travelling and claim online from anywhere in the world.
Alternatively, if you're a long-term traveller, digital nomad or frequent remote worker seeking travel health cover, check out Safetywing's Nomad Insurance policies.
#10 Don't Neglect Guidebooks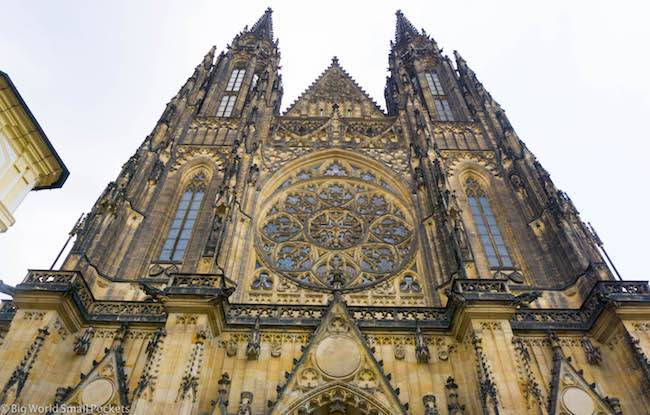 I know this sounds like a funny one (and like I'm being way too boring and sensible following travel insurance with a tip as dull as buy a guidebook!), but really, buying a guidebook will save you a lot of money, especially in some of Eastern Europe's top historic cities.
For starters, it will reduce your need to book a tour or hire a guide, as you'll already for some pretty great info about what you're looking at care of a trusted author.
Secondly, guidebooks do not need to take up loads of weight and clog up your luggage space – they're digital now don't you know!
The wonderful Lonely Planet does an excellent series of eBooks and their Eastern Europe guide covers all the countries in this region and offers an excellent overview when it comes to the major cities and destinations.
Take your own history lesson for the price of a couple of beers and read the thing once you've bought it – you won't regret it!
#11 Use a Tour Comparison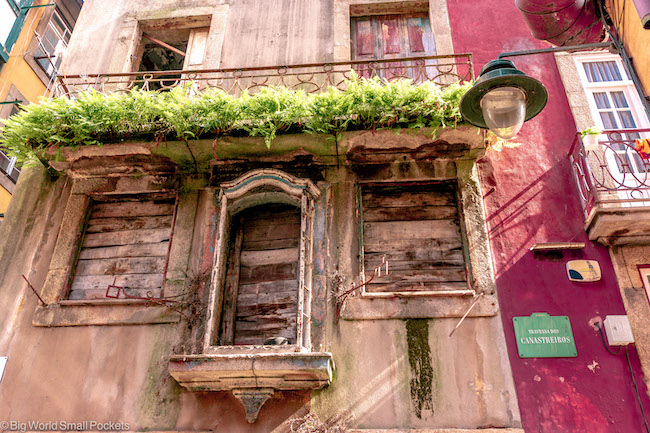 And talking of tours, we're now moving on to talking about ways you can save money in Eastern Europe when enjoying activities.
Because I get it, sometimes you do want to pay for a guide or a group when enjoying something special.
If you are looking to book some tours when travelling in Eastern Europe, then can I recommend you check out a tour comparison site as your first port of call.
These sites are great tools for ensuring you get the best deal and my go-to is GetYour Guide.
It has hundreds of day trips, activities and tours among its listings – so simply enter where you are, or where you want to go, and it will pull up a whole load for you.
The most memorable tours I took in Eastern Europe included those to Auschwitz Concentration Camp in Poland and the Herzegovina Countryside around Mostar in Bosnia… I definitely don't regret the money I spent on these.
#12 Snap up Free Walking Tours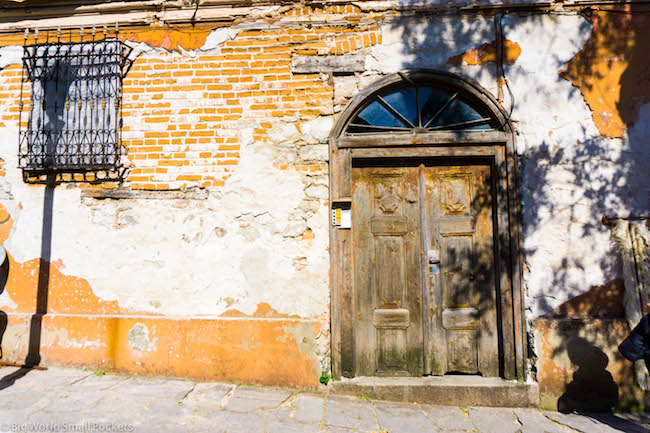 And don't neglect the option of free tours too!
Almost every city in Eastern Europe offers at least one free walking tour and they are generally excellent.
Although they tend to work on a tip basis and therefore aren't entirely free, they do normally offer exceptional value for money and are a great introduction to a city – making available a quick and digestible background history along with the crucial points of orientation.
I loved the one by young start-up company, 365, in Sofia, Bulgaria the most.
#13 Hit up the Local Markets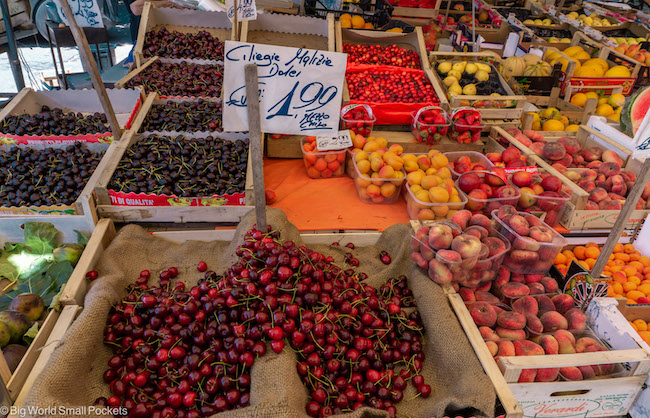 Local markets are plentiful in Eastern Europe and offer a great way to pick up cheap groceries and have a superb local interaction while you're at it!
One of the most delightful things about the whole Balkan area is that major supermarket chains hardly feature here, even within the capital cities, but even in other parts of Eastern Europe, markets are big, so don't miss them.
#14 Drink Local Alcohol
Look, there's no way around it, you're probably going to drink a lot in Eastern Europe – not least because local alcohol sources here are so cheap – like cheaper than water!
Beer reigns in countries like the Czech Republic, Poland and Hungary.
Then once you start getting down towards Bulgaria and Romania, the local wine cannot be ignored!
So my budget-saving tip is to forget the imported alcohol that you might drink at home and go local in Eastern Europe – it will be a fraction of the price.
#15 Get a Good Bank Card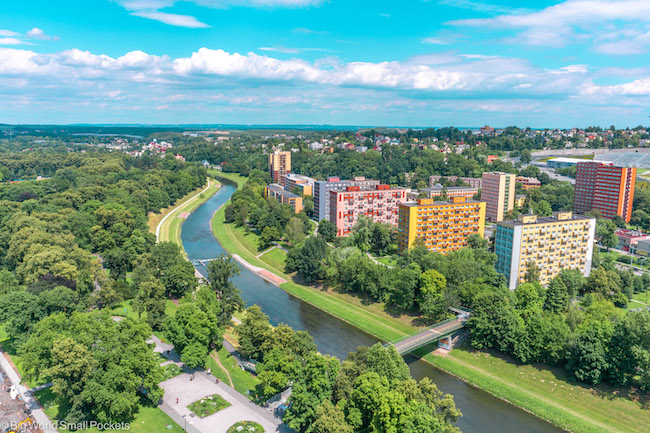 And when it comes to paying for stuff in Eastern Europe, ensuring you have the right card for the job is key to saving some money.
Doing so will mean you avoid being charged overseas transaction fees or getting poor exchange rates – meaning more to spend!
And that's exactly why I always take my Wise Card away with me wherever I travel.
The easy way to spend abroad with real exchange rates, no markups, no ATM costs and no sneaky transaction fees, you can use your Wise card just like a debit card … and it links easily with Google and Apple pay – sold!
Get yours here.
The other reason I like paying on card when I travel is because it helps me avoid hefty ATM fees (charged by the machine), which are often incurred when you deduct money in Eastern Europe.
That said, not everywhere will allow you to pay by card, so having some cash too does help.
In this instance, I really recommend bringing Euros cash with you to Eastern Europe.
There's actually very few countries in Eastern Europe that use the same currency, but Euros is the best for ease of exchange.
#16 Get an EU SIM Card

It's undoubtedly one of the best things to happen for Europe travels…
Yes free mobile roaming data is a godsend as it covers the whole of the EU (which includes many countries in Eastern Europe).
For those travellers from outside the EU, you can get a SIM (even a pre-paid SIM) and still use your data allowance, text and call packages anywhere within the EU Zone at no additional cost.
This includes countries like Romania, Bulgaria, Poland, Hungary, Slovenia, Croatia, Czech Republic and Slovakia. Simply grab a SIM in one of these places and use it throughout the region at the same rate – genius!
For other countries, such as those in the Balkans, you'll need to check the plan you're on.
This also applies to UK nationals, who may not get any free data post-Brexit – boo!
#17 Get Spotify Premium or Amazon Audible
Data might be roam-free, but you certainly don't want to go over your phone plan limit when travelling Eastern Europe if you're trying to watch you're spending.
This is exactly having audiobooks and music to listen that can be downloaded and don't require data use, is genius!
Enter Spotify Premium, which removes the ads and works offline and Amazon Audible, which is my go-to when it comes to audiobook services.
#18 Download a Currency App
And the other thing you'll want to download before you travel to Eastern Europe if are keen to save money is a currency app.
There's tons of free ones around and having one of them to ensure you can keep track of what you're spending across all those Eastern Europe currencies is a brilliant help.
Crucial for making sure you're not getting ripped off, or exchanging cash at a bad rate, a currency app is such a great tool for saving money wherever you're travelling.
#19 Don't Travel in July and August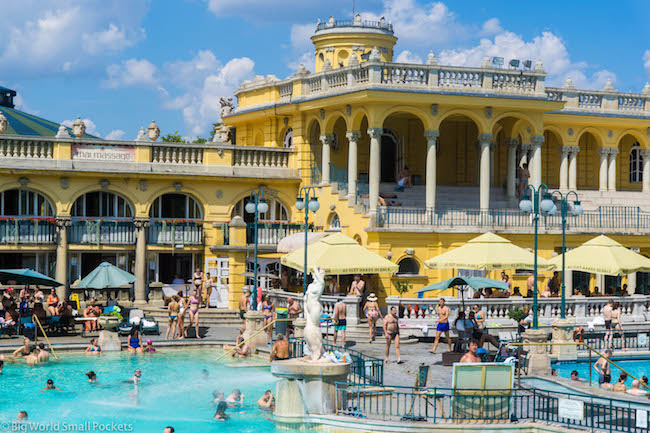 And now we come on to some more general rules for saving money when you travel Eastern Europe.
And first up, it's an obvious but essential point… yes there's no getting away from the fact that it's high season frenzy across Eastern Europe in July and August and prices understandably soar during this time.
While this part of the world still offers an incredibly reasonable high season, travelling during the shoulder months of either June or September will still offer you good weather, but thinner crowds and lower rates across accommodation in particular.
Much better!
#20 Stay Away from Croatia
And talking of thinner crowds and lower price tags, one simple way to spend less in Eastern Europe is to not visit Croatia!
Honestly, I was shocked by the rates here – with even a dorm bed in the Old Town of Dubrovnik setting me back over 50€… nonsense!
If you want to keep the budget low in Eastern Europe, my advice would be to avoid Croatia and stick to the most affordable countries of Serbia, Bulgaria, Bosnia Herzegovina, Albania and Romania instead.
For further ideas, check out this post about 61 places to visit in the Balkans.
Otherwise, if I can't tempt you away from Dubrovnik (and to be fair, it is beautiful!), check out my post about how to visit this Croatian city for less.
#21 Plan Your Route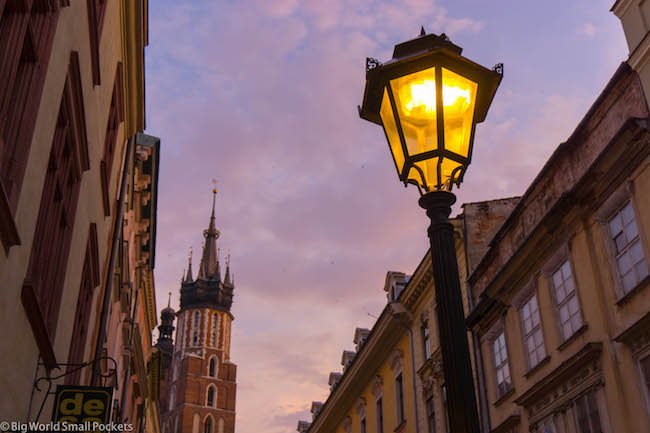 And last but not least, my final tip for saving money when travelling Eastern Europe is all about being organised!
You don't have to be OCD organised about the whole thing, but planning your route in this region in advance, at least perhaps planning a rough list of countries you want to visit depending on the timeframe you have, is going to be a great way to save money (and time).
In particular, it will save a lot of money on transport, by allowing you to plan your buses, trains and flights well in advance – which will get you the best rates.
Similarly, it will allow you to book accommodation in advance – again the earlier you book, the better prices usually are.
And finally, having a route planned in Eastern Europe will avoid the risk of you backtracking – i.e. having to go through countries twice, which will again save you time and therefore money too.
SAVE THIS TO PINTEREST!
So that's it, my 21 brilliant hacks for saving money when travelling Eastern Europe.
Do you have any budget tips to add to this list?
I'd love to hear them, so please pop them into the comments box below…