If you weren't in the know already, then let me tell you Sierra Leone's beaches are some of the world's most beautiful!
Who knew?!
Well not me, until I visited this incredible country and saw for myself how gorgeous the white sands, blue Atlantic and palm tree-fringed shores of this country's coastline were.
And you won't be fighting any crowds to enjoy Sierra Leone's beaches either.
One of the world's least visited countries, yet offering so much, Sierra Leone is going to be making a big splash on the tourist trail just you wait!
So if you want my advice, it's to get there before everyone else!
And, to make things even better, Sierra Leone's peak travel season falls between December and February, meaning lapping up its amazing beaches make for the perfect winter sun getaway!
With direct flights from Europe, the capital Freetown not only boasts the country's airport, but is also close to all of Sierra Leone's best beaches – meaning getting your sea, sand and sun fix is only a short hop away.
Interested to learn more?
Then read on to discover the top 6 Sierra Leone beaches, how to get there, where to stay and what to expect from your time on this West African shoreline…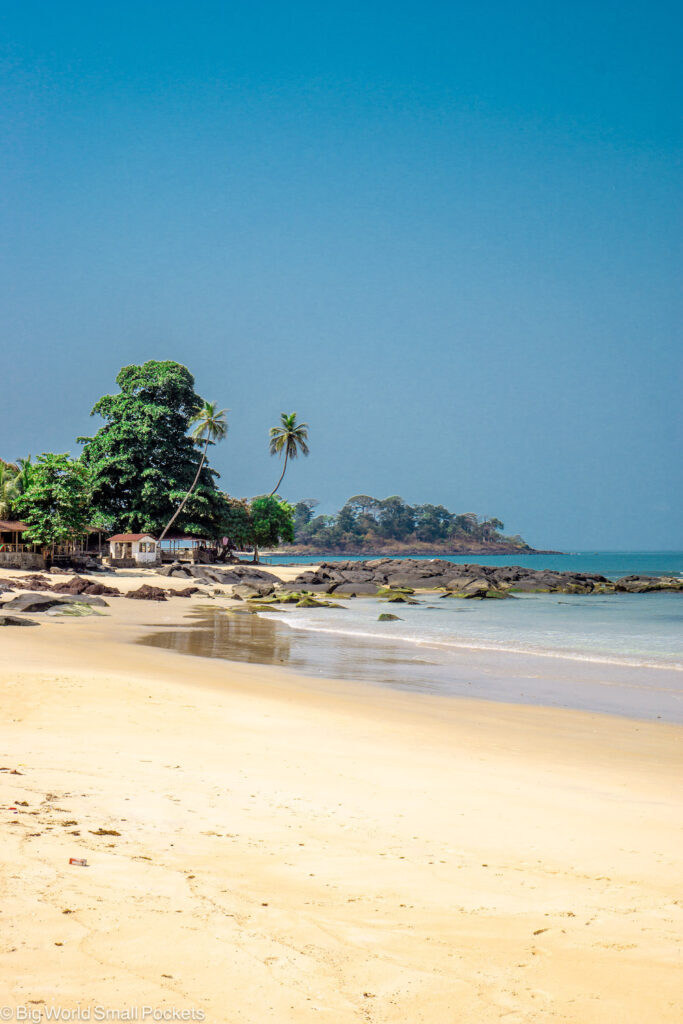 ---
Related Posts
---
My trip to Sierra Leone was sponsored by the Sierra Leone National Tourist Board, but as always, all views are my own.
This page contains affiliate links meaning Big World Small Pockets may receive a small commission on any purchases at no extra cost to you.
---
Sierra Leone Beaches: The Basics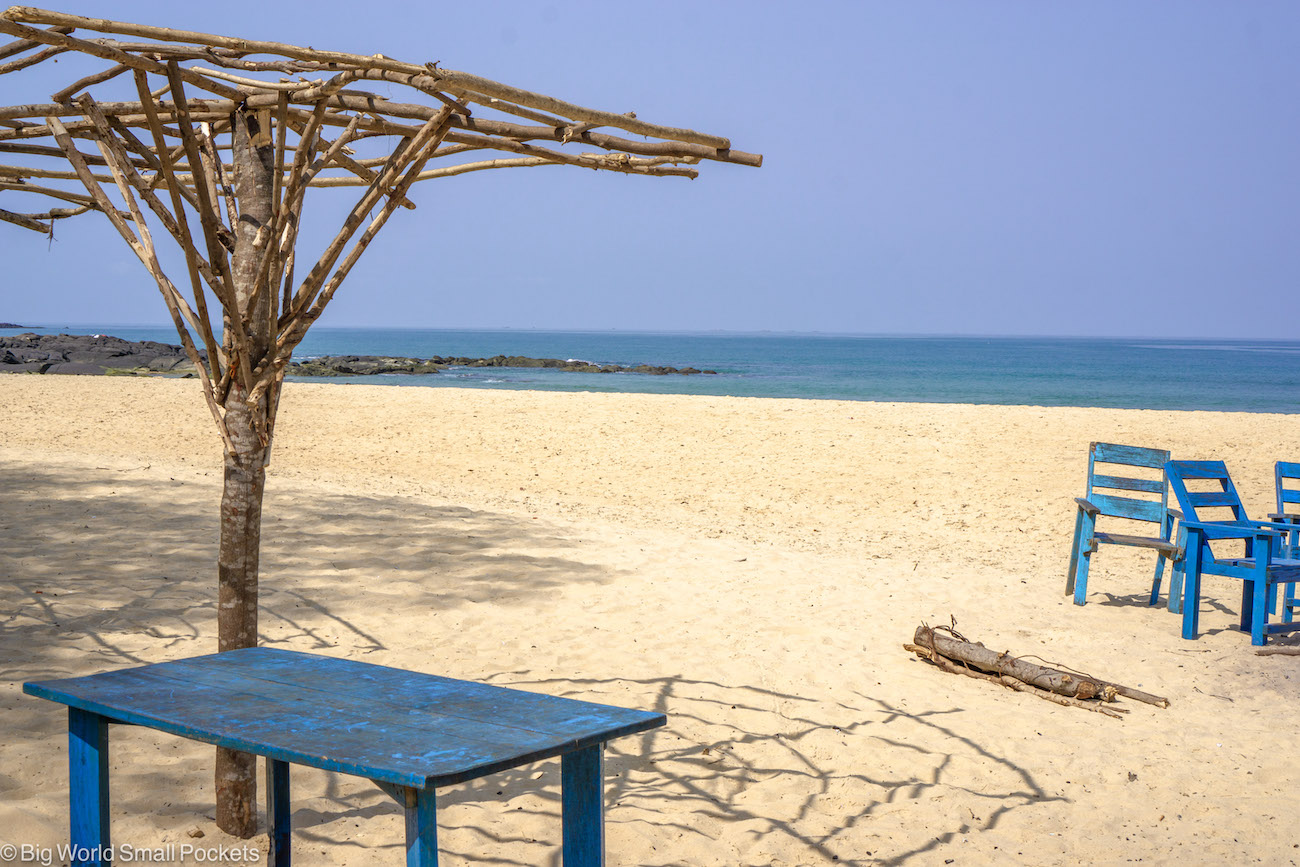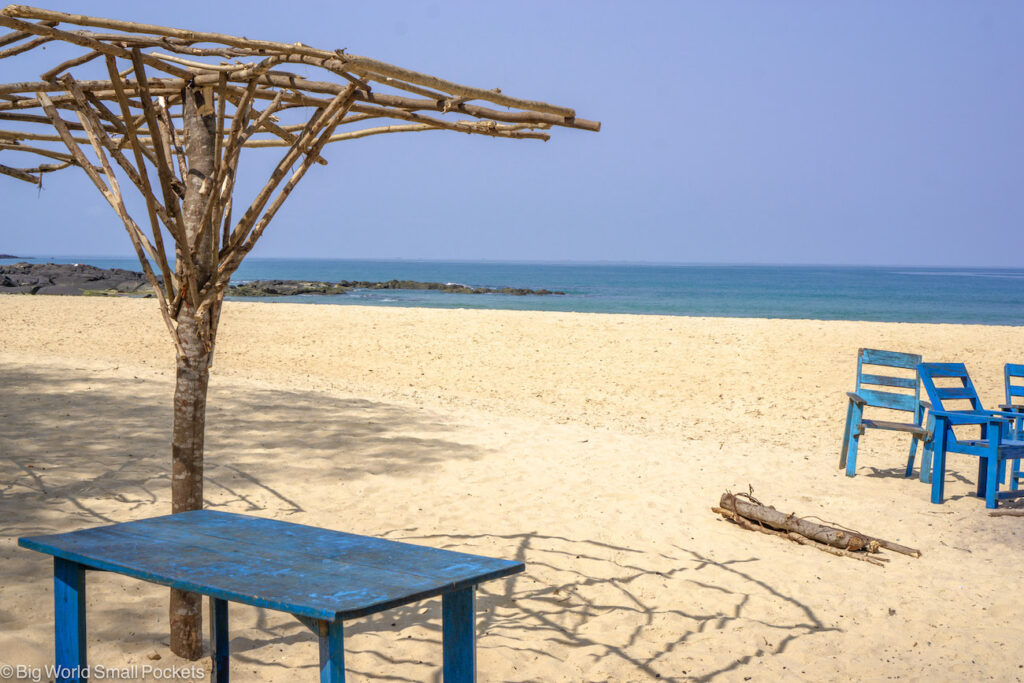 So as I mentioned in the introduction, there's 2 brilliant, practical things about Sierra's best beaches.
Firstly, it's that the perfect time to visit them is during Europe's coldest months, i.e. December to February, which makes this West African country the ideal, adventurous winter sun getaway for those of us in Europe.
Just 6 hours by direct flight, or an overnight flight if you have to transit (which will most likely be in the Moroccan city of Casablanca), this country is not far away and the fact that you'll remain in the same time zone as the UK, makes all the difference.
No jetlag – hoorah!
Secondly, Sierra Leone's best beaches all lie close to the capital Freetown, which makes accessing them from the capital (where the international airport lies) pretty straightforward… at least in West Africa terms!
All the beaches can be reached in max 3 hours from Freetown, with the closest of them being just a 30 minute drive away.
From Freetown to white sand tropical bliss in under an hour? Yes please!
And when it comes to non-practical, but key details, I have to point out that Sierra Leone's beaches really are some of the most beautiful in the world I've visited… and best, of all, there's hardly anyone there!
Given how few tourists come to this country, you certainly won't be fighting anyone for a lounger, but instead are more likely to have these white sands and stunning blue ocean views all to yourself.
And finally, given that Sierra Leone's coastline faces west – it's the Atlantic Ocean here you see – gorgeous ocean sunsets are yours for the taking, each and every evening!
So if I've sold you on exactly why Sierra Leone's beaches are so fab, then read on to discover my top 6 picks…
#1 Tokeh Beach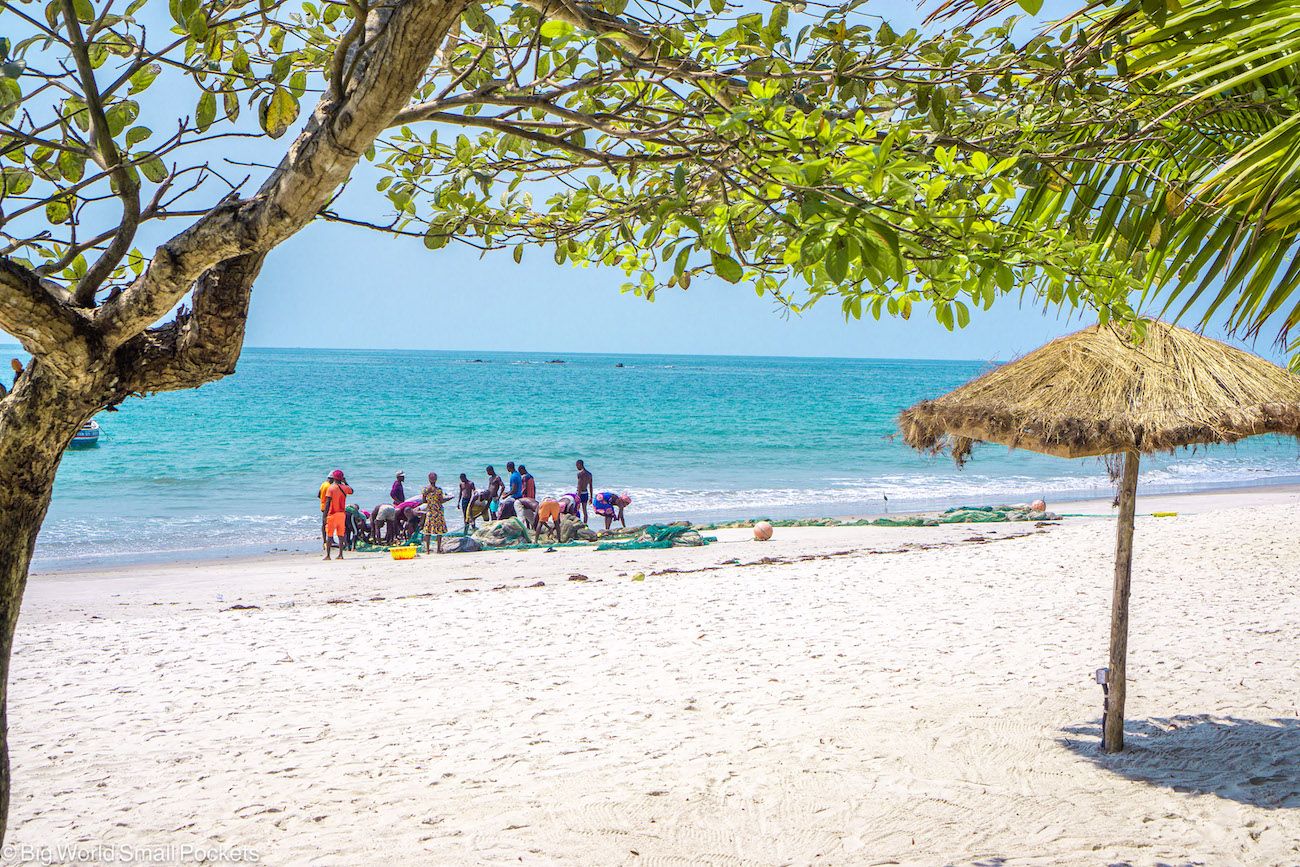 Coming in at number 1 on this list of the top Sierra Leone beaches, it's my absolute favourite!
Token Beach is situated on the Freetown peninsula, about an hour drive's away from the capital.
But let me tell you, this place feels like it's a million miles from the city.
Wonderfully peaceful, with a huge, near-deserted stretch of white sand, this place feels like an isolated slice of paradise… one that only a few people know about!
And forget high-rise hotels lining the shore, or any enormous resorts for that matter, because there's just a few low-rise accommodation options here (offering cabin-style accommodation that blends in with the palm trees!), plus some local fishermen hauling in their daily catch.
The sea is delightful – calm and ideal for swimming – and the cool breeze that blows in at Token will keep you nice and fresh as the temperatures rise across this stunning part of Sierra Leone's coastline.
Grabbing a taxi from Freetown is the best way to reach Token Beach and, once you're here, there's no question you need to check in to the marvellous Tokeh Beach Resort.
Directly behind the shoreline, with loungers and parasols set up for you to enjoy, this incredible spot offers lovely clean and comfortable accommodation, with an onsite restaurant serving up the biggest lobsters I've ever seen!
Vegetarian travellers (comme moi!) are catered for too and there's also a bar, wifi, hot water and aircon (at least between the hours of 7pm and 7am).
Do yourself a favour and, if you come to Sierra Leone, don't miss this incredible beach!
#2 No 2 Beach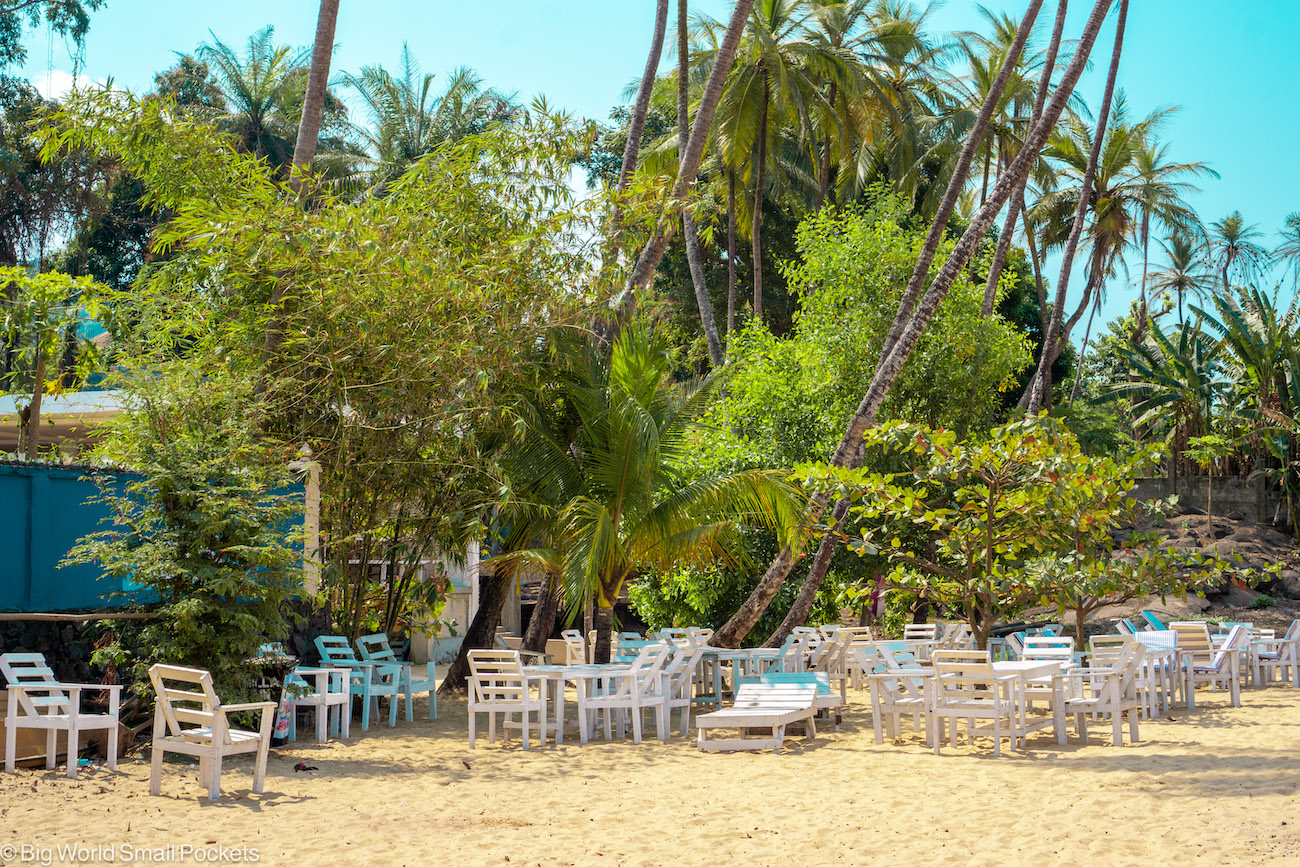 And just up the road from Tokeh Beach (and when I say just up the road, I mean you can literally walk all the way up the beach to reach it), No 2 Beach is another top hitter on my coastal Sierra Leone coastal favs.
Called Number 2 Beach because it sits at the mouth of the Number 2 River (yes, that is what it's called!), this great strip of sand took me about 30 minutes to walk to along the shoreline from Token Beach – and together they make the perfect coastal combination.
While Tokeh feels like the spot to relax and get away from it all, Number 2 Beach is definitely a bit more happening, with some small bars, cafes and restaurants lining the sand, as well as a local crafts market and village behind.
That said, it's still all very lowkey here – think wooden beach hut bars – and brilliantly, the whole area is owned and run by the community as a tourism development initiative.
Number 2 Beach also is famous after Bounty's iconic 'Taste of Paradise' advert was filmed there in the 1980s!
Slightly closer to Freetown than Token Beach, Number 2 Beach is the perfect place to escape the city for an afternoon and enjoy lunch with a view of the ocean.
Otherwise, stay for the evening and watch things get lively, especially at the weekend, as this place is a local fav!
Accommodation here is provided in simple lodgings in the village, and again, it's best to catch a taxi to Number 2 Beach from Freetown, especially if you want to enjoy a few local beers while you're there.
#3 Bureh Beach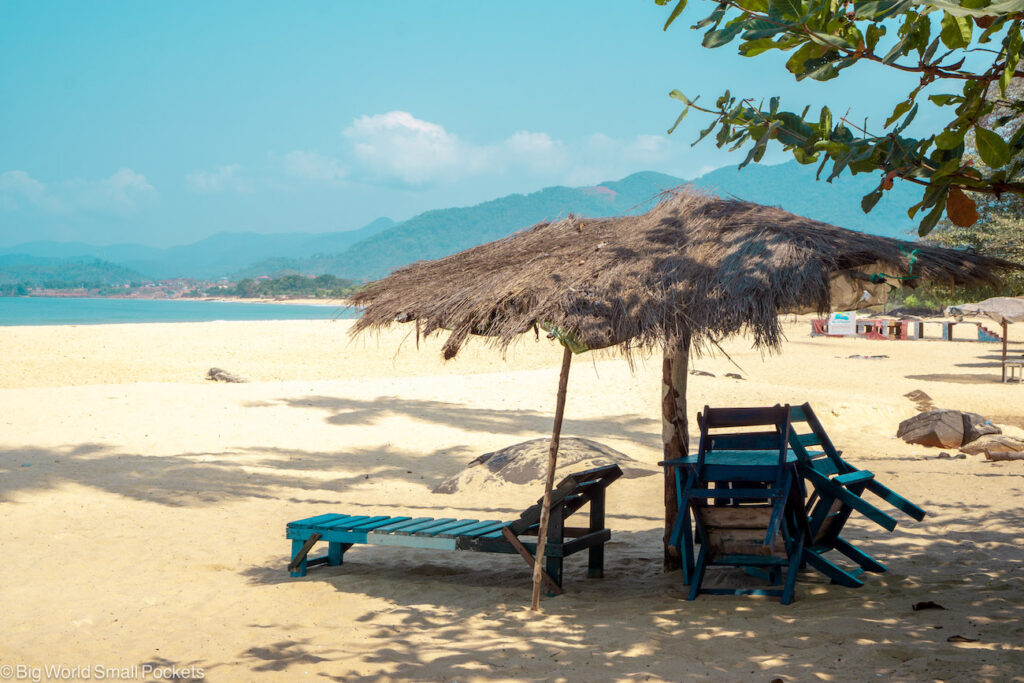 But moving away from Freetown now, we come to Bureh Beach, best known as the surf capital of Sierra Leone.
And trust me, this beach is set for big things, with its location and offerings absolutely primed for the backpacker market once they start arriving in West Africa.
With a surf school that offers lessons, as well as a yoga studio that offers classes, this spot is definitely more tailored towards the budget end of the market, with accommodation available in simple beachside cabanas.
Stay the night however and you'll be rewarded with being able to roll out of bed in the morning, run across the white sand and jump straight into the glorious Atlantic Ocean for a swim – what a way to start the day!
At then, once evening arrives, it's time to grab dinner at a local beachside café and enjoy a sundowner infront of an amazing ocean sunset.
Rinse and repeat according to the length of your stay.
Budget travel in West Africa at its very best I'd say!
#4 Banana Island – Dublin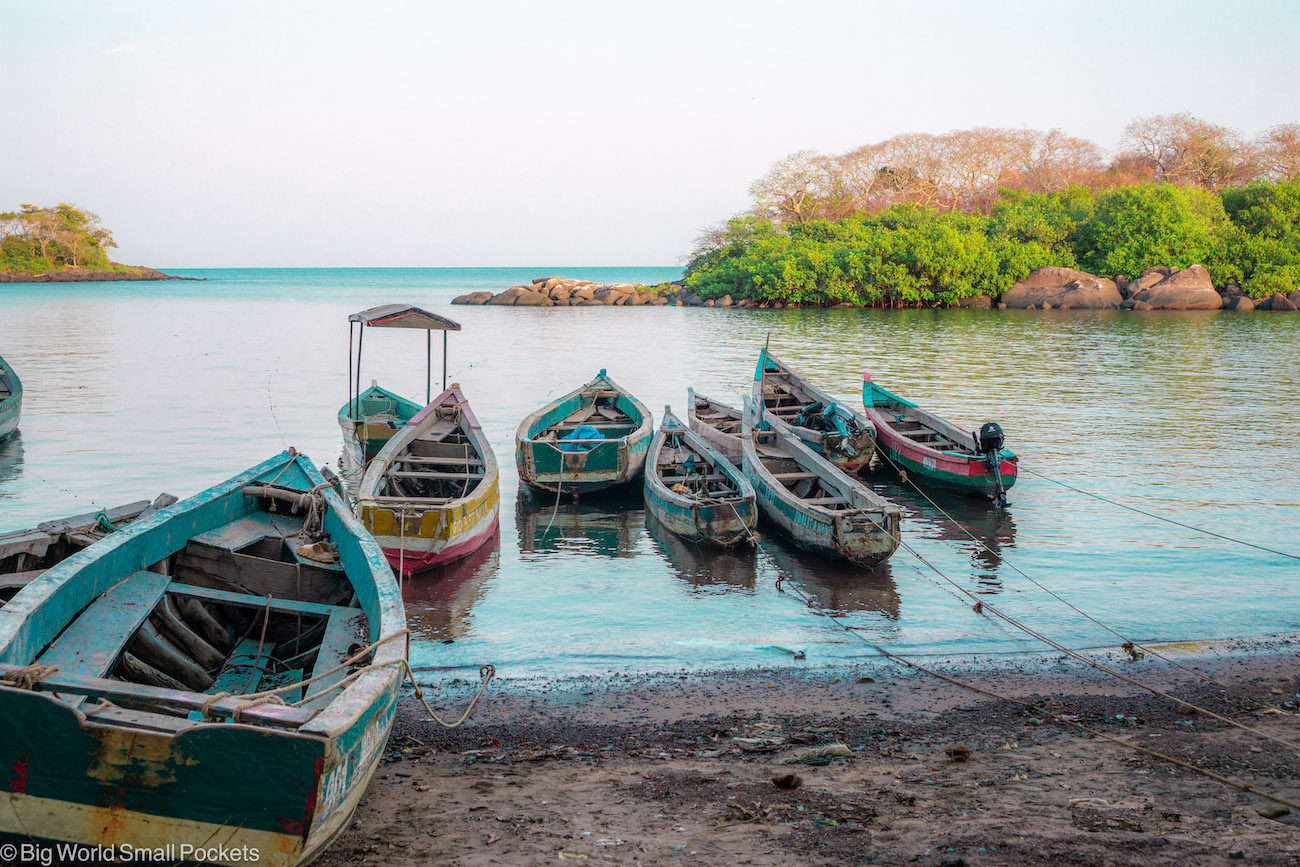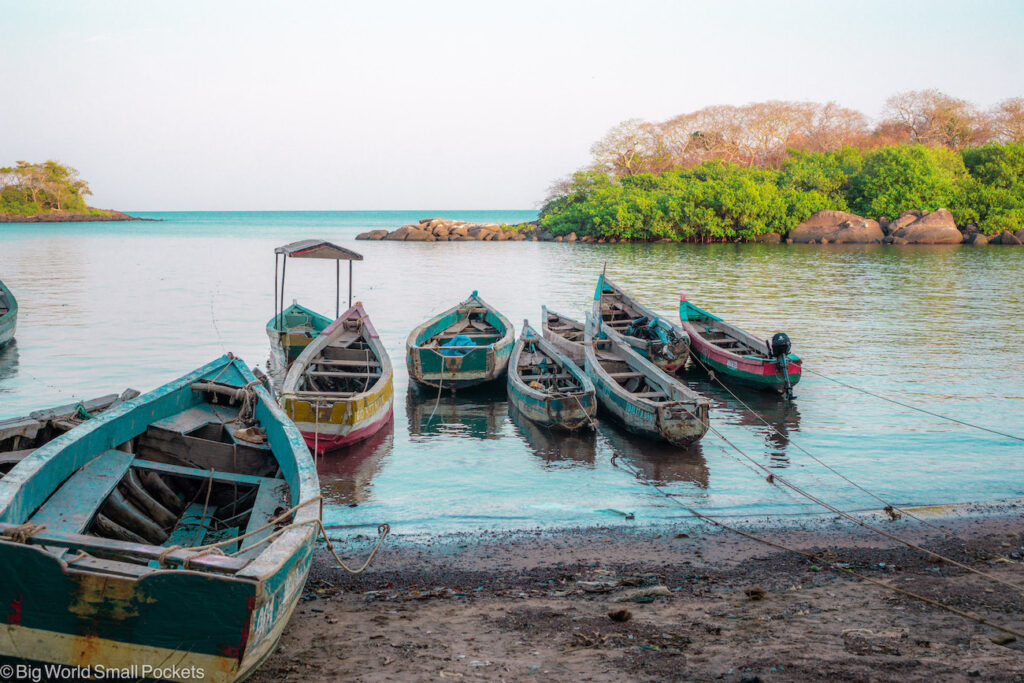 And from Bureh Beach, you can then take an organised tour to the fantastic Banana Island.
An exciting boat ride away from the Freetown Peninsula, trips to Banana Island can also be arranged from the capital itself, or contact an accommodation provider on the island to arrange your boat voyage, most of which leave from the settlement of Kent, just along the coast from Bureh Beach.
The best place to stay on Banana Island in my opinion is the quirky Bafa Resort, which boasts comfortable and spacious safari-style tents perched right above the water.
With a fan and power points inside, you'll fall asleep here to the sound of the waves that lap at the shores of this peaceful island.
A welcoming local community on the island also means that taking a walk through the village on the main Banana Island, Dublin, is a must if you want to explore local history and see how villagers live among the multitude of papaya, mango, coconut and, surprise surprise, banana trees.
This place really reminded me of the time I spent on Little Corn Island in Nicaragua because, with no cars, few shops and limited amenities, it really is the perfect escape!
Banana Island power can be patchy, so bring your headtorch, but Bafa Resort offers hot showers care of clean, communal bathrooms and delicious meals and cocktails from its beachside bar and restaurant.
There's also kayak, pedal boats and snorkelling gear available to rent too.
The coastline on the main Banana island of Dublin (because there's actually 3 in this archipelago) is made up of small coves, but the orange sand and picturesque setting is a delight and the perfect spot to enjoy a digital detox.
Robinson Crusoe, eat your heart out!
#5 Tasso Island
And while we're on the island theme, another of the top Sierra Leone beaches you must visit is that of Tasso Island.
Situated closer to Freetown – you can motor out from the boat club in the capital direct to Tasso Island in about an hour – this glorious island is the perfect place to head for a tropical, beachside lunch.
The great eco community tourism initiative on Tasso serves up fresh seafood caught by local fishermen and is perfectly washed down with a local beer and a swim.
You can also stay the night in basic, beachside stilted huts here, which are also run by the community; otherwise continue your day by heading on to Bunce Island, just a short boat ride away.
A former slave colony, Bunce Island is now UNESCO listed, and heading here with a guide to learn about the West African slave trade is a crucial part of travelling in Sierra Leone.
Understanding this country's difficult past, and the role the British colonisers, especially, played in it, is a key part of exploring this country.
#6 Lakka Beach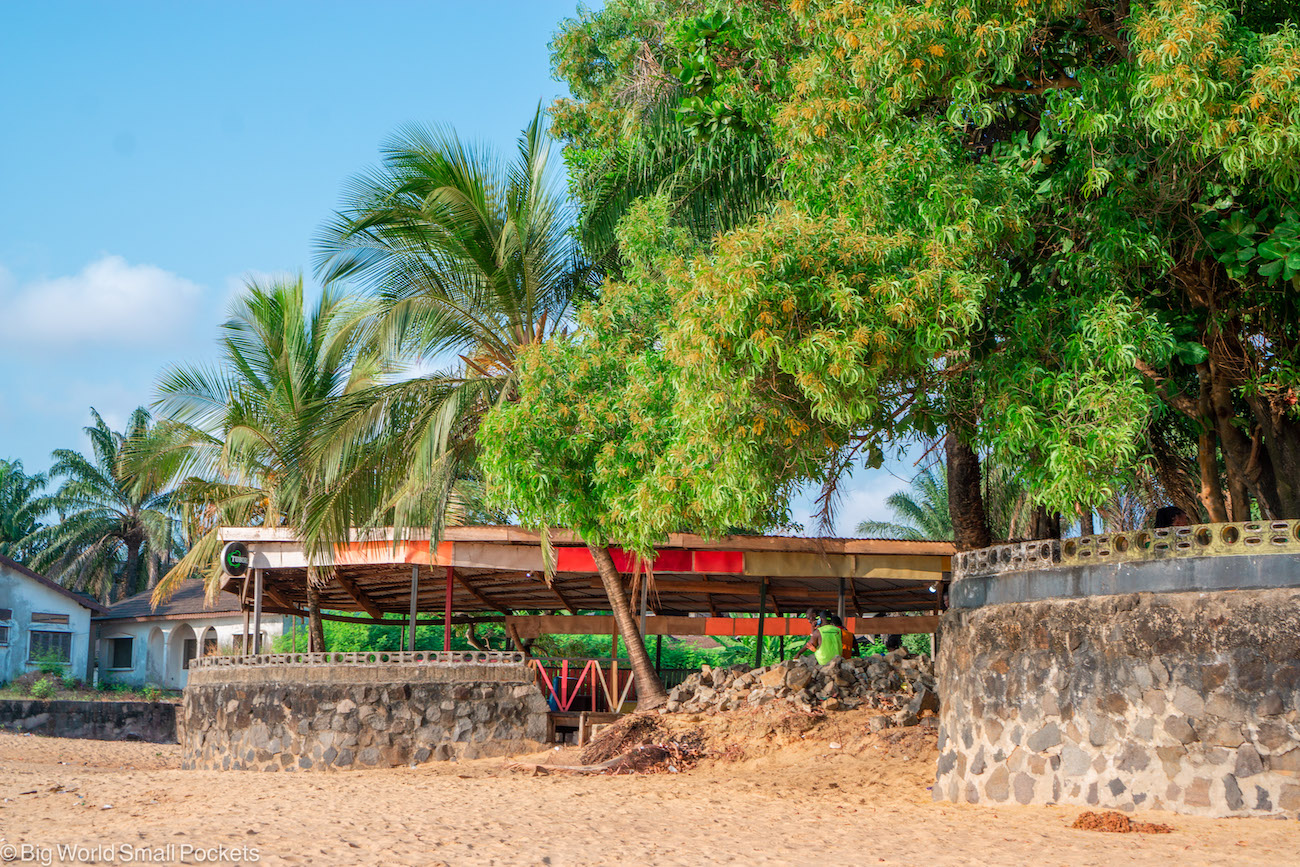 And last but not least on this list of best Sierra Leone beaches, it's time to head back to Freetown, or at least to the outskirts, because in at number 6, it's Lakka Beach.
Just a short drive from the Freetown district of Aberdeen, where you're likely to be staying in the capital (and where the airport sea ferry service arrives into – learn more here), Lakka Beach is the ideal place to head for a sunset beer and a seafood dinner – especially at the weekend.
A local favourite, this place is big on the vibes (and the loud speakers!), but also very genuine and authentic with its rustic beachside bars and welcoming service.
Comprising of a great, long stretch of sand, you can also get some fab photos here, especially during golden hour, so bringing your camera, as well as your smile, is a must!
Mini Travel Guide to Sierra Leone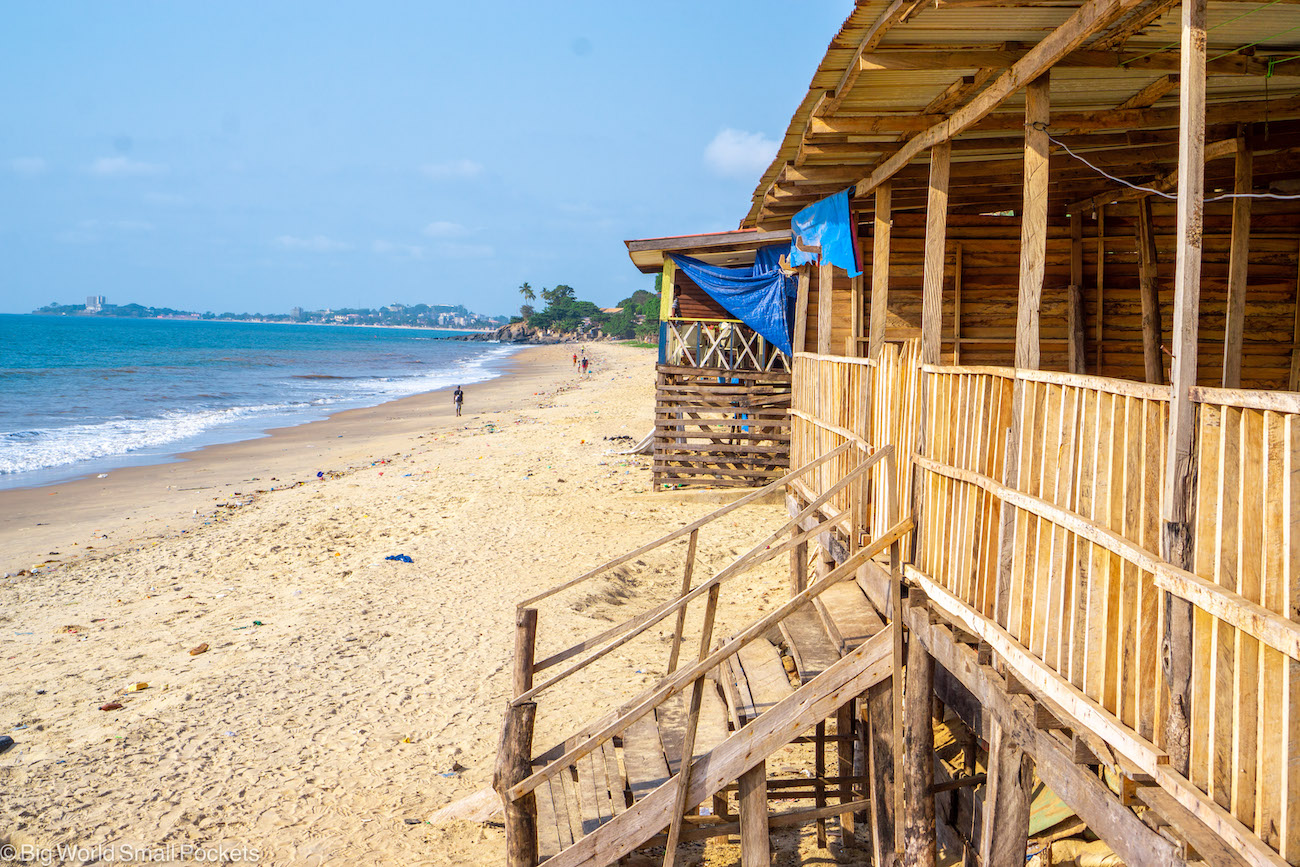 How Long to Visit For?
1 week is a good amount of time to see a lot that Sierra Leone has to offer, including Freetown, the surrounding beaches and islands, plus some of the closest wildlife destinations too, like Tiwai Island.
Learn more about visiting Sierra Leone here.
How to Get There?
Most travellers arrive into Sierra Leone via the capital's international airport.
Flights from Europe are direct with Brussels Airways and Air France, or via Casablanca with Royal Air Maroc.
Kenya Airways and Turkish Airlines also operate flights here from other destinations.
As always, I use Skyscanner to find the best prices on plane tickets.
To get from the airport to Freetown, it's then best to take the ferry service, which is timed to run with arriving flights.
Sea Bird Express are the main operator and tickets cost $45 USD.
The ticket office is located outside the airport, just across the street from the arrivals hall.
Learn more in this post I wrote all about arriving into, and navigating, Sierra Leone's airport.
How to Get Around?
It's best to get around Sierra Leone care of a tour company or an arranged driver.
Visit Sierra Leone can help with both, as well as Sierra Leone visas, and come highly recommended.
Where to Stay in Freetown?
It's likely you'll stay in Freetown for at least one night before you hit up your chosen Sierra Leone beach, so here's my top picks for accommodation in the capital:
All of these recommended options are situated in the Aberdeen district of Freetown, where the sea ferry from the airport arrives into.
Travel Insurance for Sierra Leone
World Nomads offers simple and flexible travel insurance. Buy at home or while travelling and claim online from anywhere in the world.
Alternatively, if you're a long-term traveller, digital nomad or frequent remote worker seeking travel health cover, check out Safetywing's Nomad Insurance policies.
Travel Money in Sierra Leone
Cash is king in Sierra Leone, so I advise bringing lots of USD, Euros or Pound Sterling with you, which can then be exchanged in banks, or on the street, in Freetown.
Don't rely on ATMs in this country, as they are a) thin on the ground b) often not working and c) have low limits on cash withdrawal amounts.
Paying by card in Sierra Leone is really only available in top-end hotels, restaurants and bars in Freetown and the immediate surrounds, such as Token Beach.
On the occasion that you can pay by card (and as a good back up option), I highly recommend travelling with a Wise card to Sierra Leone.
The easy way to spend abroad with real exchange rates and no sneaky transaction fees, I never travel anywhere without mine. Sign up to get yours here.
Travel Health
You need a Yellow Fever certificate, as well as a Covid-19 vaccination certificate, to be granted entry to Sierra Leone.
Bring paper copies of both to show officials at your point of entry.
Always consult a health practitioner before you travel to West Africa.
They will advise you about other recommended vaccinations to get ahead of your trip, as well as about any anti-malaria medication you may need.
Where to Travel After Sierra Leone?
After Sierra Leone, I travelled north to Senegal.
Learn more about travelling in this fantastic West African country here.
PIN THIS ARTICLE TO PINTEREST!
So there you have it, my list of the top 6 Sierra Leone beaches.
I hope I've shown you just how stunning the coastline of this West African country is and, if you're looking for a slice of wild winter sun with a twist, that Sierra Leone could be the perfect solution!
Have you visited this country?
What did you think of its amazing beaches?
Tell me all in the comments box below…