Bunce Island is one of the most important and poignant sites to visit in Sierra Leone.
A former slave colony, it has now been converted into a monument that bears witness to the tragedies that occurred here.
Visitors can tour the ruins, see the former fortress and learn about the devastating reality of the West African slave trade.
Chilling and haunting, a visit here is hugely significant in understanding the impact of colonialism in Sierra Leone, the legacy of which is still highly relevant today.
One of the most important examples of a slave fort in West Africa, here's everything you need to know about visiting Bunce Island, which reminds visitors of a critical chapter in Sierra Leone's story…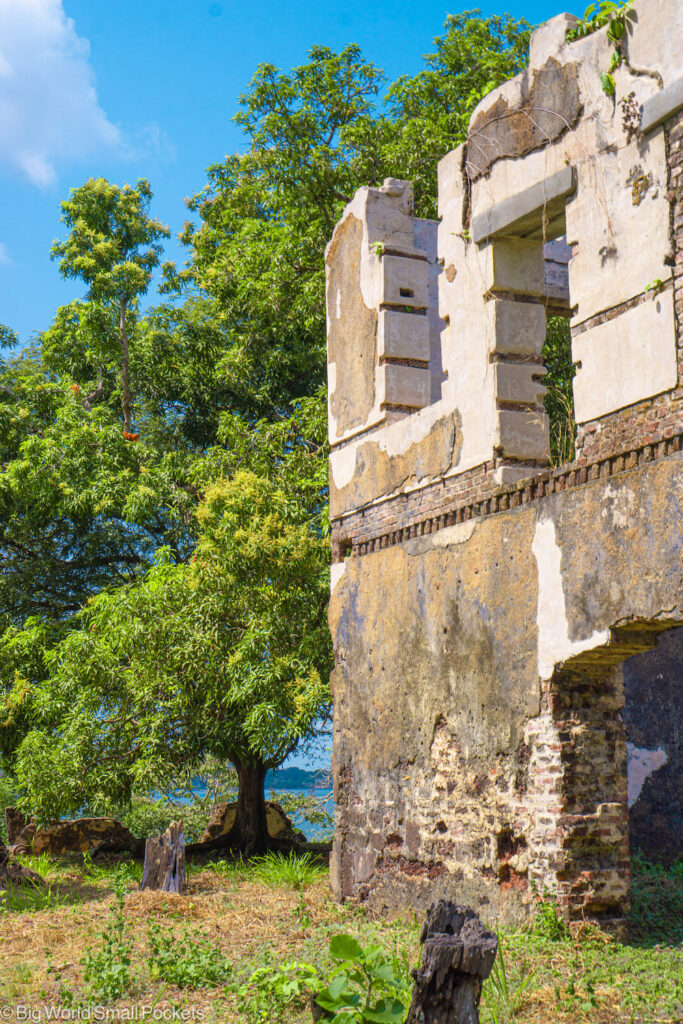 ---
Related Posts
---
My trip to Sierra Leone was sponsored by the Sierra Leone National Tourist Board, but as always, all views are my own.
This page contains affiliate links meaning Big World Small Pockets may receive a small commission on any purchases at no extra cost to you.
---
Where is Bunce Island?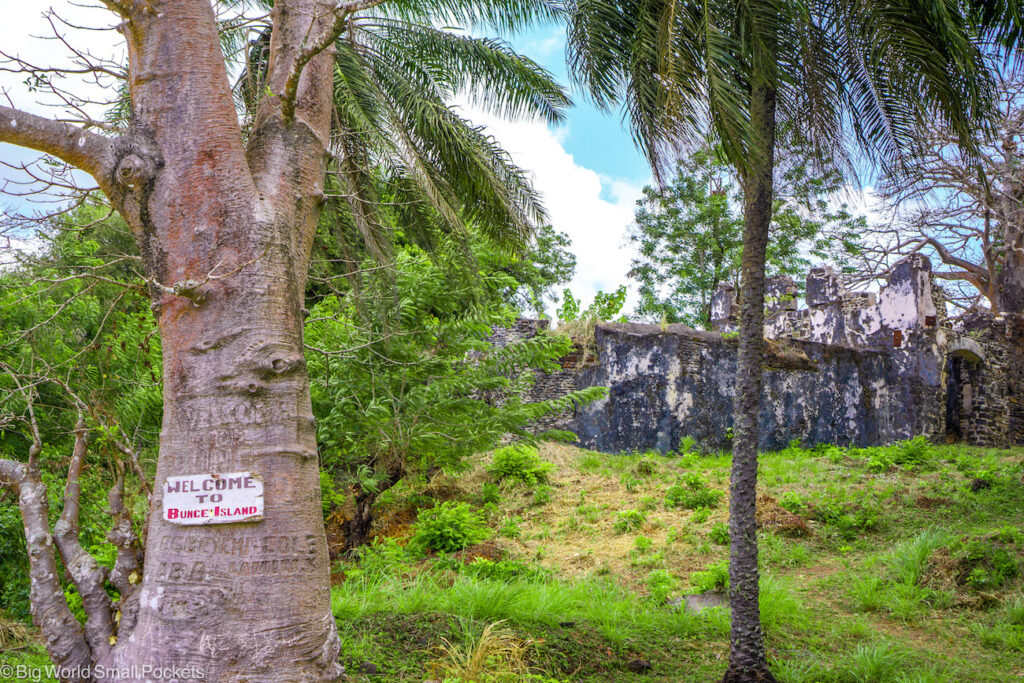 Situated off the coast of Sierra Leone's capital – Freetown – Bunce Island is a key island in the Sierra Leone River Estuary area.
It's best visited as part of a guided half day or full day trip from Freetown and can be combined with a trip to nearby Tasso Island – which is another important spot in this river estuary ecosystem.
How to Get to Bunce Island?
The only way to reach Bunce Island is by boat – usually a speedboat.
Without a regular service, it's really best to take a tour to this island for a number of reasons, not least because this will ensure boat transport is arranged for you.
Most boats leave from the small jetty near the Aqua Sports Club situated near Cockle Bay in Freetown.
Speedboat is the best option because, even with this fast vessel, it takes around an hour to reach Bunce Island.
It's a good idea to bring your sea legs and to take some seasickness medication if you don't deal well on open water.
On the way to Bunce Island, you'll pass many other islands, such as Tasso – where you can stop for lunch or even stay the night.
Your guide will also tell you about the Freetown Peninsula and the important elements of the coastline you are seeing on the way – including the iron ore industrial train and busy city port.
Why Visit Bunce Island?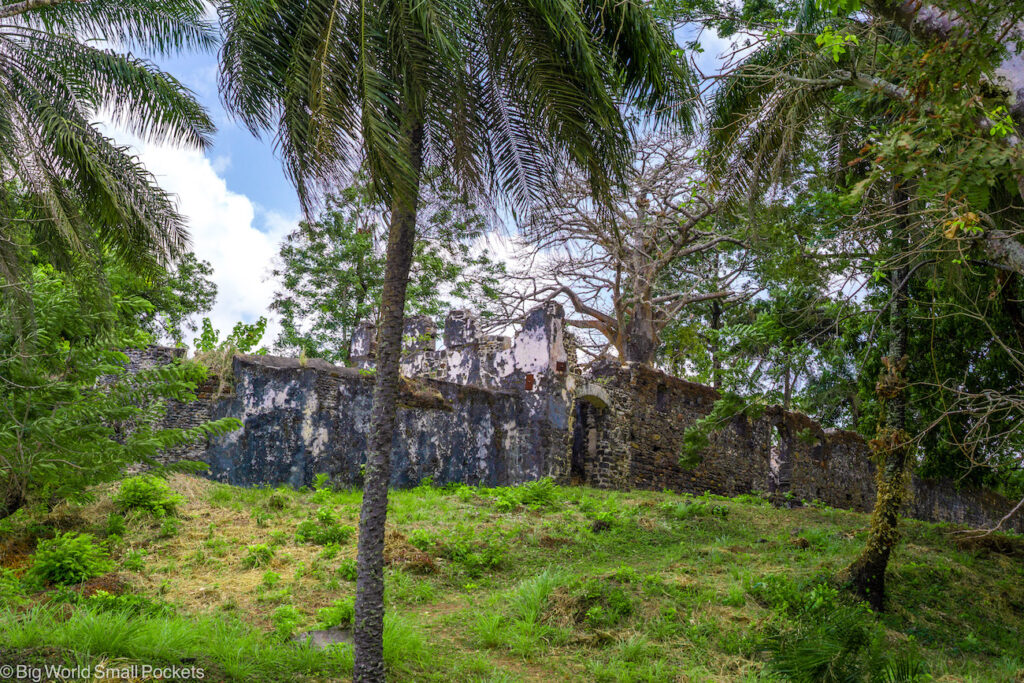 As one of West Africa's most significant 18th century slave fortresses, a trip to Bunce Island is a must in understanding the legacy of colonialism in this country and the history of the slave trade.
To understand the story of this country, indeed this whole region, it's an important part of the puzzle.
Uncomfortable and harrowing, it's nevertheless one of the most important sights to visit in Sierra Leone and should not be missed during your time in this country.
The site was once a huge fortress that included a main gate and huge wall, 2 bastions, 2 slave yards, dormitories, an office tower and a house.
A well and cemetery were also located outside the fortress walls.
Now Bunce Island mostly lies in ruin, but you can still walk in and around these haunting structures which tell a chilling and unsettling story in the dark history of this nation.
History of Bunce Island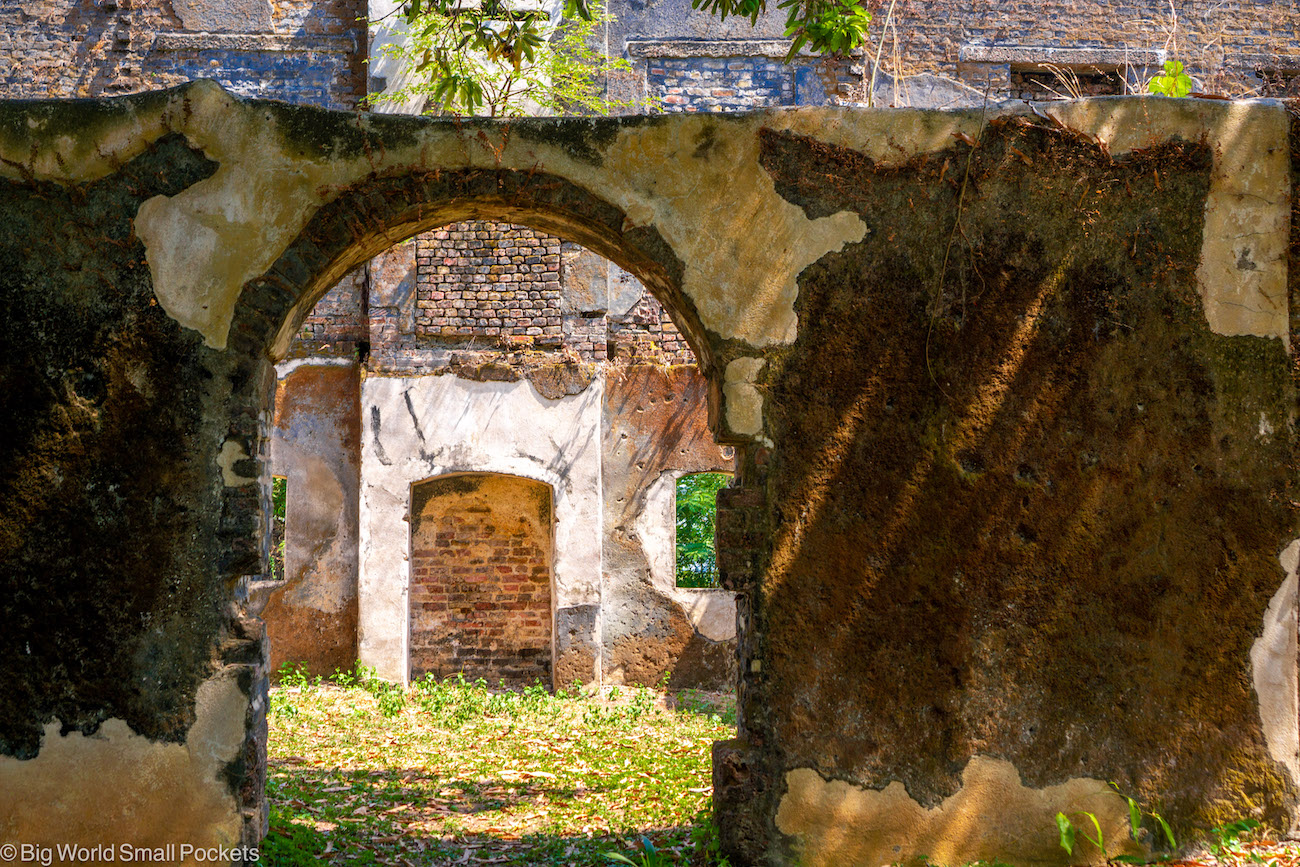 Construction began on Bunce Island after the first slave fort in the estuary, on Tasso Island, was destroyed in 1664.
After this, Bunce Island was chosen as a more easily defendable location by the British, but was still attacked and destroyed on 4 occasions between 1704 and 1779 by both the French forces and marauding pirates.
Between 1780 and 1809, Bunce Island become the centre of the slave trade to the southern US states under the ruthless colonial commander, John Osmand, who owned plantations in Florida.
With the huge development of the sugar, tobacco and cotton plantations in the Caribbean and Southern US states in the 17th century, there was a huge demand for forced labour. Many West African people were captured as slaves by inland traders, who then resold them to slave dealers operating on Sierra Leone's coast.
From Bunce Island where they were imprisoned, hundreds of thousands of slaves were then transported across the Atlantic Ocean in horrific conditions on a 2 month journey that many lost their lives to.
At its peak, 300+ captive people were held in the slave quarters of Bunce Island fort.
Men were separated from women and children. Slaves were often branded
The slave trade operating from Bunce Island reached its peak in 1785, when 13,000 people were transported from Bunce Island to the Americas in that year alone.
Slavery was abolished in Britain in 1807, but continued in West Africa until at least 1840.
Bunce Island's fort was finally abandoned in 1846.
When to Visit?
The best time to visit Bunce Island is between December and February.
This is also the best time to visit Sierra Leone as a whole.
The dry season across the country, this time of year boasts good temperatures, no rain, lower humidity and far fewer mosquitoes.
Even still, the country can be hot and humid, so come prepared!
From December to February you are pretty-much guaranteed sailings to Bunce Island while, in the rainy season (especially the peak from June to September), torrential rain and strong winds can sometimes disrupt sailings for days at a time.
Learn more about the best time to visit Sierra Leone here.
What to Expect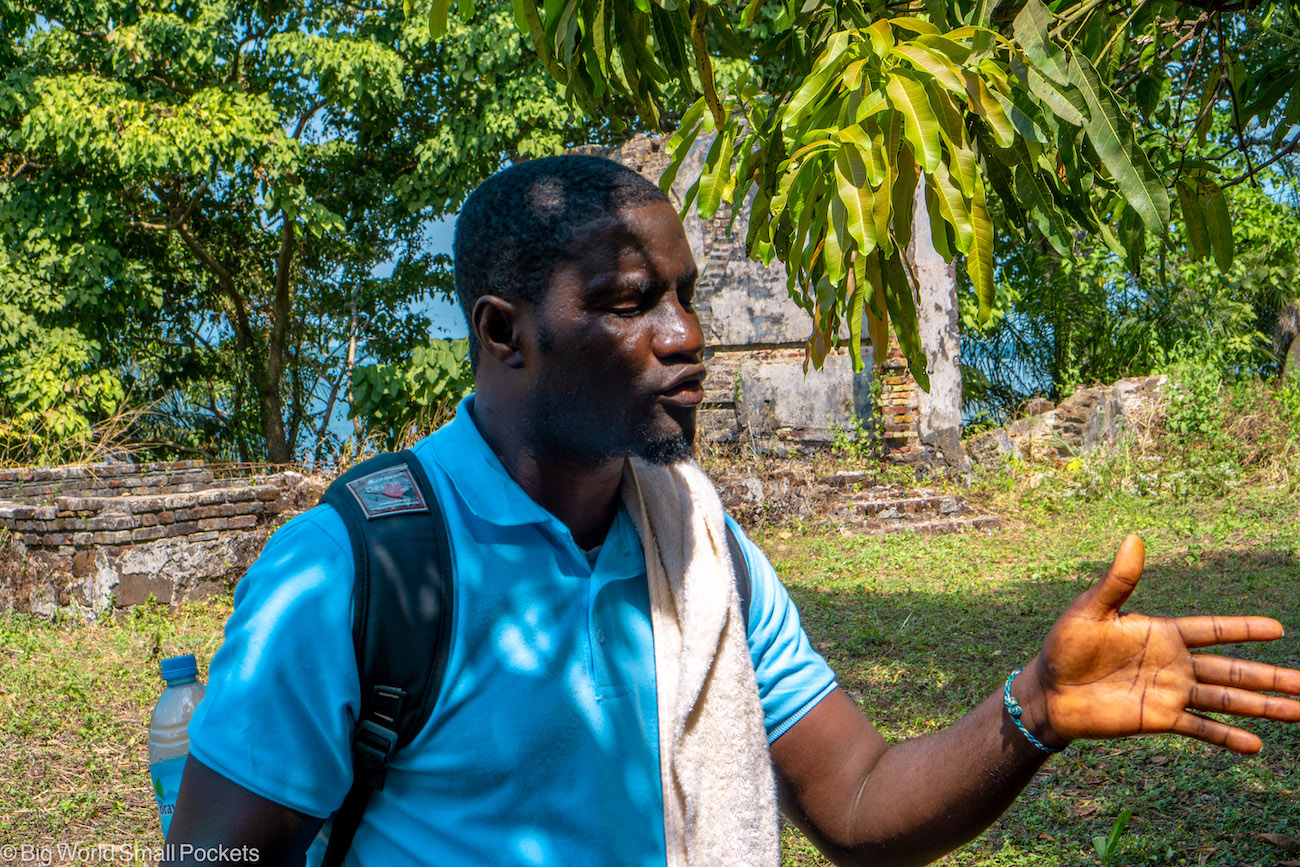 Bunce Island is an incredibly moving place.
If you visit with a guide, which you almost certainly will (and should), they'll bring to life the horrific moments in the history that unfolded here, and how the colonial era and the legacy of slavery continue to shape West Africa today.
As with any of the dark tourism sites I've visited, such as Auschwitz, the Rwanda Genocide Museum and the Holocaust Museum, a visit to Bunce Island can be emotionally draining and upsetting to say the least.
That said, I do think that when you visit a country, it's important to learn about the events that have shaped it and to bear witness to any of these which may be uncomfortable, or disturbing, in order to ensure such things never happen again.
We equally have a responsibility to ensure that actions we may take today are not influenced by an ignorance of the past.
Visiting Bunce Island with a guide will also be exponentially more powerful because there's very little to no signage on the island.
If you really want to uncover the important history that unfolded here, touring with a local guide is definitely the best way to do it.
Things to Do on Bunce Island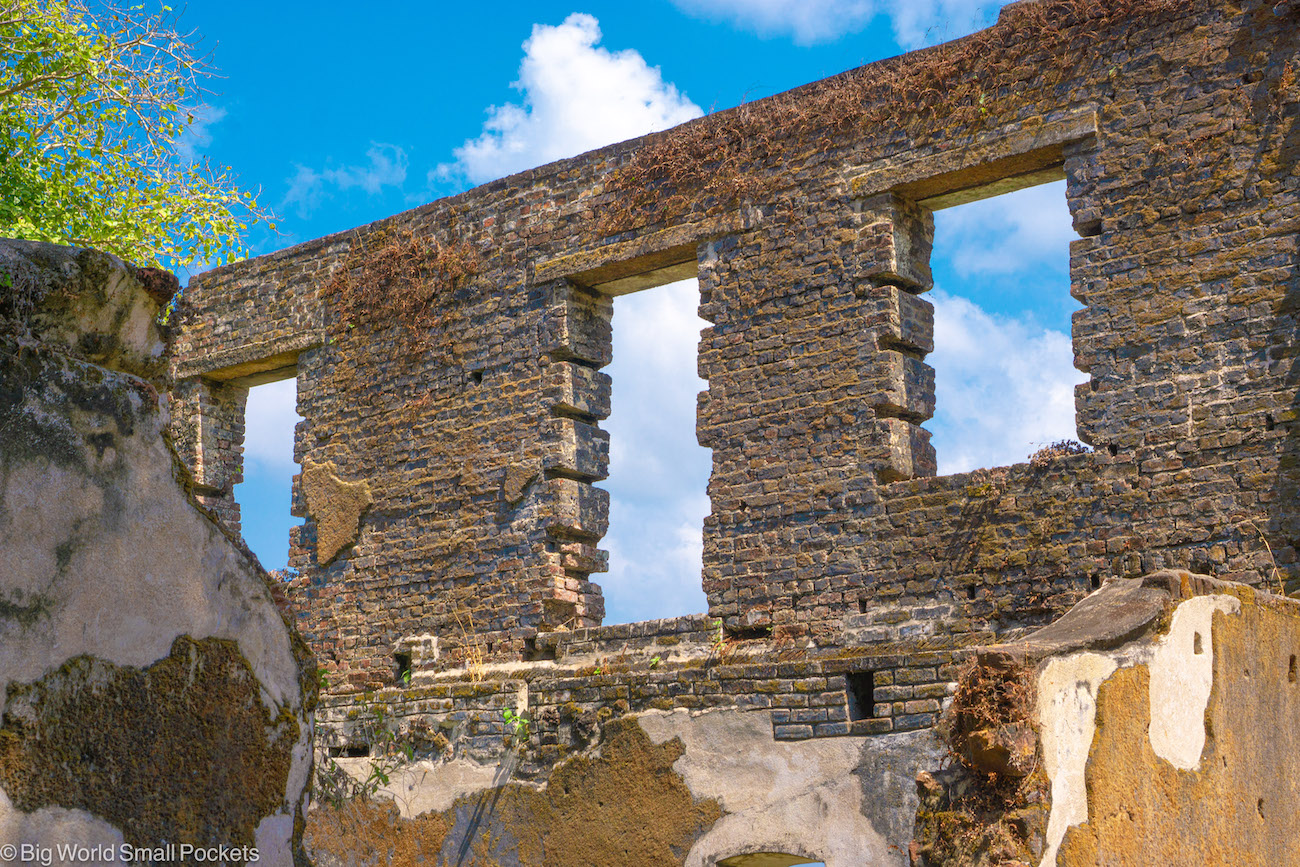 Exploring Bunce Island is all about wandering around the abandoned fortress of this former slave colony.
Many of the buildings are falling into disrepair and the jungle is slowly taking over, but your guides will help bring to life some of the truly awful scenes that occurred here only a few hundred years ago.
You'll pass through old doorways and enter structures which would have contained hundreds of slaves, including women and children.
You'll also get the last view of the island, which many slaves would have seen before they were marched below deck to await their fate on the wild open seas or in a life of slavery in the Americas.
It's incredibly powerful.
Most Bunce Island tours last a couple of hours and you'll be walking the whole time.
As such, wearing comfortable, flat and covered toes shoes comes highly recommended.
There are paths here, but they can be uneven and there's thick foliage in a lot of places.
I also advise good sun protection and respectful clothing.
How Long to Spend There?
Most people make a half day trip to Bunce Island from Freetown.
For those looking to extend the day, Tasso Island makes the perfect stop after Bunce Island.
It's nearby and you can enjoy a delicious lunch on the beach from a local community restaurant here.
Where to Stay on Bunce Island?
Given the historic story of Bunce Island, out of respect, there is no accommodation here.
There's nothing on the island, infact, except the ruined fort and a simple jetty where your boat will dock.
The best place to stay is nearby Tasso Island or Freetown.
In Tasso Island, there's a community ecotourism project that offers simple, beachside bungalows, along with an on-site restaurant.
Staying here supports the local community and promotes sustainable tourism in this fragile river estuary ecosystem.
If you'd prefer to return to Freetown and stay there, here's my top accommodation picks in the capital…
What to Bring for Your Visit
With no banks, card payment or ATMs, you'll have to bring all the cash you need with you to Bunce and Tasso Island.
Comfortable, loose clothes are also a good option when visiting Bunce Island – it's more respectful to wear long pants and cover your shoulders and chest.
A sunhat and sunscreen are also a good idea to protect you from the strong rays.
A small backpack is another win, as you'll want to comfortably carry your water, sunscreen and snacks etc.
A dry bag might also be helpful for keeping electricals water and sand free.
Hand sanitiser is always a good idea for Sierra Leone, as are wet wipes and tissues.
Finally, I advise bringing a portable charger with you, so you can charge your camera and phone even if their batteries rundown.
Photos on Bunce Island are allowed.
Mini Travel Guide to Sierra Leone
How Long to Visit For?
1 week is a good amount of time to see a lot that Sierra Leone has to offer, including Freetown, the surrounding beaches and islands, plus some of the nearby wildlife destinations too, such as Tiwai Island.
How to Get There?
Most travellers arrive into Sierra Leone via the capital's international airport.
Flights from Europe are direct with Brussels Airways and Air France, or via Casablanca with Royal Air Maroc.
Kenya Airways and Turkish Airlines also operate flights here from other destinations.
As always, I use Skyscanner to find the best prices.
To get from the airport to central Freetown, it's best to take the ferry service, which is timed to run with arriving flights.
Sea Bird Express are the main operator and tickets cost $45 USD.
The ticket office is located outside the airport, just across the street from the arrivals hall.
Learn more in this post I wrote all about arriving into Sierra Leone's airport.
How to Get Around?
It's best to get around Sierra Leone care of a tour company or an arranged driver.
Visit Sierra Leone can help with both, including visits to explore Freetown and trips to Banana Island.
Travel Insurance for Sierra Leone
World Nomads offers simple and flexible travel insurance. Buy at home or while travelling and claim online from anywhere in the world.
Alternatively, if you're a long-term traveller, digital nomad or frequent remote worker seeking travel health cover, check out Safetywing's Nomad Insurance policies.
Travel Money in Sierra Leone
Cash is king in Sierra Leone, so I advise bringing lots of USD, Euros or Pound Sterling with you, which can then be exchanged in banks or on the street in Freetown.
Don't rely on ATMs, even in the capital, as many don't work and cash withdrawals are limited.
Paying by card in this country is really only available in top-end hotels, restaurants and bars.
On the occasion that you can pay by card (and as a good backup option generally when you travel), I highly recommend a Wise card.
The easy way to spend abroad with real exchange rates and no sneaky transaction fees, I never go anywhere without mine these days. Sign up to get yours here.
Travel Health
You need a Yellow Fever certificate, as well as a Covid-19 vaccination certificate to be granted entry to Sierra Leone.
Bring paper copies of both to show officials at your point of entry.
Always consult a health practitioner before you travel to West Africa. They will advise you about other recommended vaccinations to get ahead of your trip, as well as about any anti-malaria medication you may need.
Where to Travel After Sierra Leone?
After Sierra Leone, I travelled north to Senegal.
Learn more about travelling with fantastic West African country here.
PIN IT TO PINTEREST!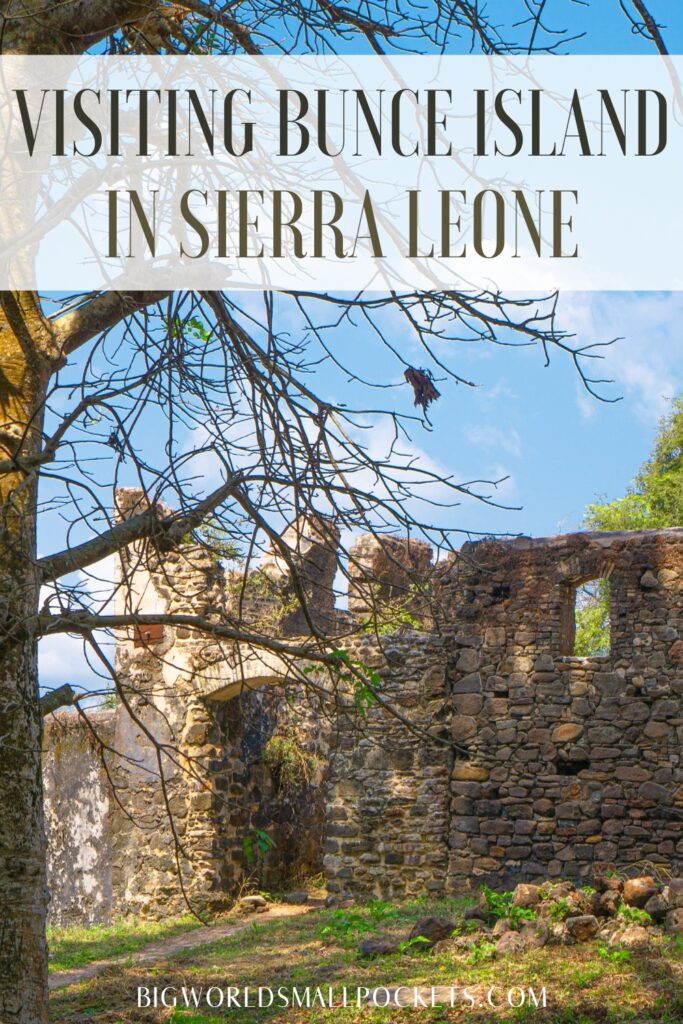 That's my visitor guide to Sierra Leone's Bunce Island.
Are you planning to head to this important historical site yet?
Have any more questions about it?
Then don't hesitate to drop them in the comments box below and I'll get back to you…