The capital of Sierra Leone, Freetown, has a surprising number of great things to do and I'm going to bring you my pick of the bunch.
After all, no visit to this country is complete without spending at least a couple of days in Freetown and, with some great historical attractions, some pretty impressive wildlife experiences, not to mention an array of fabulous islands and coastline surrounding in, there's more than enough to amuse you here.
Despite being home to only 2 million people – pretty small in West African terms – Freetown nevertheless throngs with life and offers all the colours and chaos you might expect from a city in this part of the world.
I suggest using a taxi or a driver to get around at all times of the day – it's quite sprawling – and while the capital can be intimidating, using these forms of transport will hopefully have you feeling more at ease and able to dive in.
So here, without further delay, are the top 15 things to do in Freetown, Sierra Leone…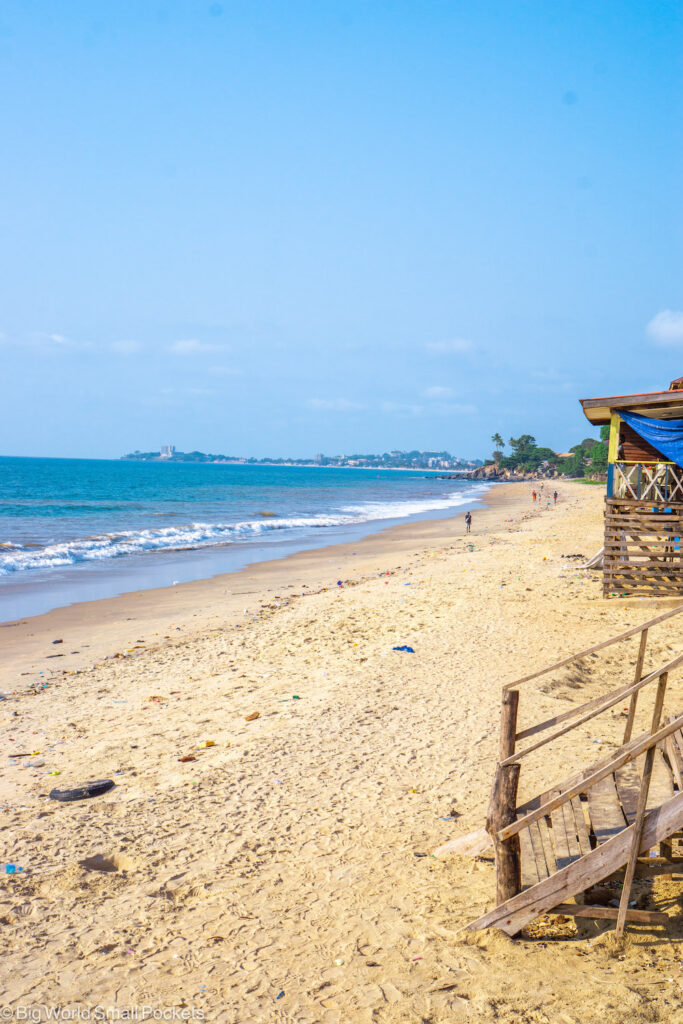 ---
Related Posts
---
My trip to Sierra Leone was sponsored by the Sierra Leone National Tourist Board, but as always, all views are my own.
This page contains affiliate links meaning Big World Small Pockets may receive a small commission on any purchases at no extra cost to you.
---
#1 Check Out the Railway Museum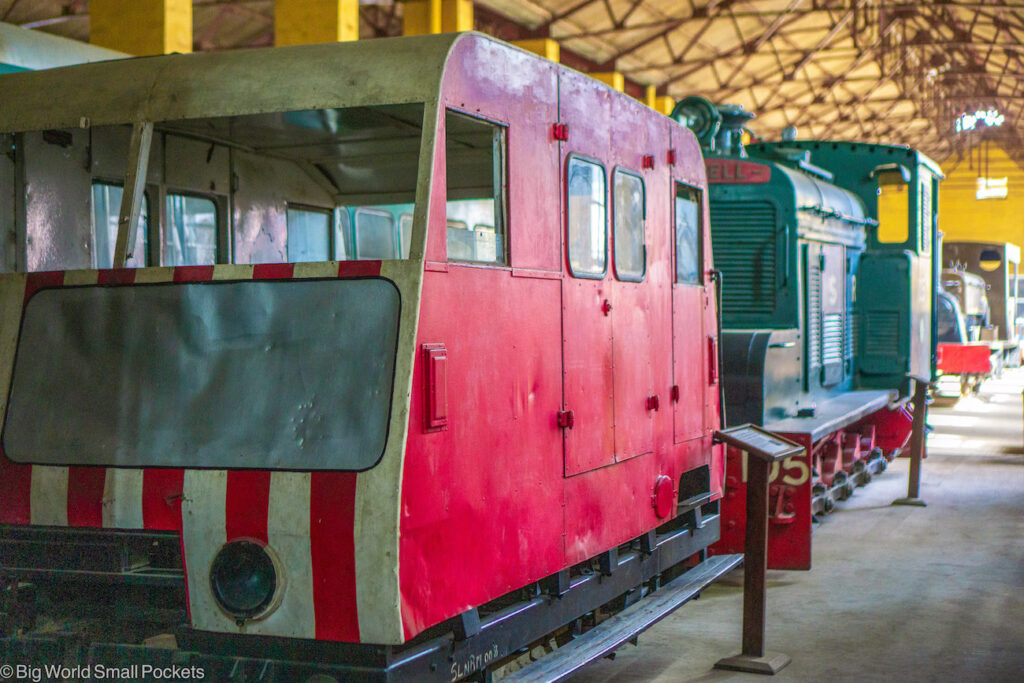 First in on this list of top things to do in Freetown it's visit Sierra Leone's National Railway Museum.
Located in the east of the capital, this small, but cute museum is a must-visit thanks to its enthusiastic staff and the fascinating story it tells of the city's former railway line.
A visit here does make you feel sad that trains are no longer operational in this country (they stopped in 1975), especially because having a functioning railway could really help the economy and opportunities of the people here.
Anyway I digress…
The National Railway Museum, which is housed in a former train depot, was opened in 2004 and there's a small but interesting selection of carriages and basic displays to be seen here.
Top of the list is probably the carriage constructed in 1961, specifically for Queen Elizabeth II's first and only visit to Sierra Leone.
Unfortunately, plans were changed and the Queen never actually rode in the carriage, but you walk inside it, along with spot some pictures of her standing next it if you're looking to get your Royal fix!
#2 Visit St George's Church & Freetown Central Mosque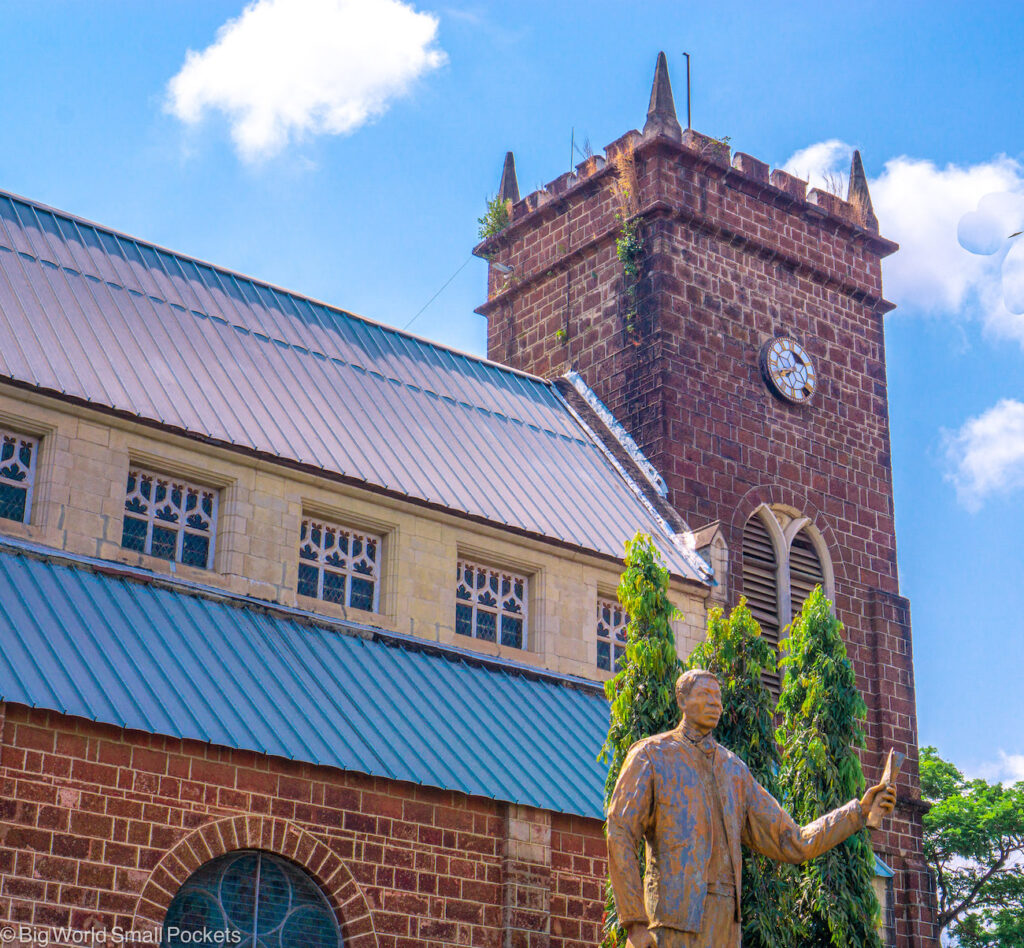 And another place you can get your Royal fix in Sierra Leone (I sound like a mad Royalist here, which I'd very much like to point out I am not!), is St George's Church – one of the largest churches in Freetown.
Entrance to this religious building is free and, while the church is a little bare inside, it's still worth stepping in to have a look.
Don't forget to check out the visitor book too where former Queenie and Prince Philip signed their names.
Sierra Leone's population is about 60% Muslim and 40% Christian, so after the main church in the capital, I suggest you head to check out the largest Mosque in this country too.
It's a beautiful building and several of Sierra Leone's Christian presidents have visited.
I really appreciated how tolerant Sierra Leonean people seemed to be while I was there and visiting these 2 buildings is a good way to get a flavour of that.
#3 Souvenir Shop at the Big Market
And right next to St George's Church is Freetown's Big Market – the main place to pick up some souvenirs in the capital.
Wander the 2 floors, which are filled with local crafts including bags, shoes, jewellery, woodwork and more, and hunt for a bargain.
Upstairs in this market is definitely the place to pick up some textiles, so if you want a beautiful Sierra Leone colourful skirt, this is the spot!
For more local market feels – and all the chaos and cacophony they bring – head to Freetown's Kissy Road Market.
And, as always with markets, just watch your bags and your pockets while you're here.
#4 Wander the National Museum + Peace and Cultural Monument
After the shopping, it's back to the history books, as visiting the National Museum of Sierra Leone is definitely one of the top things to do in Freetown.
A small collection house, spread across 2 buildings, there's an interesting display about the number of ethnic groups in this country (over 18 FYI), as well as a discussion of some of the traditional practices they still maintain, including music and rituals.
Don't miss the scary costumes that are used in traditional ceremonies, which are on display here too.
And then just across the road from the National Museum is Sierra Leone's Peace and Cultural Monument.
Opened in 2011 to teach local children about Sierre Leone's history and past heroes, the monument is testimony to the horrific events of the civil war here and all who fought to bring peace.
Touring here with a local guide, to really make sense of what's going, on is definitely the best option.
In fact, touring Freetown with a guide full stop is the best option if you really want to get under the skin of this city.
#5 Snap the Cotton Tree
And then, just across the road from both these top things to do in Freetown – well, actually, it's kind of in the middle of both of them, is the Cotton Tree.
An important city emblem, this tree is huge and is thought to be the oldest cotton tree in Freetown dating back to at least 1787.
Hugely symbolic in the founding of the city by freed slaves from Nova Scotia, the Cotton Tree is a symbol of independence, freedom and self-determinism.
Hundreds of bats nest in the trees around here too and seeing them take flight in the late afternoon is a pretty impressive sight.
And just across the road, you'll also see the Supreme Court of Sierra Leone, as well as the blue and white distinctive design of the State House.
#6 Eat Lunch at Crown Bakery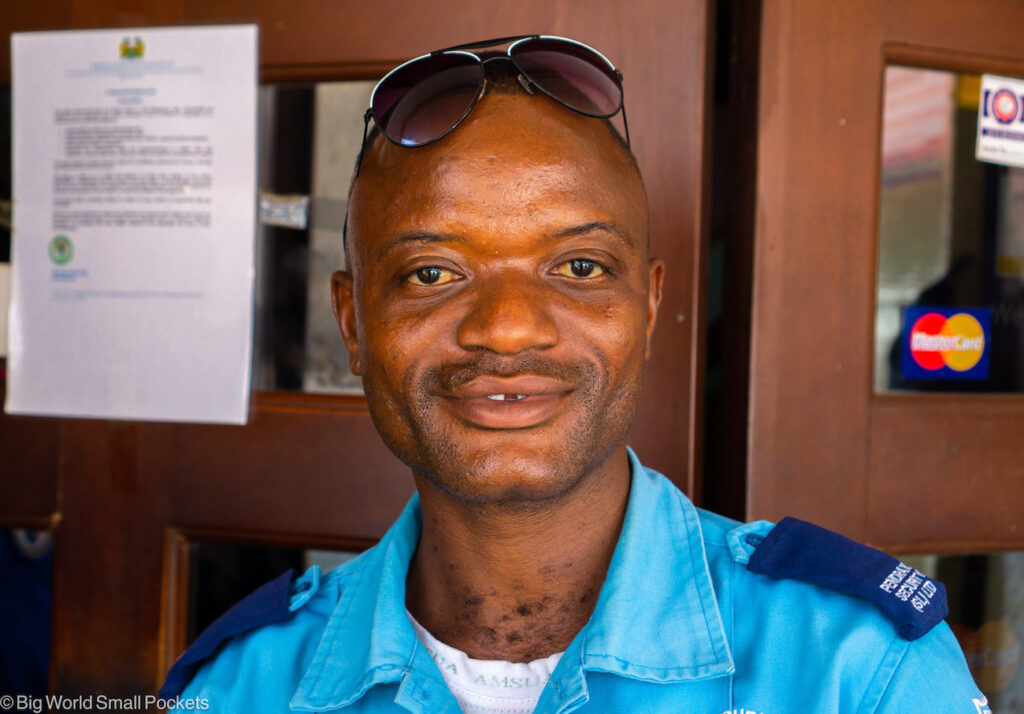 Phew well after all that sightseeing, it's definitely time for lunch!
After all, one of the best things to do in Freetown is to try some yummy local food.
Crown Bakery is a great spot to head for in the capital if you're feeling a bit peckish.
Running for 32 years, it offers fresh juices, great coffee, vegetarian options, international dishes and Sierra Leone food, meaning it caters for all.
Don't miss the national dish of Cassava Stew Leaf here if you eat meat.
#7 See One of Africa's Oldest Universities
And with lunch out of the way it's back on the history trail, this time to the Old Fourah Bay College – sub-Saharan Africa's oldest university.
Dating back to 1827, the building is no longer in use – the city's current university is located just a few blocks from it – but this iconic and atmospheric building, which is beautifully but slowly failing into disrepair, is still a must-see in Freetown.
And you also have the chance to see the Oldest Police Station in Freetown too.
This tiny building stands a little way out of the centre, but is cute to drive by if you're in the area – you can distinguish it easily by the sign above the door!
#8 Stroll Past the Iconic Wooden Houses
And last but not least, when it comes to historic attractions in Freetown, one of the best things to do in this city is to see the old wooden houses situated along some of the city's oldest streets.
Dating from the 1800s, and thought to replicate the style of east coast America's architecture of the time, many of these wooden houses are built with boards that were once part of boat cabins bringing freed slaves back to this newly independent city.
The houses are pretty photographic and formed one of my favourite parts of this city.
#9 Grab a Sunset Drink at Aberdeen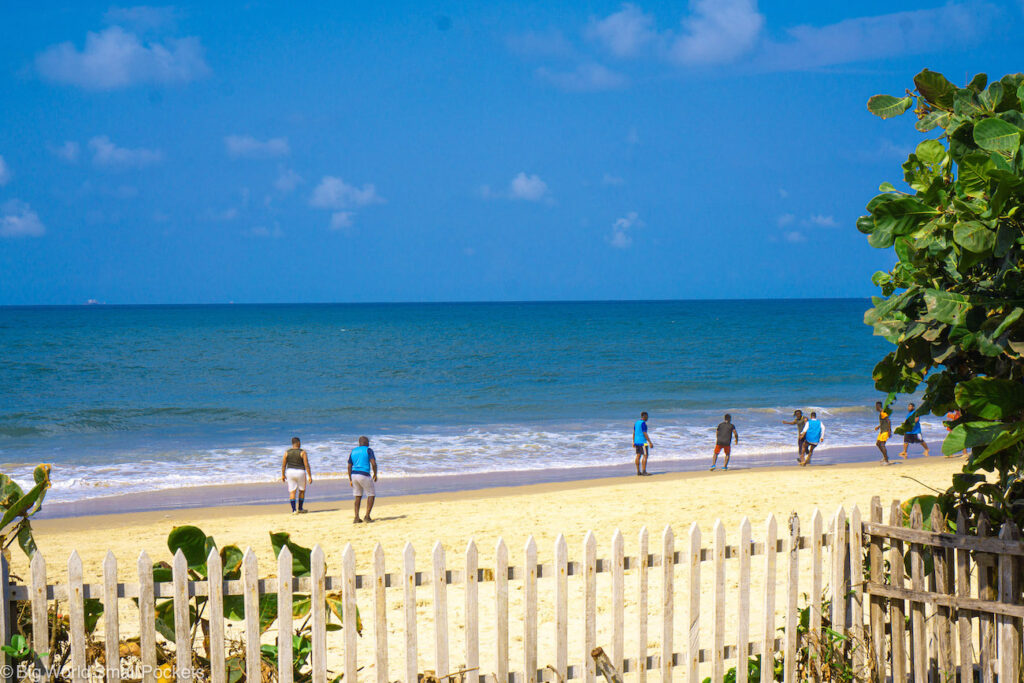 Phew, it's finally time for a sunset drink!
And trust me, there's no better place to enjoy one than Roy's Bar & Restaurant, which sits right above the beach in Aberdeen, Freetown.
One of the more well-heeled areas of the city, Aberdeen is a coastal strip filled with bars, restaurants and hotels, many of which back directly onto the white sands and blue Atlantic Ocean beyond.
Sunsets over the water here are superb, night after night, and what better way to enjoy them than from an outdoor terrace with a cold drink in hand?
#10 Hit the Beach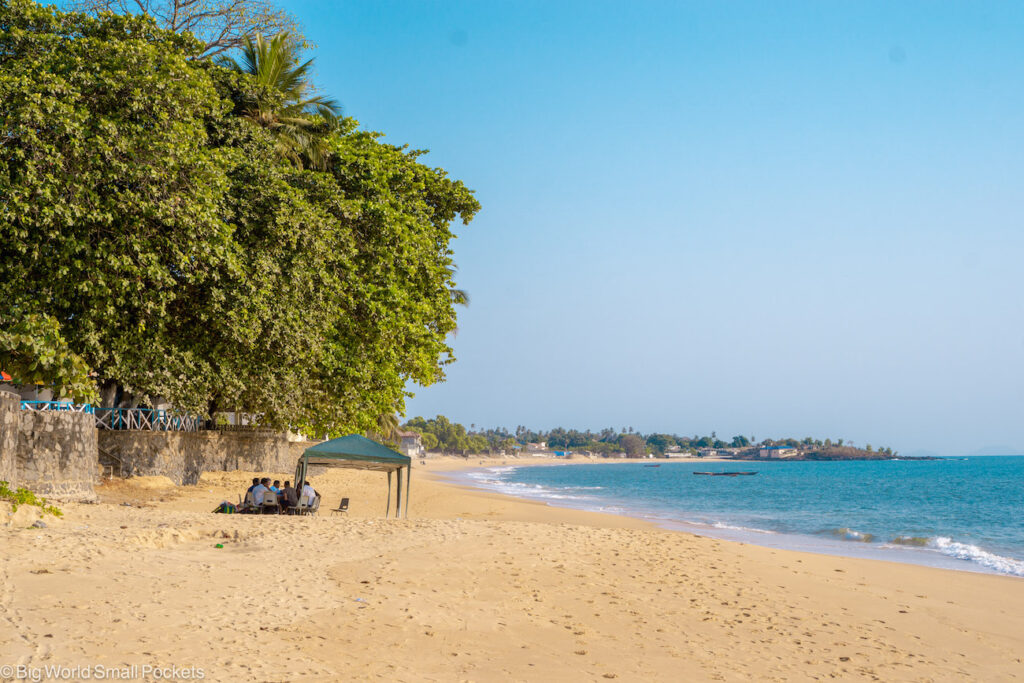 And if beaches are your thing (and let's be clear, they are very much my thing!), then you're in for a treat, because Freetown has some amazing ones right on its doorstep.
Lakka Beach is the closest of my top picks to the city itself, but No 2 Beach and the stunning Tokeh Beach make for fantastic afternoon or overnight trips.
And when you're in any coastal part of this country, eating seafood is a must – I can tell you that my fellow travellers tucked into fresh lobsters and shrimps with aplomb!
Eating seafood and fish is therefore certainly one of the best things to do in Freetown and Tokeh Beach Resort is a prime place to indulge!
Learn more about Sierra Leone's fantastic beaches in this article I wrote.
#11 Sail Out for an Island Day Trip
Buy why stop at mainland beaches, when you can enjoy some island beaches too?
There's plenty of options to choose from around Freetown – including day trips to the community tourism project on Tusso Island (a great spot for the aforementioned fresh fish lunch) and overnight trips to Banana Island.
Learn more in this guide I wrote all about visiting Banana Island.
#12 Explore UNESCO-Listed Bunce Island
And close to Tasso Island – infact you can combine them into 1 day trip – is Bunce Island.
UNESCO listed in 1998 and now uninhabited, this former slave colony has a chilling story to tell about Sierra Leone's colonial past, including the horrific role the British Empire played.
A holding port established in 1667, where slaves were kept before being boarded onto ships bound for America, the ruined buildings and encroaching rainforest scenery of this island make for a chilling, but important visit.
Cockle Bay is a good place to head if you want to grab a boat to Bunce and / or Tasso Island.
#13 Take in the View from Leicester Peak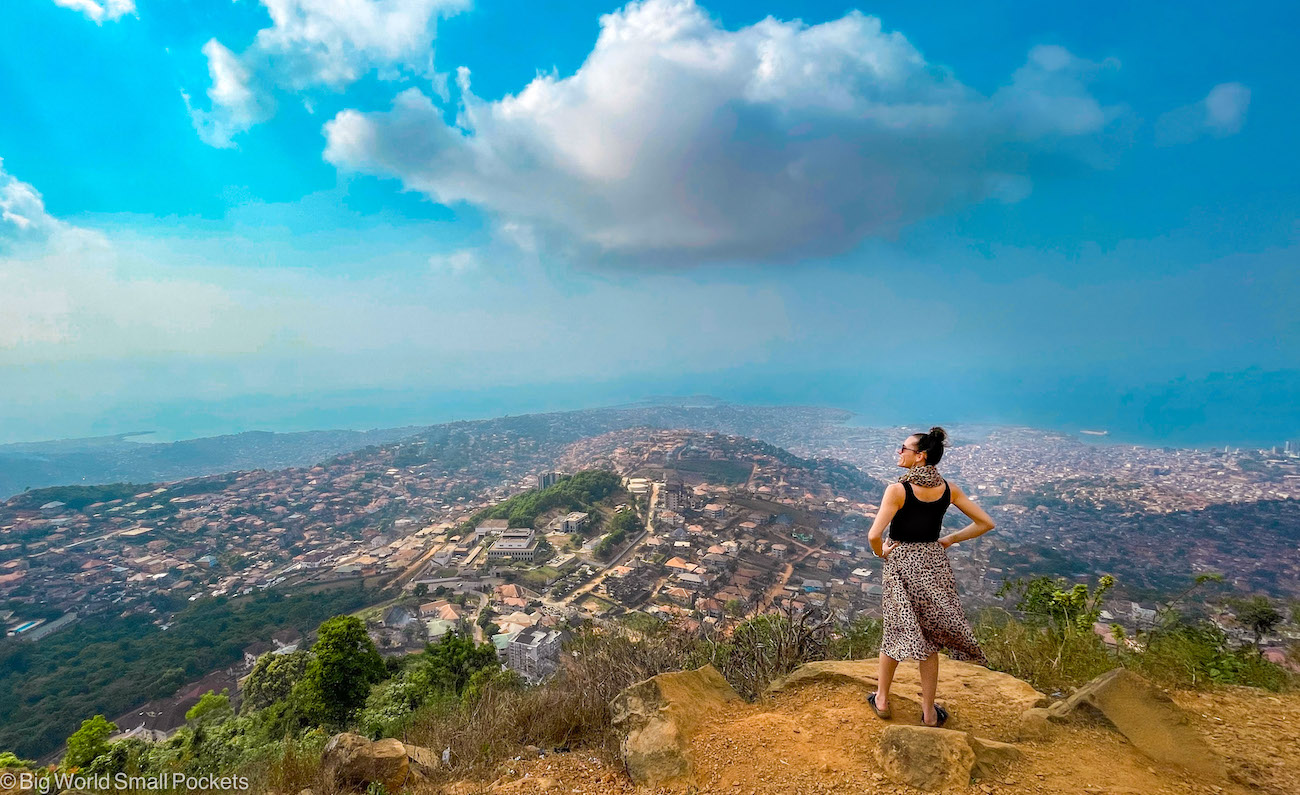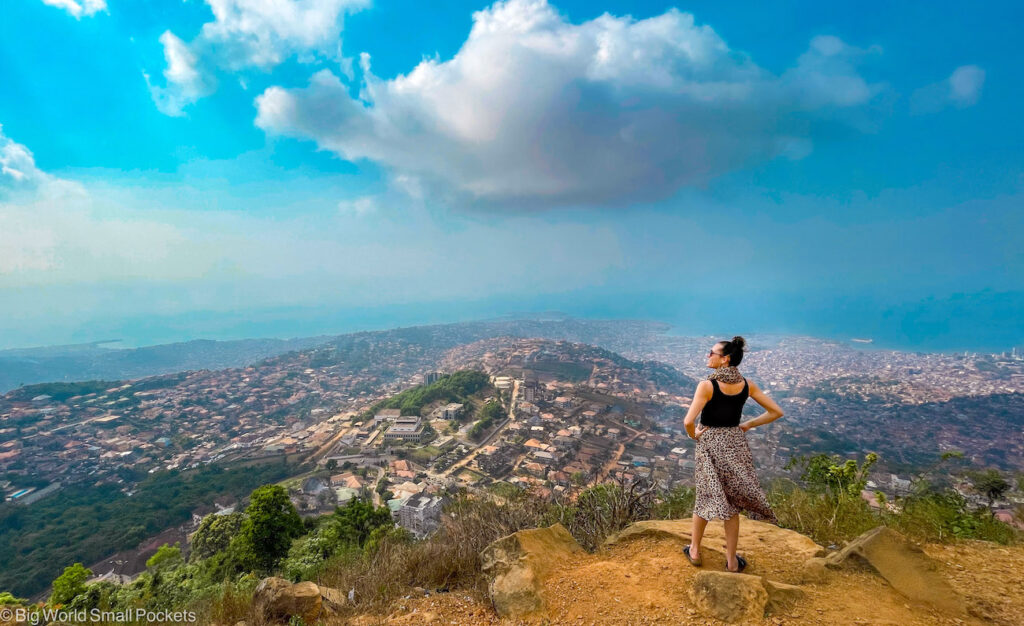 But back to the mainland we head now for this great thing to do in Freetown, especially if you want a view over the whole city.
Leicester Peak, which sits 800m above sea level, is located behind the city as you head inland, and provides stunning panoramic views over the whole capital and the coastline beyond.
If you want to get some great Insta shots of Freetown, then this is the place to come!
#14 See Our Closest Ancestors at the Chimpanzee Sanctuary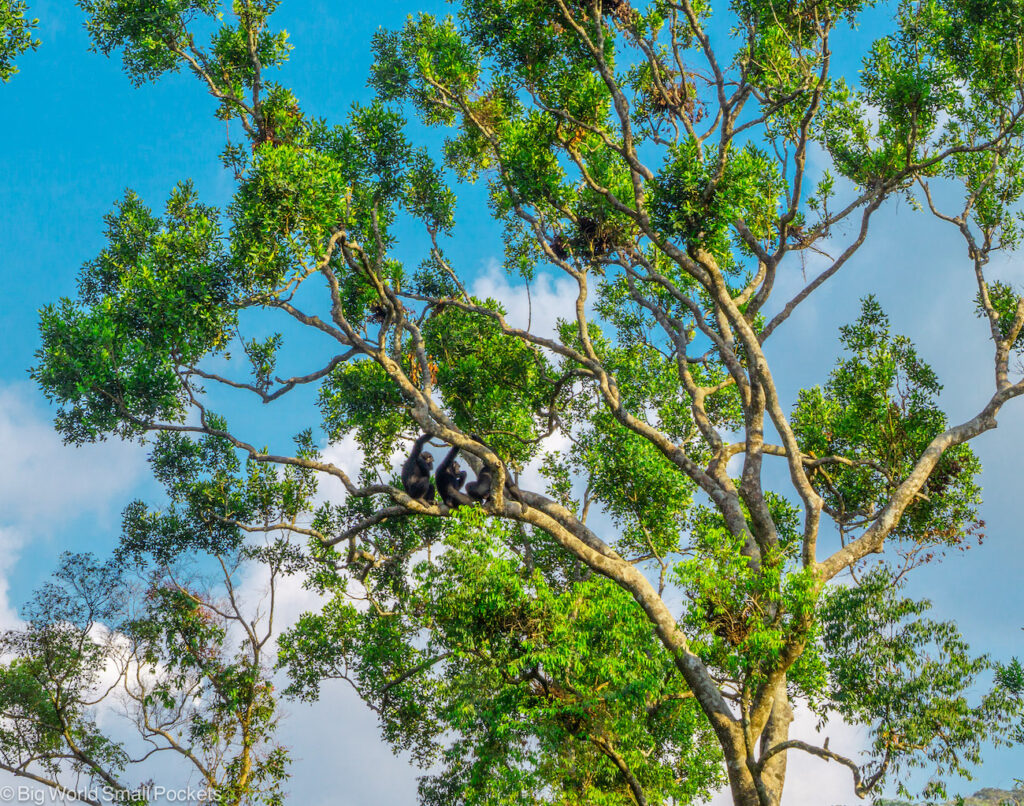 And it's good to know that Leicester Peak is on the way to probably Freetown's most established attraction – the Tacugama Chimpanzee Sanctuary.
Established in 1995, this conservation organisation rescues orphaned and captive chimps, who often come from abusive domestic situations, and sets about rehabilitating them, with the aim to realise them back into the wild.
Home to over 100 chimpanzees, there's daily tours of the centre you can enjoy with a guide, which allow you to see our closest living ancestor up close – it's quite the thing!
Tours last 45 minutes and give you loads of information about the lives of the chimps, how they communicate and survive in the wild, as well as the chance to visit some of the "families" the Sanctuary is currently looking after.
An important centre for research, as well as a lobbying hub which aims to protect these amazing animals, visiting the Tacugama Chimpanzee Sanctuary is a fantastic way to support the work they do.
You can even stay overnight too.
Learn more in this post I wrote about everything you need to know before your visit to Tacugama.
#15 Ride Like a Local in an Okada, Keke or Poda Poda
And finally, heading out in some local transport to explore Freetown is a key, if not daunting and exhilarating, way to get to know this city.
Okada, Keke and Poda Poda are all forms of public transport here, which locals rely on, and have various levels of danger associated with them, so you'll take any of them at your own risk.
First up are the motorbike taxis, which whizz around this city at startling rates, largely without helmets. These are called Okada and there are lots of accidents involving them – you have been warned!
Next up are the tuk-tuks. Slightly more safe, these are referred to as Keke in Sierra Leone and I used them for short rides a couple of times – mostly because they can't go very fast!
And third are the Poda Poda – the minivans loaded with people and goods that traverse the capital.
Weighed down with passengers and almost bulging at the sides with age – they are an iconic image of Freetown that will always be sealed in my mind.
Mini Travel Guide to Freetown
When to Visit?
The best time to visit Freetown is between December and February.
Learn more in this post I wrote all about when best to visit Sierra Leone.
How Long to Visit For?
1 week is a good amount of time to see a lot that Sierra Leone has to offer, including Freetown, the surrounding beaches and islands, plus some of the nearby wildlife destinations too, such as Tiwai Island.
How to Get There?
Most travellers arrive into Sierra Leone via the capital's international airport.
Flights from Europe are direct with Brussels Airways and Air France, or via Casablanca with Royal Air Maroc.
Kenya Airways and Turkish Airlines also operate flights here from other destinations.
As always I use Skyscanner to find the best plane prices.
To get from the airport to central Freetown, it's then best to take the ferry service, which is timed to run with arriving flights.
Sea Bird Express are the main operator and tickets cost $45 USD.
The ticket office is located outside the airport, just across the street from the arrivals hall.
Learn more in this post I wrote all about arriving into Sierra Leone's airport.
How to Get Around?
It's best to get around Sierra Leone care of a tour company or an arranged driver.
Visit Sierra Leone can help with both.
Where to Stay in Freetown?
Here's my top accommodation picks in Freetown…
All of these recommended options are situated in the Aberdeen district of the city, where the sea ferry from the airport arrives into, making things nice and easy.
Travel Insurance for Sierra Leone
World Nomads offers simple and flexible travel insurance. Buy at home or while travelling and claim online from anywhere in the world.
Alternatively, if you're a long-term traveller, digital nomad or frequent remote worker seeking travel health cover, check out Safetywing's Nomad Insurance policies.
Travel Money in Sierra Leone
Cash is king in Sierra Leone, so I advise bringing lots of USD, Euros or Pound Sterling with you, which can then be exchanged in banks or on the street in Freetown.
Don't rely on ATMs as many don't work and cash withdrawals are limited.
Paying by card in this country is really only available in top-end hotels, restaurants and bars.
On the occasion that you can pay by card (and as a good backup option), I highly recommend a Wise card.
The easy way to spend abroad with real exchange rates and no sneaky transaction fees, I never travel anywhere without mine. Sign up to get yours here.
Travel Health
You need a Yellow Fever certificate, as well as a Covid-19 vaccination certificate to be granted entry to Sierra Leone.
Bring paper copies of both to show officials at your point of entry.
Always consult a health practitioner before you travel to West Africa.
They will advise you about other recommended vaccinations to get ahead of your trip, as well as about any anti-malaria medication you may need.
Where to Travel After Sierra Leone?
After Sierra Leone, I travelled north to The Gambia.
Learn more about travelling in this fantastic West African country here.
SAVE THIS TO PINTEREST!
So there you have it, the 15 best things to do in Freetown, Sierra Leone.
Are you planning to visit this city?
Have any questions?
Then don't hesitate to drop them into the comments box below…