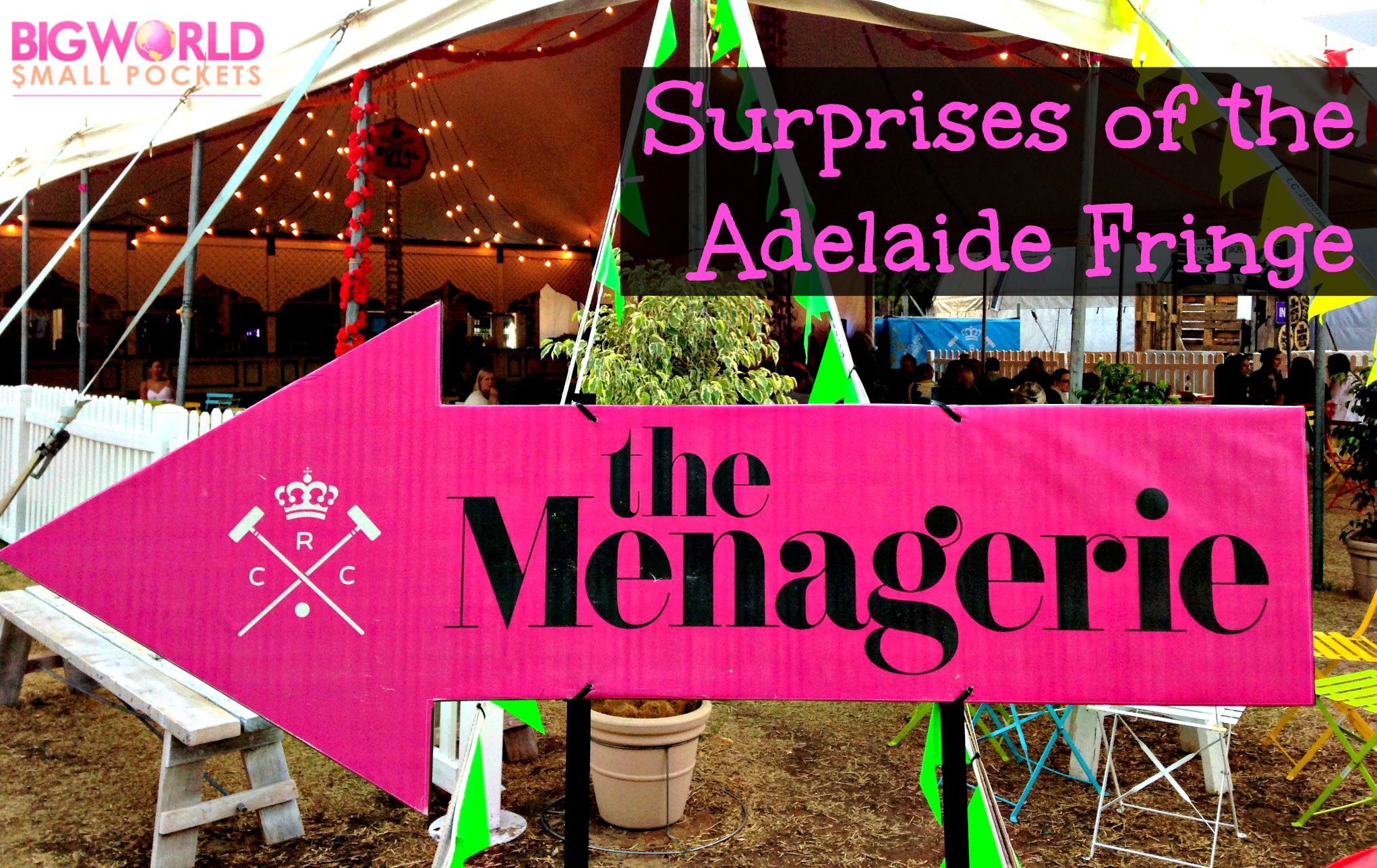 Who even knew? The Adelaide Fringe?
Ok, well perhaps as the biggest arts even of the year in South Australia some people did know, but certainly I didn't!
No idea at all!
And this from a theatre fan!
So what a surprise therefore when I rocked into the city for a few days to discover I had unknowingly timed my trip perfectly!
I don't know what this fairly small metropolis of only 1 million people is like most of the year, but when I got there, it was buzzing!
I couldn't believe it, because round Australia, especially further north where I live at the moment, Adelaide gets a really bad reputation for being a sleepy little town trying to act like a city.
Like a little girl dressing up in her mum's clothes – it's seen as cute, but the lipstick hasn't been applied right, the shirt hangs off her shoulders and the heeled shoes are too big.
Somehow, people think Adelaide just hasn't got it quite right.
---
This page contains affiliate links meaning Big World Small Pockets may receive a small commission on any purchases at no extra cost to you.
---
Nothing, however, could be further from the truth as my experience there during Fringe time was quite the opposite.
Squaring right up to size and fitting the bill perfectly, the whole city was vibrant and alive with artistic goings on.
It oozed a real sense of excitement and convincingly presented itself as a young, happening city, quite in contrast to the rather backward perception it carries further north.
Indeed there was a distinctly trendy, slightly bohemian, fairly hipster vibe to the whole place and I was blown over by the amount of cool bars, funky side lanes and cultural offerings this mini-city has to offer.
Read more about this in my post Adelaide in a Day.
Having not visited Adelaide before I can't, of course, judge how much this exciting artistic milieu was down to the goings on of the Fringe, but I'm sure glad I chose to visit the city during this time of year!
Set predominantly between two main areas – the centrally located Victoria Square and the Rymill Park, just at the eastern edge of the CBD – the Adelaide Fringe offers audiences a broad spectrum of performance art from circus and burlesque to comedy and drama.
Set mainly within pop-up stages comprising of marquees, public toilets, old buses and fairground stalls, performance venues are accompanied by a wonderful array of bars, eateries and street art that also litter the area in and around Victoria Square and Rymill Park – or the Royal Croquet Club and The Garden of UnEarthly Delights as they are respectively known during Fringe time.
Given the mild weather of South Australia during March, the Fringe is ideal for an evening's worth of entertainment as you move casually between shows, musing over an al-fresco drink in the balmy night air as you decide what to watch next.
The Royal Croquet Club and Garden of Earthly Delights are themselves turned into wonderful fairground-type arenas for the Fringe too so that you can, as I did one evening, just enjoy moving from funky bar to interesting eatery for the whole evening – soaking up the atmosphere, listening to live music and wandering at the quirky displays of installation art and furniture about the place as you go – think bars made of jobsite radios and washing machines!
And the real joy of the Adelaide Fringe is how close everything is.
Having spent a few years performing and working at the Edinburgh Fringe in Scotland, the largest of its kind in the world, I know the inconvenience of trying to run across the city from one venue to the next to fit it all in; how the size and scope of it can be overwhelming and how hard it is to learn what is really worth seeing and what isn't.
Here, in Adelaide, there was none of that.
Show reviews were handily posted on central boards easily accessible at the entrance to the two main areas and manageable-sized programmes were freely available to fill in the gaps.
The compact size of Adelaide's CBD makes moving between the two main areas easy and there is plenty to occupy you for more than a whole evening in just place if you choose not to move.
All in all, I couldn't rate Adelaide and its Fringe highly enough.
I was lucky enough to see some great shows, including a couple that had come from the Edinburgh Fringe in the UK along with some new work, which added to the pleasure of the whole experience.
One particular highlight was Smashed, an Arts Projects Australian show that merged some highly skilled juggling with a contemporary, physical theatre dynamic.
The performers' individual skills and personalities were brought together in a rich visual tapestry that wove emotion, tension, narrative and movement together simply through 80 apples being thrown in the air and caught.
The nine artists on stage created a wonderful ensemble atmosphere in a highly original show I suspect they organically devised and grew themselves.
And this too, parallels the success of the Adelaide Fringe, which now in its 10th year, was organically devised and grown from the more mainstream roots of the Adelaide Festival.
Now however, it far eclipses the Festival with its originality, diversity and atmosphere.
When individual skills and personalities come together to create a bigger tapestry it can lead to great things and with so much individual talent displaying itself in Adelaide, this city and its Fringe, are destined for bigger and better things! Australia, watch out, you have been warned!