It's a question I get asked a lot.
A surprising amount in fact.
And I'm not sure why?!
Perhaps because I never asked it before I travelled solo to Ethiopia.
Perhaps I should have!
Perhaps because there's not many of us ladies backpacking Ethiopia solo.
Perhaps there should be more!
But either way, for solo female wanderers looking to travel Ethiopia alone and wondering if it's safe, here's the full personal lowdown based on my own experience…
---
Related Posts
---
This page contains affiliate links meaning Big World Small Pockets may receive a small commission on any purchases at no extra cost to you.
---
Grab Your Copy of My Real Travel Guide to Ethiopia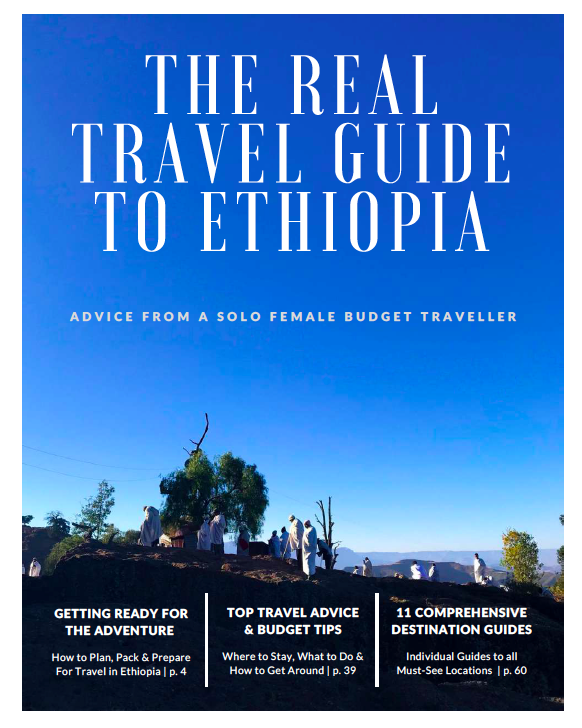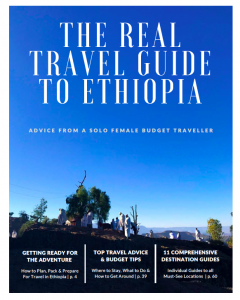 My ultimate guide to travelling in Ethiopia is now available, meaning you can finally get ALL my tips for adventuring in this amazing country in one handy eBook, including
11 Complete Destination Guides to the Best Cities & Attractions
Recommended Places to Stay
Recommended Guides & Tour Companies + Contact Details
Money Saving Tips + Budget Planner
Advice on What to Expect & How to Stay Safe
Packing Checklist
Itinerary Schedule
Travel Safety in Ethiopia: My Personal Experience
So as with most things I say about, well, anything, this post is of course based on my personal experience.
Having spent over 2 months enjoying solo female travel in Ethiopia and planning to head back shortly, I can only say from my experience that I've had nothing but good times in this country as a solo female backpacker.
I've never once felt threatened, uncomfortable or unsafe.
But this, as with anything, isn't an objective, unequivocal truth.
It's just my experience and that which I've heard from others.
Nothing is 100% safe in life, but a lot of risks can be mediated with the same level of common sense if applied anywhere.
World Nomads offers simple and flexible travel insurance. Buy at home or while travelling and claim online from anywhere in the world.
Alternatively, if you're a long-term traveller, digital nomad or frequent remote worker seeking travel health cover, check out Safetywing's Nomad Insurance policies.
And with that disclaimer over, let's get to it…
Unwanted Male Attention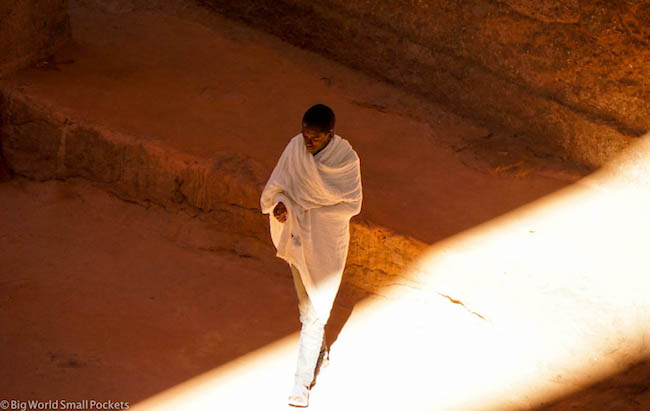 Like in most of Africa (sorry to generalise but in my experience it's true) as a solo female traveller you are likely to attract some attention.
Look, there's point dancing around the issue, that's how it is from my white girl female perspective.
However, never have I found this male attention worrying or disconcerting.
Generally, it's very well-intentioned and innocent, as in non-threatening if you sensitively decline any advances or make your "uninterested" position clear.
Often it seems like attention to us – perhaps from our "western" or "European" perspective – but sometimes I think it's just a sort of cultural appreciation we're not used to.
This "forwardedness", this "saying what you think"!
But anyway, the point remains that while you're likely to get some male attention in Ethiopia as a foreign solo backpacker, it's likely to be harmless and or go further.
If people ask for your number and you don't want to give it, politely decline.
Ditto if you don't want to go for a drink or meet tomorrow.
Female Dress Codes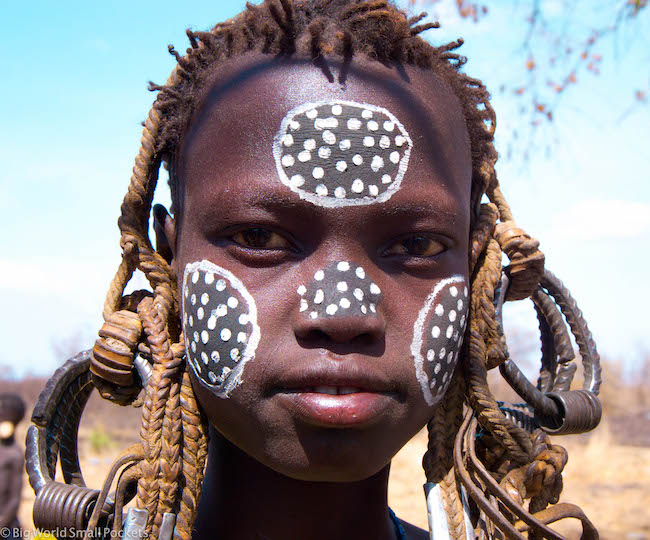 As a deeply religious country, Ethiopia can have some conservative values and if you're coming north into Ethiopia from further south in Africa, this may surprise you.
Above the knee shorts or dresses are almost never worn in Ethiopia for example – by both men and women alike.
This is especially true outside Addis Ababa, so if you want to blend in, long skirts or trousers are definitely the way to go.
This is also true if you want to minimise male attention.
To be honest I only wore an above-the-knee dress once in Ethiopia and felt so uncomfortable I immediately put some leggings on underneath!
This isn't because anyone said anything or I got any unwarranted attention, it was just because I quickly realised my white bare legs stuck out a mile and that's generally an image I try to shy away from when I'm travelling.
And while we're on the vague subject of leggings, I have to say ladies, that I always felt way more comfortable wearing them with a short dress or long top – something that covered my bum!
Let's leave it at that!
When it comes to tops, short sleeve and strappy tops (singlets) are totally fine!
Cultural Boundaries in Ethiopia
From what my male Ethiopian friends have told me, Ethiopian women tend to be quite shy especially in the presence of a pursuing male.
Or at least this is the role they are "supposed" to adopt.
Forward women is not something local people are necessarily used to – although there is an understanding that western rules around dating etc tend to be a little more liberal.
Men also seem to feel some sort of duty to buy everything for women when going out for dinner / drinks etc.
Even when the relationship is platonic.
If someone "invites" you anywhere for anything, then it means they will pay.
You have to get in first with the "inviting" if you want to pay ladies and even then, good luck!
Smoking in public is not something a lot of non-urban Ethiopian women do, so just be mindful that you might attract some attention if you are smoking on the street as a woman in more rural parts of Ethiopia especially
And while women do drink here, especially younger ones, being widely drunk or raucous in public is definitely going to make you stick out.
Safety in Addis Ababa
It's likely to be the place you start your trip to Ethiopia because it has the only international airport in the country.
And it's probably a good thing because is a perfect spot to ease into Ethiopia in terms of local vs western values.
As always, with cities that act as the commercial and economic hub of a country, there's a lot more international influence and acceptance.
Once you leave the city however, you'll quickly realise that Addis is a world unto itself in Ethiopia and not really like the rest of the country at all.
That said, for a big bad city, Addis is amazingly chilled when it comes to solo female travel, and pretty damn safe as African cities go.
I walked around totally fine by myself in the daytime and at night, hit a few restaurants and bars with other people I met in the hostel.
I wouldn't suggest walking around Addis by yourself at night as a solo female (I wouldn't advise this anywhere to be honest) so get taxis if you want to venture more than a couple of blocks after dark.
It's also worth knowing that probably the best area to stay in whilst you're in Addis Ababa is the Bole region.
Both this and the Kazanchas districts are near the airport and have a good selection of hotels and entertainment at night.
They are also quite well-heeled areas and more used to solo female foreigners.
And if you're looking for a good place to stay in Addis that is well-priced and definitely safe and great for solo female travellers, then I highly recommend Mr Martin's Cozy Place.
A lovely local guesthouse with a friendly hostel atmosphere, private rooms that offer both ensuite and shared bathrooms, Mr Martin's is also well situated in the Bole area with some good food and bar options around.
Get the best rates for Mr Martin's Cozy Place here.
Safety Outside the Capital
As I said, outside of Addis, Ethiopia feels like a different country.
And the further you go, the more rural places become.
The thing it's hard to do when talking about solo female travel in Ethiopia, is generalise, because this country is massive and very diverse with lots of different ethnic groups.
From the traditional communities of the Omo Valley region in the south, to the Islamic-dominated city of Harar in the east, through the desert people of the Afar region or the young students in the lakeside city of Bahar Dar, Ethiopia is massively varied and different cultural practices and sensitivities dominate.
My advice as a solo female traveller is to just research a little before about each region you visit and don't wear short skirts or trousers anywhere!
The common thing that you will find everywhere in Ethiopia is the friendliness of the people, the insane level of hospitality and their desire for a good chat and a coffee, no matter where you're from or what gender you are!
Safety in the Evenings / At Night
I've already talked about Addis at night – personally, I would go out but only in the company of others or with taxis – just common sense.
It's the same in other parts of the country.
Being out after dark is not a problem, but you'll often find there's not a lot going on and being with someone local will help you find the fun!
Ethiopian dancing is amazing and definitely try to see this in a traditional restaurant, club or bar once during your time here!
As a woman, you are very likely to be asked to join in!
Key Packing Items
And now I turn to what to bring for solo female travel in Ethiopia.
We've talked about the long trousers and skirts ladies – so bring these.
Long pants or skirt are also perfect for the cold evenings and hiking opps in Ethiopia, as well as when visiting churches.
These ones
from Columbia are great.
We've talked about leggings being fine, but preferably with a long top or dress over the top to cover your butt!
We've talked about singlets / strappy tops and T-shirts being ok.
It does get cold in some parts of Ethiopia at night, because of the altitude, so bring layers and a windproof jacket if you get chilly easily like me.
I even wore my beanie hat once or twice!
Bring footwear you can hike in, as well as footwear you can walk comfortably in during the day.
I also recommend a travel scarf or sarong because, whether it's covering your shoulders in churches, wrapping round you at night as a shawl or using as a protection from the dust, a travel scarfis a great multi-purpose travel item for Ethiopia travel.
Bring spare toilet paper, wet wipes and tissues because not everywhere provides them.
Bring a travel towel.
Bring your menstrual cup (for those who know how good these things are). Or bring your tampons otherwise.
Bring flip flops, sandals or best of all, Birkenstocks.
Bring loose, thin clothes for the places in Ethiopia that are insanely hot, like the Danakil Depression and the Omo Valley.
I'd also bring a headlamp – required for those all too often power cuts!
I love my Black Diamond Storm, which hasn't failed me in Africa yet!
A good camera is another key item!
An absolute must if you're looking to capture the incredible landscape and historical artefacts of Ethiopia, I love my mirrorless Sony A6000, which is light, compact and robust – ideal for Africa travel.
Mini Travel Guide to Ethiopia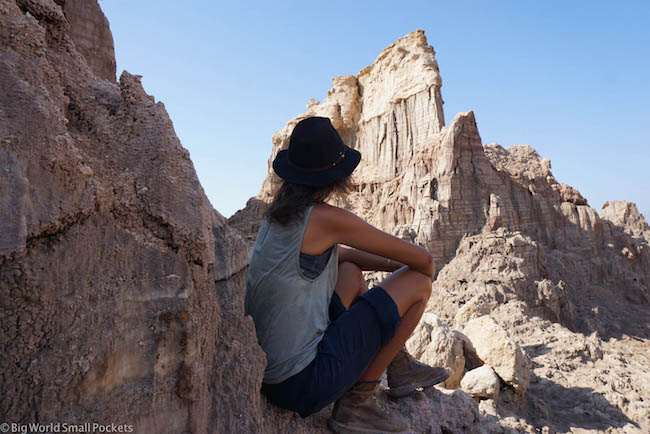 Looking for a Well-Priced Tour in Ethiopia?
If you're interested in an unforgettable, well-priced tour in Ethiopia with guides you can trust, then email me at [email protected] with details of where you want to go and I'll send you my top recommendations – simple!
Travel Insurance for Ethiopia
World Nomads offers simple and flexible travel insurance. Buy at home or while travelling and claim online from anywhere in the world.
Alternatively, if you're a long-term traveller, digital nomad or frequent remote worker seeking travel health cover, check out Safetywing's Nomad Insurance policies.
Travel Money in Ethiopia
Cash rules in this country, so withdrawing money from an ATm while you are here is the best way to pay for things.
And when it comes to ATM withdrawals, you want to ensure you're not being charged overseas transaction fees or getting poor exchange rates when using your card, which is why I always take my Wise Card away with me wherever I travel.
The easy way to spend abroad with real exchange rates, no markups and no sneaky transaction fees, you can use your Wise card just like a debit card in Ethiopia too… and it links easily with Google and Apple pay – sold!
Get yours here.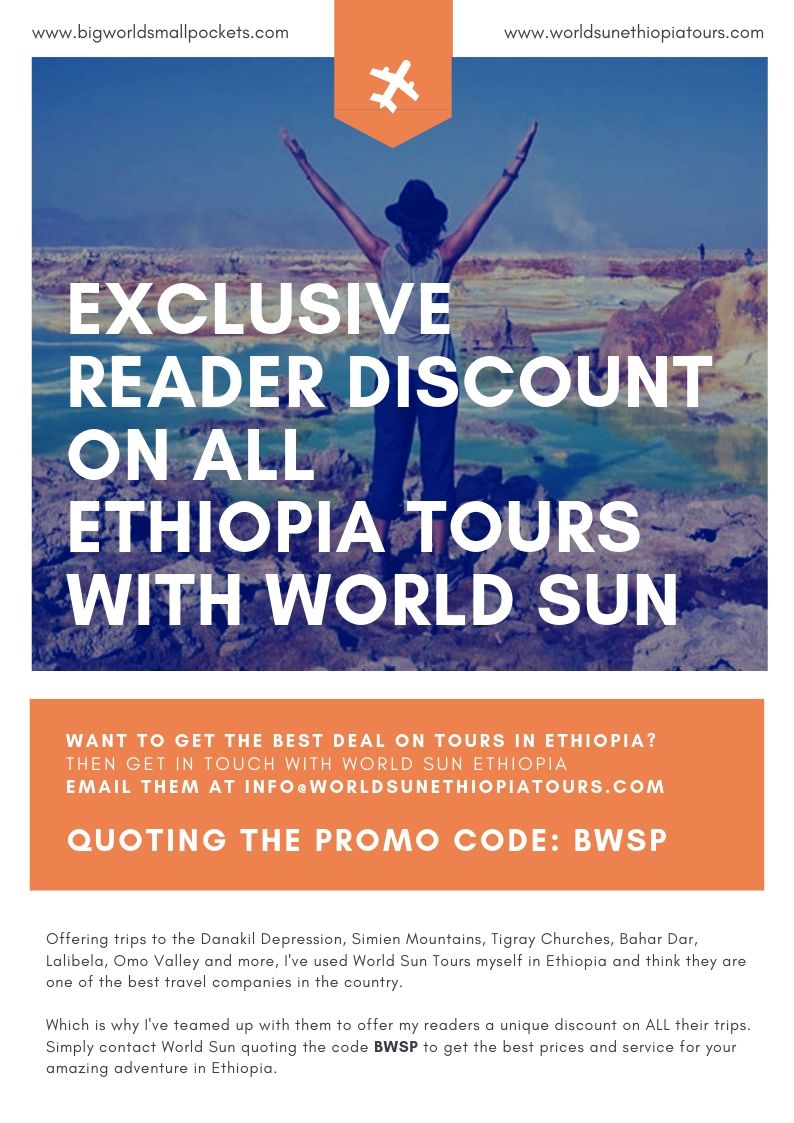 PIN IT TO PINTEREST!
So there you have it, my take on whether it's safe to travel in Ethiopia as a solo female.
As you can tell I'm definitely in the affirmative camp!
Have you travelled as a solo female in Ethiopia?
What was your experience?
I'd love to hear about it in the comments box below…