The bustling capital of Egypt, Cairo, is an absolute must if you're visiting this culturally rich and incredibly affordable country.
Full of insane historical sights and a feast for the senses too, Cairo is loud, full of life, outgoing, brash and stocked with gasp-aloud ancient treasures.
Most visitors start and finish their time in Egypt here, but even if, like me, this isn't the case – perhaps because you're travelling overland from either Sudan or Jordan – giving yourself at least a few days in this crazy city is a must.
So here's my list of the 5 best hostels in Cairo, Egypt to give you some ideas about where to stay while you tour one of Africa's largest cities.
---
Related Posts
---
This page contains affiliate links meaning Big World Small Pockets may receive a small commission on any purchases at no extra cost to you.
---
Grab Your Copy of How to Travel Africa for Less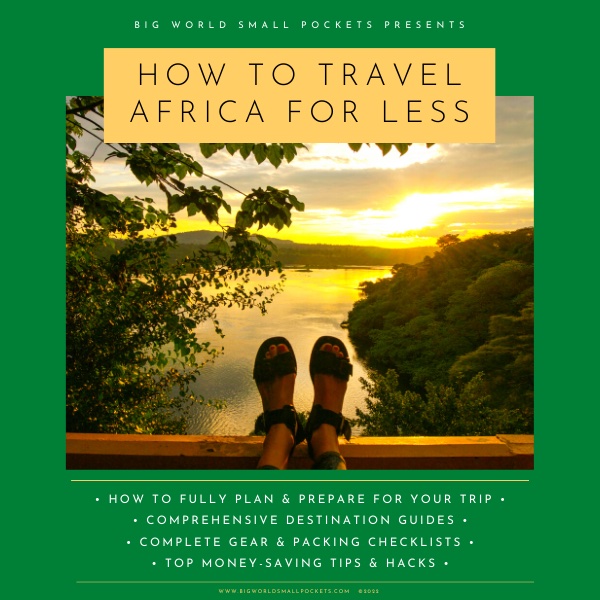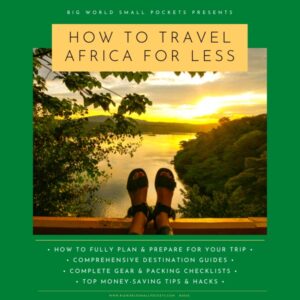 My ultimate guide to travelling Africa on a budget is now available, meaning you can finally get ALL my top tips for adventuring around all, or parts, of this amazing continent in one handy eBook, including…
Full Planning & Preparation Guides
Detailed Destination Info
Complete Packing & Gear Lists
Top Money-Saving Tips & Hacks
#1 Great Pyramid Inn
With views directly over the pyramids, the Great Pyramid Inn is hard to beat when it comes to bucket list locations.
Set the other side of the Nile from Cairo however, Giza can feel a little out of the way, so I'd only really recommend staying in this part of the city if you're dashing to see these incredible stone monuments and out again.
That said, the Great Pyramid Inn is definitely one of the best hostels in this part of Cairo and continues to get rave reviews travellers, especially as the roof terrace here will give you a free viewing of the sound and light show that takes place at the pyramids each evening.
And that's not to mention the free, fast wifi, free breakfast and free airport shuttle service!
#2 Freedom Hostel
Calm and clean, Freedom Hostel is an eternal favourite with travellers who love the fact that even the dorms all have single beds… no bunks! Hoorah!
The staff here couldn't be friendlier or more welcoming, and the kitchen facilities are a welcome find, making this place definitely one of the best hostels in Cairo.
Comfortable dorms, tripes, doubles and twins make meeting other travellers here easy and the relaxed ambience gives the place a friendly air.
The hostel is set in a bit of a grubby building, but once you get up to the 5th floor where the hostel is, you'll feel reassured.
Plus the breakfasts are the best!
5 PACKING ESSENTIALS FOR EGYPT
#1 Egypt Lonely Planet – An excellent resource when it comes to finding out the history of what you're seeing in Egypt without the need for a guide, the Egypt Lonely Planet is a must.
#2 Head Lamp – Great for taking into tombs to get an even better look at the amazing artwork and inscriptions, I love my Black Diamond Storm, which served me super well in this country.
#3 Sun Hat – Temple viewing means many hours in the hot sun of Egypt. Do yourself a favour and bring a wide-brimmed hat to protect you. I love this Hello Sunshine design.
#4 Egyptian Arabic Phrasebook – Egypt has its own slant on Arabic, so even if you know some of this language, an Egyptian Arabic Phrasebook will help you out a lot.
#5 Travel Insurance – A good idea whenever you travel in Africa, I love travel insurance from World Nomads and have used them throughout my time in Egypt and beyond.
#3 Egypt Travel CC Hostel
Situated over in Giza, with super convenient access to Cairo's famous pyramids, the Egypt Travel CC Hostel is a great place to stay if you are simply hopping into Cairo for a couple of nights to tour the pyramids and then dashing off.
Family-owned and run by the wonderfully helpful and kind Belal, this top hostel in Cairo offers clean, private rooms (both ensuite and shared bathrooms) at some excellent rates.
Belal also offers excellent tours to Cairo's main attractions, including the Islamic and Coptic parts of the city, which can be booked privately or as part of a group.
If you want to get a sense of Giza and Cairo from a local's perspective, as well as tips about the best places to eat and hangout here, then this is a top place to stay.
#4 Bella Luna Hostel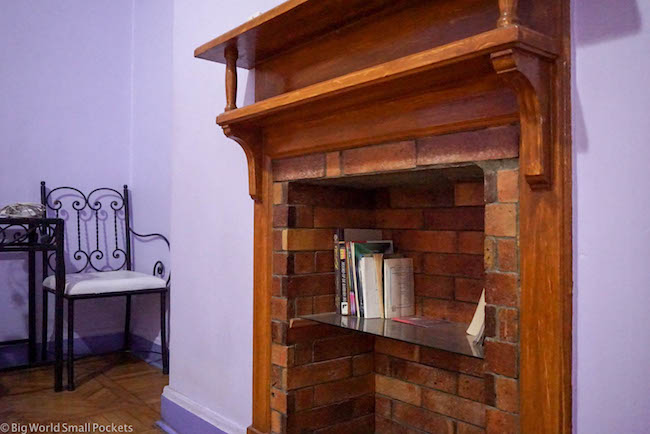 Where I spent most of the time during my stay in Cairo, Bella Luna Hostel offers a great location for travellers in the heart of downtown.
With tons of great eateries around, as well as the world-famous Egyptian Museum just a short stroll away, you couldn't be closer to the action if you tried.
All rooms here are ensuite and most have delightful balconies that overlook the local streets and gorgeous faded French architecture of this part of the capital.
Their free wifi is mega fast and breakfast is included in the price – just ignore the dodgy looking-staircase up to the hostel and you'll be fine!
Rooms here are huge and immaculately clean, which means Bella Luna is one of the best hostels in Cairo when it comes to value for money.
That said, it attracts more couples and private travellers, which means if you're looking for a younger crowd or a more sociable atmosphere this may not be the best spot for you.
#5 Dahab Hostel
Set in a great location in downtown Cairo, Dahab Hostel is the place to stay if you want to meet other travellers.
Describing themselves as "Your Oasis in the City", it's a motto that rings very true care of this hostel's superb rooftop terrace.
Awash with pot plants and cosy corners, taking in the city views, chilling with a book or socialising with fellow nomads is all possible in equal measure here.
Free wifi is available (although not that fast) and they offer ensuite or private rooms with shared bathrooms for some great prices.
The friendly staff can help you out with all manner of questions and the hostel also arranges tours to a number of Cairo attractions.
And with 24hr reception, the place feels very secure and relaxing.
The rooms are a little small and breakfast is not included in the price, but the warm ambience of this place, as well as its cleanliness, makes it my number one pick on this list of the best hostels in Cairo.
PIN IT TO PINTEREST!
So there you have it folks, my list of the best 5 hostels in Cairo.
Are you heading to Egypt anytime soon?
If so, don't be afraid to hit me up with any questions.
I really loved this historically rich country… and its extremely low cost travel opportunities even more!