It's true.
We all like a bit of luxury now and again.
Even hardened budget backpackers like me definitely crave a great bed, power shower and excellent service from time to time and never have I craved it more than after several months scooting around Africa!
It was sheer delight therefore that, after making my way to the Ethiopian city of Bahar Dar (following a hair-raising minibus ride from Gondar!), I checked into the wonderful Solyana Hotel.
Brand NEW and an absolute treat for a weary traveller, I have to say this is probably one of the best moves I've made on this trip…
And here's why …
---
Related Posts
---
My stay at the Solyana Hotel was kindly sponsored but, as always, all views are my own.
This page contains affiliate links meaning Big World Small Pockets may receive a small commission on any purchases at no extra cost to you.
---
Grab Your Copy of My Real Travel Guide to Ethiopia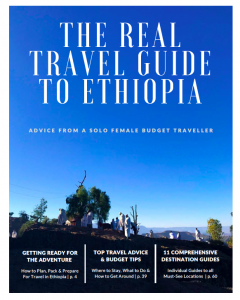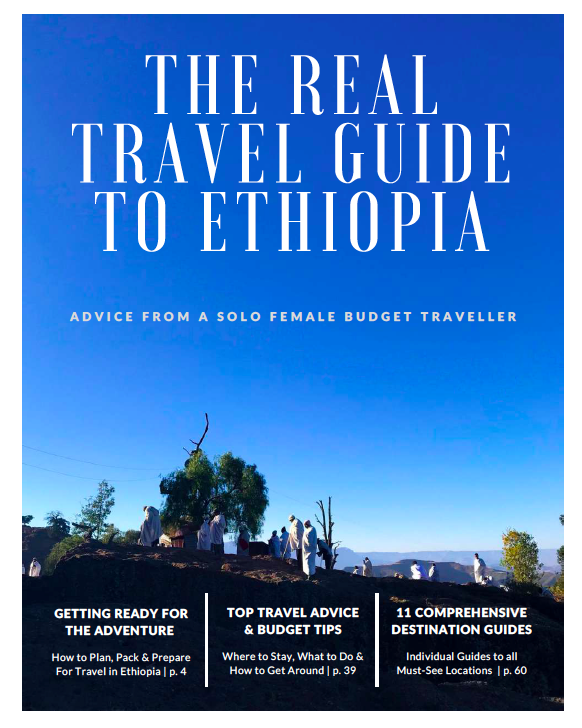 My ultimate guide to travelling in Ethiopia is now available, meaning you can finally get ALL my tips for adventuring in this amazing country in one handy eBook, including
11 Complete Destination Guides to the Best Cities & Attractions
Recommended Places to Stay
Recommended Guides & Tour Companies + Contact Details
Money Saving Tips + Budget Planner
Advice on What to Expect & How to Stay Safe
Packing Checklist
Itinerary Schedule
Incredible Service
From the moment I stepped through the door at the Solyana Hotel in Bahar Dar I was greeted with, to put it simply, the most incredible service.
In true Ethiopian style, the staff were the friendliest and the most helpful – solely intent on making sure my stay was the best possible.
From those behind the reception desk, to the staff in the restaurant and even the manager, no one could do enough here to ensure my stay was as comfortable as possible and I was made to feel like a complete princess.
Not usually my style, I have to admit it was totally delightful to be spoilt in this way and to be looked after in Bahar Dar as much as I was.
LOOKING FOR A BUDGET TOUR IN ETHIOPIA?
If you're interested in an unforgettable, well-priced tour in Ethiopia with guides you can trust, then email me at [email protected] with details of where you want to go and I'll send you my top recommendations – simple!
Spotlessly Clean
The other great staff I have to mention are the housekeeping team, whose daily servicing of my room was flawless.
Every day my amenities were fully replaced, my room made immaculate again and fresh linen and towels given to me.
Having worked in hotels, I know how it is difficult to maintain these standards across a property and the Solyana Hotel did it perfectly.
Indeed the whole hotel was spotless – from the lobby to the lift – and the staff here are clearly people who not only care about their guests but about their hotel too… it really shows!
TRAVEL INSURANCE FOR ETHIOPIA
World Nomads offers simple and flexible travel insurance. Buy at home or while travelling and claim online from anywhere in the world.
Alternatively, if you're a long-term traveller, digital nomad or frequent remote worker seeking travel health cover, check out Safetywing's Nomad Insurance policies.
Solyana Hotel Location
But where exactly is this great hotel?
Well it is situated in the town of Bahar Dar in northwestern Ethiopia.
A popular tourist spot, the lower altitude of this city compared with most of the other places I visited in Ethiopia give it a warm tropical feel.
Palm-trees lined, wide busy streets here and the waterside location, on the shores of Lake Tana, make this feel a real "holiday" spot.
Although the Solyana Hotel is set a little away from the main street of Bahar Dar, it is just a short tuk-tuk or taxi ride from all the main attractions, restaurants and entertainment spots.
This is great because, as a fairly big city in Ethiopia, Bahar Dar has quite a lot going on!
From visiting the isolated monasteries of Lake Tana to checking out the Blue Nile Falls and even enjoying some delicious local, lakeside cuisine or traditional local dancing and music, this city has more than enough to occupy you for at least a few days.
Indeed, I spent 4 days in Bahar Dar and I couldn't think of anywhere else I'd rather have stayed than the Solyana Hotel.
Top Facilities
But even if you don't feel like catching a taxi into the centre of Bahar Dar from the Solyana Hotel, then you needn't, because these guys have almost everything you need right here at their property.
From free breakfast to delightful Italian coffee, a 24hr bar service, laundry service, a lunch and evening restaurant and even a great terrace with a fountain where you can sit and watch the world go by, there's pretty much everything you need here.
Super Wifi!
And best of all for a faranji (what every Ethiopian calls every foreigner!) the wifi here is amazing!
Yep to help combat the usually awful Ethiopian connection, Solyana Hotel not only have a completely new network for each floor of their hotel, they also have a separate network in the lobby and even in the restaurant!
What this ensures is the best wifi connection possible for each and every guest, without their connection being slowed by multiple other users, and I was so happy to spend more than 4 days here getting a ton of work done in and around seeing the sights of wonderful Bahar Dar!
Luxury Rooms for Under $50!
But, saving the best until last, I have to tell you about the incredible room I had at the Solyana Hotel.
Yes, lucky old me got to enjoy one of the Solyana Hotel's Deluxe Rooms for 4 whole days!!
Cue: Gasps of delight and feeling like a totally spoilt princess.
Honestly, it was like stepping into a magical world as I took in the view of my huge room, complete with flatscreen TV, writing desk, wardrobe, deluxe chairs, table and luxury furnishings.
There was also a lovely balcony giving some excellent people-watching and sunrise views over the surrounding area, not to mention a beautiful bathroom complete with the all the products I could need and a power shower with inbuilt sauna and steam!!!
Then there was the bed, oh my goodness the bed!
A huge king-sized number made up impeccably with beautiful white linen, cushions, soft pillows and branded slippers, I don't know if I've ever slept so well in my life!
And all of this is available for under $50!
Incredible Value for Money
Yes the deluxe rooms at Solyana Hotel are priced at just $46 USD.*
In addition to this, the standard rooms (which I also got to take a look at and were also delightful) are priced at just $33 USD! *
* Prices correct at time of publication
This really is incredible value for money.
Given that I've paid for rooms with shared bathrooms in Ethiopia for $15 USD – a standard room at the Solyana Hotel for little over double that, most definitely offers MORE than double the level of facilities, service and comfort.
It's an absolute bargain – the ultimate splurge, that isn't really a splurge!
And that makes experiencing a little bit of luxury at the Solyana Hotel in Bahar Dar, something that even the most hardened budget backpacker should definitely do when they visit Ethiopia!
So why not book your stay now!
GET THE BEST RATES ON THE SOLYANA HOTEL HERE